5 Jewelry Favorites from the Nordstrom Anniversary Sale
My Achilles heel whenever I'm shopping is always anything with sparkle and shine, I just can't get enough of it! While my favorite part of the Nordstrom Anniversary Sale is the clothing options, coming in a close second is the jewelry selection!
The best part about jewelry is that it fits most everyone regardless of size and many of the pieces are timeless and can be worn for years to come. One of my favorites from this #NSale is the beautiful Dannijo Swarovski Crystal Necklace. An investment piece for sure, but absolutely breathtaking in person. And the perfect piece if you're on a budget is the Kate Spade Initial Pendant Necklace.
Shop my top picks from this year's #NSale below!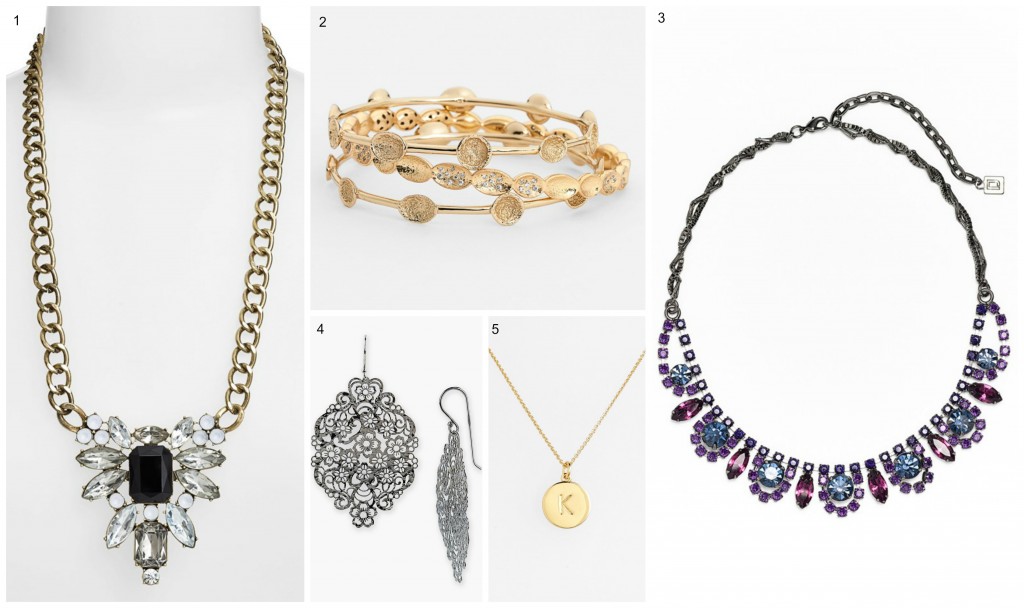 1 [shopsense shopsense_url="http://api.shopstyle.com/action/apiVisitRetailer?url=http%3A%2F%2Fshop.nordstrom.com%2Fs%2Fbaublebar-drama-stone-cluster-pendant-necklace-nordstrom-exclusive%2F3774995%3Forigin%3Dcategory-personalizedsort" original_url="http://shop.nordstrom.com/s/baublebar-drama-stone-cluster-pendant-necklace-nordstrom-exclusive/3774995?origin=category-personalizedsort&contextualcategoryid=0&fashionColor=Black+Multi%2F+Brass&resultback=5434&cm_sp=personalizedsort-_-browseresults-_-1_13_B" save_to_store="true"]Bauble Bar 'Drama Stone' Cluster Pendant[/shopsense] // 2 [shopsense shopsense_url="http://api.shopstyle.com/action/apiVisitRetailer?url=http%3A%2F%2Fshop.nordstrom.com%2Fs%2Fmelinda-maria-carrie-pod-station-bangles-set-of-3-nordstrom-exclusive%2F3731144%3Forigin%3Dcategory-personalizedsort" original_url="http://shop.nordstrom.com/s/melinda-maria-carrie-pod-station-bangles-set-of-3-nordstrom-exclusive/3731144?origin=category-personalizedsort&contextualcategoryid=0&fashionColor=&resultback=7653&cm_sp=personalizedsort-_-browseresults-_-3_19_A" save_to_store="true"]Melinda Maria 'Carrie' Pod Station Bangles[/shopsense] // 3 [shopsense shopsense_url="http://api.shopstyle.com/action/apiVisitRetailer?url=http%3A%2F%2Fshop.nordstrom.com%2Fs%2Fdannijo-alexandra-swarovski-crystal-necklace-nordstrom-exclusive%2F3757930%3Forigin%3Dcategory-personalizedsort" original_url="http://shop.nordstrom.com/s/dannijo-alexandra-swarovski-crystal-necklace-nordstrom-exclusive/3757930?origin=category-personalizedsort&contextualcategoryid=0&fashionColor=&resultback=215&cm_sp=personalizedsort-_-browseresults-_-3_2_B" save_to_store="true"]Dannijo 'Alexandra' Swarovski Crystal Necklace[/shopsense] // 4 [shopsense shopsense_url="http://api.shopstyle.com/action/apiVisitRetailer?url=http%3A%2F%2Fshop.nordstrom.com%2Fs%2Fargento-vivo-teardrop-earrings-nordstrom-exclusive%2F3734329%3Forigin%3Dcategory-personalizedsort" original_url="http://shop.nordstrom.com/s/argento-vivo-teardrop-earrings-nordstrom-exclusive/3734329?origin=category-personalizedsort&contextualcategoryid=0&fashionColor=&resultback=3657&cm_sp=personalizedsort-_-browseresults-_-1_9_D" save_to_store="true"]Argentino Vivo Teardrop Earrings[/shopsense] // 5 [shopsense shopsense_url="http://api.shopstyle.com/action/apiVisitRetailer?url=http%3A%2F%2Fshop.nordstrom.com%2Fs%2Fkate-spade-new-york-one-in-a-million-initial-pendant-necklace%2F3628637%3Forigin%3Dcategory-personalizedsort" original_url="http://shop.nordstrom.com/s/kate-spade-new-york-one-in-a-million-initial-pendant-necklace/3628637?origin=category-personalizedsort&contextualcategoryid=0&fashionColor=A-+Gold&resultback=413&cm_sp=personalizedsort-_-browseresults-_-1_1_B" save_to_store="true"]Kate Spade New York One in a Million Initial Pendant Necklace[/shopsense]