Goodwill Style: Workweek Chic
Remember my interview with Goodwill where I mentioned I'd found a pair of Christian Louboutin wedges for $50? Today they're making their debut on the blog!
In an ode to Seattle, where we're all about dressing up our jeans to be appropriate for the office, and pairing with our designer duds, I've pulled together an effortless, casual workweek ensembles with pieces picked up at my local Goodwill!
Basically, I want to tell you about everything in my outfit, but I'm sure you're all wanting to know the story about these shoes first and foremost. About a year ago I was killing time before my tap class in Seattle (yes, I tap dance), and took a look around the Goodwill store. I found these beauties locked in a glass case at the front of the store but thought there was no way they could be my size. I passed by the case a few times looking at the shoes longingly when I finally decided to ask to see them. They were a half-size too big but after trying them and subsequently falling in love, I was determined to make them work. And, I hate to admit this, they've pretty much just sat in my closet since then.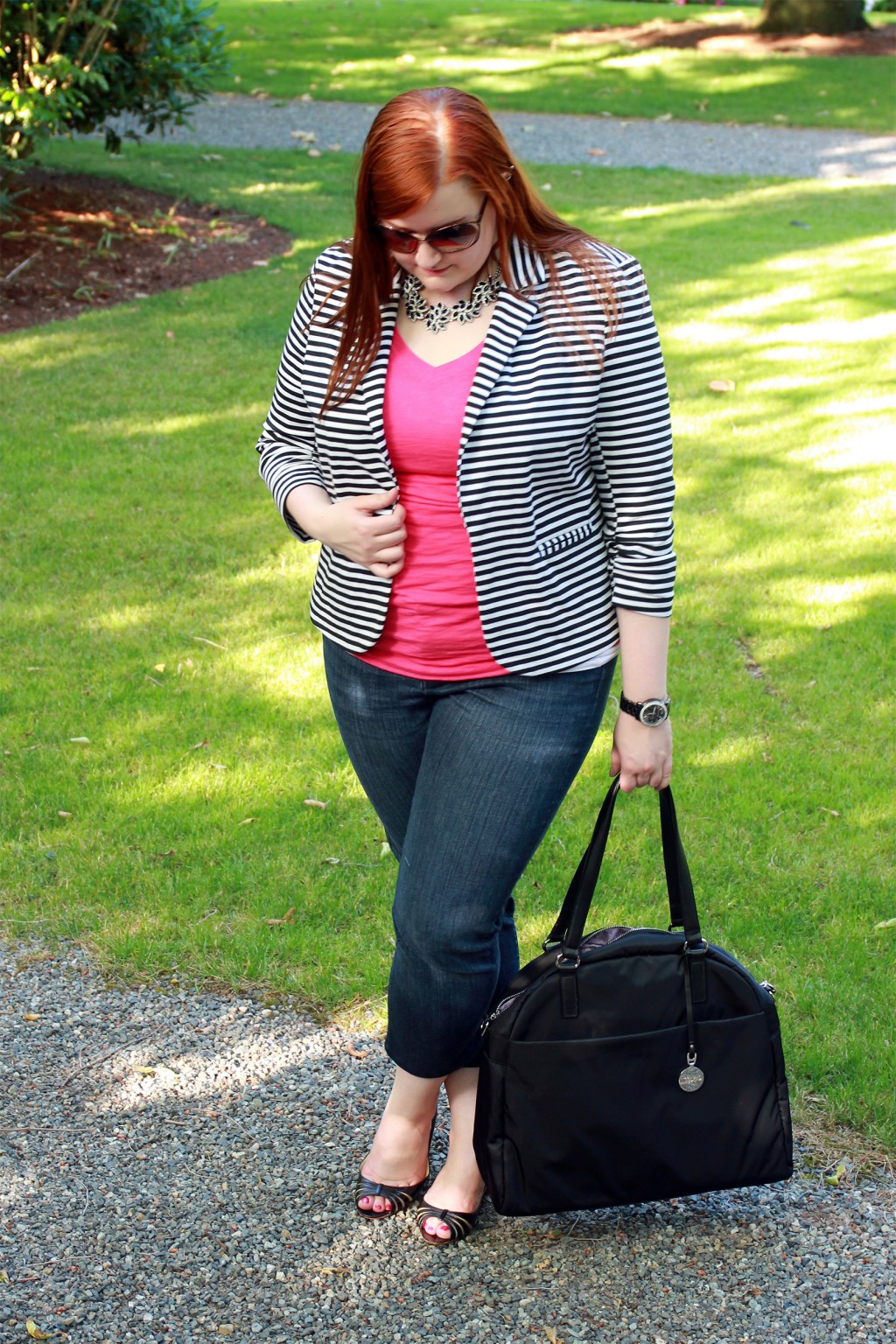 Fast forward a year, and I happened upon this gorgeous black and white striped blazer at Goodwill, a perfect three-quarter sleeve with pockets and just enough stretch to be way too comfortable. When I saw it hanging on the rack I thought there was no way it would fit, but I'd underestimated the amount of weight I'd lost. And that's another reason I love thrifting – if you're in a transitional phase where you're gaining or losing weight you can grab some new items for your closet without breaking the bank.
But wait there's more! Today, even my jeans have a story. These KUT from the Kloth jeans I've had in my closet for about 4 years now (maybe longer, I've lost track). With so much washing and wearing, the bottom of the pant leg got beat up and eventually shrunk to be a little too short. Instead of parting with one of my favorite pairs of jeans, I took them to the seamstress and had her hem them to be crops for summer. Reusing old clothes, wearing recycled clothes? I think I'm getting the hang of this Seattle thing. 😉
And all of that brings us to today, where the Christian Louboutin wedges, striped blazer, and altered jeans are paired perfectly together with a wonderful pop of color and statement jewelry.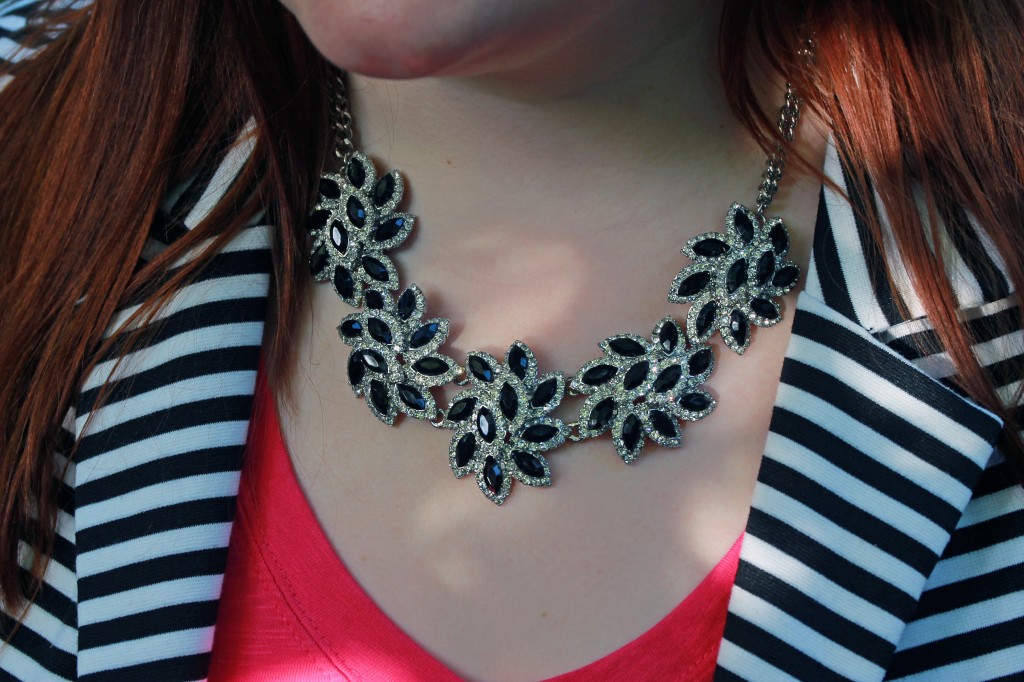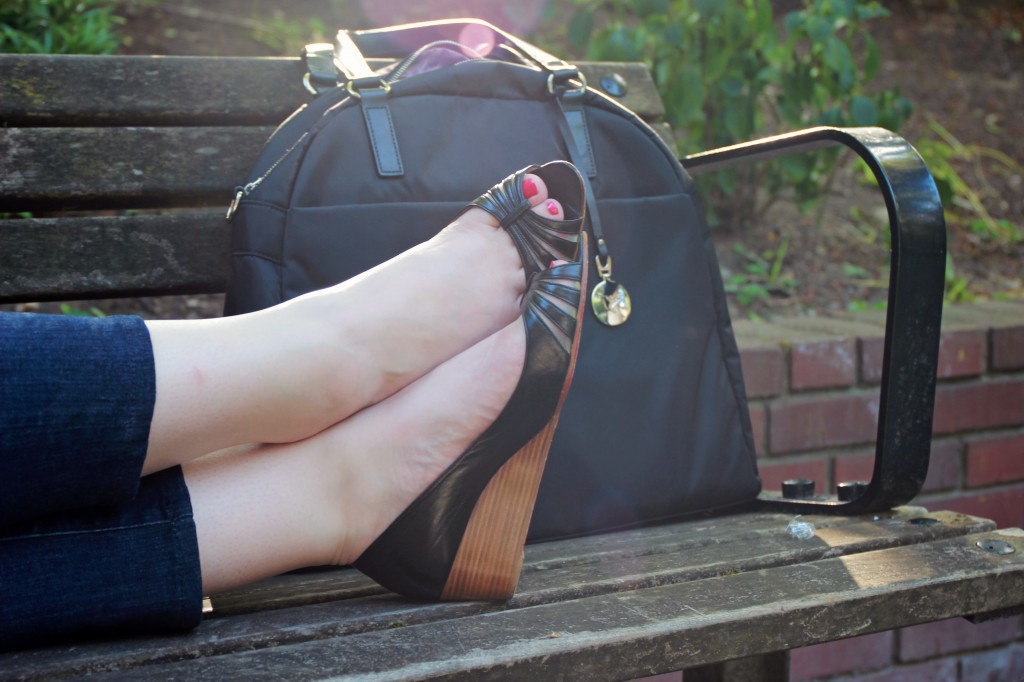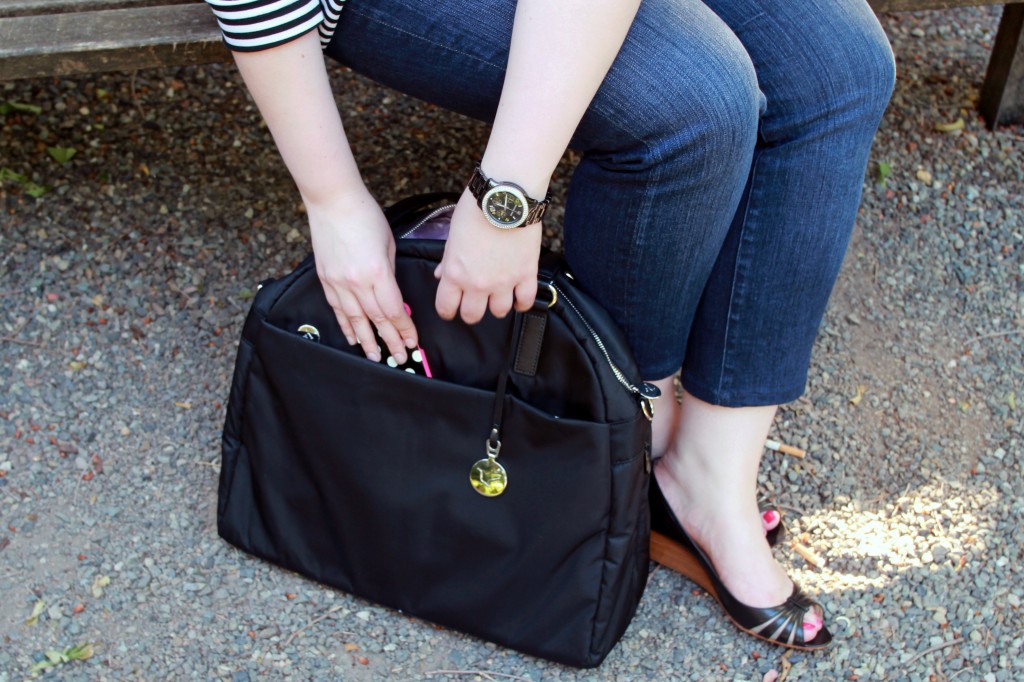 Blazer: GNW c/o Goodwill (similar by Caslon – on sale!); Top: Caslon Shirred V-neck Tee; Jeans: KUT from the Kloth (similar style – on sale!); Necklace: Bauble Bar; Watch: Michael Kors (similar by Juicy Couture – on sale!); Shoes: Christian Louboutin via Goodwill (similar by J. Renee); Bag: Lo & Sons O.G. Bag; Sunglasses: Armani Aviator Sunglasses (similar by Michael Kors)