Value Village Woodinville Grand Opening
Growing up, my mom and her sisters would go thrift shopping regularly. I'd roll my eyes every time and just want to go to a store that sells new stuff instead of someone's old used crap. I absolutely couldn't stand it, but somewhere along the way, that all changed. I'm not sure why or how, but now thrift shopping is one of my favorite things to do. It takes a lot of patience because you might not find exactly what you're looking for right away, but when you are able to find something it's so rewarding and you feel great about your purchase because the price is so affordable! I've had some great thrift store finds, including this dress from Value Village last year!
Tuesday was my mom's 60th birthday (sorry for writing that publicly mom, I hope you'll forgive me), so I decided that we could have a really fun time attending the sneak peek of the new Woodinville Value Village. We had dinner at the Woodinville Cafe before starting our shopping extravaganza. Sidebar: If you haven't been to the Woodinville Cafe, you absolutely need to try it. It looks like a little hole in the wall restaurant but has the most amazing food and the cutest interior design EVER. I highly recommend it!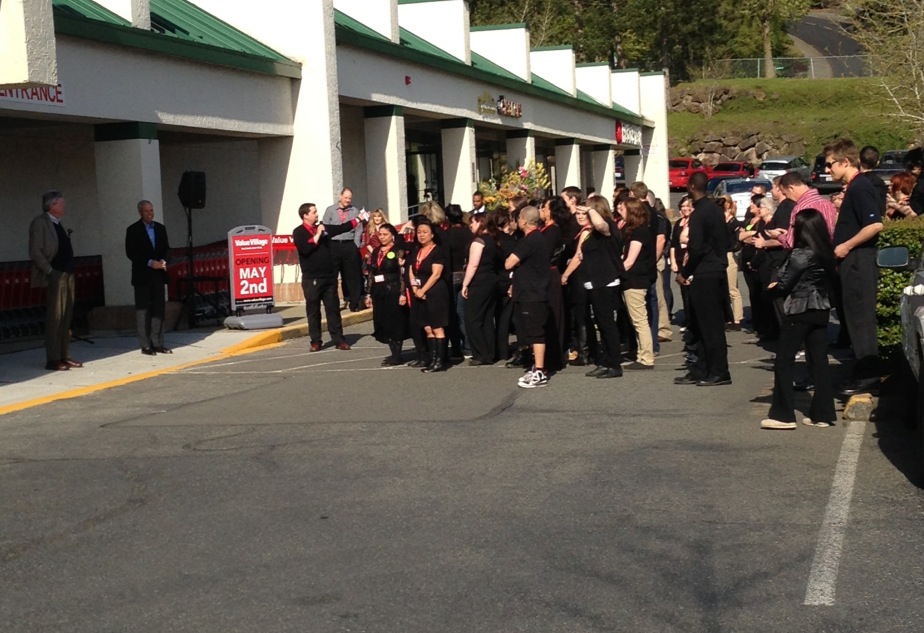 To be honest I was really more concentrated on shopping than I was on taking quality photos! The sneak peek event was insanely busy but the staff was amazing and were still nice, calm, courteous and helpful. They were restocking shelves while we were there and were willing to help us find things even though it was pretty much a madhouse (in a good way).
Believe it or not I was able to contain myself and stay within my budget. I tried on so many great dresses that I can't wait to blog about! (Here's a look at one of the dresses I bought on Tuesday). My mom on the other hand, went a little crazy with all of her finds, but it's okay because it was her 60th birthday right? (And now we know where my shopping addiction comes from).
More about Value Village:
Value Village has more than 315 stores across the U.S. and Canada, and each store has more than 100,000 items on the sales floor at any given time and gets 5,000 new items every day.
Today, May 2, the Woodinville Value Village opens to the public and is the 23rd Value Village in Washington-state, so stop on by if you're in the neighborhood! If you shop between today till Saturday you can enter to win a $100 Value Village gift certificate! It's located at:
14160 NE Woodinville Duvall Road
Woodinville, WA
(That's my mom in the pink jacket. Happy Birthday Mom!)