Little Black Dress
Believe it or not I've been searching for the perfect little black dress for quite some time now. I've been looking for one with classic styling that I could easily wear at the office or out for drinks. Even though I have a large collection of dresses it can still be a long process to find the right dress for your body type.
I literally just stumbled upon this one while shopping at [shopsense shopsense_url="http://api.shopstyle.com/action/apiVisitRetailer?url=https%3A%2F%2Fwww.macys.com%2F" original_url="https://www.macys.com/" save_to_store="false"]Macy's[/shopsense] one day with friends. I have a theory that if there's something I want to try on while shopping, I may as well try everything on, the good, the bad, and the ugly. As I was headed to the dressing room, here was this dress, the only one on the rack. Naturally, I picked it up, because at less than $100, who doesn't want to try on a little black dress? When I came out of the dressing room and saw the looks on my friends faces, I knew it was meant to be.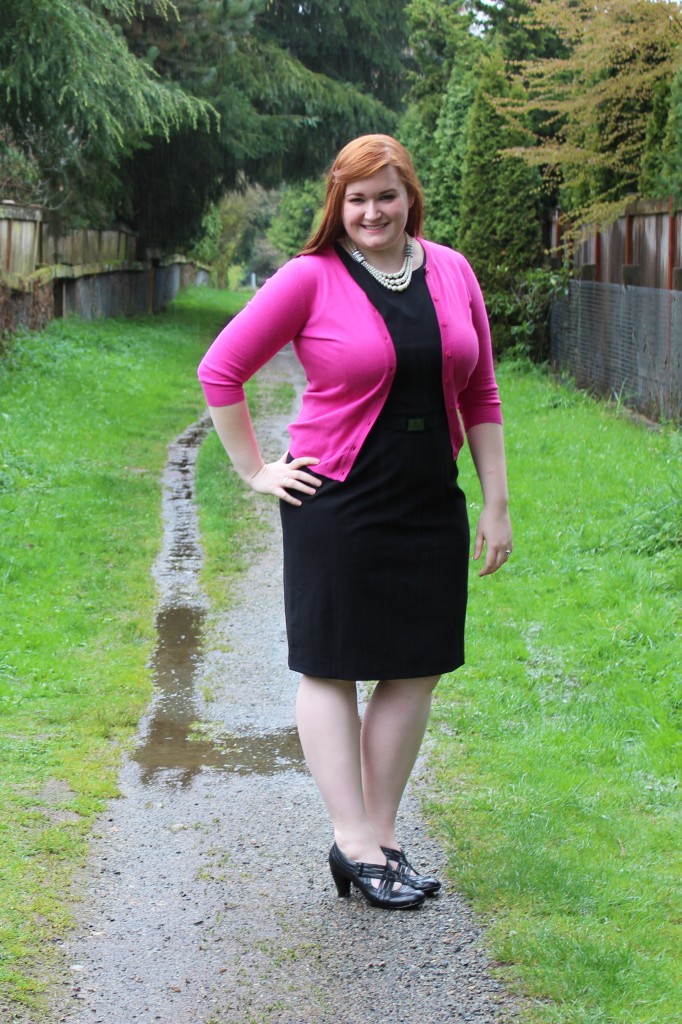 The beauty of a black dress lies not only in its timeless look, but also in the ability to style it in so many ways. For this post, I opted for a more classic business look when styling it. You can't go wrong with a little black dress and pearls! I snagged this multi-strand faux pearl necklace at a [shopsense shopsense_url="http://api.shopstyle.com/action/apiVisitRetailer?url=http%3A%2F%2Fbananarepublic.gap.com%2F%3F" original_url="http://bananarepublic.gap.com/?" save_to_store="false"]Banana Republic[/shopsense] sale last winter and have been dying to wear them ever since. They make me feel a little bit like Audrey Hepburn! As you know, I love my cardigans and I might be a little predictable when it comes to wearing them, but a cardigan is such a classic element to your wardrobe! How do you style a little black dress?
P.S. I entered Splendid's Coast to Coast in Color Contest. I'd love it if you could stop by and vote for my entry!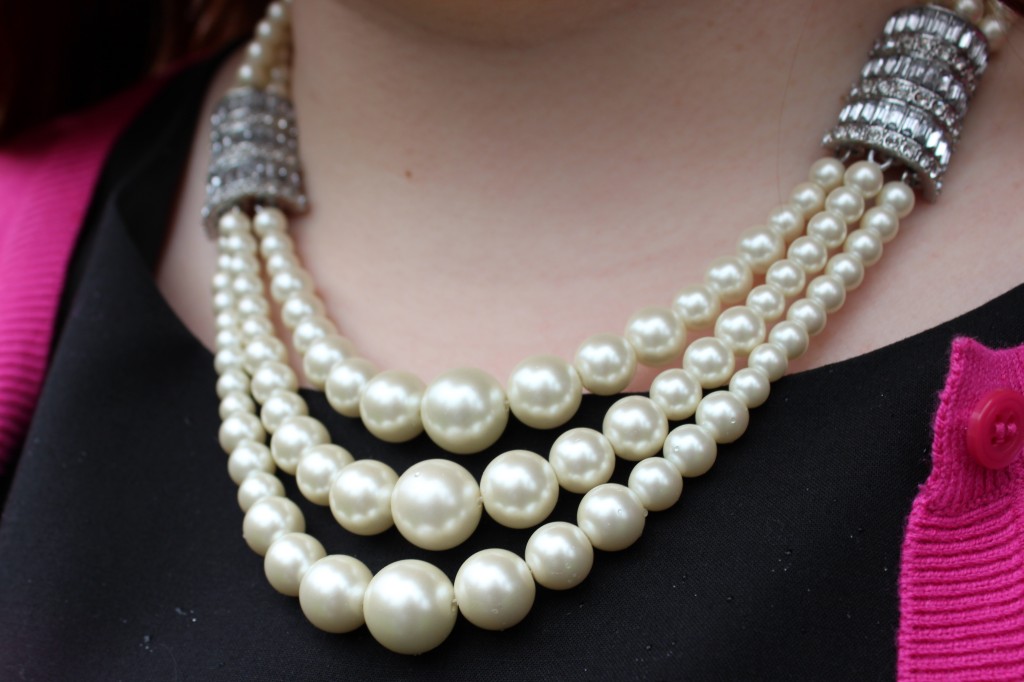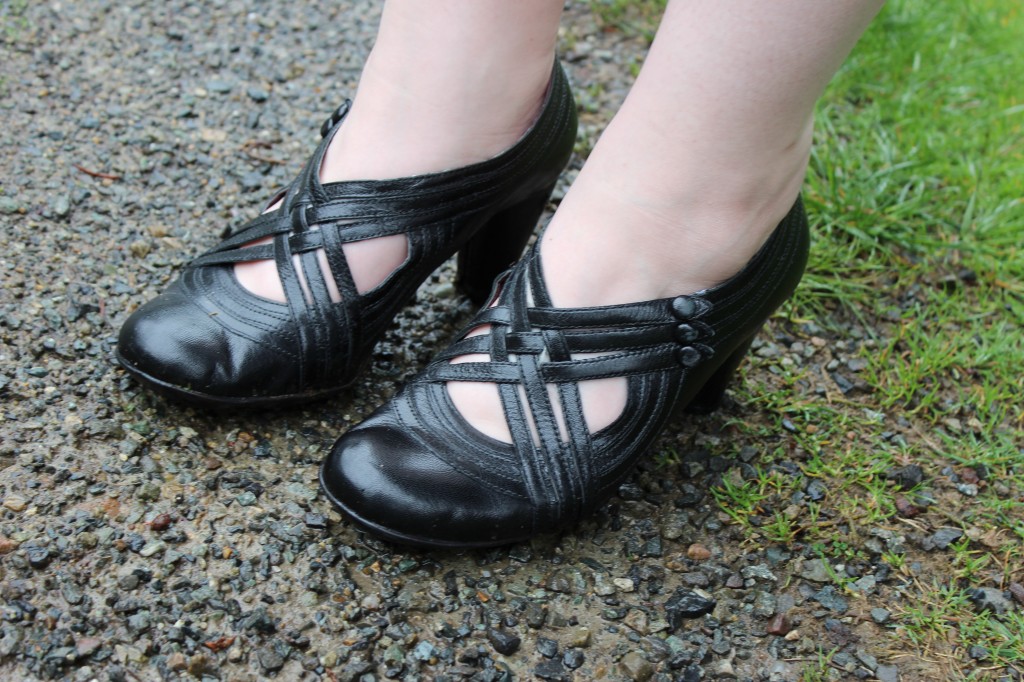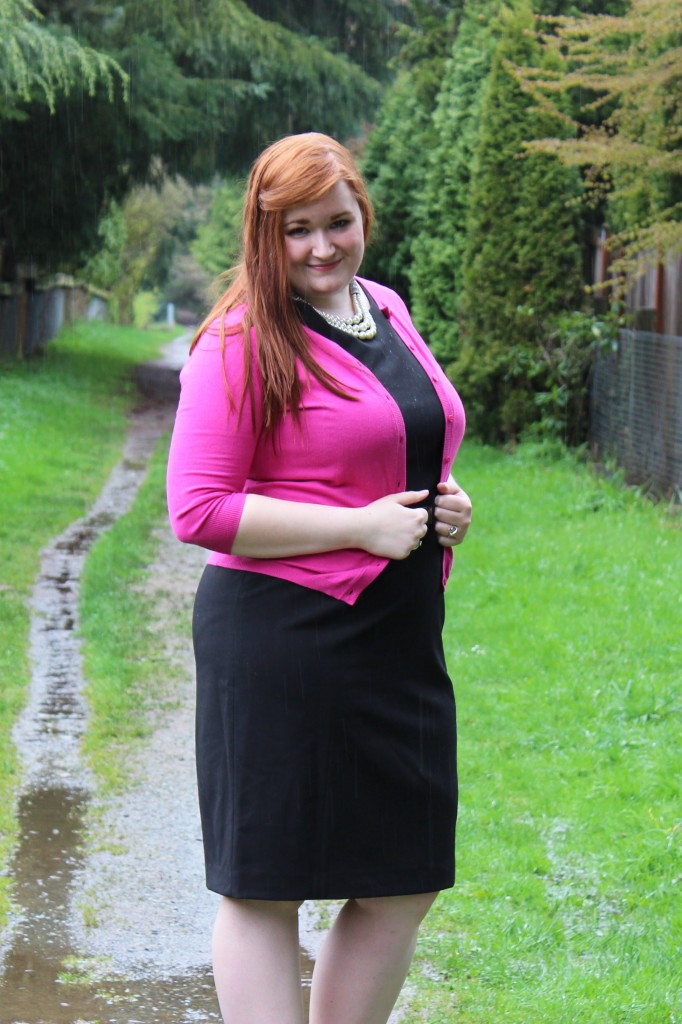 Dress: Calvin Klein (similar [shopsense shopsense_url="http://api.shopstyle.com/action/apiVisitRetailer?url=http%3A%2F%2Fwww1.macys.com%2Fshop%2Fproduct%2Fcalvin-klein-dress-sleeveless-sheath%3FID%3D424669″ original_url="http://www1.macys.com/shop/product/calvin-klein-dress-sleeveless-sheath?ID=424669&CategoryID=5449&LinkType=#fn=BRAND%3DCalvin%20Klein%26COLOR%3DBlack%26sp%3D1%26spc%3D30%26ruleId%3D38%26slotId%3D8″ save_to_store="true"]here[/shopsense] and [shopsense shopsense_url="http://api.shopstyle.com/action/apiVisitRetailer?url=http%3A%2F%2Fwww1.macys.com%2Fshop%2Fproduct%2Fcalvin-klein-plus-size-dress-sleeveless-belted-sheath%3FID%3D723187″ original_url="http://www1.macys.com/shop/product/calvin-klein-plus-size-dress-sleeveless-belted-sheath?ID=723187&CategoryID=37038&LinkType=&swatchColor=Black#fn=BRAND%3DCalvin%20Klein%26COLOR%3DBlack%26sp%3D1%26spc%3D12%26ruleId%3D2%26slotId%3D5″ save_to_store="true"]here[/shopsense]); Sweater: [shopsense shopsense_url="http://api.shopstyle.com/action/apiVisitRetailer?url=http%3A%2F%2Fshop.nordstrom.com%2Fs%2Fbp-classic-crewneck-cardigan-juniors%2F3506373%3Forigin%3Dcategory" original_url="http://shop.nordstrom.com/s/bp-classic-crewneck-cardigan-juniors/3506373?origin=category&contextualcategoryid=0&fashionColor=White&resultback=295″ save_to_store="false"]B.P.[/shopsense]; Shoes: Indigo by Clarks; Necklace: Banana Republic