The Truth About Style
Last night, I had the opportunity to meet Stacy London from TLC's What Not to Wear. She was in town for a book signing of her newest release, The Truth About Style at Third Place Books. I heard about the event from one of my coworkers who knows my love of fashion and style. He asked me if I liked the show What Not to Wear, really what kind of question is this? First of all, who doesn't like that show, and second, where did he ever get the idea that I, of all people, wouldn't like it? I asked him if this was a serious question, to which he replied, well I guess that was dumb of me, but here you might be interested in this event.
Naturally he was right, and I promptly proceeded to inform my best shopping buddy (Dolly) of the event. We made plans to attend the event, and despite Dolly's sinus infection and my many wardrobe malfunctions prior to the event we were able to make it. Let's just say floss and scissors can fix anything.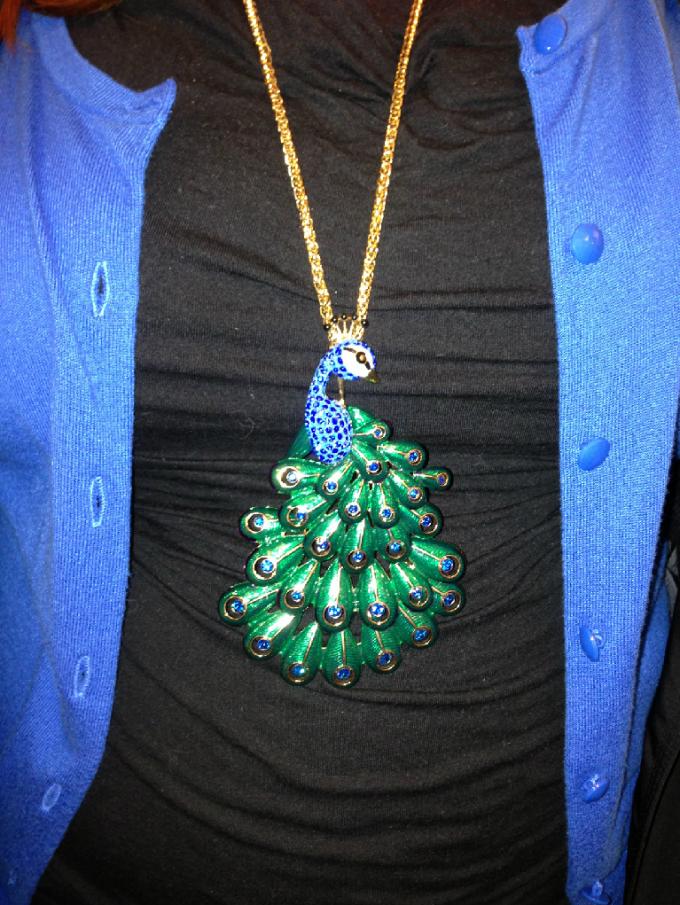 Of course meeting one of the leading ladies of style, I was having the worst time deciding what I should wear to the event. Should I be dressier? Perhaps casual? As Dolly was wearing black skinny jeans and a chambray shirt, I didn't want to tower over her in my high heels, so I ended up changing out of my "corporate clothes" into a slightly more casual ensemble (KUT jeans, Steve Madden boots, black shirt, cobalt blue sweater, and a statement necklace). I didn't snap a photo of my entire outfit, but I did get a picture of my necklace, a Betsey Johnson peacock that I picked up last year.
(In case you're wondering, this is where the floss and scissors came in handy. I dropped my necklace twice which resulted in the bottom half of the peacock breaking away from the upper half. Luckily floss saved the day, and I was able to tie the pieces back together.)
But, enough about me and my fashion issues. Prior to the book signing, Stacy spoke to the group about her book. She is just as upbeat and animated in real life as she is on What Not to Wear. Ever the fashionista, she looked dazzling in a metallic green skirt and a black sweater with a cat's face on it (looks better than it sounds, I promise). She had us laughing the whole time, but what struck me about Stacy was how "real" she is. I guess I've been living under a rock, because I didn't realize the journey Stacy has been through. She wasn't always the "skinny minnie" we know and love today. She's been through many difficulties in her life that has made her the stylish woman she is today.
While I haven't read the entire book yet, I can tell you that with what I heard last night and what I have read of the book, Stacy London is a woman in the fashion industry who gets it. Many times I think we find that those in the fashion industry don't know what it's like to be a real woman and to have struggled with body image issues or skin issues and they've probably never had a zit in their entire life. We imagine them as always being skinny and beautiful and surrounded by stylists and makeup artists 24/7 to make them look beautiful. But Stacy's different. She gets it. She's coming out with her story and not trying to hide it and is celebrating other women and their stories.