Our Wedding: Tinsel the Trailer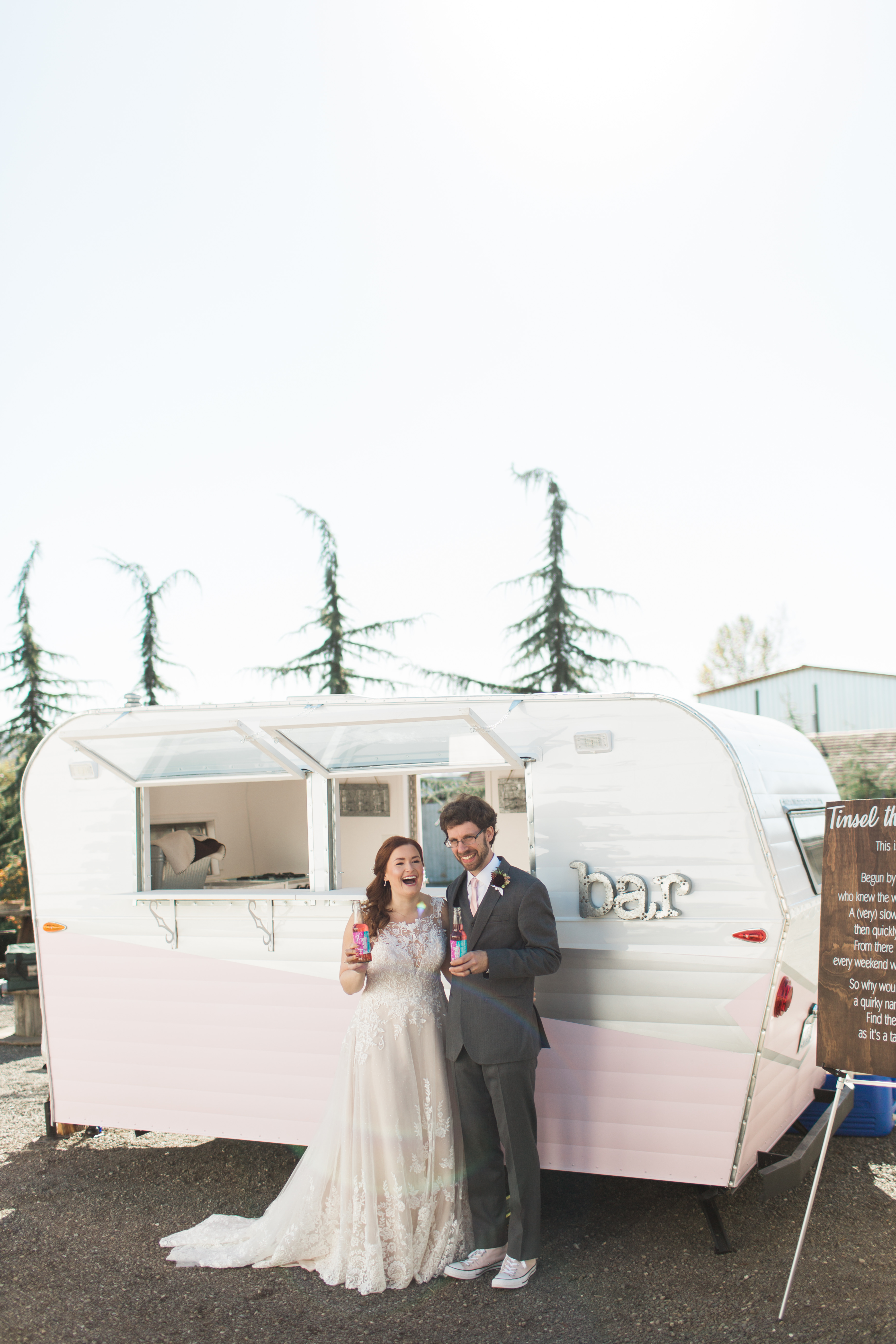 If you've seen any of our wedding pictures, you may have noticed an adorable little pink and white trailer. She was our biggest DIY project for the wedding… This is the story of our trailer, Tinsel, and how she came to be.
But before we begin, here is a picture of Tinsel in all her finished glory with the happy couple days before the wedding: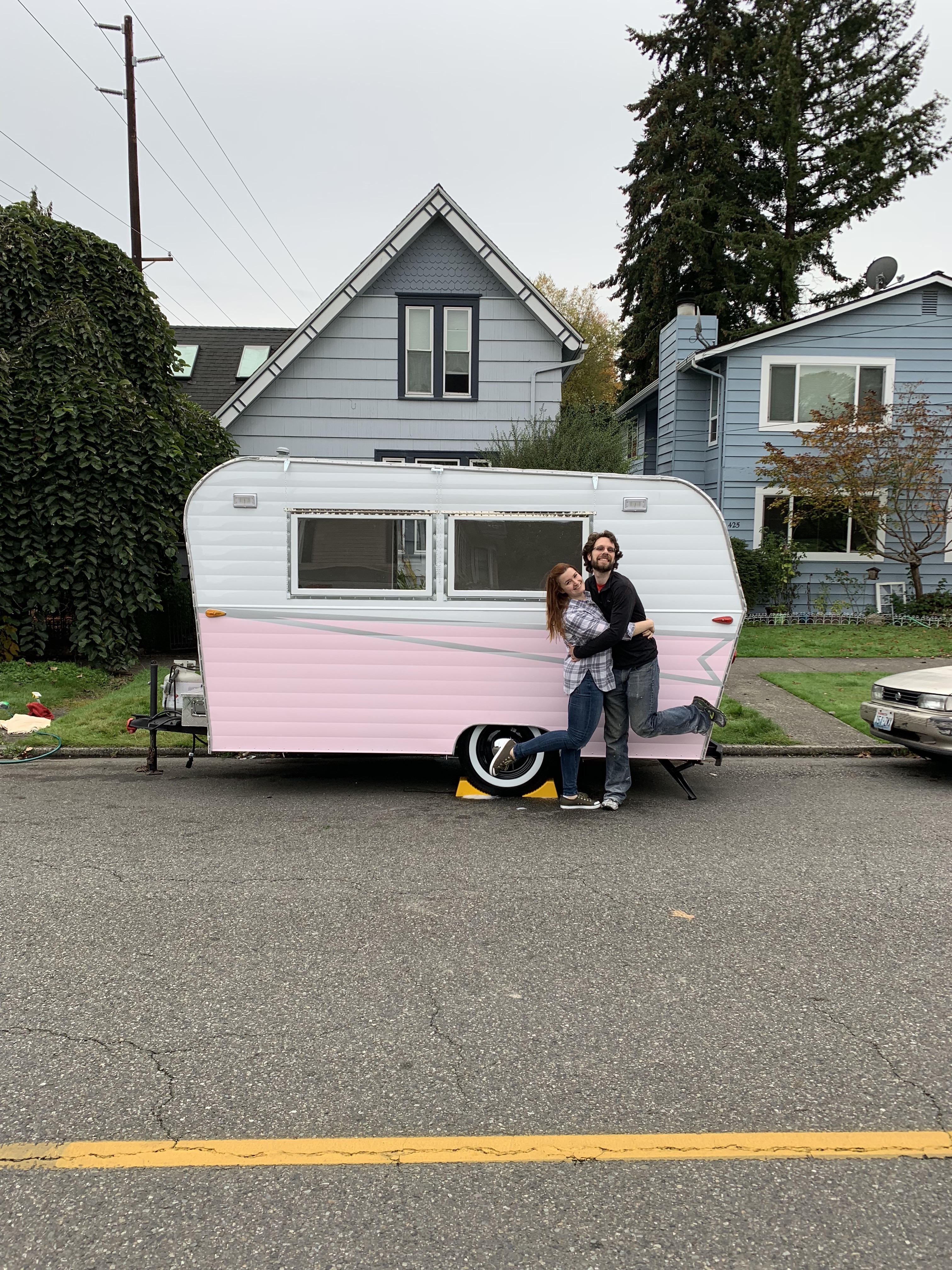 How it Began
Jon and I are really good at coming up with crazy ideas, and one day in January 2018, we came up with quite possibly the craziest idea we've ever had.
By January, we had most of the major aspects of wedding planning figured out and key vendors had been contracted, so we began designing the venue layout and event flow. We quickly realized that while our venue's capacity was 250 guests, it would still be tight trying to fit our projected 210 guests inside the space. Since we had decided on a food truck as the supplier of our dinner, I thought that we could also put the bar outside in one of those cute camper bars. Not only would it free up space inside, but it would be a cute addition to our outdoor aesthetic which would include a food truck, the Shutterbus Photobooth, and now, hopefully a camper bar!
I had my heart set on a camper bar, but as I started requesting rate information, I realized that budget-wise the camper bar was probably going to be a no-go. Sensing my disappointment and frustration, Jon said: What if we just bought one and renovated it ourselves? 
For reasons still unknown to me, I immediately said: Sure, why not?  To say that Jon was surprised at my agreement to his idea would be an understatement, but he went with it. Less than 48 hours later, we had located and bought a 1957 Siesta trailer.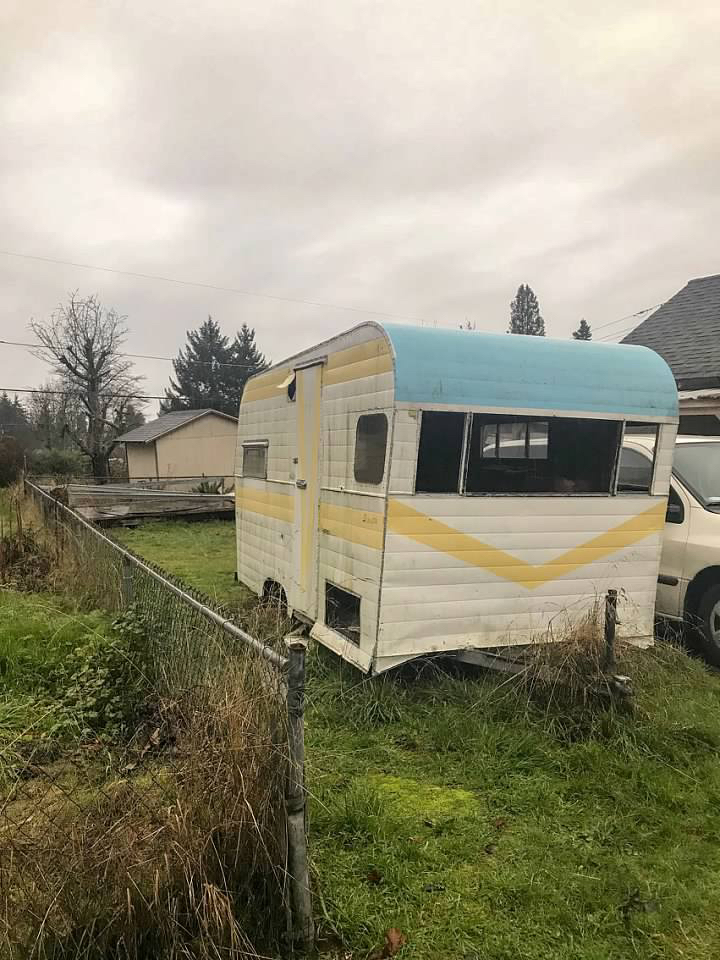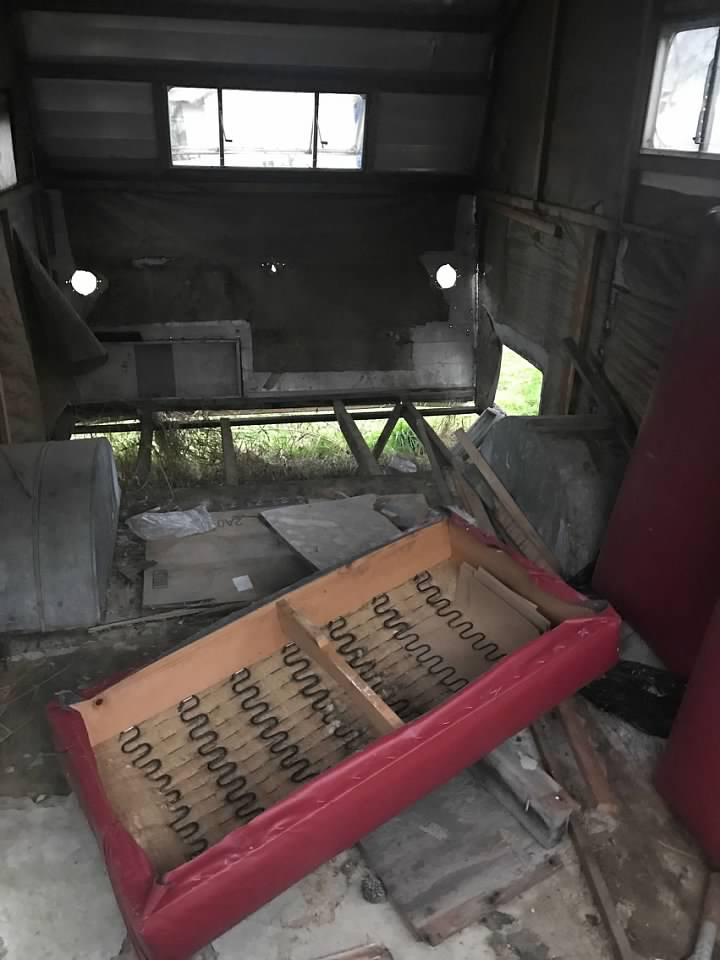 Bringing Her Home
If there was one thing I never thought I'd call and ask my parents, it was this: Hey, so I was wondering… if we bought a canned ham trailer, can we store it at your place? I think my mom asked me if I was crazy while my dad was immediately like: Hell yes, this sounds awesome! 
On January 7, 2018, Jon and I took my Suburban, both of our dads, his sister, and a rented flatbed trailer to White Center, Washington, just south of Seattle. We were filled with excitement at this new project. Then I saw the trailer and thought: Oh shit. Where is the floor? Why is it rotting? Should it be rotting? Jon, on the other hand, looked like a kid at Christmas. He was absolutely thrilled with what he saw. He assured me that this was exactly what he wanted and with a clean title, it was a great investment for $500. Okay then, load her up!
After an hour or so of jockeying the trailer around and pushing her up onto the flatbed, strapping her down, and ensuring she was properly secured, we were on our way… and just in time for rush hour traffic! As we sat in the pouring down rain waiting to merge onto I-5, I got a little nervous about a piece of the trailer's outer shell that I saw flap every once in a while when we picked up speed. Jon assured me that this was okay.
We merged onto I-5 and then onto I-90, our speed was increasing and so was my worry. The flap I could see on the rearview mirror seemed to be flapping more and more. I asked Jon a few more times but sensing he was getting annoyed with my worry, I stopped asking. As we crossed I-90, Jon said: I think there's something loose on the passenger side. Me to myself: I KNEW IT. We took the first exit we could off of I-90 and pulled into a QFC parking lot. I went and got everyone dinner while the family readjusted and re-secured our load once more. Realizing it was going to be a much slower drive home than we anticipated, we buckled in for a stressful journey home.
We changed our freeway route to back roads to make for a slower commute and more opportunities to pullover along the way. We made two more stops along the way to adjust and secure the trailer. We made a pit stop in Bothell to drop Jon's sister off and then another pit stop at our house in Snohomish, where my dad got his car and followed us to my parents house in Granite Falls.
As we started up the Mountain Loop Highway (a dark, two lane highway with no cell phone service), I thought I saw the door to the trailer swing open. I told Jon and he assured me it was fine. A few more times I saw the trailer door flap open. Jon said everything was fine and the door was not opening. Growing frustrated, I told him to please slow down if he wouldn't pull over because I did not want the trailer door to fly off and hit my dad who was still behind us. He slowed down, but still said everything was fine… As we turned down my parents' road, we pulled over to let my dad pull up the driveway in front of us. My dad pulled right up next to us, stopped the car, got out and yelled: YOUR DOOR IS OPEN. I can't remember, but I may or may not have took that moment to tell Jon: I TOLD YOU SO.
And just like that, a typically hour and a half drive from White Center turned into a 5+ hour journey to my parents' place.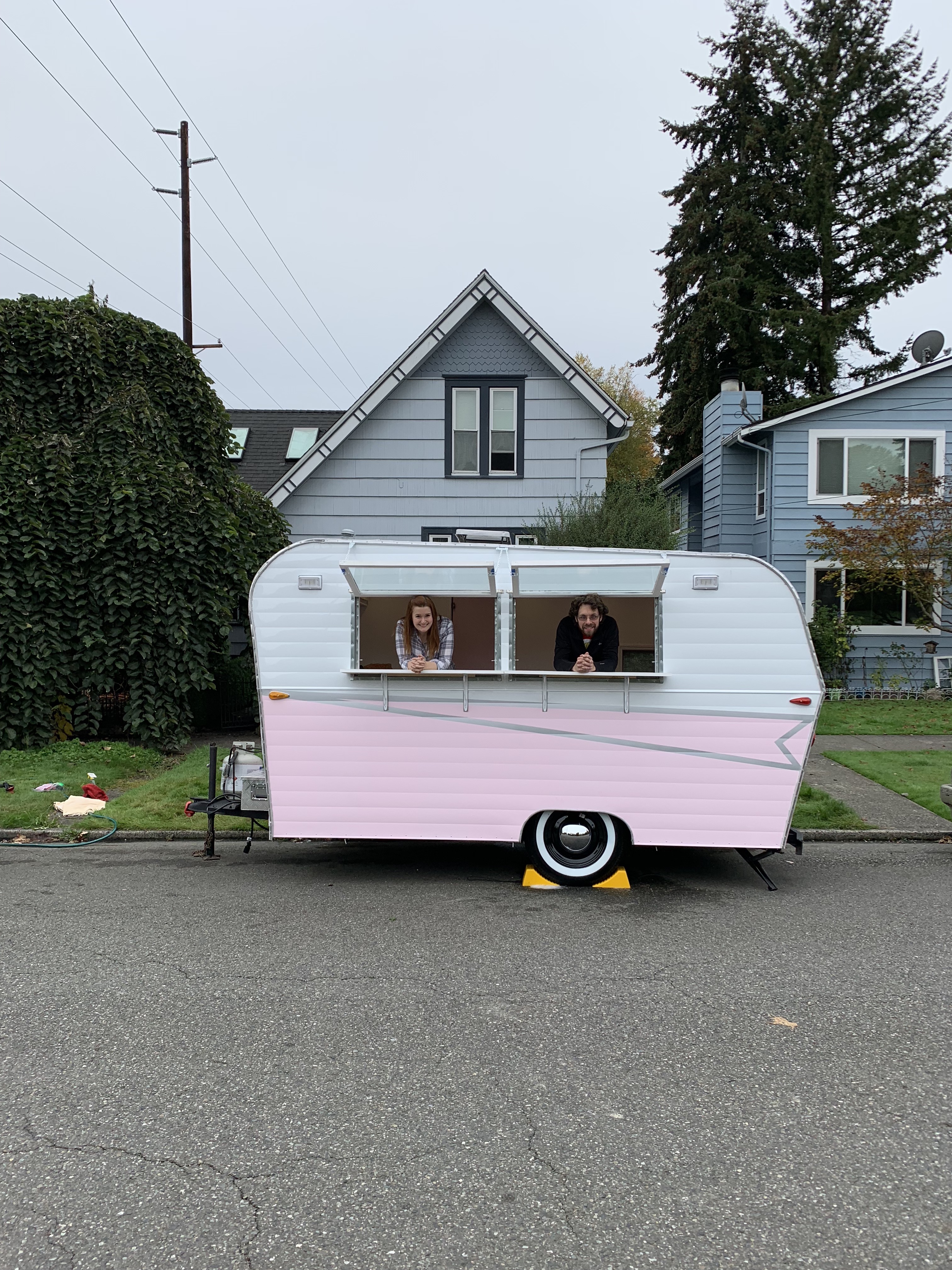 The Renovation
When I say we renovated a trailer and turned her into a bar, many people think we just bought a trailer, cut a serving window, and gave her a fresh coat of paint inside and out. If only it were that simple! In reality, we completely disassembled her and rebuilt her from the ground up.
With only a short runway before our wedding, we laid out a plan of renovating the trailer that included going to my parents house every weekend, and set the goal of completing the internal renovations by my birthday in April, planning to use the summer to paint. We knew it was a lofty goal, but I was nervous about renovating a trailer AND planning a wedding, so the sooner we could get the trailer completed, the better. How very quickly our timeline changed…
Phase 1: Tear Her Down
Six days after we brought Tinsel home, we started tearing down her down. Once we'd taken her siding down, she quickly crumbled.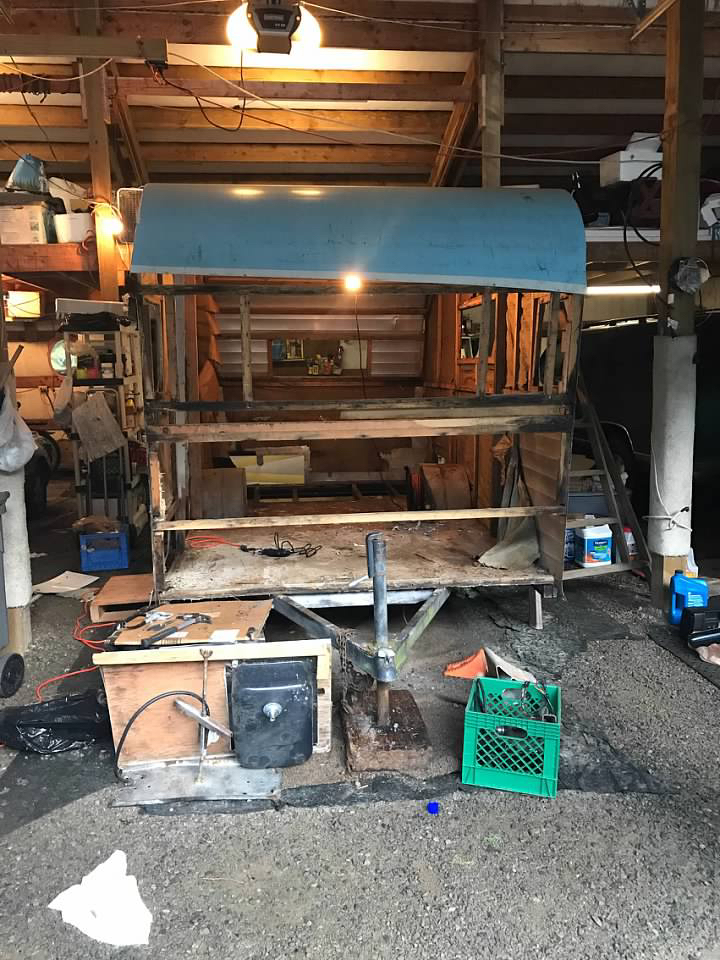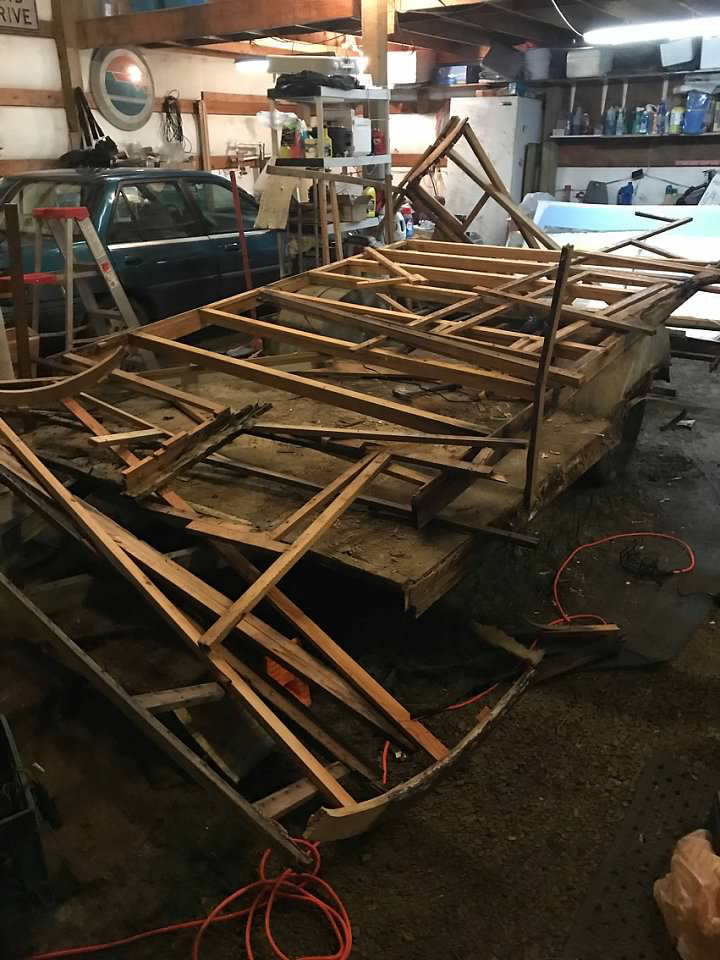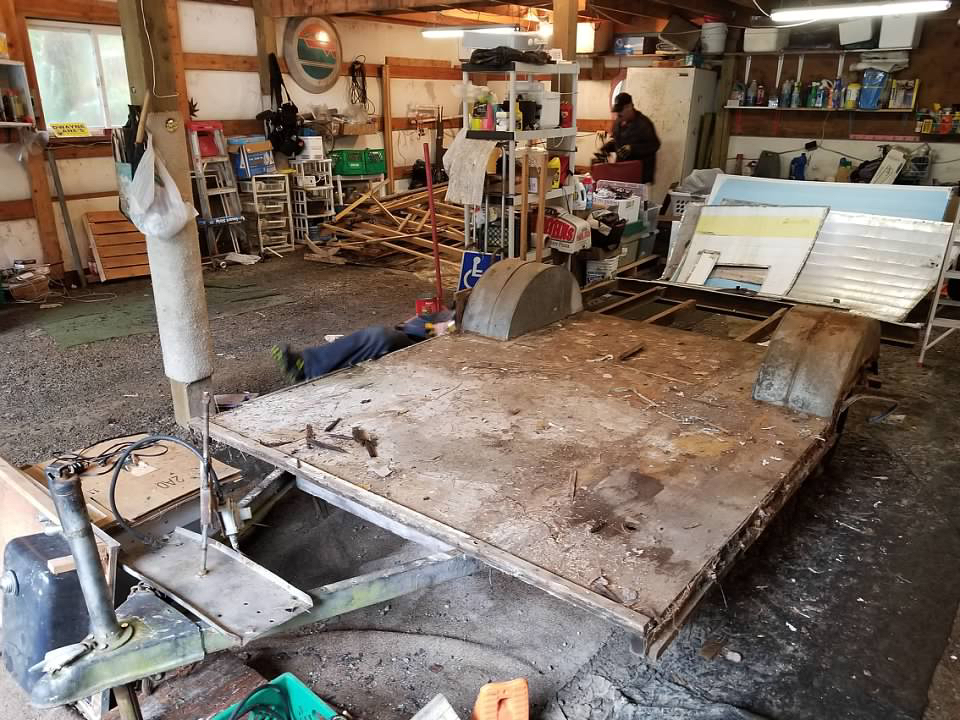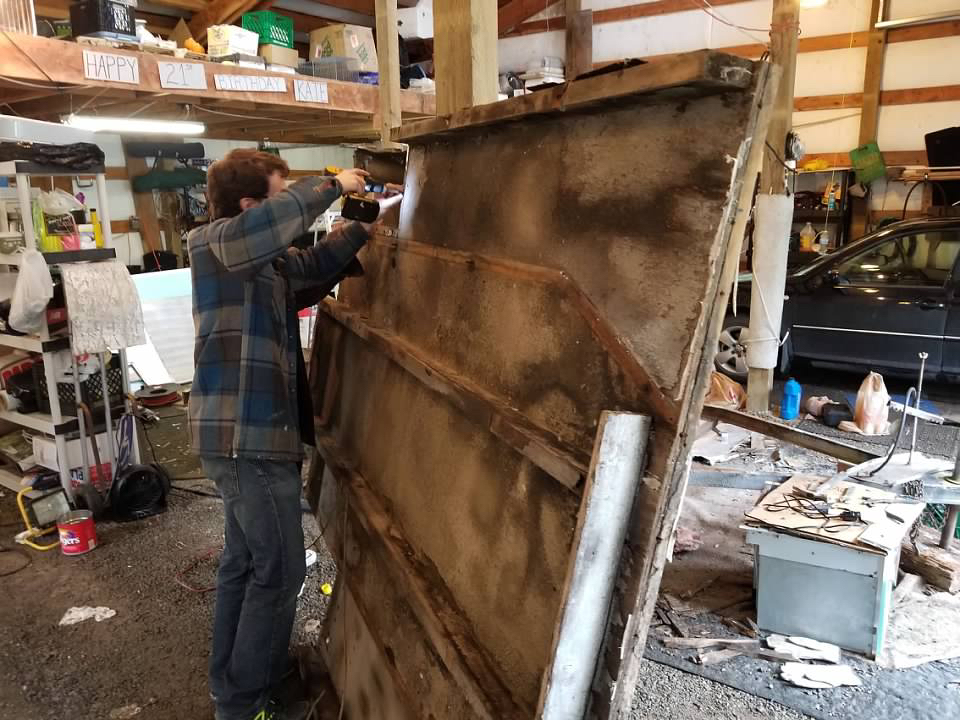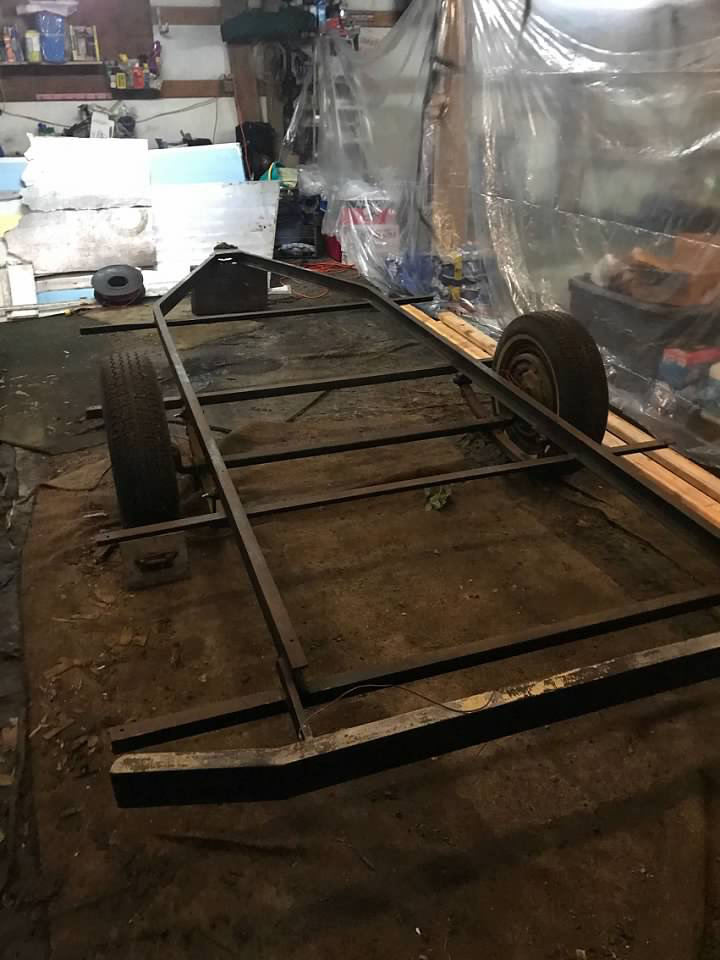 Phase 2: Rebuild the Frame
By February, we had begun the process of rebuilding her frame. During this time we also selected the windows for the bar serving window. We sourced them from Skagit Building Salvage. The external wood framing was completed in April.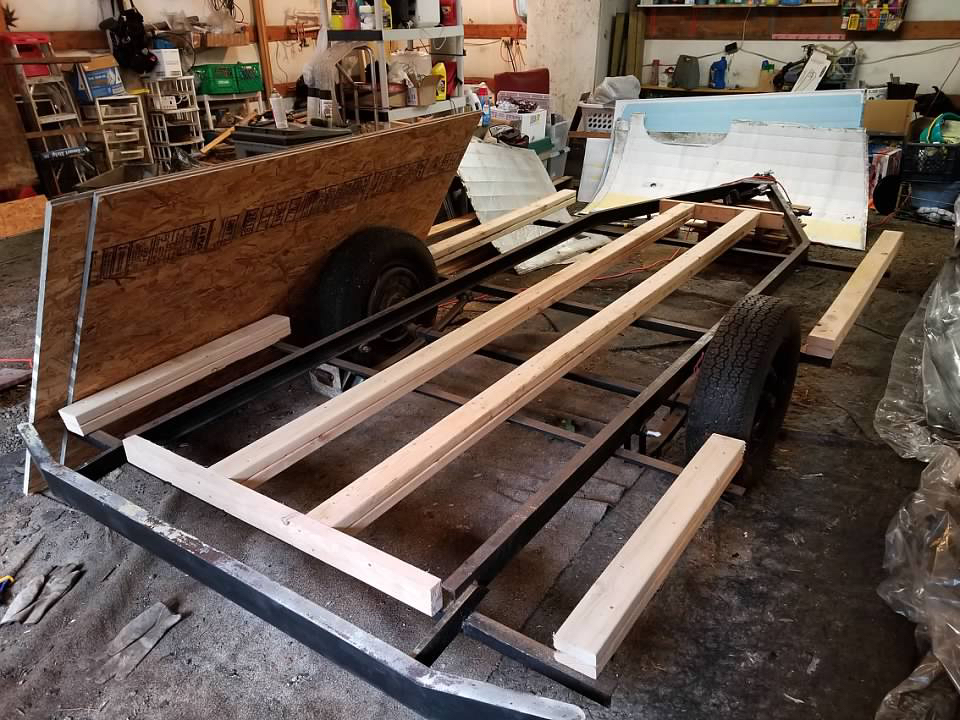 Phase 3: Build the Interior
After the external framing was complete, work on the interior began. I challenged Jon and his dad with finding a way to build a bench and a bed but they told me it wouldn't be possible. After Jon (an engineer) and his dad (an architect) put their heads together, they came up with a fancy collapsible bench that could transition into a bed. In addition, removable countertops with storage space on the side was added for when the camper would be used as a bar. She was also wired for power, got her water hookups, and a heater as well!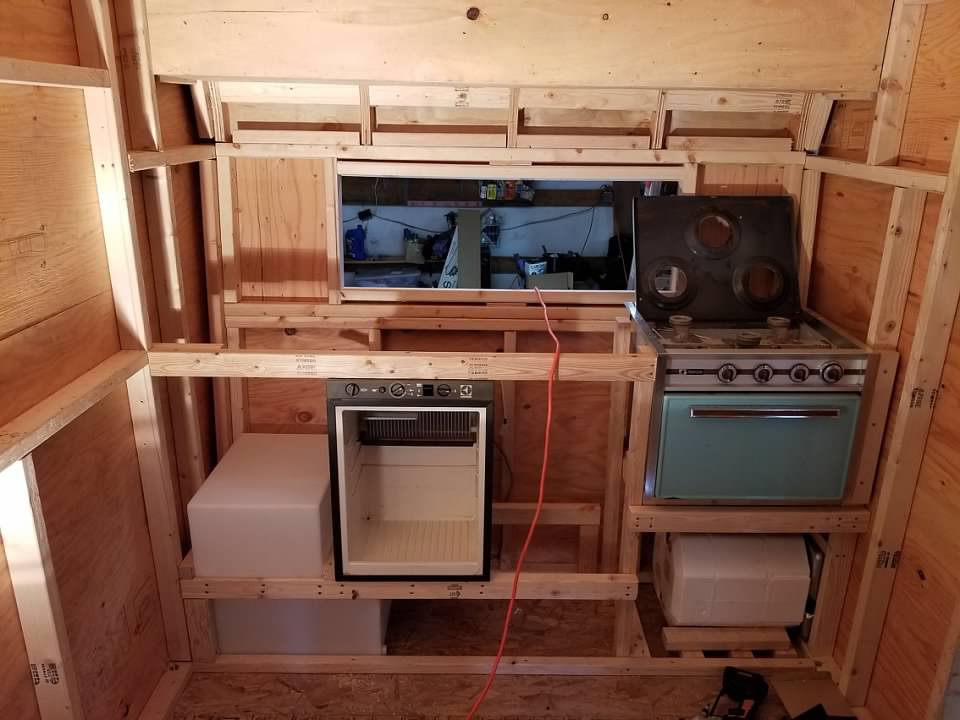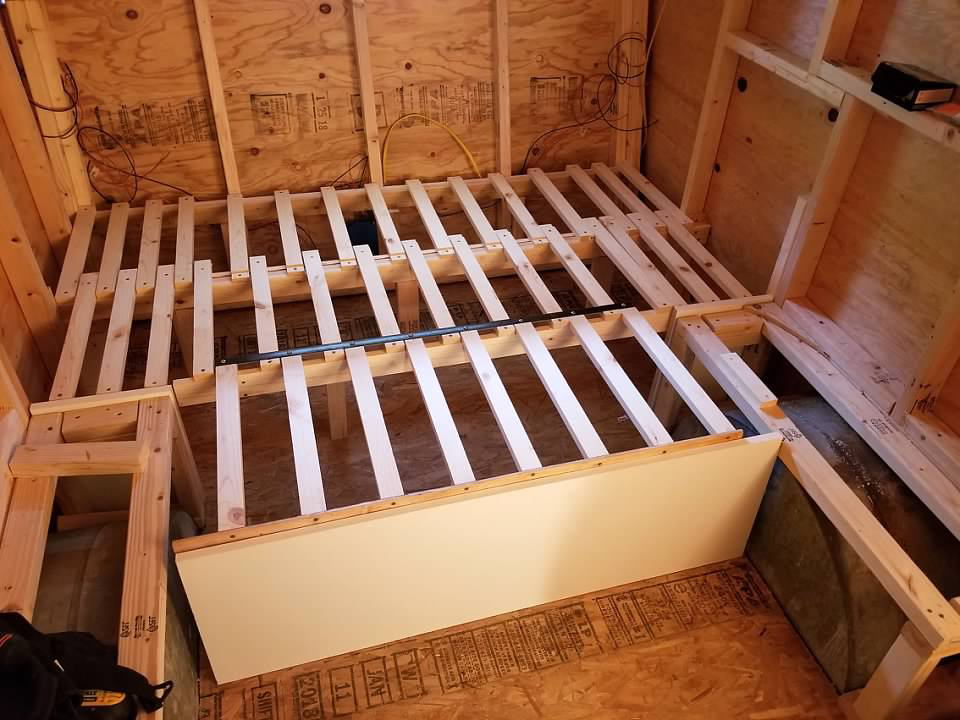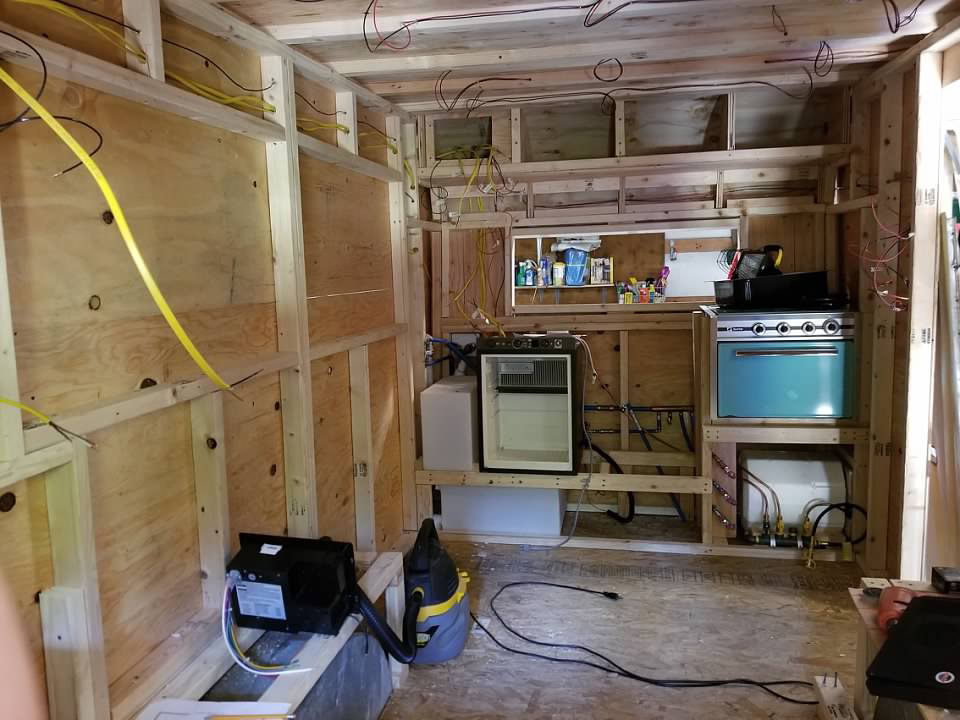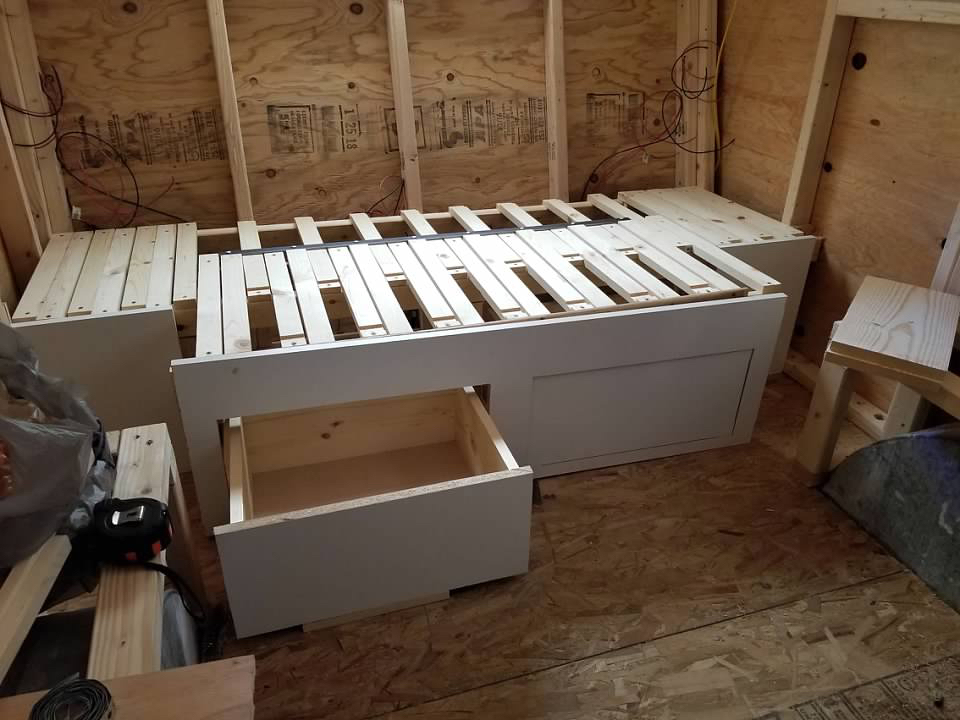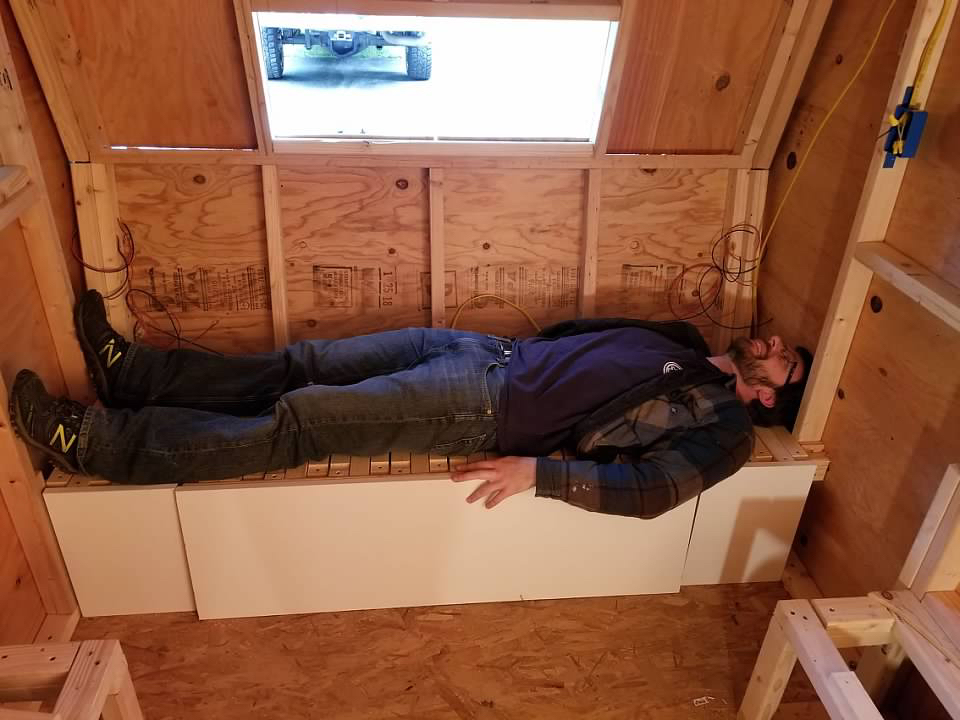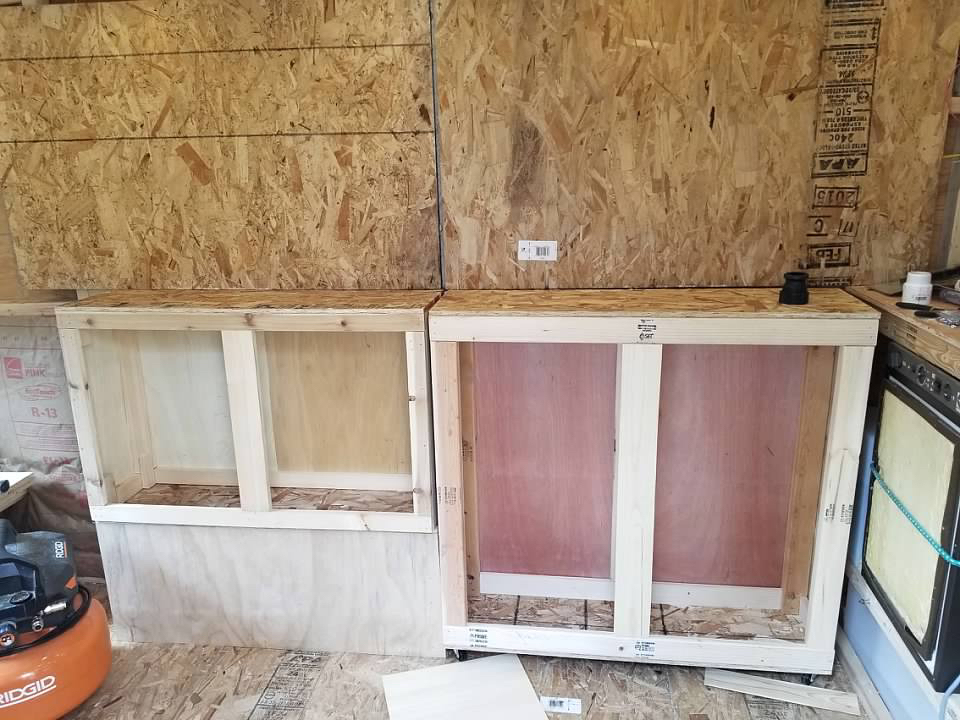 Phase 4: Re-wrap Her
As the weather changed and we welcomed the Seattle summer, more work was done on the exterior. Jon and I made a trip down to Portland as well to get new aluminum siding for Tinsel.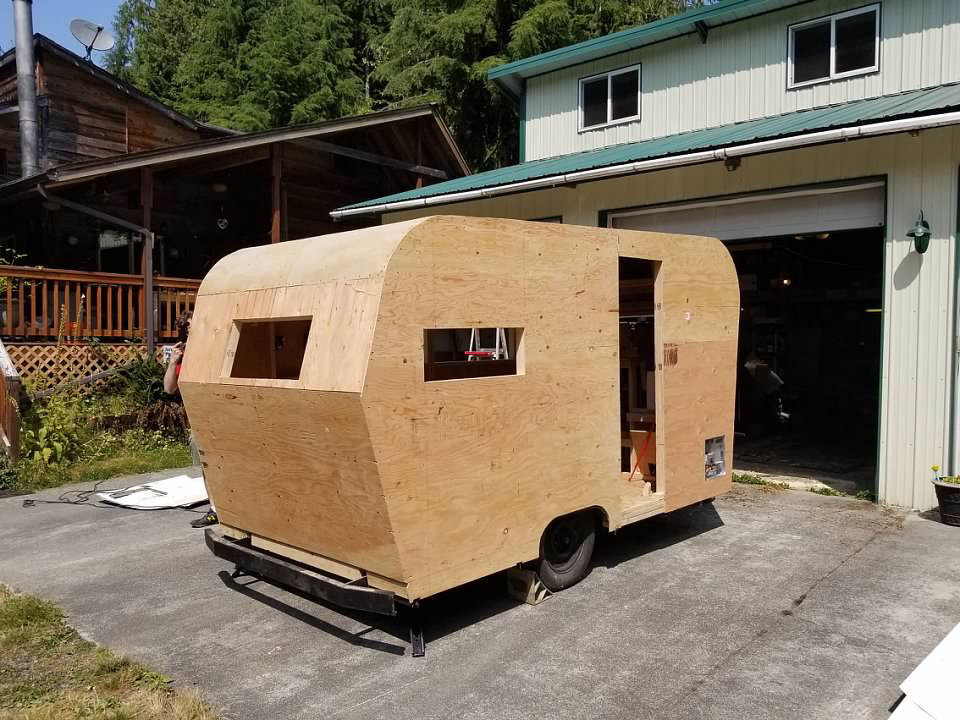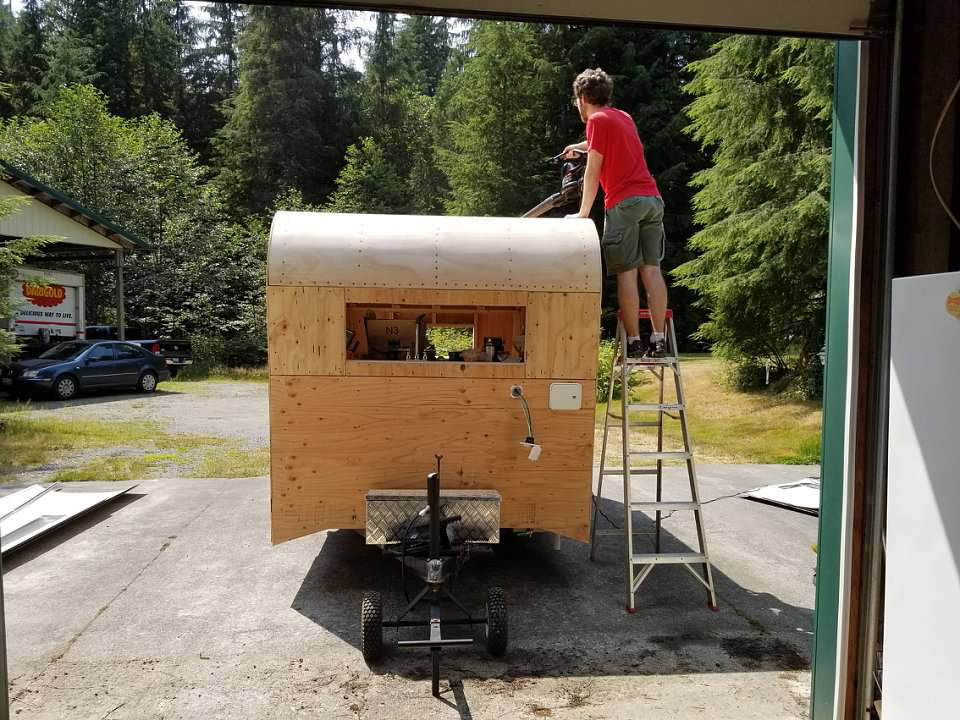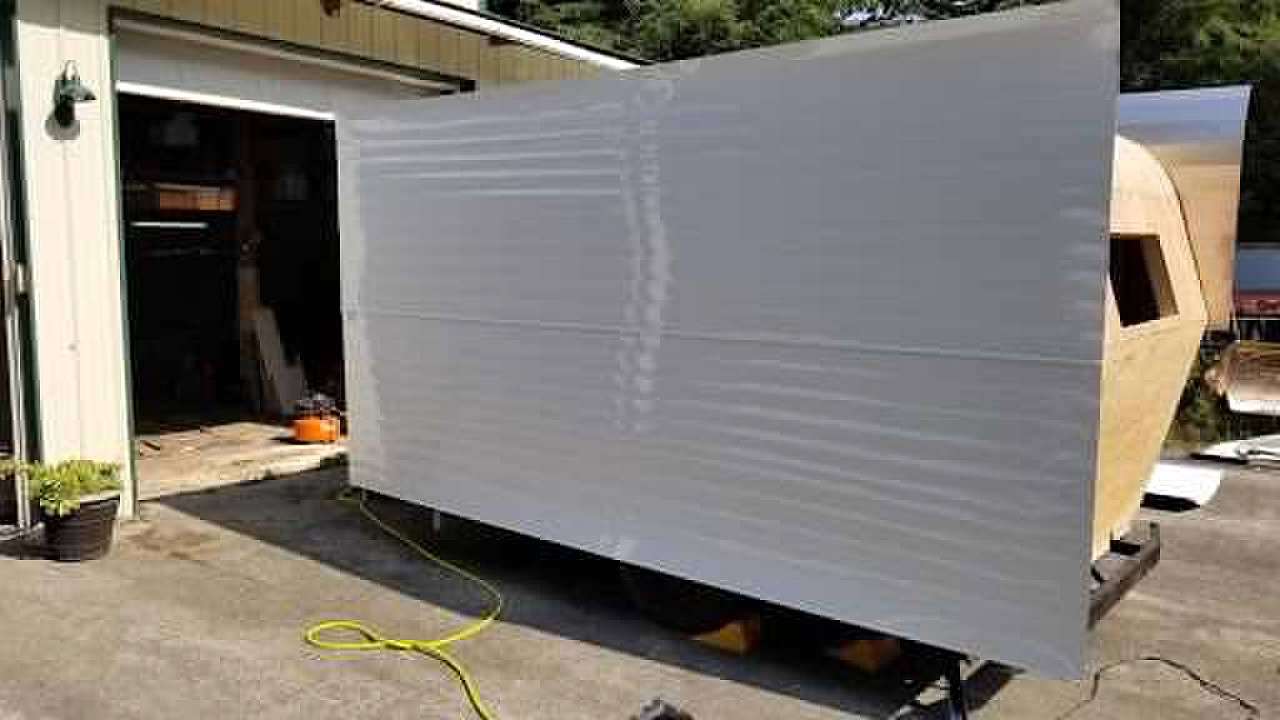 Phase 5: Paint the outside
We decided to paint Tinsel pink and white with a silver stripe, similar to how the original Siesta trailers were painted. I roughly taped off the diagonal arrow line. Jon did most of the painting at my parents' house but did the final touches once Tinsel was brought back to our house.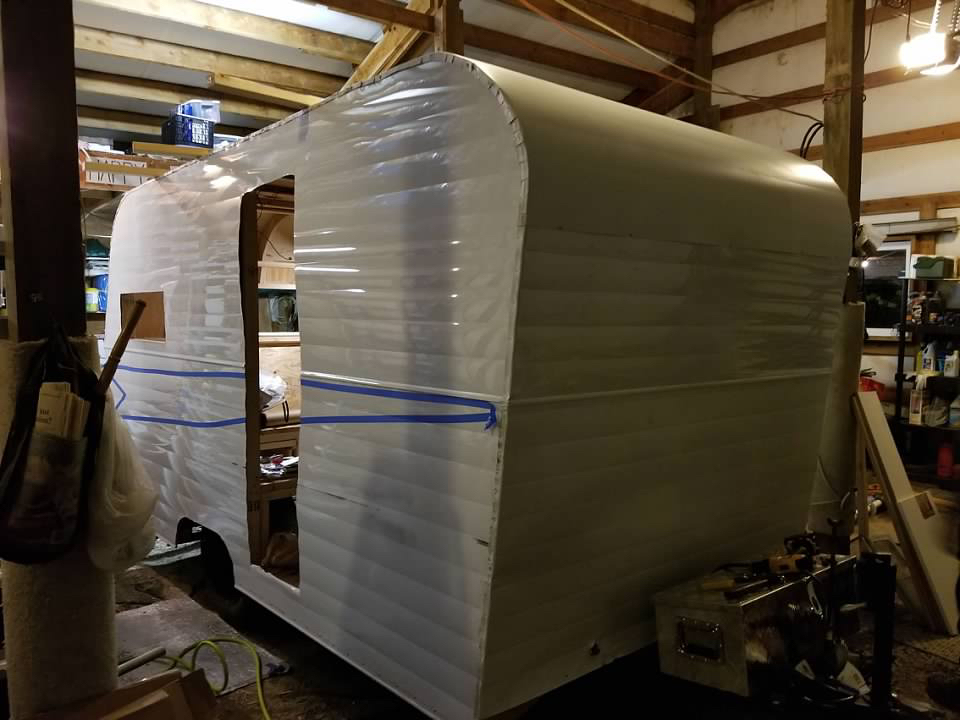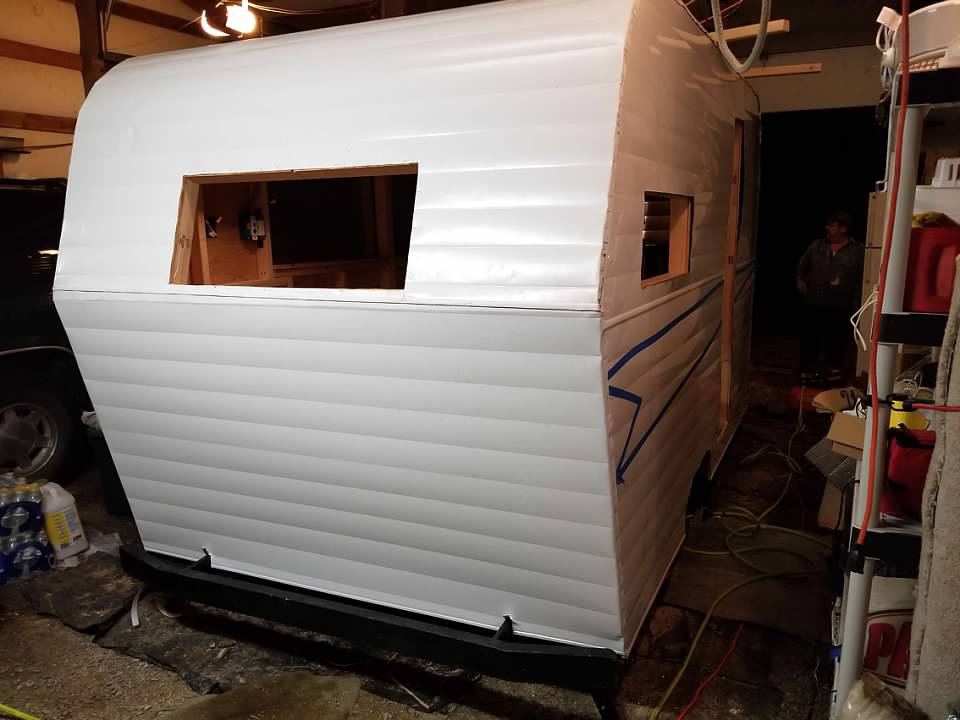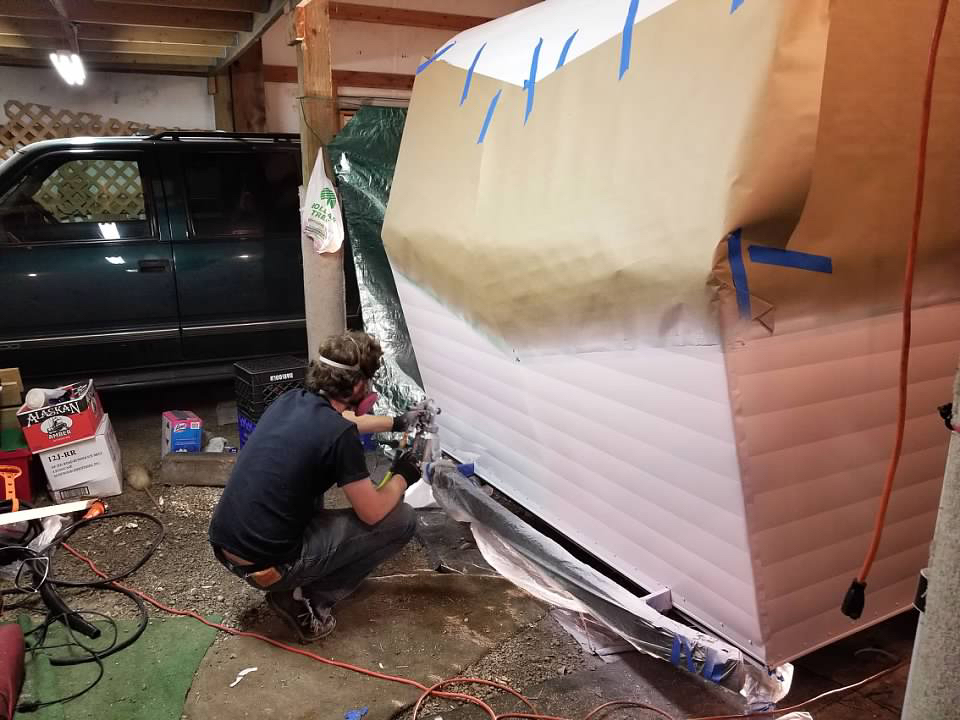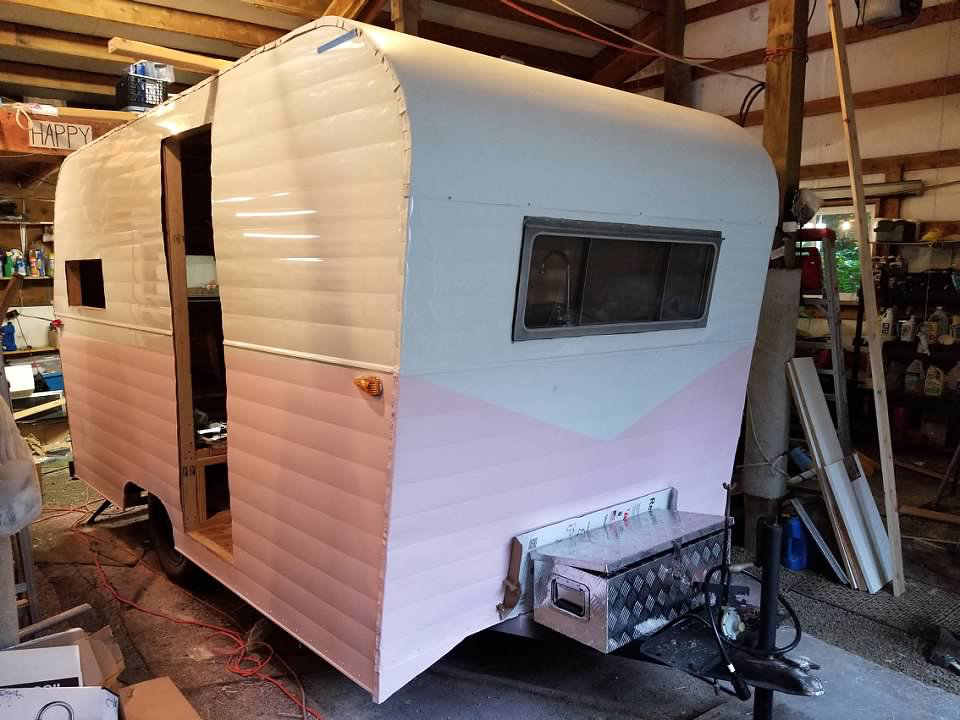 Phase 6: Assemble and paint the inside, install windows
On September 2nd, Tinsel had her maiden voyage from my parents' house to our house. Jon and his dad would spend most nights and weekends until the wedding working on finalizing Tinsel.
I wanted to keep the interior light and bright, so we painted her white and added a marble-like countertop and dark wood flooring. Our garage became a mini paint studio with all of the painting for interior pieces!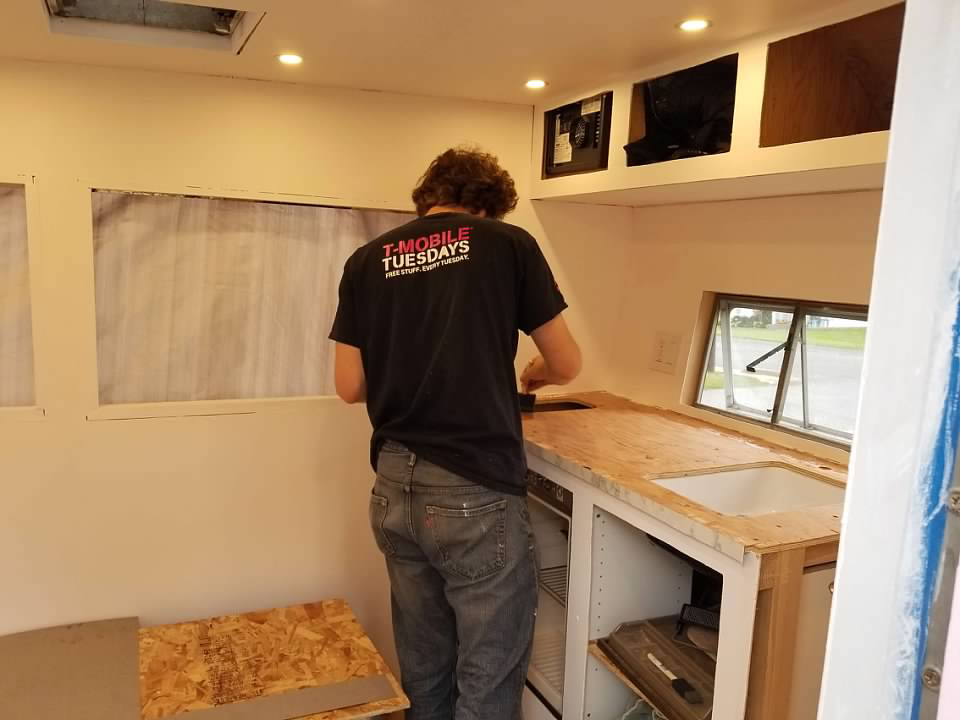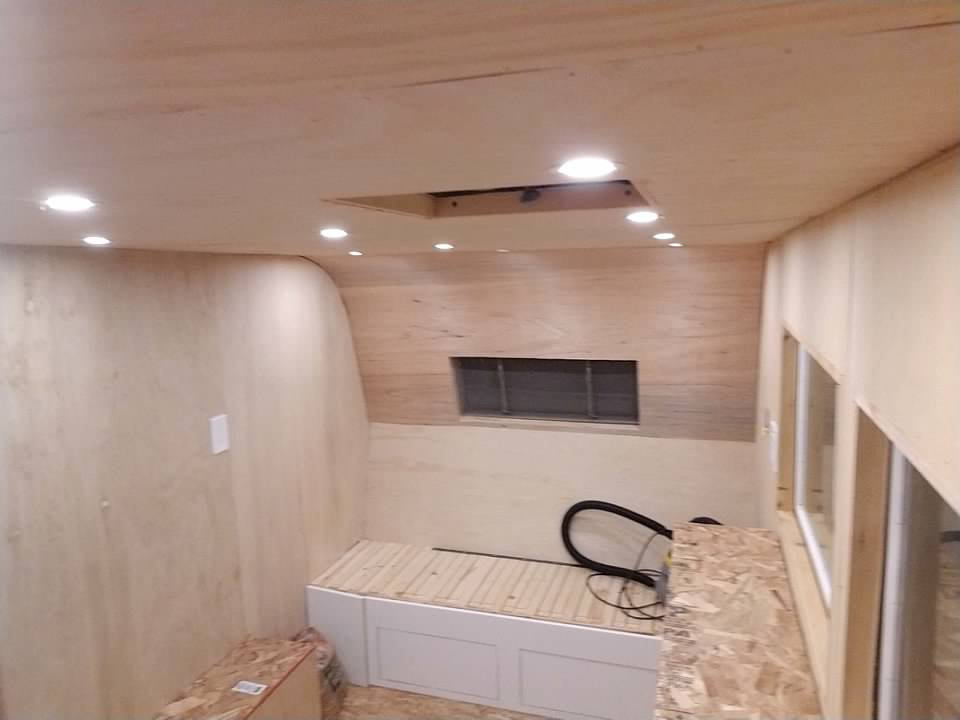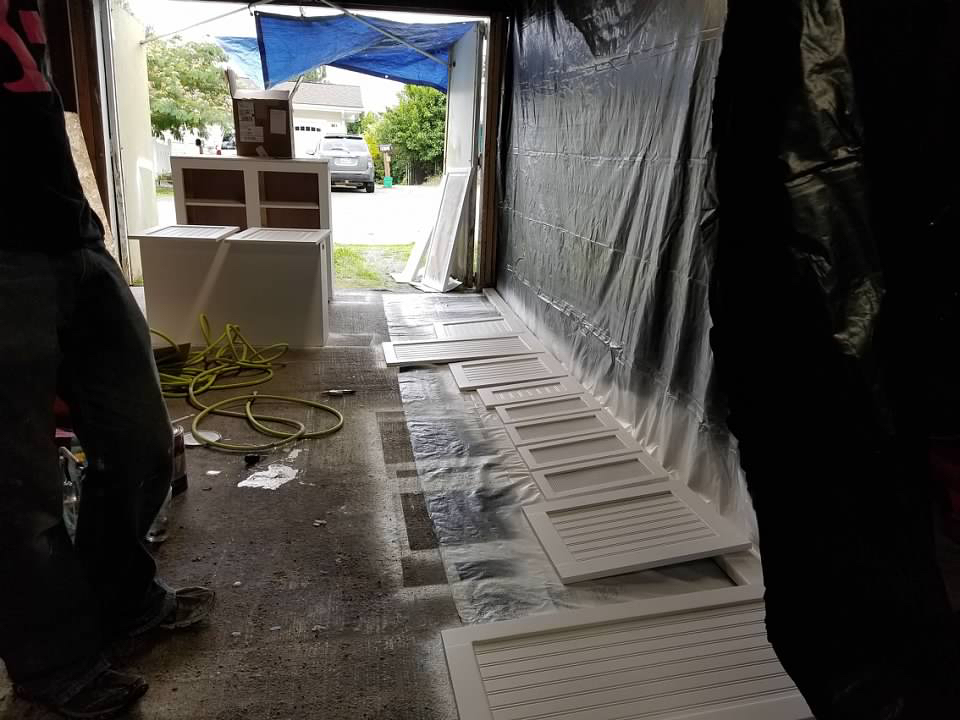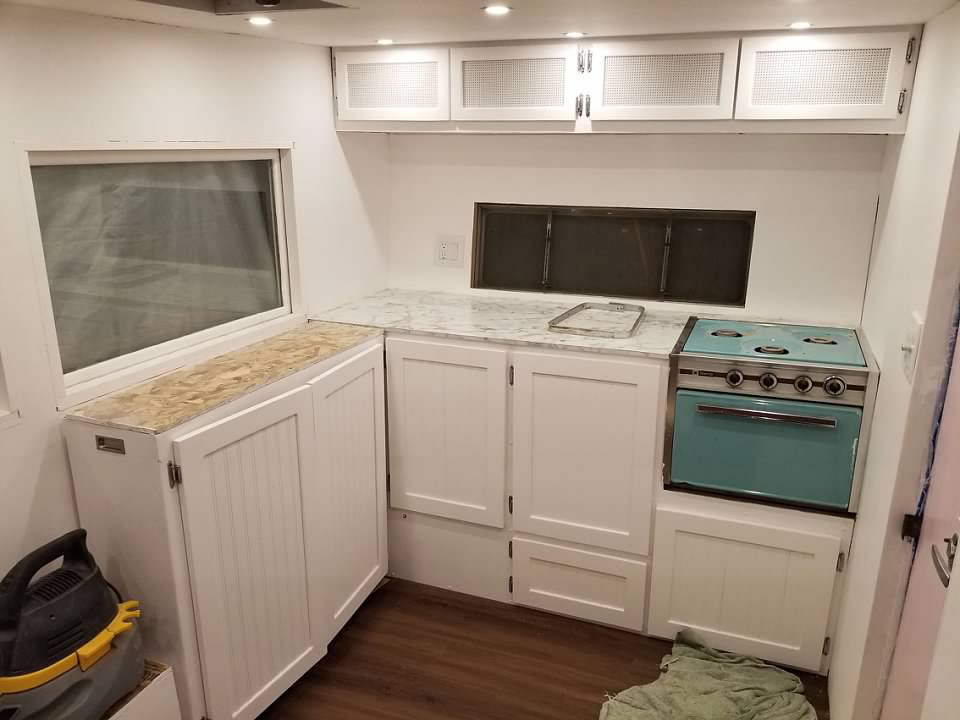 Phase 7: The Finishing Touches
With just a few weeks to the wedding, we worked on finishing touches like the removable bar windows, white wall tires and the silver stripe. When we originally painted the stripe, we left it hollow, but I decided that I wanted it to filled in, so Jon quickly filled in the arrow.
And when all that was done, we loaded her up with all of our wedding decor to be transported to the venue!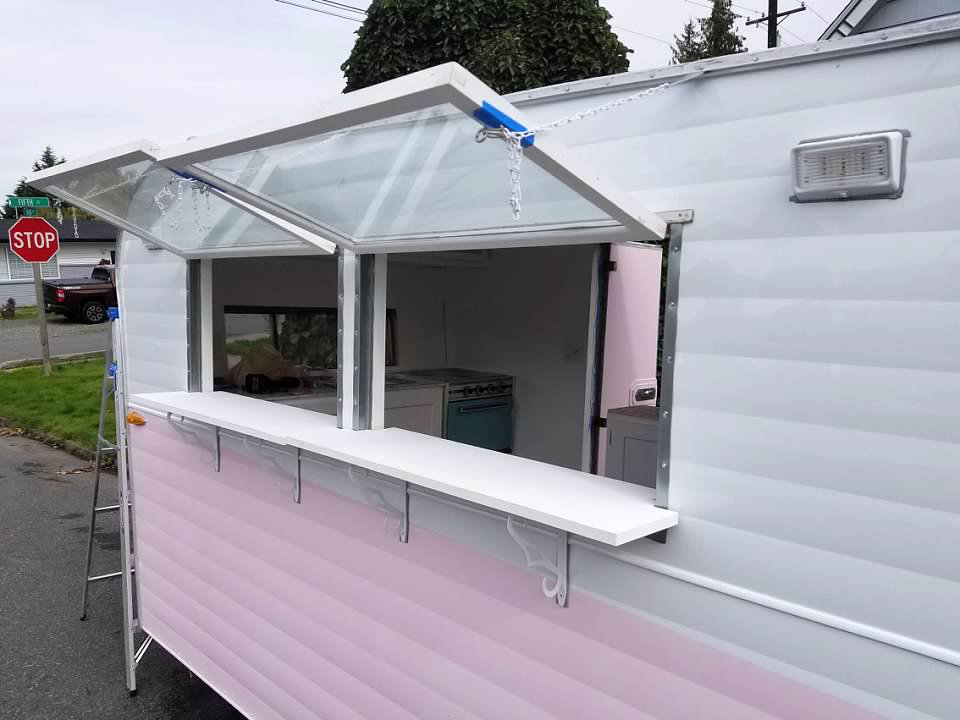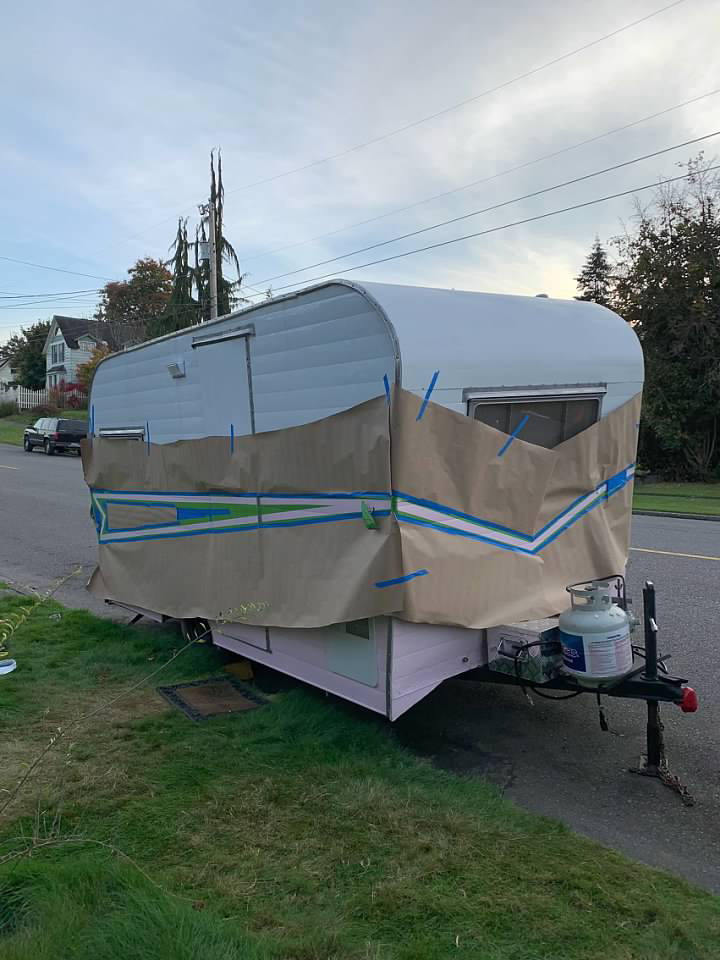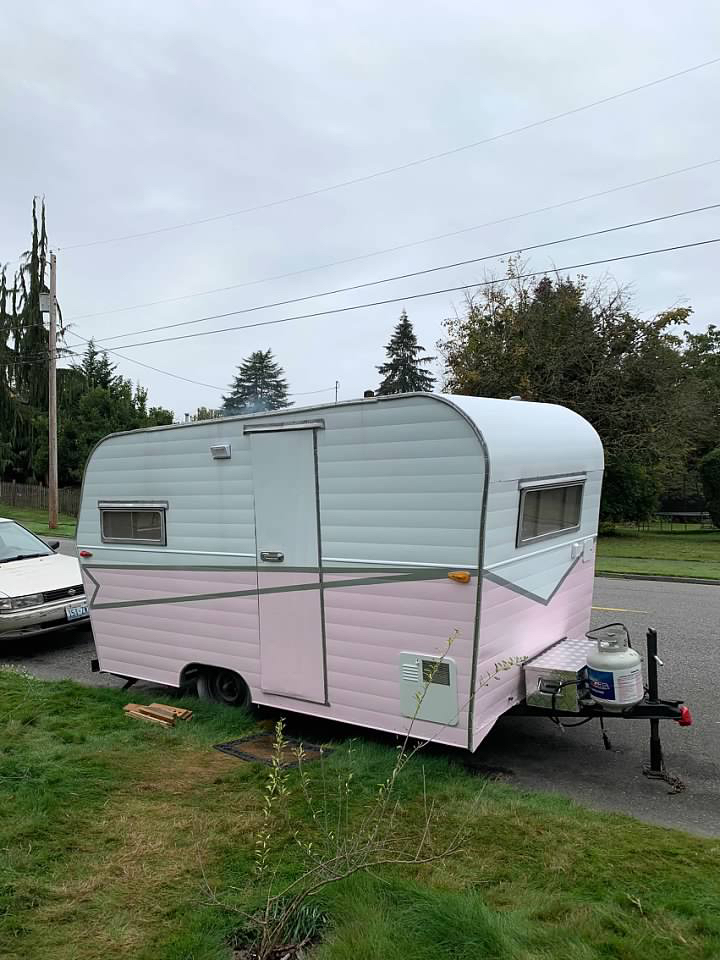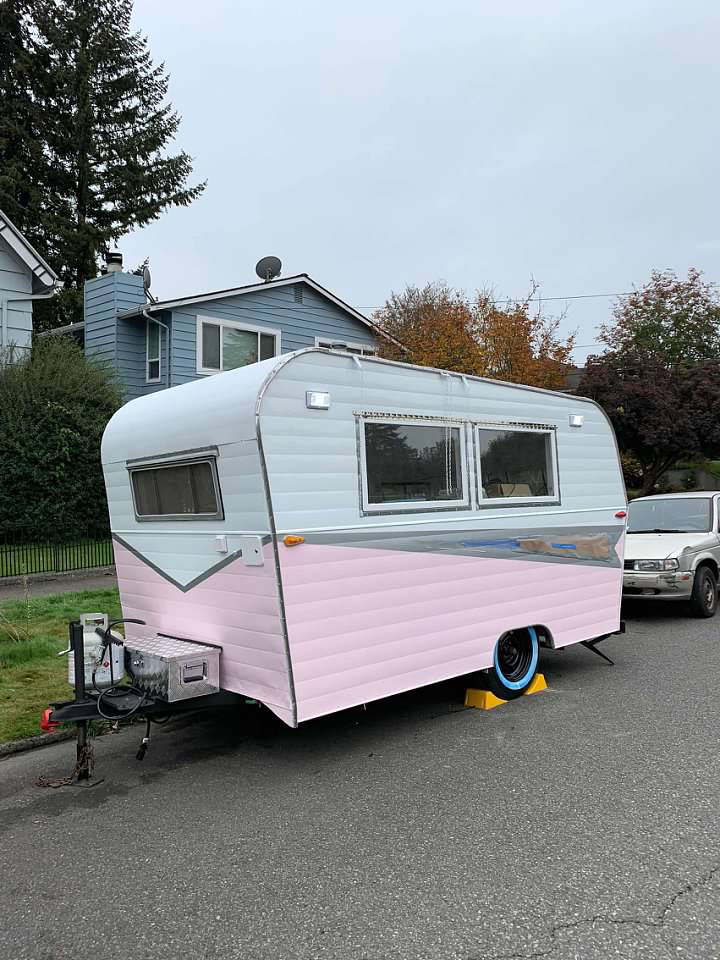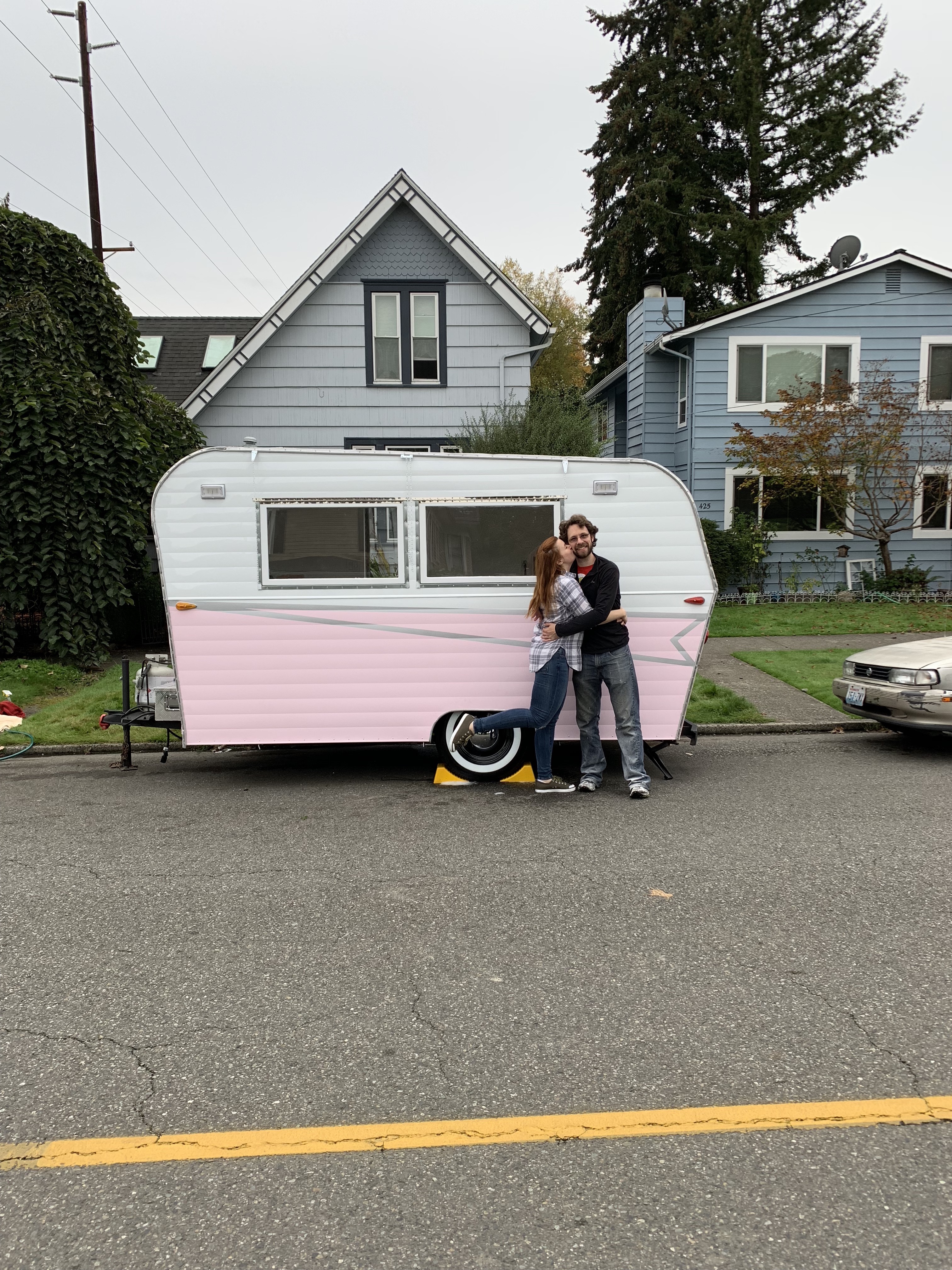 The Big Debut
October 13, 2018, was Tinsel the Trailer's big debut at our wedding! We had the amazing Party on the Rocks team provide bar-tending service out of her. We served beer, wine, and vintage bottled soda, as well as a cash bar.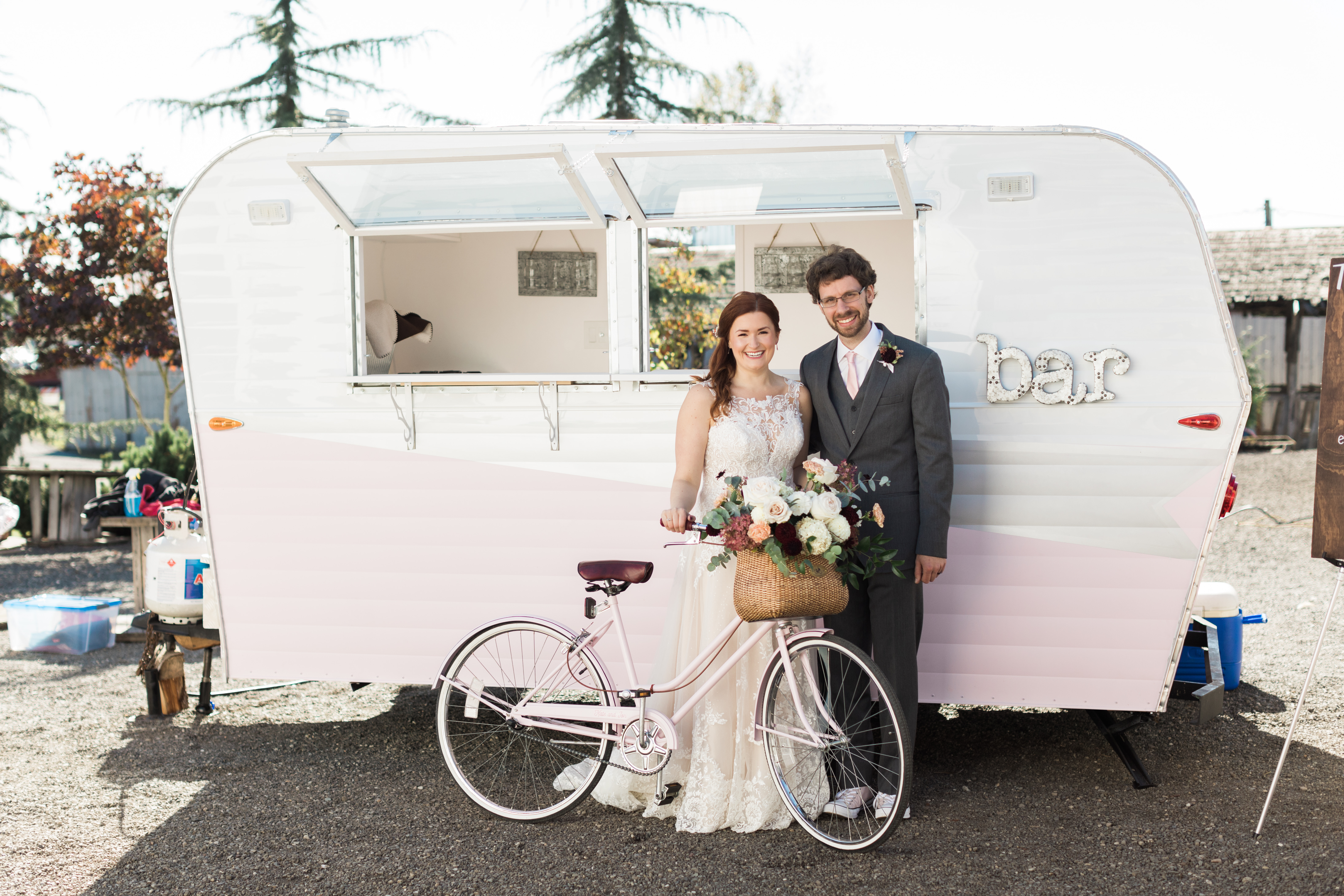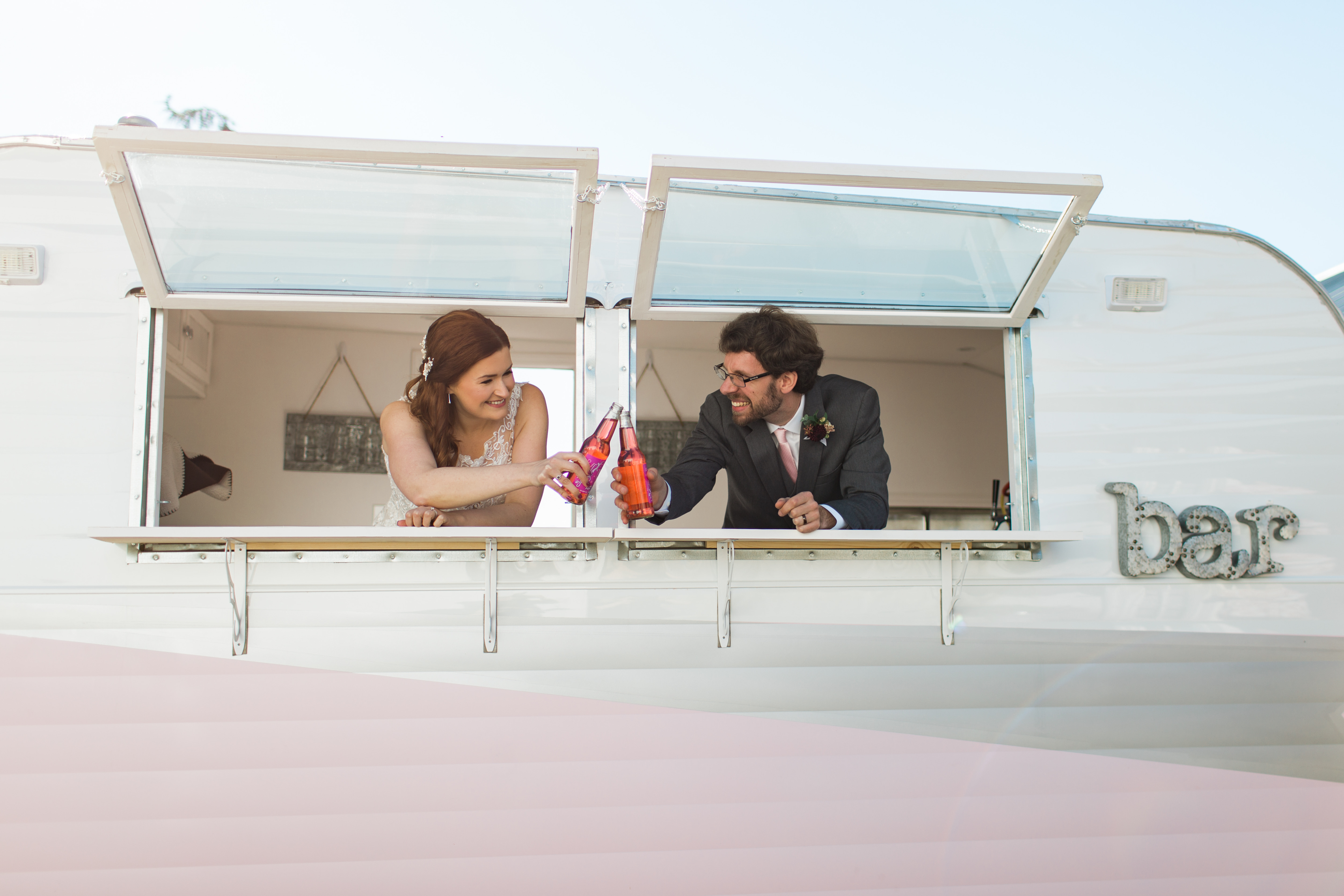 We also wrote a poem that was displayed next to Tinsel at the wedding:
This is the story of Tinsel,
a trailer from '57.
Begun by a dream so simple,
who knew the work she'd be given.
A (very) slow drive from Seattle,
then quickly thereafter she fell.
From there it's an unphill battle,
every weekend with her we'd dwell.
So why would we give a trailer
a quirky name such as Tinsel?
Find the new Mrs. and Mr.
as it's a tale for them to tell.
Wedding photography by Joanna Monger Photography