Our Wedding: Wedding Party Attire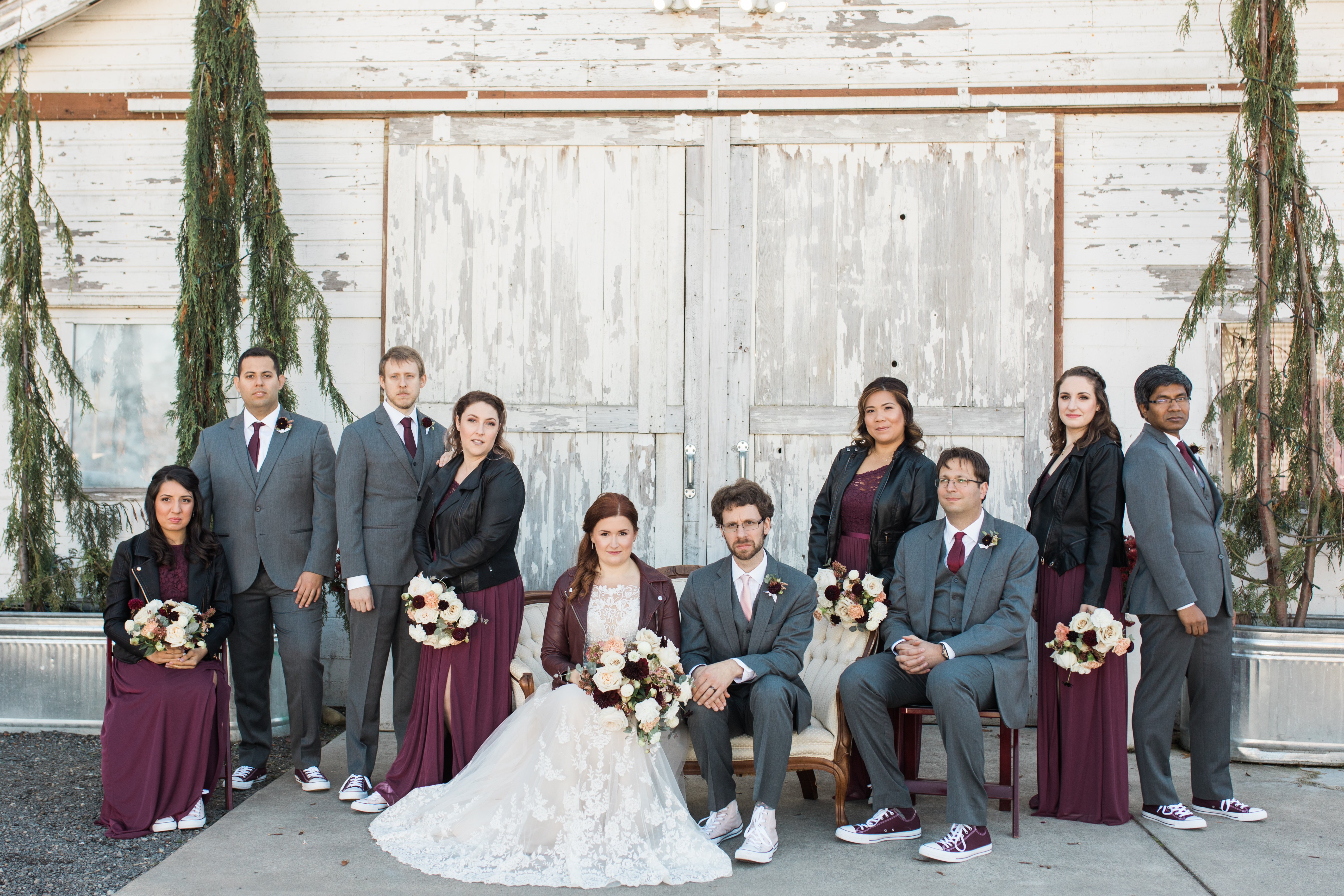 How To Create a Cohesive Wedding Party
Styling my wedding party was one of the best, yet most challenging aspects of the wedding! For me, the devil is in the details: from finding the perfect color palette to matching both sides of the party. Here are my tips for creating a cohesive wedding party look:
Stick with a minimal color palette. Pick 2-4 complimentary colors to incorporate into the looks of your wedding party. For us, that was blush pink, burgundy, and grey.
Match the bride and groom to marry their looks together. Find ways to tie together the light, romantic vibes of the wedding dress into the groom's attire. Giving him a differentiated look will help him stand out WITH the bride!
Find ways to tie together both sides of the bridal party. Small details like tying together tie colors with dresses or shoe colors is an easy way to make the looks seamless.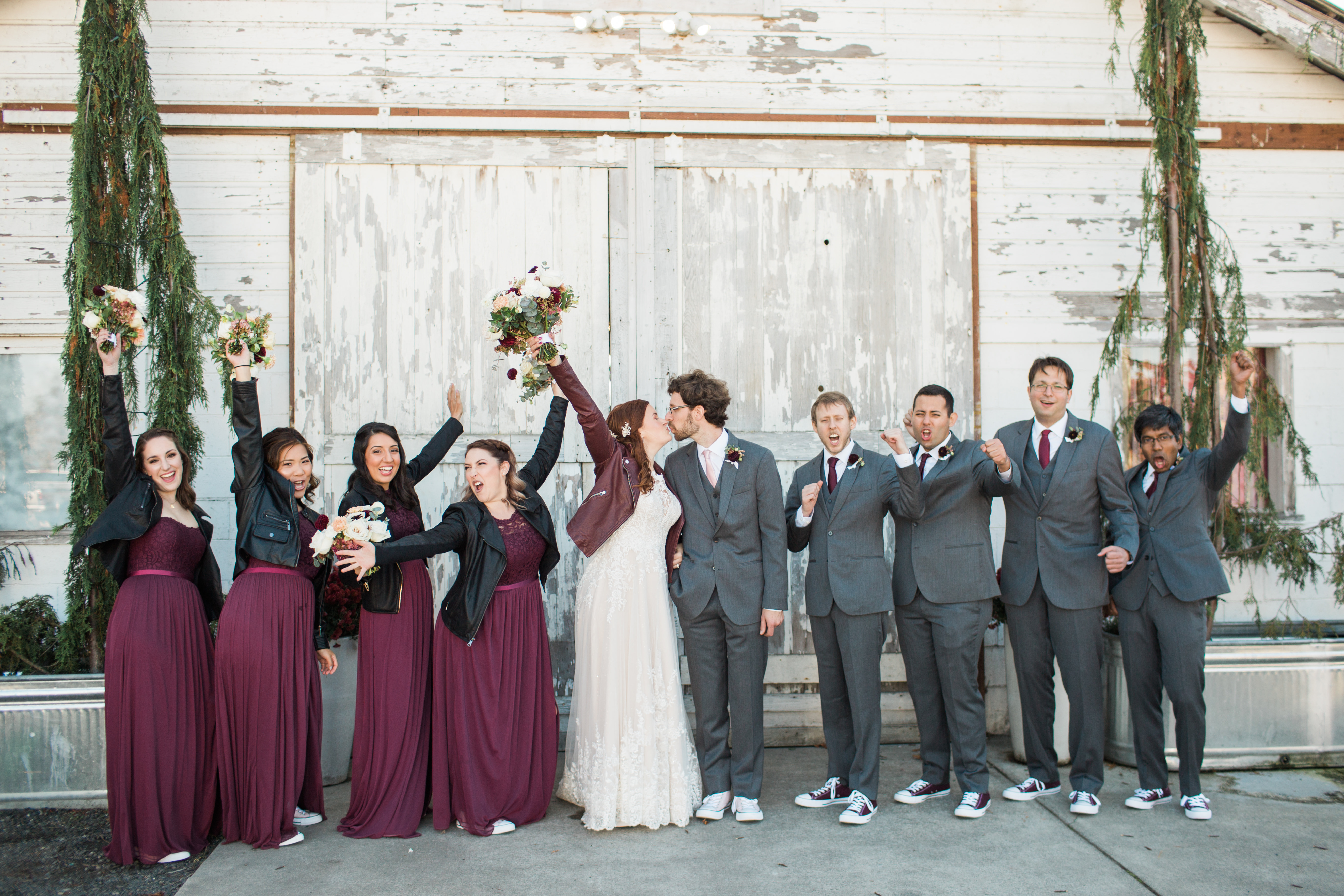 The Girls
Shortly after we got engaged, I started researching bridesmaids dresses as I knew that their dresses, combined with my bridal gown, would really set the tone for the style of the wedding. I created a checklist of things I wanted in bridesmaids dresses (burgundy full length dresses with lace details and similar but not identical styles) and began searching for dresses that fit the bill.
It was surprisingly hard to find all of those parameters at retailers, but I was successful in finding a good selection of dresses at David's Bridal. There were five options for burgundy full length dresses with lace tops. I let the girls each pick the style that they felt most comfortable wearing.
Funny side story, after we'd picked out each girl's dress style, I found the EXACT dress my Maid of Honor wanted at Seattle Goodwill for $25!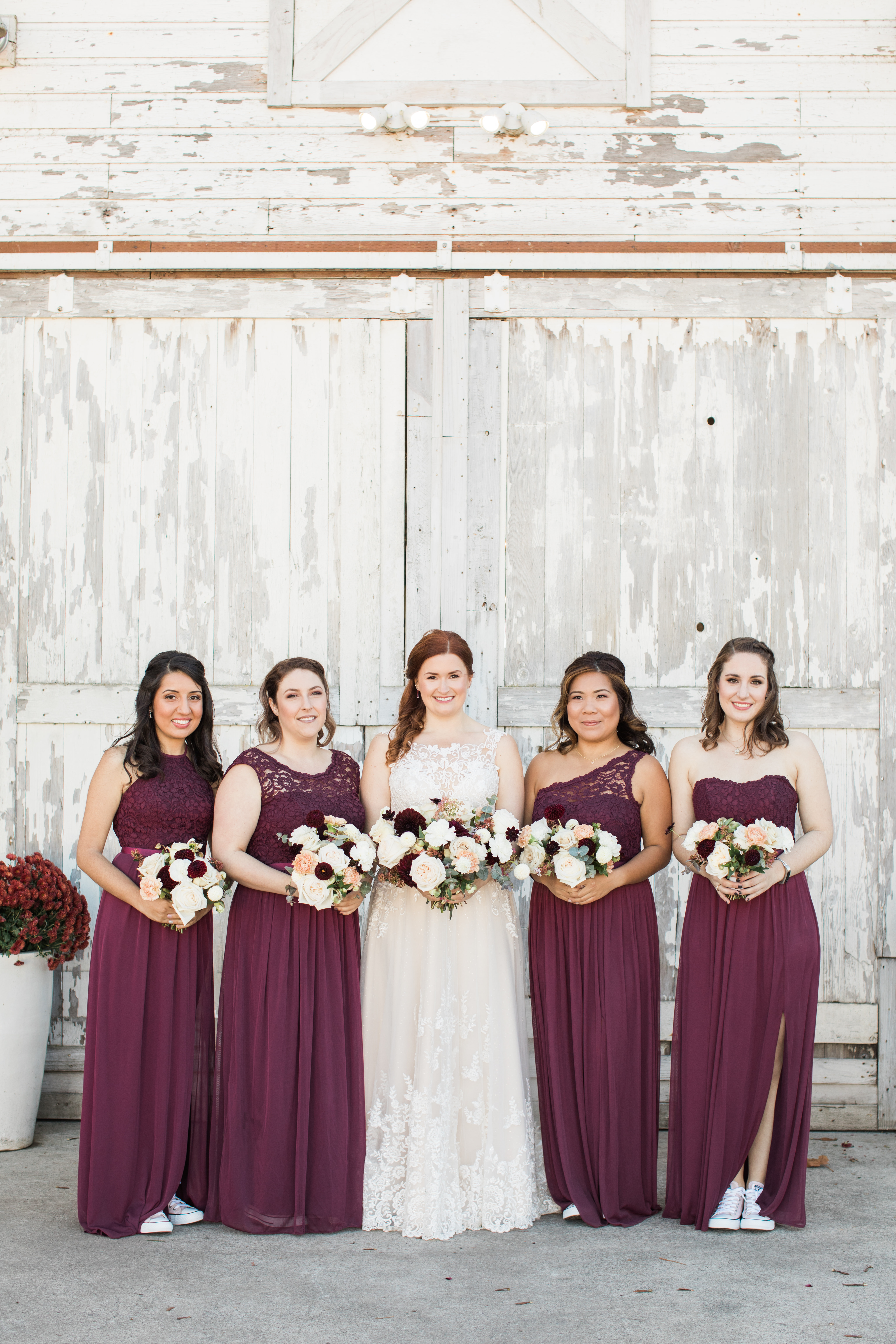 [show_shopthepost_widget id="3458650″]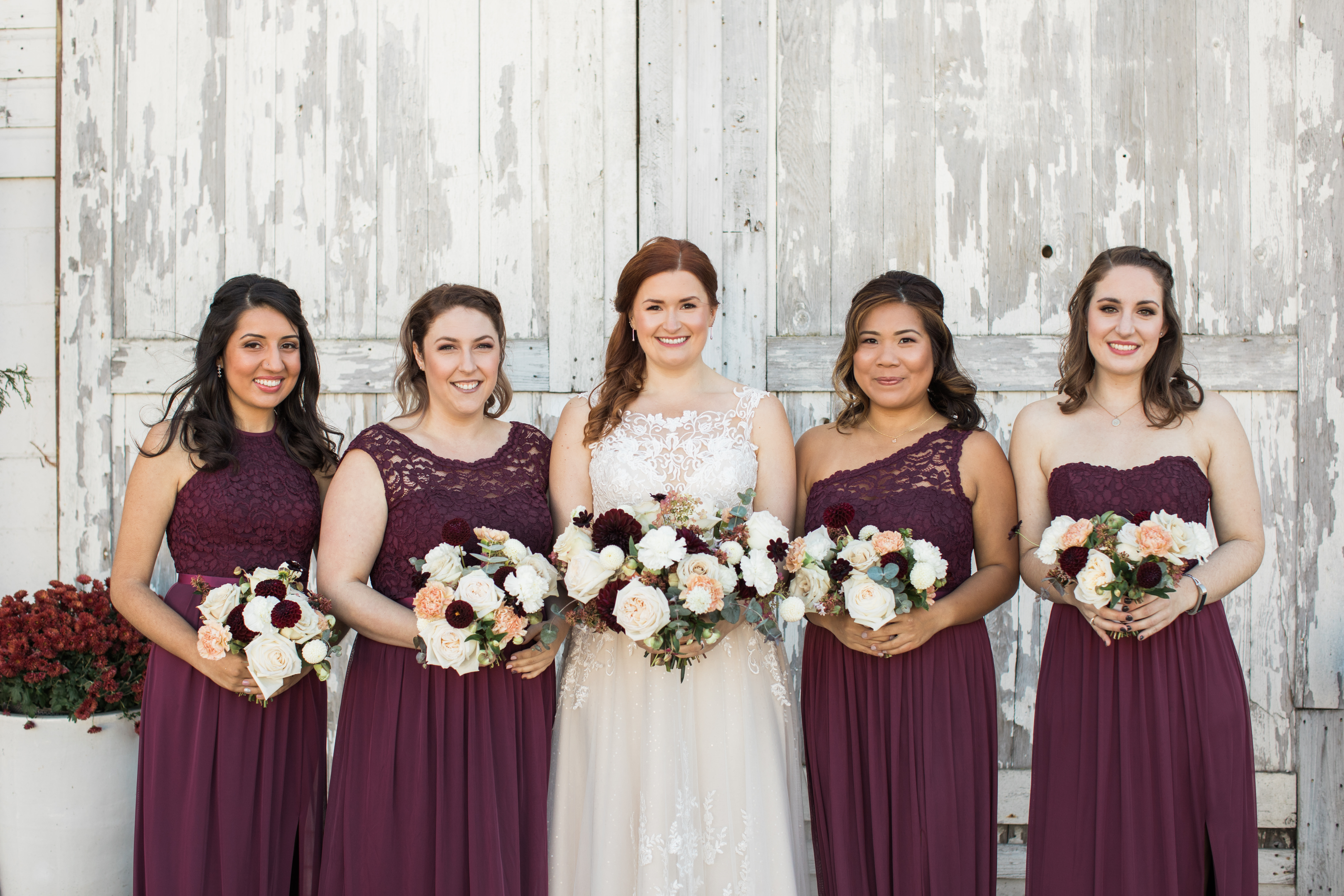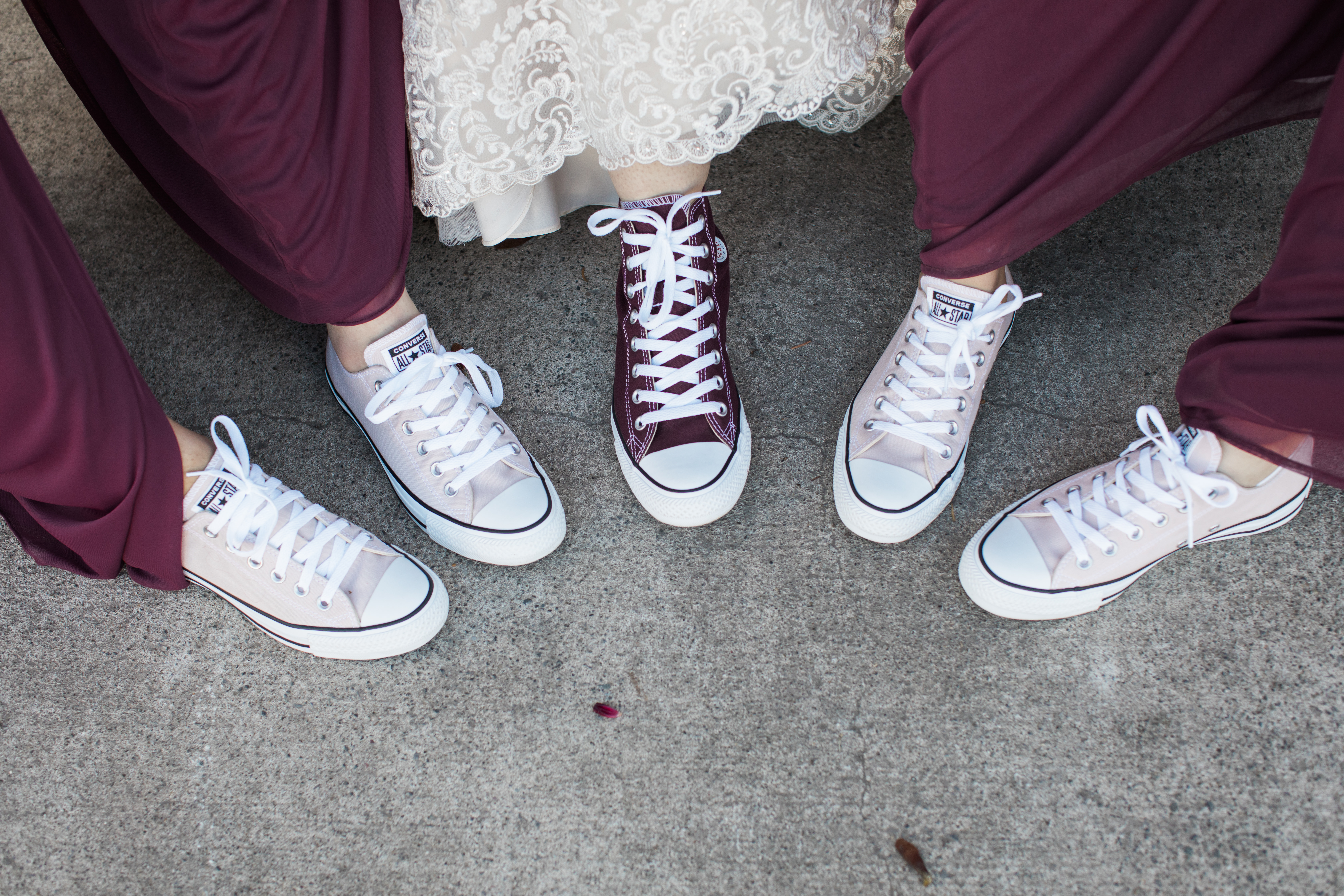 Being a practical bride, I wanted my girls to be as comfortable as I was for a full day of walking and dancing, so they also wore Converse! Their blush pink Converse matched Jon's Converse, while the groomsmen wore shoes that matched mine! I gifted the girls their shoes and earrings.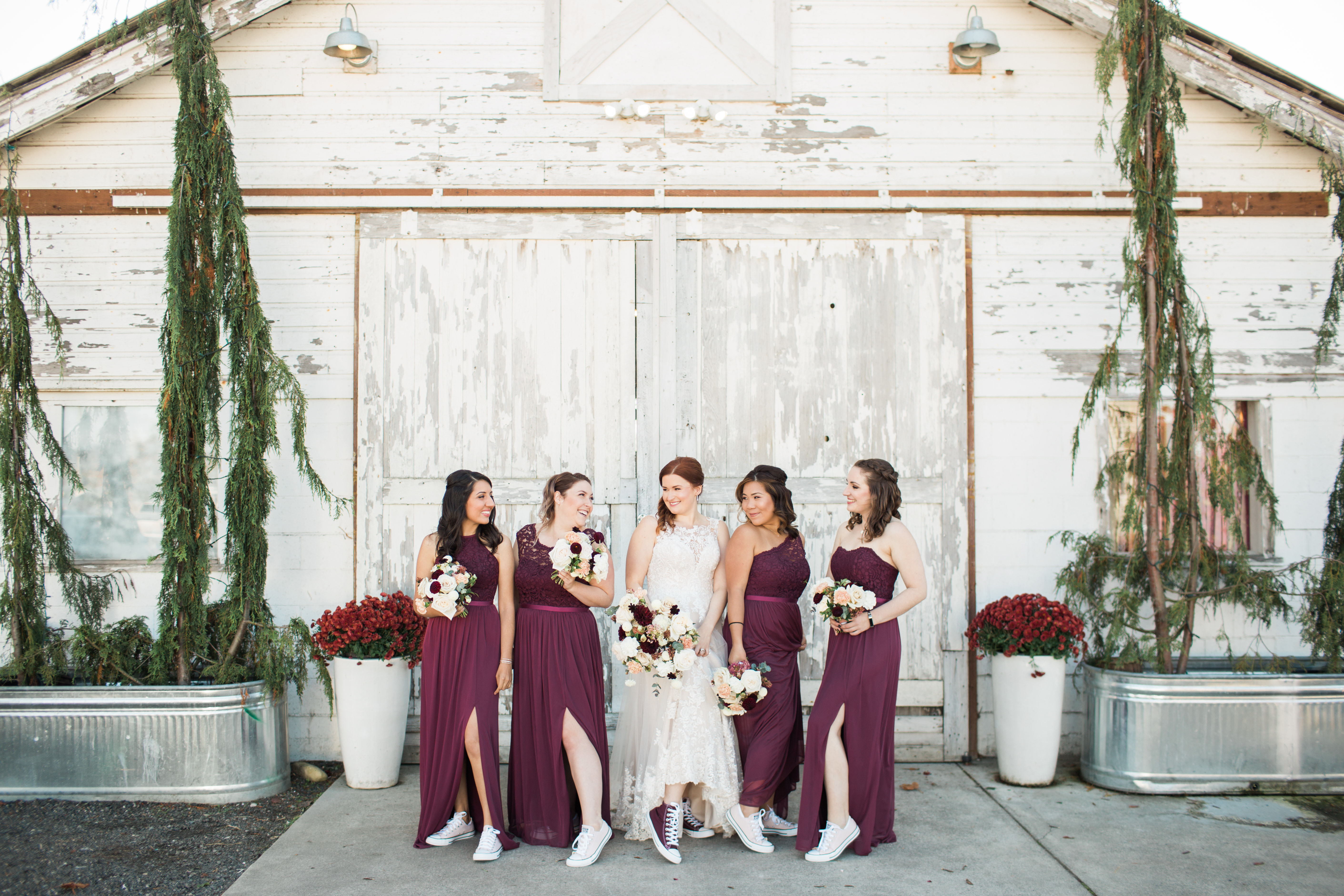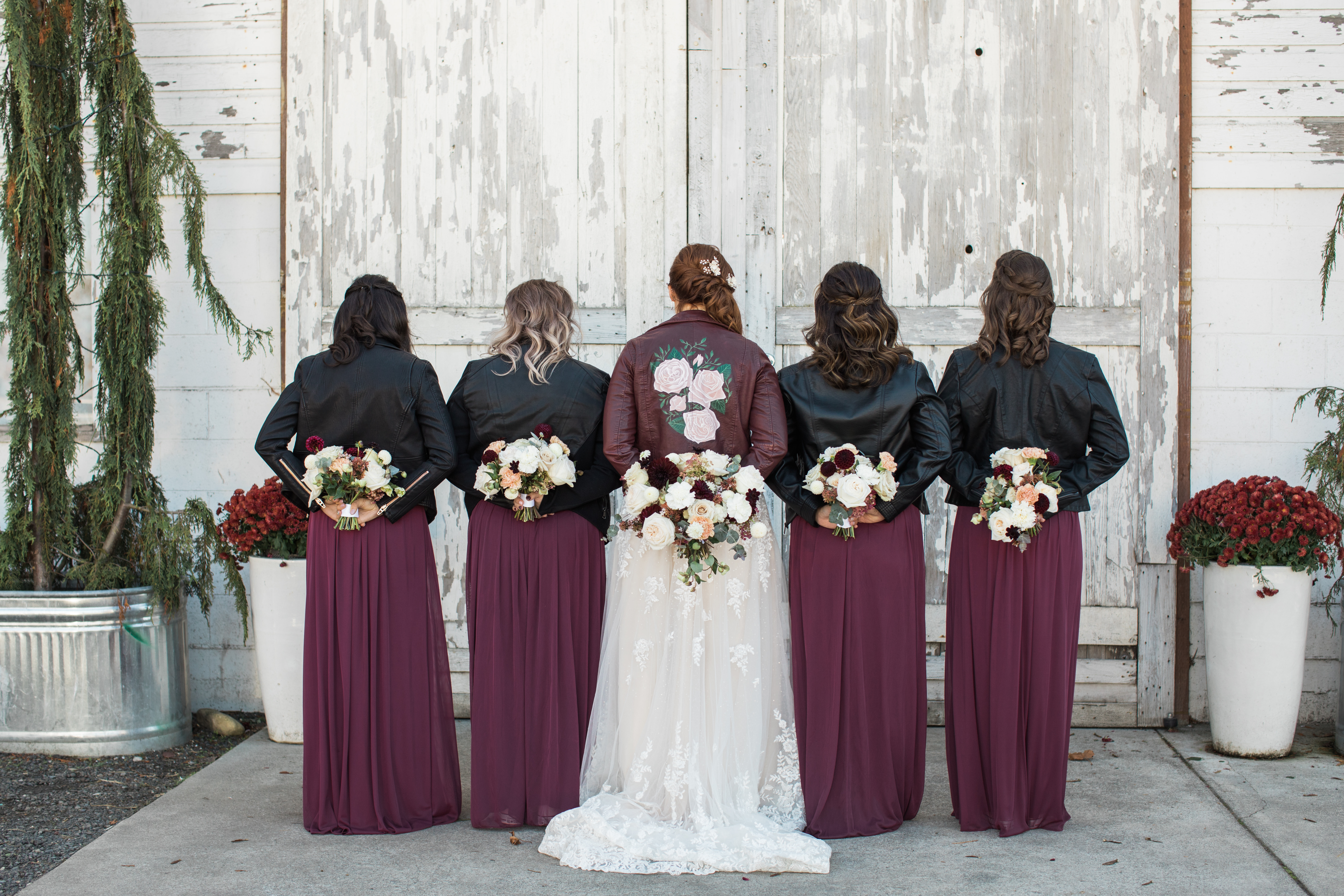 [show_shopthepost_widget id="3458654″]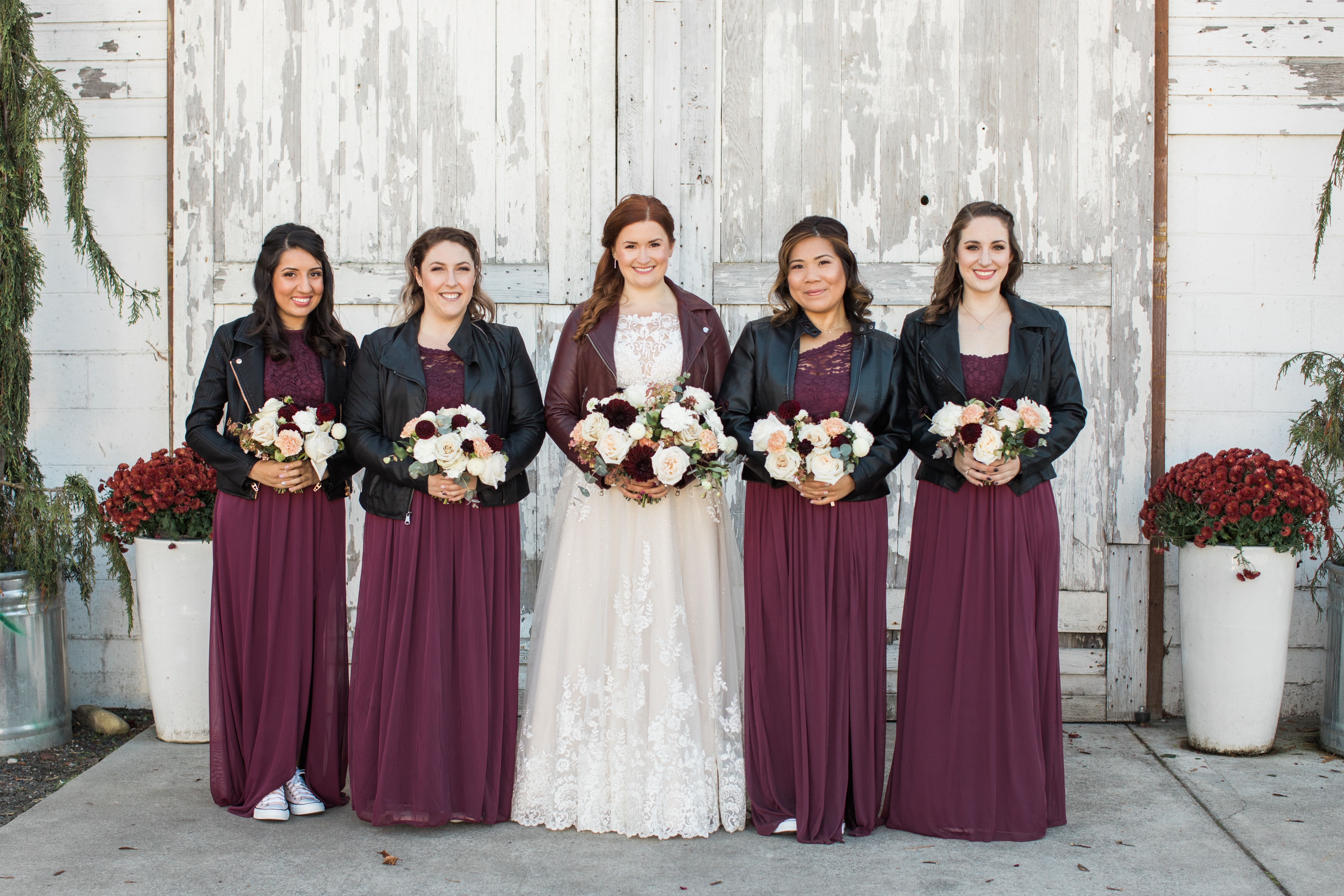 After commissioning my custom painted leather jacket, I wanted to incorporate that bad-assery into a photo with my bridesmaids, so each girl wore their own black leather jacket for a few photos! We all wore our jackets following the ceremony, too, to keep us warm on that chilly October day.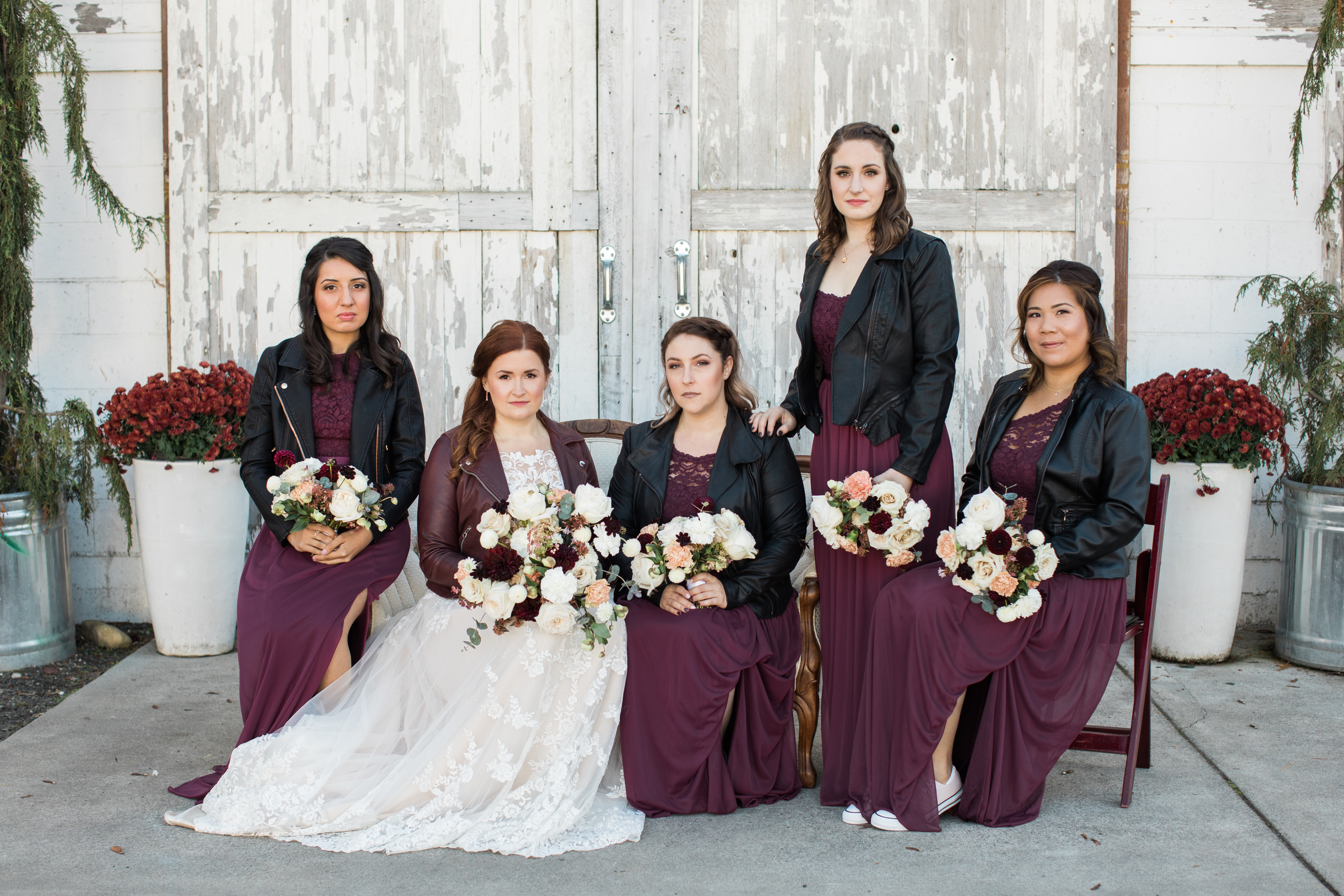 The Boys
Outfitting the boys was very challenging for me. I had a hard time deciding on which shade of grey for suit color and then determining how to differentiate my groom. Ultimately, we landed on a medium grey suit color to keep the colors lighter in the fall season (vs. a darker charcoal grey I'd been considering). Jon's tie, socks, and shoes matched my blush pink dress, while the groomsmen wore burgundy ties, socks, and shoes to match the bridesmaid dresses.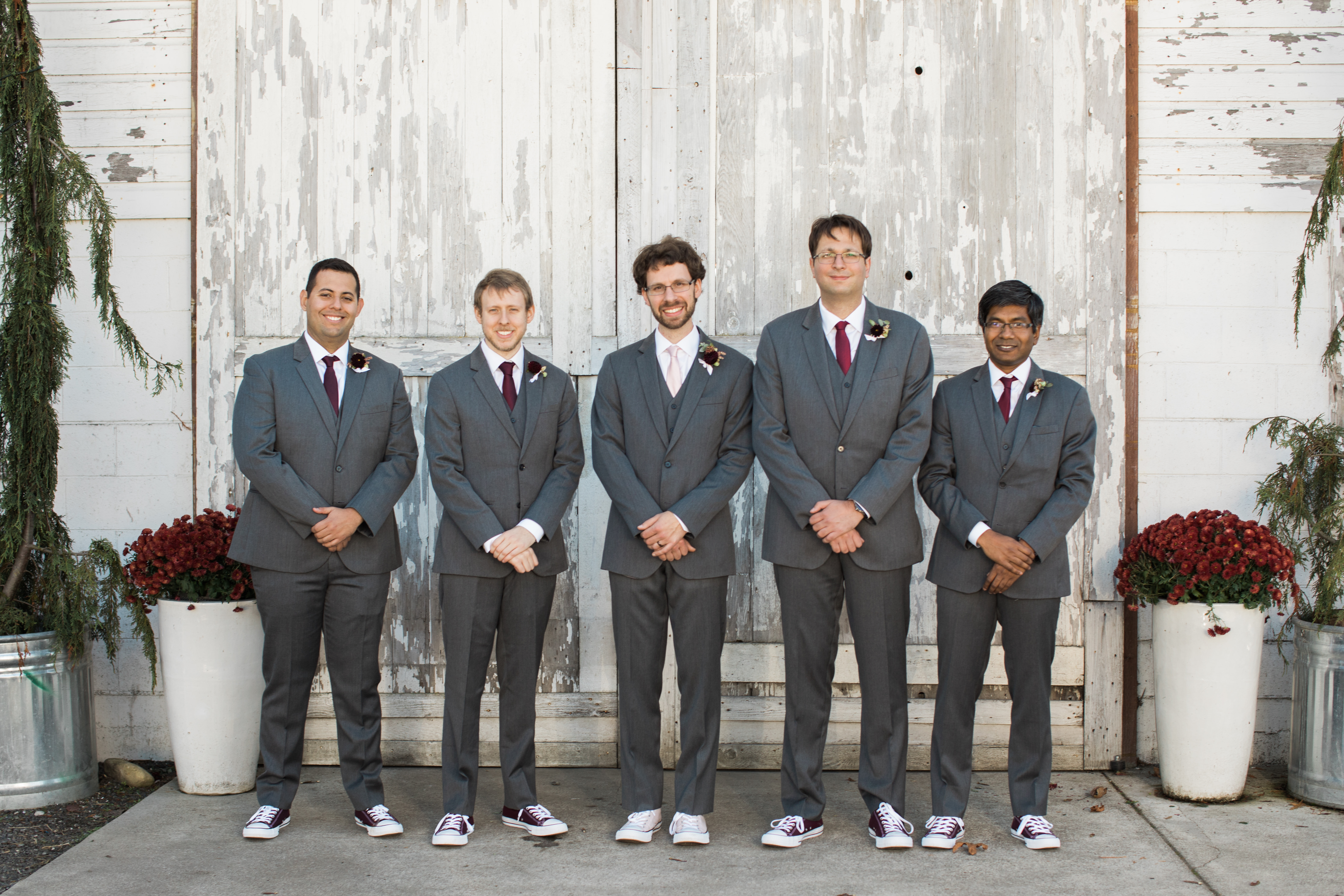 [show_shopthepost_widget id="3458651″]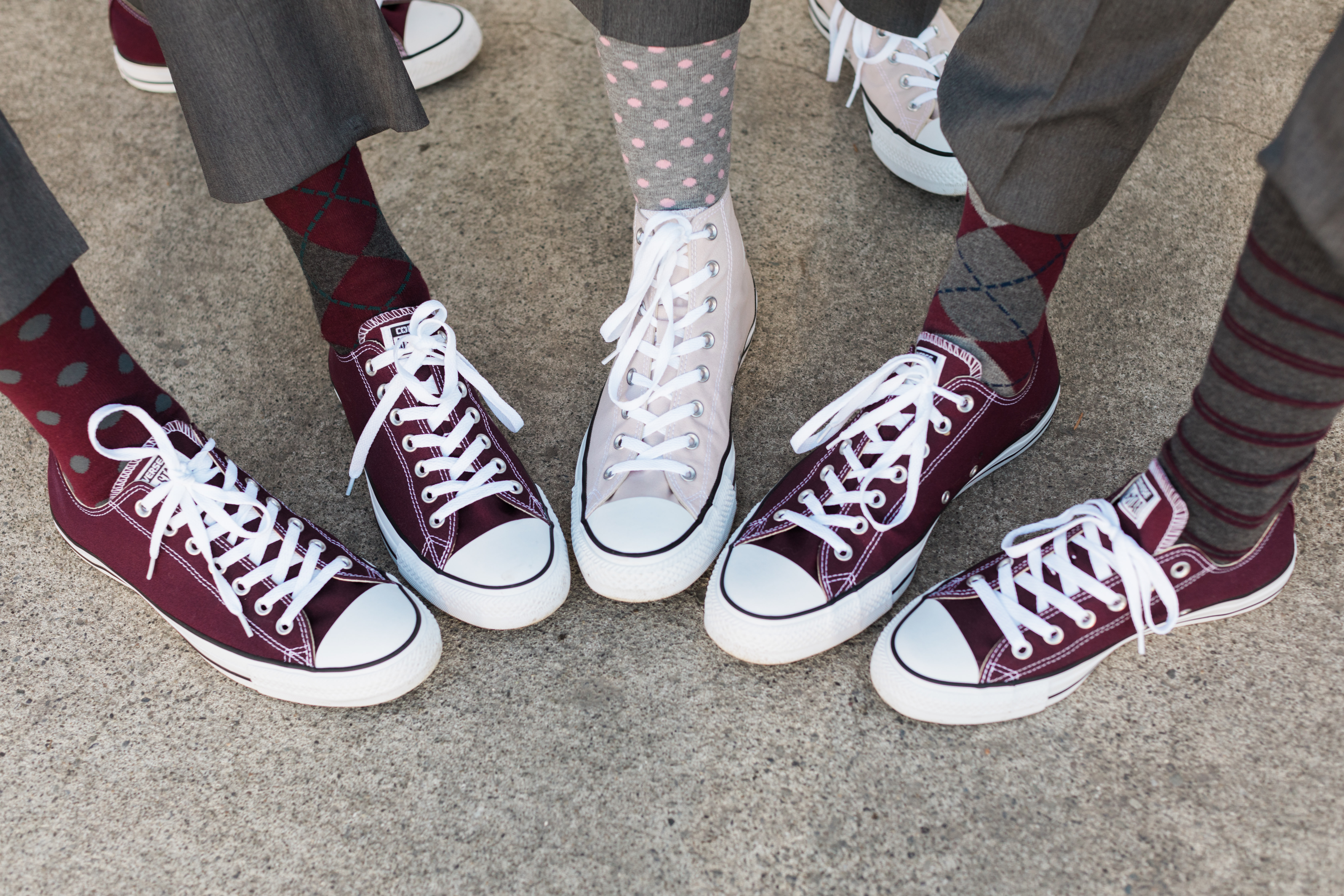 As with the bridesmaids, I didn't want the groomsmen wearing the exact same ties, so I ordered them each ties in the same color but with slightly different patterns and textures. The boys' suits were rented from The Black Tux, and unfortunately they did not offer burgundy ties. I couldn't rent ties from Men's Wearhouse (that matched the David's Bridal shade of burgundy), but after hours of Google searching I did find an online retailer called The Tie Bar with an extensive range of ties, socks, and other men's accessories. I ordered the groom, groomsmen, and father of the bride and father of the groom accessories from here, which we gifted to each of the guys.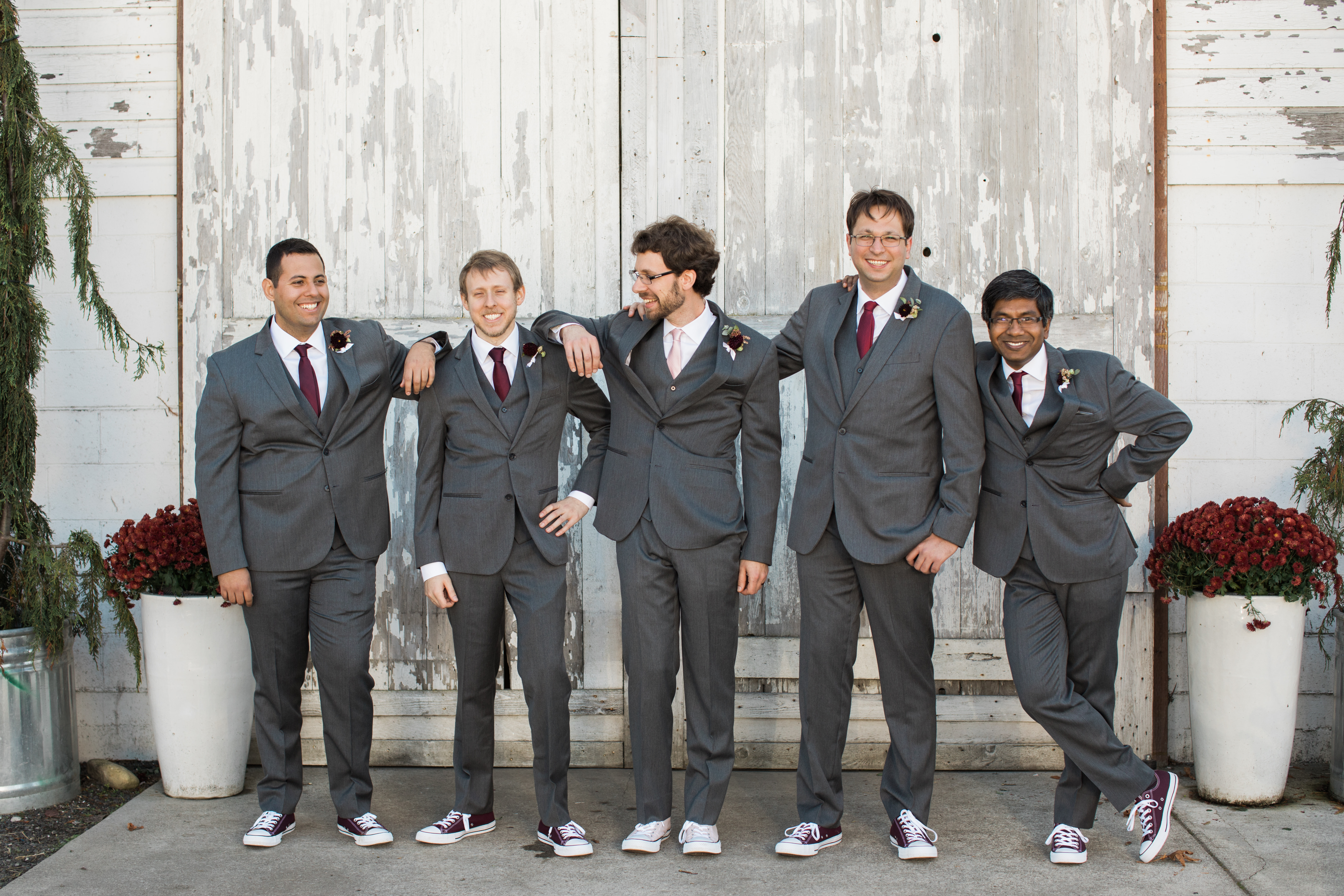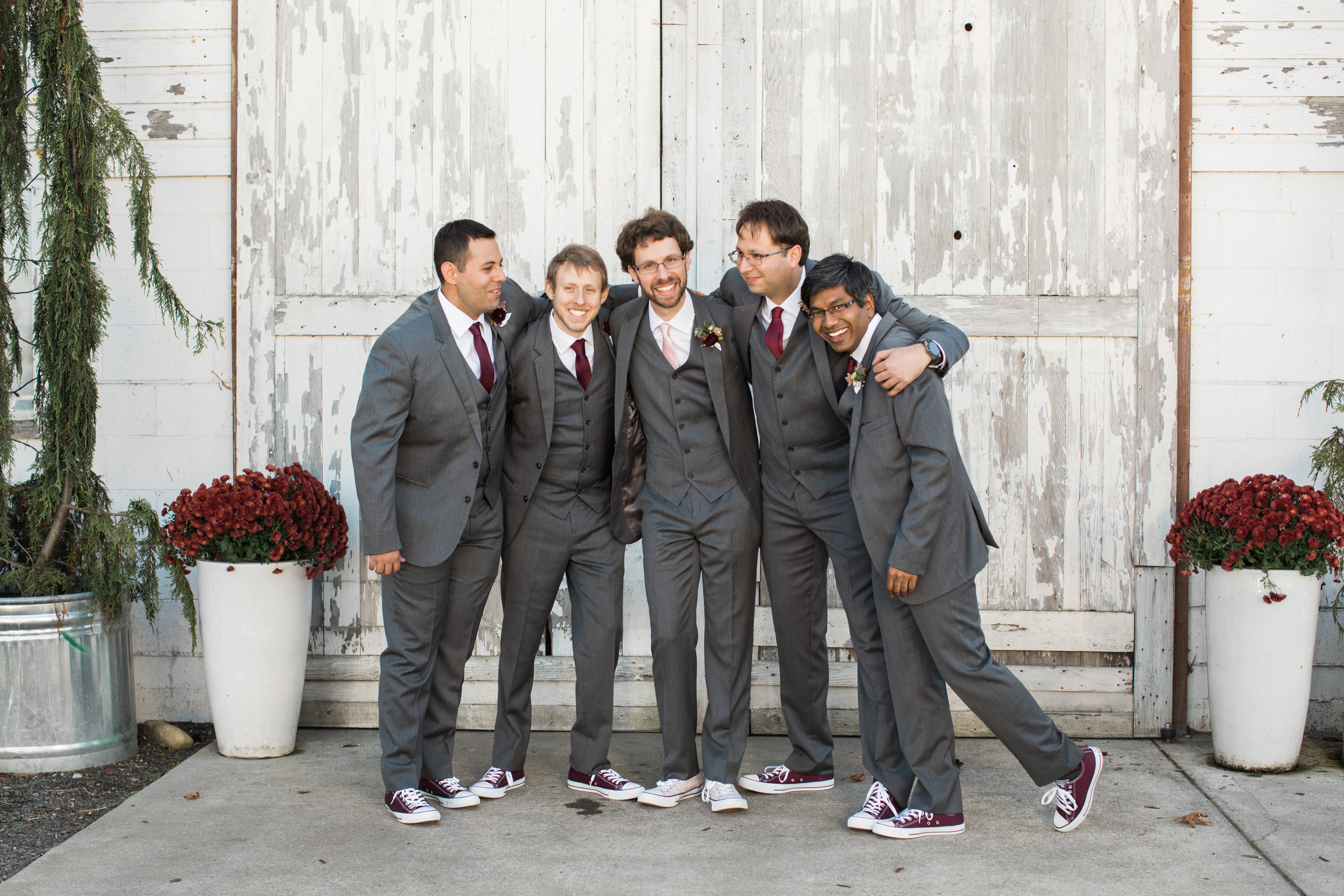 The Party
The final look could not have been more perfect. For me it felt like a huge accomplishment given that two of my bridesmaids were from out of state and three of Jon's groomsmen were from out of the country and the other groomsmen was from out of state. Getting the right fit, styles, colors, and sizing was no small feat, but I'm proud to say that it all came together flawlessly.