All About Sports Bras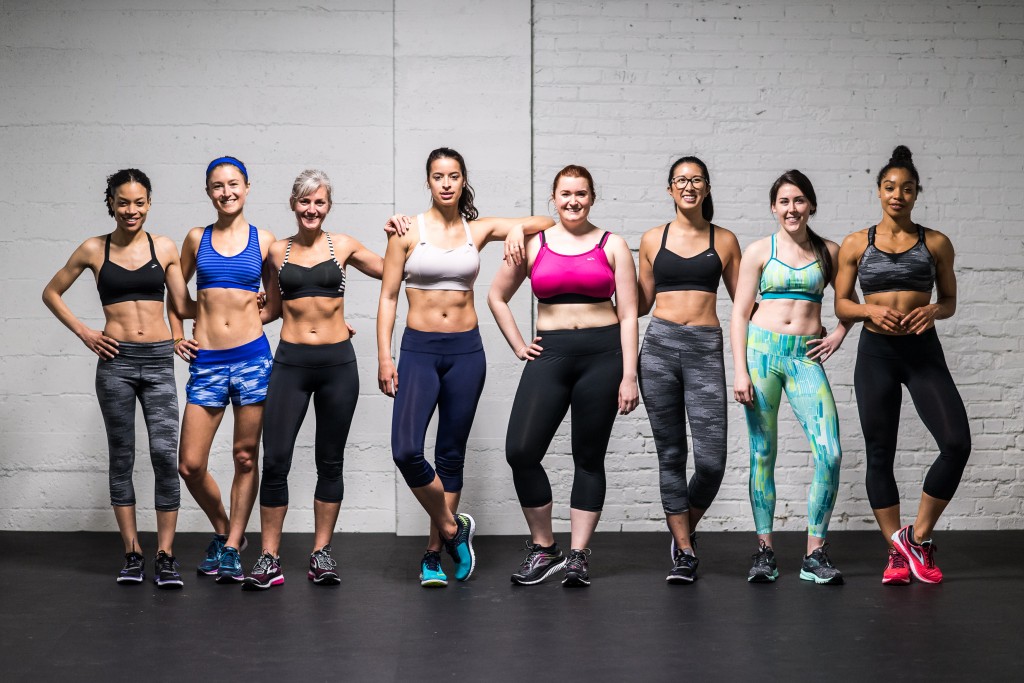 A good sports bra can make or break your fitness experience. Growing up a dancer, I had the bad luck of being well endowed. I recall wearing my regular bra underneath my leotard and a shirt on top of that. I was embarrassed that my body was so different than my lean dancer friends, but with all the jumping and leaping around, I had to do something to keep my chest in check. When I started playing basketball in jr. high, I remember wearing two sports bras. It wasn't comfortable, but it got the job done.
When I became active again after college, I'd gained a lot of weight and I had no idea where to find anything athletic-wear related for my new body, so I grabbed a few XXL sports bras, tops, and pants at Target and called it good. The bras had no support and, for the high impact Zumba classes I was taking, they weren't the best option. But there was nothing else out there that was built for my body. Or was there?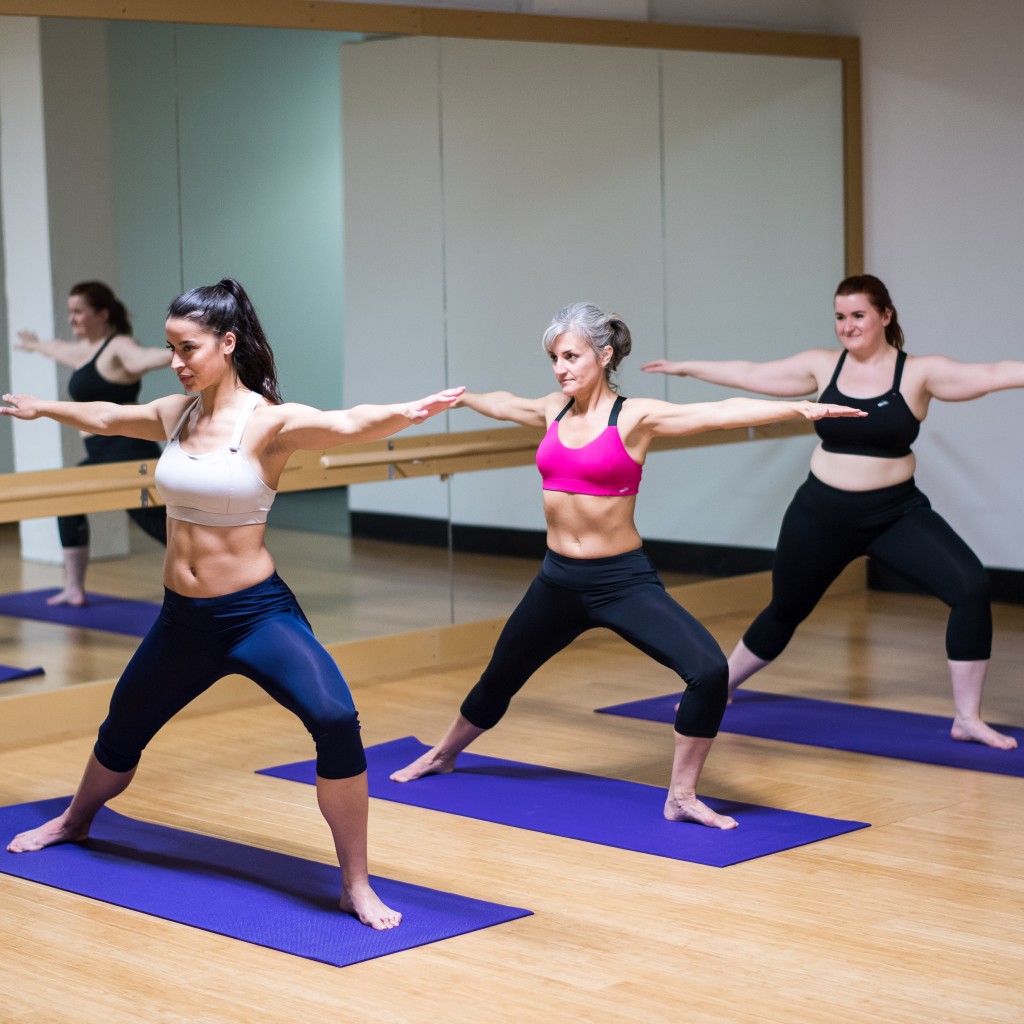 It wasn't until after I lost weight that I was introduced to the Brooks Running brand; but, it was love at first sight, especially when it came to their bras. Nearly overnight my world was changed. There was a comfortable, supportive, and quality bra out there for me, in fun colors and patterns, too! And the bras are available in A-G cup sizes and 30-44 bottom band sizes. I only wish I'd known about these bras sooner!
Ever since that first wear of the Brooks bras, I've been hooked and I think every woman should know there's a bra out there for them, so today I'm talking with Julianne Ruckman, Bra Product Line Manager at Brooks Running.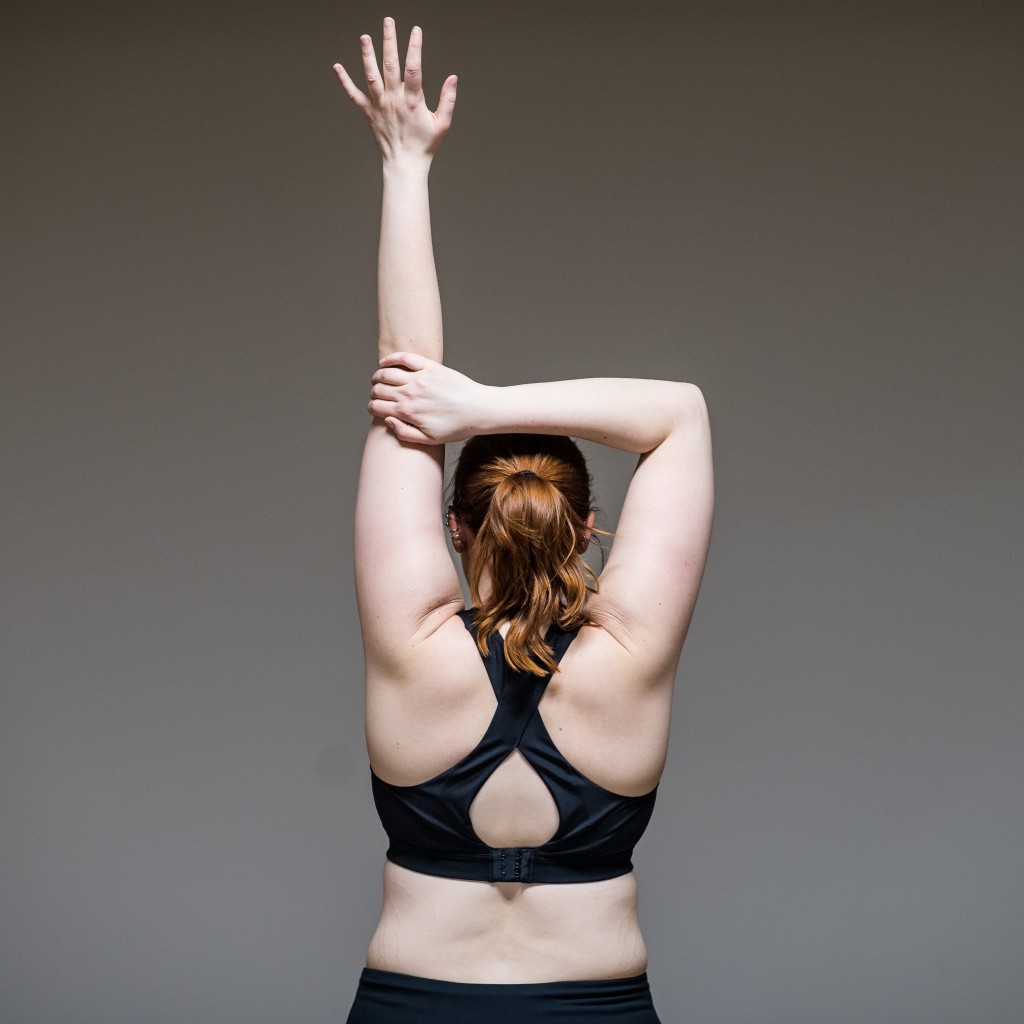 Kate Retherford (KR): What are some common mistakes or misconceptions about sports bras?
Julianne Ruckman (JR): The biggest mistake we often see women make when choosing a sports bra is lack of knowledge regarding their true size. Women's bodies are constantly changing so it's very important that women get fit for a sports bra once a year (or every year) to ensure a proper fit.
KR: What is the single most important feature of a sports bra?
JR: If we had to choose one feature of a sports bra that's most important it would be the bottom band because it provides 80% of the support. That said, it's really a combination of a well-designed bottom band, cup and straps together that provide all-around comfort and support!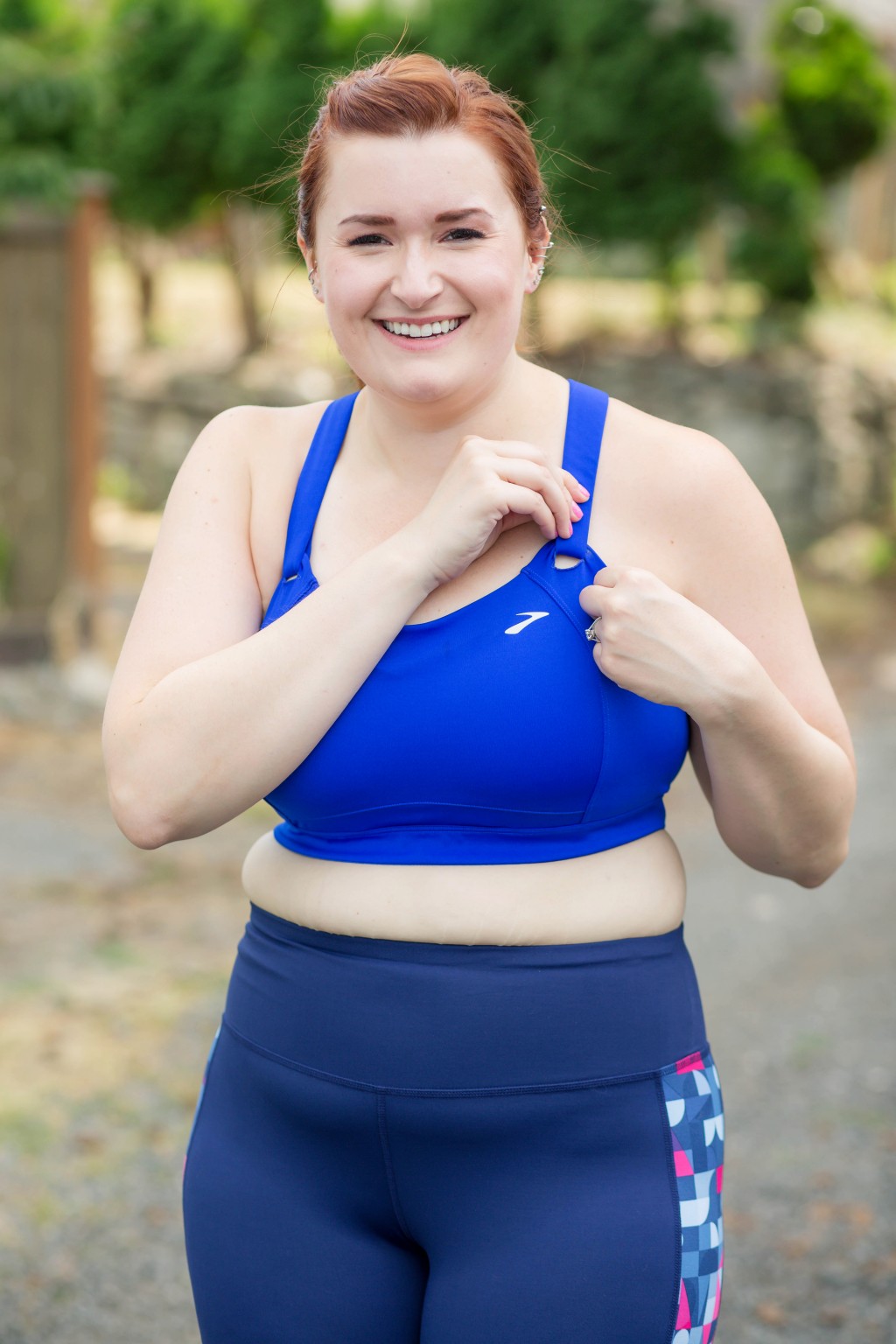 KR: Are all sports bras made the same? 
JR: No, not all sports bras are made the same. At Brooks, we spend a lot of time testing our sports bras both in our lab and with active women to ensure they meet our rigorous standards for comfort, fit, and support. When it comes to comfort, we're focused on choosing the best quality materials and trims that are soft to the touch and on the body. We also strive to represent all runners and active women through our sizes. We currently offer A-G cup sizes and 30-44 bottom band sizes and are constantly looking at ways to expand this size offering. When it comes to support, we look at both encapsulation and compression—balancing support and comfort.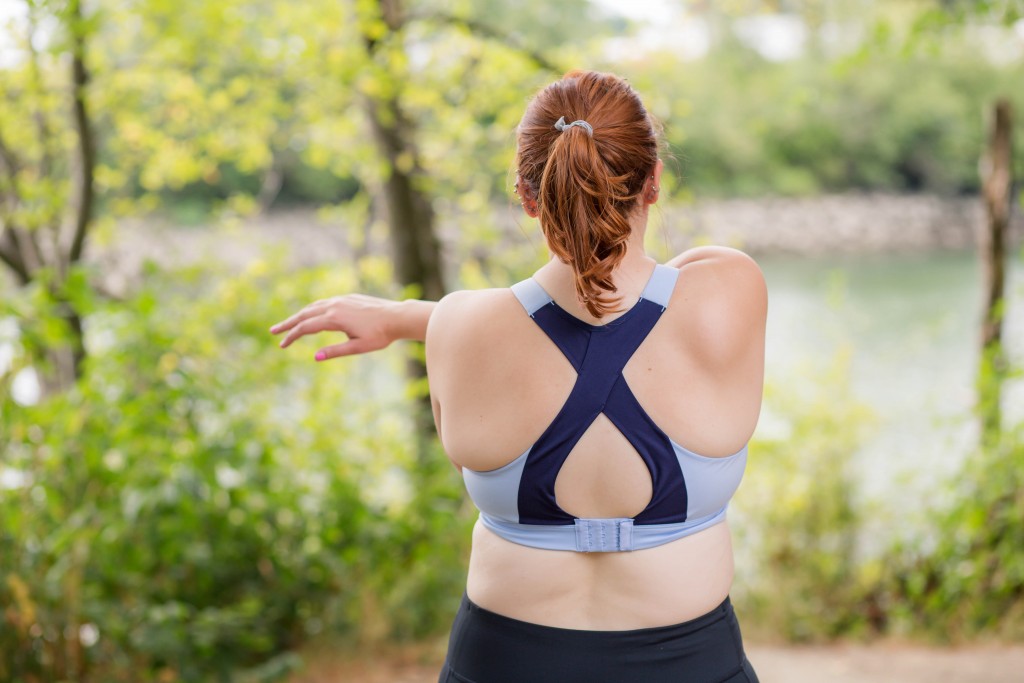 KR: How do I know what type of bra is best for me? 
JR: Choosing the best sports bra is a combination of identifying how much support is needed and what your appropriate size is. Different activities produce different levels of impact so you may choose one style for one activity and another style for another activity based on the support you need.
When determining fit, there are several factors that should be taken into consideration. First, you should ensure that the bottom band is secure, as this is truly the foundation of support. Next, you should look at the cup shape. There shouldn't be any spilling at the neckline or armhole as this is often a sign that the cups are too small, which can lead to discomfort and irritation. On the other hand, if the cups are gaping open, that's a sign that the bra is too large and not providing enough support. Lastly, your straps should be at a comfortable tension that stays in place on the shoulder without digging in or sliding off. Adjustable features are a great thing to look for as they offer the opportunity to customize the tension!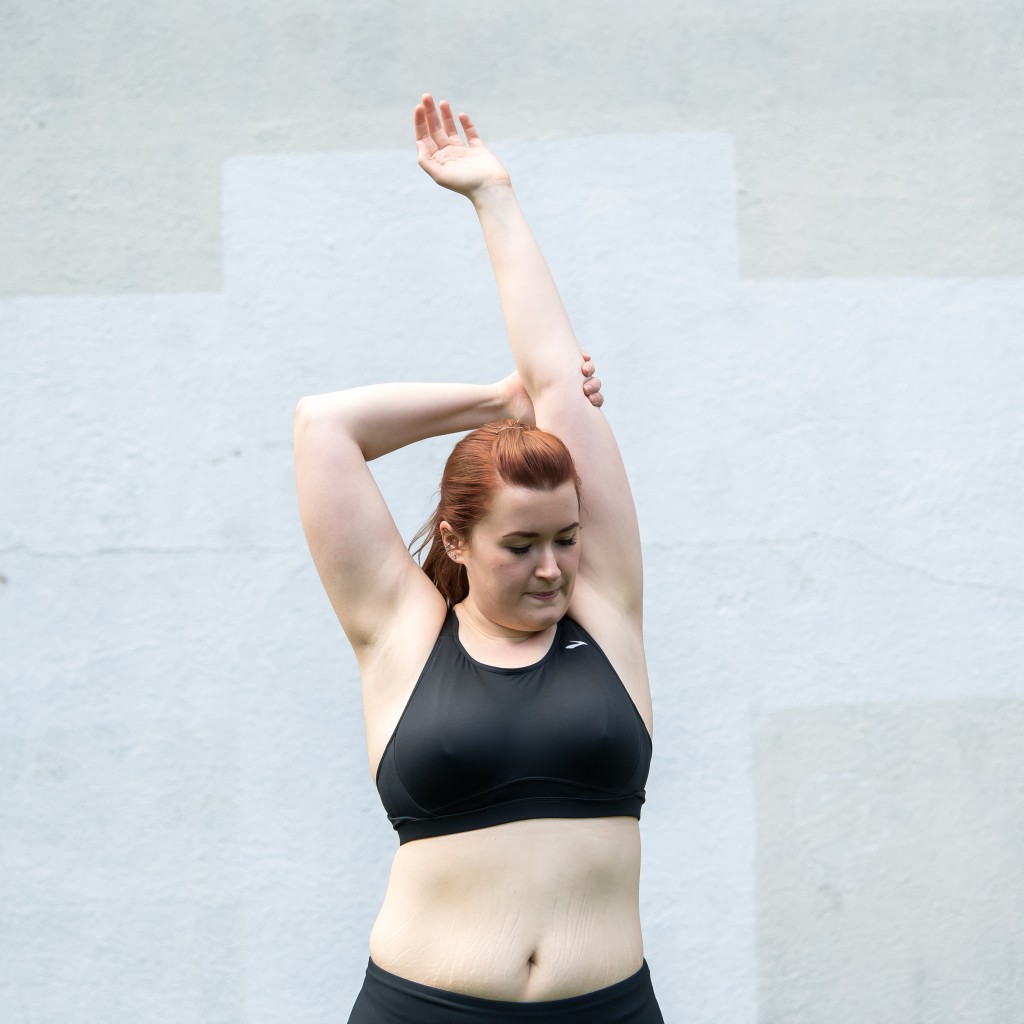 KR: Should I wear a different sports bra for the different activities I do? For example, running versus yoga class. 
JR: While it's important to ensure you have enough support for a specific activity, whether you purchase different sports bras for different activities is completely up to your personal preference. When choosing bras for different activities, it is important to consider the amount of movement or impact you'll be enduring as well as where you'll be pooling sweat. Both of these factors will help you to determine the type of sports bra you'll need.
KR: Should my sports bra size be the same size as my regular bra size? 
JR: Your sports bra size should typically be the same as your regular bra size. The biggest difference between buying a lingerie bra and a sports bra is that your sports bra needs to withstand a greater deal of movement and impact. When buying a sports bra, there are three key places to focus your attention—the cup, straps, and bottom band. We choose fabrics that are intended to maintain their shape and not stretch out after wear, whereas you might experience your lingerie bra getting more comfortable over time. Our sports bras are built to last when cared for properly.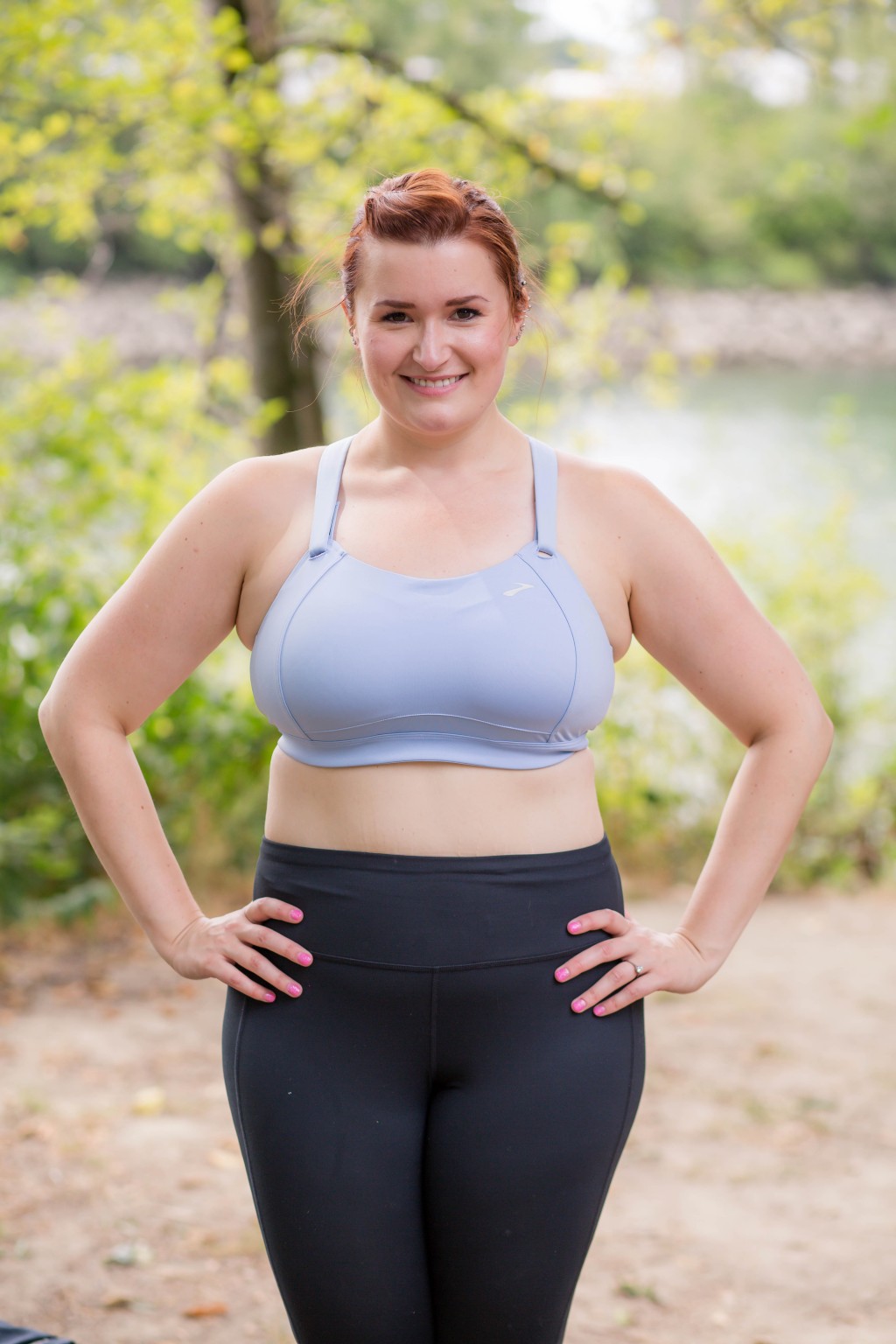 KR: Is it okay to sleep in my sports bra?
JR: When sleeping in any bra (sports bras included), it's all about personal comfort.
If you choose to wear a sports bra while sleeping, I would recommend avoiding sleeping in an underwired bra because the underwire itself will prevent natural movement and could cause long term discomfort. I'd also go for the softest style you feel comfortable to sleep in while receiving the support you need.
In our extensive conversations with active women, we've found that sleeping in a bra is necessary for some women:
Some nursing mothers sleep in their bra while nursing as the breast tissue can be more sensitive to movement in the middle of the night.
Some women say it gives them the motivation to workout in the morning. Already wearing the bra provides one less thing to do in the morning.
While I'm not a doctor, I personally believe you can sleep in a sports bra – but if your sports bra is fitted properly, my guess is that you would want to leave most of your sports bra wearing to more rigorous activities as there is an ample amount of encapsulation and compression in most of our styles.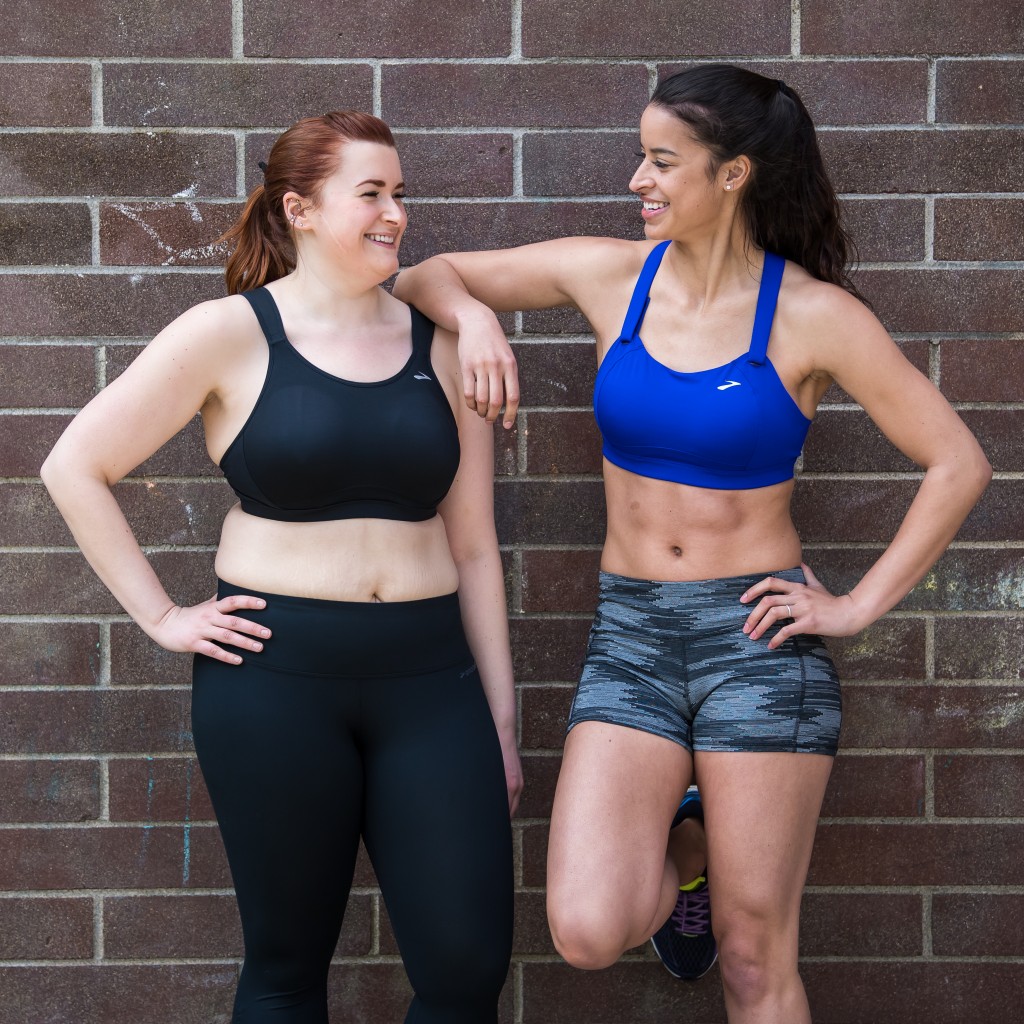 KR: How frequently do I need to get fitted for a sports bra? 
JR: A women's size is subject to change. Women can fluctuate in bra size dramatically depending on multiple life factors: diet, weight gain/loss, hormones, training, etc. Because of this, we recommend that women get fit twice a year to ensure the bra she is wearing is still fitting her properly and if not, she might be in need of a replacement.
KR: How regularly do I need to replace my sports bras?
JR: Generally, we recommend that a sports bra should not celebrate a birthday. Key signs to look for include worn labels, and bottom bands and straps that are no longer providing tension for support which can lead to chaffing and general shifts in fit. A general rule of thumb that we like to follow is that you should have at least three sports bras you love, within your rotation.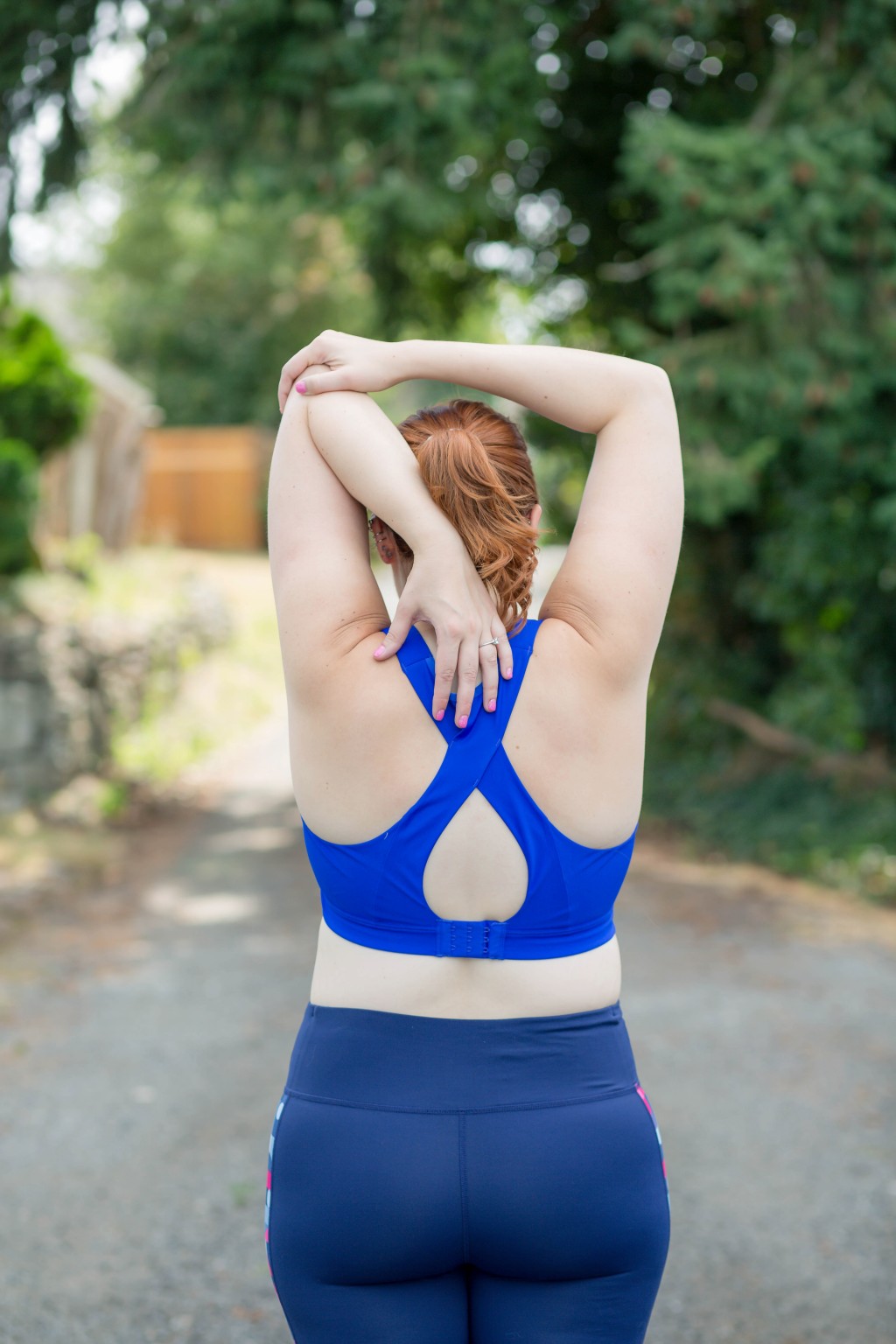 KR: How can I get fitted for a Brooks sports bra? What if I'm not near the Seattle-area?
JR: The following are three easy ways to get fit for a sports bra:
On our Brooks website, you can utilize the Sports Bra Finder tool to help determine your Brooks sports bra size.  Our site features a Find a Store link in the top right hand corner that will take you to our Store Locator page. Once you locate a Brooks retailer near you, you can contact them to see if they host in store bra fittings.
If you're in the Seattle-area, our Brooks Trailhead store is a great place to get fit for a new sports bra!
Your local specialty running store or lingerie store are also great places to get fit.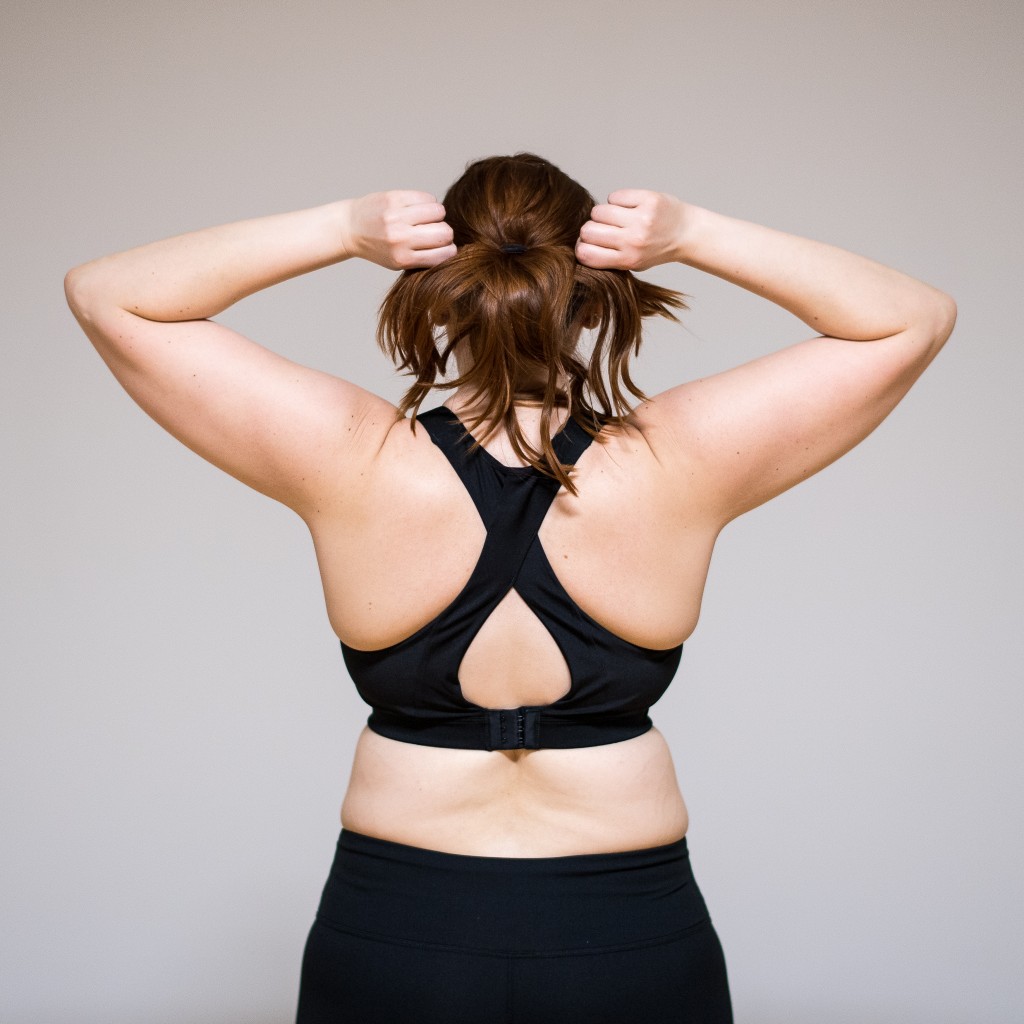 KR: How should I care for my sports bras?
JR: Hand washing is preferred but if you plan to machine wash, it's best to use the gentle or delicate cycle, fasten hooks or straps and place sports bras into a lingerie wash bag. For best results, use a gentle, lingerie-friendly detergent.
Avoiding cycle dry can also help improve the life of the bra. Dryer heat can take a toll on the fabric and potentially alter the fit of the sports bra, but if you do tumble dry, we recommend doing so on a low temperature and avoiding fabric softeners and dryer sheets which can clog fabric and shorten the life of your bra by limiting its ability to wick sweat and resist odors.
If you notice that your sports bras are starting to get stinky, you can soak them in a 1:1 vinegar/water wash which will help break down the fabric softener and revive your sports bras.
KR: Where should the bra hooks be secured?  There are usually 3 groupings of hooks on the back.  Should the bra be fastened on the tightest, middle, or loosest setting? 
JR: We always suggest buying a new sports bra that fits comfortably snug when fastened on the middle hook & eye. This provides you the ability to adjust the fit of the bottom band both looser and tighter depending on your need. Your size can fluctuate from morning to night, day to day, and over the course of a month or year. Having the ability to customize your fit will mean you are getting the support you need, when you need it.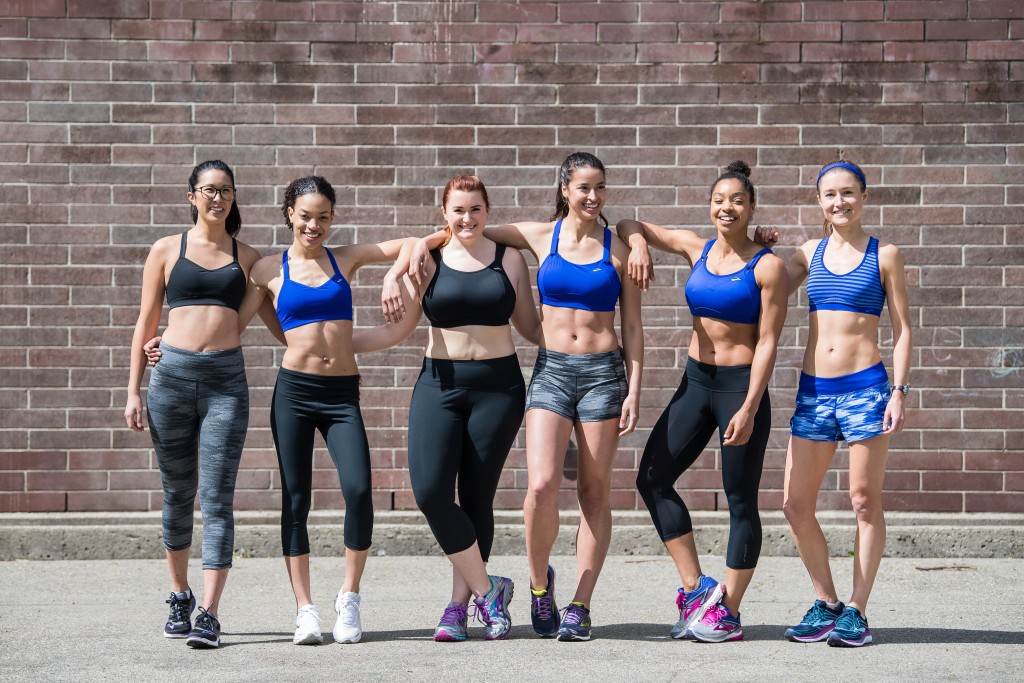 Created in partnership with Brooks Running + Brooks Women