Engagement Photos (with our cat!)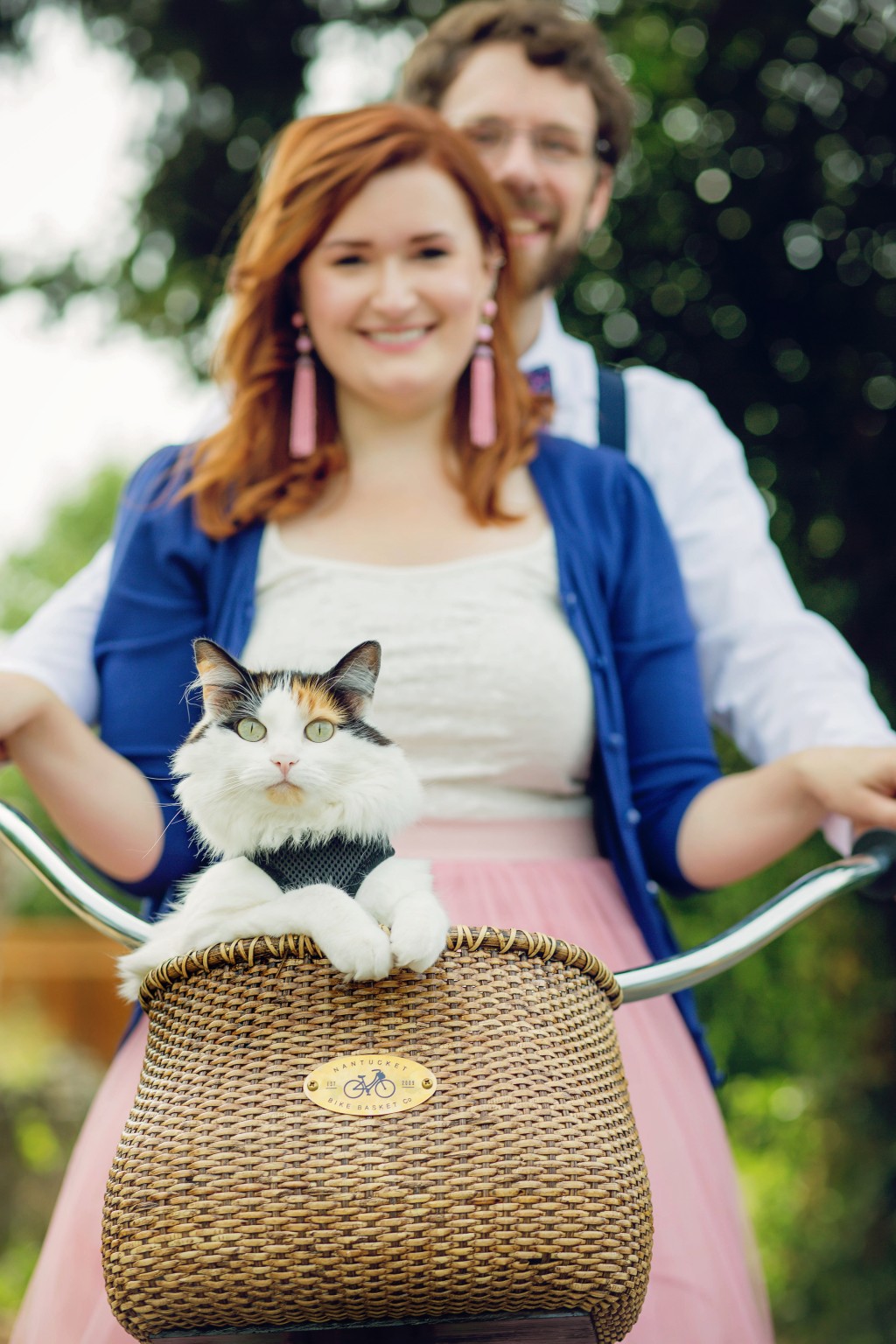 First, let me address the elephant cat in the room. Yes, that's our cat. Isn't she amazing?
We'll talk about her more soon, I promise.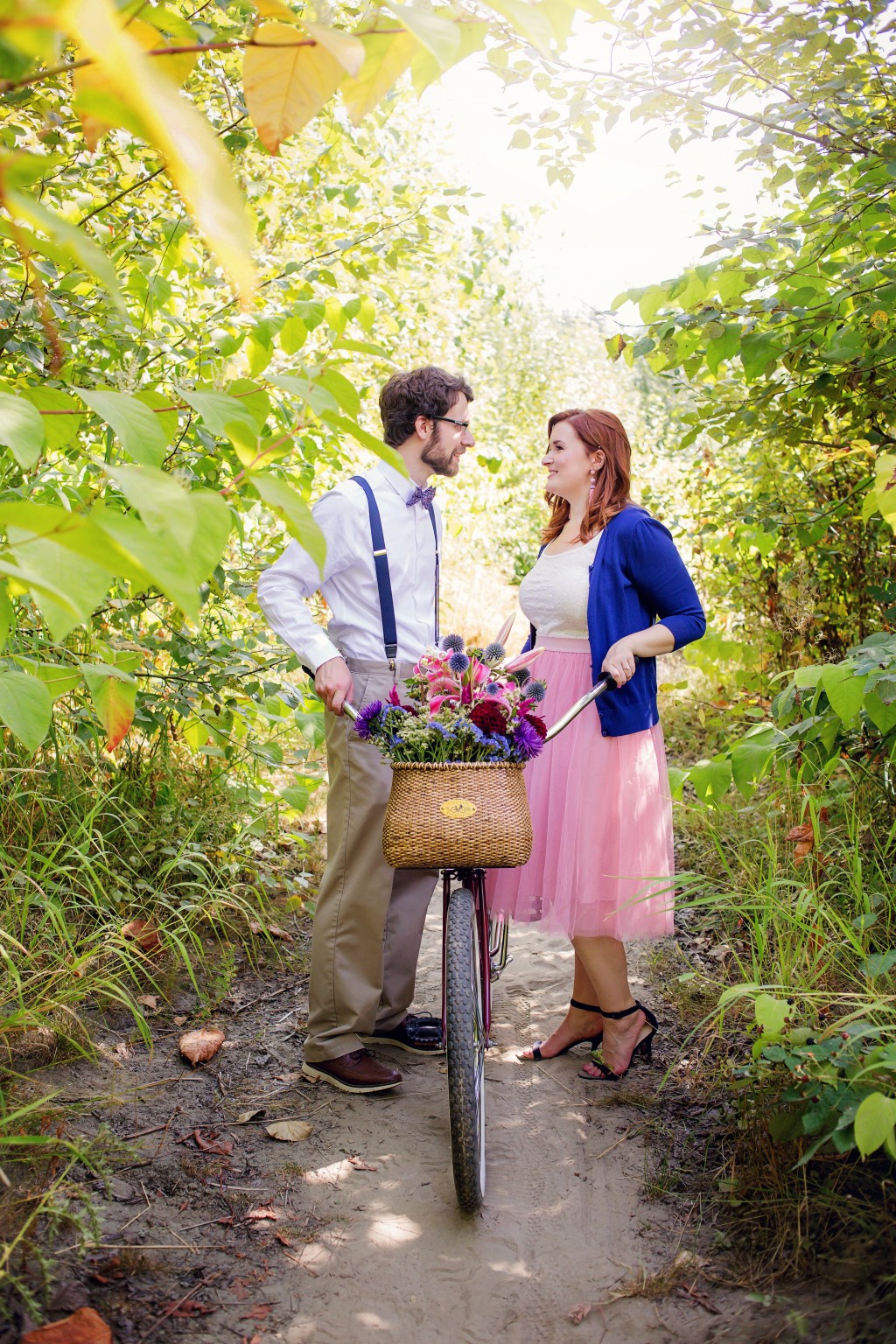 Second, I'm going to get all mushy gushy, but I have to give major props to both my fiance Jon and our cat, Opal. I have these random creative ideas for photoshoots and they both oblige me every time and the photos came out amazing! They have such patience with me and my hairbrained ideas!
Photography: Sparkling Bliss Photography
Hair & Makeup: Anne Timss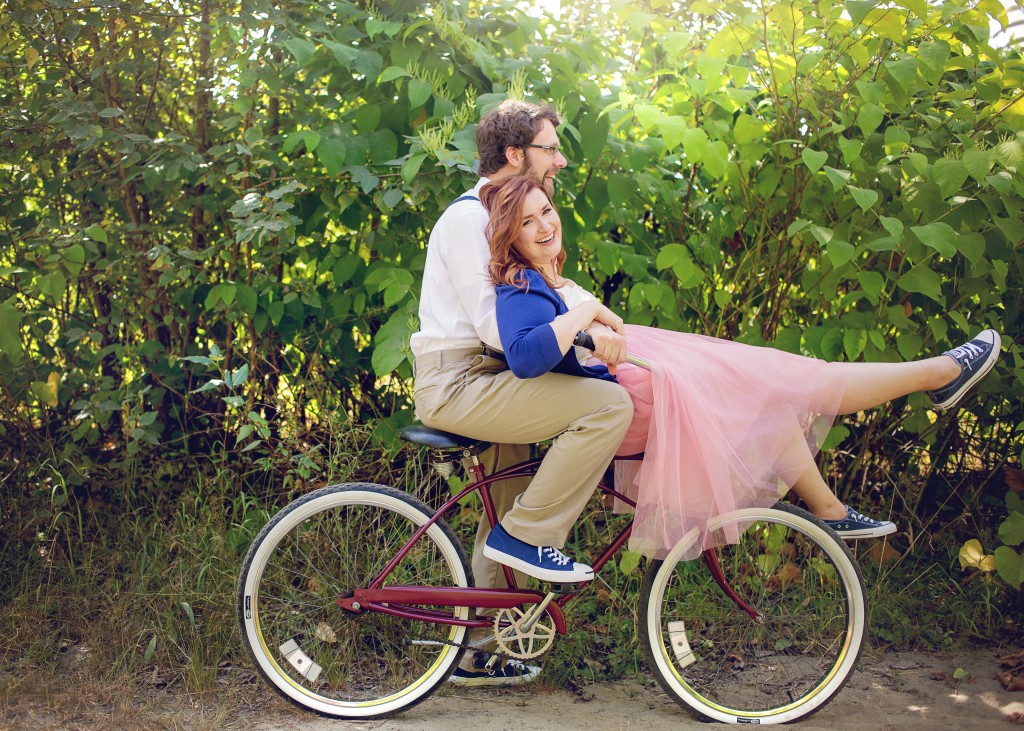 Once we were engaged, I knew I wanted a styled engagement photoshoot. There were three elements I knew I wanted to our engagement photos to help tell the story of us: bicycles, our cat, and a tulle skirt. Two of these are very important to our lives and one was really just for me. (Who doesn't love a good tulle skirt?!) It's really quite funny how the story of these engagement photos is quite like our love story!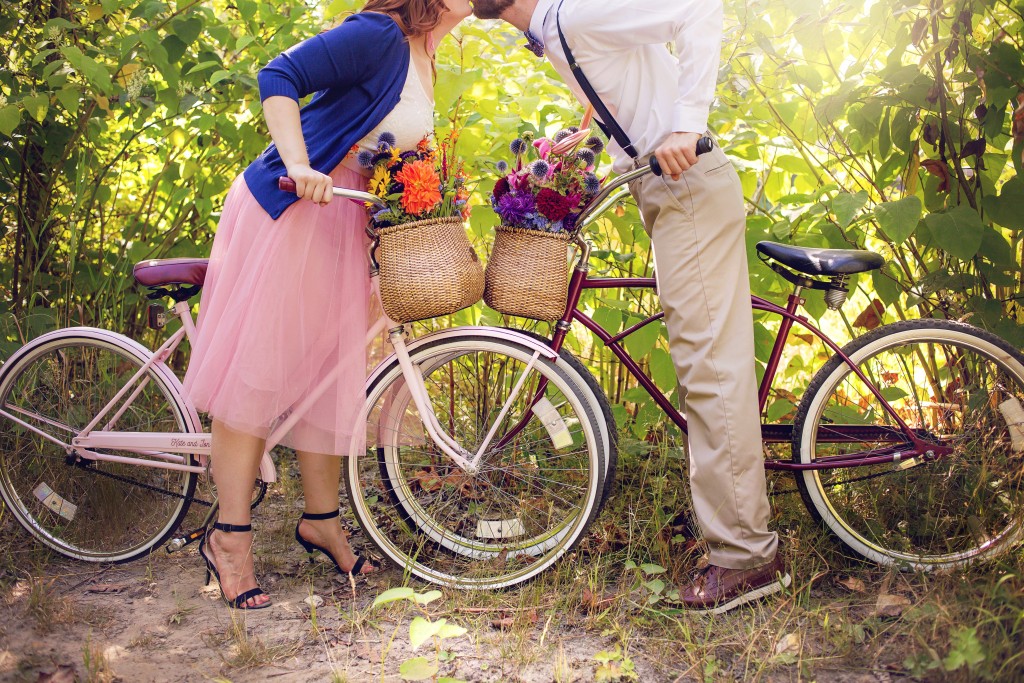 When I get a good idea, I know it's the one. It's like I have an "a-ha!" moment and everything else pales in comparison to any other ideas. When planning our engagement (and subsequently our wedding), I want the details to tell the story of us, our love, and our relationship. What's one thing that we love doing together? Cycling.
Of course, the type of cycling we do isn't really glamorous. It's gritty, sweaty, and sticky. There's no cute outfits involved (sorry, but cycling fashion has a LONG way to go), and much like cycling clothes, the bikes are built for performance, not good looks. Jon and I have shared many deep conversations on our cycling journeys. We've talked about everything under the sun on our rides, we've grown stronger and ridden harder and faster over the years. We have grown together through the sport of cycling – mentally, physically, and emotionally. I look forward to those rides because I know we will get dedicated time talking to each other, not distracted by our cell phones and other technologies. Just us, the road, and our cycles.
Anyways, I digress. I wanted to capture the essence of what we love, so I knew I had to use vintage or retro-style beach cruisers in our engagement photos. They're adorable, classic, romantic, and, most of all, had the element of cycling I was looking for. So, the search was on! The problem was finding exactly what I wanted in terms of color, stylization, and cost. Initially, I was looking at buying new beach cruiser bikes but had a hard time finding the exact colors that I wanted AND that wouldn't break the bank (seriously, they're SO expensive). Like the knight in shining armor that he is, Jon said, "If we find vintage ones, I can refinish them."
Umm, what? I don't know about you, but that is way beyond my level of my handy(wo)man-ness. I questioned him multiple times, but he promised that he had the skills and know-how to get this done. As you can see here, he definitely did!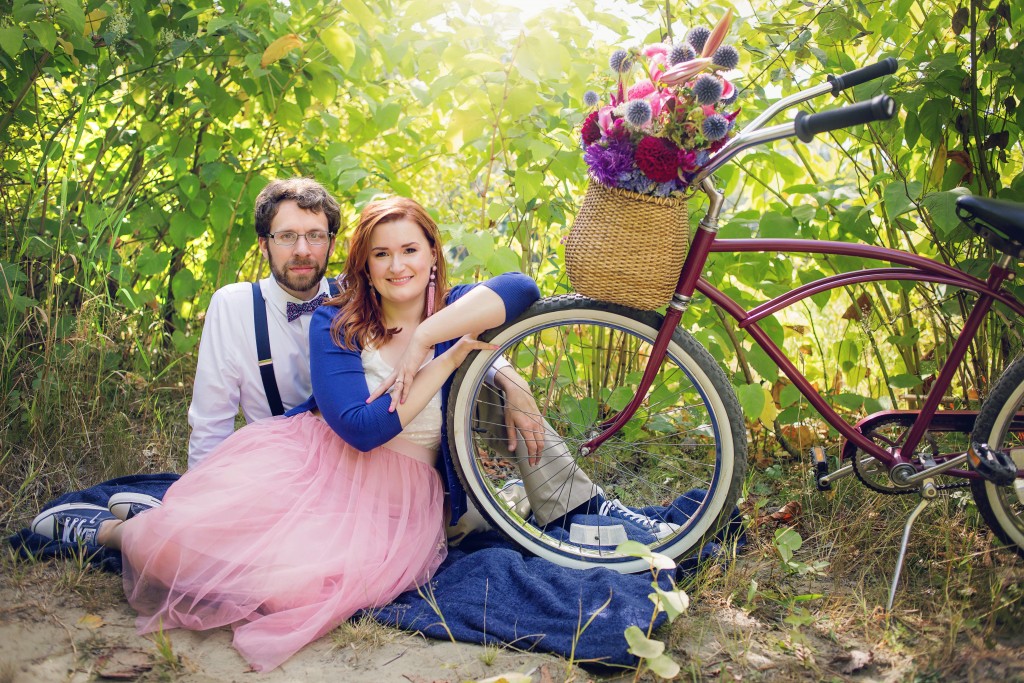 We ended up with 3 vintage beach cruisers. One was purchased at a church rummage sale by our house for $20 (it was originally gold with a burgundy seat and became the blush pink bike). Two bikes, a men's and another women's, we purchased through OfferUp, one for $50 and one for $60 (the men's bike was originally black and became the burgundy bike).
Once we had the bikes, the fun was just beginning for Jon. He got to work on stripping the bikes of their original paint, sanding them down, and fixing any rusty places. Then he took me to our neighborhood Sherwin Williams store to pick out paint. (I get the fun jobs!) Since I could pick any color I wanted, I knew I had to make them our wedding colors so that they could be re-used as decor at the wedding! Knowing that our wedding colors are blush pink and burgundy, I brought in a color swatch of my bridesmaids burgundy dresses to the paint store and Sherwin Williams was able to create a paint color match based on the fabric swatch. How cool is that?! I got to work with them to adjust the color to get it just perfect and then we worked to tweak a blush pink color that I loved, too. The store even helped Jon pick out the right types of paint, primers, and top coats, to make sure we got the right finish on the bikes.
Lots of blood, sweat, possibly some tears, two paint sprayers, and a few past-midnight work sessions later, and Jon completely stripped and repainted two of the bikes! In case you're wondering, we are real people sweating it out at the last minute. He did a final paint coat the night before our photoshoot and was still assembling the bikes on the morning of our photoshoot… I didn't even see the finished product until I showed our photographer! But obviously they turned out phenomenally well.
PS – My friend Annie even created a little Kate and Jon font that Jon cleverly printed onto printable clear sticker paper. It was just so perfect!
Disclaimer: We paid for this all on our own, and this is in no way sponsored. Sherwin Williams did not pay me to say good things about them!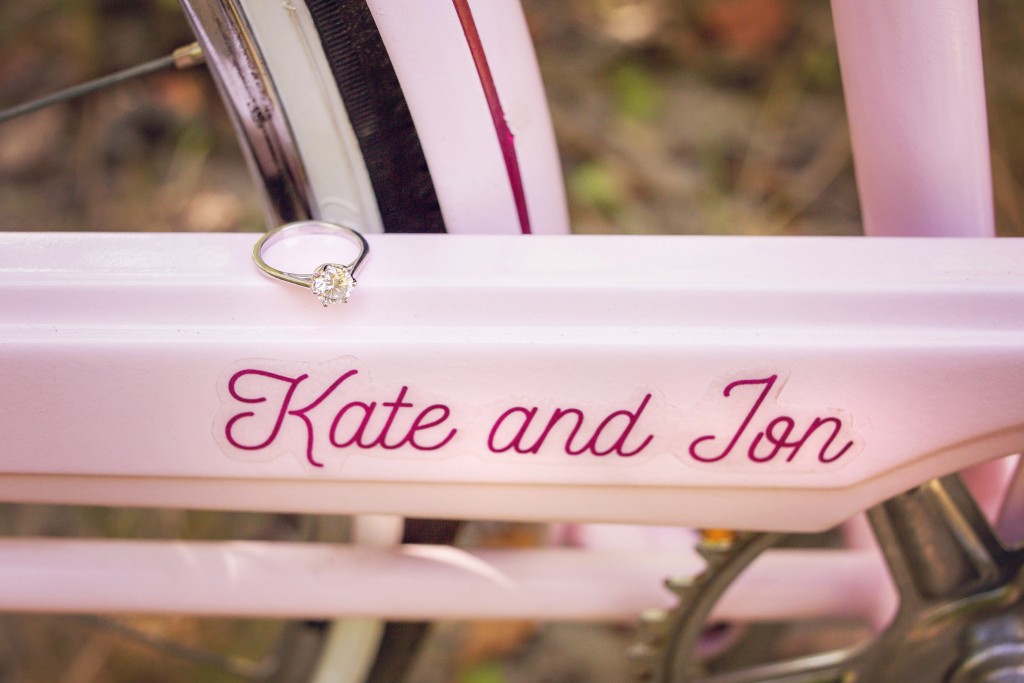 And now the part you've all been waiting for: the cat. I can't forget about her! If you know me in real life, if you follow my Instagram stories or Opal's Instagram, you likely know that I'm obsessed with my cat. We adopted her from a friend two years ago. She is the most social, trusting, patient, and adventurous cat I've ever met. She is afraid of no one, loves boxes, baskets, and bags, allows me to dress her up in costumes, and isn't skittish at all.
I knew that the finishing touches for the bikes would be wicker baskets with flowers. I was feeling good about the overall vibe of our engagement shoot but something still seemed to be missing. I couldn't shake the feeling that I needed to include Opal somehow. We've long joked about having her in our family photos (and it almost happened last year), but then, once the baskets arrived, it clicked. That's when I realized that I could put the cat in the basket and put the basket on the bike. Brilliant!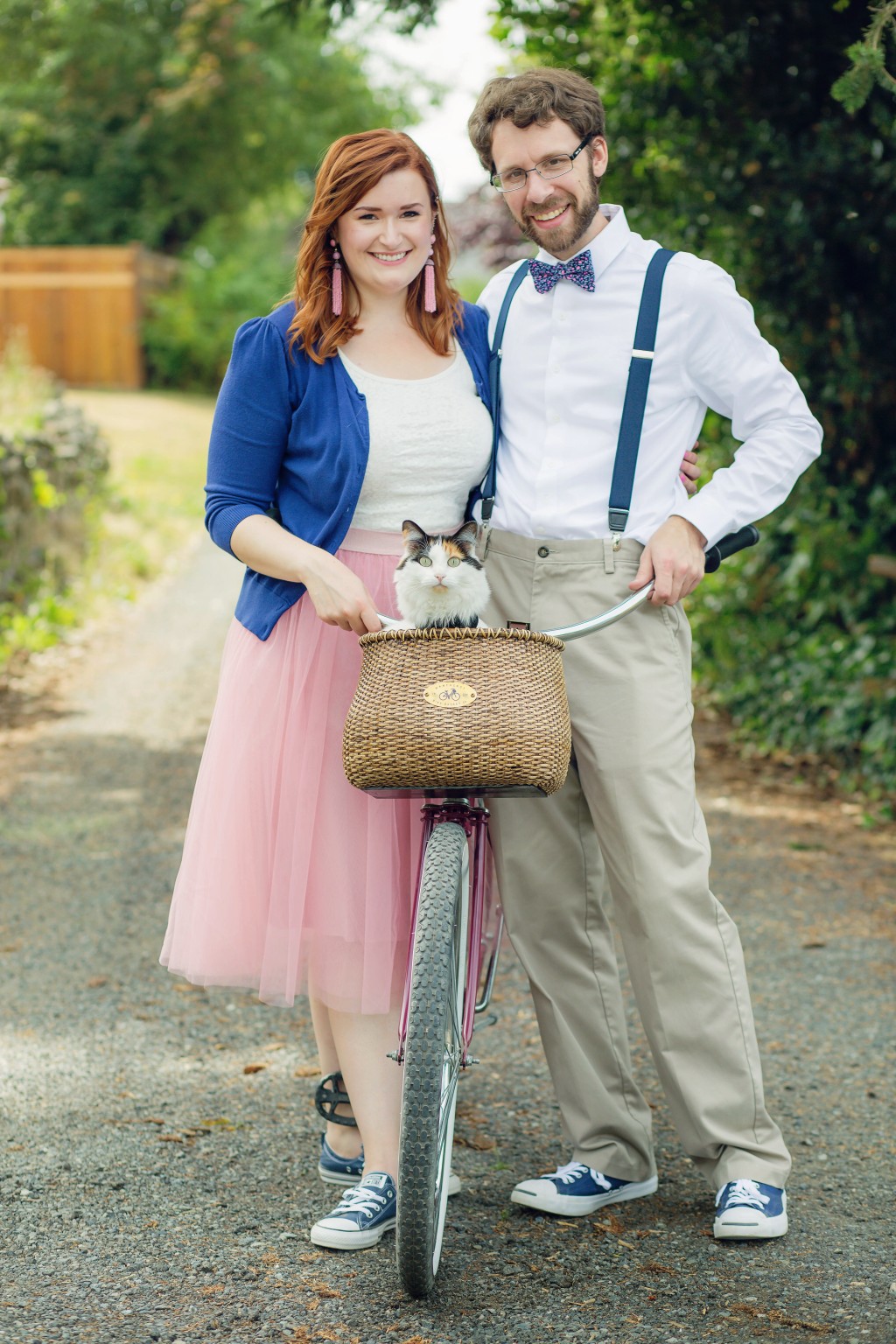 Most cats I know would never dream of sitting still in a basket on a bike. But most cats aren't Opal.
After hunting down the perfect bike baskets online, of course Opal had absolutely no interest in them. Normally she is all for climbing inside everything that she can fit into, but she had no desire to so much as sniff the bike baskets. Since she's an indoor-only cat, (on occasion I walk her on a leash, #crazycatladystatus) so I knew we had to practice getting her in the basket and making sure she wouldn't jump before figuring out how to get her on the bikes. She did let me put her inside the basket with minimal resistance a few times. I was able to carry her around the house in the basket and one night we had Jon hold the handlebars while the basket hung off the bars to see what she'd do. She didn't look thrilled, but she stayed there, as patient and trusting as ever. I knew she'd pull through for me when it was showtime!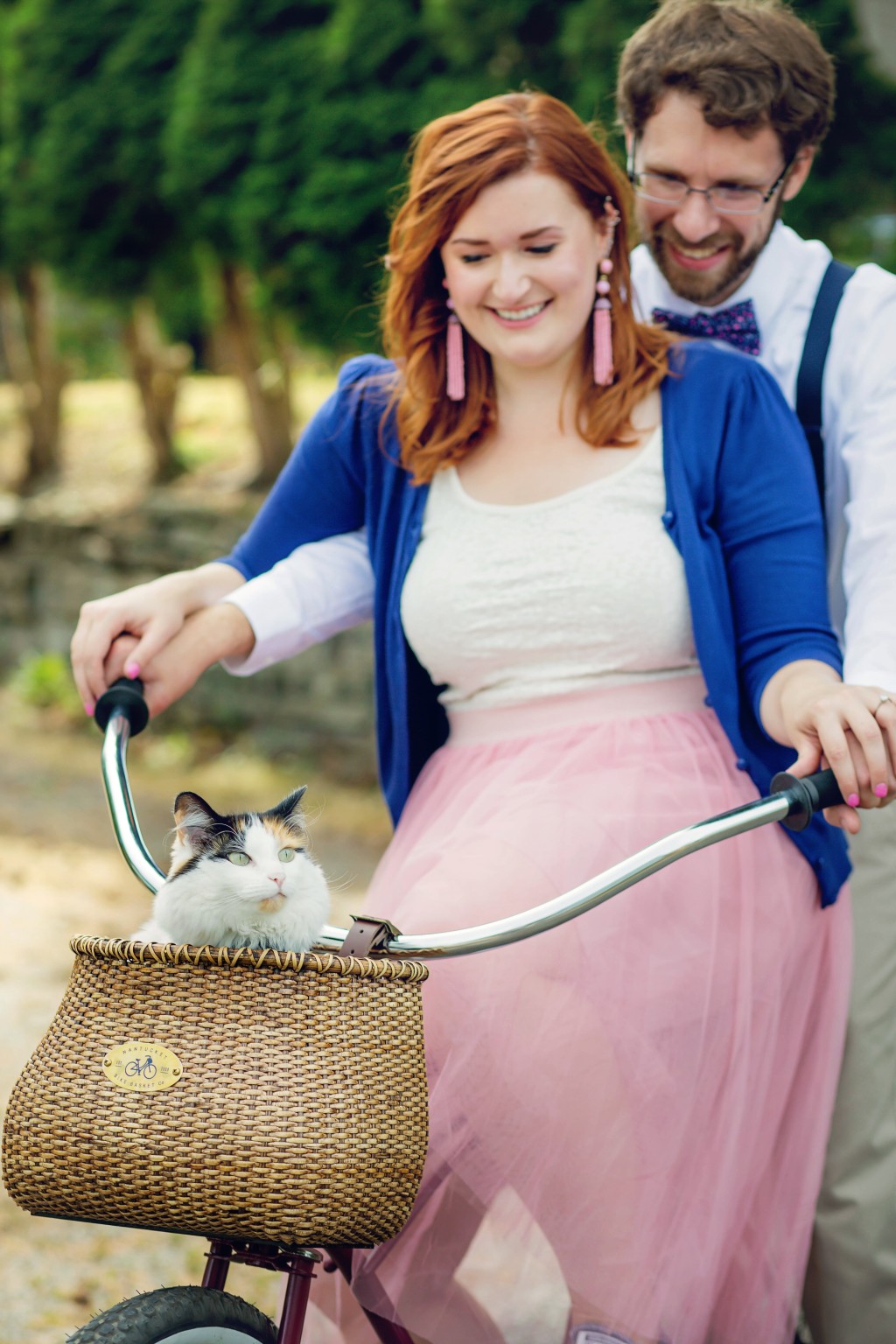 Drumroll, please… She did!
The key to our success (besides having the perfect cat), was having a plan in place. Jon and our photographer Rachael set up the bike and location in the alley behind our house while I waited inside the house for about 10 minutes to make sure they were prepared. I put a harness on Opal, placed her in the basket, and attached a leash splitter to the basket and her harness to secure her. Then I carried the basket out back to the bike where Jon attached the leather straps to the handlebars. Opal sat there patiently, completely trusting us, not trying to escape, just sniffing the air. Rachael was able to move around, snapping photos, posing us, and only had to make weird noises a few times to get Opal to look at her for photos. I mean seriously, just look at her!!! She loves the camera just like her mama!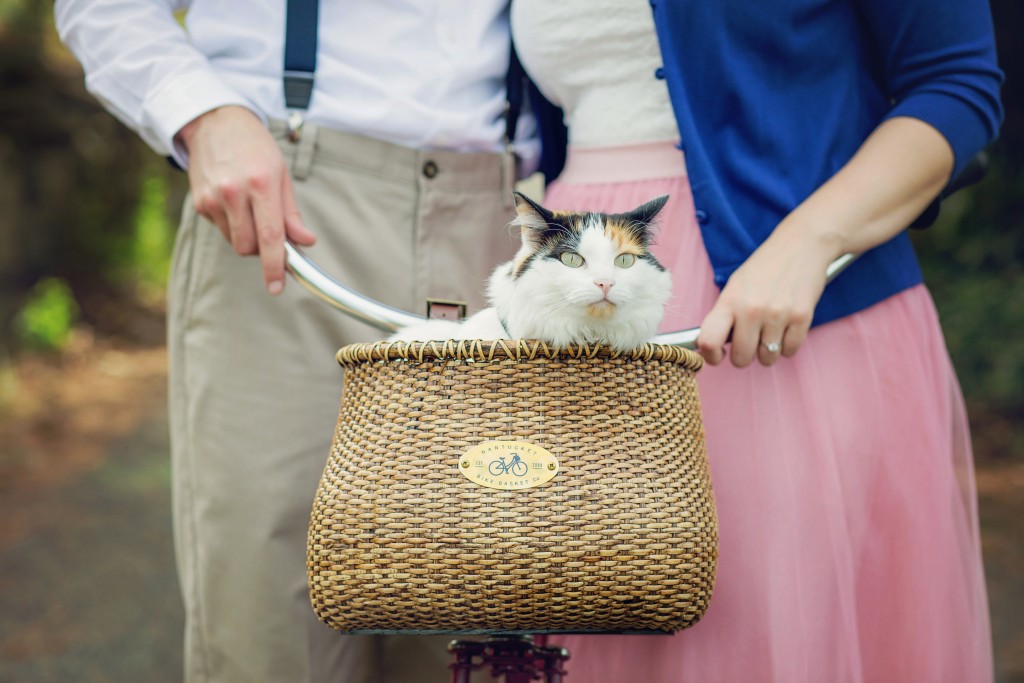 Once we captured all the snaps with Opal, I decided to wheel her back on the bike to the house. Even when the bike was moving she was completely comfortable with being on a moving bike! That is, until I kicked a rock that clanged loudly against the tire spoke and she bolted. Jon tore after her but she went right to the back door, and just wanted some treats for a job well done! Naturally, we obliged.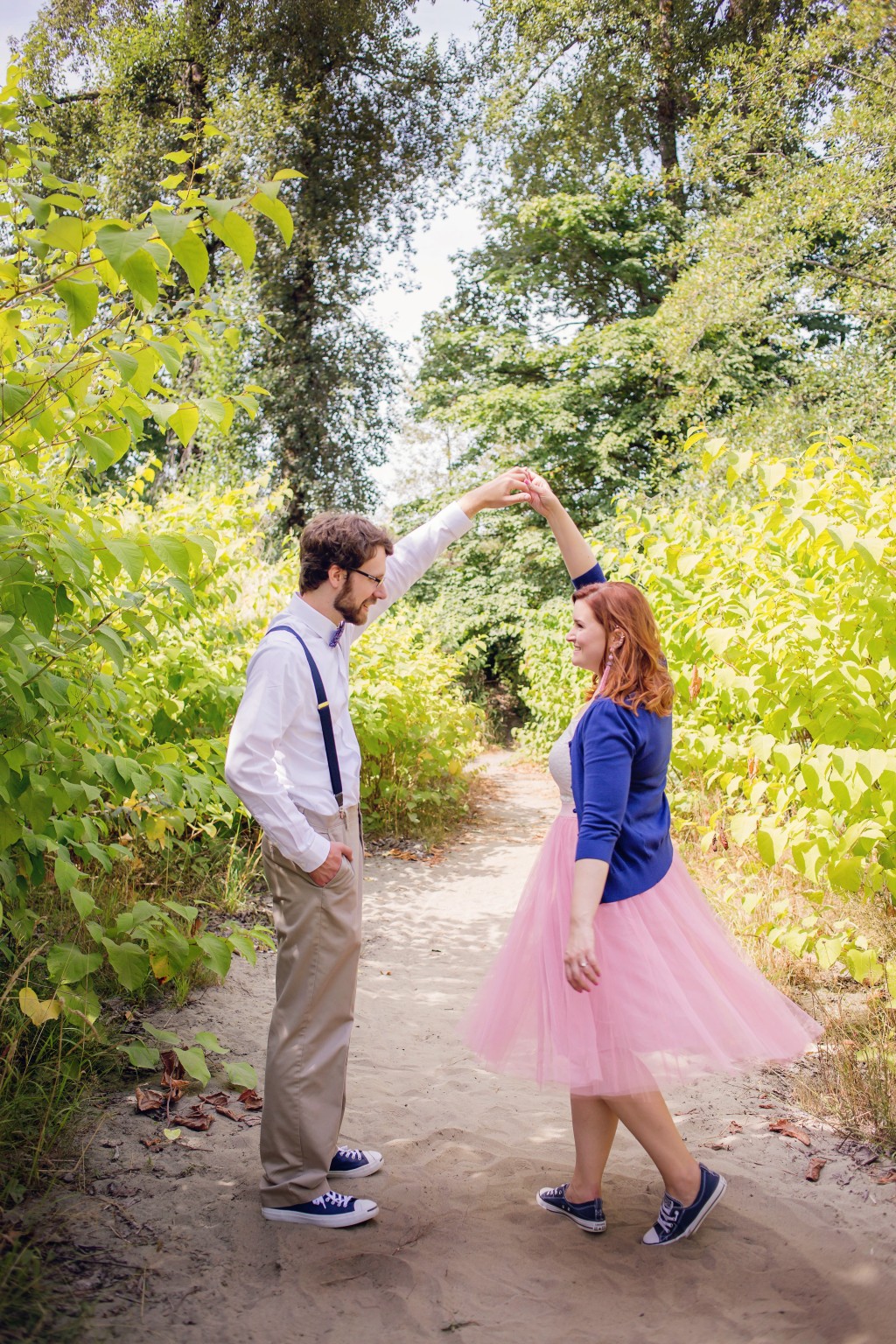 Last but not least, a note on our outfits. Whenever I plan for a shoot that requires coordinating outfits I build off of either a specific piece and/or color palette. I already had a few pieces of the puzzle to work with for this shoot: a pink tulle skirt for me, colors that complemented burgundy and blush pink bikes, and Jon in suspenders and a bow tie. Coordinating our outfits wasn't incredibly easy; it did prove to be a bit of challenge. There were multiple shopping trips, try-on sessions, and hunting for the perfect "something" to add to our outfits. With Jon's tall and slender frame we had the added challenge of finding clothes that fit him correctly.
We ended up buying a few different options for him including a few dress shirts, a pair of jeans, two pairs of shoes, and some accessories. But, when I found a navy blue bow tie with pink flowers and coordinating navy suspenders at J.C. Penney, I had that "a-ha" moment again. I knew it would be the perfect match to my skirt and the navy hue would set the tone for the accent color in our photos.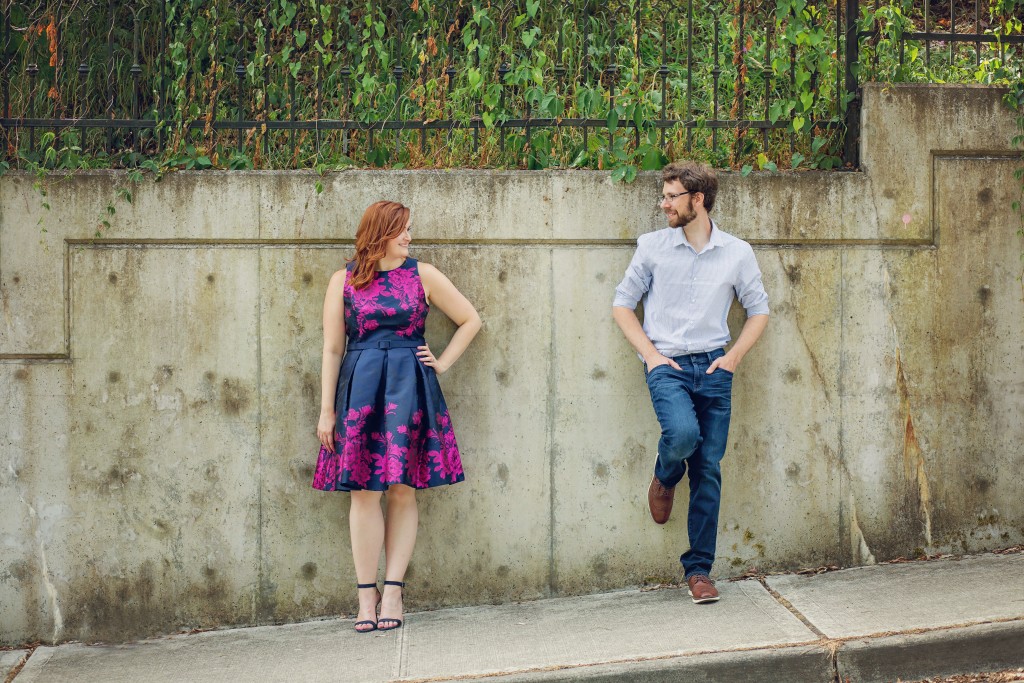 We ended up with three outfits for our engagement photos but only ended up photographing two outfits. Despite all of the planning that went into this photoshoot, I was still putting it all together last minute, shopping for outfits up until the night before our photoshoot when I bought my shoes. In the end, everything came together perfectly, but it was certainly a hunt to find everything!
It was purely coincidental that both outfits had navy and pink elements to them, but I think the color palette turned out great!
Photography: Sparkling Bliss Photography
Hair & Makeup: Anne Timss
Engagement Ring: Ben Bridge
Outfit 1:
Kate: Sweater // Top (similar) // Tulle Skirt // Dress Shoes // Converse // Earrings
[show_shopthepost_widget id="2808689″]
Jon: Dress Shirt // Suspenders // Bow Tie (similar) // Slacks // Dress Shoes // Converse
[show_shopthepost_widget id="2809582″]
Outfit 2:
Kate: Dress // Shoes
[show_shopthepost_widget id="2808692″]
Jon: Dress Shirt // Jeans // Dress Shoes
[show_shopthepost_widget id="2809584″]