An iFLY Seattle Experience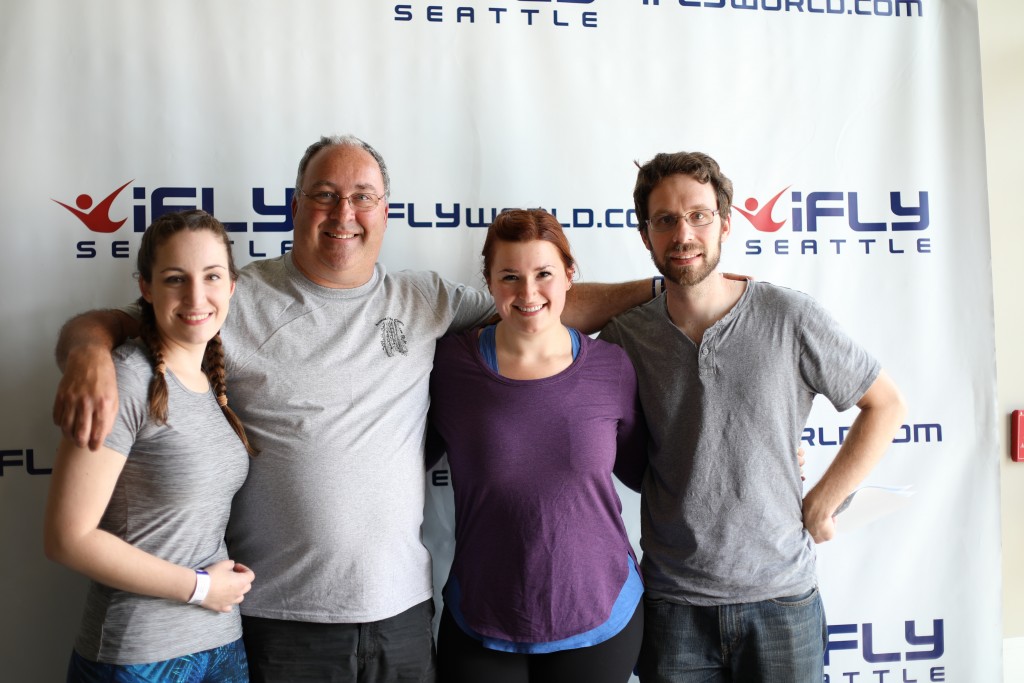 A few weeks ago I had the opportunity to try out iFLY Seattle with Jon and his family. I honestly probably never would have said "yes" to this opportunity, but recently Jon's dad, Gary, had mentioned that he really wanted to try indoor skydiving. Jon and Nicole (Jon's sister) were also game to try it, so I swallowed my fear and decided to try it out with them. Jon's mom, Kim, didn't fly with us this time, but we're hopeful that in the future she'll venture out with us! (I know you're reading this, Kim *waves*).
Having never been skydiving (indoor or outdoor), we had no idea what to expect, but of course the team at iFLY is amazing! Here's a few quick tips from us on how to prepare for your first flight:
Dress casually in clothes that you can fit under a skydiving suit. Nicole and I wore leggings and t-shirts while Jon wore jeans and Gary wore shorts. Make sure to wear lace up tennis shoes!
Don't wear any jewelry. If you have a ring that doesn't come off you'll be given a glove to wear over that hand.
If you have long hair, braid it!
Know that they will weigh you for safety reasons, but they won't tell you or say your weight!
For more information on how to prepare, check out iFLY's FAQs.
We all had a blast but the experience was very different for each of us, so each of us will be sharing in our own words what we thought of the experience! Once you've read through our thoughts, you'll find our tips, too!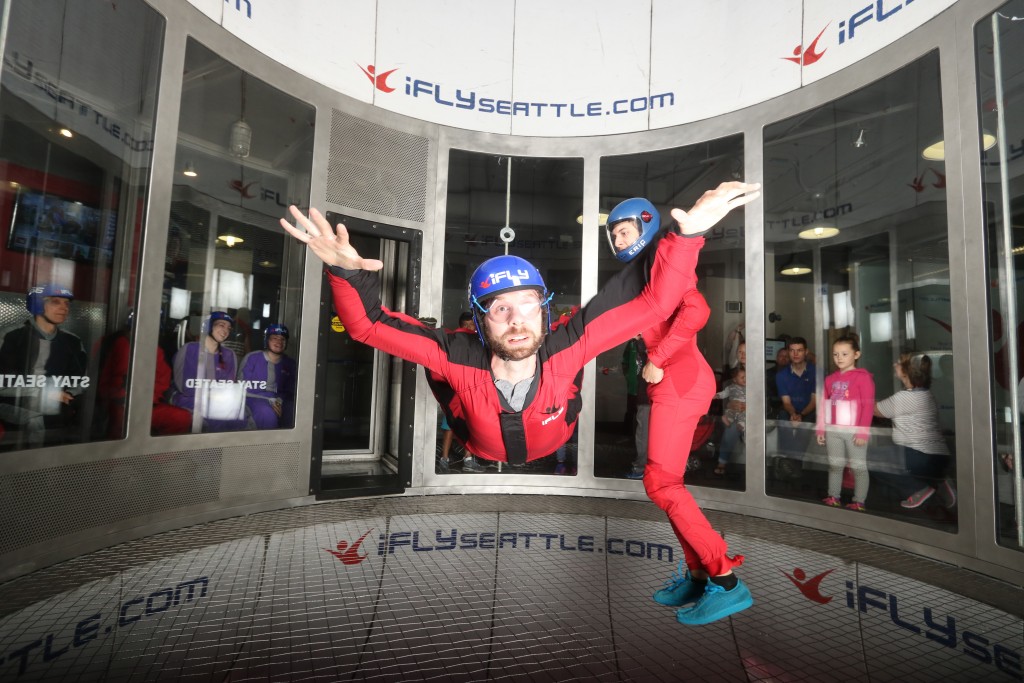 Jon: Living in Snohomish, I watch the skydivers all the time and always think that it would be fun to try it, but the price of it has kept me from doing it so far. But when I the chance to go to iFLY came up, I was completely up for it! The instructions were quick and painless, the instructor was extremely friendly, and actually jumping in was a lot of fun! It's amazing how long a couple minutes in the air can last, but how fast they go at the same time. (Thankfully, we each flew twice.) Plus, watching the instructor flying around at the end was awesome to see and really made me want to get better at it!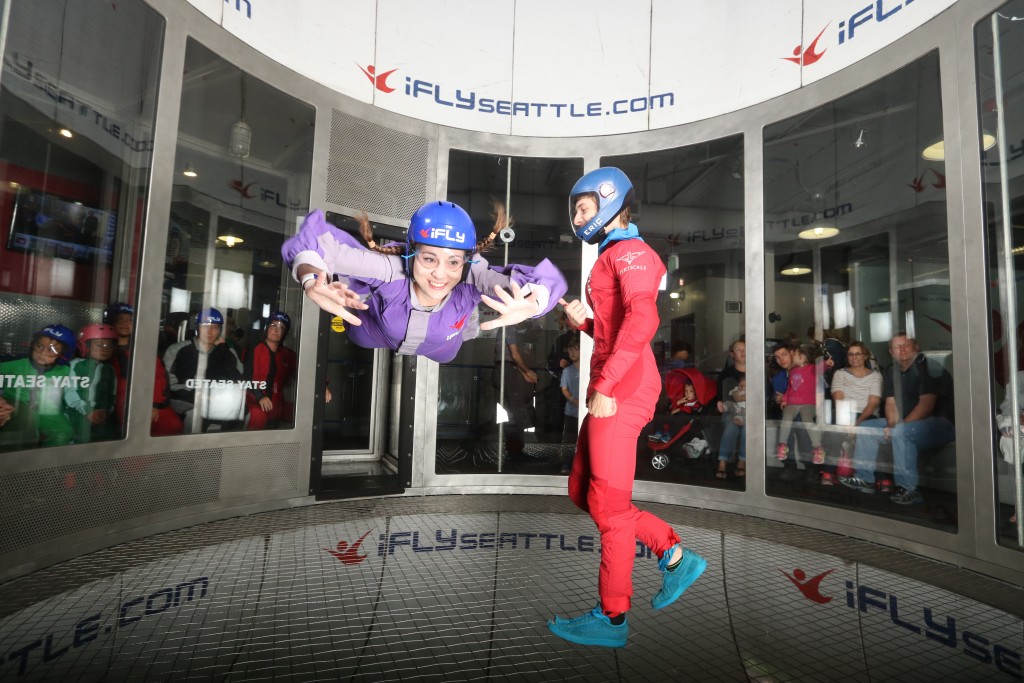 Nicole: I didn't know what to expect, but I was excited. I had a hard time breathing because of the air in my face and the pressure against my chest. Once you get used to the pressure it becomes easier. It was hard to relax the body and I could definitely feel it the next day when all my core muscles were sore!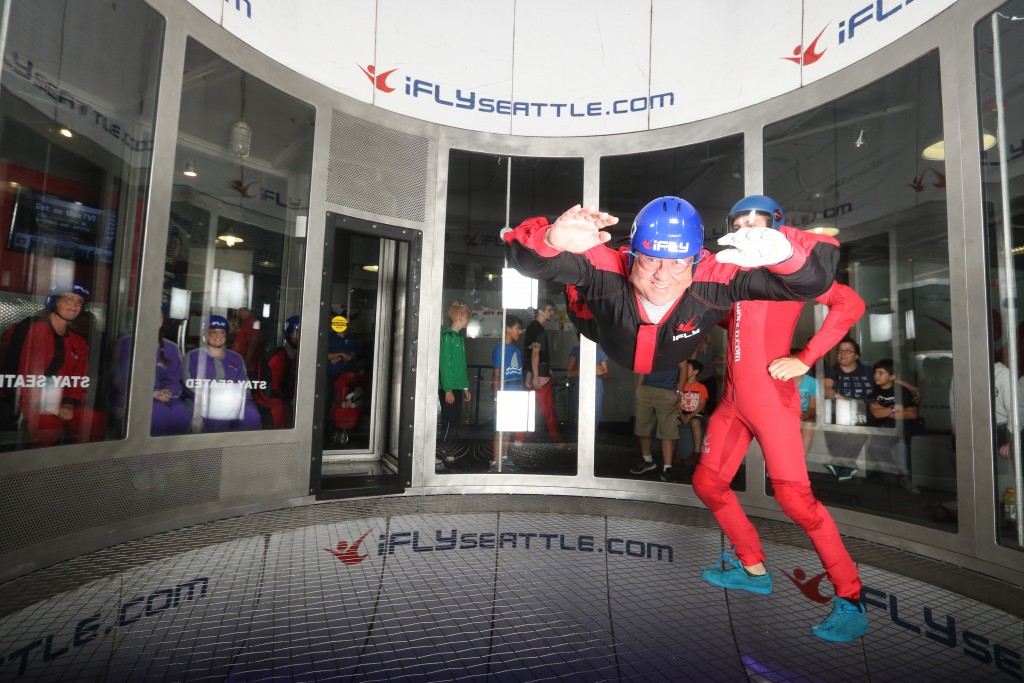 Gary: It's tougher than it looks. It's a workout but I had a whole lot of fun. It didn't feel weightless, but felt like it was a lot of wind to push and keep me up in the air. I learned to keep my mouth shut so that I didn't drool or have the wind catch my lips and look like a dog hanging its head out the window. The instructions are simple and should be easy to remember, but your mind goes once you drop in and it becomes harder to remember everything until you relax.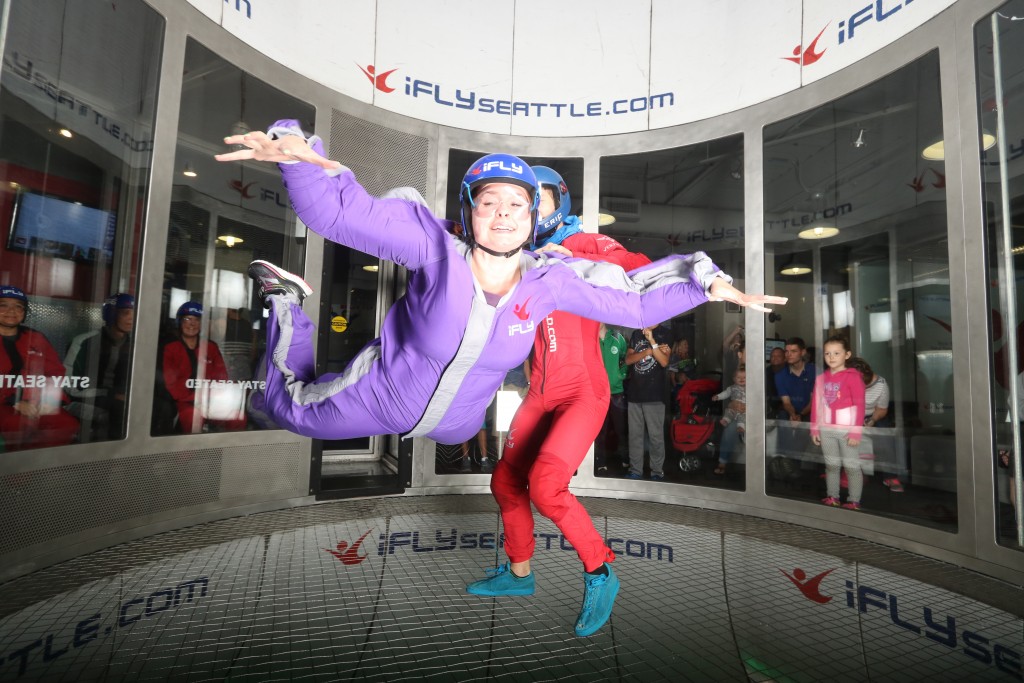 Kate: I didn't get nervous until I got to the iFLY facility. That was when it hit me that I was really going to be doing this! I watched Gary and Jon go first and come out of the tunnel excited at what they'd just experienced. I was nervous as I entered the tunnel for the first time. It was unlike anything I was expecting. It was louder and harder to breathe than I was prepared for. I tried to smile for the pictures of course, but the wind would catch your lips! It was a fun experience but if I went again in the future, I would definitely opt for the full face mask – I don't like the wind in my face!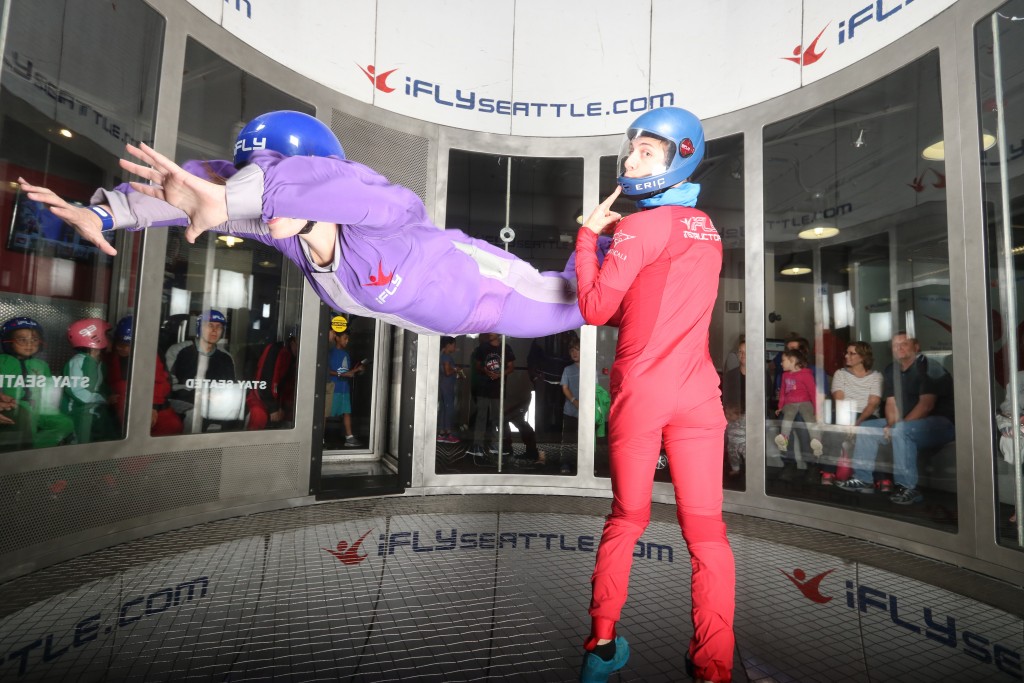 Kim: It was very clear that the instructors were very good at what they do and very in tune to the students. In the group before my family's, the instructor was very aware of a younger girl and how nervous she was. The instructor was trying to comfort her and put her at ease. It is apparent the instructors love their job! They are able to accommodate and work with all ages, sizes and confidence levels.
The group consensus is that we would definitely go back and do it again! Nicole and I would definitely get full face masks in order to breathe more comfortably. Gary would like to do longer flights so that he can have more time to relax and maybe learn some different tricks! Jon's thinking that maybe he'll take his groomsmen to iFLY for his bachelor party!
Here's our tips for first time fliers (and tips for our future flights, too!):
Upgrade to the full face masks in order to breathe more comfortably.
Try to relax and breathe. Your instructor will ensure your safety.
Don't expect to be a pro at it right away.
Definitely do the high fly!
If you'd like to try iFLY, use code iFLYSM to get $20 off all first time flyer packages, when booked Monday through Friday. Valid through 11/30/2017.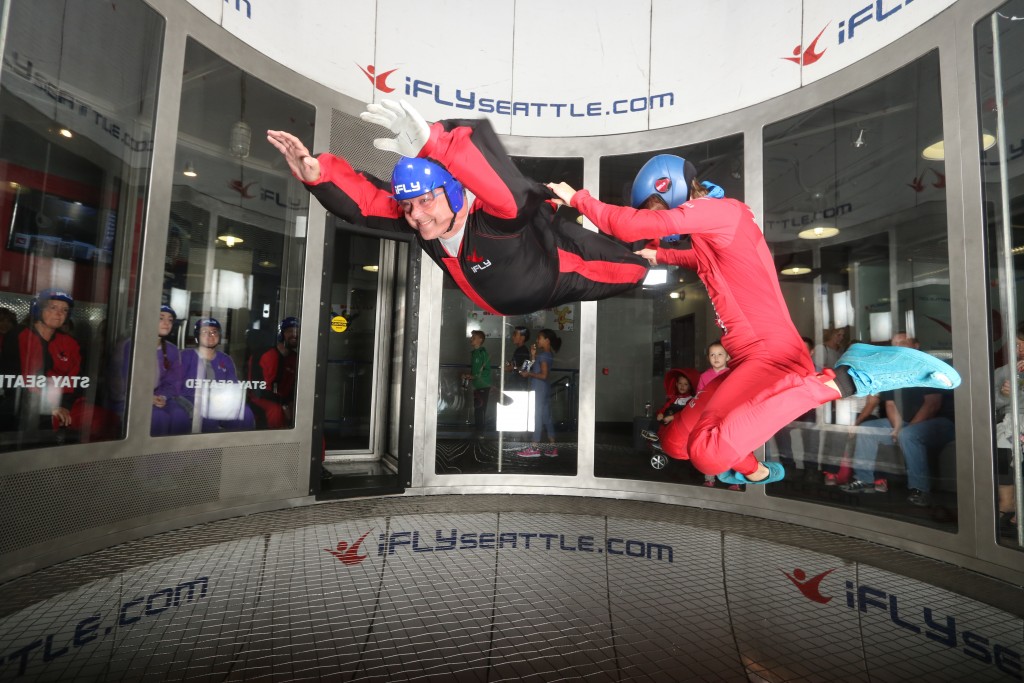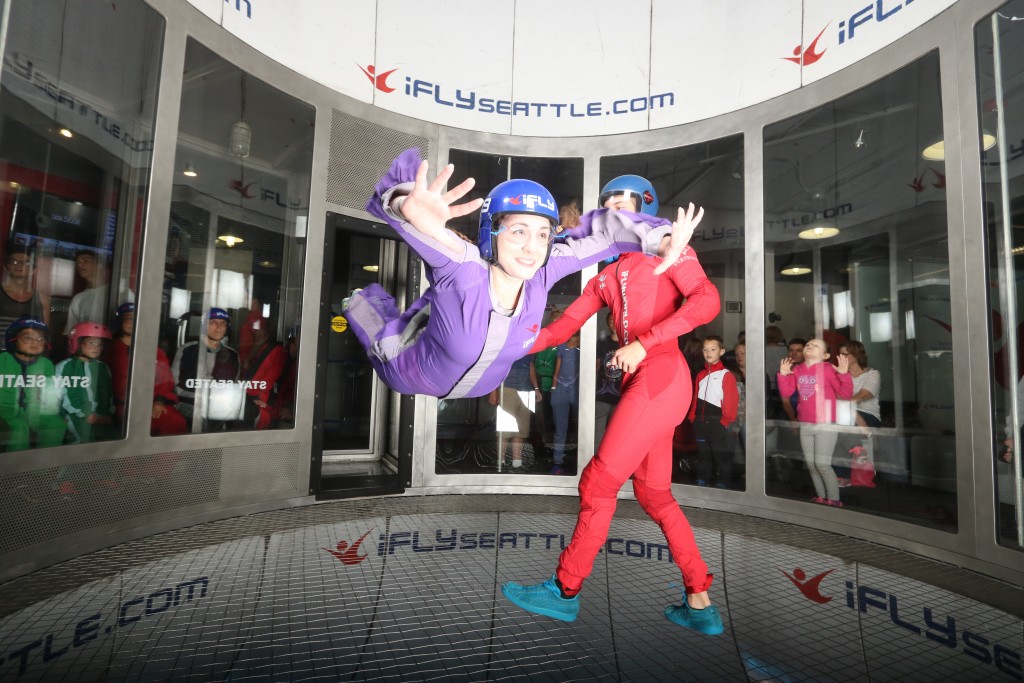 Created in partnership with iFLY Seattle