Saying Goodbye to Havana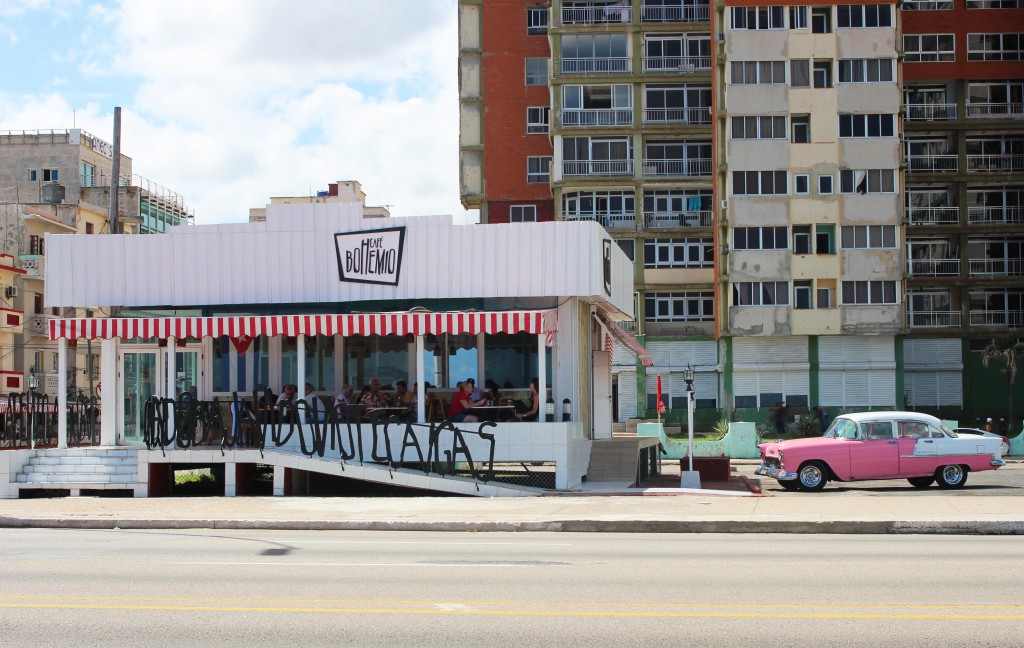 This is the eighth segment in a series of our travel adventures in Cuba. If you are planning your own trip to Cuba, please refer to my Cuba Travel Guide. You can find all of my content on Cuba here. 
After a hearty breakfast served by our Casa host, we decided to try to beat the heat and go for a walk on the Malecón. We started as near as we could to the Casa and walked up until we made it to what Lonely Planet dubbed Havana's finest mall. While it was certainly a mall with a couple floors of shops, it unfortunately had a hard time comparing to some of the most modest malls back home. More evidence we were in a socialist rather than capitalist society. (We actually found better shopping in Havana and plenty of designers and stores have already moved into Havana).
Across the street from the mall is the Melia Cohiba, one of Havana's nicest hotels where you could be forgiven for believing you were no longer in a communist country. The room rates start somewhere around $700 as I recall and everything inside was very sleek and modern. I took a couple minutes to go inside a jewelry store where I found black coral ring for a very nice price, perhaps one of my best souvenirs from Cuba.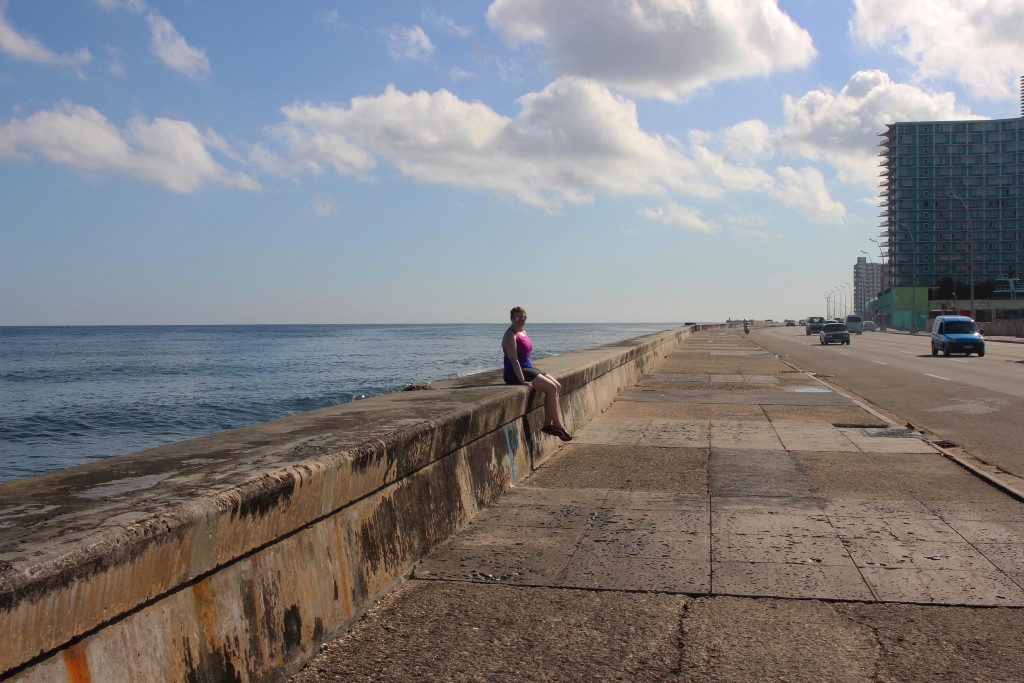 Continuing along the Malecón again, we passed the recently reopened U.S. Embassy and the Monte de las Banderas or Anti-Imperialist Plaza. The U.S. Embassy was nothing terribly special and for the most part could be mistaken for many other buildings around Havana, except for a couple guards out front and an American flag. Interestingly, this embassy appeared a lot less protected than many other embassies I have seen around the world where there are concrete barriers, electric gates, and armed guards that yell at you when you even point a camera in their direction. (Is this because they know that Cuba is a country without many weapons?) The Anti-Imperialist Plaza across the way is an interesting juxtaposition as it intends to make a big display of the terrible imperialist ways that the U.S. represents.
Walking on the Malecón you run the risk of slipping and falling on the slippery sidewalk (beware of anywhere that's dark!) and you may also get splashed on. Luckily we never got doused by a wave but we had a couple close calls.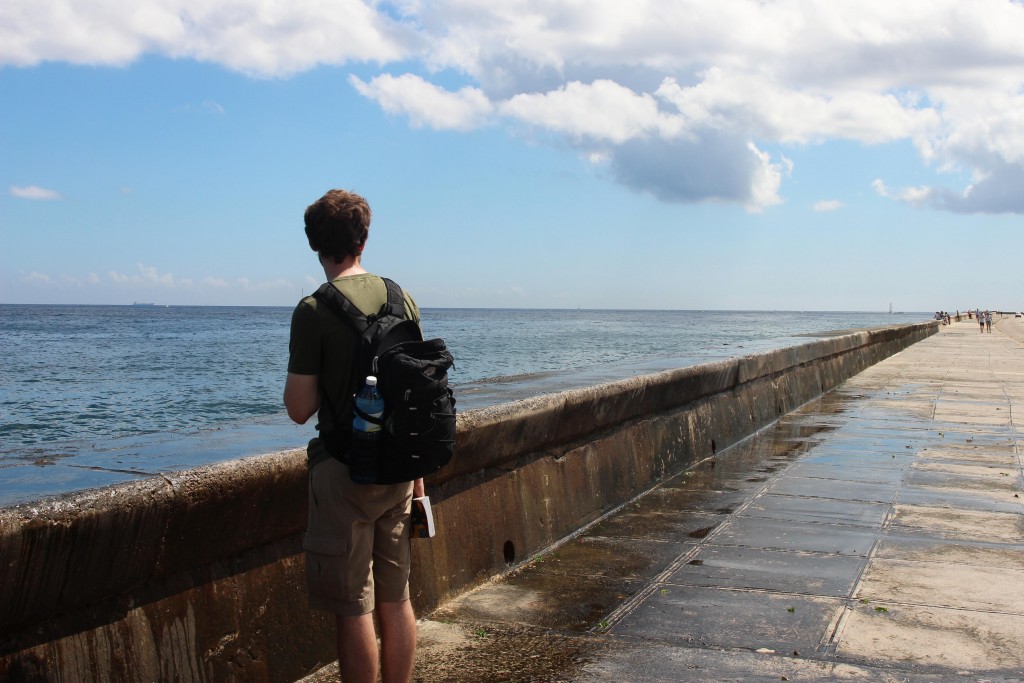 Eventually, we did make it up to the Hotel Nacional once again, at which point we turned in towards Vedado and stopped at another little craft market. We had seen it the previous day from the taxi, but it had closed down early because of the rain. Since this was likely our last chance at getting "authentic" Cuban souvenirs, I started haggling with the stall owners. I ended up walking away with more than a dozen earrings as well as a domino set in a fancy wooden box for about 20 CUC.
Since we were in the neighborhood and it was lunch time, we decided to stop in to Waoo again for lunch. What can I say besides that it was good? This time I had the Waoo burger sliders while Jon had a pesto pasta. Once again, the food was delicious! After we finished lunch, we decided it was time for some ice cream and Coppelia was just down the street. Our very first host had pointed out Coppelia on our first day in Havana as a very good place to have ice cream and the guide book even had a big write up about it as well. The biggest thing to remember is that they only take CUP inside. If you haven't acquired any of the currency that the locals use, you'll be out of luck for the "real" experience. The other thing to know about Coppelia is that there are multiple lines which can get very long and it may be hard to find the end. We stood in line for half an hour before Jon got nervous that we were standing in the wrong line and convinced me to give up for the time being. Instead we went to the little Coppelia ice cream stand on the outside of the large Coppelia structure. This little stand is tucked away behind a bus stop and does accept CUC. We missed out on the full Coppelia experience (for now) by going to the stand, but we did at least get ice cream.
With our sweet tooths satisfied, we hopped in a taxi and headed to central Havana. Specifically, we wanted to see the capitol building. It was modeled after the White House in Washington D.C. The primary difference though is that you can walk right up to the building if you like. There are little guard houses on the outside where a guard may watch you as you come and go (or be taking a nap), but otherwise, folks were just walking up and taking pictures beside the building.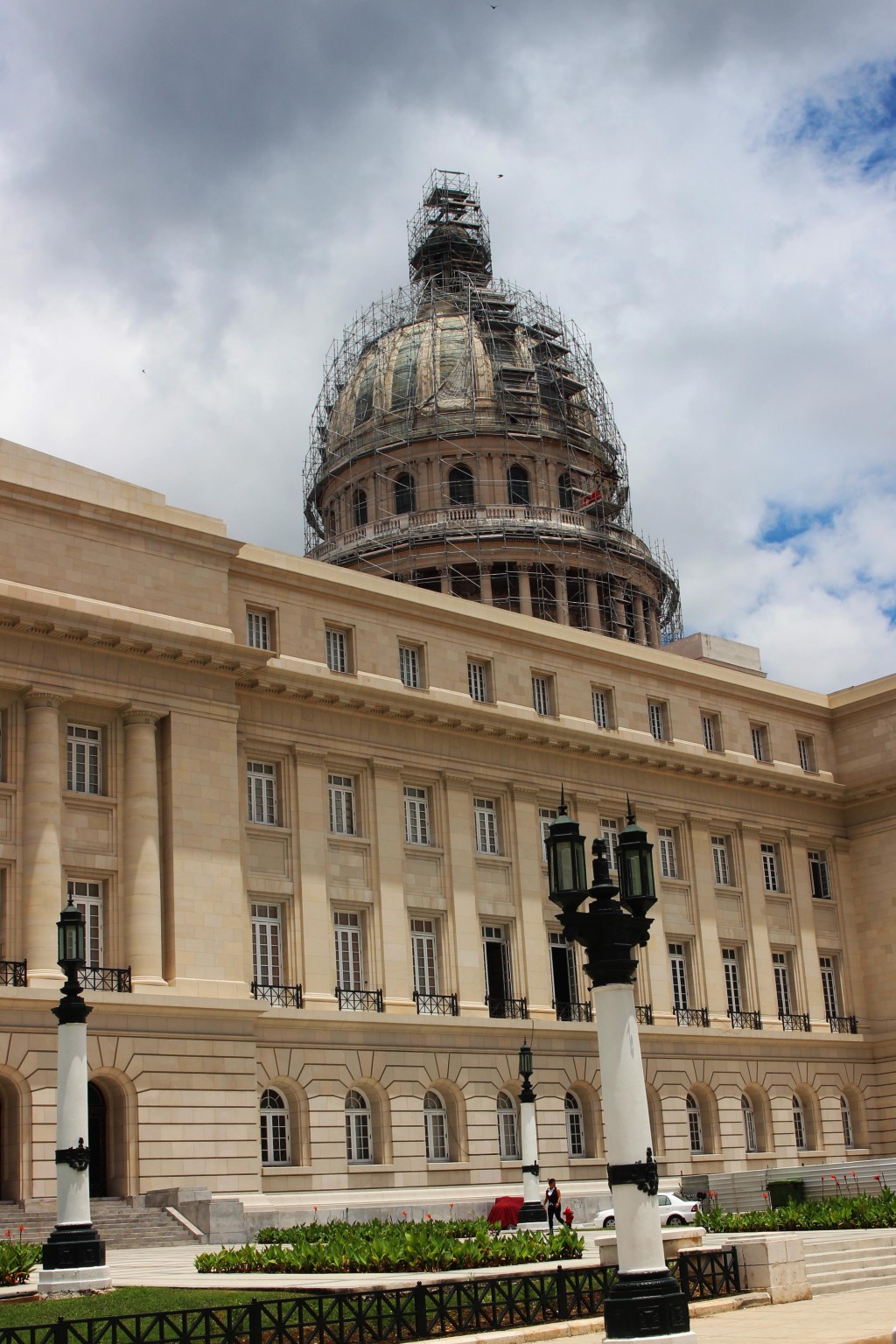 Next to the capitol building is a long parking strip where Havana's classiest classic cars park and try to charge tourists extravagant rates for tours around the city. (Pro tip: Get a classic car at the Plaza de la Revolucion for a much better price). I tried my best to get a picture inside the pink and white polka dot car, but the driver wasn't willing to budge much from his 50 CUC price.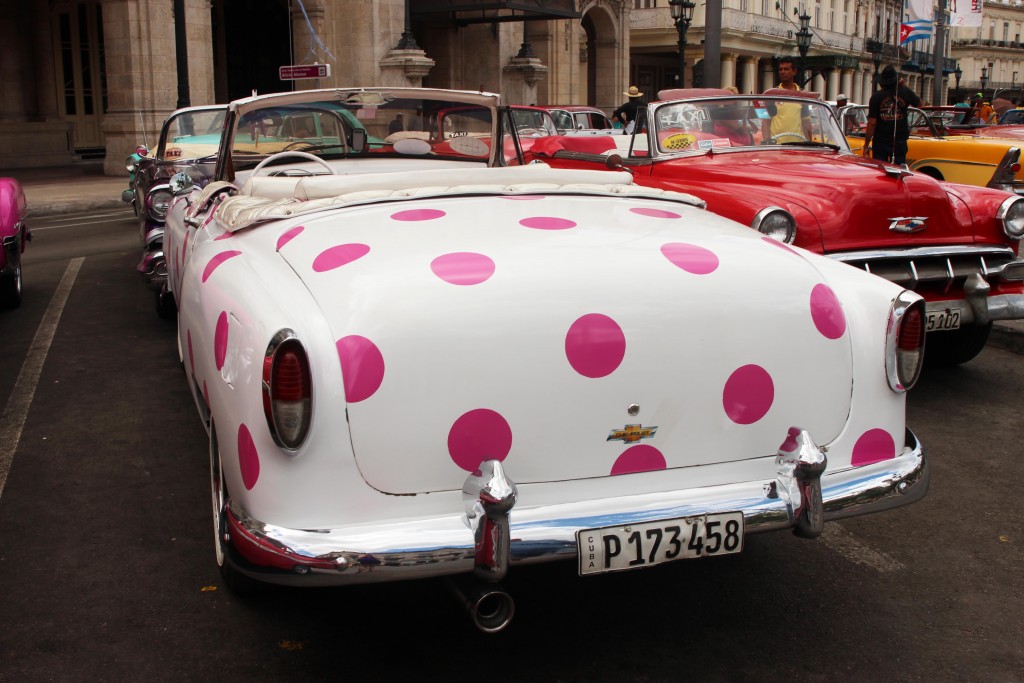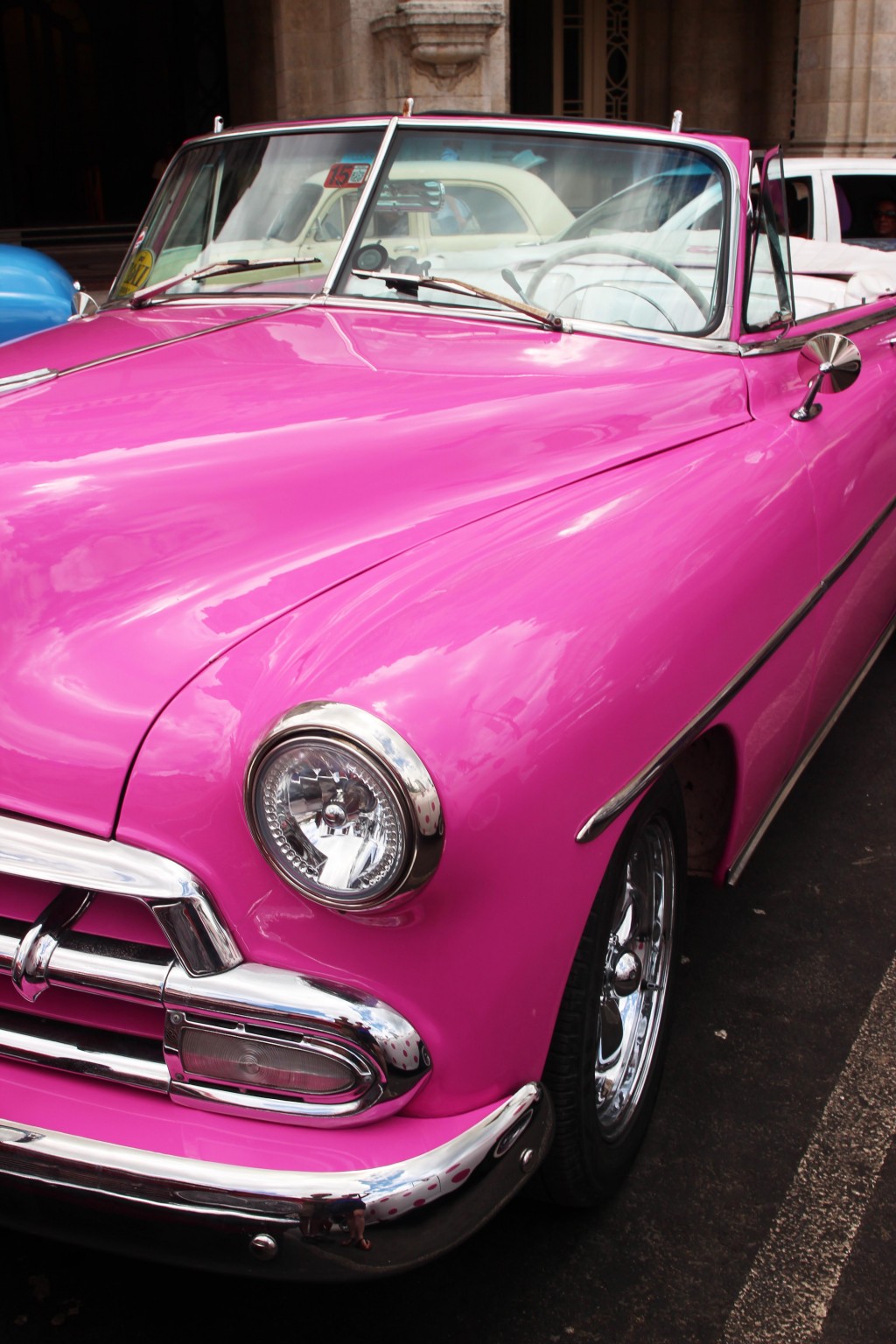 At the opposite corner of the capitol building is the Partagas Cigar Factory. If you're interested in cigars, supposedly this is one of the best places to get them outside of Vinales.
We continued walking from central Havana over to Havana Vieja, stopping to look in little shops along the way. We also stopped to pick up churros from one of the street vendors, something I had been wanting to do since we started planning our trip to Cuba. They ended up being harder and narrower than I expected, but they had toppings galore for them and they were delightful.
Around 4pm I received a text from Jeff saying that their bus had just dropped them off in Havana and they were catching a taxi to the Casa. We hopped in one as well and met them just as they were arriving at the Casa. (We'd arranged for them to stay in the Casa above ours.) After they set there stuff down and finished admiring the house, we set out for dinner. I bet you can't guess where we went. That's right! We went back to Waoo for a third time (Jeff and Nancy's second time). Did I mention that we really liked it? The sliders I had at lunch were so good that I had them again. And once again, it was amazing.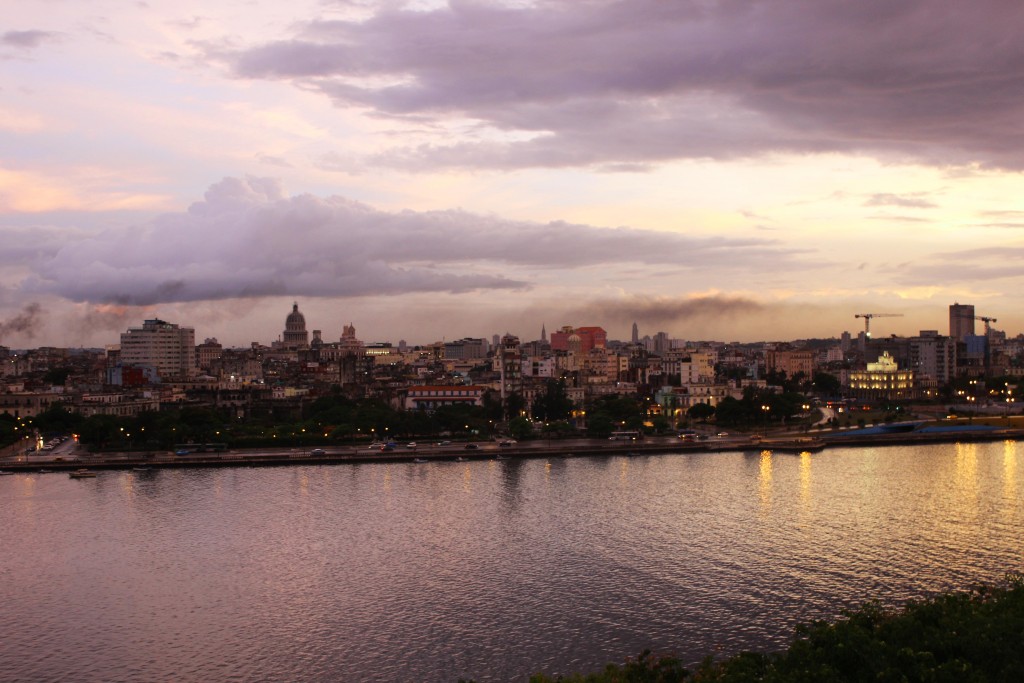 Following dinner, we grabbed a taxi that took us to the other side of Havana's harbor to the Fortaleza de San Carlos de la Cabaña. La Cabaña is a large fortress that was built to protect Havana during the 1700s. Today it is a living museum with guards that still walk around as if they are on patrol. We couldn't even enter the fortress until the guard had finished its several minute changing of the guard. But once inside, we had beautiful views out over the water and to the west where the sun was setting. Fortunately, it was a beautiful night so we were able to get beautiful sunset shots once again.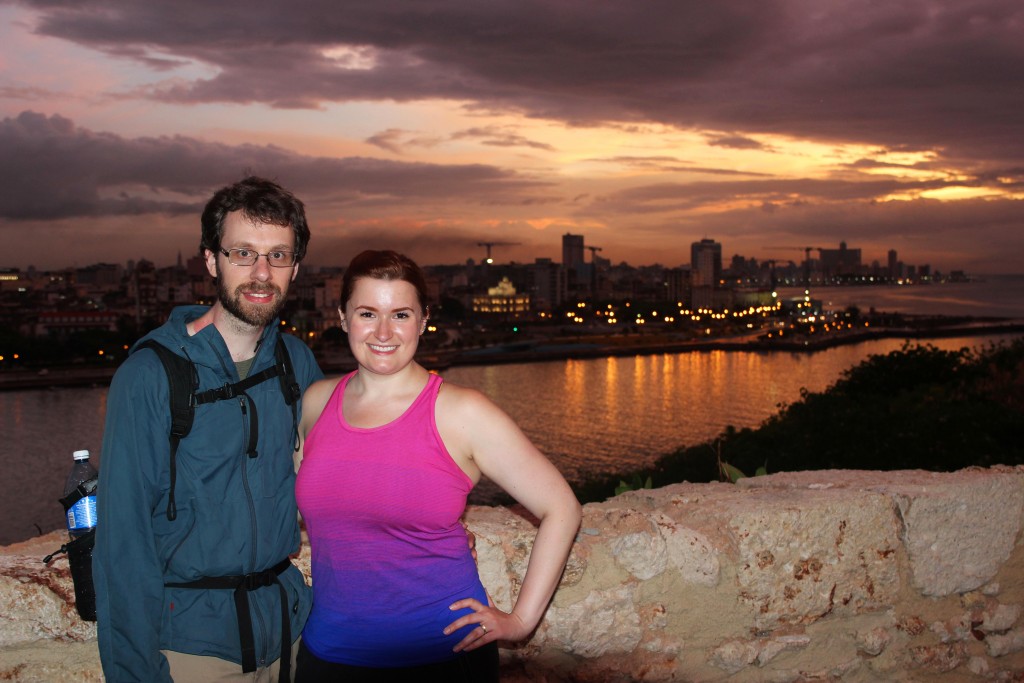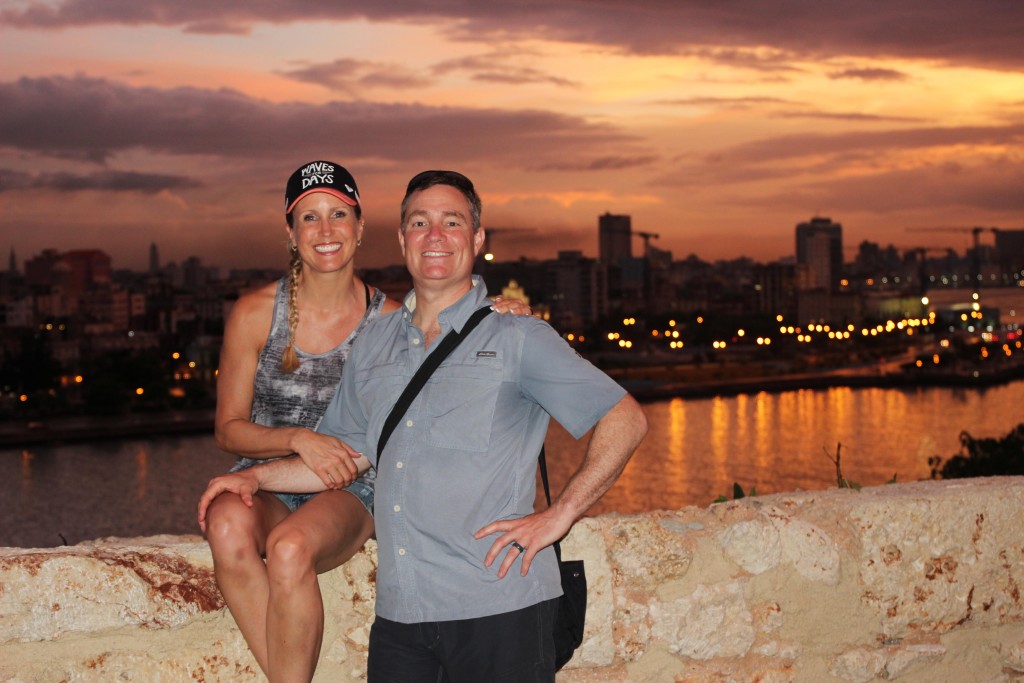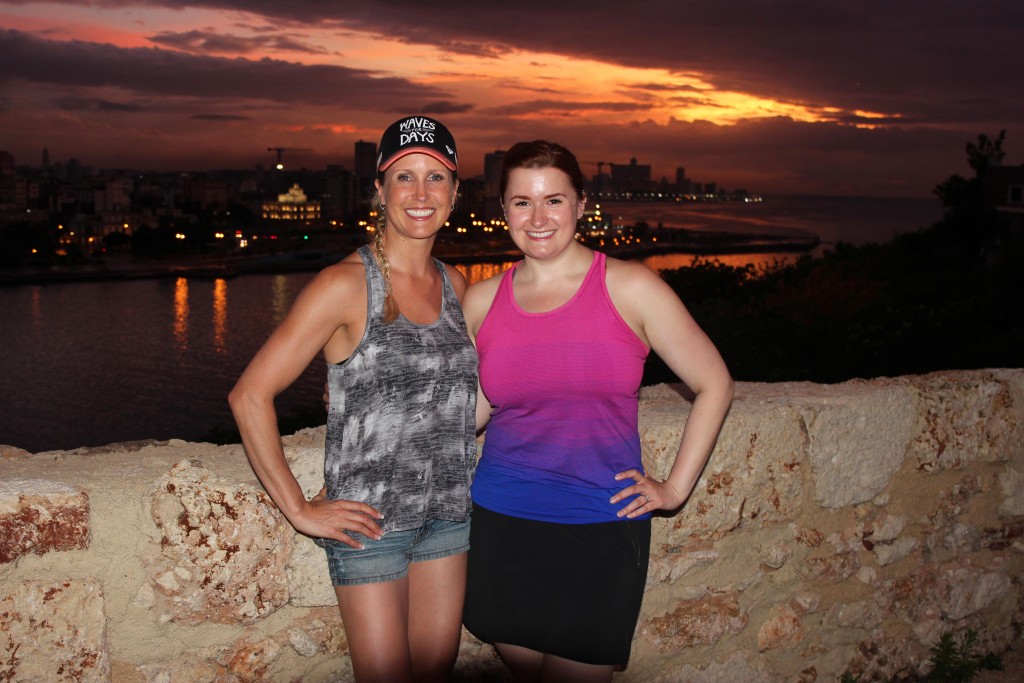 Every evening they also fire off one of the cannons. Fortunately, we had arrived early as the crowds start crowding about an hour before the actual firing of the cannon. They'll also start the setup for the cannon firing about an hour ahead of time, which probably explains why people started gathering. But don't be fooled into thinking they are going to fire the cannon early. It just takes them a very long while to act out all of the theatrics involved in firing the cannon. But rest assured, when the cannon fires, you'll definitely feel and hear it.
Post-firing, we joined the crowds who were headed for the taxis. There were lots of them, so no need to worry about finding one ahead of time. We took it back to the Casa where we got cleaned up a bit and then headed out for some dancing.  It only seemed appropriate that we go dancing at least once when we were in Cuba. After all, I wanted to see the Havana portrayed in Dirty Dancing: Havana Nights.
But unfortunately the dancing didn't quite pan out. Jeff and Nancy asked their host for recommendations of where to go and he recommended an old factory that had been converted to a dancing club, so we headed off in that direction. Once we were almost there, we ran into another couple who was walking the other way who told us the club was closed for repairs this month. They immediately pegged us as Americans (turns out they were Canadians). They invited us to join them at another club which was apparently one of the hippest salsa clubs in Havana just a few blocks away. We tagged along only to find out that there was a very long line to get in. Once we got up to the front, we found out they had a high cover charge so we just threw in the towel and decided to take a night walk along the Malecón. Alas, my Havana Nights dream would not come to fruition this trip.
The nice part of walking the Malecón at night is that there are far fewer cars. During the day, the Malecón has cars constantly driving by so it is loud and smelly. But at night it was almost peaceful. After a half hour, we stepped off the Malecón to show Jeff and Nancy the Melia Cohiba, and then to go to dessert at a little cafe across the street before heading back to the Casa for the night.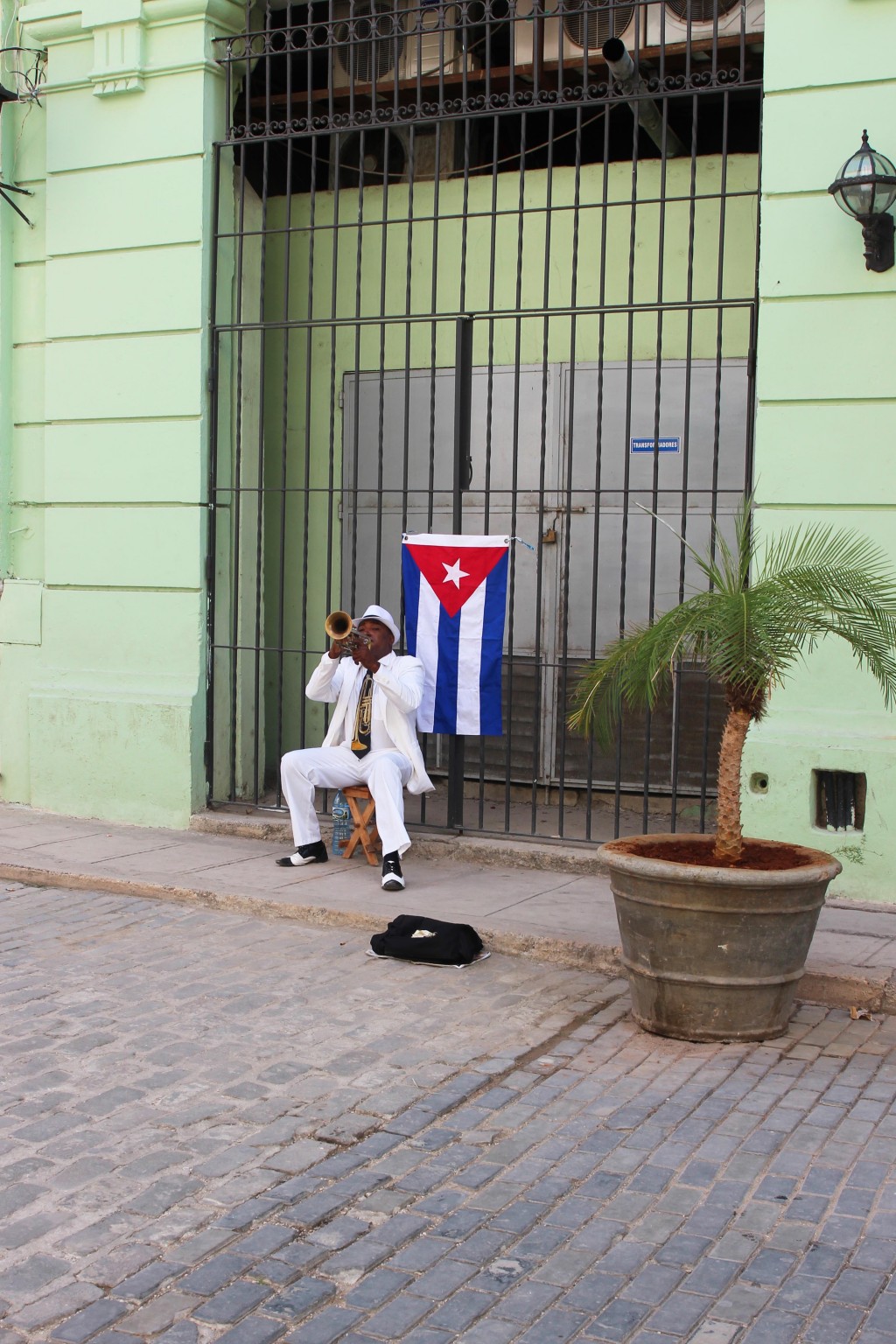 Our last morning in Havana was bittersweet. Now that I was feeling better, I was sad to be leaving but at the same time excited to get back home.
We enjoyed breakfast with Jeff and Nancy at their Casa and had the most amazing meal. The main dish was completely different than anything we'd experienced in Cuba thus far. It was basically a breakfast pizza with beef and cheese. It was delicious and the best breakfast we'd had our entire trip. Combined with fresh fruits, fresh squeezed juice, and hot coffee, it was a great way to kick off our morning.
There was only one thing on my list for that day: Coppelia. I was determined to get inside and get the full Coppelia experience. Jeff was all for it as he's got a sweet tooth like mine, so we hustled over to Coppelia around 10 in the morning. It was early for ice cream but we had to make sure we made it through the lines before we needed to head to the airport. Low and behold, there were no lines on a Saturday morning! Amazed at our luck, we waited about 10 minutes for a table to open up. When we entered the Coppelia property we were asked if we had CUP since the seated area only accepts local currency. Multiple times we were told about the stand to the side that accepted CUC but we kept telling everyone that, "Yes, we do have CUP," and so they let us in.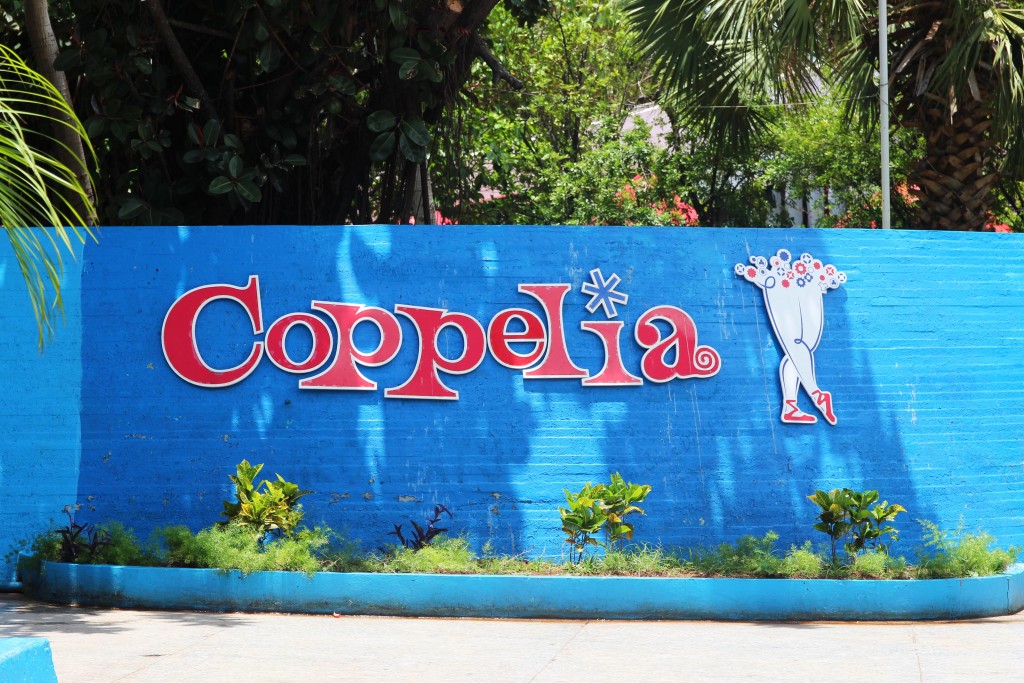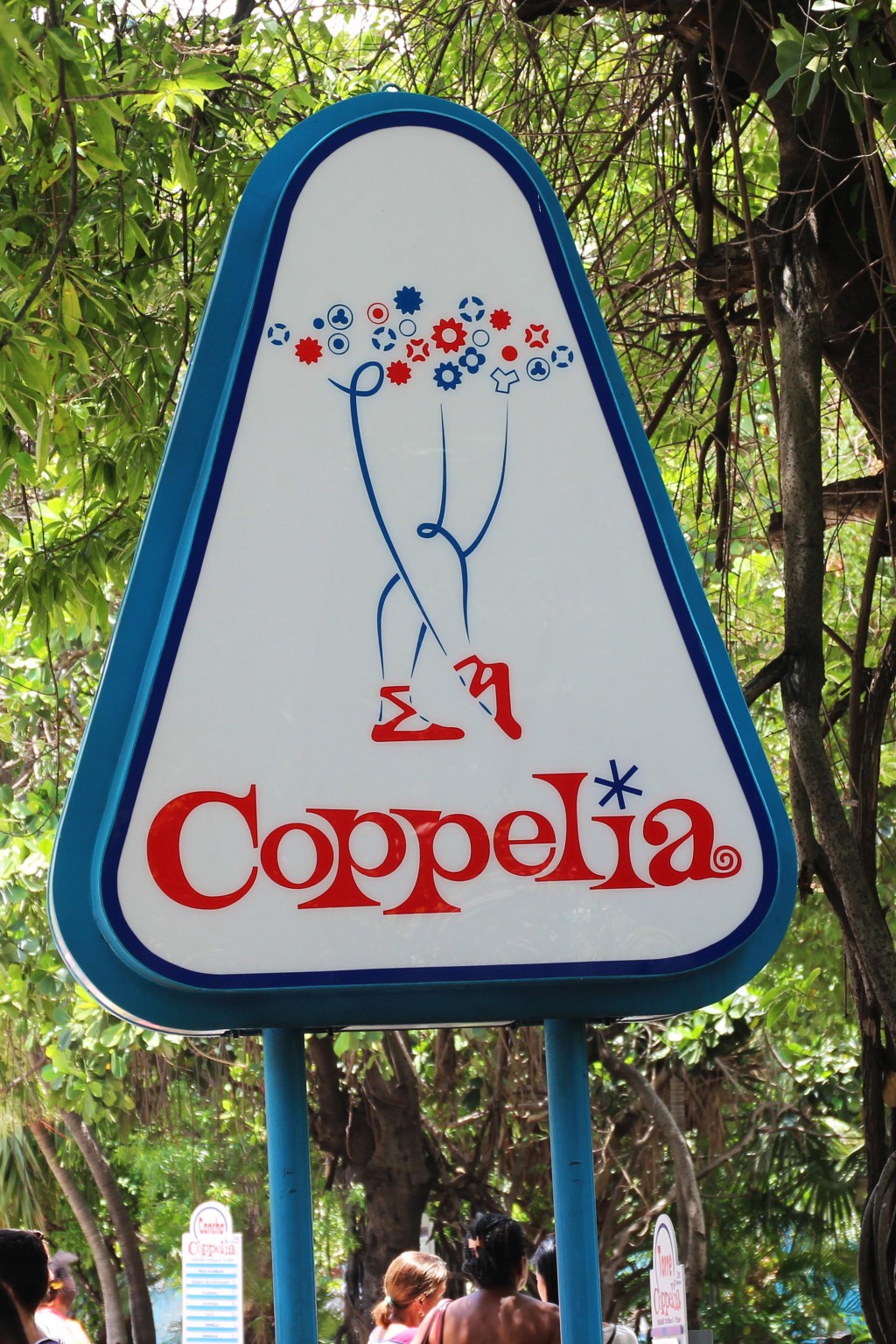 The open air structure has several little pods inside and upstairs (indoors) with table and chair space. The ice cream menu signs are posted out front where you wait to enter the seating area. Tap water is served and then you place you order with the waitress. Jeff and I each got the tres gracias (aka 3 scoops) and we got the same three flavors: caramelo, chocolate rizaldo, and choco menthe. Jon got 1 bola (1 scoop) of chocolate rizaldo. When it was served to us it had honey drizzled on top, a few cookies, and cookie crumbles. The serving sizes were bigger than the ice cream cones at the outside CUC-accepting stand. We paid 7 CUP for all of that ice cream, which is the equivalent of $0.28. INSANE. We left the waitress 2 CUP and a 1 CUC coin as a tip (fyi – 1 CUC is way more than the ice cream actually cost). I was so glad we got to go in and experience Coppelia!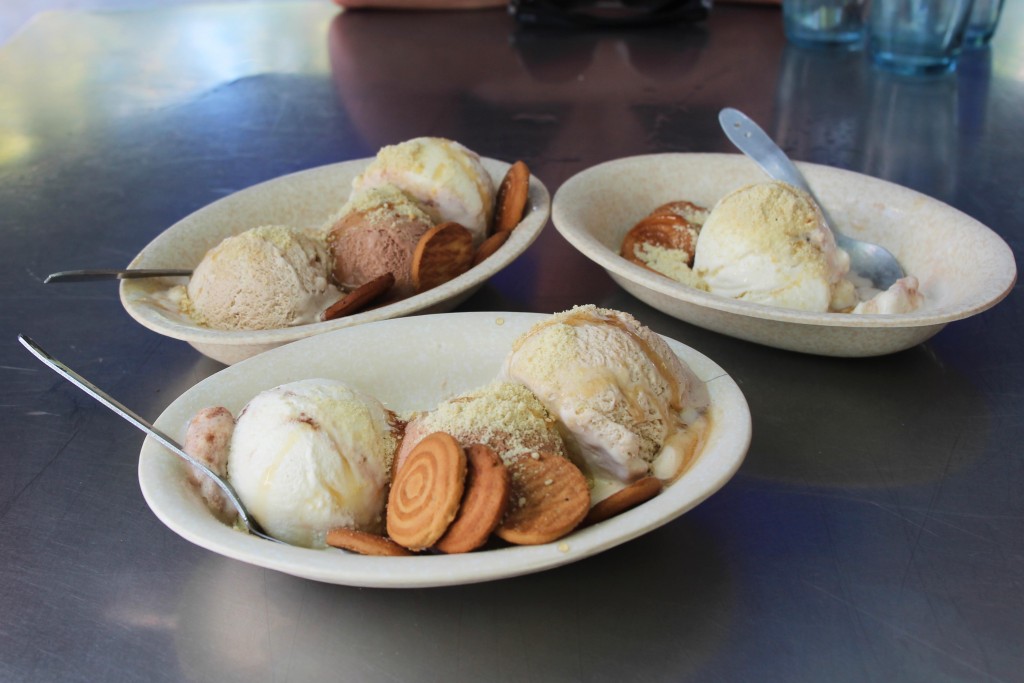 From there we caught a cab to the other fort with a lighthouse. We wandered around and took tons of pictures one last time. The safety "standards" in Cuba always amaze me … Crumbling walkways, no guardrails anywhere, even on the side of the fort where we would literally fall to a rocky death in the ocean. Oh well, it made for some pretty pictures!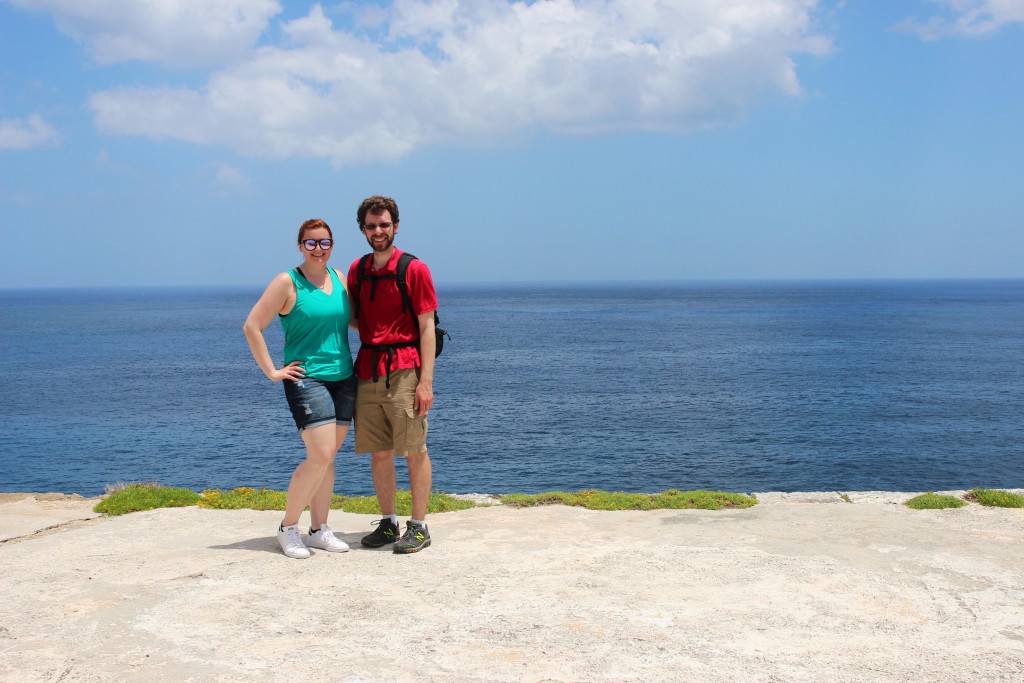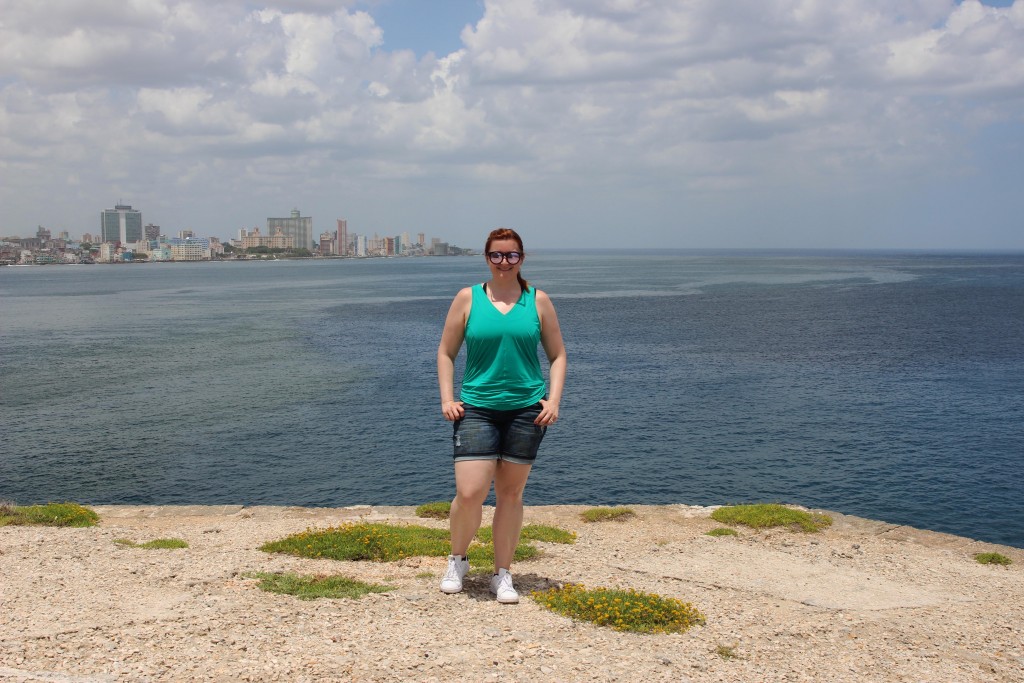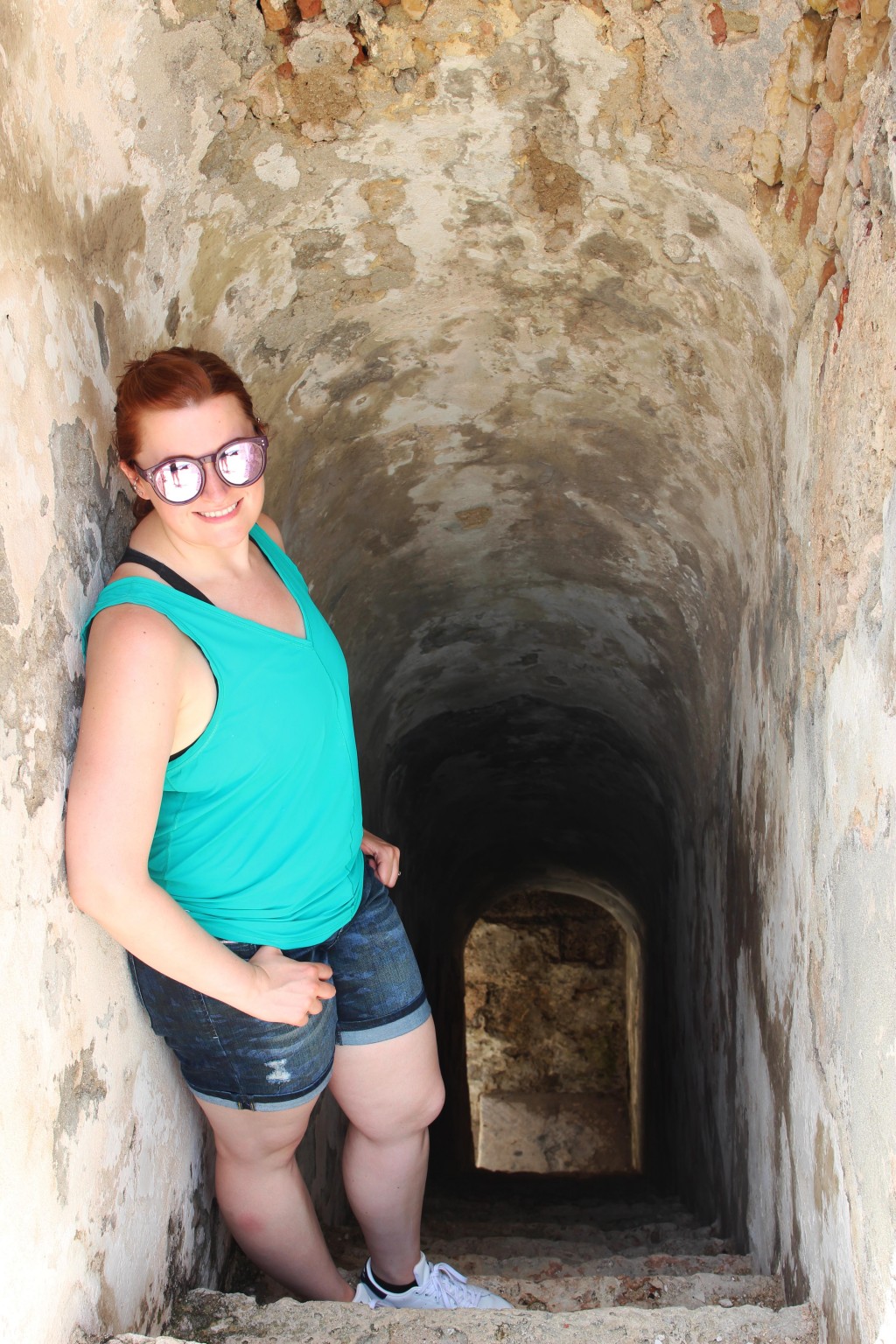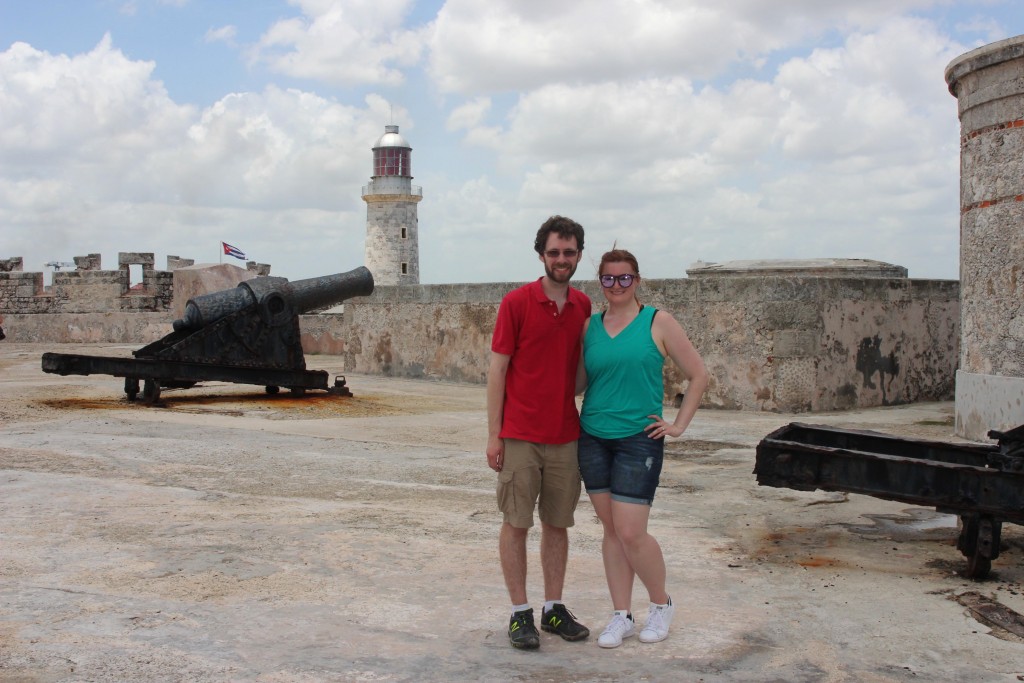 Unfortunately, going up the lighthouse was closed so we ended up heading back to town for one last lunch at Waoo! After Waoo, Jon and I took a crazy coco-taxi back to the Casa before heading out to the airport. We sat on the porch of our Casa with our host and her grandson chatting about Cuba and the amazing opportunities her grandson has had. He is 17 and studying to be a doctor like his father and grandfather. He's already been to the United States three times and loves our country very much. His grandmother was beaming the whole time. She is very proud of her grandson! Just as we finished our conversation and took in the beautiful country that we were in, two taxis pulled up: a new yellow taxi and an old classic car taxi, the first for us, the second for Jeff and Nancy. The juxtaposition of young and old, and old and new seemed an ironic end to a trip to a country seemingly stranded in time in this new generation.


Oh you thought the adventure was over? That's what I was hoping for too – a relatively uneventful trip back home would have been nice, wouldn't it?
As we piled our bags into our nice, new, air conditioned taxi, I began to worry because Jeff and Nancy were still not back (they opted to walk vs. the coco-taxi). Nervously, we left the Casa without them. Arriving at the airport was another adventure with the same throng of people at the entrance that greeted us at the exit some 14 days earlier. We elbowed our way through the unruly group to find the check-in desk which moved at a snails pace (but markedly faster than Baracoa and Holguin airports!). We were still at the same place in line by the time Jeff and Nancy arrived at the airport. Finally we checked in and checked our bags, went through Customs and Security and sat in the stuffy waiting area. The thunder rolled and the lightening striked, and then – BAM! – the power went off. Oh shit.
Just as quickly as it went out, it came back on. Locals seemed unphased by this but immediately I began to worry. Luckily, it did not seem to impact our departure, so onto the plane we went. Our flight was eventful due to a medical emergency, and since Jeff is an EMT he was the medical personnel on board the plane who tended to the patient. When we did finally land at LAX, the patient was fine and we hustled off, intent on picking up our bags and making it through Passport Control, re-checking our bags, and hustling through Security again. However, we all ended up stuck waiting to get through Passport Control which, as it turns out, has a horrendous line at LAX on a Saturday night. They told us that we needed to contact our airline because there was no way we would make it through in time…
When we finally made it through Passport Control, we ran, and I mean RAN from Terminal 6 to Terminal 4 to get to the next check-in. We were sweating bullets by the time we made it there (with all our bags in tow), only to hear: Last call for Kaitlynn Retherford and Jonathan Klapel. Moments before they'd done a last call for Jeff and Nancy. *Sigh*
Long story short, after much ado (waiting over an hour to talk to the rep, multiple phone calls and escalations), Jeff and Nancy made it stand-by on a flight that night and we got rebooked on a plane the next morning. And then after an hour of searching for a close hotel we finally found what may have been the last room available in LA.
And the next day, after a delay, we made it back home. And I have never been happier to have made it back home.