The Road to Moa & Holguín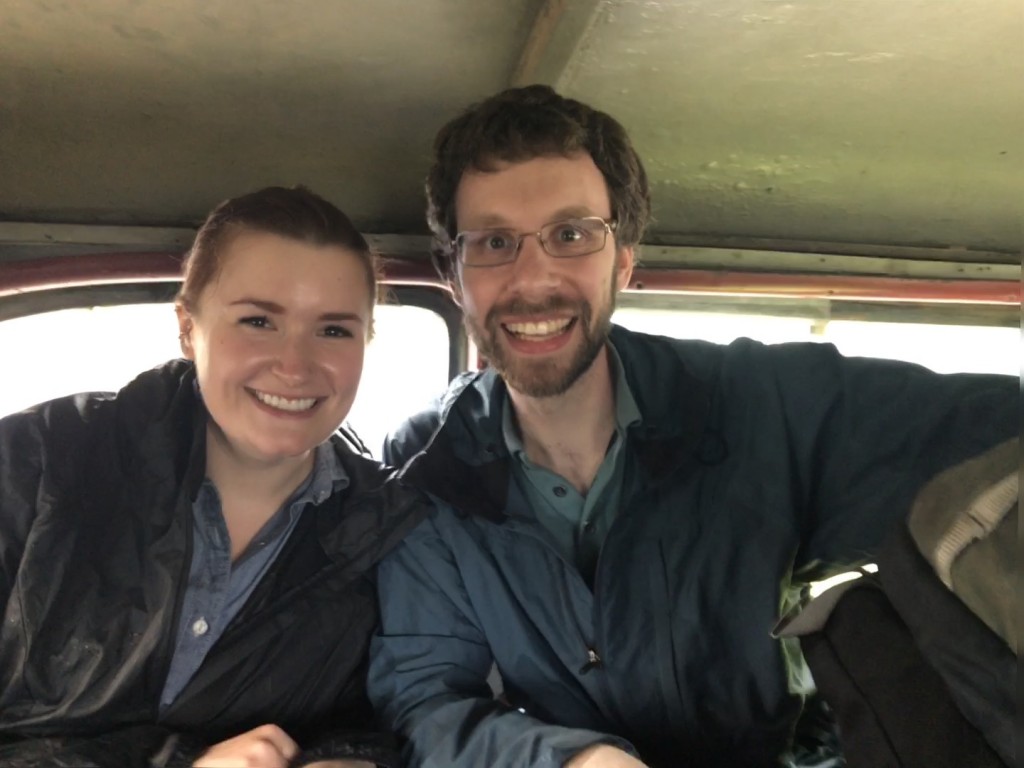 This is the fifth segment in a series of our travel adventures in Cuba. If you are planning your own trip to Cuba, please refer to my Cuba Travel Guide. You can find all of my content on Cuba here. 
Despite the fact that Jon proposed to me in Cuba, the other story that I find myself telling over and over again is our adventures in trying to get from Baracoa to Havana.
Our third day in Baracoa we were scheduled to have a flight from Baracoa back to Havana on Cubana at 8am. We awoke at 5:30am, got dressed, packed our bags, and headed to the airport by taxi just after 6am. Since I was still sick I didn't eat anything – I just wanted to get on the plane and back to Havana as quickly as possible so we could figure out a doctor situation for me.
The rain had rolled in that morning and when we got to the airport, it showed no signs of letting up. We walked into the single terminal airport, dropped our bags, got our handwritten boarding passes, and were told by an English-speaking airline staff member that the flight was delayed. How long? He shrugged his shoulders and said he didn't know.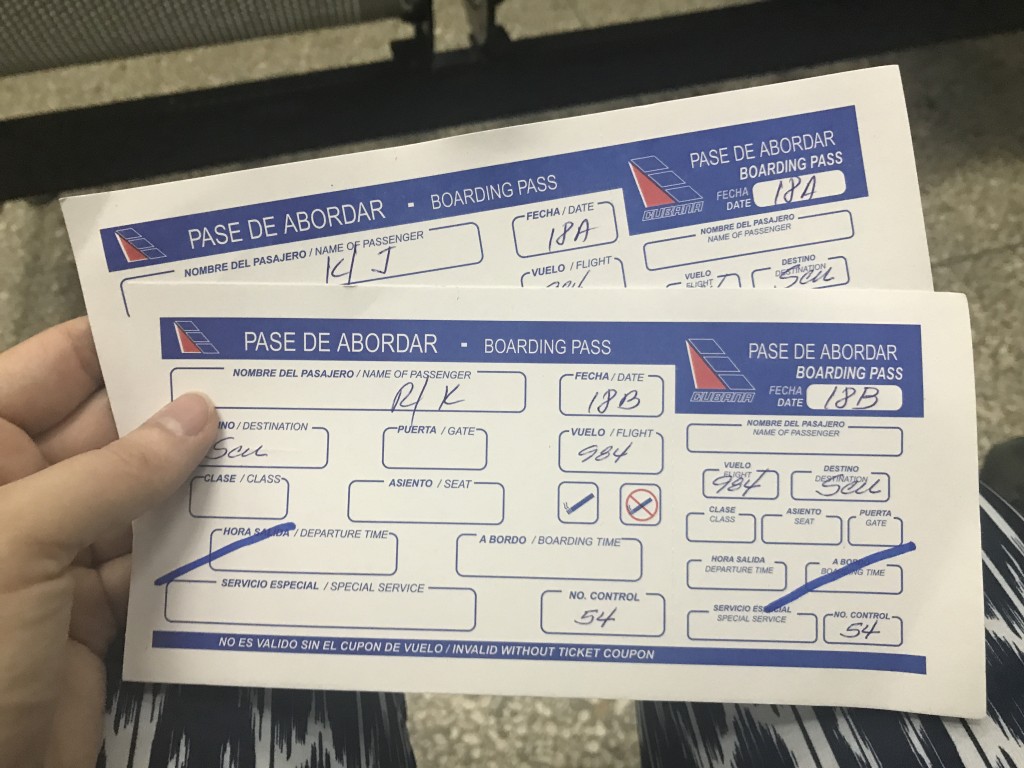 Despite the rain, it was muggy inside the non-air conditioned terminal, so we pulled up some concrete under one of the eaves outside the airport and started people-watching. More and more locals were arriving, dressed in their Sunday best for the flight, bringing with them multiple bags, suitcases, and even boxes, to put on the flight.
We sat and waited, and waited… and waited some more. I was trying not to focus on the pain in my stomach, so I entertained myself by playing games on my cell phone and reading. Our departure time came and went, but no one came to give us an update. There was still no plane at the gate, so we knew that the news may not be good. We started to talk about what our Plan B would be since there were only flights out of Baracoa once every other day.
In the meantime, a young French couple came over and struck up a conversation with us about the delays and our journey in Cuba so far. They too were headed to Havana, and from there to the beach town of Varadero. As we sat and chatted, a Cuban man came up to us, informing us that he could get us a taxi to Havana for 90 CUC per person and it would only take 10 hours. We waved him off since the flight hadn't been canceled yet. I told Jon I didn't trust him as far as I could throw him. We knew the drive from Baracoa to Havana was at least 16 hours, and in reality more like 20 hours.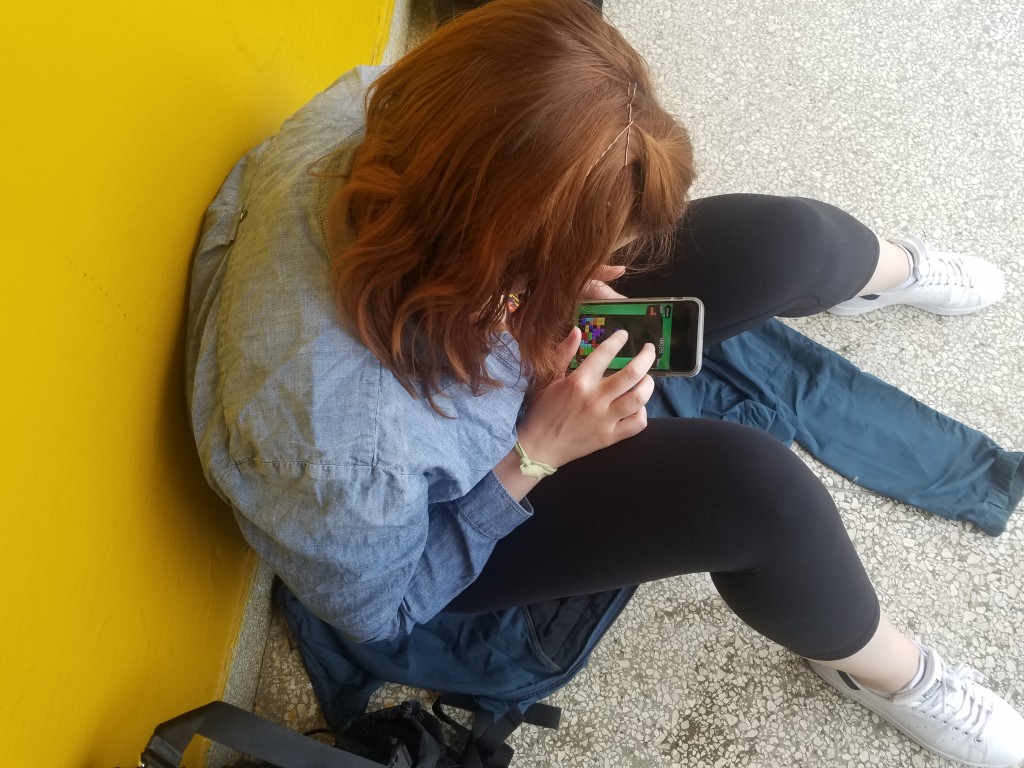 As time dragged on, we started entertaining the idea of hiring a taxi to get back to Havana if the flight was cancelled. The 90 CUC price was a great deal for the distance (we'd paid more for 2 people for a shorter distance), so we knew this was a good option. The guy kept coming back over and telling us about the "deal" but we knew we needed to wait till the flight was cancelled. Finally, two hours after we were supposed to depart, the flight was cancelled for the next 3 days.
With the announcement of the cancellation, it was pandemonium in the airport. When Cubana cancels a flight that's what they do – cancel it. There's no rescheduling, rebooking, or refunds. The Cubans were angry and yelling but, since Cubana is the only airline, there's not really anything that could be done.
Jon and I decided that we may as well share a taxi with the French couple. It would be cheaper, we could make new friends, and they spoke more Spanish than we did. The French couple negotiated the price down to 80 CUC per person, so off we went with the guy who had been standing outside the airport. He told us we could all wait at his casa while he got a taxi – it was just a short walk away. (Please note that under any other circumstances I would not recommend going to a stranger's house in any country, but Cuba is safe and there were 4 of us and 1 of him. I took those odds.)
A "short" walk in the pouring rain and we found ourselves huddled in this man's living room with his family. It was now around 11am. He ran off, saying he would be back in 1 hour. In Cuba, time is relative. So an hour later we were all getting antsy but the family kept saying "5 more minutes". We decided that we were going to leave at 12:30pm and walk to the city center to find another taxi. Just as we stood up to leave, he appeared saying that a taxi was waiting for us outside.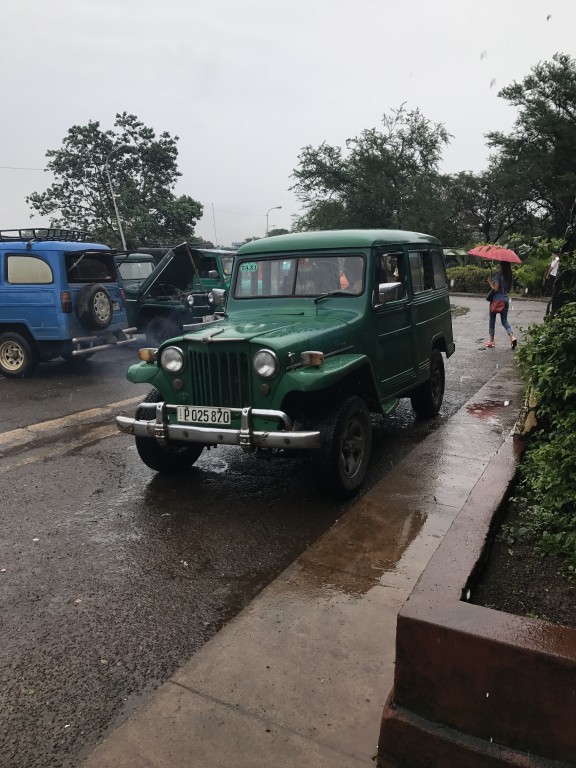 The four of us, along with all of our bags, piled into the back of this green Jeep, which had two wooden bench seats in the back facing each other. We were told it would be a 1-hour taxi ride to Moa where we would switch to the next taxi. Once we started driving, I could tell we were in for a ride. The rain was pounding as the car swerved down an unpaved, crooked, and pothole ridden road that was starting to flood. Somehow the driver, who was swerving to avoid potholes, managed to hit ALL of the potholes he was trying to avoid. Along the road to Moa, we picked up 3 others who sat in the front seat with the driver. There were now 8 of us in the car and on top of my sickness, I was worried about getting carsick. I kept my eyes closed and thought of everything but how miserable I felt.
Two hours later, we made it to the industrial town of Moa. As promised, there was a different and much nicer taxi waiting for us at the Moa Transportation Station. It was a classic car SUV with air conditioning and updated seats. We piled in the vehicle and embarked on the next leg of our journey to Holguín. Luckily, this was a paved road and was a much smoother ride. Three hours later we arrived. As soon as we parked the French girl and I ran to find a restroom (it had now been over 6 hours without a bathroom – ask me for that story later), while the boys dealt with figuring out which taxi we would be in next.
I could tell when I was walking back from the bathroom that something was going on. Jon was talking very animatedly with hand motions, which is not typical for him. There was about 6 taxi drivers talking and yelling loudly. Apparently the original guy in Baracoa, who we had negotiated the 80 CUC per person price with, had undersold the taxi drivers. They told us that we had to pay 10 CUC more per person in order to get us to Havana (bringing the total price to the original 90 CUC price). Additionally, the original negotiation had included dropping Jon and me in Havana and the French couple in Varadero. For 90 CUC per person we only got to choose one drop off and would need to pay an additional cost to get to the second location.
Jon and I were fine paying the additional 10 per person. We didn't have many other options and just wanted to get back to Havana. Finally the French couple relented  and agreed to pay the fee too. We would go to Varadero, maybe Jon and I would stay the night with our friends (who were already in Varadero) for one night, and venture on to Havana the next day. We'd read that Cuba could be an adventure and things wouldn't go as planned, so we just had to roll with it.
The taxi drivers told us that the taxi from Holguín to Havana would be ready to leave in an hour, around 7pm. It would be another 10 hours from Holguín (we'd already been on the road for 6 hours). The drivers helped us bring our luggage over to a cafe where we got a snack; the only "real" food we'd had all day. It was at this time that my stomach started to hurt again and, as we sat chit chatting with our new friends, I realized that I didn't feel like sitting in a car for an overnight 10-12 hour car ride. An hour came and went and I started to ask Jon what our Plan B was (at this point more like Plan D). He'd read in our tour book that Holguín had a modern airport with daily flights to Havana, so we could get a hotel that night and try to catch a flight out the next day. I really liked the sound of that idea.
About an hour and a half after we were supposed to depart from Holguín via taxi, the taxi drivers came over to us and said that they couldn't get a hold of the driver who would take us to Havana, but that there would be another one in an hour that could take us if we wanted to wait. The four of us huddled together and discussed what we would do: the French couple wanted to try taking the Viazul bus and we wanted to try our luck with the airport the next day. So, we decided it was time to part ways. We bid our farewells and more importantly wished each other luck on the remainder of our journeys…
The adventure continues in Havana and at a 1950s-style hospital…