Sights in Cienfuegos & Trekking in Trinidad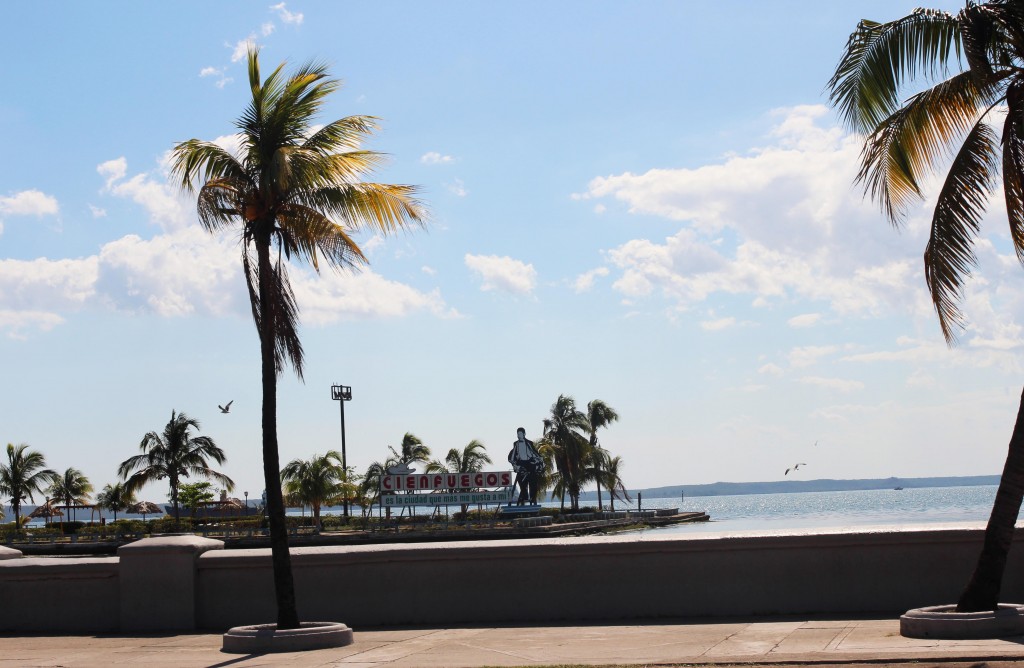 This is the second installment in a series of our travel adventures in Cuba. If you are planning your own trip to Cuba, please refer to my Cuba Travel Guide. You can find all of my content on Cuba here. 
After our Viñales adventure, we headed to Cienfuegos for a one-night stay en route to Trinidad.
Our Viñales Casa host arranged a taxi for us to make the 5-hour journey. It was another classic car, this time with A/C. It was a comfortable ride, but just as we were settling in and drifting off on our naps we suddenly pulled into what looked like a restaurant and truck stop. Our taxi driver didn't speak English but motioned for us to exit the car.
We were very confused and thought our driver was going to leave us only halfway to our destination. He handed us all of the items we'd left in the back seat (jackets, travel pillows, backpacks, etc), then walked to the trunk and started taking out our luggage. We were becoming increasingly concerned, especially since we paid him up front, and we were nowhere near our final destination.
He then walked over to a modern and much smaller car where he began rapidly speaking in Spanish to the driver. He handed him some cash (from what we gave him), and then the new driver started to load up our bags in the back. I had no idea how four full grown adults, two suitcases and three backpacks were going to fit in this car, but somehow we managed… and it turned out to be a relatively comfortable ride (says the girl who got shotgun).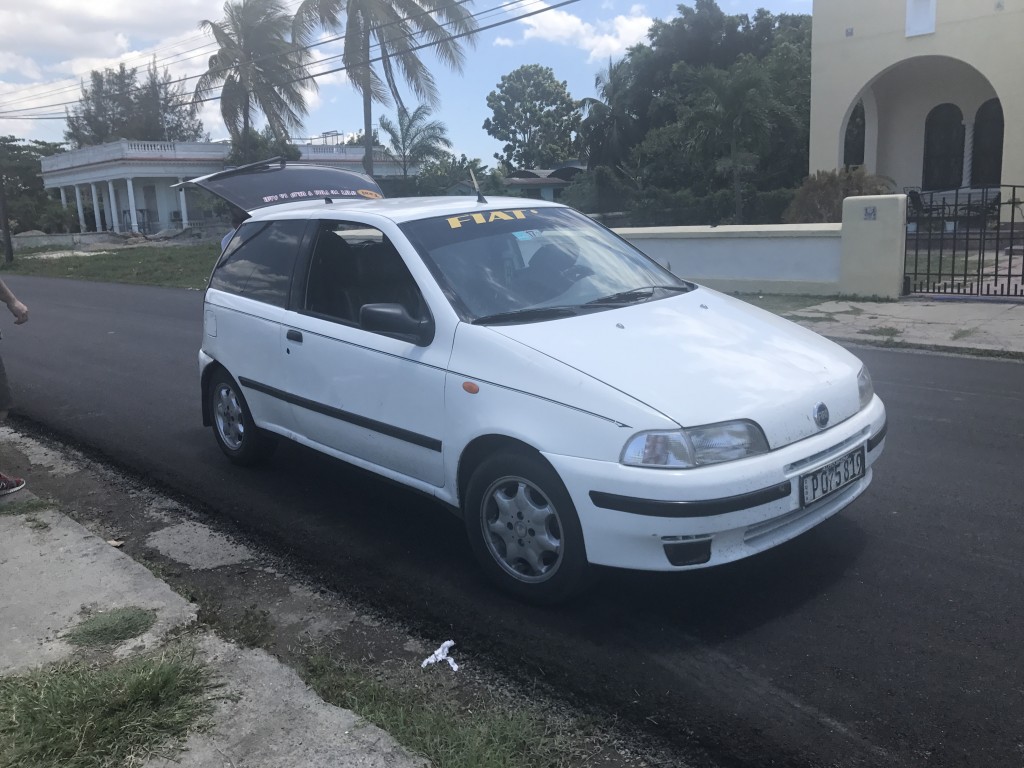 As it turns out, this "swap" is quite common when taking taxis long distances across Cuba. The taxis will only drive certain routes and then will trade you off to another taxi driver that drives along the next route. At the time we didn't know this, hence the confusion. It wouldn't be the last time we encountered the swap either.
Being a passenger in Cuba is a crazy ride. Besides the fact that the lines are just a suggestion, the police checkpoints, the swerving to avoid potholes, and no seat belts in most of the cars, you're also sharing the road with others. And I don't mean cars. Of course you have the seemingly normal things like cars, buses, private coaches, and semis, but there's also converted vehicles, for example a former military vehicle converted into a public transportation bus. Then you've got the cyclists, horse-drawn carriages, and horseback riders, too. I'd find myself holding my breath as we bobbed and weaved in and out of all of them. Amazingly, we never once saw an accident!
We weren't sure when we would be landing in Cienfuegos, so we hadn't arranged any formal tours ahead of time. After arriving in Cienfuegos and checking into our Casa, we walked to the Cadeca a block away, then found some lunch at a small but delicious restaurant. With full bellies, we did a self-guided tour of the city, visiting some of the more popular sites and generally staying out the hot afternoon sun. We ended the evening with dinner in a quiet second story restaurant overlooking the main street through town below and beautiful overhead.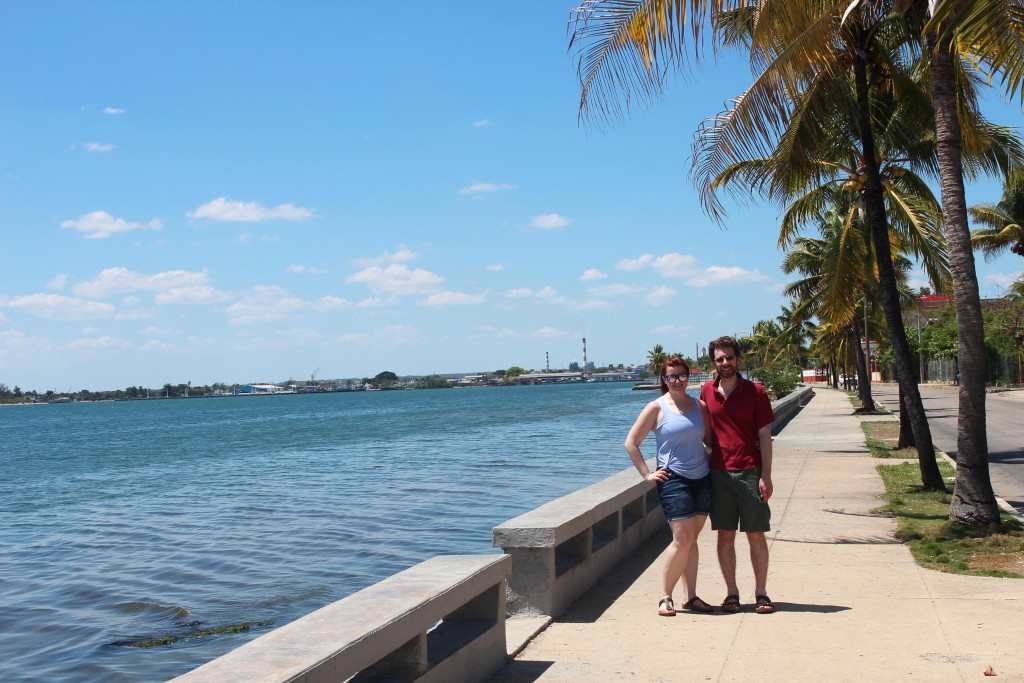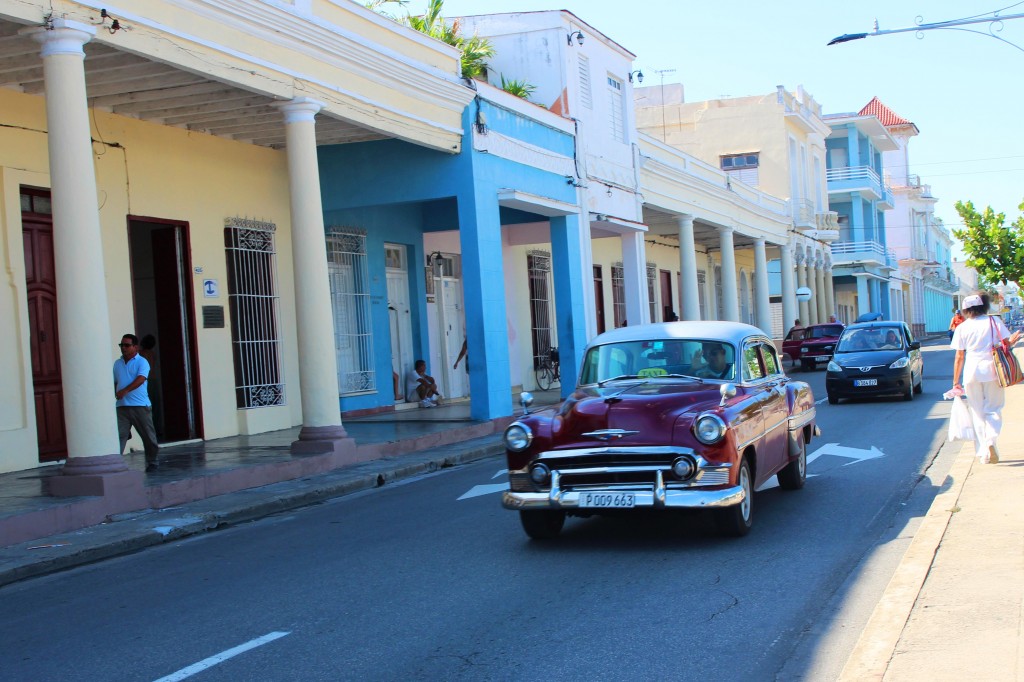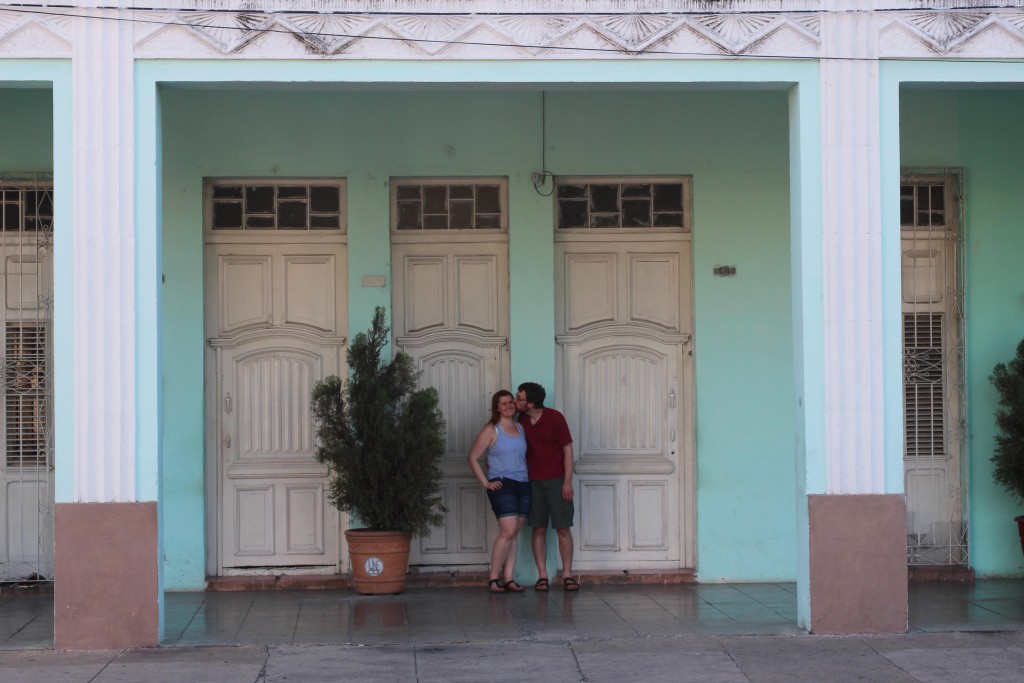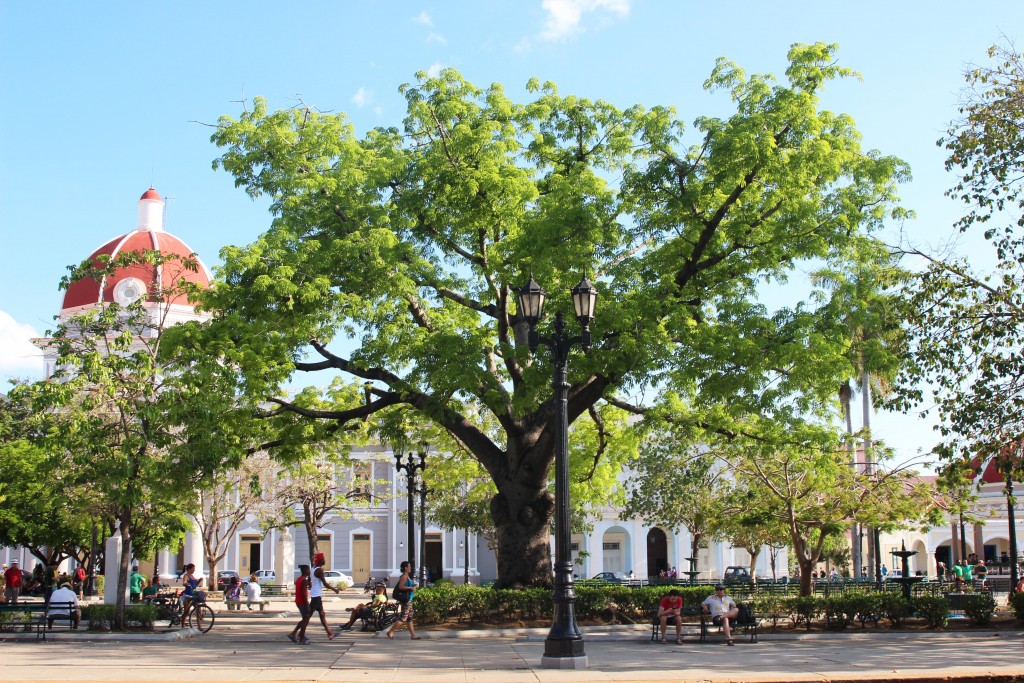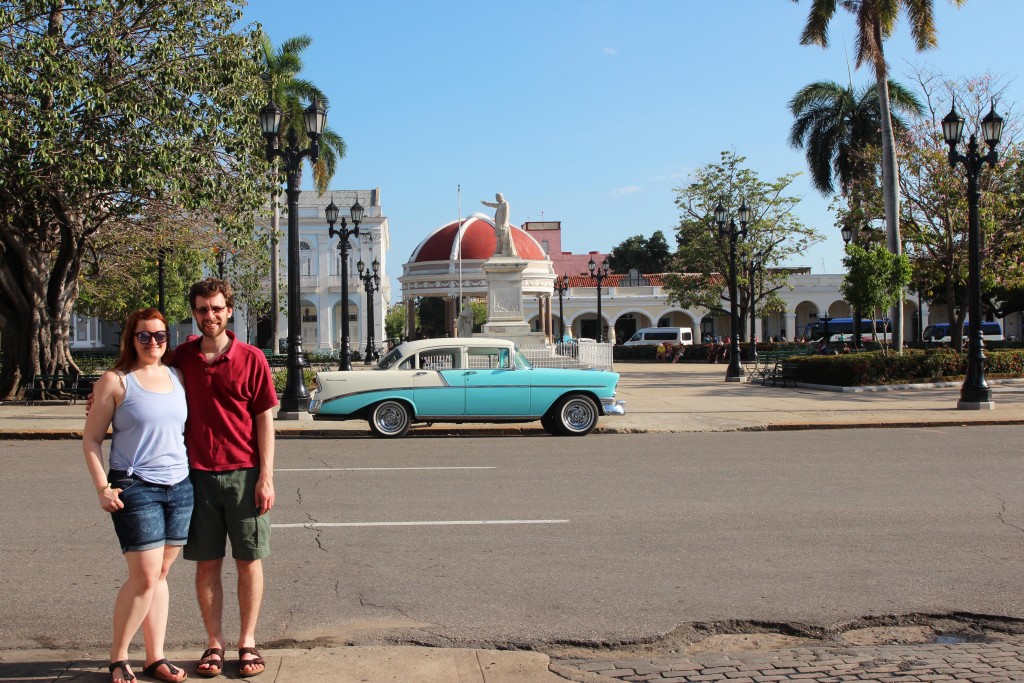 Our host in Cienfuegos arranged an early morning taxi to take us to Guanaroca Lagoon to see the flamingoes. We had read online as well as in our travel book that there were a limited number of boats and that they filled up fast, so we did our best to get there before 8. Unfortunately, that particular morning they were having trouble with some of their boats, so we weren't able to see the flamingoes. Instead, we jumped back in the taxi and drove a couple miles down the road to Rancho Luna.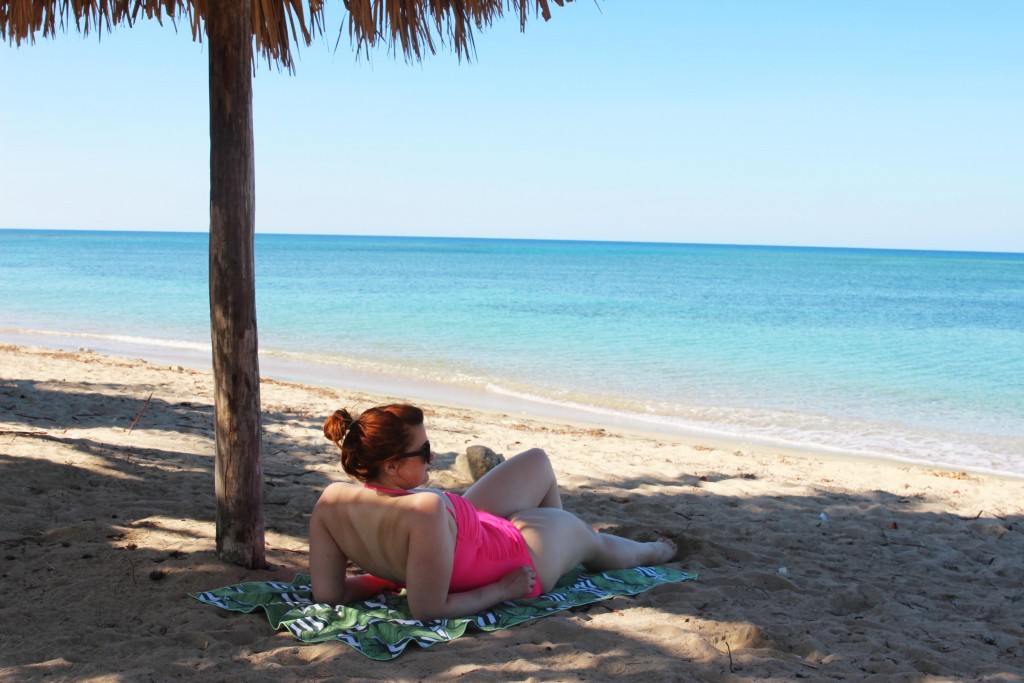 Rancho Luna is a little beach town between Cienfuegos and Trinidad. While Jon and I aren't beach people and only dipped our toes in the water (and made a little fish friend), Nancy and Jeff took the opportunity to rent some snorkel gear from the lifeguard's friends. Just a little ways out from the beach is a reef that apparently had some very cool creatures. Our friends were out long enough and far enough that we lost track of them and began to wonder if they would make it back in time to meet our taxi.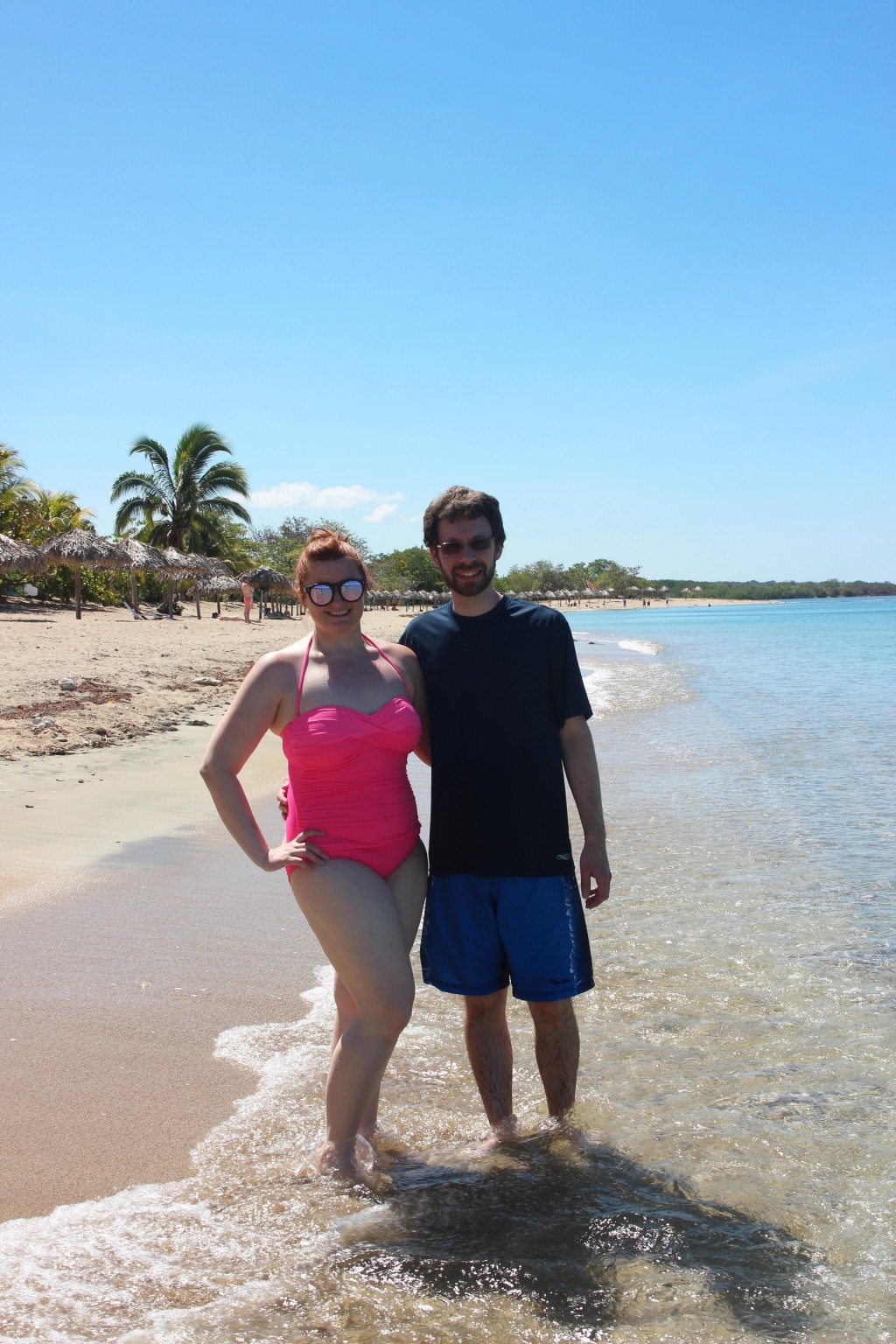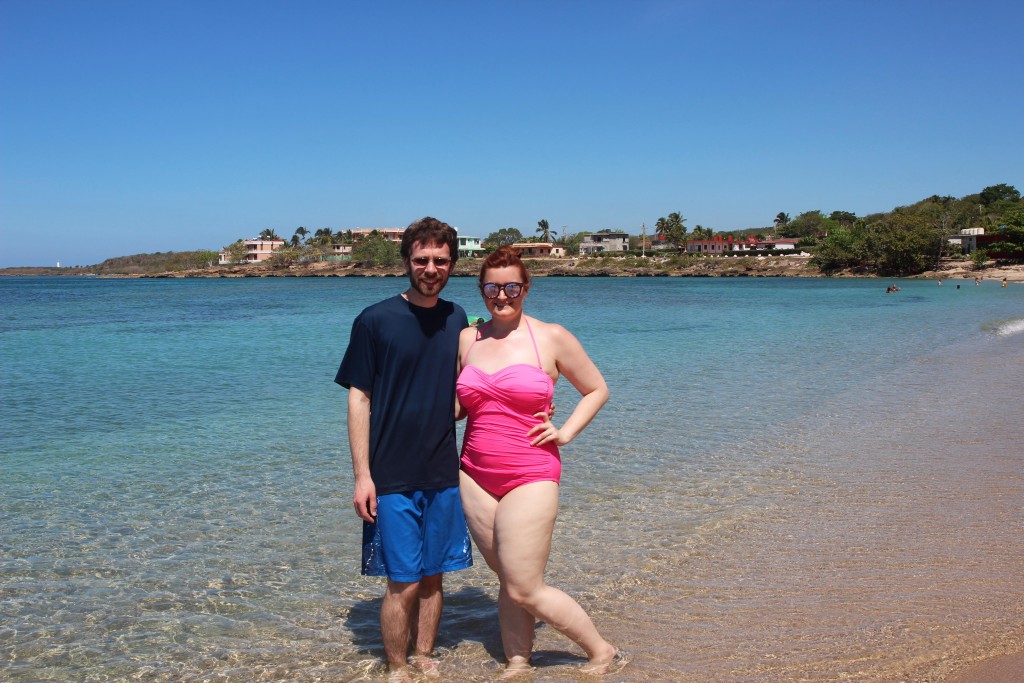 Fortunately, they did make it back and an hour later we were pulling into Trinidad. Compared to Havana, Viñales, and Cienfuegos, Trinidad was truly a step back in time with its cobblestoned streets and colonial-style architecture.
As it is one of the major tourist destinations and is a UNESCO World Heritage Site, there was a lot of hustle and bustle in Trinidad not only from tourists but from the locals as well. The colorful streets were captivating and I'm fairly certain I took more photos here than possibly anywhere else on the trip.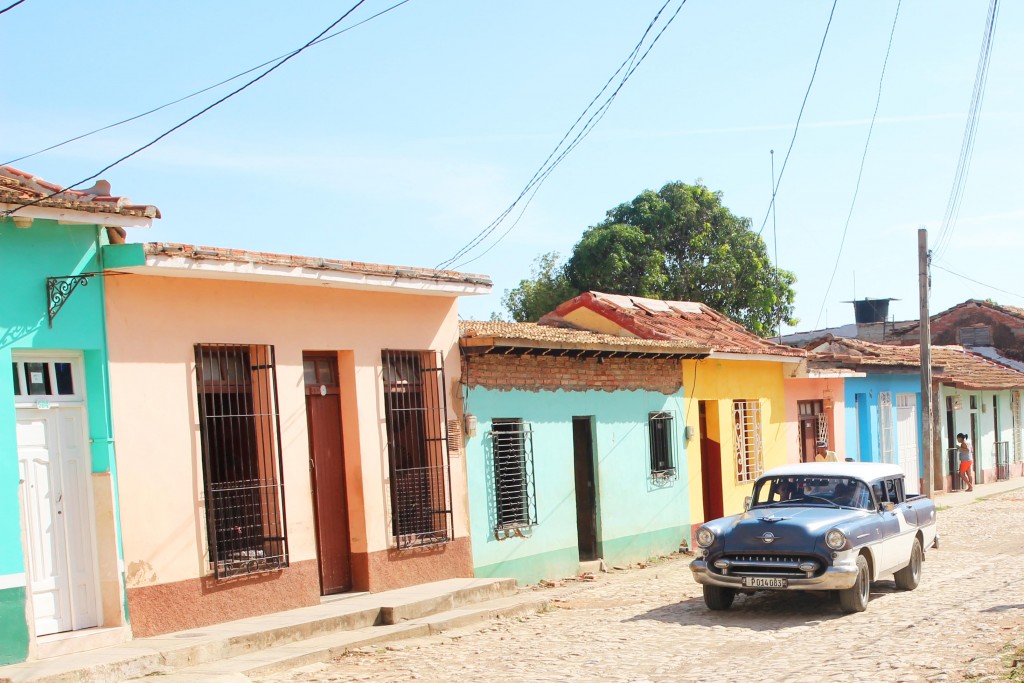 After settling into our equally colorful Casa, Jon and I were off on a walking tour of the city. We wandered through the cobblestone streets towards the center of town until we stumbled across a handicrafts market down an alley. So, we wandered through it, admiring all of the wares that were for sale. Then we saw that the market took a turn down another alley, so we continued on that way, until the market again turned down another street. What felt like a little market turned out to be quite a large and intriguing market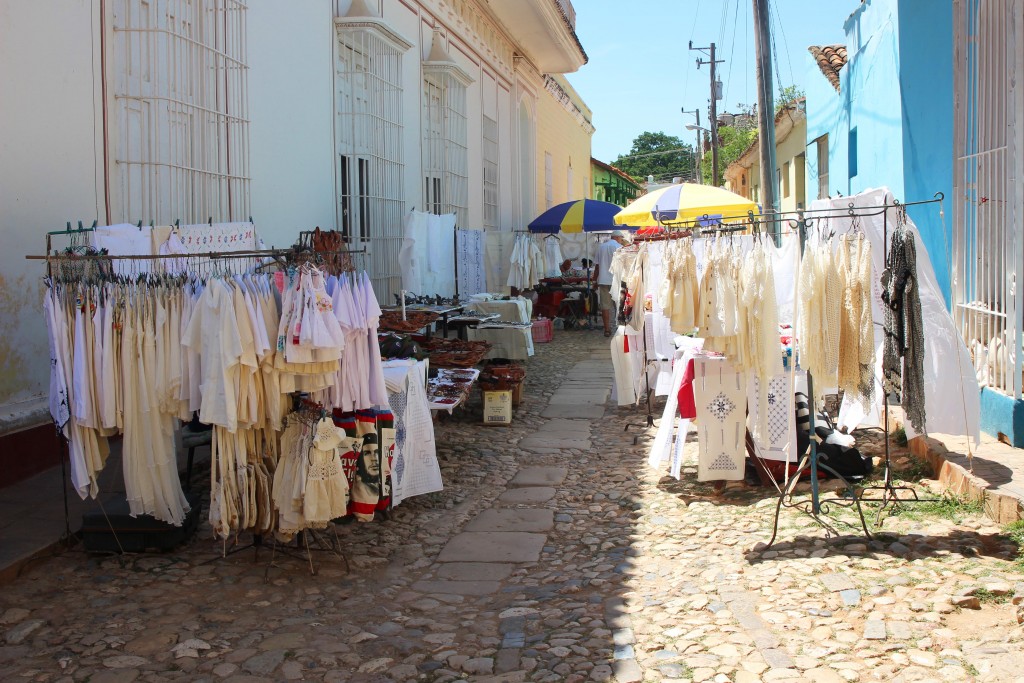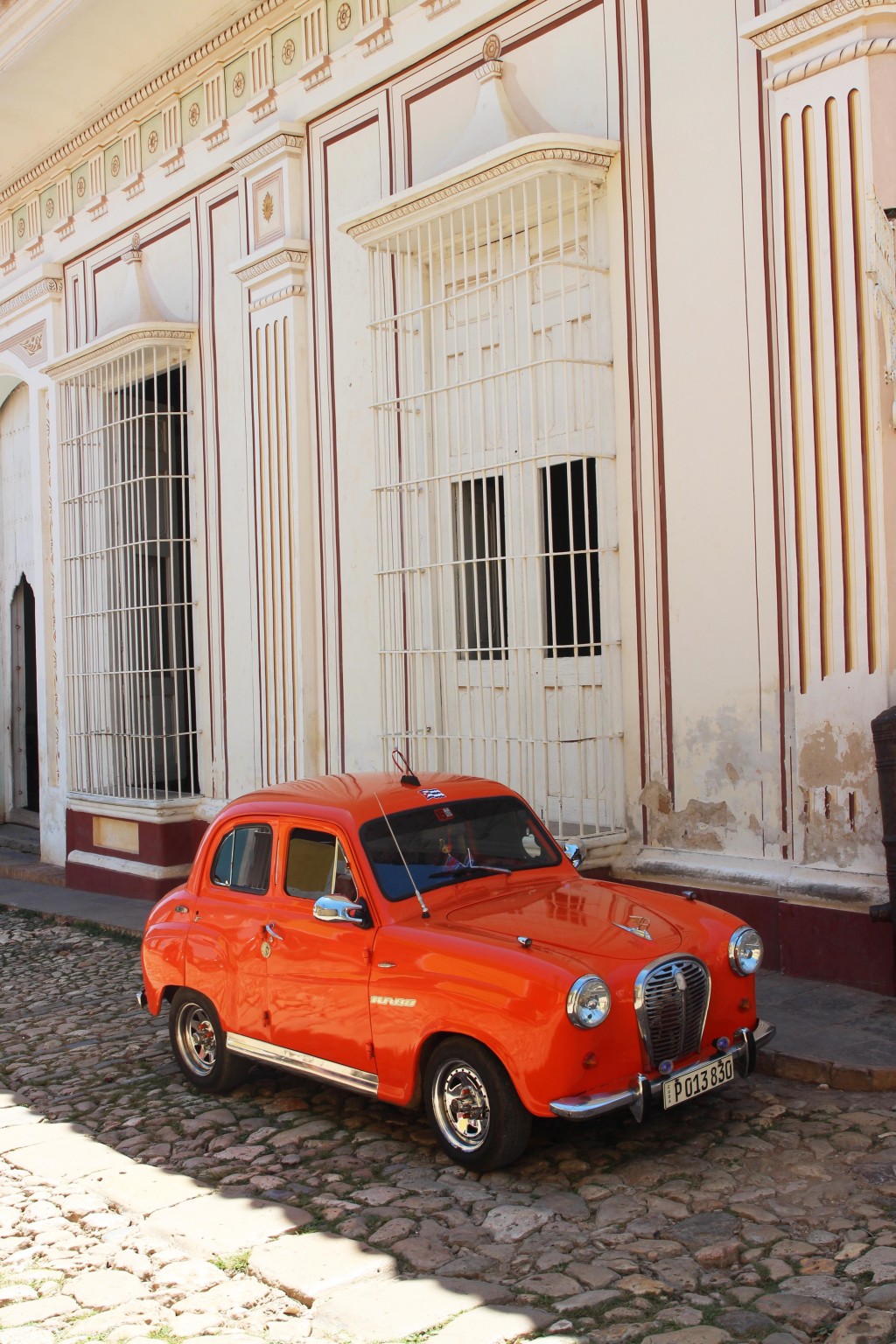 .
Once we finally made it to the end, we walked our way through the center square and over to a little outdoor coffee shop, Cafe Don Pepe, for a break before continuing on. We wanted to see more of what true Cuba looked like, so on our way back to the Casa we detoured down some side streets so I was able to get more beautiful shots of Trinidad.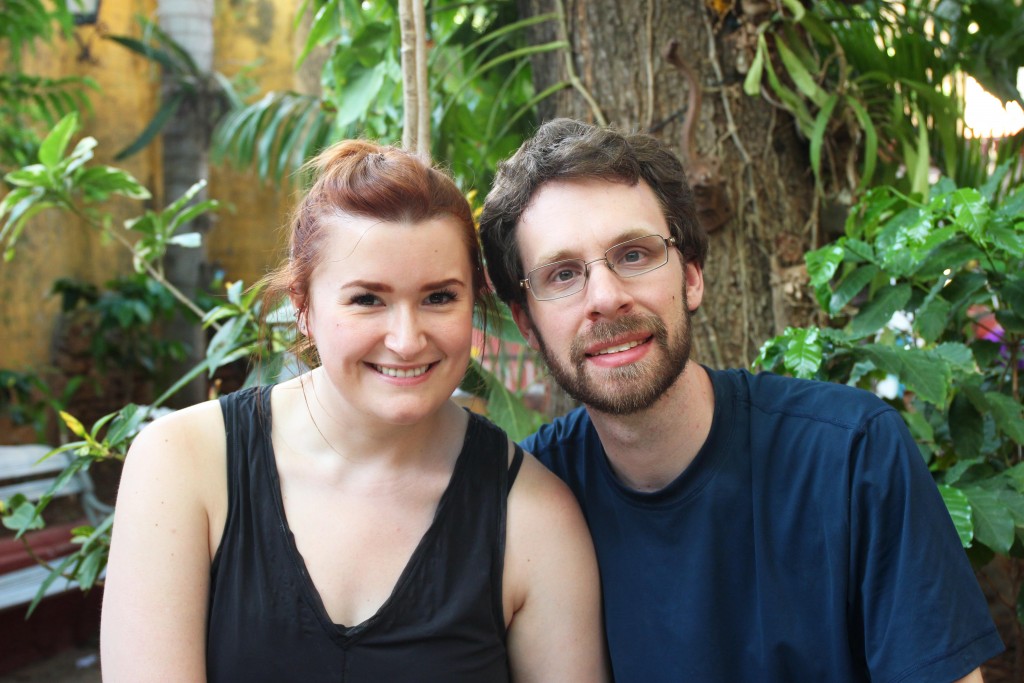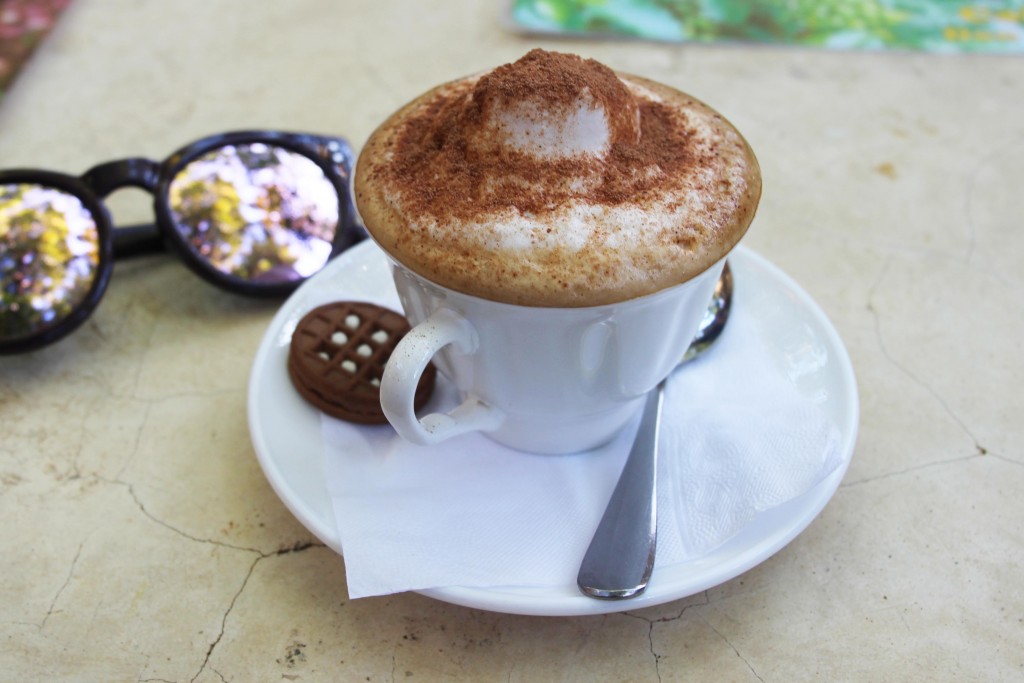 We made it back to the Casa where we picked up Nancy and Jeff again, then made our way back to the center of town for more coffee and then a short hike up a bell tower to get some sunset shots of the city, including some shots of Jon modeling with all of the bags. Once we made it back down the several flights of stairs, we considered our options for terrace dining and finally settled on one with a nice band playing music. Not a bad way to end a beautiful day.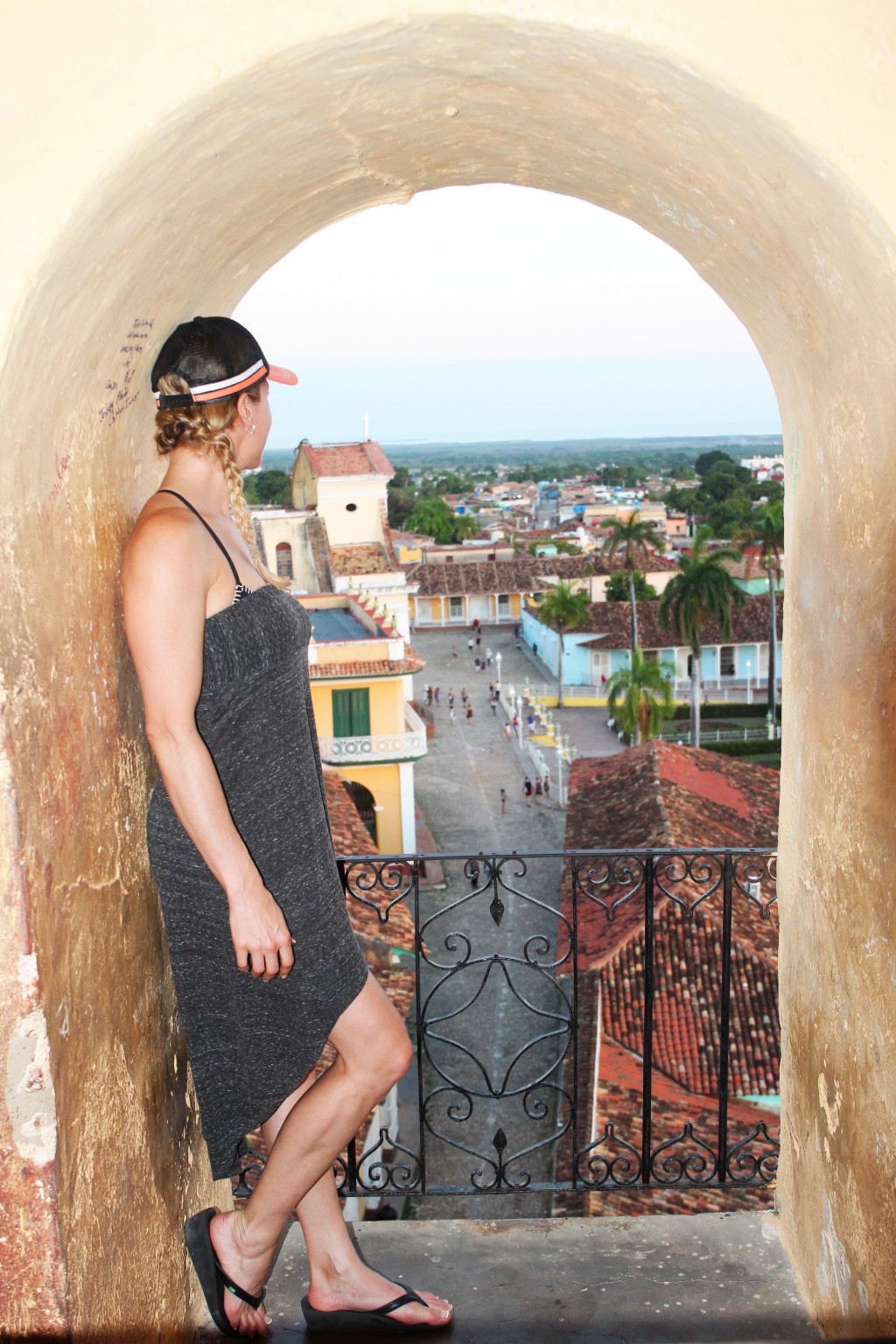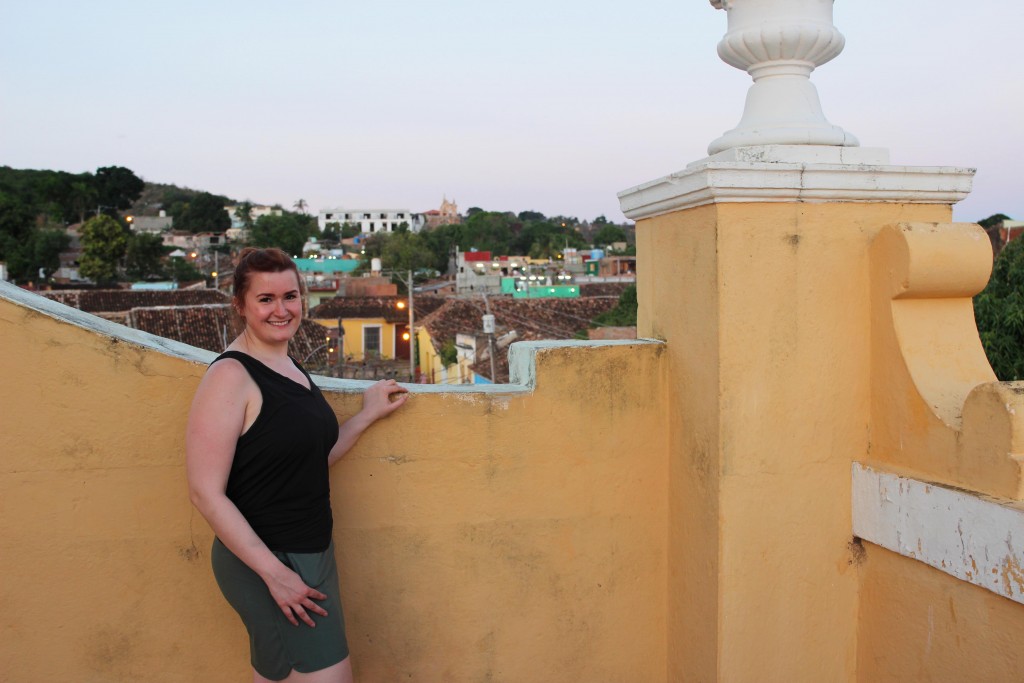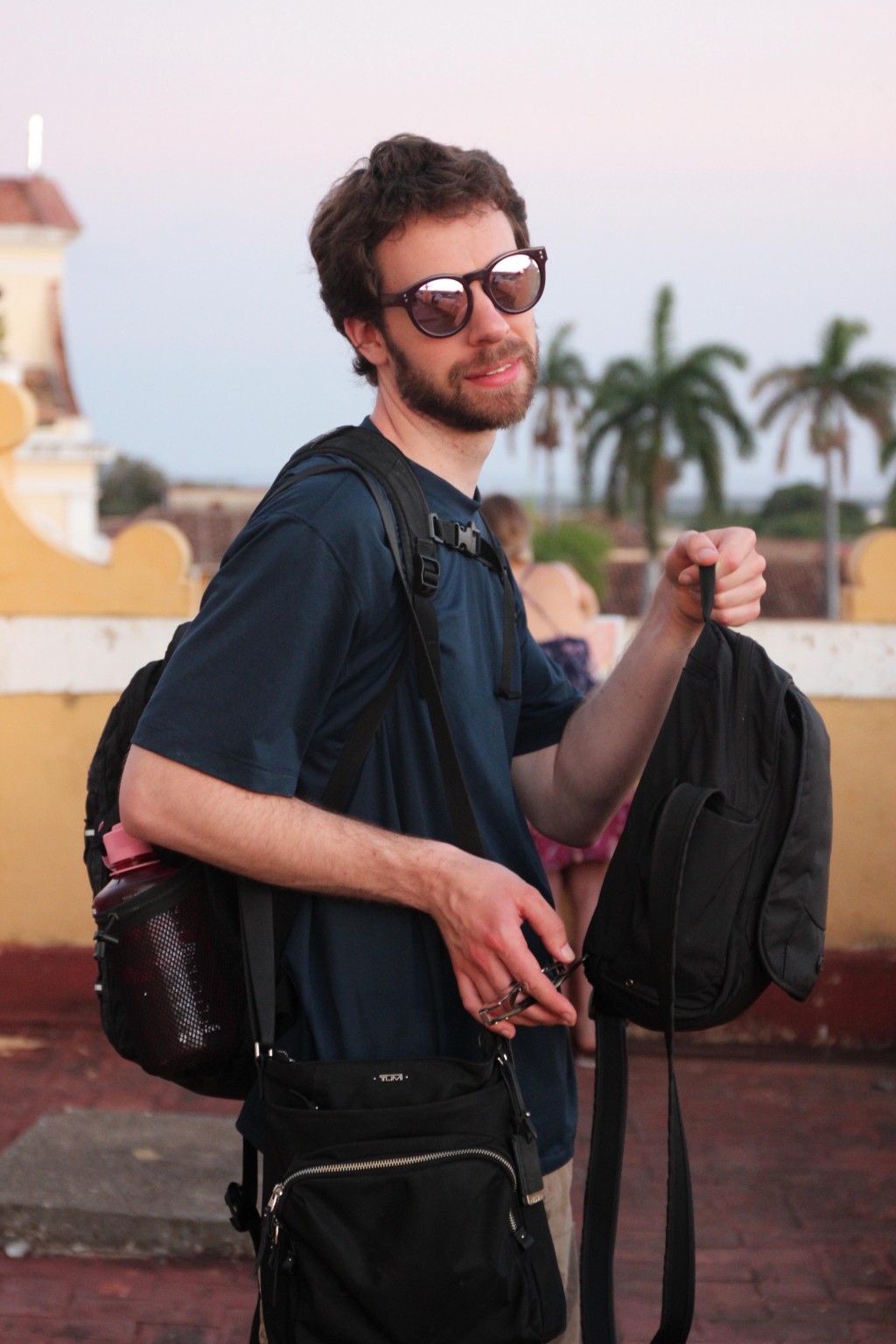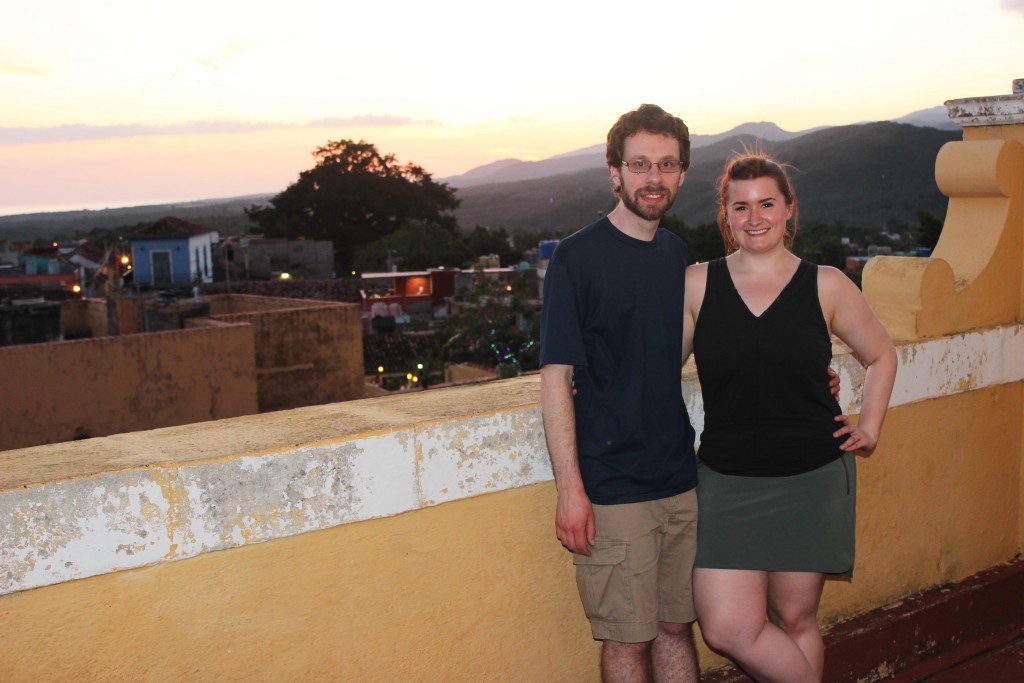 The next morning we woke up at a decent hour and had breakfast made by our Casa host. We hadn't booked anything in advance in Trinidad but we had heard there was some good hiking in the area, so we made our way over to the Cubatur office shortly after they opened. It's a good thing we made it over there so soon because they had two tours going out to Parque Natural Topes de Collantes that day and they both left in less than half an hour. We selected the longer one so that we could experience more of the park and fill up our day.
While waiting for our group to be called, we watched several other tours depart, each loading up in nice air conditioned coaches just outside the door. When our time finally came, the group of a couple dozen of us filed outside as our guide led us down one street and then around a corner and down another street. Given that the other tours had left in nice coaches not far from the Cubatur office, we were beginning to wonder where our luxury ride was. When the guide stopped next to an old army truck painted in rainbow colors, we thought he was joking until he pulled down the ladder and started ushering people. That's when we realized it was going to be an exciting day.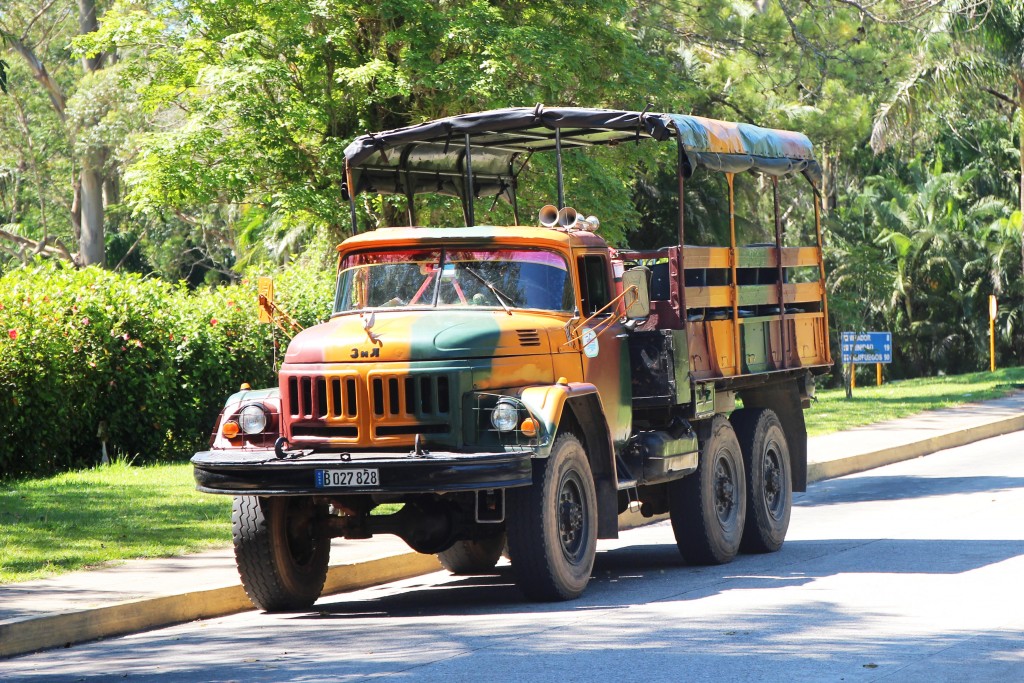 Turns out, what we thought was an old army truck was actually a Russian limo according to our guide. And it's a good thing we had that limo too, because once we started chugging along the hills and tight corners of the park, I'm not sure a big coach would have made it. Our first stop was at the top of a mountain overlooking Trinidad and the ocean. It was a beautiful sight and our guide pointed many landmarks that could be seen from there. He also made note of the nearby hills that were brown and black from recent wildfires. It used to be that by this time of year (May) the rains would have rolled in and started drenching everything every afternoon. But thanks to climate change, the rains had been taking longer to arrive and this year was already stacking up to be their worst one yet.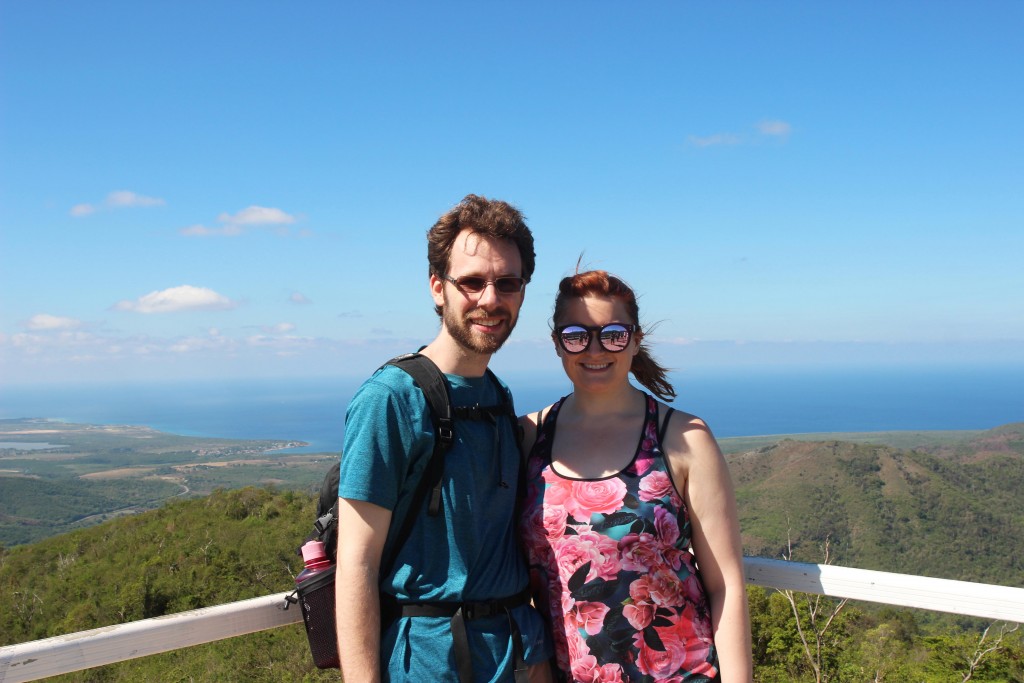 Farther along, the limo stopped at a little farm stand. In addition to the usual tropical fruit, there were also several fruits that I couldn't remember the names of now even if I had tried to write them down. But they were unique and good. And in addition to fruit, the farmer also had several nut bars that were absolutely delicious that we stocked up on (and then promptly forgot in the Casa fridge the next morning).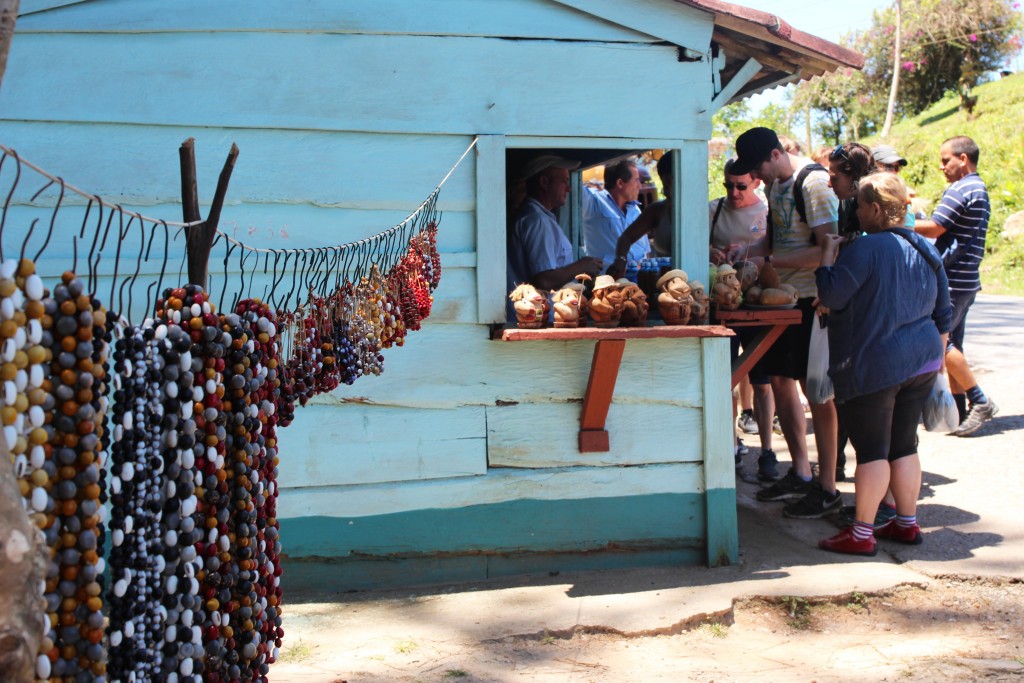 Once we were deep inside the park, our limo dropped us off at the start of the trailhead. Our guide began walking us down the trail, stopping every few hundred feet to point out some tree or bush and to explain Cuban culture. We walked through coffee fields and under palm trees, enjoying the cool shade of the trees over head.
In addition to flora and fauna, our guide answered our questions regarding life in Cuba. We were a diverse group hailing from a handful of different countries around the world. Our guide was originally a professor of history at a university. However, he eventually left because the pay was not very good. He made more in tips off our little excursion than he did in an entire month as a professor. Most of the money is to be had in the tourist industry or in occupations outside Cuba. In addition to exporting cigars and coffee to the world (and apparently chickens to the U.S.), Cuba also exports a lot of its own citizens. Our guide had many friends who had left gone to the U.S., Europe, or even Africa because they could make so much more money there. And the Cuban government doesn't mind and even encourages its citizens to live abroad because it normally means that they are sending money back home to Cuba. For our guide though, Cuba was home.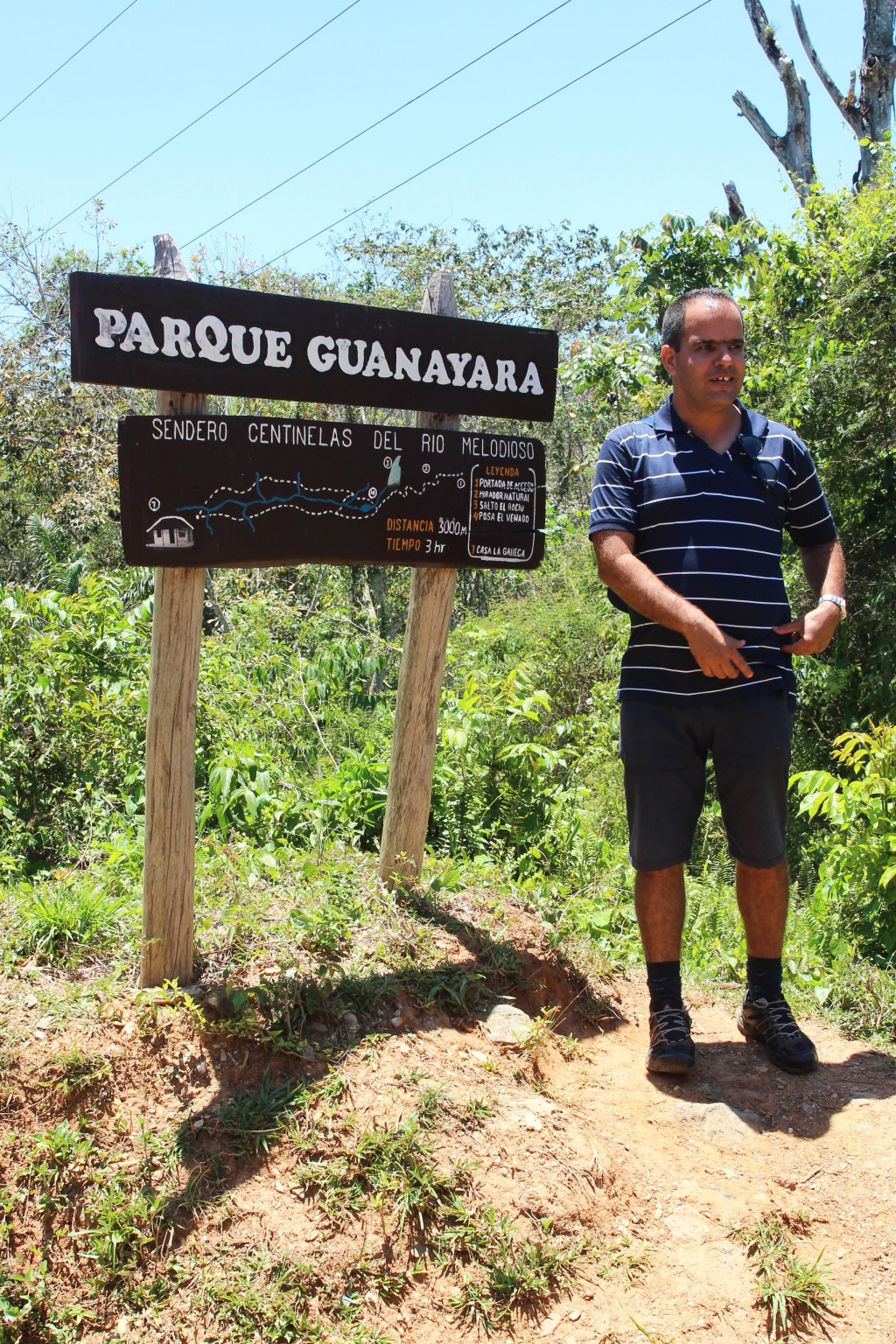 Farther along the trail we went into another cave (we had no idea Cuba had so many caves) and then stopped at a waterfall. Normally the waterfall and adjoining creek would be overflowing its banks when we were there, but again thanks to the changing climate, we were able to cross without any issues.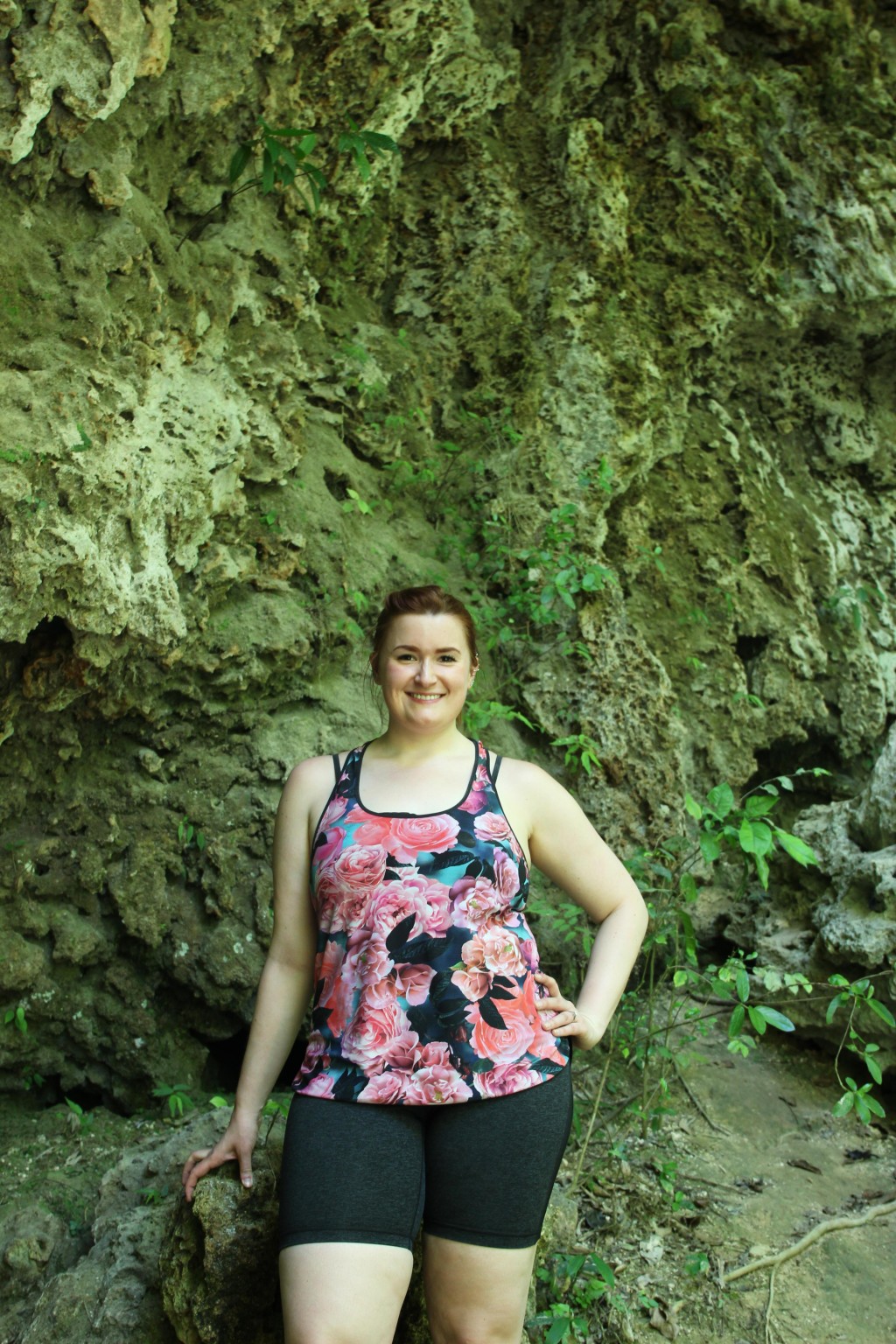 Another half a mile down the trail and we came to a large swimming hole where we took a half hour break. Some people went swimming, others took advantage of the rope swing, and there were a few of us who sat on rocks and stuck our feet in the water. But we quickly realized we weren't alone as hundreds of little fish swam up to our toes and started nibbling! It tickled! But my feet have never felt so clean and refreshed as after that half hour bath with our latest fish friends.
We also spotted the national bird of Cuba, the Cuban Trogon.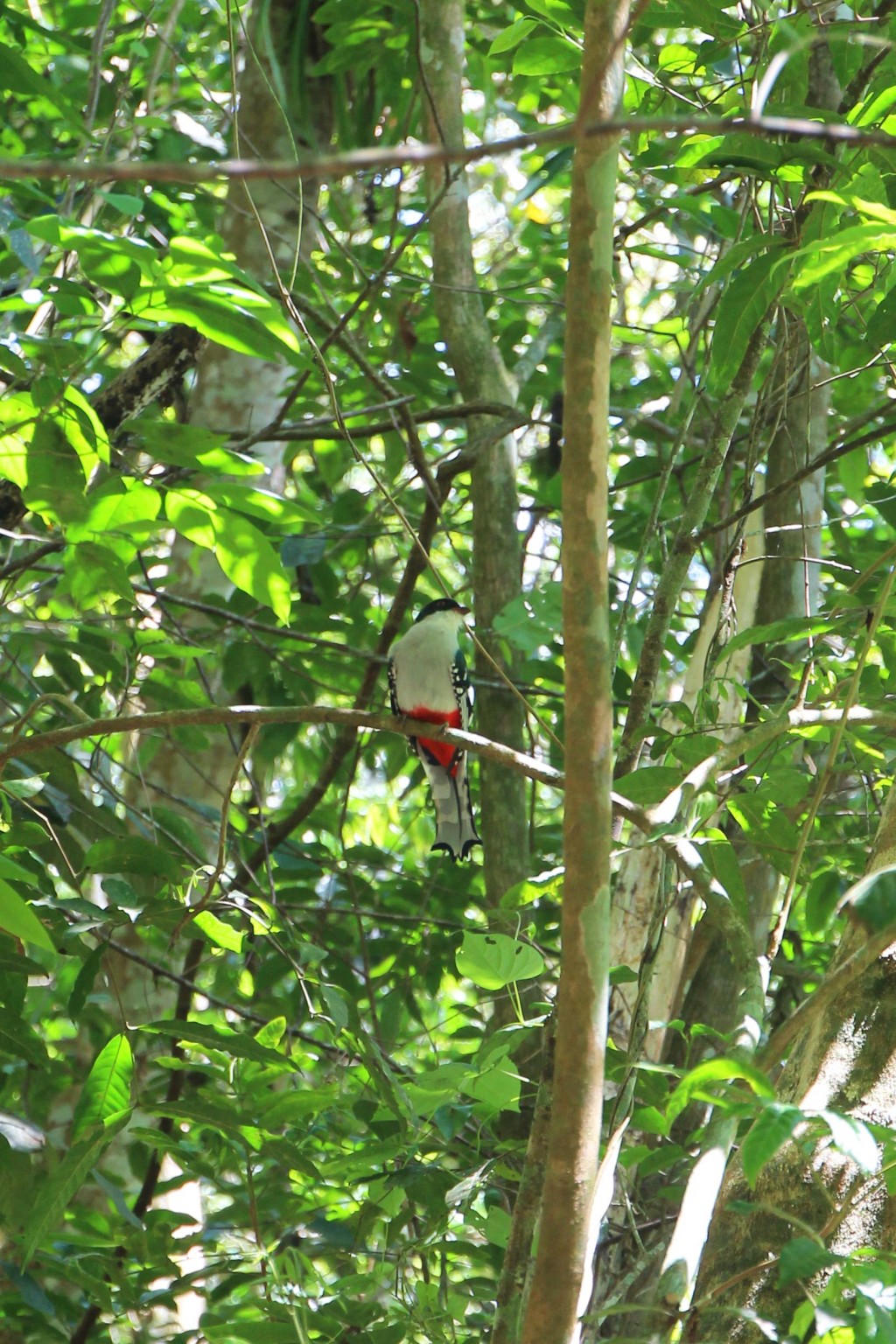 With another half an hour of hiking we finally reached the end of the trail where a big afternoon lunch and drinks were awaiting us. We all sat around a large table and conversed with each other about where we came from, what the latest news for each of us was like, and where we had been in Cuba. Perhaps the two most talked about topics of the trip (apart from Cuban culture) was the election of President Trump and the very recent French election, both of which weighed heavily on everyone's minds no matter where they were from.
Once lunch was finished, our limo was waiting to take us back down the mountain. We also picked up a couple of the workers from the restaurant to take them home as well. But the excitement for the day was not quite finished. As we approached the main entrance to the park, we saw that there was a backup of traffic ahead of us. When we came to a stop, our guide got down and started talking to some of the drivers up ahead.
It turns out there was some political gathering that was blocking the road with no set time that they would open it back up. However, our guide promised to get us back home some other route, so the limo turned around and head back into the park. About thirty minutes later, we emerged from a side trail and back on to the road just down from where the gathering had been held, and just in time to see the trucks that had been blocked in front of us earlier, driving off down the road in front of us.  Welcome to Cuba. We made it back to town the rest of the way without incident and thanked our guide for the wonderful journey.
Don't forget to check out the next part of our Cuba adventures in Havana here!