A Viñales Adventure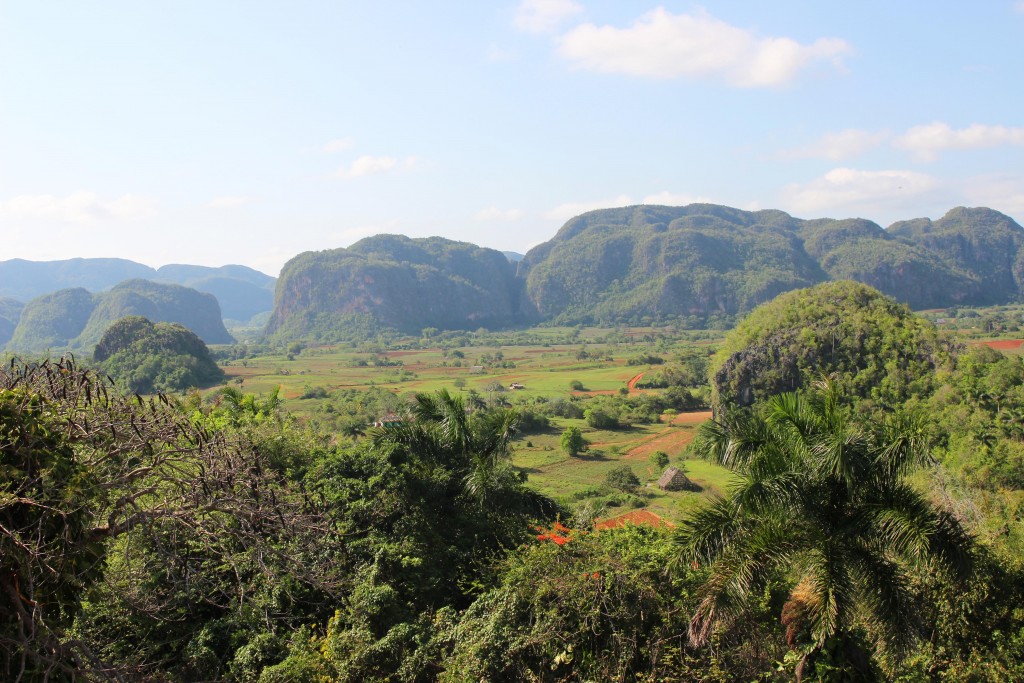 This is the first part in a series of our travel adventures in Cuba. If you are planning your own trip to Cuba, please refer to my Cuba Travel Guide. You can find all of my content on Cuba here. 
We barely had 12 hours in Havana (most of which was spent sleeping), before our adventure really began. The morning after we arrived we headed off to Viñales, the quintessential Cuban countryside. Home to tobacco fields, caves, and lush green valleys, we had high hopes for Viñales and it did not disappoint!
After doing the obligatory visit to the Cadeca (to exchange currency) and then walking through a market in Havana, an American classic car arrived at our Casa. Like many of the classic cars, it looked very well maintained from the outside. We piled all of our suitcases in the trunk, and then loaded up inside.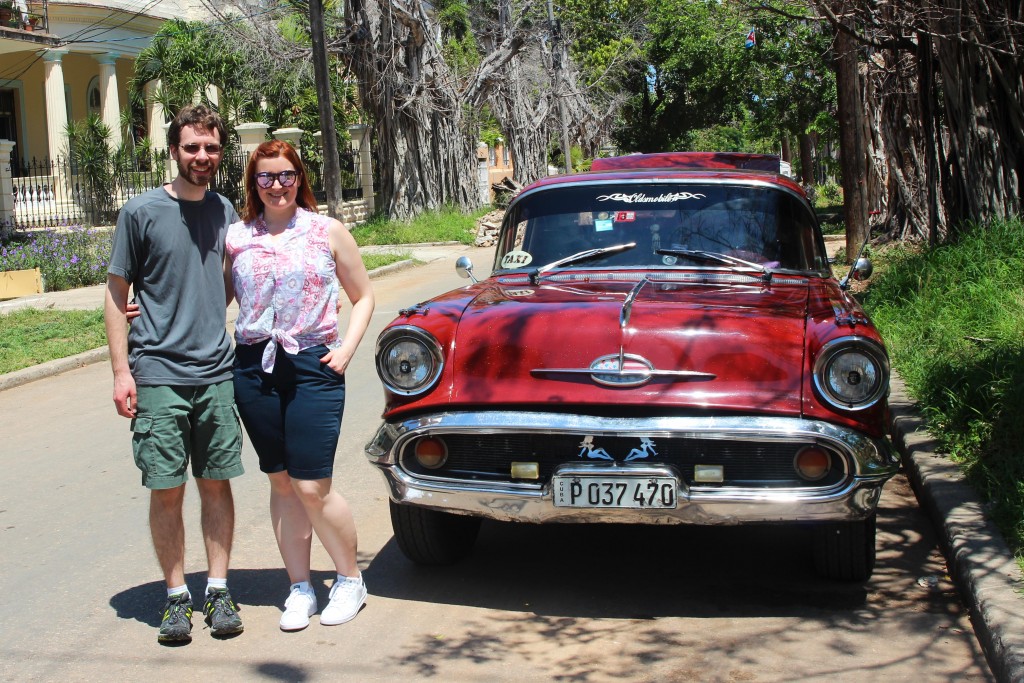 As we drove off, all of us started taking a good look at the interior of the car.  The dash had been replaced with parts from a Toyota, while the steering wheel had come off a Hyundai. In the dash was a very nice looking Pioneer stereo, with several little speakers taped strategically around the car. The original seats had been replaced with very nice upholstered bench seats that mostly matched in the front and back.  Over head were little strings of LED lights in case anyone needed a dome light, and on each side was a cartoon pinup of rather well endowed woman.
While not a terribly long drive, it does still take a couple hours to get to Viñales from Havana. Another five minutes had to be added when the taxi was pulled over at a police checkpoint, which is not an unusual event. After showing the police officer that he had a license and a taxi permit and then demonstrating that the hand brake worked, we were off again. Roads in Cuba are not great, and because of this, most drivers treat the pavement markings as only guidelines. For much of the ride, the driver used two lanes: one for the left wheels and one for the right wheels.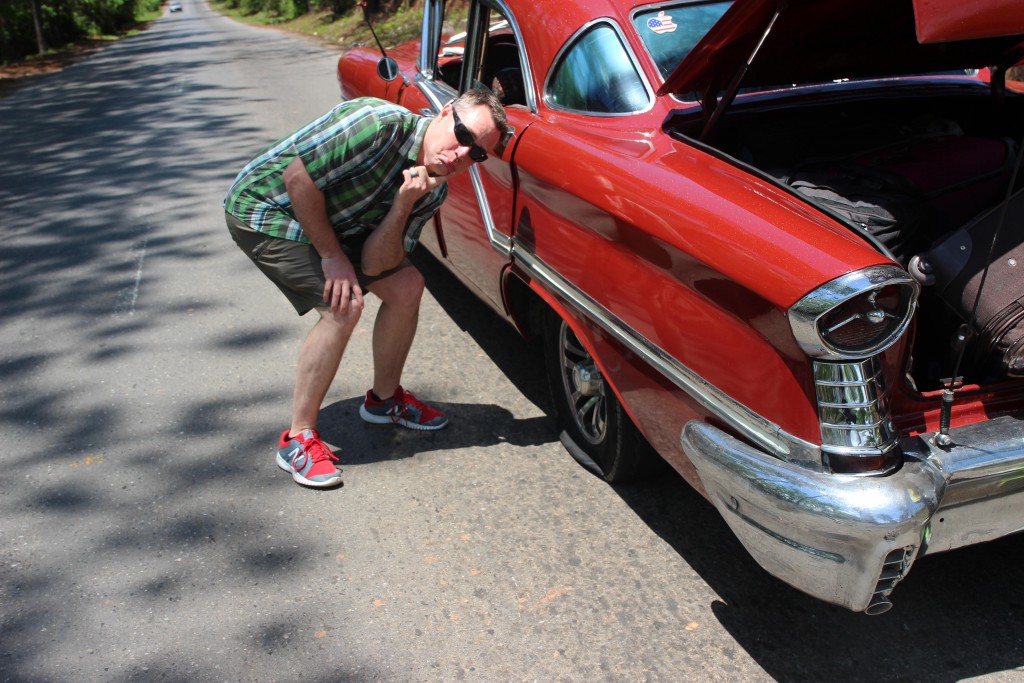 Just as we were pulling off the main road and onto a smaller road head into Viñales, our driver started looking intently in the mirror and other drivers started pointing at the car.He pulled over and as we stepped out of the car, it became very apparent that one of the tires was flat. So our fearless driver opened his trunk, pulled a couple of the suitcases out, pushed aside the spare drive chain, and pulled out the jack and spare tire. Within just a little while, he had the tire fixed and five minutes later we were pulling in at our Casa in Viñales with time to spare before our tour.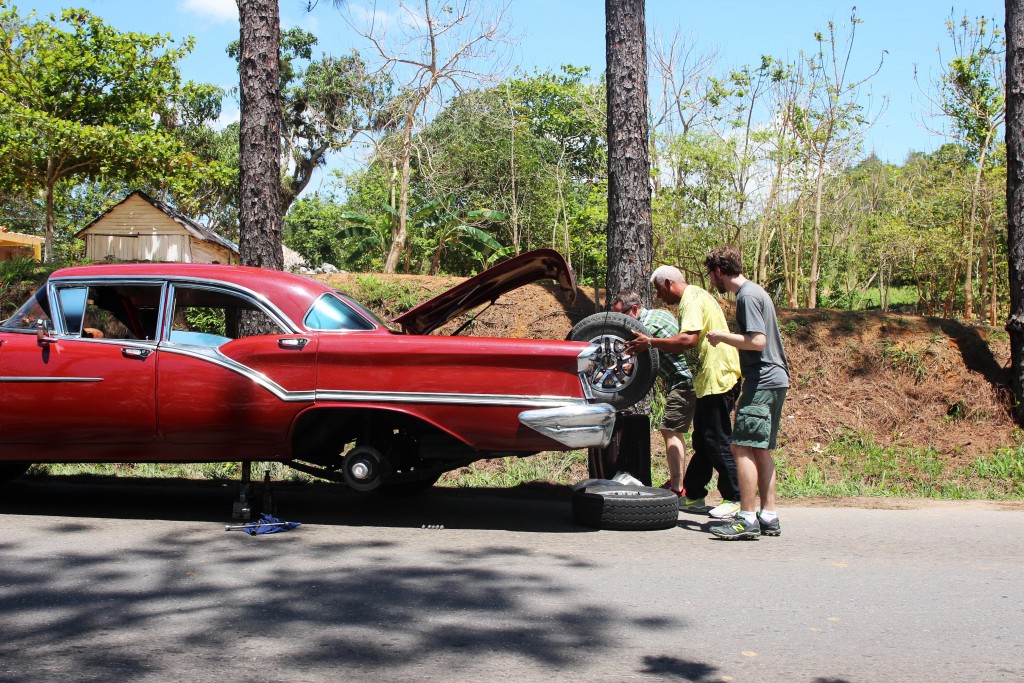 Our Casa owner introduced us to her family and then showed us our rooms, where we took a few minutes to change and get ready for our horseback tour. She then led us a block over to a square where we met our guide. He led us down a dirt road to a small hitching area where our horses stood, each waiting its turn to be saddled. I mentioned to Jon that one didn't look happy and that I hoped I couldn't get that one. However, as they started putting people up on the horses, the unhappy horse just stood there, staring at me. When it was finally my turn to get up on a horse, the one that was given to me was of course the unhappy one.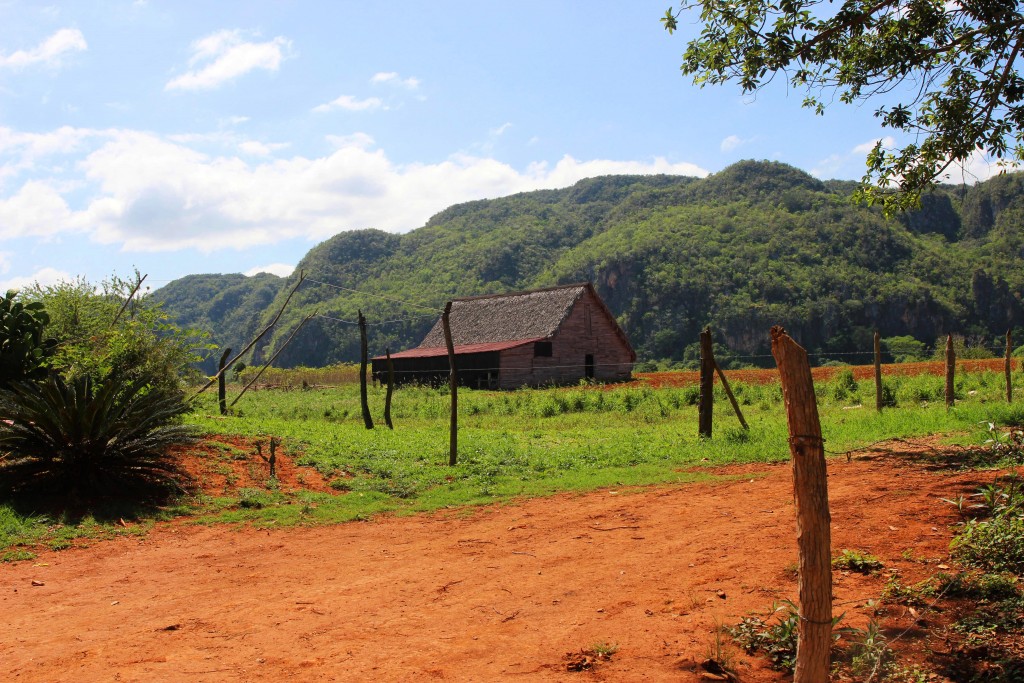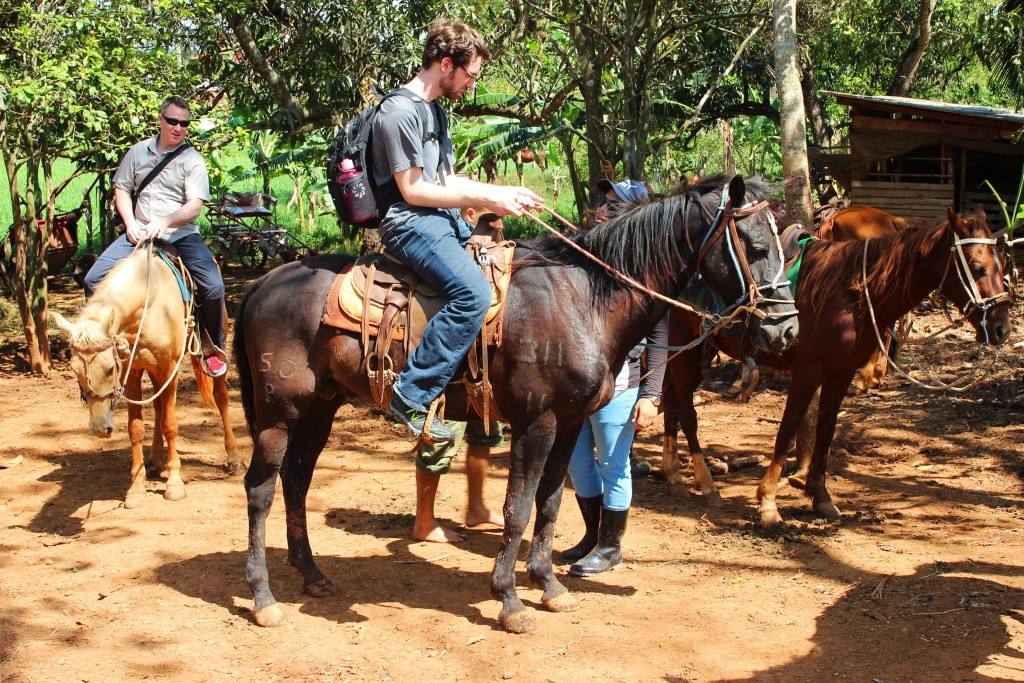 The horse ride was good, though I will be the first one to admit that I am not an expert horse rider. And I think Mr. Unhappy recognized that and used it to his advantage. It didn't matter if I pulled him to the left or to the right, if he wanted to go to the left we would and if he wanted to go to the right we would. He didn't much like staying in line but did like to pass the other horses and then slow down in front of them. At least one of us was getting our way.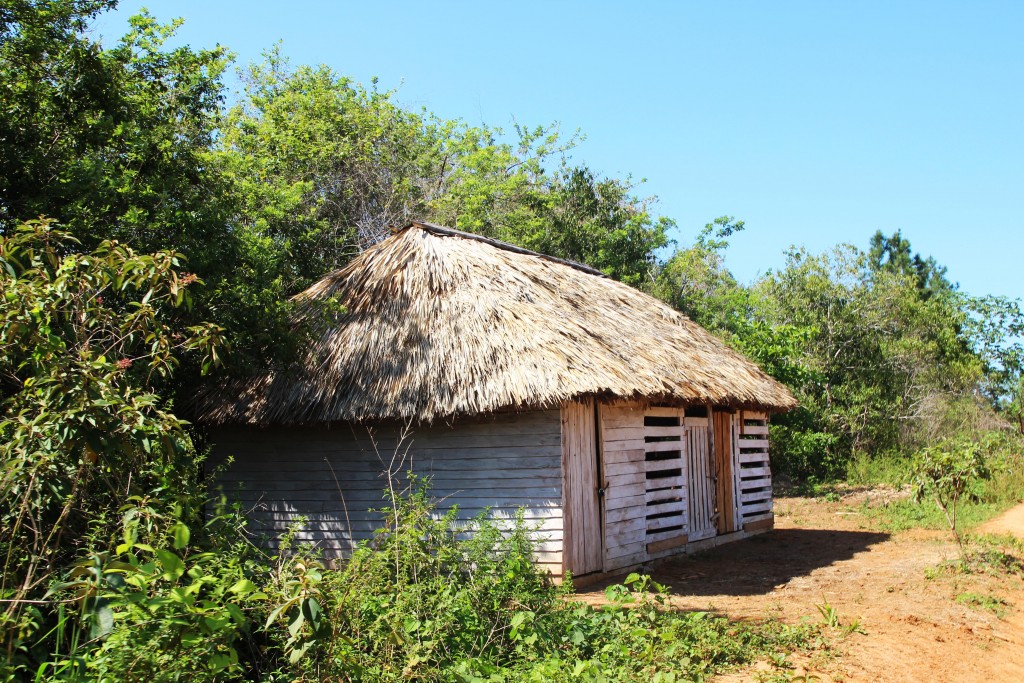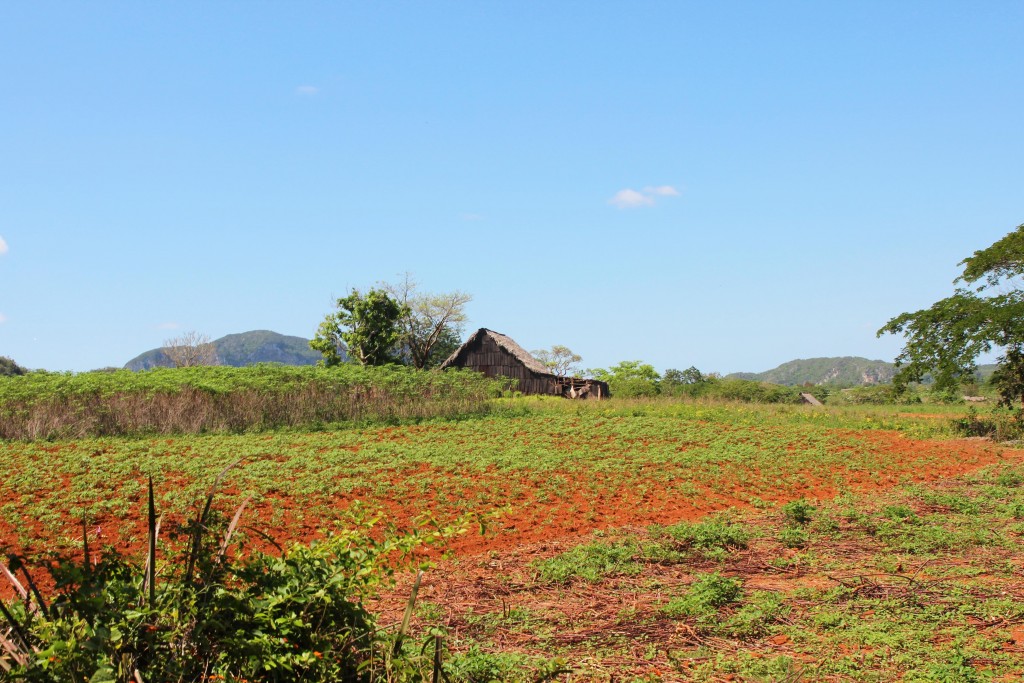 After a few hours on Mr. Unhappy's back (it might have been a little less), we made our first stop at a coffee plantation. Our guides tied up the horses and we were led up to the outside of the plantation house. There stood a number of tall canes, which we recognized as sugar canes. Our guide then began to explain to us that the juice from the sugar canes is very good but also an aphrodisiac, to which the newlyweds Jeff and Nancy both instantly volunteered to try. The guide instructed Jeff to grab a handle of this crazy looking contraption made from old car parts while Nancy stuck her head underneath a spout coming out of this thing. The guide fed in the sugar cane, which was then crushed and out rolled oodles of fresh sugar cane juice. After a moment, Jeff wanted in on the fun, so Nancy turned while Jeff stuck his head under the spout. It was quite a sight to see. Luckily, I have photographic evidence: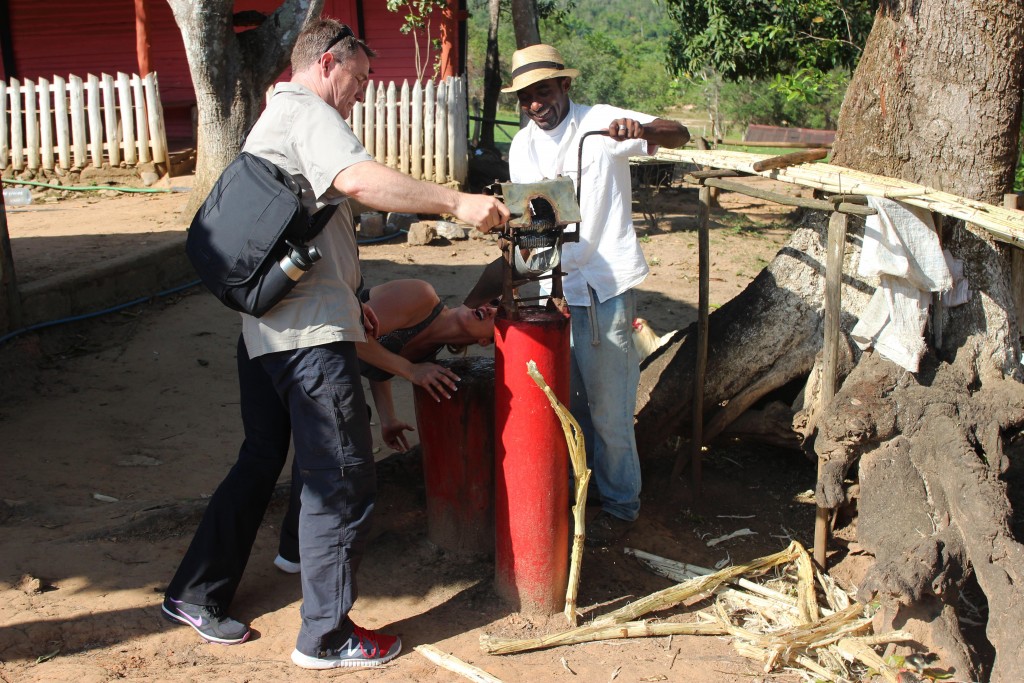 Once the two love birds had had their fill, we were led over to table where one of the plantation workers started to explain the life cycle of a coffee bean. Because we were in a national park, no machines were allowed to be used, so each bean was picked by hand. They would be brought back and allowed to sit out in the sun to dry. Then they would be cracked, cleaned, and roasted over a fire, then allowed to dry again before being packaged up in recycled blue water bottles.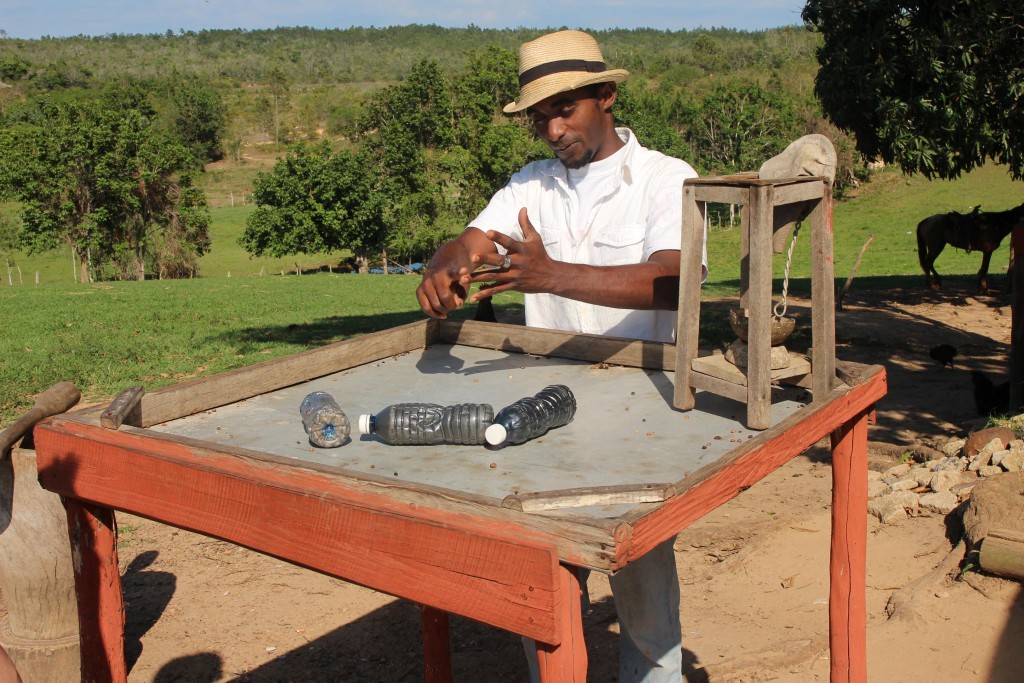 The most exciting part of the visit came afterwards when they showed us a huge drink list painted on pieces of wood. We each started with a different drink, a lemonade for a Jon, a guava drink for myself, a crazy coconut for Nancy (rum mixed with coconut milk inside a freshly peeled coconut) and coffee and rum for Jeff. As we each polished off our drinks, more were ordered, including more alcohol. The plantation worker was having a great time bringing out all the different drinks to try, and eventually even brought out some homemade rum that was somewhere around 170 proof. By the time we left, we were feeling very good (especially our friends), but also very much in need of a bathroom to relieve all of those drinks from.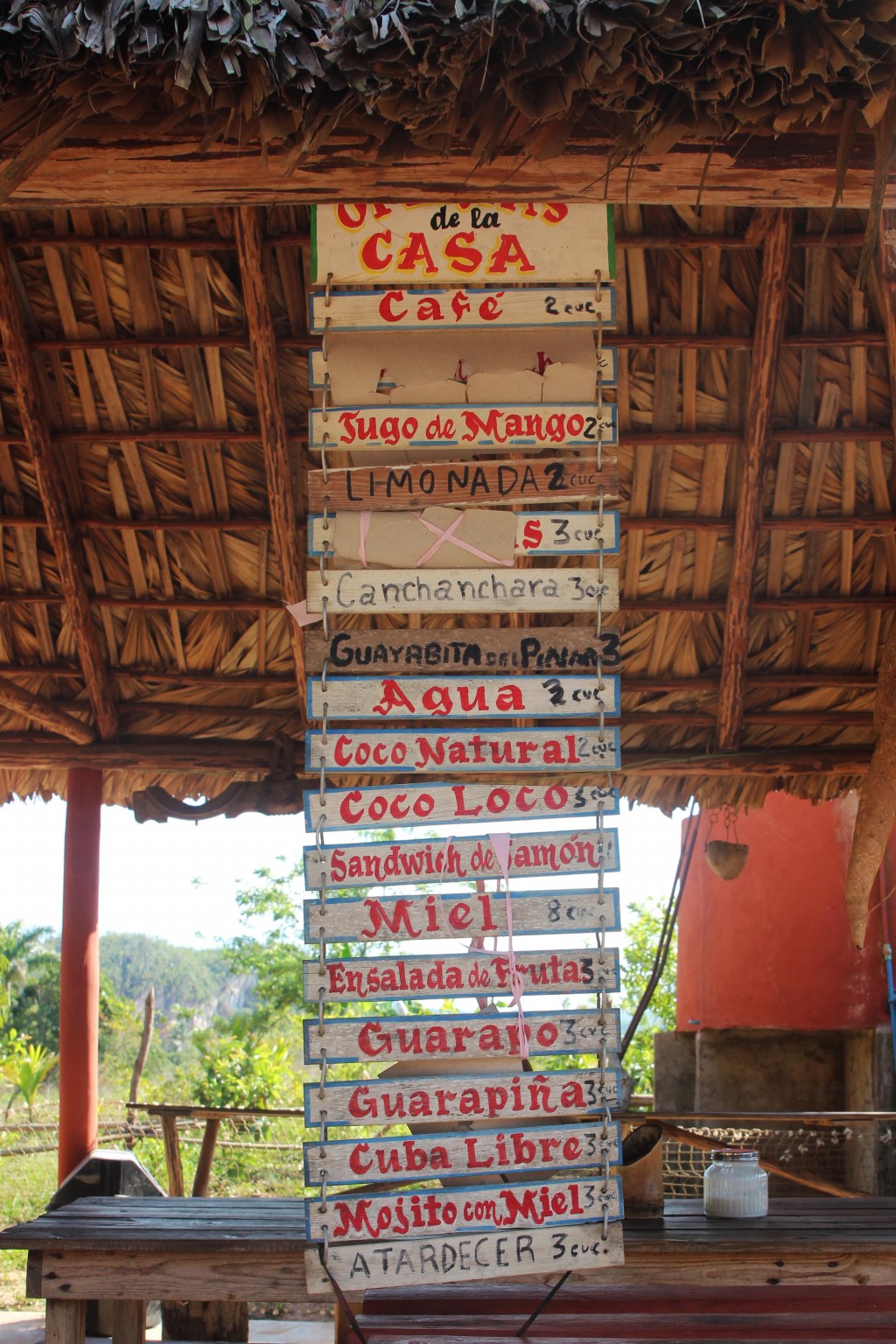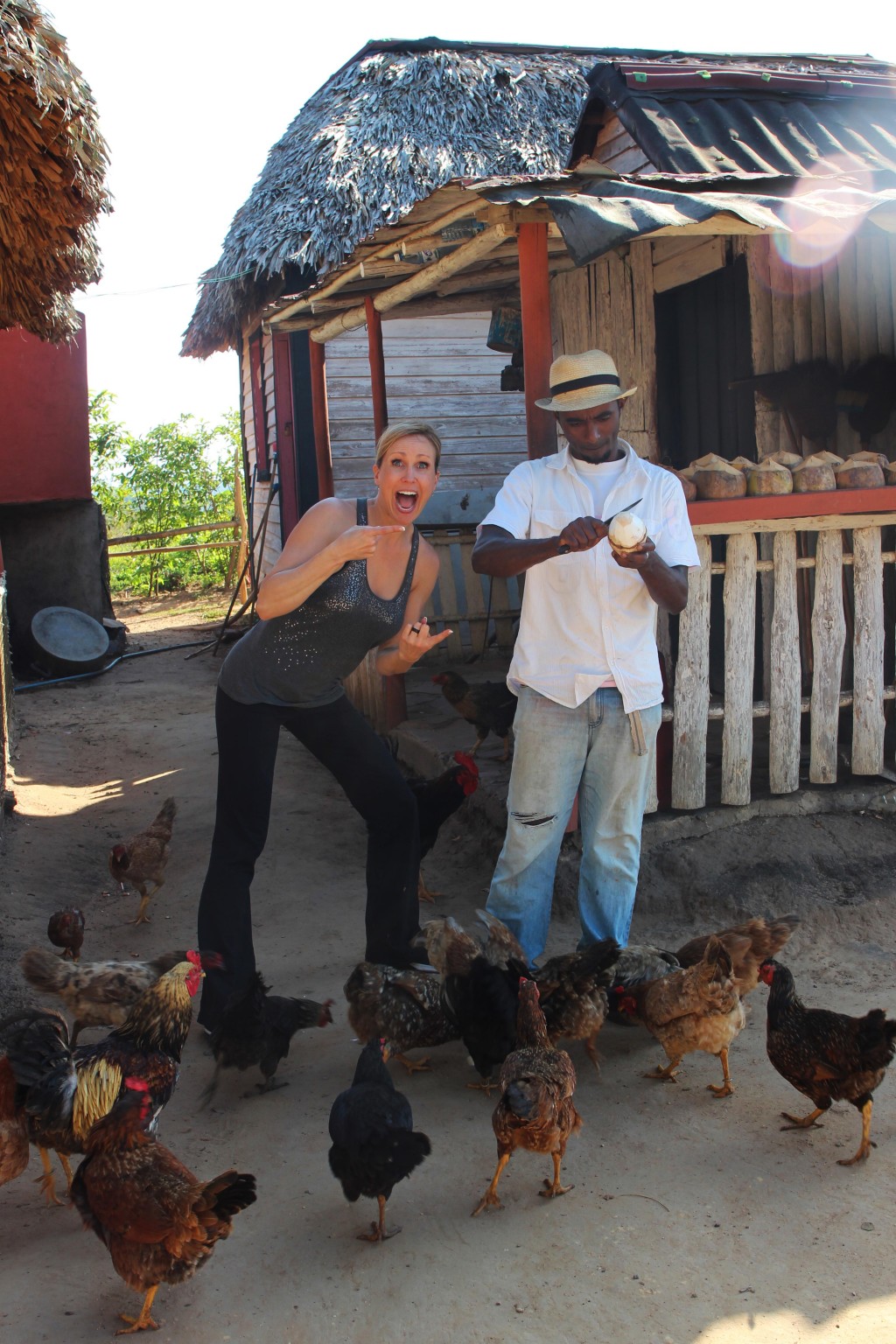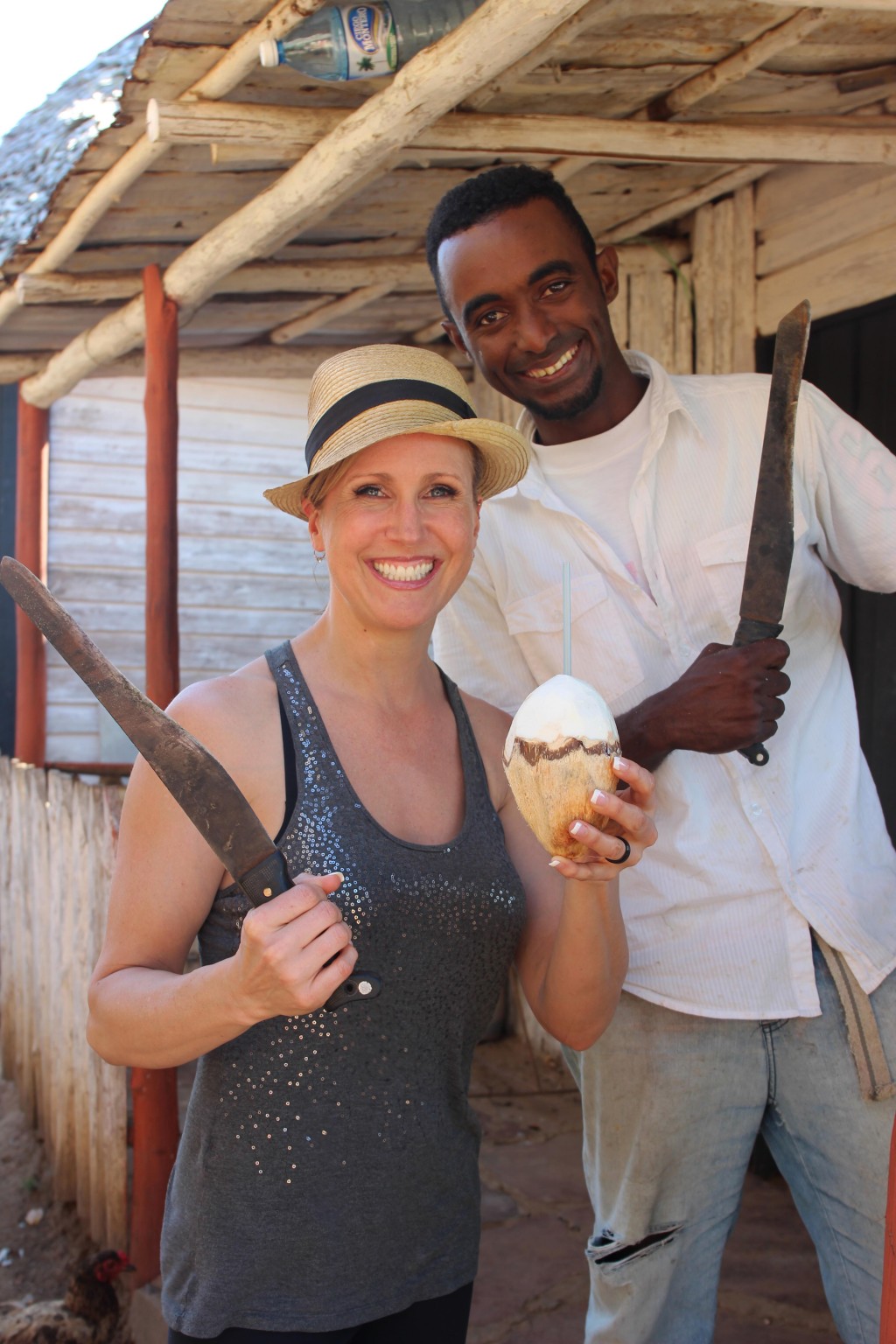 Somehow, we managed to get back on the horses and trotted off to our next stop: the tobacco farmer. We ordered a couple more lemonades and mojitos and we also got to try out a cigar. Jon and I had never tried smoking a cigar before and don't think we will be trying again any time soon, since we were just providing comic relief for everyone there. Even the farmer's hat couldn't make us smoke the cigar any better. We did learn some interesting things from the farmer though, who did show us how to roll a cigar.  Apparently, 90% of the tobacco that a farmer produces has to be sold to the government (and at not great prices).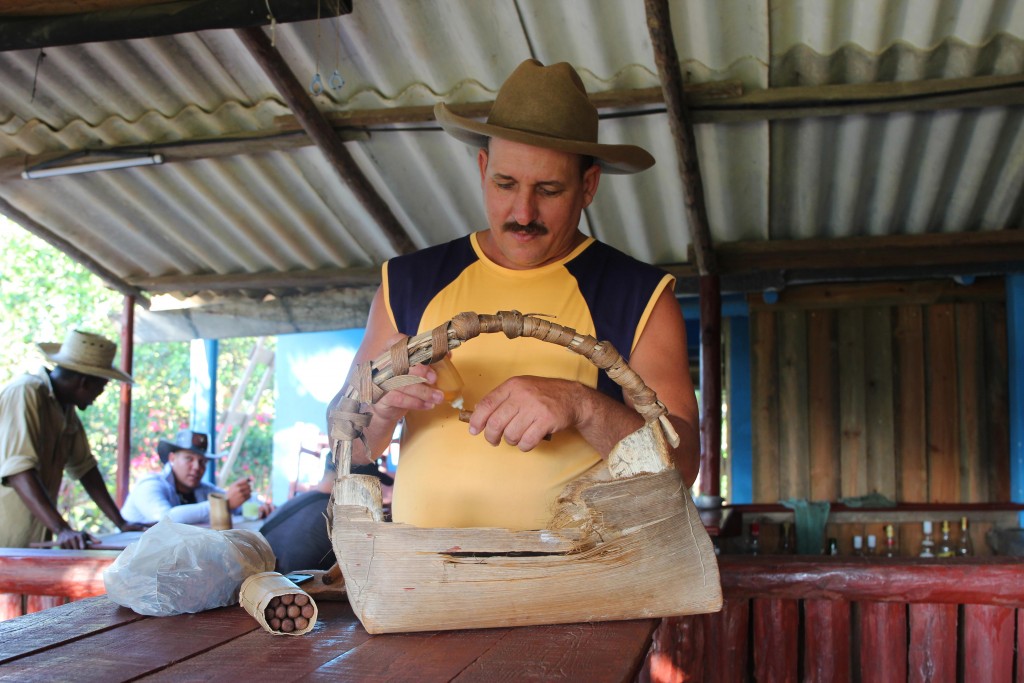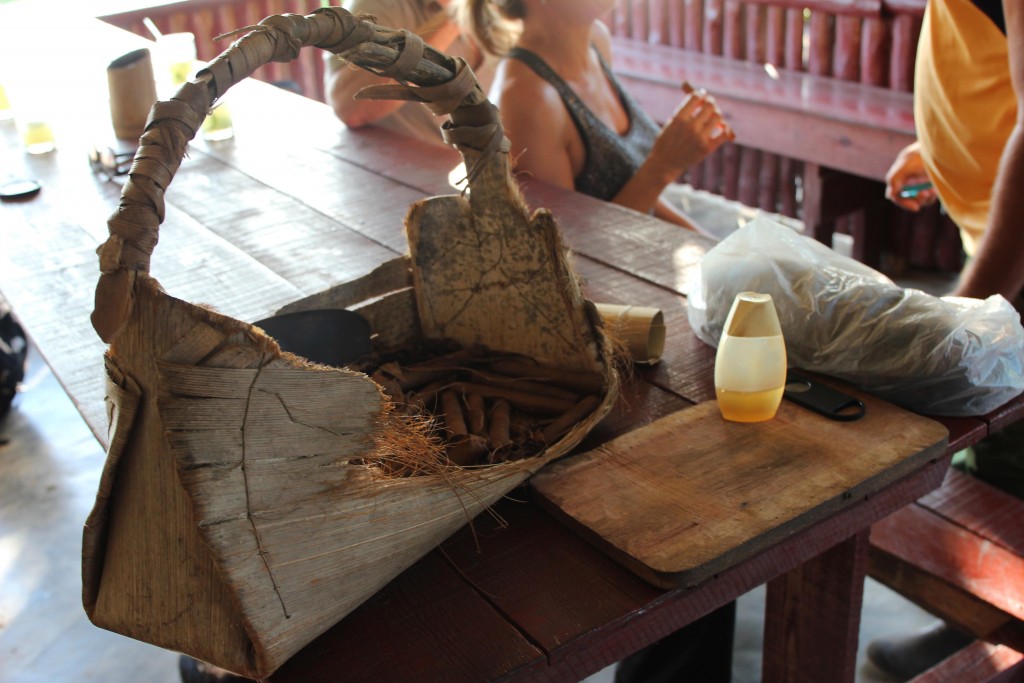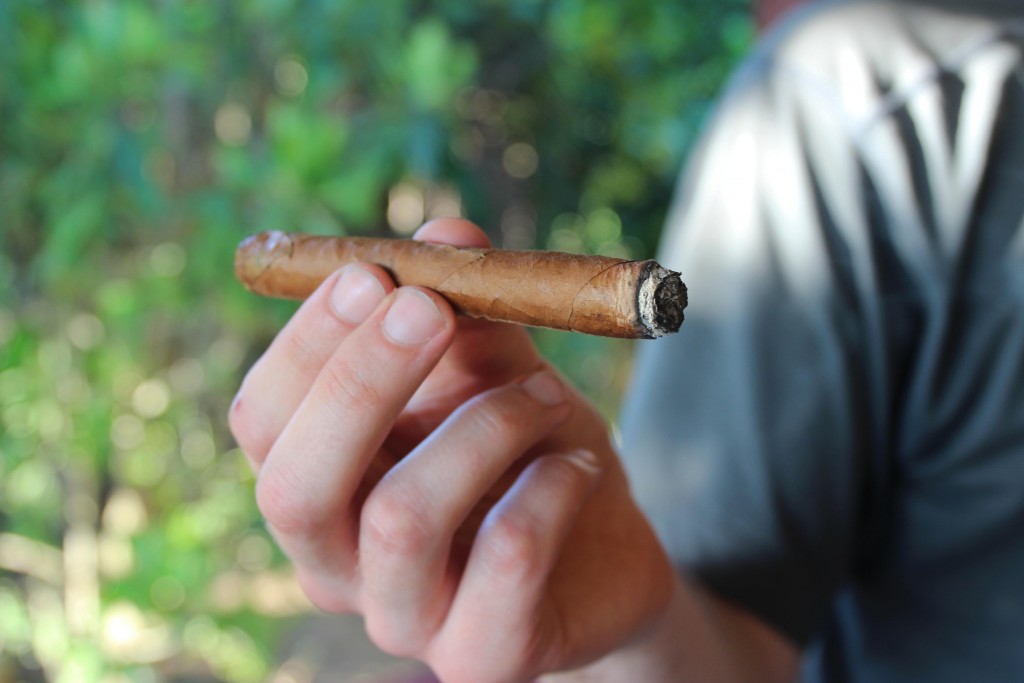 As the sun started approaching the horizon, Nancy got antsy wanting to reach the sunset lookout (the end of the horseback ride). We loaded up on our horses again (still on Mr. Unhappy) and headed for a good spot to view the sunset.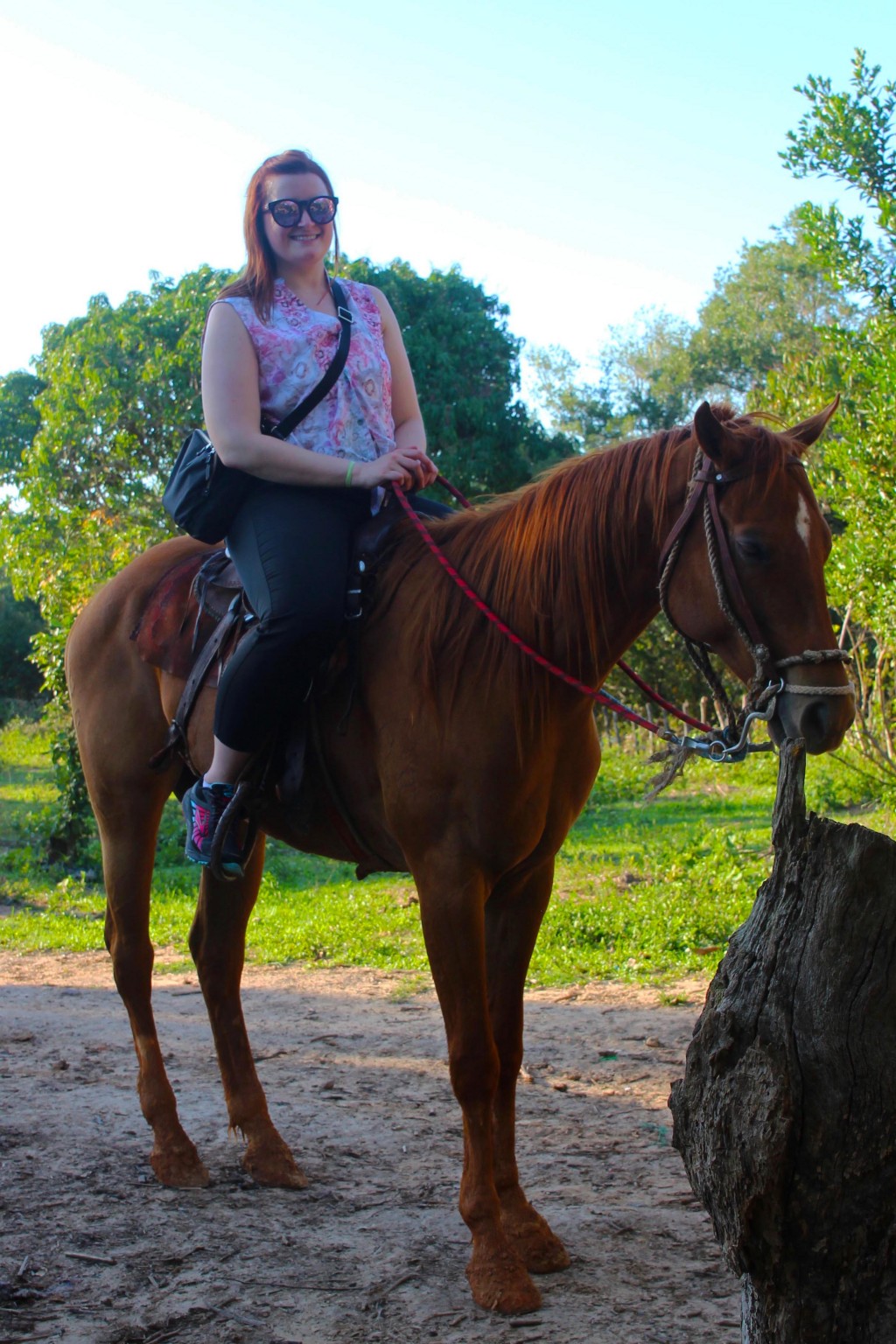 It turned out that there was a lookout there and once at the top, we had a clear view of the red sky that was behind the neighboring mountains.  We started taking pictures, and it was then that half realized that something wasn't right: Jon was down on one knee and before I knew it, we was showing me a little box with a diamond ring inside.  There was a lot more to it than that, so I'll let you read that story when you're ready.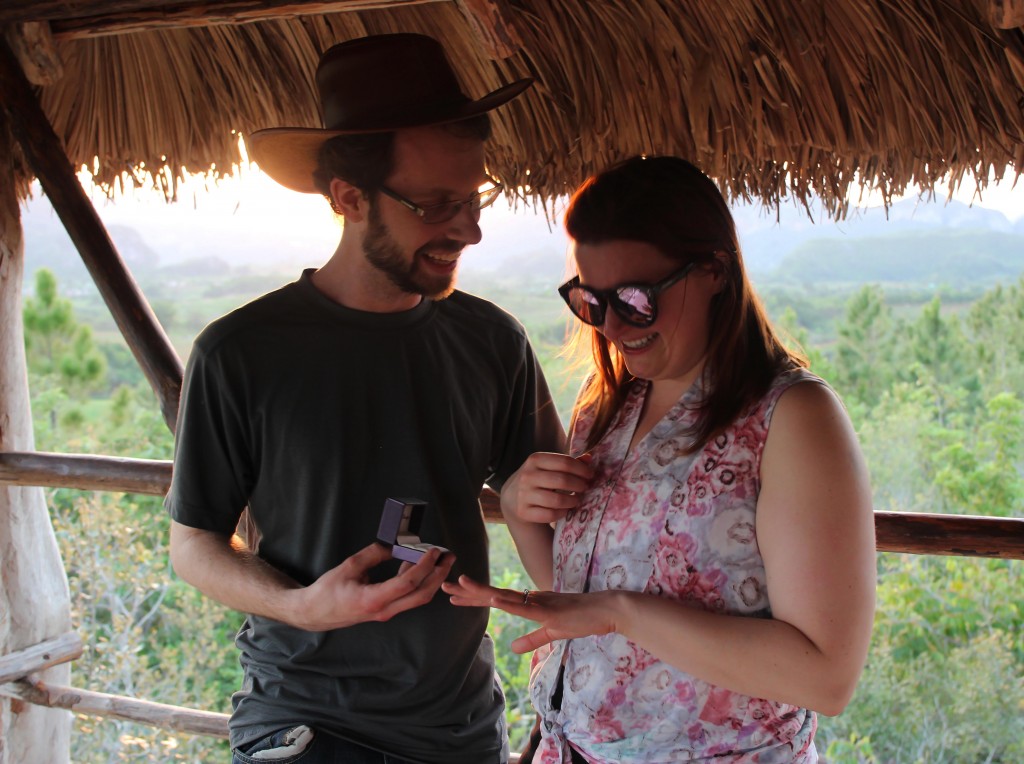 Now that it was finally getting dark, we loaded back on the horses and walked a little ways down the path back to a main road. We got off the horses, said thanks to our guides, and then loaded up in a taxi that was waiting to take us back to our Casa where our amazing host had already started preparing dinner. When she found out about the proposal, she even went so far as to set out special flowers for Jon and me.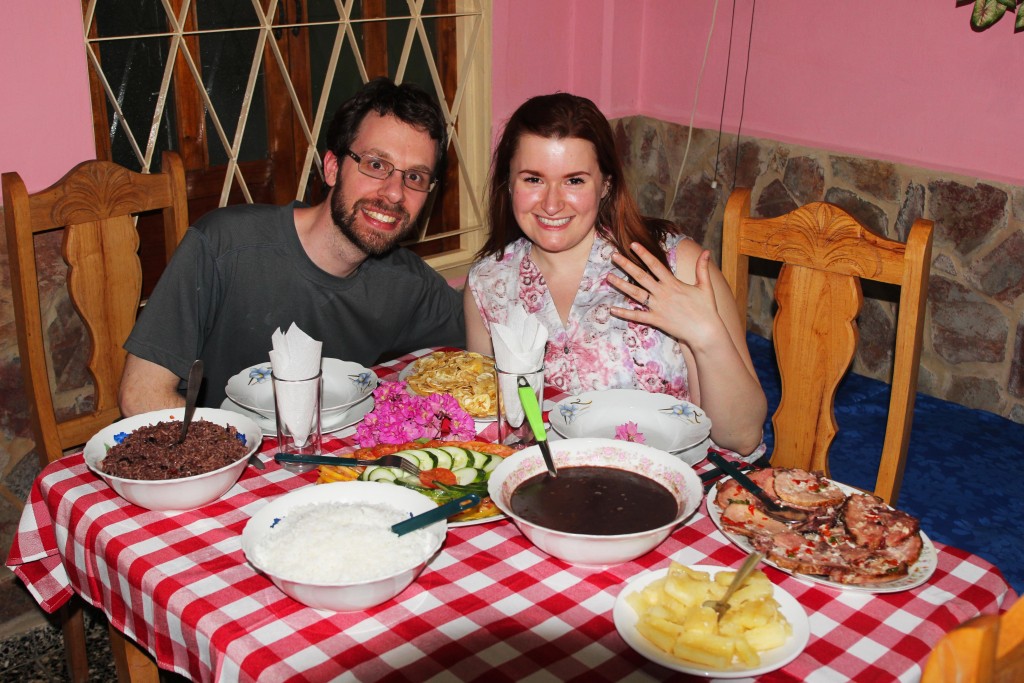 Despite turning in for bed pretty late, we didn't get to sleep in as we had to be ready to go before dawn as we had a sunrise hike booked. Our guide met us at the house and drove us out to the starting point. As we climbed up the hillside, we saw the beautiful pinks and reds start to fill the sky as the sun slowly woke up. Once mostly up the hill, we stopped a little outcrop to take pictures with the beautiful sunrise behind us. If it hadn't been for amazing sunset the night before, this would have easily won the award for best shot of the sun.
Continuing on, we were taken to the farm of an elderly couple who had lived their entire lives in Viñales and had done it without using modern Western medicine. It was quite an amazing story to hear, and they also had an amazing view looking over the Viñales Valley.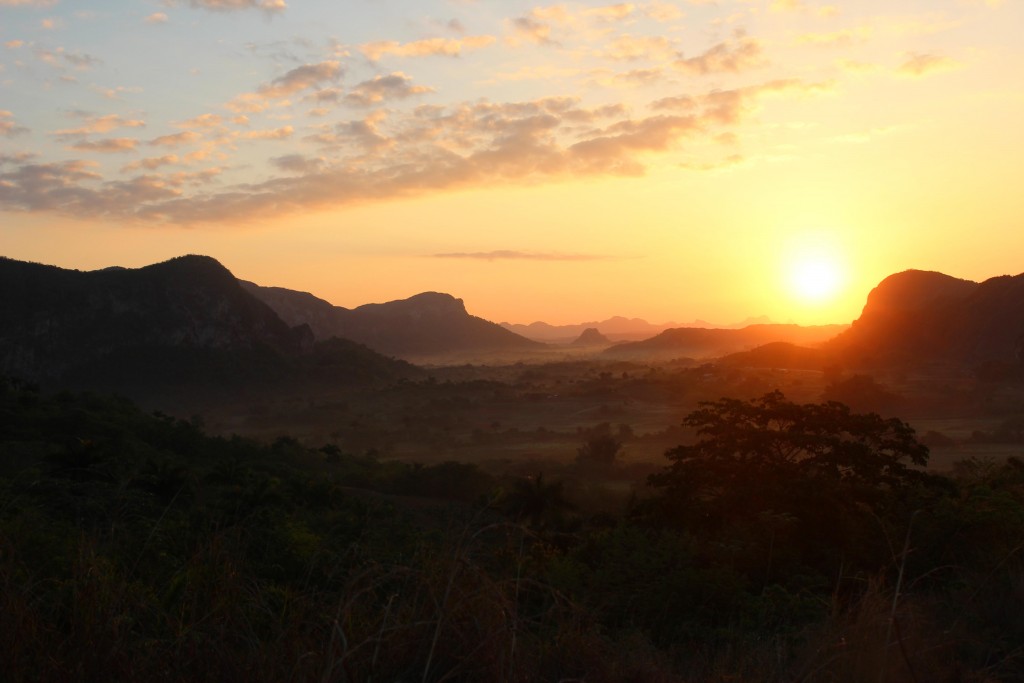 On our way back down to town, we stopped at a little "cafeteria" in the middle of the farm fields. It was here that we had our first virgin Pina Colada, one that we were never able to match. Something about this Pina Colada was special, even beyond the layer of honey and cinnamon topping. We tried many others throughout our trip and while some were very good, they never matched up to this one.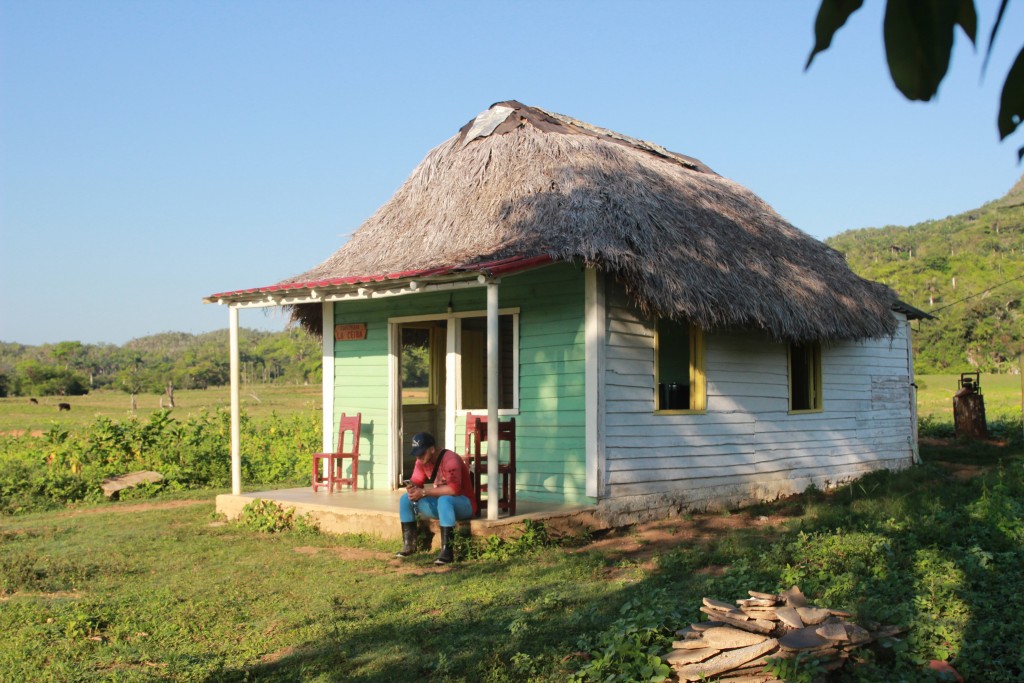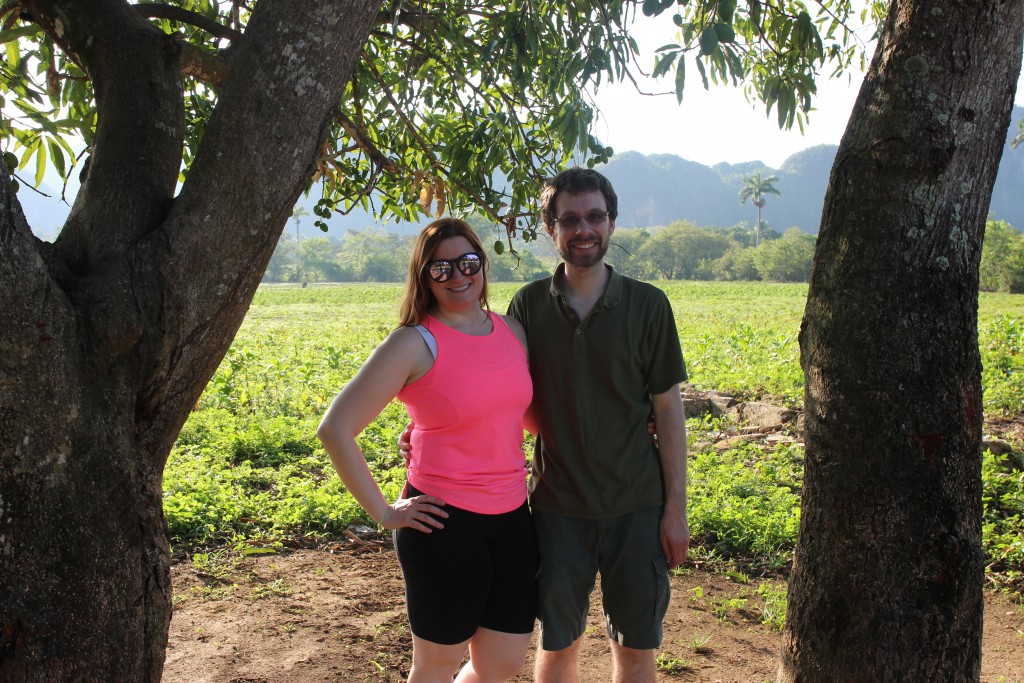 Back in town, we had a bit of time to kill before we were supposed to meet up with our next tour guide, so we hopped in a taxi and drove out to the Indian Cave just outside of town. There were a lot of tourists there, so they had to stagger when people could buy tickets. While we waited our turn, we watched the "Indians" drag members out of the audience to pound on drums or hold birds and lizards. Then they grabbed Nancy. They made her dance and do chants. In the middle of one of these chants, the second "Indian" ran back into his teepee and brought out something furry. He snuck up and placed it on Nancy's back, at which point she let out a shriek of surprise.  It turned out to be a tree rat.  These are giant fuzzy creatures that live in the trees and apparently are nearly harmless to humans. Once they removed the tree rat and took it back to its home, Nancy was free to rejoin Jeff in the crowd.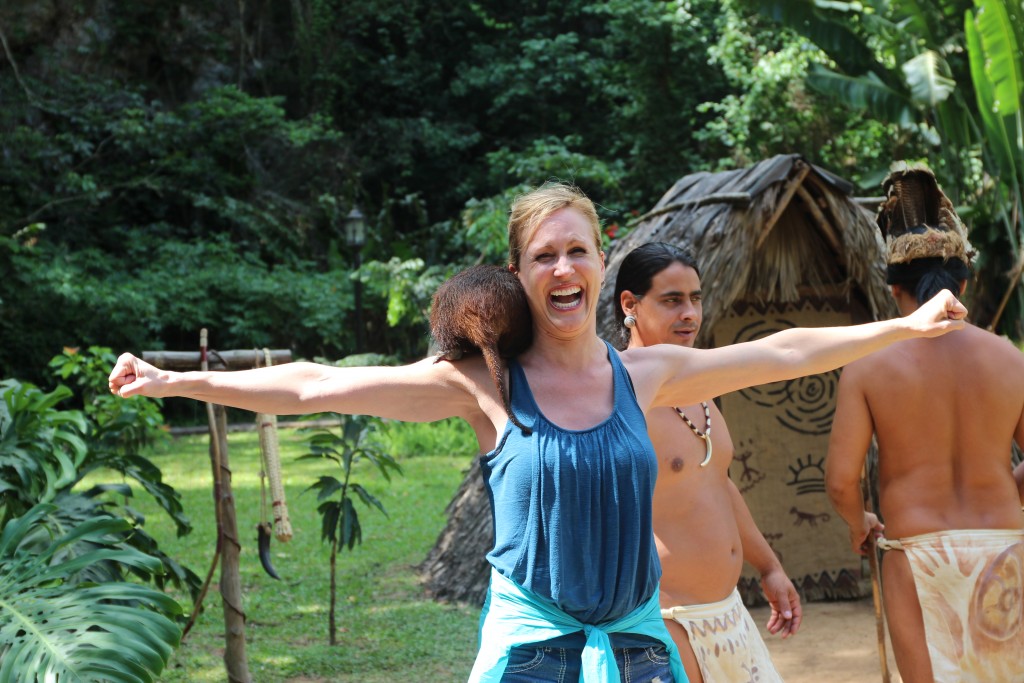 But they weren't done. Next they grabbed me! They sat me down on a log and started out trying to do chants. That didn't work so well so they instead had me make some music with coconut shells. Then they pulled out white paint and proceeded to paint a giant while stripe across my forehead. Then the second "Indian" once again brought out the tree rat. I turned behind me and saw it coming, I did not want it on me! While I was not a fan, I was a good sport and let them walk the tree rat around me arms and head for a few minutes before allowing me to go hide behind Jon. They tried to grab me again, but I ran away from them. So instead, they grabbed Nancy and she got to hold a falcon! If I would have known that was the option, I may not have run.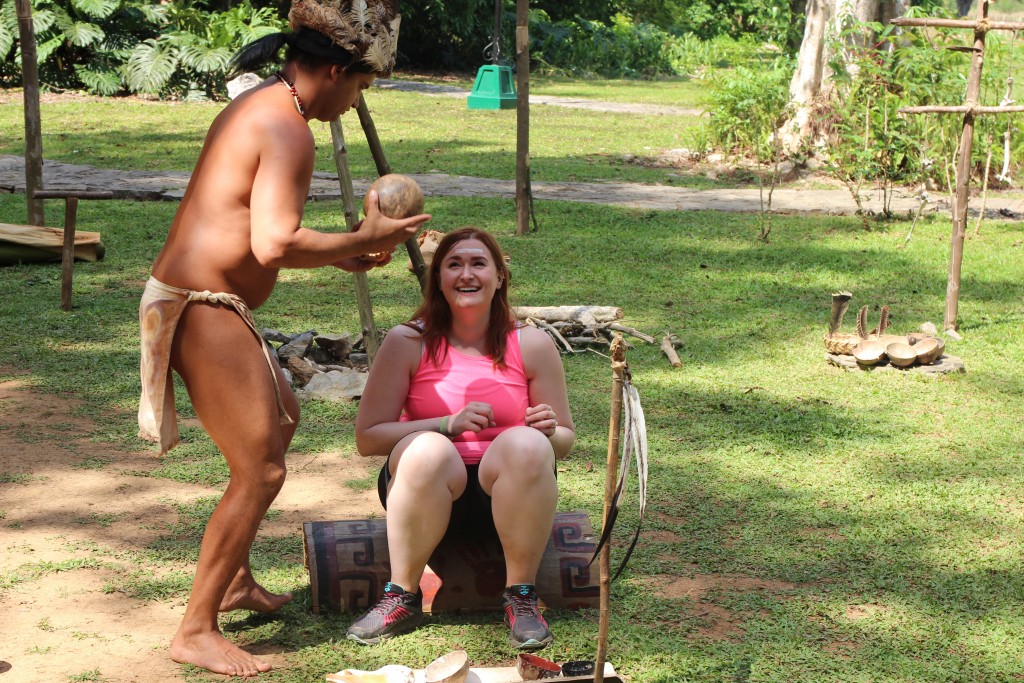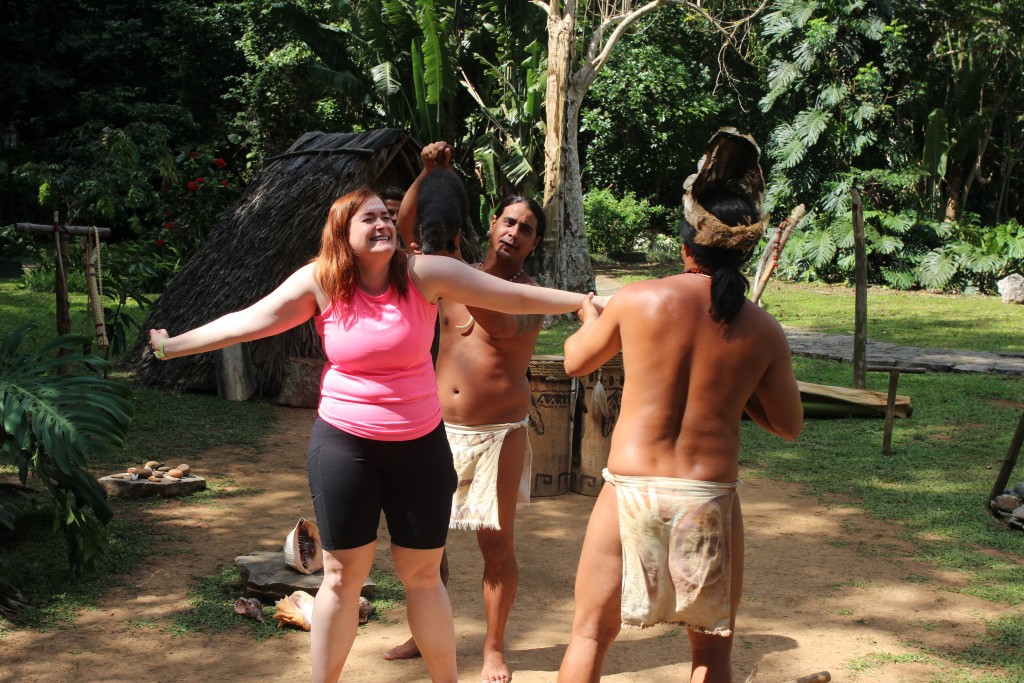 Finally, it was our turn to buy tickets and head into the cave. Once in the cave, you actually stand in line amongst all of the stalactites and stalagmites. At the front of the line is a boat because the main part of the cave is actually filled with water. When everyone is in, they shove off from the dock and proceed to point out different shapes and structures within the cave. While it was an interesting tour, the "Indians" out in front of the cave kind of stole the show.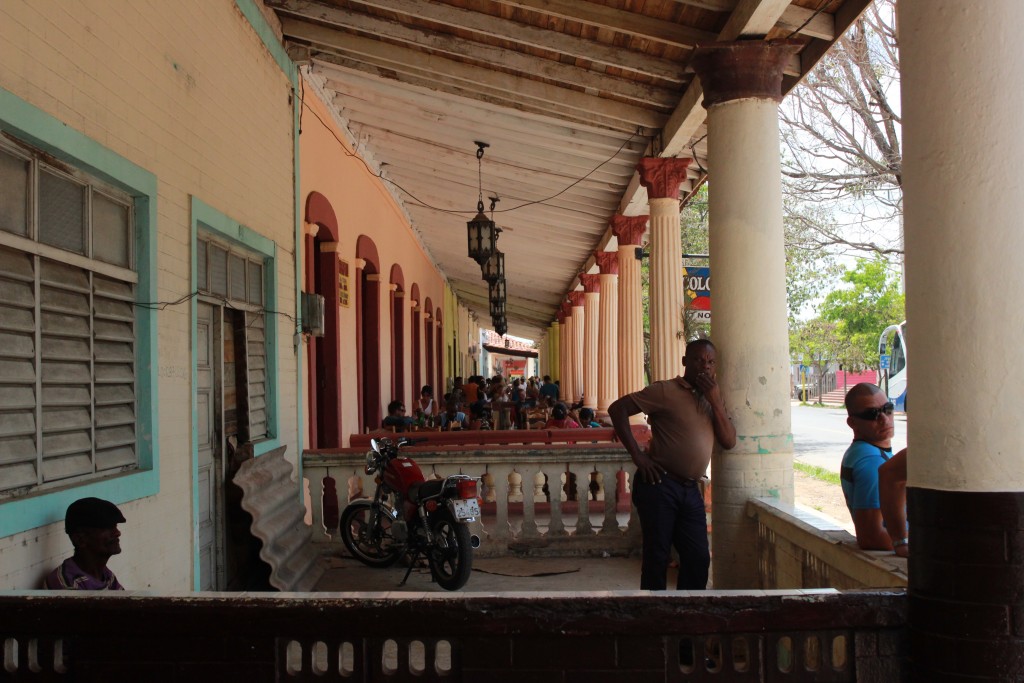 Returning to town, we walked through a little street market before having lunch, and then retiring to the Casa for a few minutes of rest. Once it was nearly time, we left the Casa and walked a few blocks to the start of our next tour. Since this was in the heat of the day, we were thankful this tour included a mostly modern car with air conditioning.
The first stop on this tour was to another cave near the Indian Cave. (The guide had originally intended to take us to the Indian Cave instead, but was flexible about changing when we told him that we had already been to the Indian Cave.) While the cave was interesting, it wasn't as fascinating having already visited the Indian Cave.
As the car drove back into town, it stopped right at the edge of town at a non-descript building. Our tour guide took us inside where we found many women cleaning up from the day's work. This was a government cigar factory. The guide explained that only women could do the job because they have the most delicate fingers. One key difference between the homemade cigars and Cuban government cigars is the amount of nicotine. The farmers have no desire to get you addicted to nicotine, so the farmers would remove as much of the stem as they could, since this is where the nicotine was concentrated. But the Cuban government does have a desire to get people around the world addicted, so they will only remove 40% of the stem and leave the rest.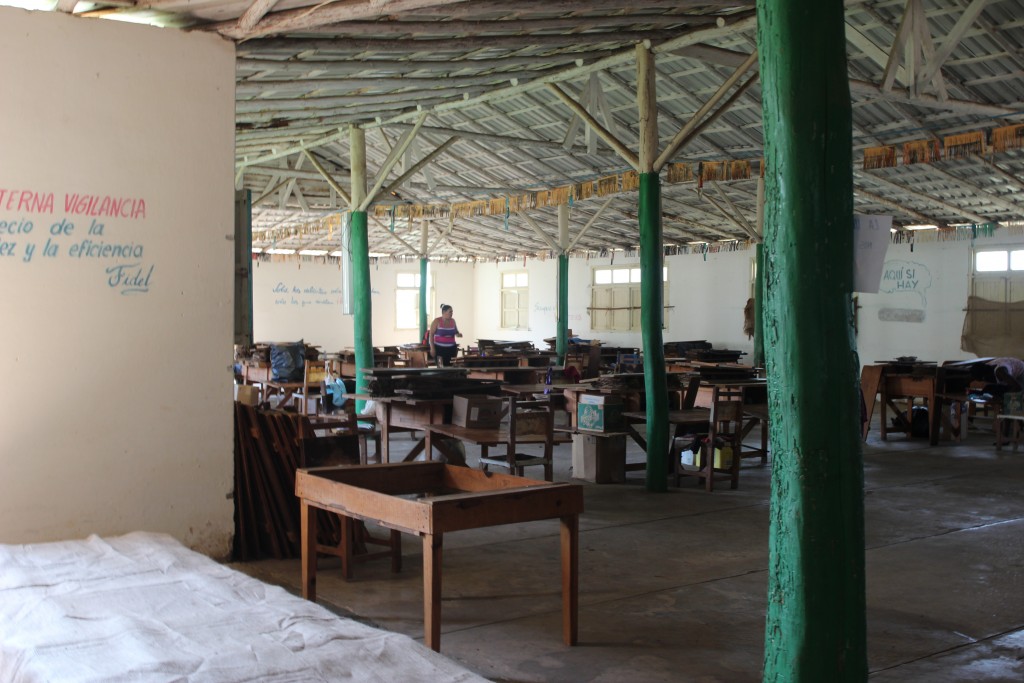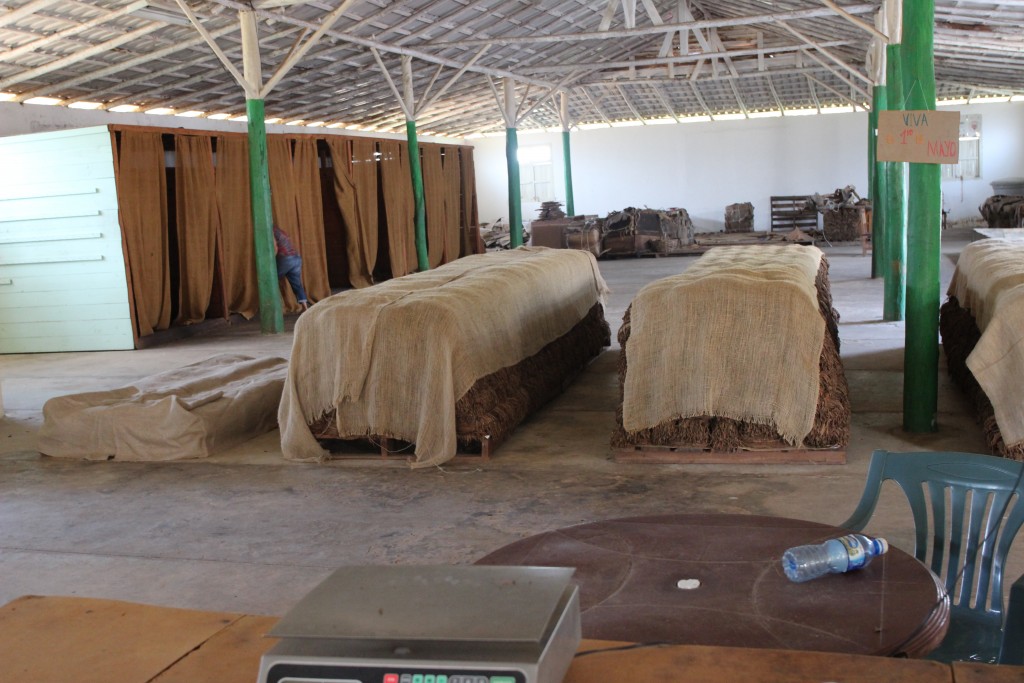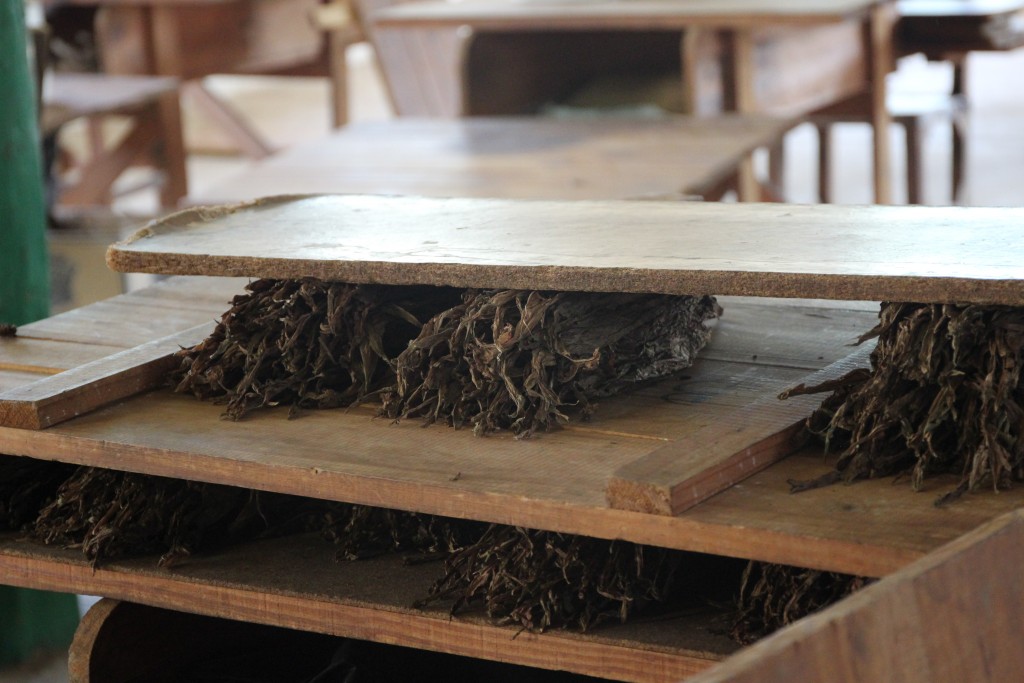 After the cigar factory (which really felt like more a sweatshop, even though the guide said that the girls received a decent wage for the work that they were doing) it was time to visit the botanical garden. Jon, being the gardener for our house, likes visiting gardens around the world to see the unique plants. While I am not as interested in plants, it was interesting to see and I was excited to see how happy Jon was wandering around the garden.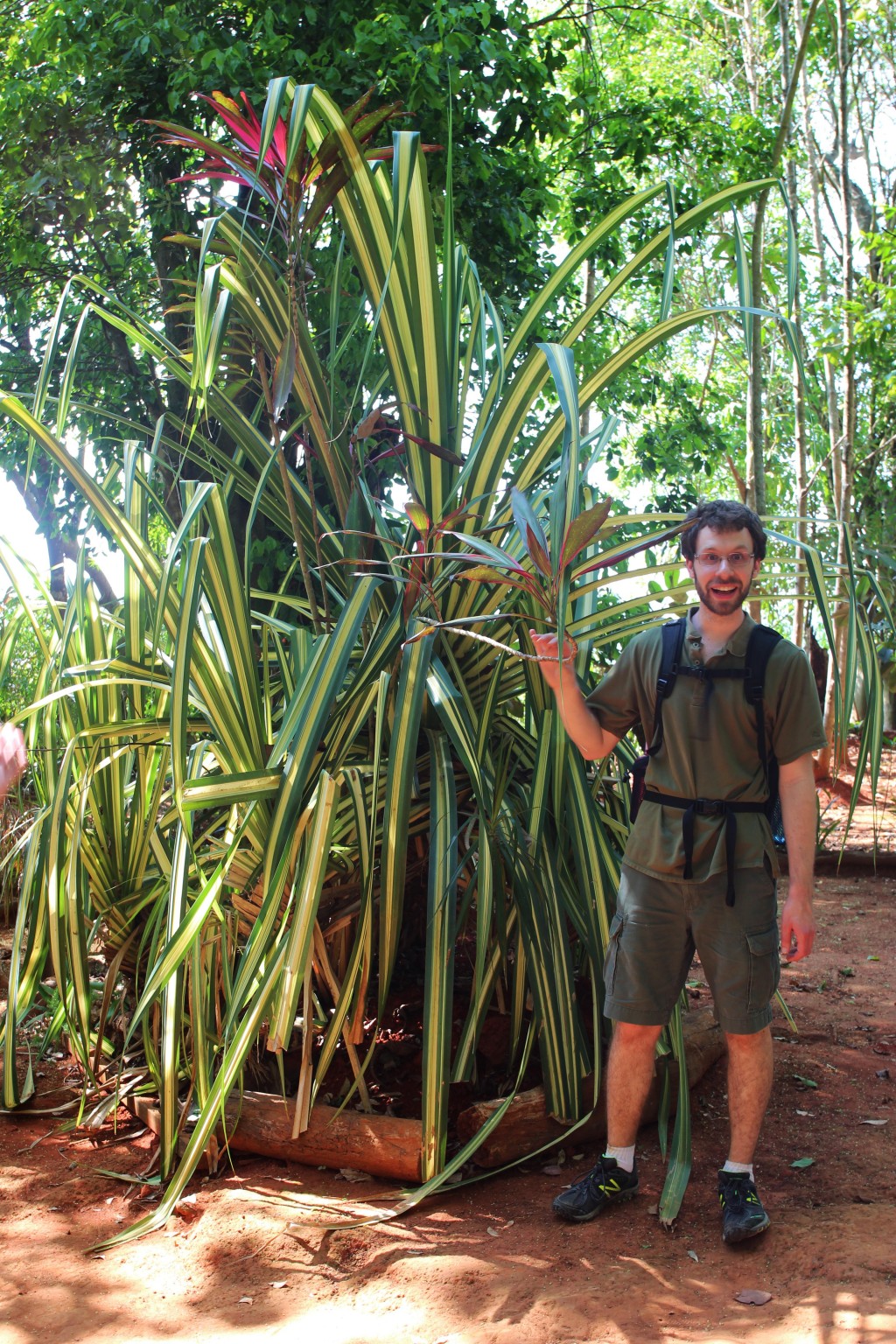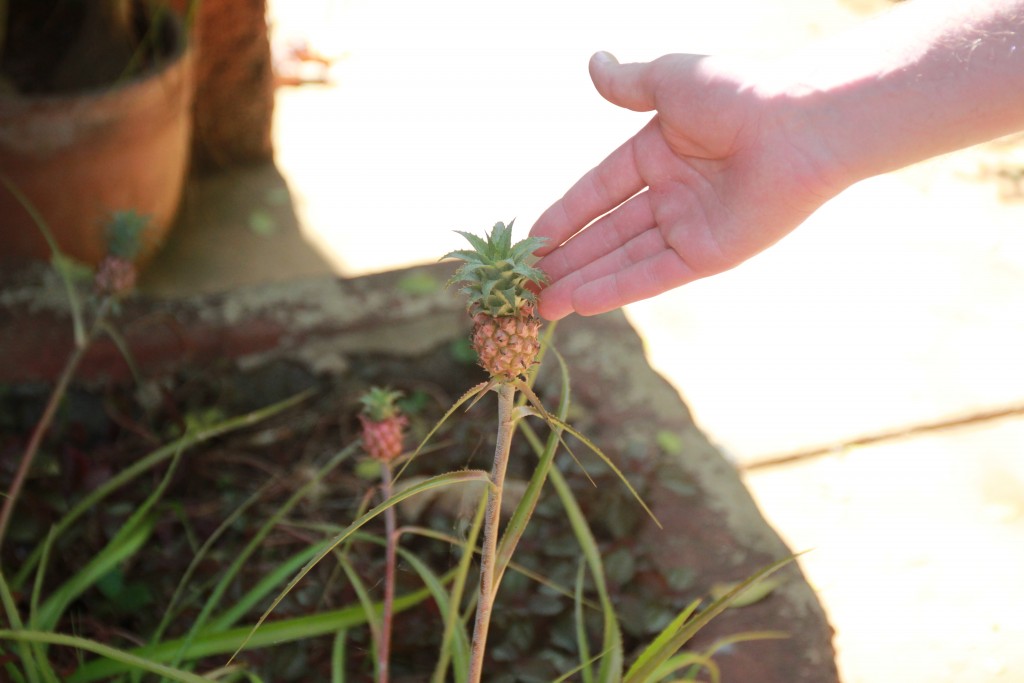 Back in the car, we drove to the other side of Viñales to the Prehistoric Mural. On the side of one of the limestone walls surrounding Viñales, the Cuban government had commissioned a large painting that depicted the dawn of man. It's very big and colorful, and our guide said that it needs to be refreshed every couple of years.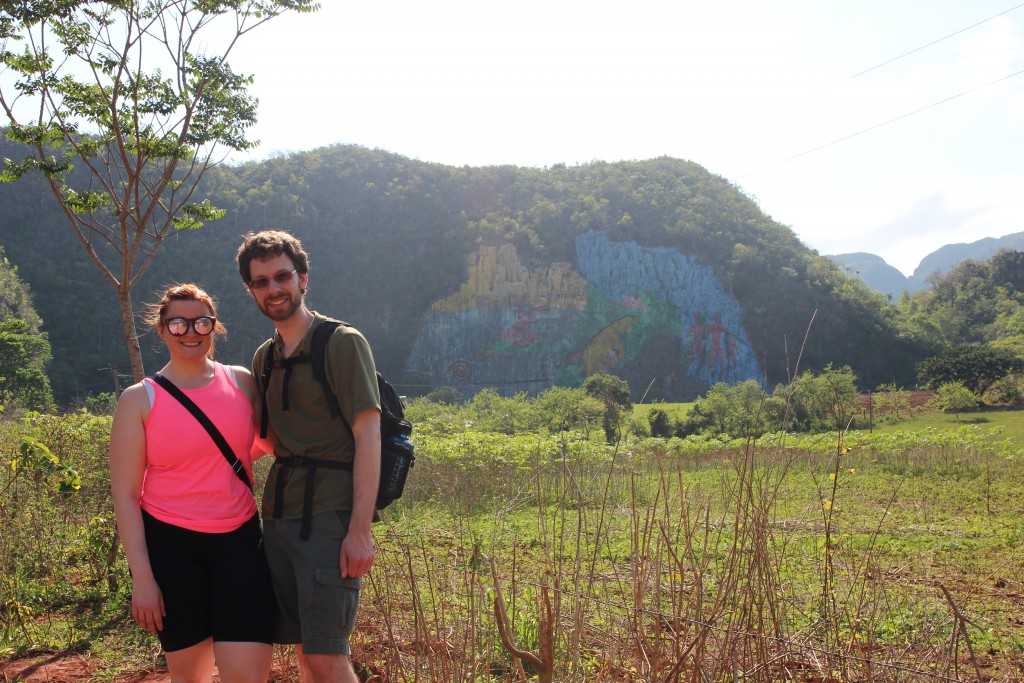 For a better view, our guide drove us back out of Viñales and up to a government hotel on a hillside opposite the Prehistoric Mural. It was a good view, though once you took it in, there wasn't a lot to do here except look at the quality of a government hotel. (It did look pretty nice, although a bit small.) Continuing on, our guide took us to another side of Viñales where we went into a tobacco drying house.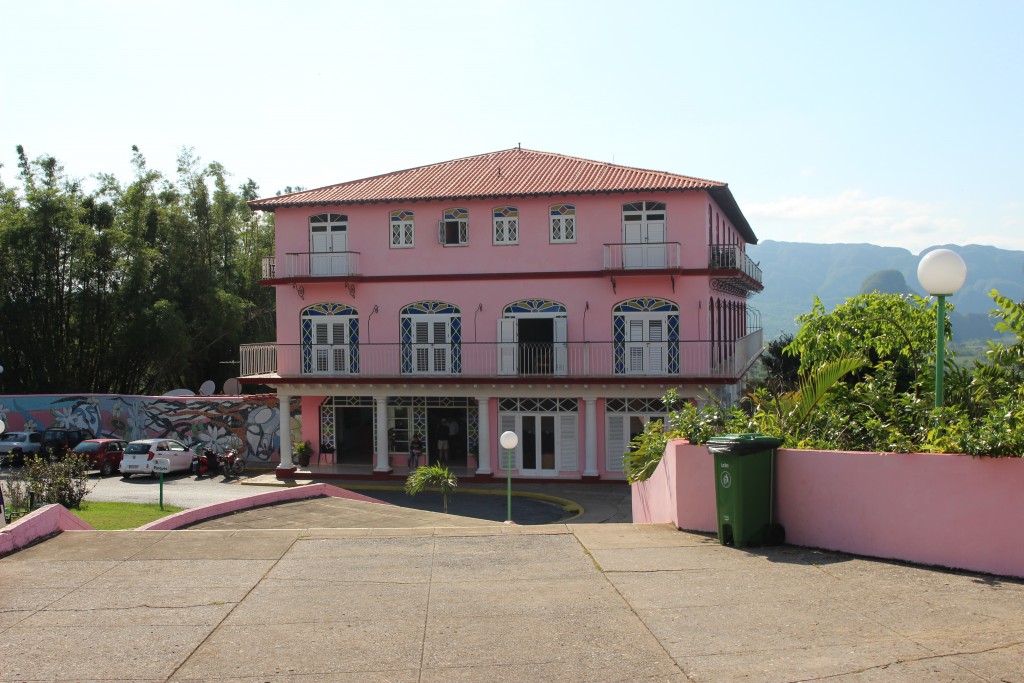 The drying house was quite interesting to see, especially since Jon nor I had ever seen tobacco in person before. Once the ogling over the tobacco house was done, our guide led us over to a little shack where a tobacco and coffee farmer was. He offered us another cigar, which we still could't figure out how to smoke properly, and then watched him roll a cigar. We bought a pack of cigars for dad, as well as some coffee for mom and honey for ourselves. Once everything was packaged up, it was time to go again.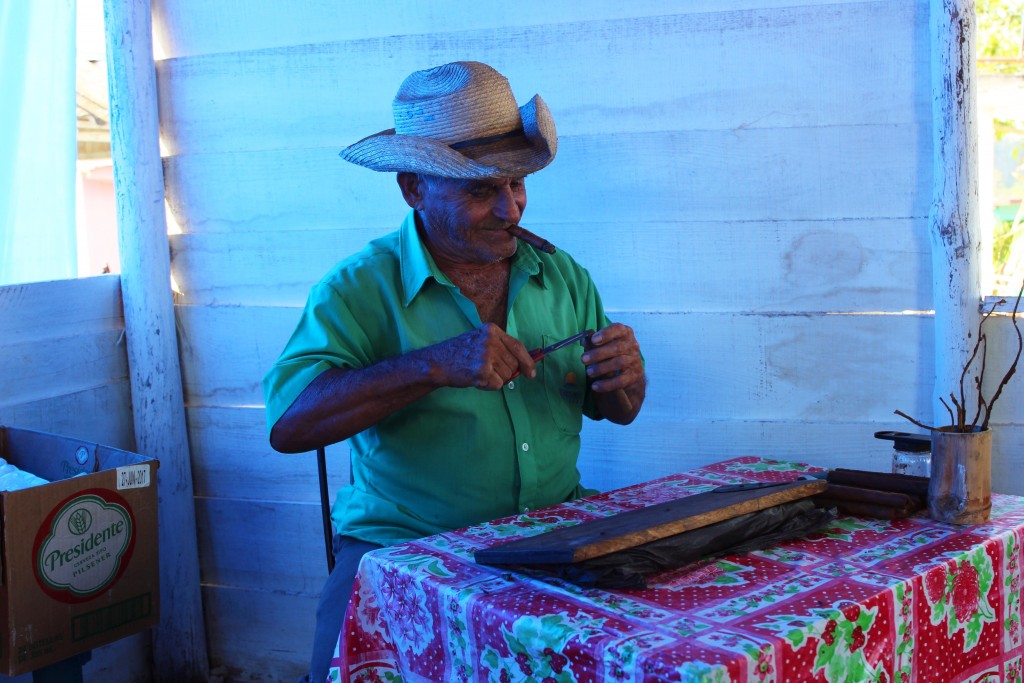 Our final stop of the tour was at an organic farm and restaurant.  While our tour guide readied our table, we were able to wander the raised beds and wonder about what all of the unique plants were. After being seated at our table, we said good bye to our tour guide who was not staying for dinner, and then the waiter began to bring out our food. And he kept coming back out. Each time with more food. By the time he was finished, our decent sized table for two had been covered in a couple dozen plates with so many dishes to try. The food was very delicious, but because there was so much, it only looked like we taken a little bite from each of the platters. We wished we had brought Nancy and Jeff along to share in this feast, but then they would have just served us more.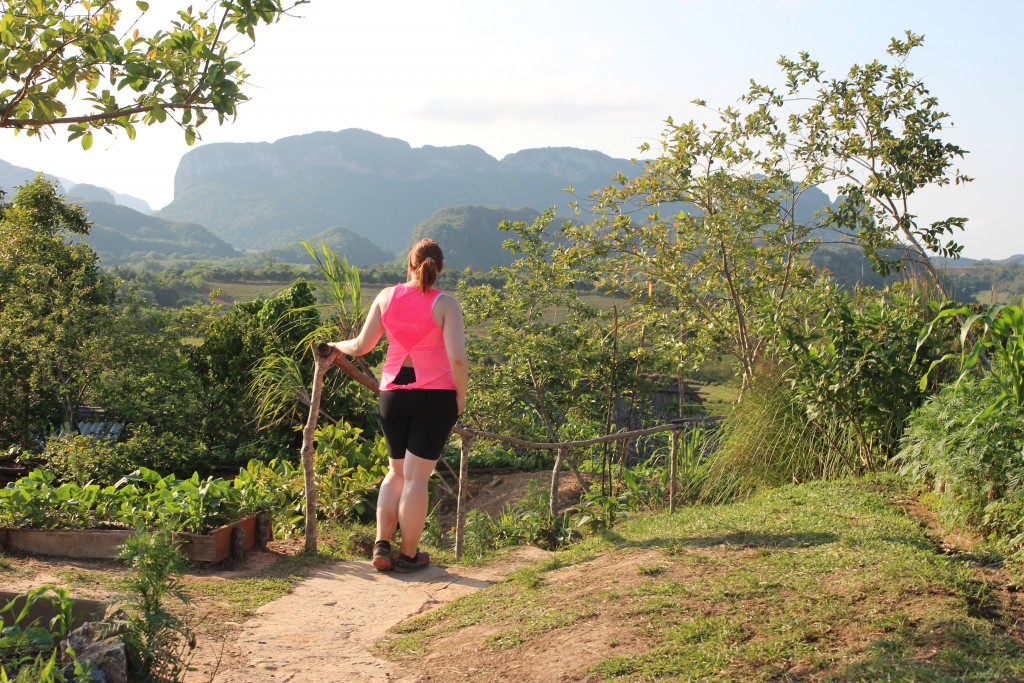 At the end of the evening, our taxi took us back to the start and as we walked up to the Casa, we saw Nancy and Jeff sitting in a couple rocking chairs, just watching everyone go by. It was as if they had already learned how the locals do it and were ready to plant their own roots in Cuba. It was an excellent way to cap off our trip to Viñales. The next morning we would be headed to Cienfuegos!
Find out what happens next on our adventures in Cienfuegos and Trinidad here.