Foraging for Food in Cuba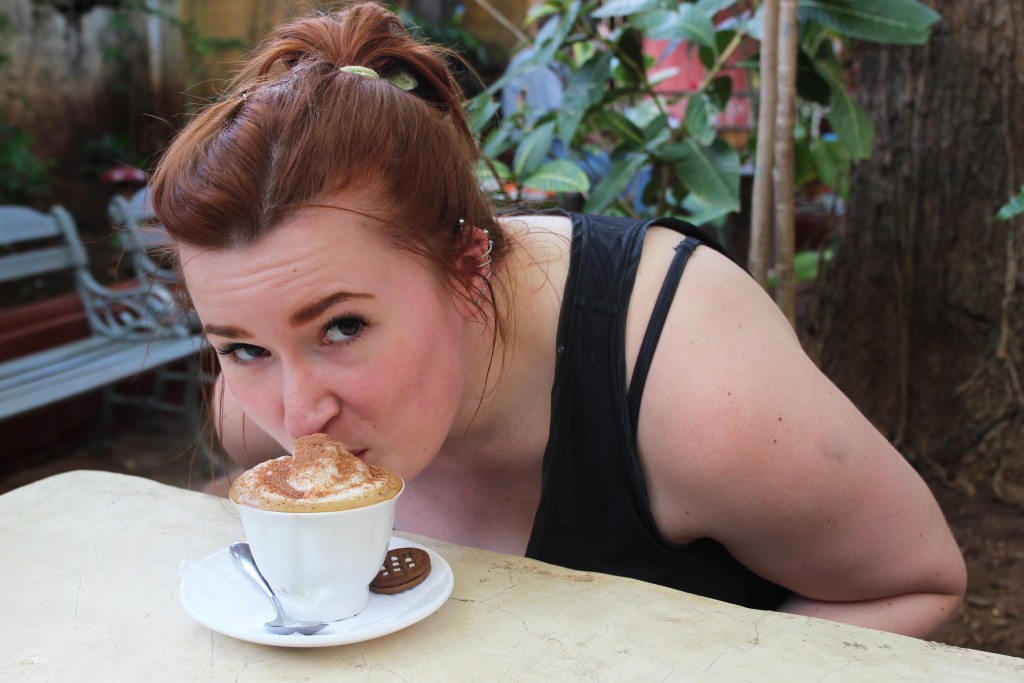 When you're in Cuba, the best meals you will come across are those provided by your Casa host.  Most Casa hosts will provide breakfast for about $5 per person per day and many Casa hosts will provide dinner for about $10 per person per day. I highly recommend eating at your Casa often, especially at the beginning of your trip (until you get tired of eating the similar meals). Always get the breakfast offered at your Casa. It was not clear where to get breakfast type foods and eating a hearty breakfast at your Casa ensures you'll have a full day of exploring!
A typical Cuban breakfast consists of a large platter of fresh fruit (often pineapple, guava, papaya, mango, watermelon, and bananas), a side of bread with cheese and/or guava jam, and a large plate of eggs, along with coffee, milk, tea, and fresh-squeezed mango or guava juice to drink. Dinners are often a veggie platter (cucumbers, tomatoes, and cabbage), rice and beans (sometimes both rice and beans together, as well as white rice served separately of a bean dish), fried green bananas, plantains, sweet potatoes, boiled yucca or sweet potatoes, and your choice of either chicken or pork.
Once you're ready to branch out from your Casa, there are many good restaurants to check out. The best restaurants are normally owned by families and not by the government. Because of the embargo, spices are hard to come by in Cuba, so many meals will be quite bland in comparison to restaurants elsewhere, but the private restaurants still do well in making tasty meals.
And if you're wandering around town, watch out for street vendors selling delicious foods like churros!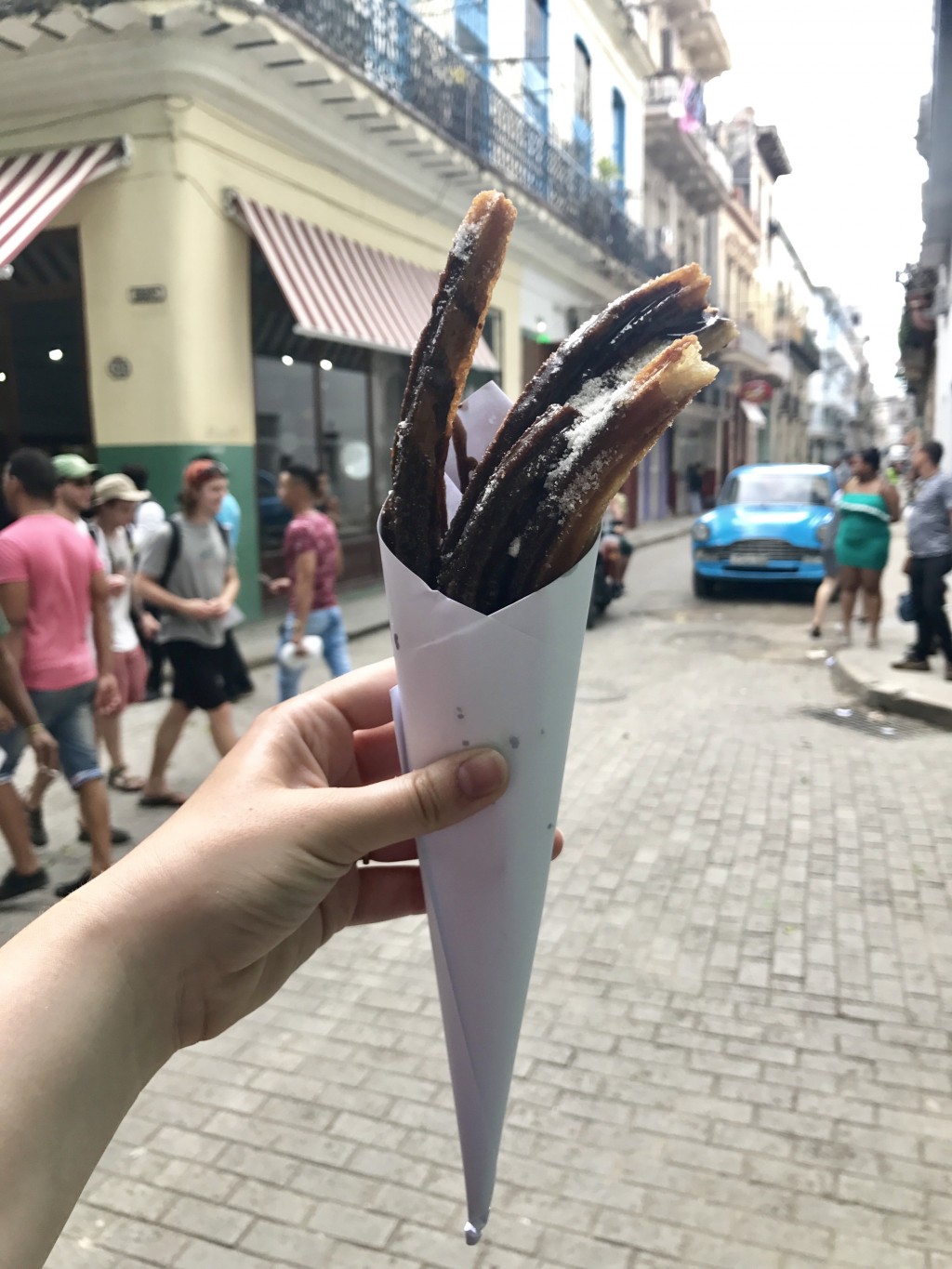 HAVANA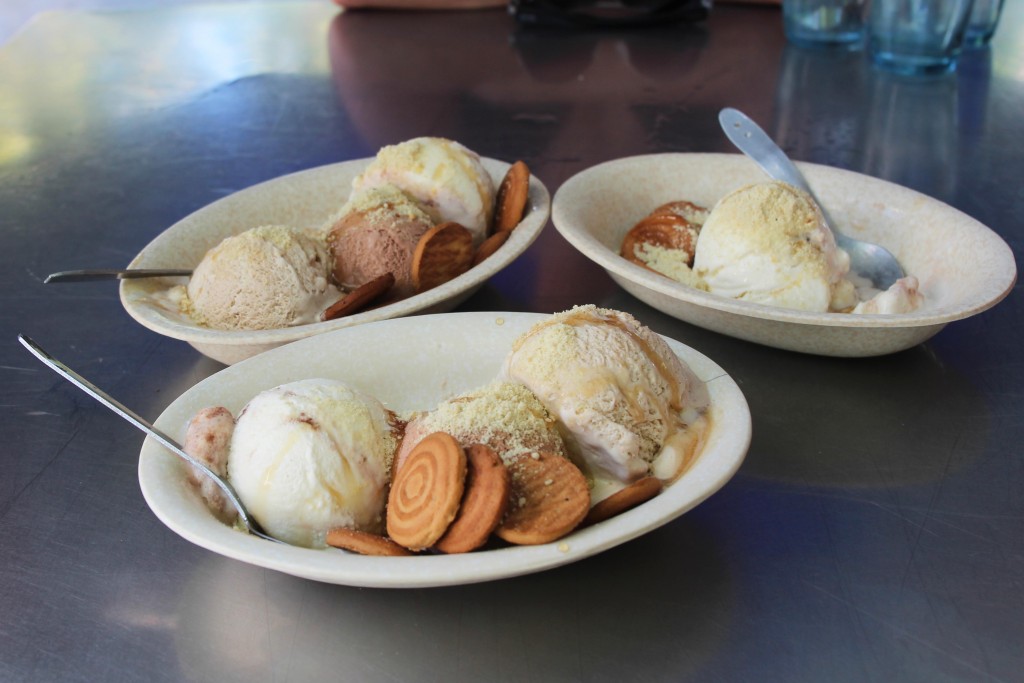 When we arrived in Havana, we had been in Cuba for a week and half and had eaten a lot of Cuban food already. We were ready for something a little bit closer to home but still with a bit of Cuban flare.  Waoo!! provided that mix and we found it so good we went several times.
This was our first restaurant in Cuba and they provided an excellent first meal.  The restaurant itself was small and cozy but served up delicious food. Our waitress even spoke enough English to laugh at some of our jokes.
This restaurant came recommended by Guy Fieri (yeah, the guy on TV). Their specialty is the Casa Abel Chicken, but the pork dishes are also very good.
If you find yourself with a few CUP in your pocket then run over to Coppelia (not too much past when they open) for a few scoops of the cheapest ice cream you will ever eat. You can get big sundaes that cost about 1 CUP per scoop (or about 4 cents). If you wait too long though, there will be a big line. And if you don't have any CUP, there is a little blue stand on one corner of the park where you can buy an ice cream cone in CUC.
Pizzeria Pared
If you find yourself spending time near the Havana airport, your options will be a bit more limited but this pizza joint will definitely satisfy. For less than $5 you can get two delicious pizzas and a couple sodas.
Other Recommendations:
La Floridita
Hotel Nacional – recommended for drinks
Gringo Viejo
Café Laurent
VIP Havana
Mediterraneo Havana
VIÑALES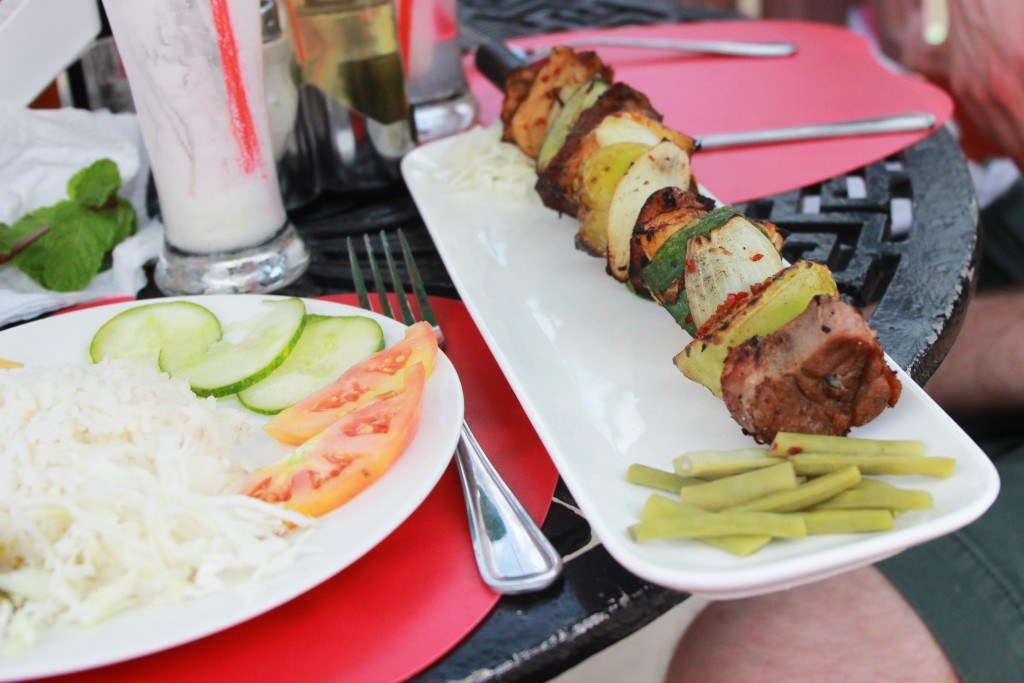 Finca Agroecologica El Paraiso
We came here as part of a tour but you can also come on your own, though we do recommend coming with a couple friends. Almost all of the food is organic and grown right there in the garden, and the amount of food they give you would feed you for the next two days.
Other Recommendations:
CIENFUEGOS
Easily missed, this restaurant sits on the second floor of one of the main streets in Cienfuegos where you'll have good views of the passers by below while being serenaded by live music. I enjoyed a very good chicken cordon bleu, but everyone's meals were delicious too!
Grill Punta Gorda
After a long ride from Vinales, we were looking for an easy place to sit down and enjoy a meal in Cienfuegos, and this little restaurant did the job well.
TRINIDAD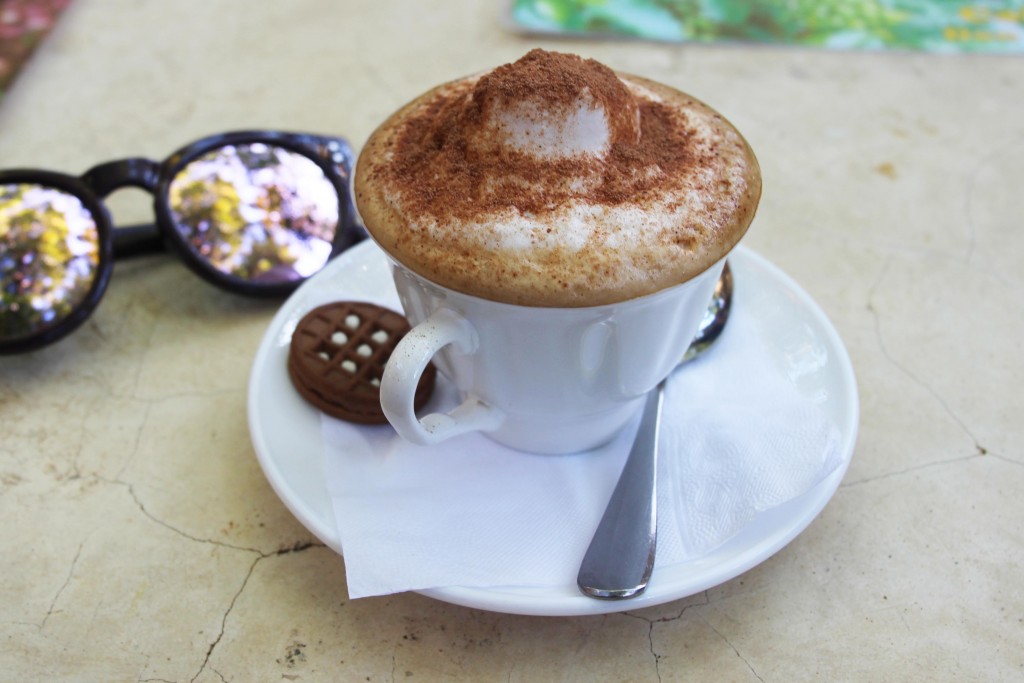 Several sources recommended this little oasis in the city to us.  It didn't have a very big food menu, but it made up for it in delicious coffee, tea, and chocolate drinks.
We walked past this place several times, thinking that it was too expensive. But after comparing several restaurants down the street, we returned and ended up having a wonderful night time meal on their terrace with the moon shining and the live music playing.
SANTIAGO DE CUBA
In addition to being a wonderful place to stay, Roy's Terrace Inn has a magnificent garden terrace serving up wonderful, traditional Cuban dinners.  It's currently the number one spot on Lonely Planet's site for eating in Santiago de Cuba.
BARACOA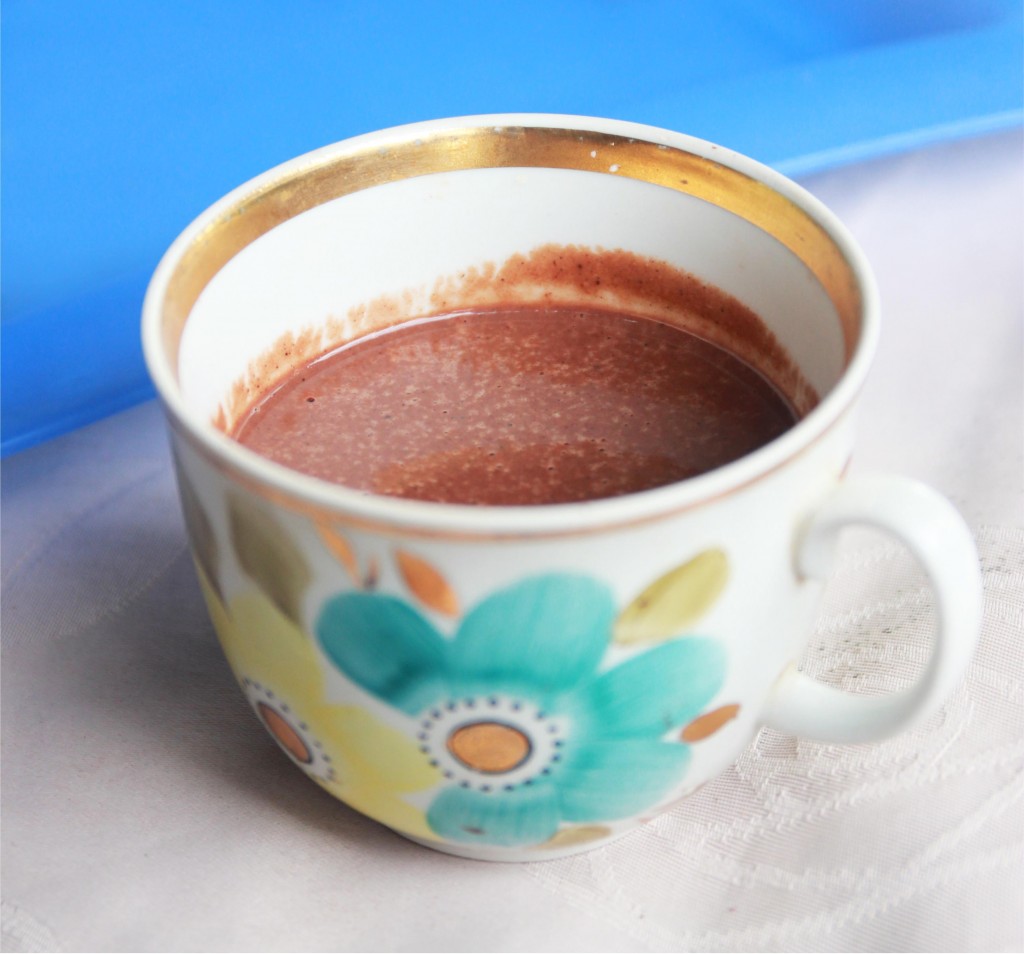 Baracoan cuisine is unlike other Cuban cuisine and was a refreshing change from the meals we'd experienced in other parts of Cuba. The Baracoan climate is very different the rest of Cuba (cooler, wetter), which makes it the perfect climate for cacao plants, spices, and seafood.
Baracoa is known for chocolate, seafood, and specialty cooking that can't be had elsewhere in Cuba. Las Terrazas does a good job serving up the latter two, even if you don't eat seafood like Jon or me.
Because Baracoa is known for it's chocolate and cacao plants, no trip to Baracoa would be complete without stopping into the chocolate shop. Sip wonderful chocolate drinks while marveling through the window at many different confections.
Just outside of Baracoa is a beautiful beach with this little hut serving up delicious food. It happened to be absolutely pouring (and their power was going in and out) when we arrived here, but that didn't stop them from serving us good food while we watched the storm pass through.