Getting around in Cuba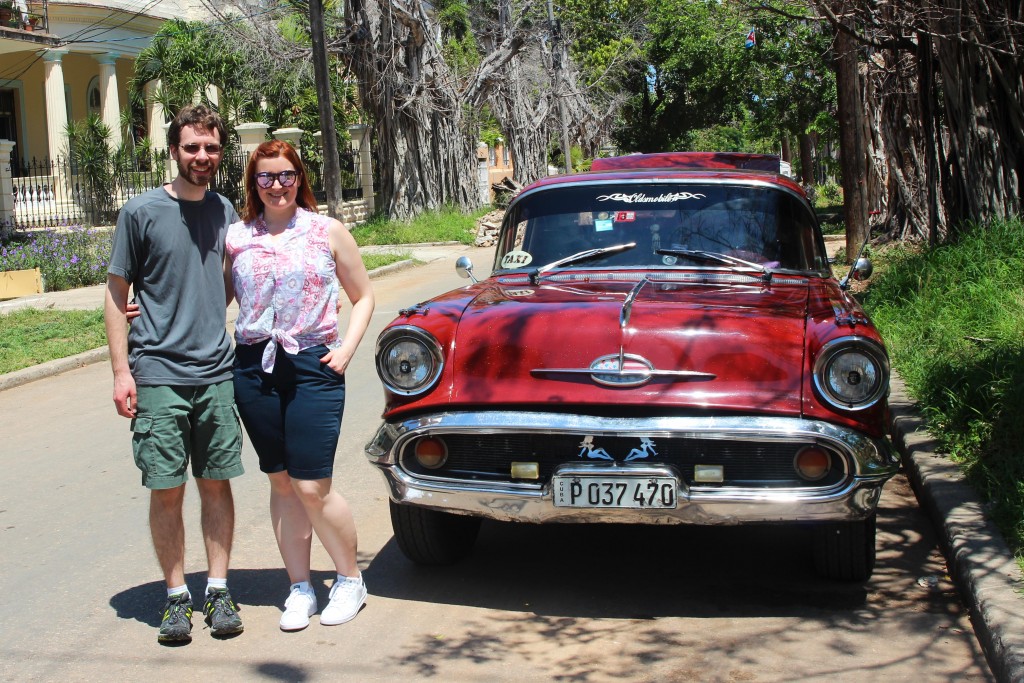 When traveling in Cuba, you'll have to set aside a bit more time compared to other countries. Cuba does have planes, trains, busses and taxis (lots of taxis), but some do not have schedules and those that do likely won't be on time. And when that bus comes, you can be sure that it will be full! Cuba has a lot of people and not enough transportation (nor the infrastructure to support more transportation). I'll cover as many forms of transportation here as we used, giving you useful info and our own stories, as well as touch on a few others that we didn't use.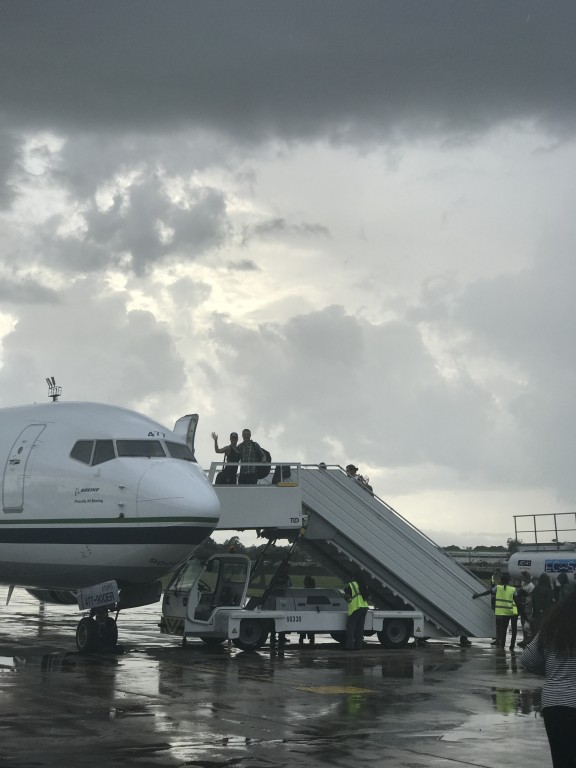 AIRLINES
There are many airlines that fly in and out of Cuba. Many international flights go in and out of Havana's José Martí International Airport, but you can also find a few flights at some of the other airports around the country such as Santiago de Cuba's Antonio Maceo Airport or Holguín's Frank País Airport. If you are planning on traveling in a part of the country that is a ways from Havana, you're making a smart move flying into the closest airport rather than flying into Havana and transferring to another airline in the country. But if that doesn't work for you, transferring to a domestic airline in Cuba is an option.
The primary domestic airline in Cuba is Cubana, or at least that's what we experienced. The guidebooks we saw listed other airlines, but in the three airports we visited, we only ever saw check-in desks for Cubana. It is highly recommended that you book tickets in advance on Cubana's website because, like most of Cuba's transportation, it's always full. The nice thing about Cubana is that the prices are fixed. Whether you book a few days before or a few months before, the price should be the same. (Makes sense since it is wholly owned by a communism government, not capitalist one.)  However, the irony is that while you as a tourist may pay $122 USD/CUC for a one way flight from Holguín to Havana, a local will pay 187 CUP, or the equivalent of $7.48.
The two flights that we took on Cubana were very nice and modern planes. Unfortunately, that's where most of the niceties end. Our first flight was from Havana to Santiago de Cuba.  The evening before our flight, our Casa host called ahead to the airline to confirm that the flight was still scheduled. The person on the other end said that the flight was, but warned us that all three of the previous flights had been cancelled. When we told our Casa host's mother what airline we were flying, she just hung her head and wished us good luck.
When we got to the airport (two hours ahead of time), we found long lines and a lot of confusion. Thanks to a Cubatur host, we were pointed in the right line to stand in and began to wait. The line slowly creeped along. Almost an hour later, we finally made it to the front of the line, where they tagged our bags with pre-printed stickers (hang on to the bag stubs that they hand you – they check when you pick your bags up again!) and began hand-writing our boarding passes. Then we were ushered up the stairs to this odd, small door where a security officer was checking your name against your passport and crossing your boarding number off a list. Once you get past this security agent, another security agent will open a second small door and usher you through a metal detector. A couple tips for what (not) to pack in your carry-ons: open water bottles and other liquids are perfectly fine; screwdrivers and duct tape will get you lots of handwaving, searching for an agent who speaks English, and eventually your name written down on a list (but you'll still get to board).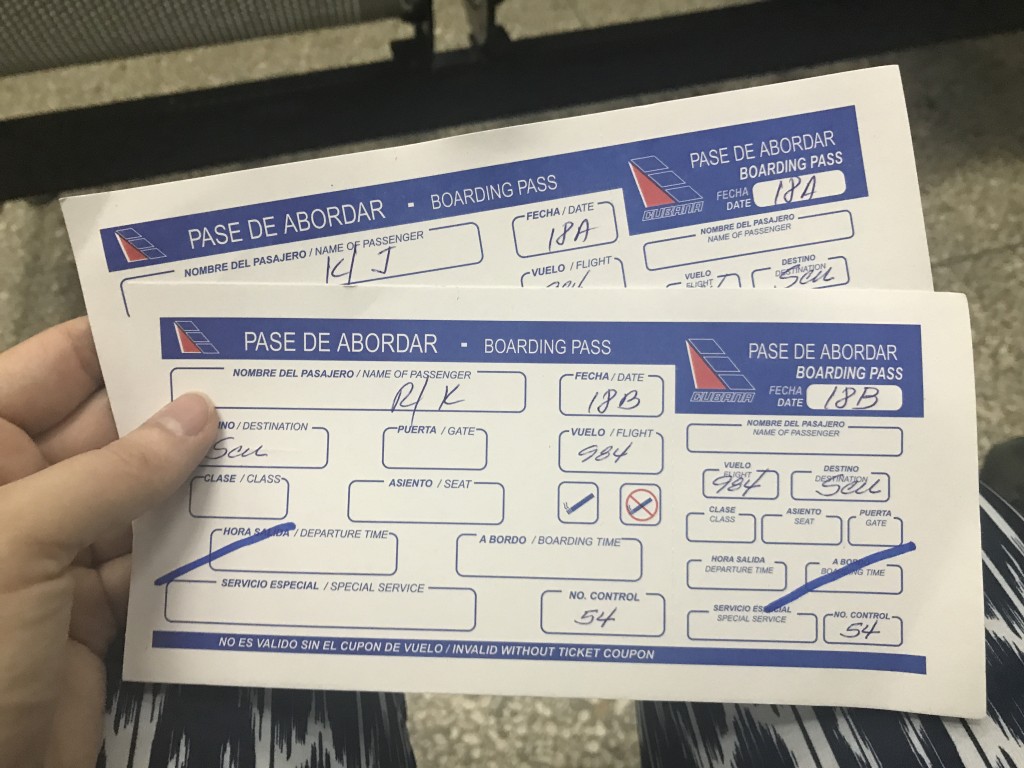 The flight out from Havana was on time according to monitors in the waiting area, even though we didn't get on the plane until an hour after our scheduled departure. But like I said, the plane itself was very nice and got us the Santiago de Cuba without issue.
The real excitement flying with Cubana started when we were getting ready to fly from Baracoa back to Havana. When we checked in at Baracoa's one and only check-in desk, the attendant told us that our flight was delayed, but couldn't say for how long. After about three hours of waiting, they finally cancelled the flight due to bad weather (it was a moderate rain). At that point, the airport turned into pandemonium as people started yelling at the attendants, wanting their $10 back and help booking another flight. Unfortunately, the attendants' hands were tied as they had no money there to refund people with and there was not going to be another flight for a couple days (there are only three flights a week from Baracoa to Havana). When Cubana cancels a flight they cancel it – meaning no refund, no reschedule, no nothing. You're completely on your own!
In order to get out of Baracoa, we partnered with a French couple and took a taxi up to Holguín (which was an adventure in itself – see the taxis section). After spending the night there, we went to the Cubana office, which feels like an old school travel agency, and, after waiting for them to make a few calls, were told to get over to the airport, find "Oscar", and hope that a couple spots would open up. Thankfully Oscar was waiting for us when we arrived at the airport, told us to stand in line, and he went up to the desk agents there and told them to make sure we got on the flight. Compared to the other airports, Holguín actually felt pretty modern. It had clean toilets and actual printed boarding passes. Best of all, the flight from Holguín to Havana was actually on time.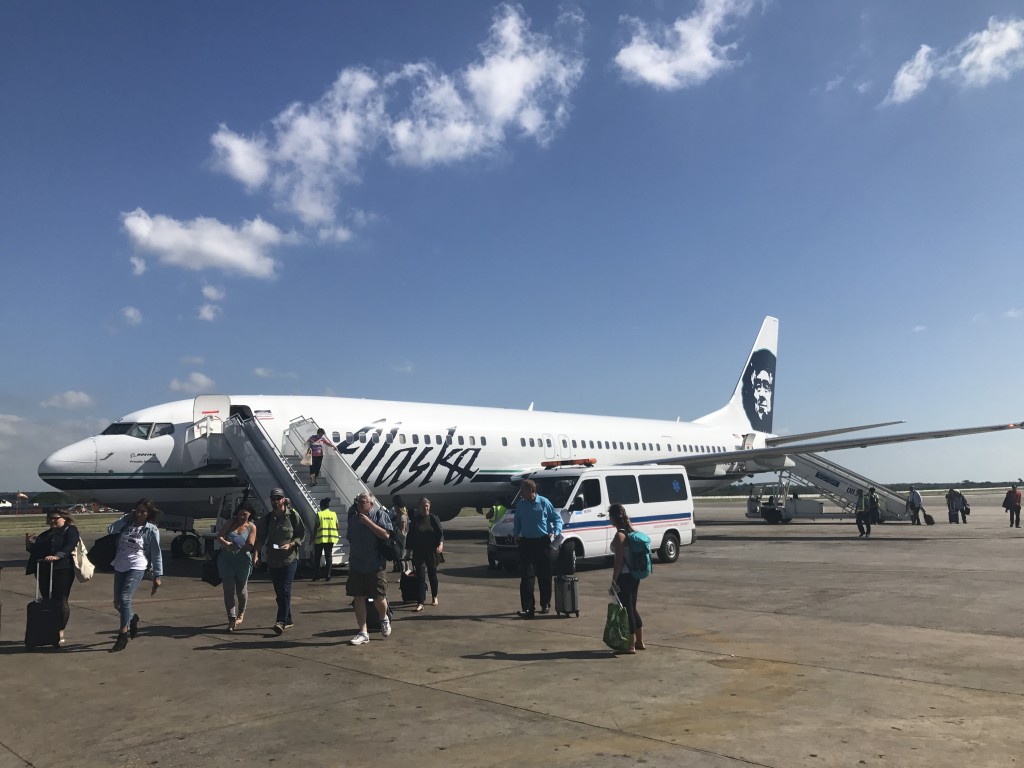 TAXIS
It seems like every one who owns a car in Cuba is licensed to operate as a taxi driver. There are two types of taxis: government owned and private taxis. The government owned taxis are typically pretty nice modern cars that have A/C and possibly even TVs to play their music videos on. These cars are also supposed to do metered pricing, though you can also just ask for the price to your destination before you get in the car. Private taxis really range in quality. We took some very nice ones that were just as nice as the government taxis, and some that we question how they are still able to run. Private taxis are most commonly known as the classic cars but again, these all range in quality.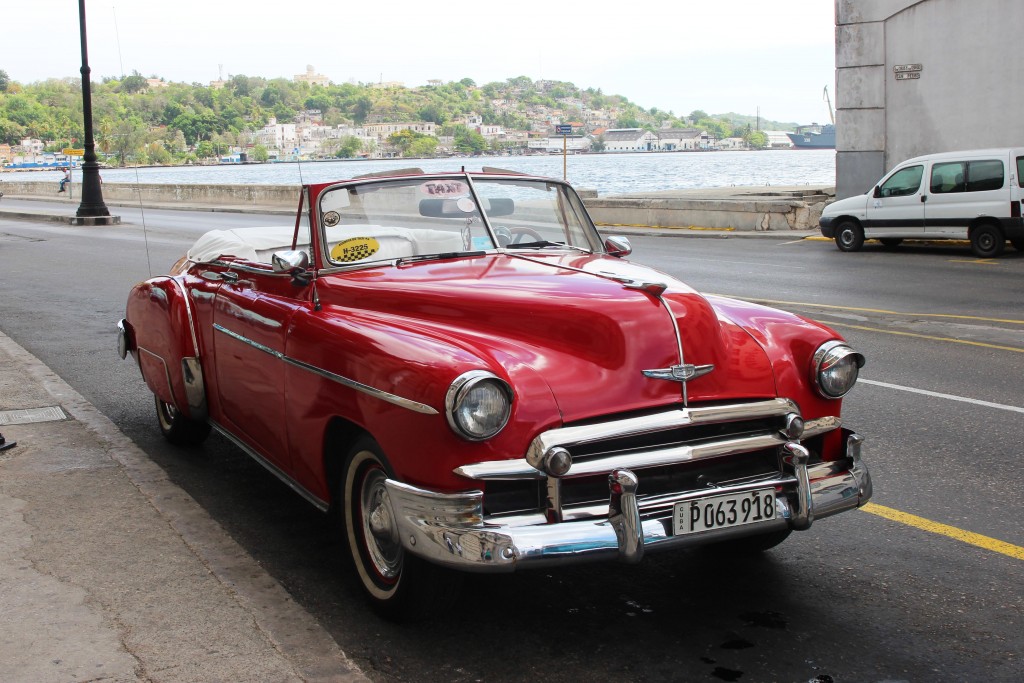 One of our taxis did get a flat tire and when he opened up the trunk to get out the spare, we saw that he also had an entire spare drive shaft. That seemed a bit extreme, until we were in another taxi that hit a pot hole and broke the entire front axel. After he brought the swerving car to a stop, we paid him and started walking the rest of the way to town, while he opened up his trunk and started pulling out the parts to fix it… right there… in the middle of the road. Which brings us to another suggestion: that taxi driver, who was bringing us back to town after visiting a fort, asked if he could bring his friend back to town with us. We fortunately said that was fine, and that friend ended up guiding us in to town the rest of the way after the taxi broke down. So, unless it is going to make the ride uncomfortable, welcome new guests into the car. You never know how karma will repay you.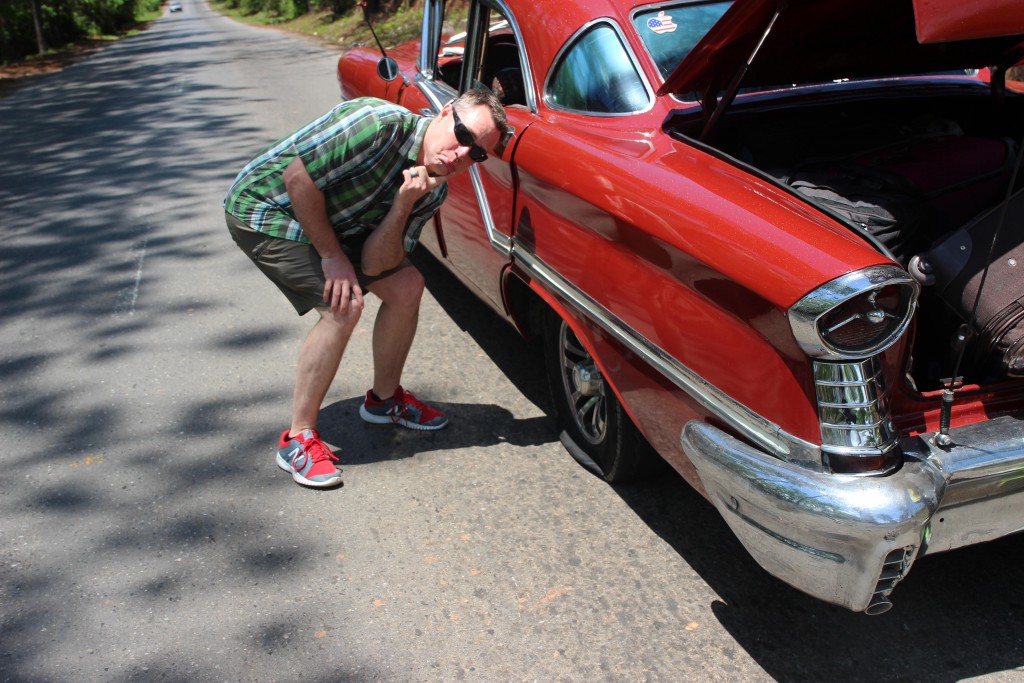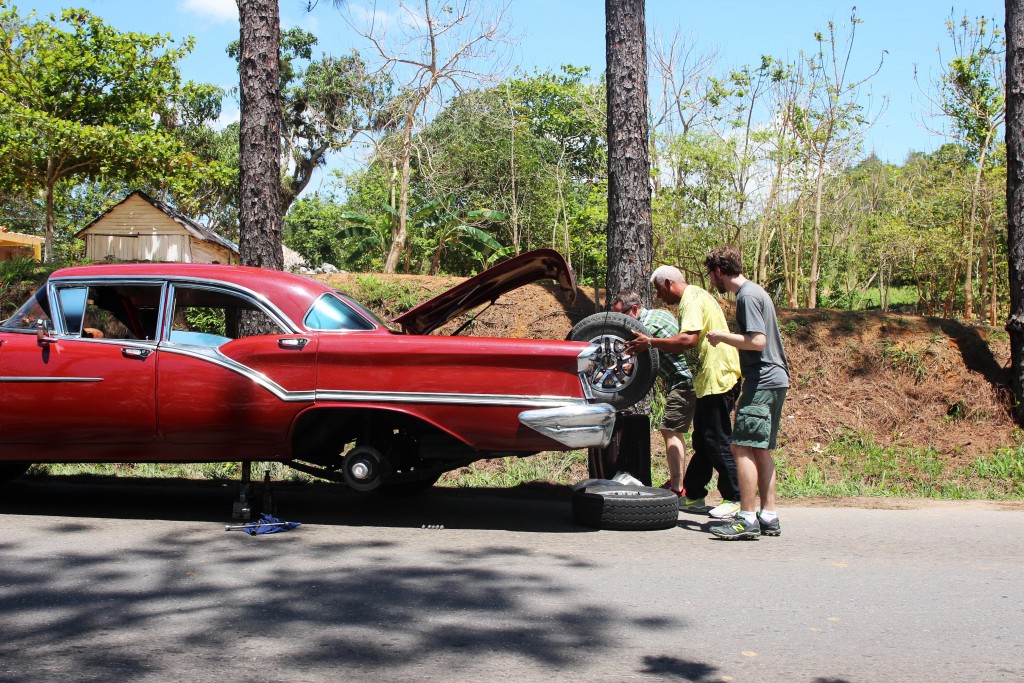 There are a couple other items of note when taking taxis in Cuba. Most interesting is the fact that Pioneer car stereos have an almost cult-like following. Nearly every car that you ride in, no matter how old or beat up, will have a new Pioneer car stereo in it. But since the government owns the radio stations and CDs are hard to come by, most everyone plays their music off a USB thumb drive. So if you want to listen to your own music in the car when you come to Cuba, bring it on a thumb drive. (Or bring a few to leave with your favorite taxi drivers, along with a few Apple stickers. Those also are really popular on cars in Cuba.)
If you are going to be traveling long distances by Taxi, be prepared to switch taxis one or more times. When you first arrange your taxi, the "boss" will negotiate the price for the entire trip with you and take you to the meet point with the second taxi. After taking his cut off the fare, he'll hand over the rest of the money to the second driver who will take you the rest of the way. The first time this happened, we were traveling from Viñales to Cienfuegos. We were unaware of this arrangement that we would be handed over to a different driver, and became very concerned when we pulled over at a truck stop outside Havana and the driver started unloading our bags. It didn't take long to figure out that there was no cause for concern, so if this does happen to you, just ride along with whatever happens.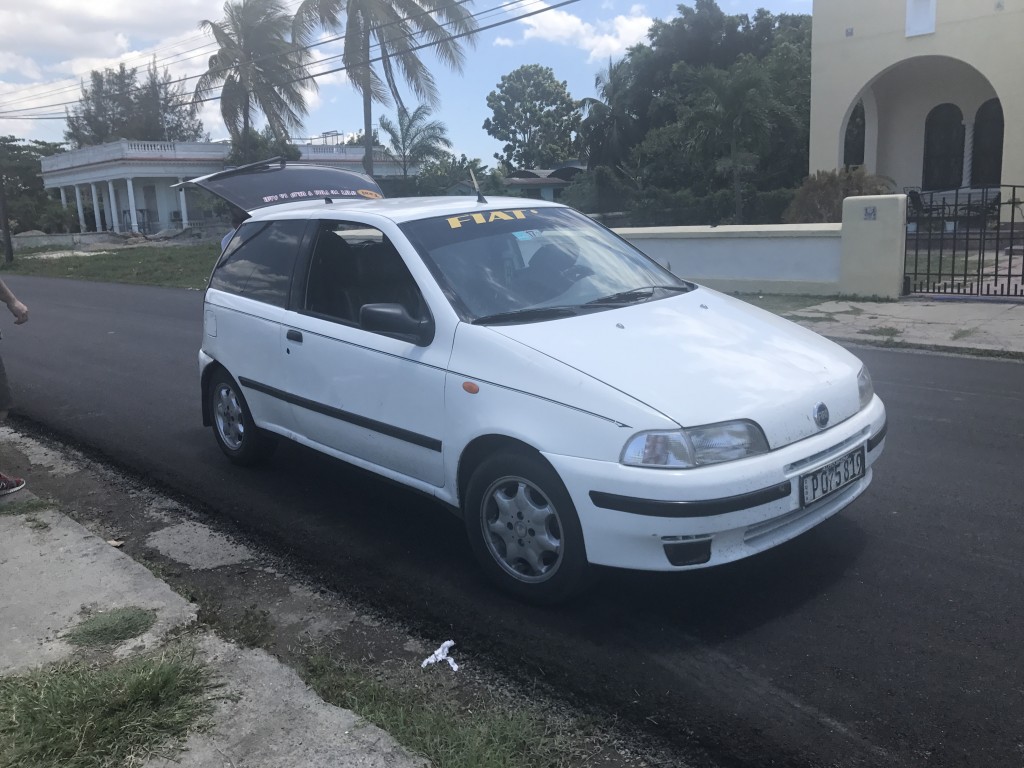 Unfortunately, these hand offs don't always go so smooth. After our flight from Baracoa was cancelled, we found a "boss" who could get us to Havana for 80 CUC and in 12 hours, which seemed too good to be true. It was, and we ended up in the back of a truck for two hours holding on for dear life while they swerved back and forth trying to miss all the potholes but hitting every one. We arrived in Moa where a very nice taxi was already waiting for us. Another four hours and we were in Holguín, where unfortunately it came to light that the "boss" had miscalculated and underbid the whole trip. The final driver up to Havana refused to do it for so little and unfortunately never even showed up. (That's how we ended up staying the night in Holguín, a city we had never intended to visit.)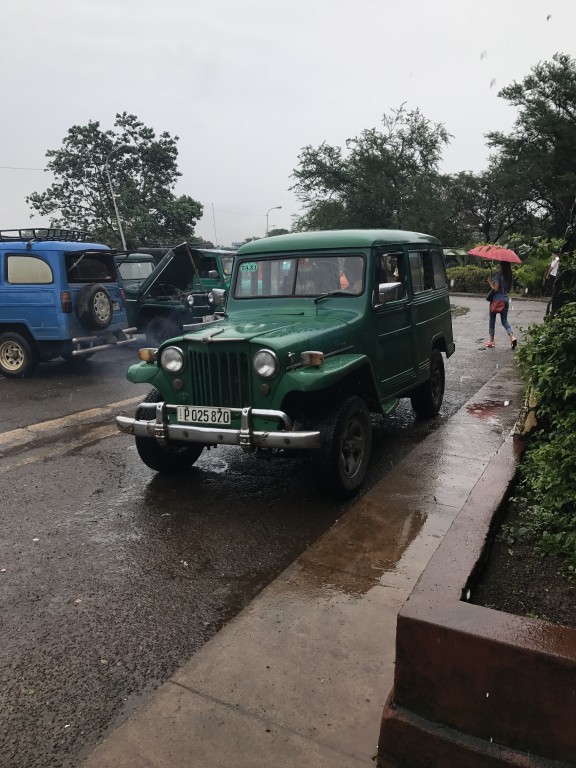 There are several ways to find a taxi. For long trips, you can either book ahead with one of the taxi companies online, or you can wait and find one there who is somewhat cheaper. Your Casa host is normally an excellent person to ask for help in arranging a taxi – they always seem to have one or more on call.  Finally, you can always go out on the street and find one there; men are constantly trying to sell you a taxi as you walk down any main street and a deal can often be made here as well.
If you find yourself in Havana, we recommend looking Nilton Segismundo L. (cell: 5 282 8366, email: [email protected])  He had a very nice car and even waited three hours while we were at the hospital and charged us a very reasonable rate. And if your in Holguín, look up Marcos Gorrido Leyva. (cell: 53 54090258) He's a young guy who speaks English very well and is happy to get you wherever you are going.

BUSES
We never took a bus, but some of our travel mates did. Our plans had not included a bus because we had read multiple places that the buses are crowded, slow, and never follow a schedule. This is very true for local buses. We passed many buses where it looked like people were sitting in each others' laps trying to get on, while the buses themselves looked like they were several decades old (and sometimes even converted semi-trucks or military vehicles). However, there are Víazul buses, which are big coaches that travel from city to city for tourists. You can buy your ticket in advance at the ticket office, the attendants are very professional, and they try hard to run on schedule. They aren't quite as fast as a taxi, but you may be comfier. Our friends, as well the French couple we met in Holguín raved about the Víazul bus.

CAR RENTALS
Three words: don't do it. The roads in Cuba are not maintained very well. Drivers will often make up their own lanes even when there is paint delineating lanes on the road, simply because they want to avoid the unmarked two foot deep pot hole. Cuba's government also artificially inflates the prices of car rentals in order to keep more tourists from renting cars and wearing down their roads more. And more importantly, good luck finding a good car rental facility that has cars available.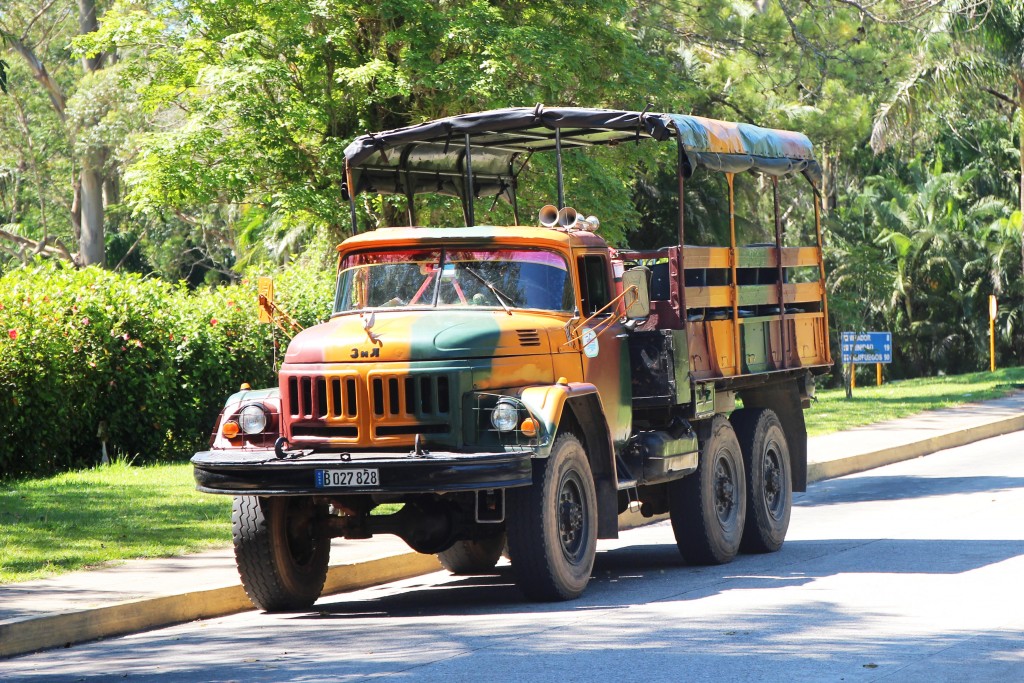 OTHER FORMS OF TRANSPORTATION
In addition to the normal taxis, there are several other types of taxis.  In many towns and cities, you will see bicitaxis, or bicycle taxis. They can be handy for short distances and cheaper than a normal taxi. In Havana, you also will see Cocotaxis. These are taxis that are bright yellow and shaped like a coconut. The driver wears a helmet but you just sit down and hold on as best you can. Finally, there are also collectivo taxis or collective taxis. These are taxis that just pick people up and drop them off again on the sides of the road. We never road in one except for the truck from Baracoa to Moa, and that was arranged by someone else.
We also had the chance at one point to ride in a horse drawn cart. Be careful that you understand the pricing here. We asked for one and they said "10".  Jon thought they meant 10 CUC, so he handed them a 10 CUC bill at the end, at which point they started looking for 9.50 CUC to give back because they had meant 10 CUP. Also, 10 CUP may have been a lot still because they were just inviting everyone to hop on up for free after they picked us up.
Finally, we did ride in the back of a Russian army truck on one of our organized tours.  While we were hesitant at first, this turned out to be a lot of fun, and very necessary for where we were going.