A (Mostly) Comprehensive Guide to Harry Potter Sites in England and Scotland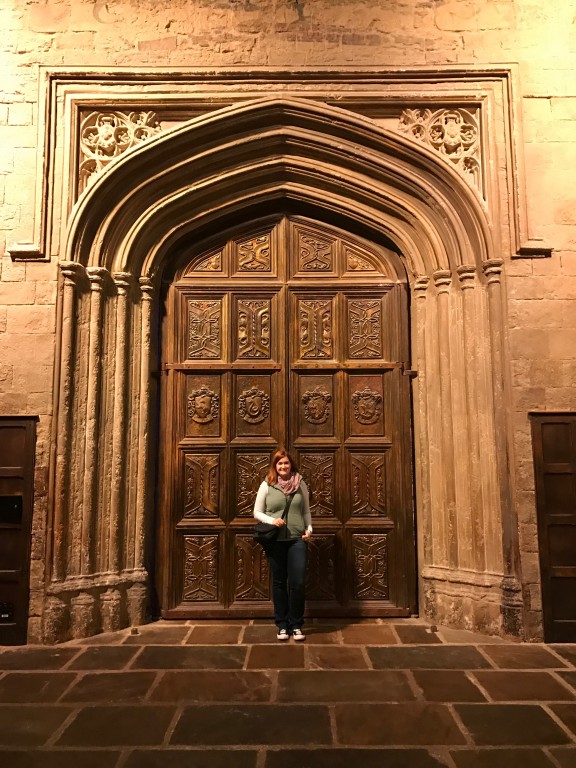 Funny story, I never wanted to read Harry Potter. While the Harry Potter craze was sweeping the nation, I was happy to keep refusing any friends who wanted to let me borrow their copies of the books. Then one night I was at my friend's house, Harry Potter and the Sorcerer's Stone had just come out on DVD and she insisted I watch it. Within 10 minutes of the movie starting, I was hooked. That night I started reading the books and didn't put them down until I'd read all four that were published. From then on I was obsessed with the movies and books!
Despite having traveled to the United Kingdom multiple times, I had never really gone there with a Harry Potter theme in mind. Luckily Jon was a good sport and we did balance our time with more than just Harry Potter and Hogwarts filming locations!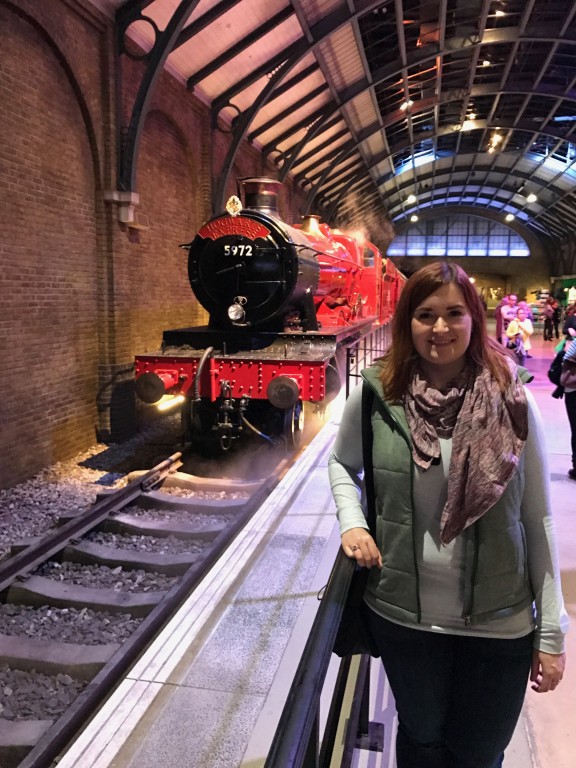 As we were planning our trip I quickly realized that there was no good single resource for finding Harry Potter sites and filming locations around England and Scotland. All I could find was piecemeal here and there from different websites, which was incredibly frustrating and hard to aggregate. Since we didn't have a great resource, I know we missed out on a bunch of easy spots along the way (even some that were right next to each other!) so I'm putting together this (mostly) comprehensive guide to Harry Potter locations in England and Scotland so you can make sure you hit up all the right spots. If you have any more to add, please add them in the comments below!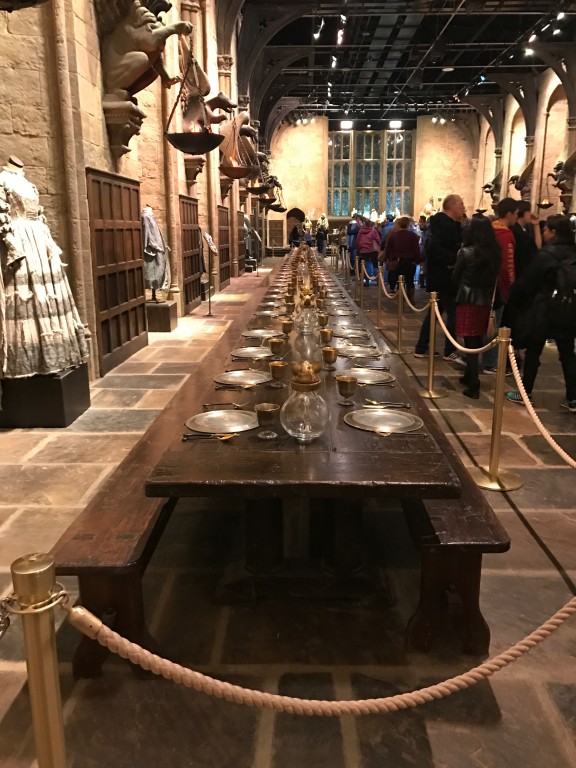 —
As most Potterheads know, Harry Potter was filmed across multiple locations in the U.K., a number of which are in England, Scotland, and even Wales. And we mustn't forget that Harry Potter was penned by J.K. Rowling and inspired by many sites in the U.K., too. Those locations are often a mecca for Potter-philes as well. Some of these locations were transformed during filming and others are just as magical even years after the filming (or writing) has taken place. I know I found myself lost in thought and wonder visiting these places both this past October and trips past.
Bonus Tip: The majority of the locations used in filming have historical significance as well. If you're a history buff like me, I highly recommend looking up the history of these buildings, places, spaces, and landscapes!
—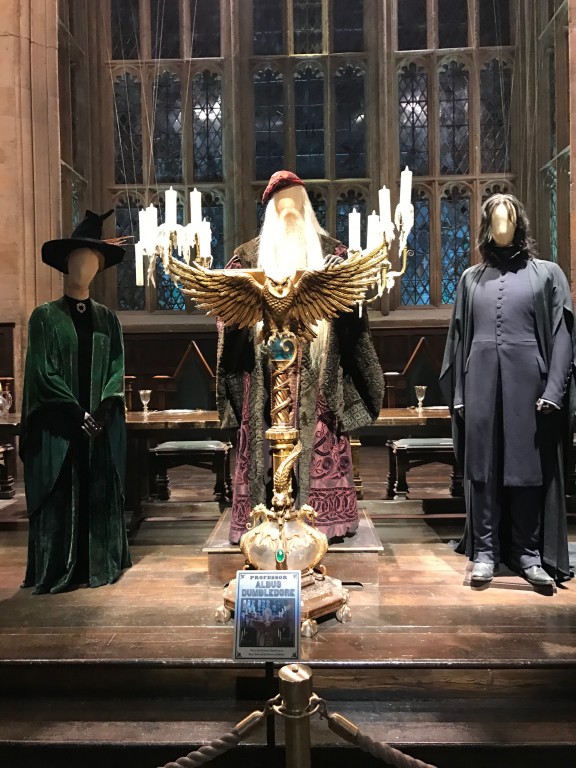 England
Sights Around London
Millennium Bridge: The Millennium Bridge is a pedestrian footbridge used in the sixth Harry Potter film where the dementors destroy it. It is a beautiful bridge to stroll across with great views (and is near Shakespeare's Globe Theater).
St. Pancras Station and King's Cross Station: Both of these stations (which happen to be side-by-side), were used in the Harry Potter films. St. Pancras was used mainly for the exterior shots, while King's Cross was used for exterior shots. Of course, you can stop by Platform 9 3/4 in King's Cross.
Platform 9 3/4: Inside of King's Cross Station is Platform 9 3/4. This has become a very popular tourist destination, so expect an hour long wait if you want your picture taken with the cart going through the wall. There is also a Platform 9 3/4 store with branded Platform 9 3/4 gear. You can also grab your personalized Hogwarts Letter here!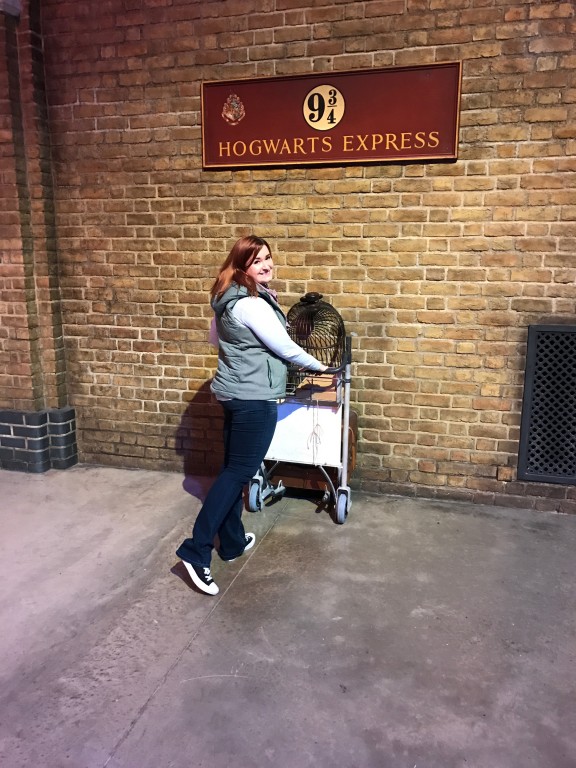 St. Pancras Renaissance Hotel: The hotel is used as the entrance to King's Cross Station in Harry Potter and the Chamber of Secrets. It's also been used in many other famous films!
Leadenhall Market: This historical Victorian market was used for exterior shots of Diagon Alley and the Leaky Cauldron. There are many markets that take place here regularly as well.
Australia House: Interior shots of Gringotts Bank were taken here. However, this site isn't open to the public, but you can view it from the outside.
London City Hall: You'll definitely spot this building in London but you may not realize that it was featured in Harry Potter and the Half-Blood Prince.
Great Scotland Yard: This location was where Harry and Mr. Weasley entered a phone booth to enter the Ministry of Magic. However that phone booth doesn't exist in real life so you won't be able to find it here.
Claremont Square: The exterior shots for the Order of the Phoenix's Grimmauld Place were taken here. I'm so bummed because this was right near where we stayed, but we didn't realize it at the time!
Piccadilly Circus: This busy area of London is where outdoor scenes at London's West End were shot for the 6th Harry Potter movie.
Reptile House: To see the iconic Reptile House entryway used in Harry Potter and the Sorcerer's Stone, all you need to do is visit the London Zoo!
Palace Theater: While not a filming location, the stage production of Harry Potter and the Cursed Child has been sold out since before it opened. You must buy your tickets in advance, but there are a few tricks to try to snag tickets last minute like the Friday Forty or stopping by the ticket master to see if any have been returned. Fair warning though, we were not that lucky!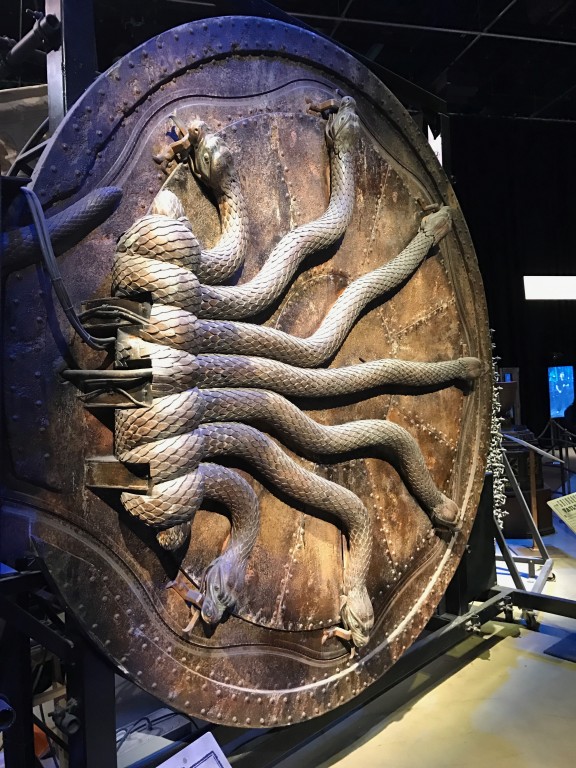 Outside London
Warner Brothers Studios – The Making of Harry Potter: If you're going to go to only one Harry Potter sight in all of the U.K., I highly recommend visiting the Warner Brothers Studios – The Making of Harry Potter tour. It's about an hour outside of London and will probably take up half a day or more, but will be enjoyed by all. Make sure to book your tour in advance, as it's difficult, if not impossible, to get tickets at the door. You can take the train to Watford Junction and then take the Harry Potter bus to the studio, but you'll need to show your pre-purchased tickets before boarding the bus.
Inside the tour, you'll start off with a quick intro from the cast before being welcomed into the Great Hall. From the Great Hall, you'll move through many different sets from the movies, including Hagrid's Hut, Diagon Alley, Privet Drive, and Dumbledore's Office. All along the way, you'll be listening to a headset talk about the actors, costumes, and props. There'll even be a chance to ride on a broom stick and practice casting spells. Halfway through the tour is the Backlot Cafe, which is good for a quick snack or lunch, including getting butterbeer and butterbeer ice cream. The end of the tour peaks with a 360-degree walk around the miniature (but still very large) model of the Hogwarts grounds that was used for the flyover views in the movies. Before leaving the tour, be sure to pick up your wand and Marauder's Map from the gift shop!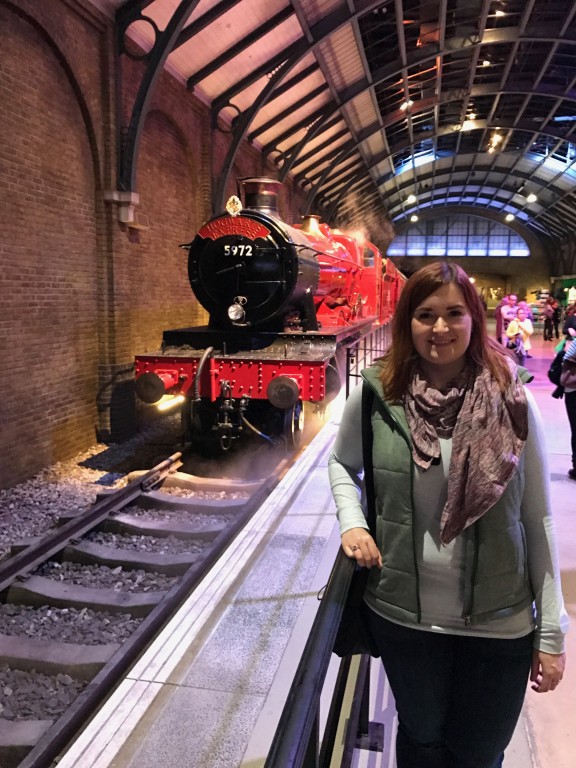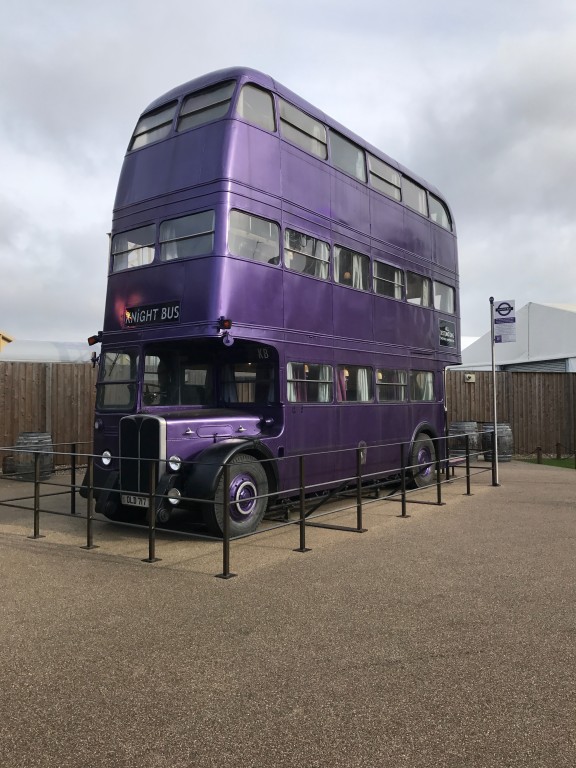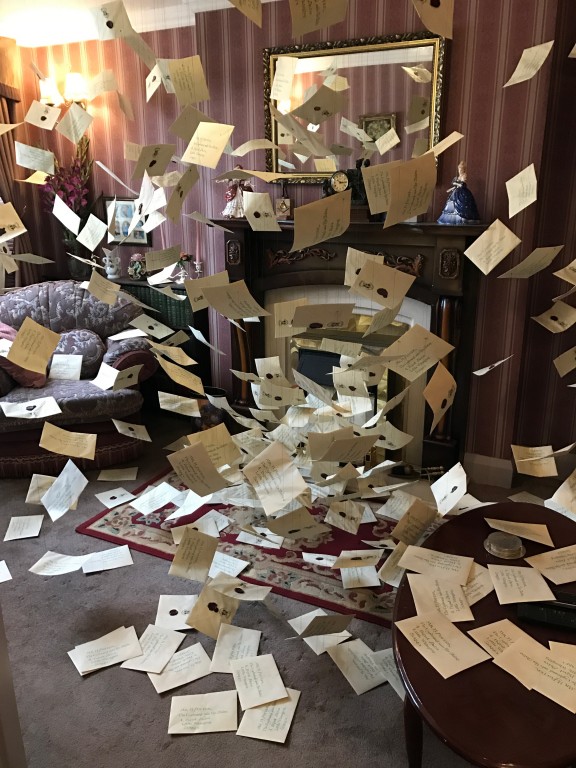 Goathland Station: The platforms at these stations served as the Hogsmeade Station platforms in the movies.
Malham Cove: This natural limestone formation is where Harry and Hermione hide from Voldemort in Deathly Hallows Part 1.
Blenheim Palace: Though we didn't know it when we visited, it turns out that Blenheim Palace was also used in filming! While the palace itself isn't featured in the movies, the grounds were used. In the fifth movie, Severus Snape has a flashback to his boyhood when he is bullied by James Potter and hung upside down from a tree. That scene was filmed on the grounds of Blenheim Palace. The grounds and the palace are certainly worth a visit as Blenheim Palace itself is a magnificent structure in real life.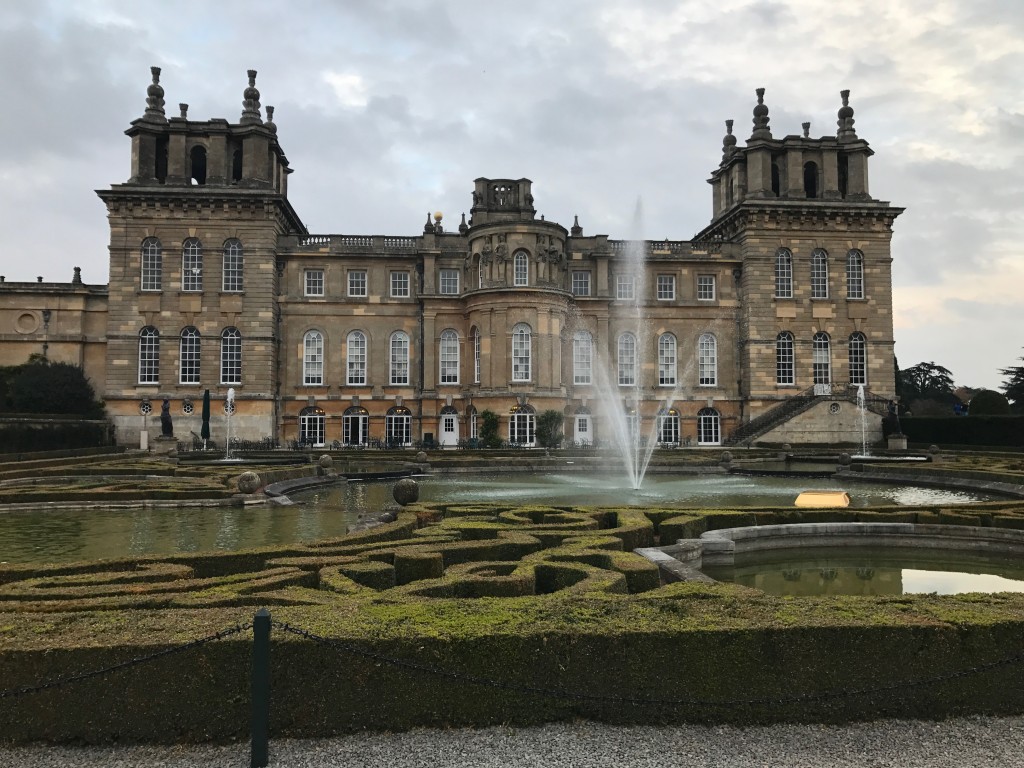 Christ Church: Located in Oxford, Christ Church is home to the staircase that Hogwarts students climbed to reach the Great Hall. Christ Church's Great Hall was also what the Hogwarts Great Hall was modeled after. There are many other filming sites in Oxford including Oxford University's Bodleian Library, Duke Humfrey's Library, Divinity School, and New College.
Alnwick Castle: This castle was used in the first and second movies (think broomstick flying class), but has also been used in many other famous films.
Durham Cathedral: Durham's elegant cloisters and beautiful grounds are used as settings for Hogwarts. Make sure to snap a picture in the open breezeways!
Lacock Abbey: This Abbey is just a few hours outside of London and was used for Snape's potions class in the second movie.
Lavenham De Vere House: The real Godric's Hollow is on Water Street in Lavenham, and the home was used in the film. A replica can be found at the Warner Brothers Studio Tour (photo below).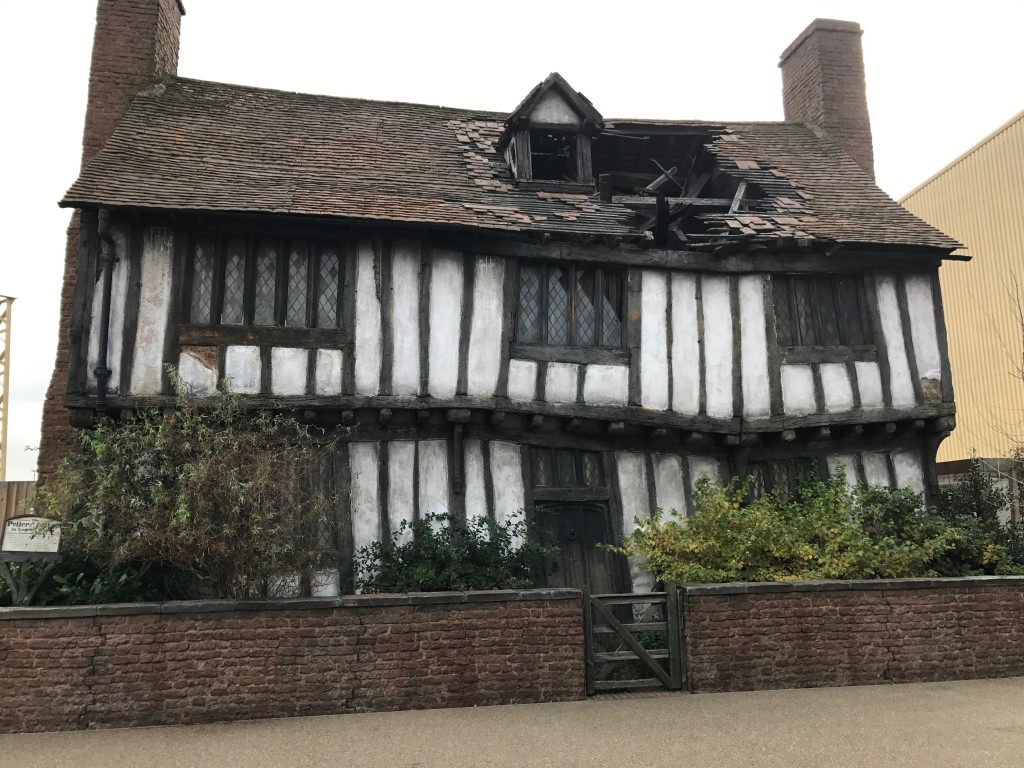 Gloucester Cathedral: The beautiful halls here were used in the first few films, including the shots of Harry and Ron hiding from the troll.
Ashridge Wood: This lush forest (aka wood) was used in the Goblet of Fire where the Quidditch World Cup was hosted.
Seven Sisters Country Park: Beautiful clips of the cliffs were captures in the 4th Harry Potter film for the Quidditch World Cup.
Hardwick Hall: This Renaissance-style mansion was,  appropriately, the Malfoy Mansion in the films and used as the Deatheater's main hideout.
Berkshire: On Picket Post Close you can find the real 4 Privet Drive. Only outside shots were taken here (photo from Warner Bros Studio below).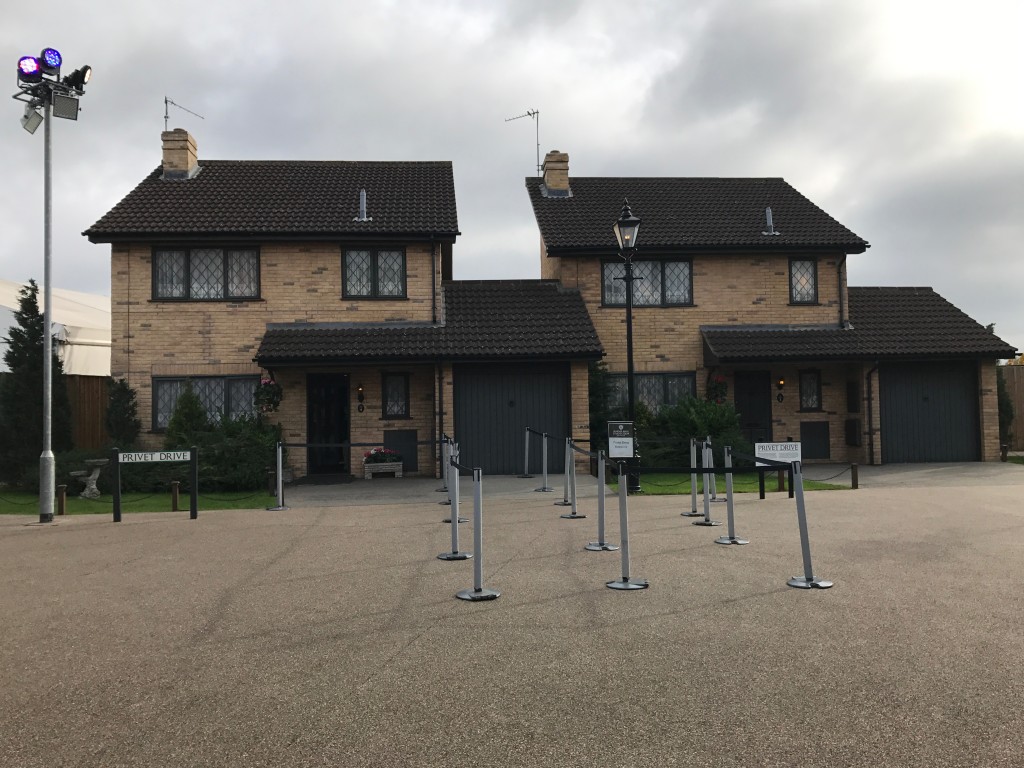 —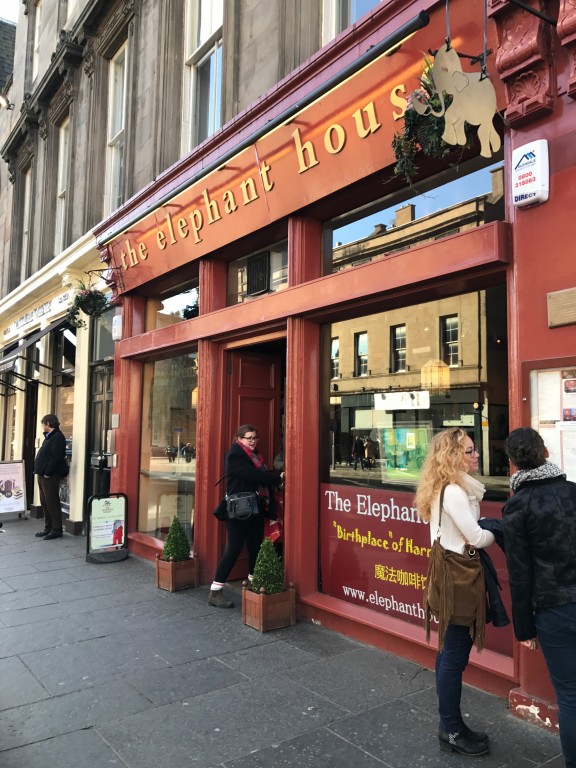 Scotland
Sights Around Edinburgh:
Elephant House: While it wasn't in the movies, the Elephant House was the birth place of Harry Potter.  J.K. Rowling would come to the little cafe to write her first novel. As you look out the windows at Edinburgh Castle, it is easy to see where her inspiration for Hogwarts, and indeed the entire Harry Potter world, came from.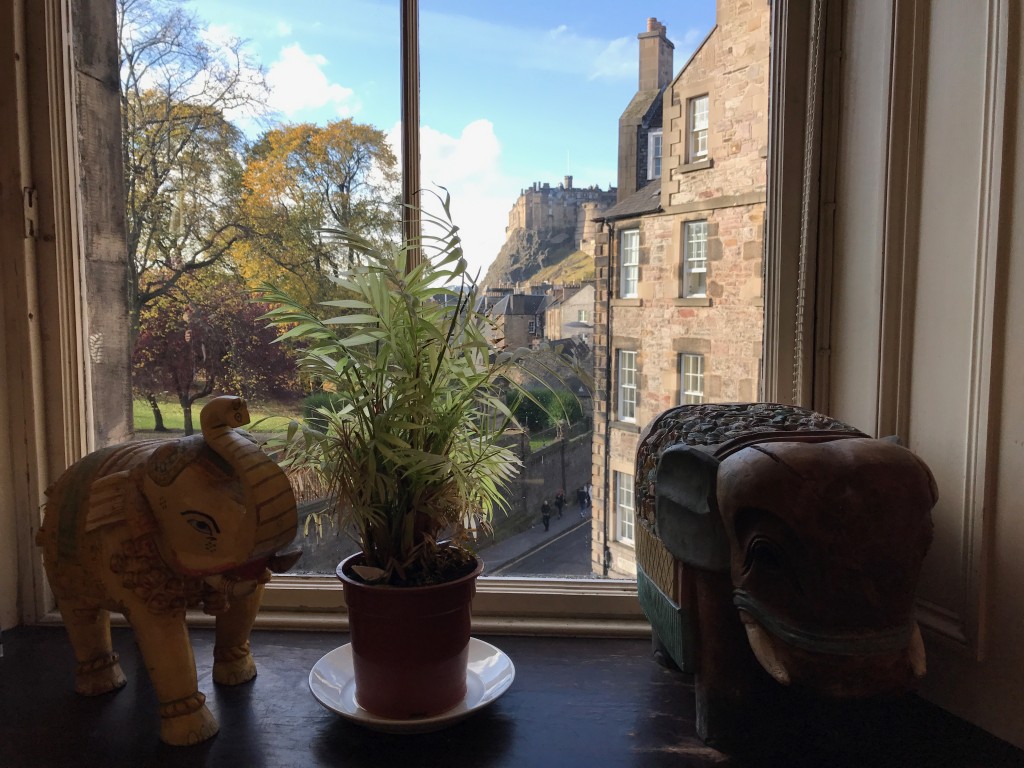 Greyfriar's Kirkyard: The Elephant House overlooks this Franciscan graveyard in Edinburgh's Old Town. This cemetery was the inspiration for Tom Riddle's graveyard. Coincidentally (or maybe not?) there is a Thomas Riddell buried here.
George Heriot's School: Behind Greyfriar's is George Heriot's School. The Hogwarts House system and even the architectural resemblances were modeled from this school.
Victoria Street: The winding street is reminiscent of Diagon Alley and ironically has many similar shops to what a wizard would find in Diagon Alley.
Spoon Cafe Bistro: Formerly Nicholson's Cafe, J.K. Rowling penned a story about a wizard boy here.
Balmoral Hotel: This luxury hotel is where Rowling finished the last Harry Potter book and inscribed her name in the furniture of her room. You can even book the J.K. Rowling Suite!

Outside Edinburgh:
You can knock three Harry Potter sites out with basically one stop by combining the Jacobite, Glenfinnan Viaduct, and Glenfinnan Monument/Loch Shiel.
The Jacobite: You can ride the steam train that was used as the basis for the train Harry, Ron, and Hermione took to Hogwarts, which travels across the "bridge to Hogwarts," aka Glenfinnan Viaduct. The Jacobite steam train that currently runs isn't the one that was used in the movies, but it's the same style and does have the tell-tale billowing white smoke clouds and whistle. You can ride on the train (book your tickets in advance), and if you do decide to ride it, we recommend riding in first class or in one of the cabins. We rode in standard class, which turned out to not look anything like the movies and was quite dingy. (I was very disappointed that the trolley didn't even offer chocolate frogs!) On the other hand, when we passed by the nicer cabins and first-class spots, they looked adorable! Be prepared, the train is incredibly slow moving (it is a steam train after all), so make sure you have books to read or things to keep you entertained. After 20 minutes, we decided to not ride the entire way and got off in Glenfinnan despite having paid for a round trip ticket. I had decided that I would rather get a picture of the train coming across the viaduct and see it from a different perspective. If you do ride the train the entire way you will pass by Eilean na Moine, Loch Eilt, and Loch Morar. More on those below.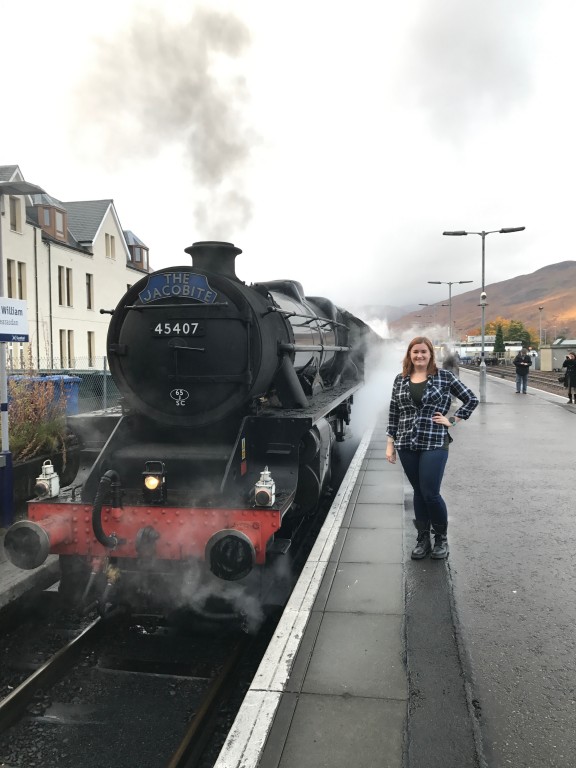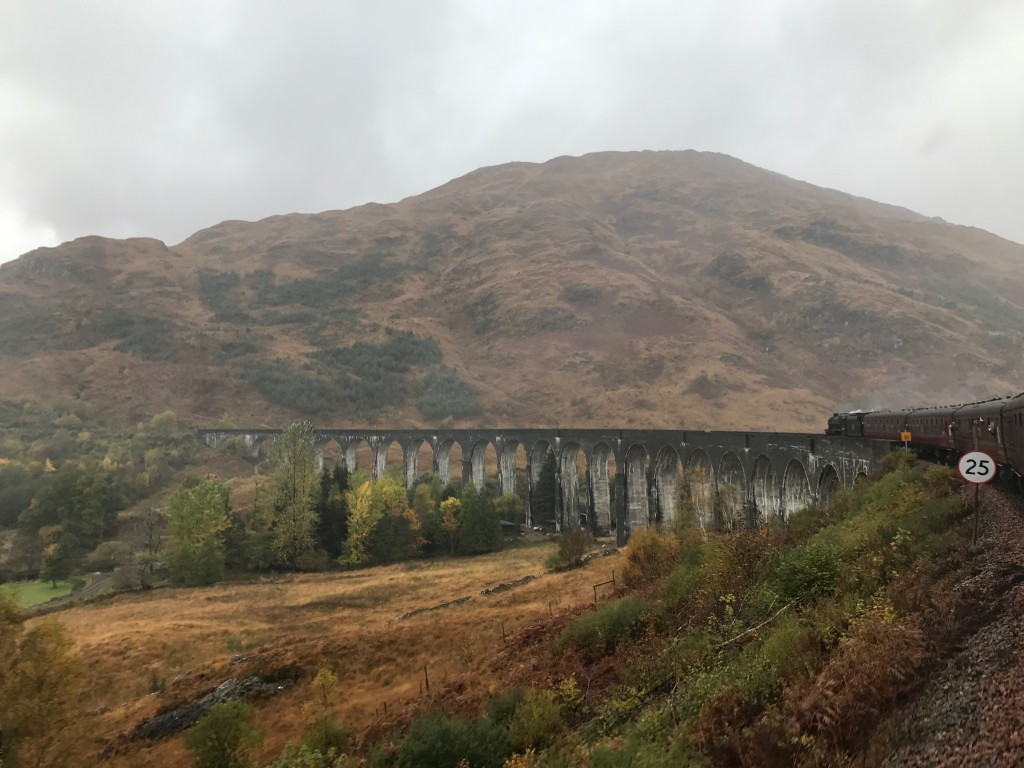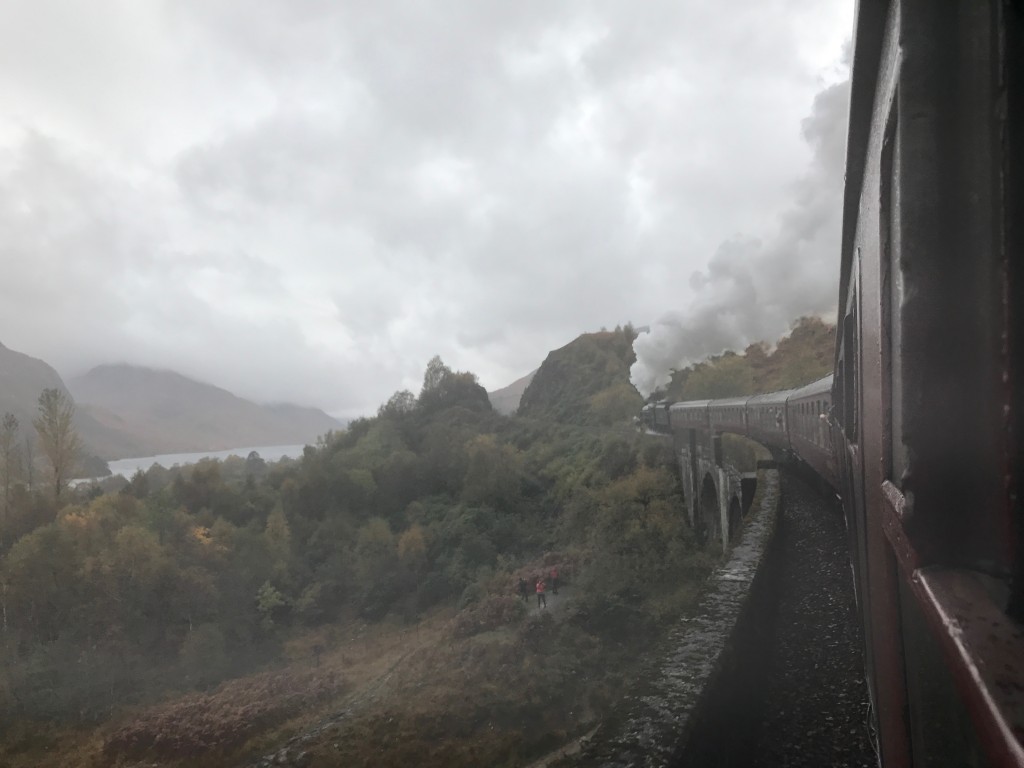 Glenfinnan Viaduct: This smoke and coal stained viaduct with the tell-tale horseshoe shaped arches was absolutely magical. Over 100-years old, this was truly an engineering feat when originally built. If you plan to photograph it like we did, get there early to stake out your spot as many others have the same idea. And, if you go to the lower vantage point like we did (i.e. under the arches), be aware that there is apparently a-not-so-friendly homeowner living under the center arch that does not want anyone trespassing on his property (we didn't encounter any issues). Don't be surprised if the train is late. We found that out the hard way and ended up waiting 45-minutes in the pouring down rain. But hey, #doitforthegram!
During our trip, after we got off the train, we took the bus back to Fort William, did a quick tour to Glencoe (another Harry Potter filming location), and then came back in time to catch the train coming back over the Glenfinnan Viaduct, which was perhaps the most exciting part of the Jacobite.
Glenfinnan Monument and Loch Shiel: From our lower vantage point of the Glenfinnan Viaduct, just across the road was Glenfinnan Monument also known as the Bonnie Prince Charlie Monument on Loch Shiel. This was one of the lochs used as the Great Lake (or Black Lake) as well where Buckbeak dipped his toe in the water.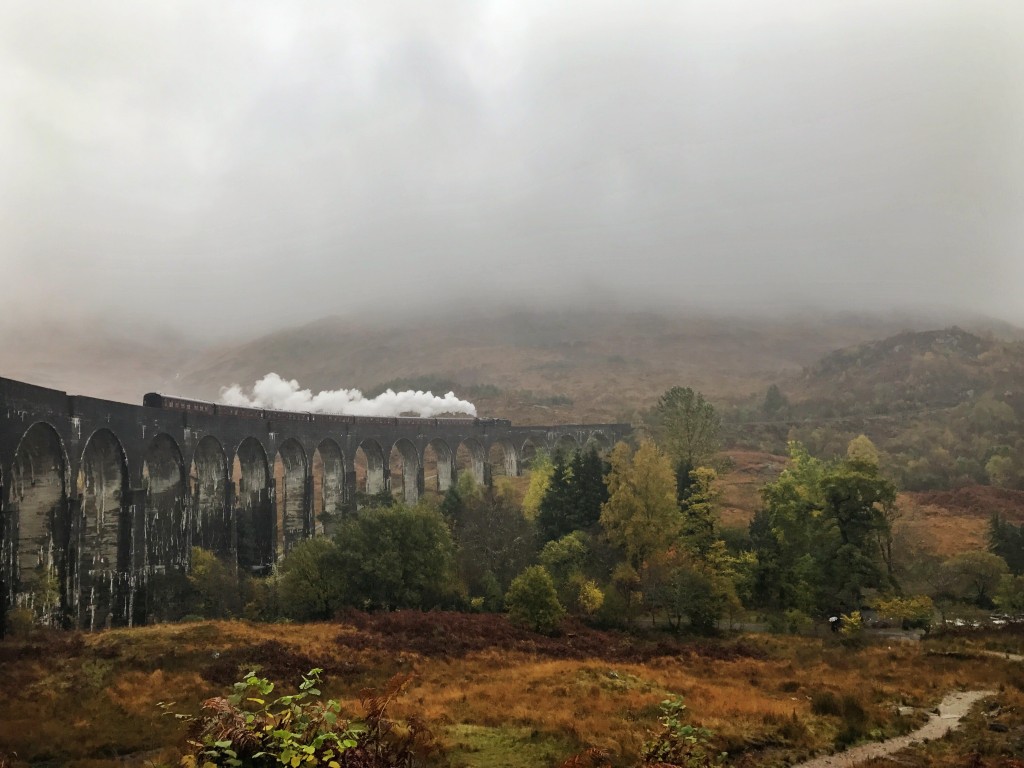 Loch Eilt and Eilean na Moine: Loch Eilt was used for shots of Hogwarts Lake including where Hagrid skips rocks after learning that Buckbeak will be put down. Eilean na Moine, an island on Loch Eilt, was used as Dumbledore's final resting place. The Jacobite train will pass by these two locations.
Loch Morar: More shots of the Hogwarts Lake were taken here. The Jacobite train will also pass by this lake.
Glencoe: Just a short jaunt away from Glenfinnan is the Glencoe area. The Glencoe Highland is a volcanic glen, which was used in many background shots throughout the movies, including where Hermione punched Malfoy in the face. There are lots of places to hike in this area but unfortunately due to weather we were unable to explore.
Glencoe Village: A portion of this area was used as Hagrid's Hut (near Torren Lochan), the pumpkin patch, and the Bridge to Nowhere near the Clachaig Inn. We ventured out to Glencoe but due to the fog and heavy rain that day we couldn't make out anything that resembled a backdrop in Harry Potter. It was beautiful nonetheless!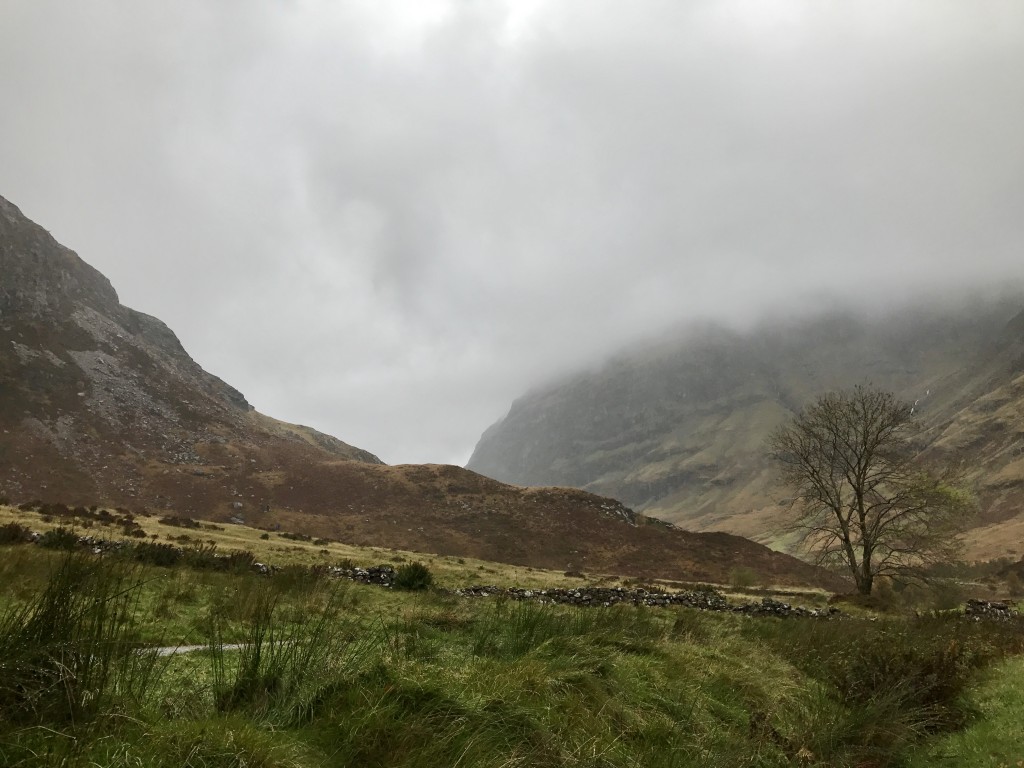 Loch Etive: The breathtaking beauty of Scotland's lochs were used frequently in different Harry Potter scene. Loch Etive was the camping grounds of Harry, Hermione, and Ron in Harry Potter and the Deathly Hallows Part 1.
Steall Falls at Glen Nevis: The second highest waterfall in Britain is seen in the backgrounds of Quidditch matches as well as at the Tri-Wizard Tournament.
Loch Arkaig: Scenes from the Deathly Hallows Part 2 were filmed here.
—
There are are SO many Harry Potter locations that this list might be overwhelming. My personal favorites in England were the Warner Brother's Studio Tour, St. Pancras, King's Cross, Platform 9 3/4, and Blenheim Palace. If I ever go back again I would put Leadenhall Market, Goathland Station, and sites around Oxford on my to-do list! As for Scotland, my favorites were the Elephant House Cafe, the Jacobite, Glenfinnan Viaduct and Glencoe. If I were to go back I would love to spend more time in the Glencoe and Glenfinnan areas, even hiking around to view the true beauty of those Highland areas.