Fall Tablescape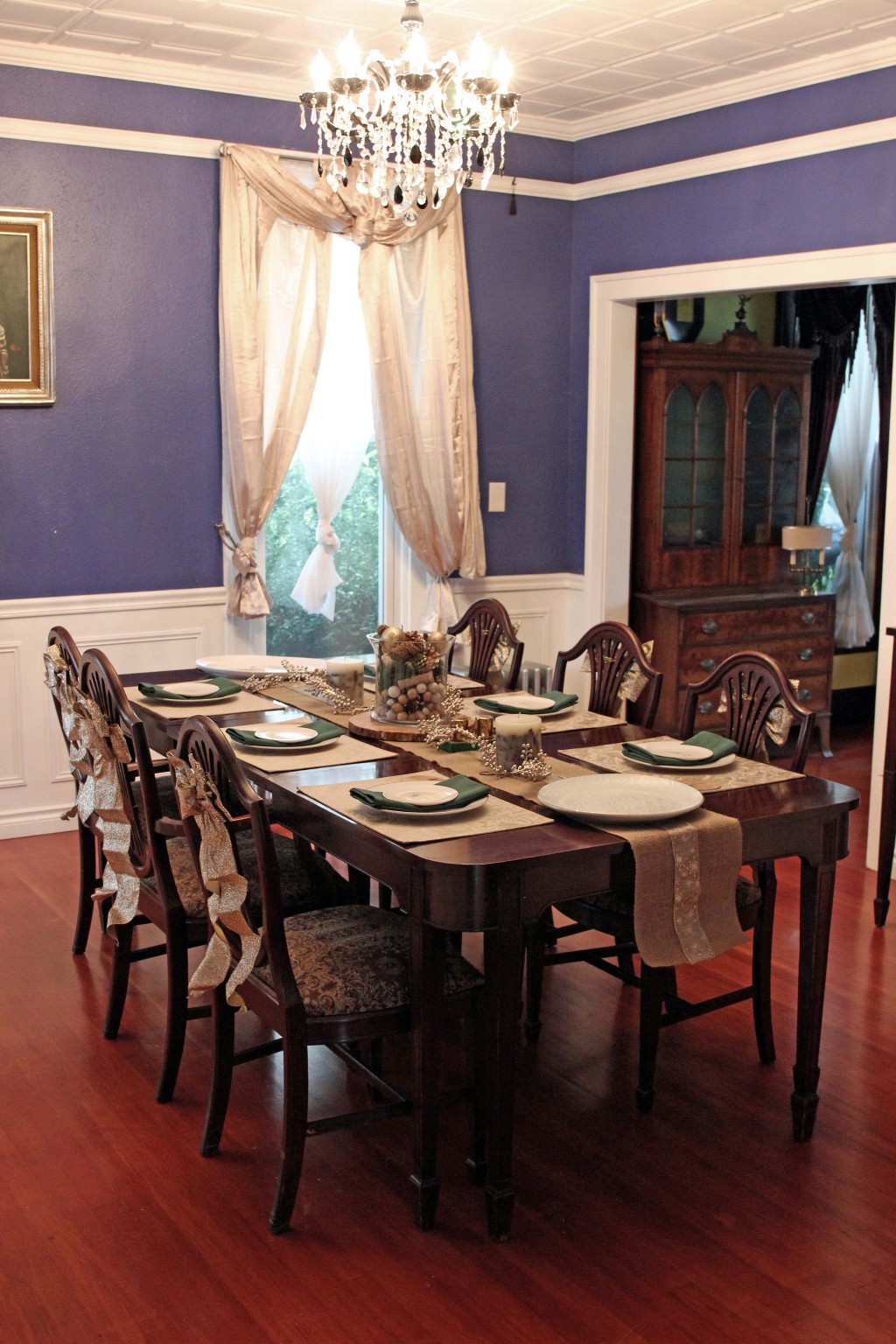 Happy Thanksgiving! I can't believe we're already here again.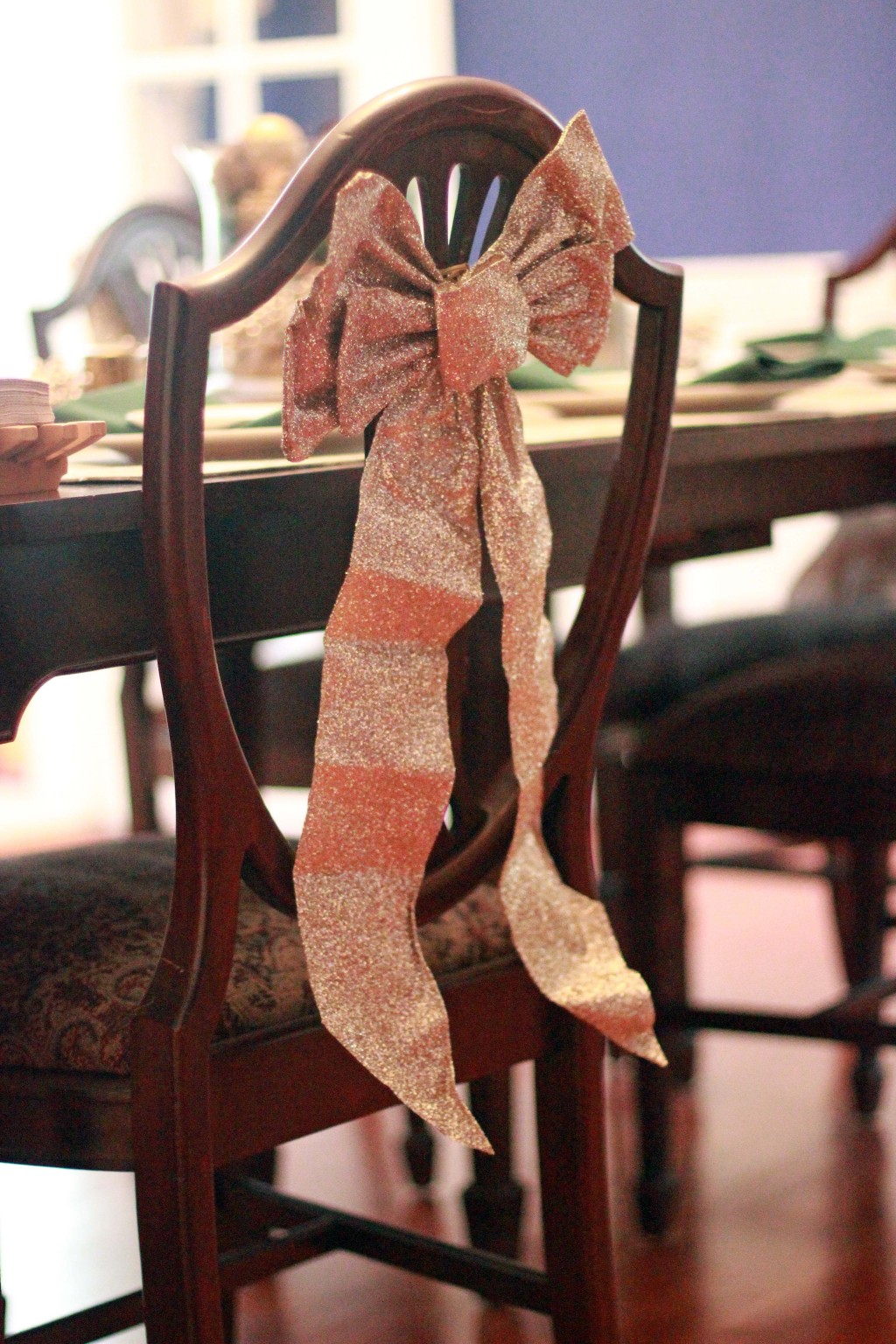 So funny story, we ended up being talked into hosting Thanksgiving. It's a LONG story, and I'll spare you all the details, but about 10 days before Thanksgiving we found out/decided we were hosting. Have I ever mentioned before that I don't cook? Well if I haven't, and you don't know me in real life: I don't cook. Sure, I can cook up some chicken for dinner if I need too, but that's about the extent of my cooking.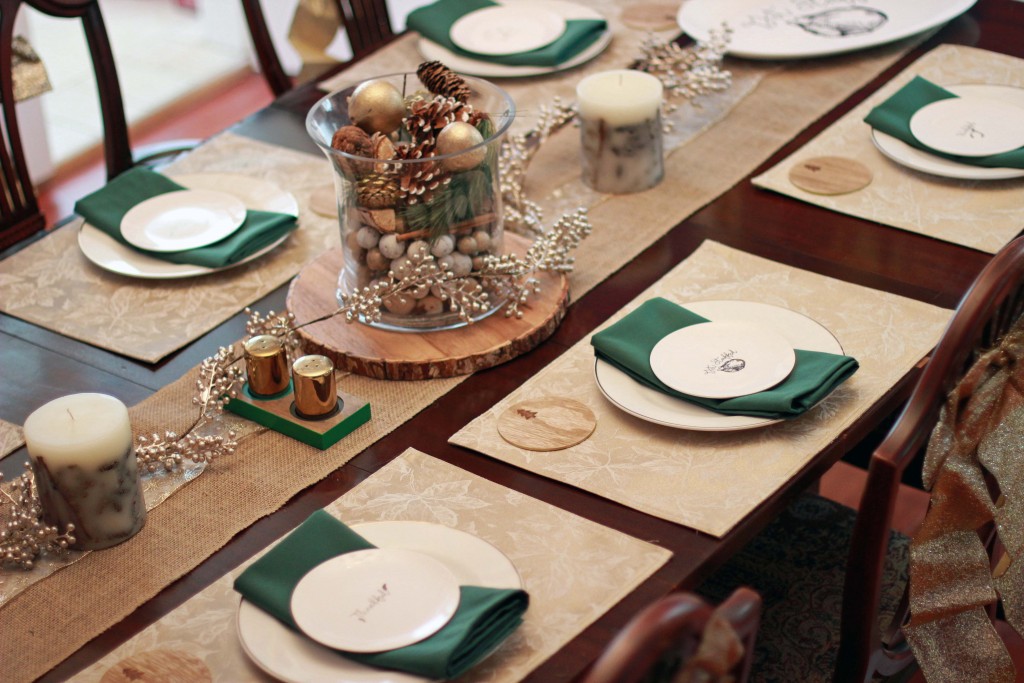 Luckily for me, Jon is very excited about cooking Thanksgiving dinner (#blessed). I wasn't about to host my first holiday with both sides of the family without a beautiful tablescape, so I put my efforts into finding the perfect decorations to bring my table to life.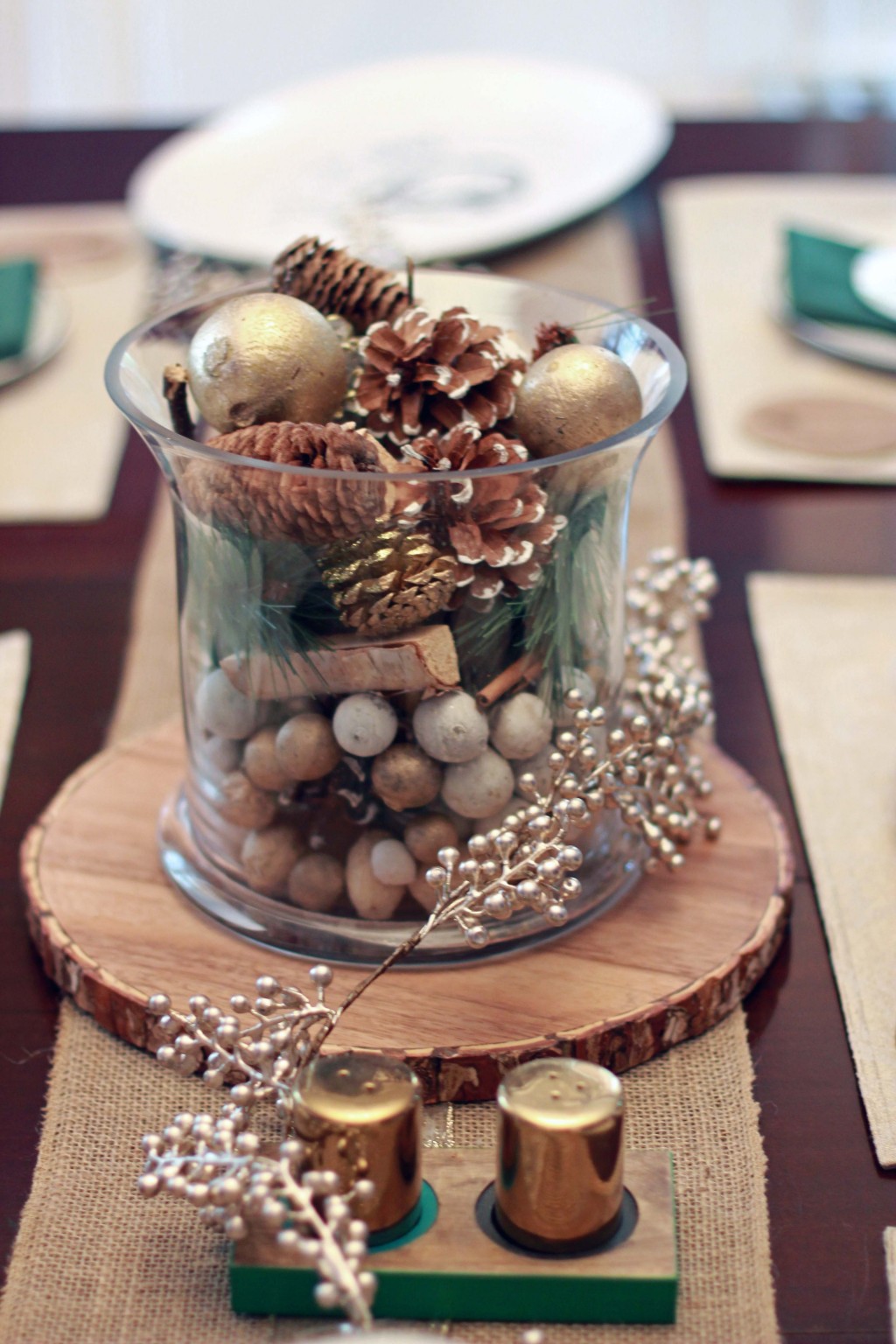 I'm really not into the traditional Thanksgiving colors like brown and orange, and turkeys and pilgrims. I wanted a bit more classic and timeless look that (in the future) I could put up at the start of fall and take me all the way through Thanksgiving. And I always love a good sparkle, shimmer, or metallic glimmer!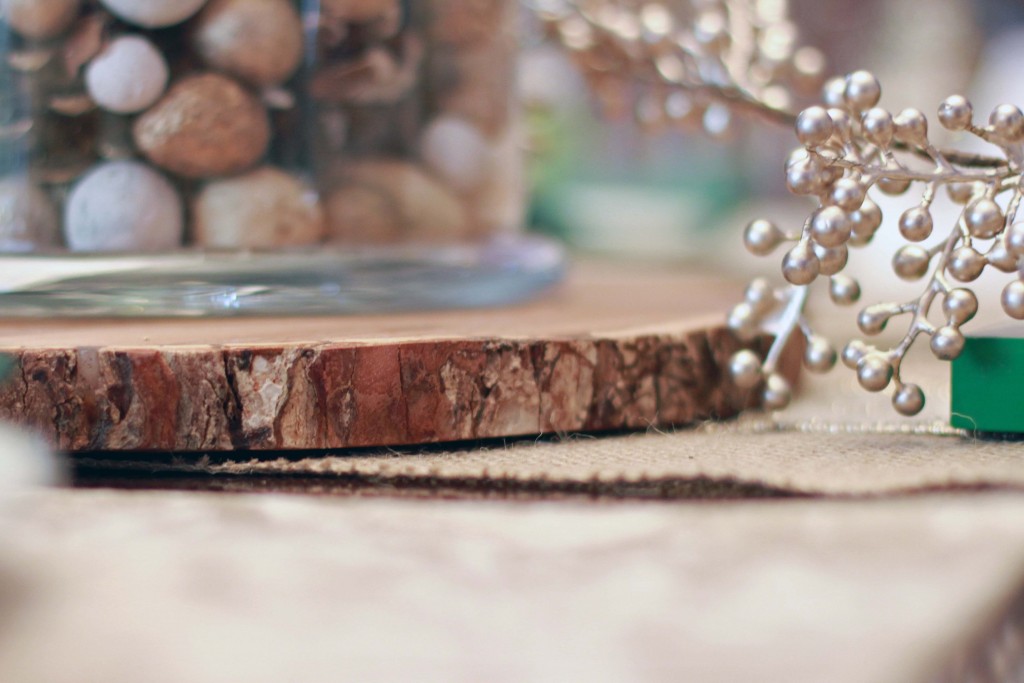 I always start with a table runner. For some reason that's the jumping off point for me, probably because it can be one of the more difficult items to find, especially for a longer table like ours. I was having a really hard time finding a Thanksgiving runner (actually, Thanksgiving anything), so I ended up DIY-ing this one myself. All it took was a burlap roll cut to the length of our table and hot gluing ribbon down the middle (I chose a sparkly snowflake wire ribbon).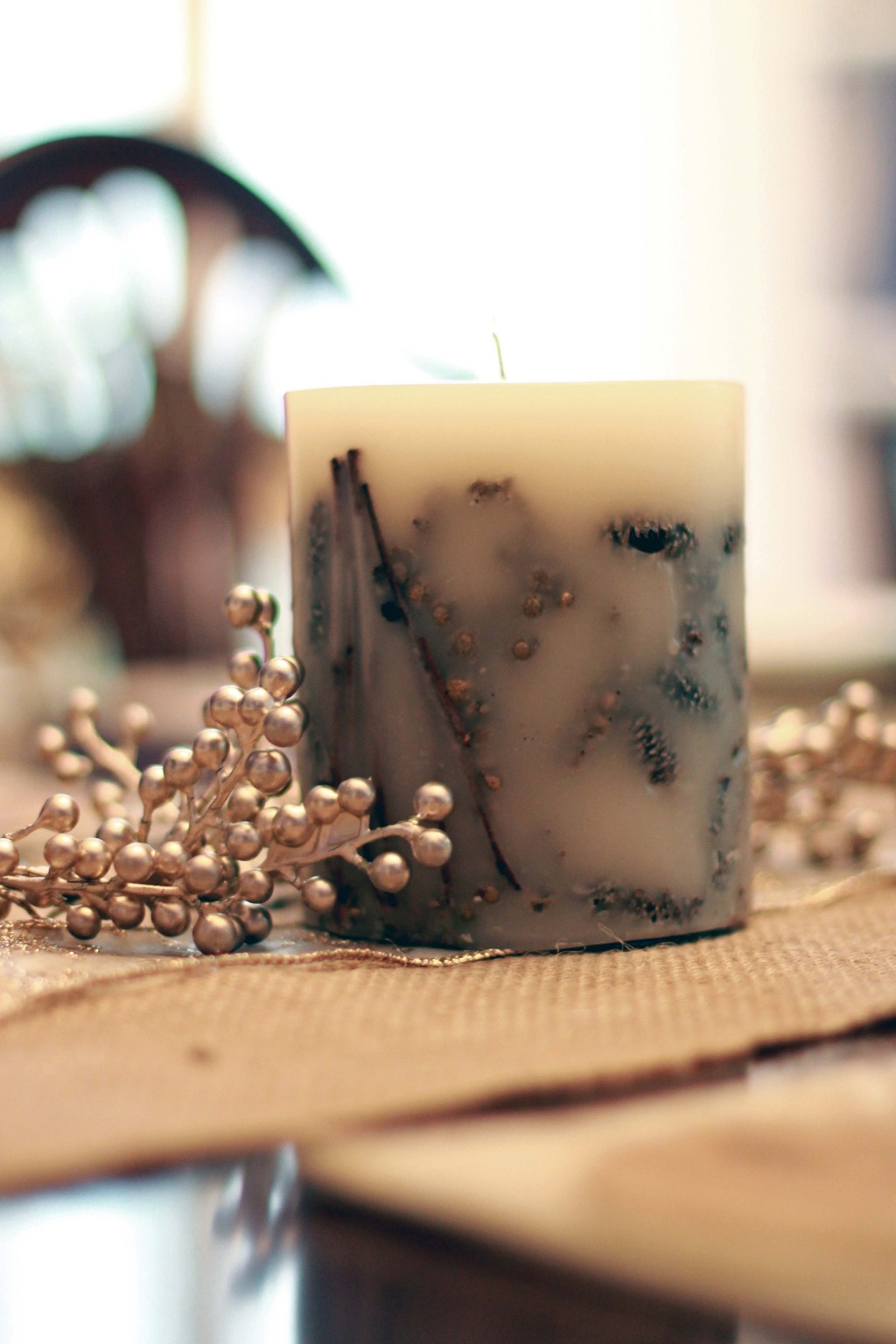 The centerpiece was the next hurdle. I always have this large vase on our table but it's typically filled with silver glitter items. I knew that I wanted to do a light gold/champagne and emerald green color scheme, and I wanted to pull the green into the centerpiece. I went to so many stores trying to find what I was looking for, but as it turns out, a beautiful emerald green is pretty hard to find (even more difficult when it comes to napkins!). Finally, I found exactly what I was looking for at Pottery Barn! It's a beautiful woodsy mix with pinecones, fir, cinnamon, bark, and gold and silver balls. There was also a red mix which I'm eyeing for Christmas. Oh, and it smells amazing!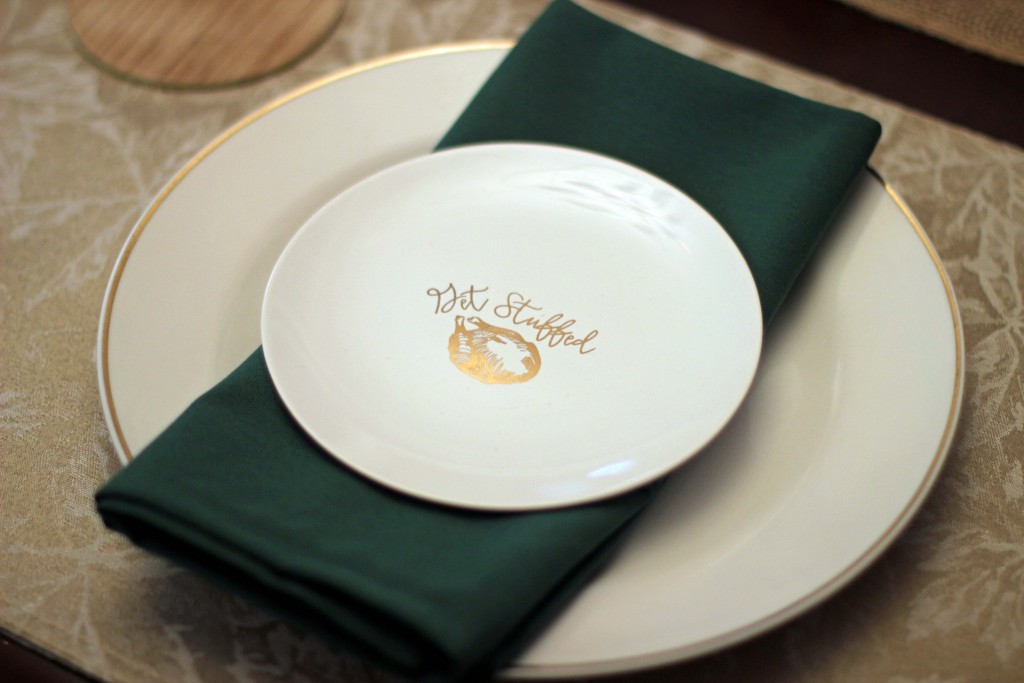 The table settings came together with the help of Nordstrom, Amazon, Fred Meyer, and the Dollar Tree. (Yes, the dollar store!) Nordstrom had the perfect appetizer plates (and turkey platter), Fred Meyer had the placemats, Dollar Tree had the dinner plates, and Amazon had the napkins. It all came together with a little bit lot of hunting and a lot of rush shipping. One set of my appetizer plates arrived broken (shoutout to Nordstrom for the quick replacement, though!), it took two Fred Meyers to find all the placemats, and quite a bit of hunting on Amazon to find the napkins.
I'm tired just reading this – putting together the perfect table is a lot of work!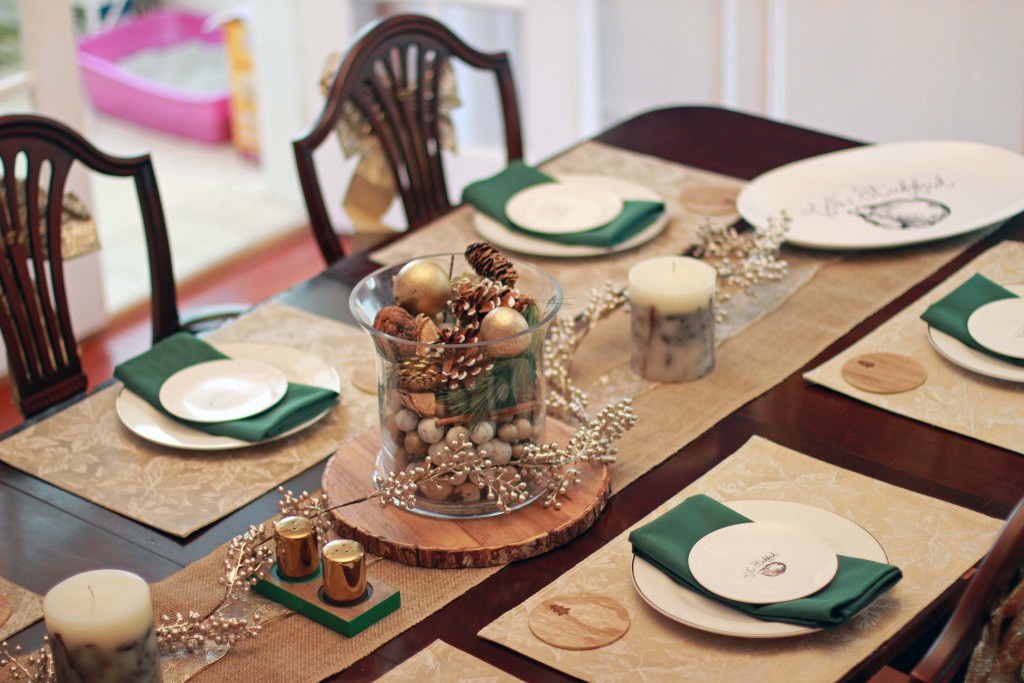 My favorite addition to the tablescape is the bows on the chairs. It's the holidays so why not add a little extra glam and glitter? They're so perfect and tie it all together!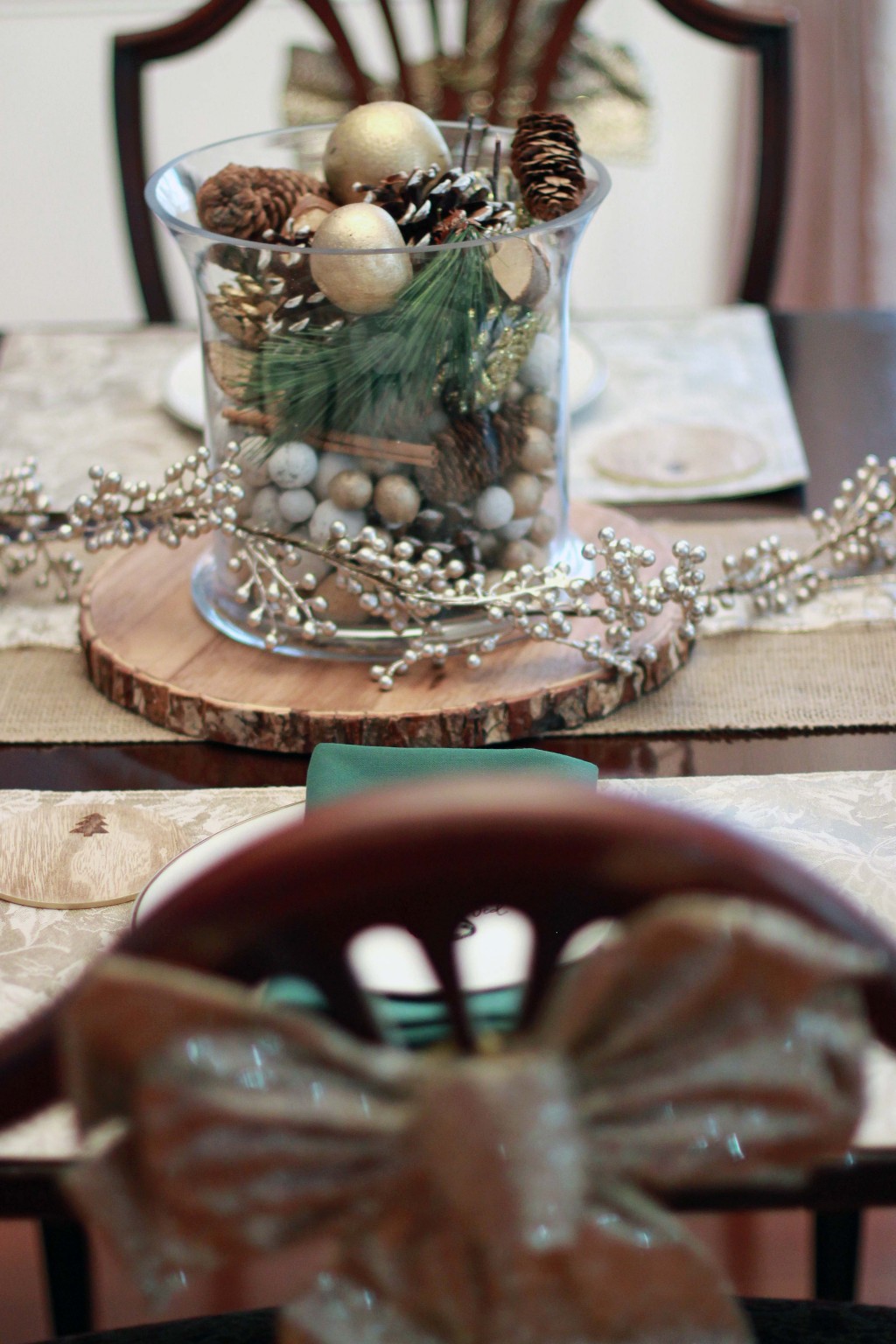 Only a few more hours until we're eating our delicious meal. We truly are blessed to have each other and such loving families. We can't wait to make new memories and start a new tradition!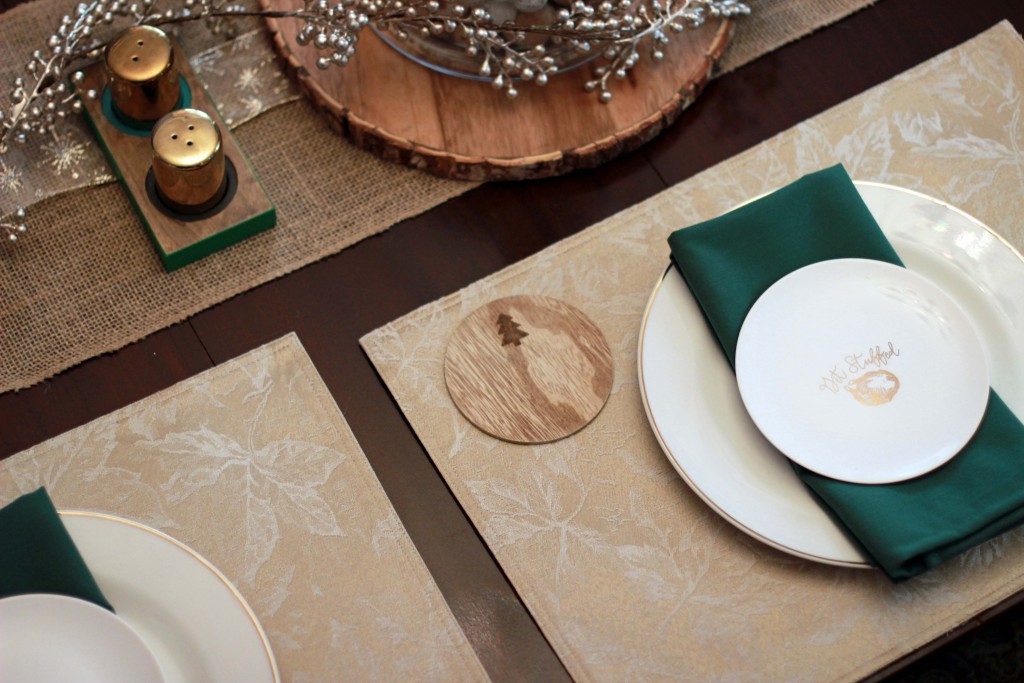 Tablescape:
Burlap Runner // Table Runner Ribbon // Candles // Berry Garland // Vase // Bark Platter // Dinner Plates // Appetizer Plates // Napkins // Placemats // Coasters // Bows // Turkey Platter // Ham Platter
Buffet Decorations:
Burlap Runner // Table Runner Ribbon // Driftwood Owl (similar) // Box Sign