Travel Uniform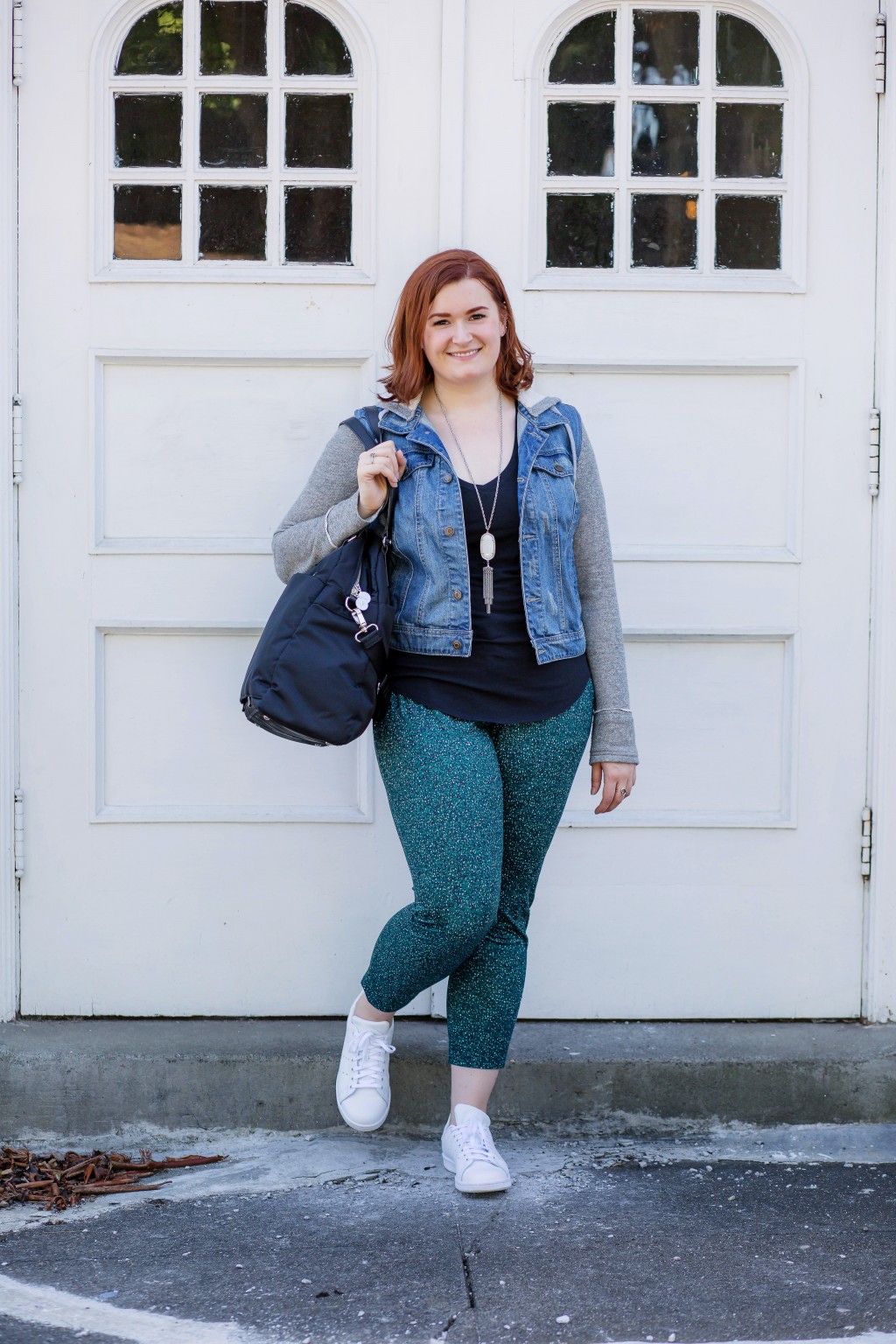 This year I've spent many days traveling for work. Sometimes a quick jaunt, other times a red-eye to my next destination where I hop off the plane and go straight to the office. In the midst of traveling, hopping time zones, and exploring new airports and places, there is one thing that is important to me: comfort.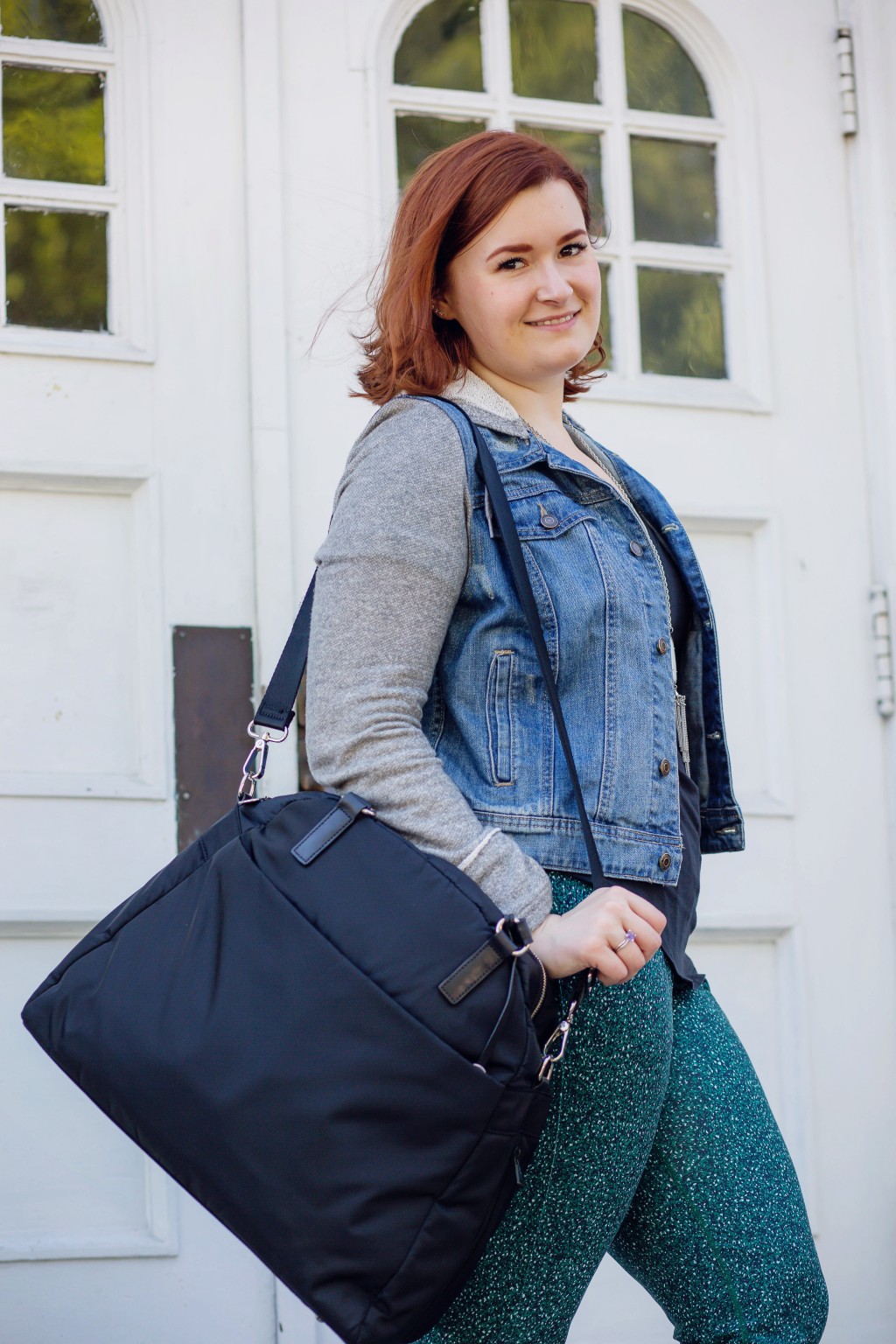 I seriously never know what to expect on any given flight. Sometimes the plane is sweltering hot and other times it's freezing cold. Then when you factor in a long versus short flight, an early morning versus midday versus red-eye. And what about those layovers? Will I be running through the airport or will I be able to casually stroll, maybe even grab a bite to eat? Could my layover possibly be delayed? So many questions to think about, and let's be honest, packing is hard enough for me!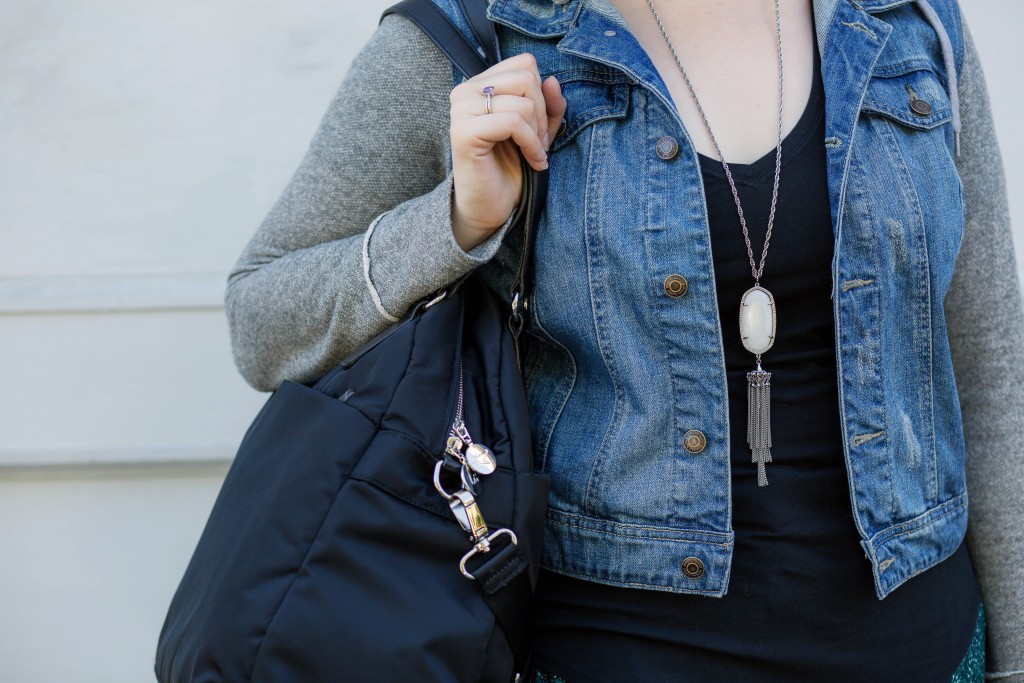 I find it easiest if my travel day is predictable. I love to plan, and that definitely spans into my travel, so a quick and easy formula for my travel day outfits is key. Essentially a mix of leggings or spandex-based pants, a loose fitting tank or tee shirt, a jacket (denim in spring/summer; sweater in fall/winter), and a comfortable pair of tennis shoes, is my go-to. Inside my bag you'll find a mix of entertainment, snacks, and necessities.
Here's my travel day checklist:
Spacious travel bag. I normally travel with backpacks as they allow for more freedom of movement (got my eye on this one), but sometimes for extended trips I'll bring an easy over the shoulder bag like the Lo & Sons O.G. If I don't carry-on this bag I'll also pack it with me as it's a perfect workout bag when you're on the road!
A great pair of leggings. Lululemon High Times or Wunder Unders are my favorite leggings for travelling, but I recently discovered the Jet Crop, which is a looser fit in the hip and thigh. It's like a high-class spandex sweatpant, and if you're clever you can find a way to mix them into your work wardrobe!
Scarf. Even when traveling to the 90-degree temps of Hawaii, I brought along a scarf! The Vinyasa Scarf from Lululemon doubles perfectly as a blanket or wrap for those chilly or red-eye flights.
Jacket or wrap. In the summer I typically wear a denim jacket, but in the fall and winter I wear a sweater or wrap. Most of the time I trend toward an oversized sweater that will be comfortable for taking a nap!
Book and iPad. I'm old school and I bring both a book (a physical book, not an e-book), and an iPad on my trips. I try to treat flying as an opportunity to read, but I bring the iPad to keep an eye on my work emails, social media, and to have around in case I finish my book with plenty of time to spare.
Extra chargers and cables. I'll never be caught with a dead cell phone and no way of charging it! I always pack multiple ways of charging my device and on an airplane is no different. You never know when you'll be stuck sitting on the tarmac for hours!
Snacks. I always try to pack healthy snacks since there aren't many options in the airport that promote a healthy diet. It's also a good idea to keep a fresh and well-stocked supply of snacks in your carry-on in case you encounter anything unexpected – such as the flight runs out of food for purchase, stranded on the tarmac, or flight delays. No one likes me when I'm hangry!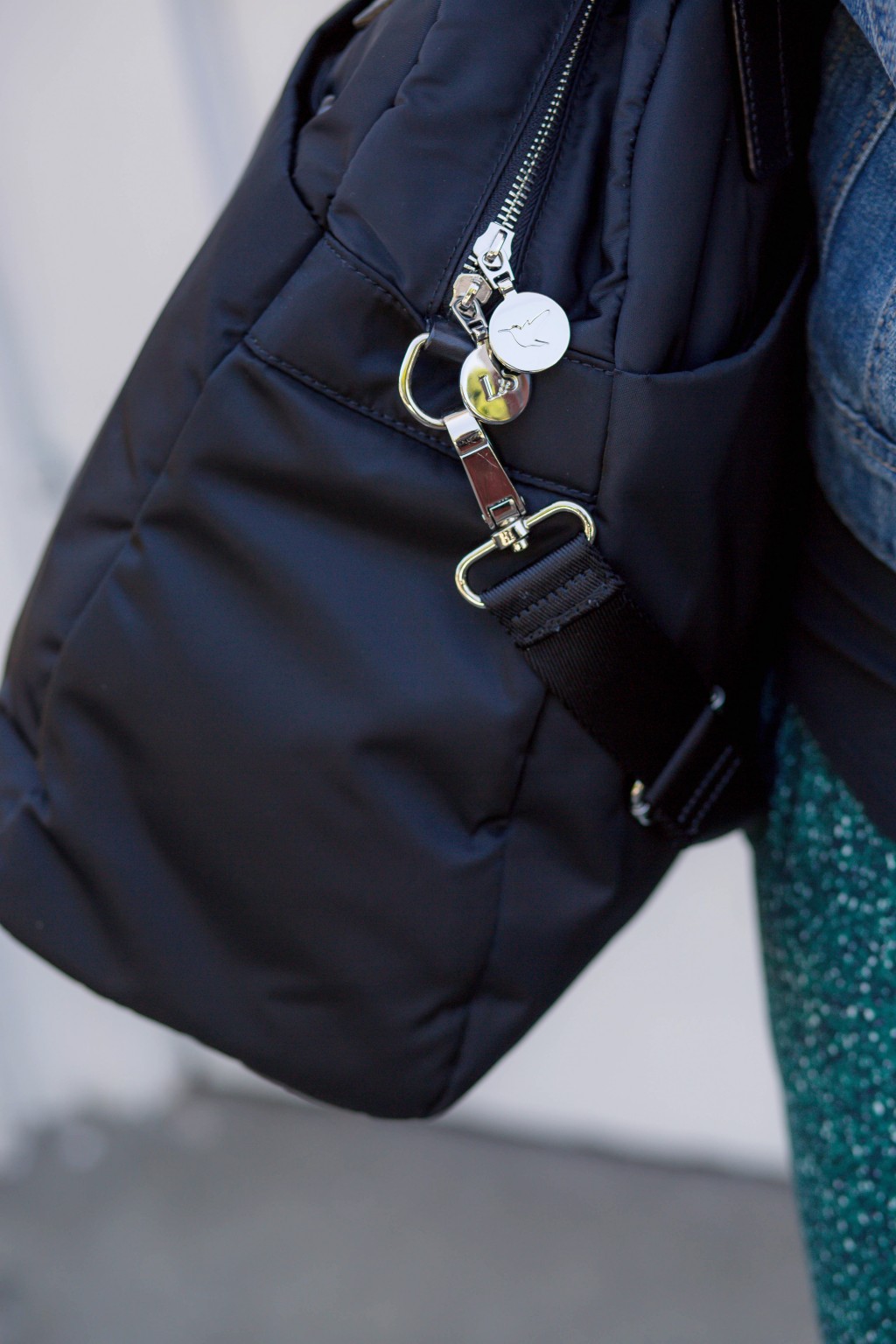 Once I've made it through my flight and to my destination, I like to hit the ground running. If I'm on vacation there's not a minute to be wasted! We immediately start our adventures if there's any semblance of daylight left and if I'm traveling for work, I typically hop off the plane and race to the office to plug back in and get started. Luckily, I work in a pretty casual environment, so I'm able to transition easily from my flight outfit to workwear. I'll just toss an extra pair of shoes and a sweater in my bag and swap them out before heading into the office, much like I did with this outfit. If I have more formal meetings that I'm going directly to after a long flight, I'll pack those clothes in my carry-on. (Just make sure they're wrinkle free!)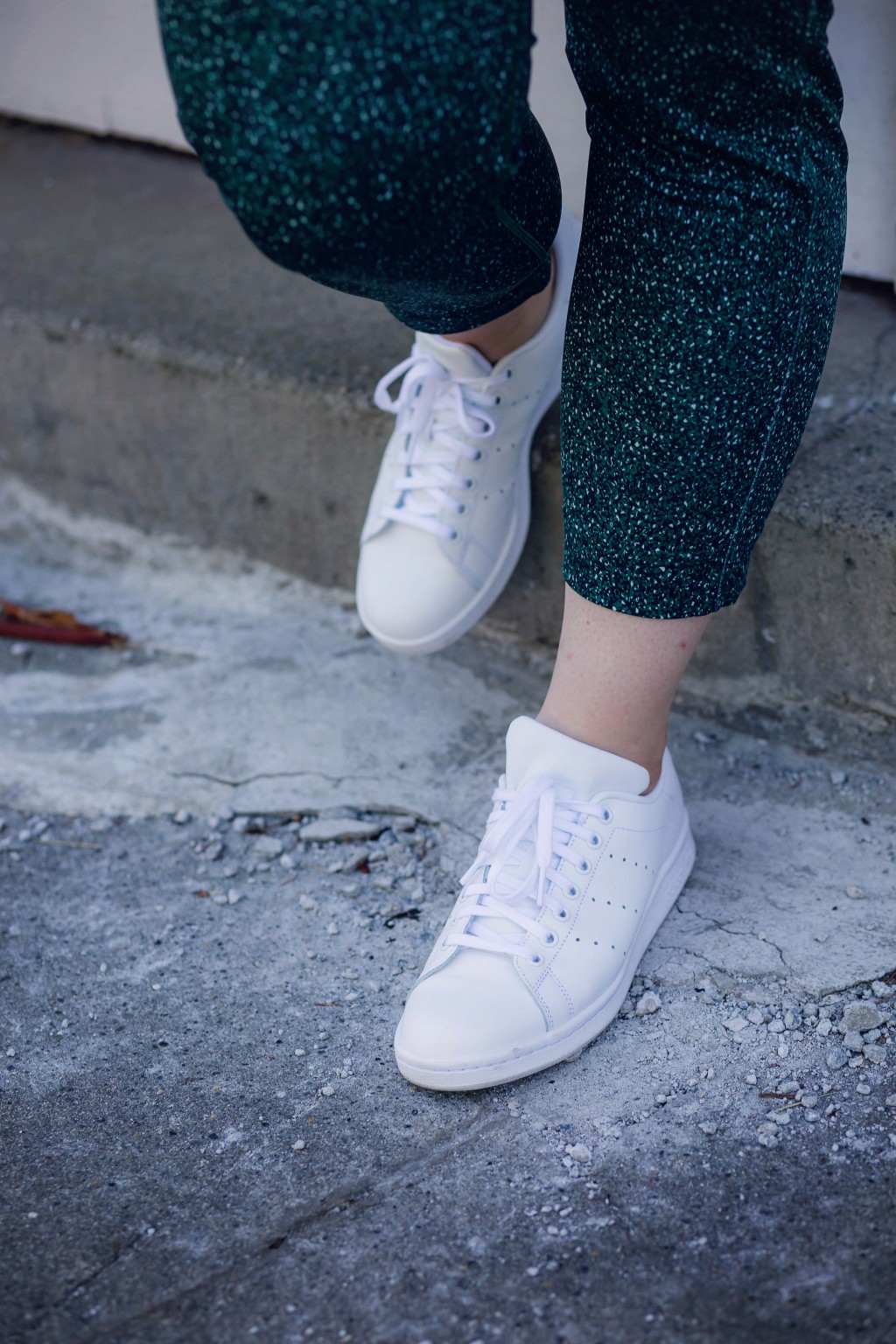 Top // Jacket (similar) // Pants // Necklace c/o Rocksbox // Sneakers // Wedges // Bag