Plaid & Lace
Remember how I used to have a fashion blog? It seems like it's been forever since I posted anything remotely fashion-related! Life seems to have become so busy lately, but I'm back and excited to share one of my favorite fall outfits!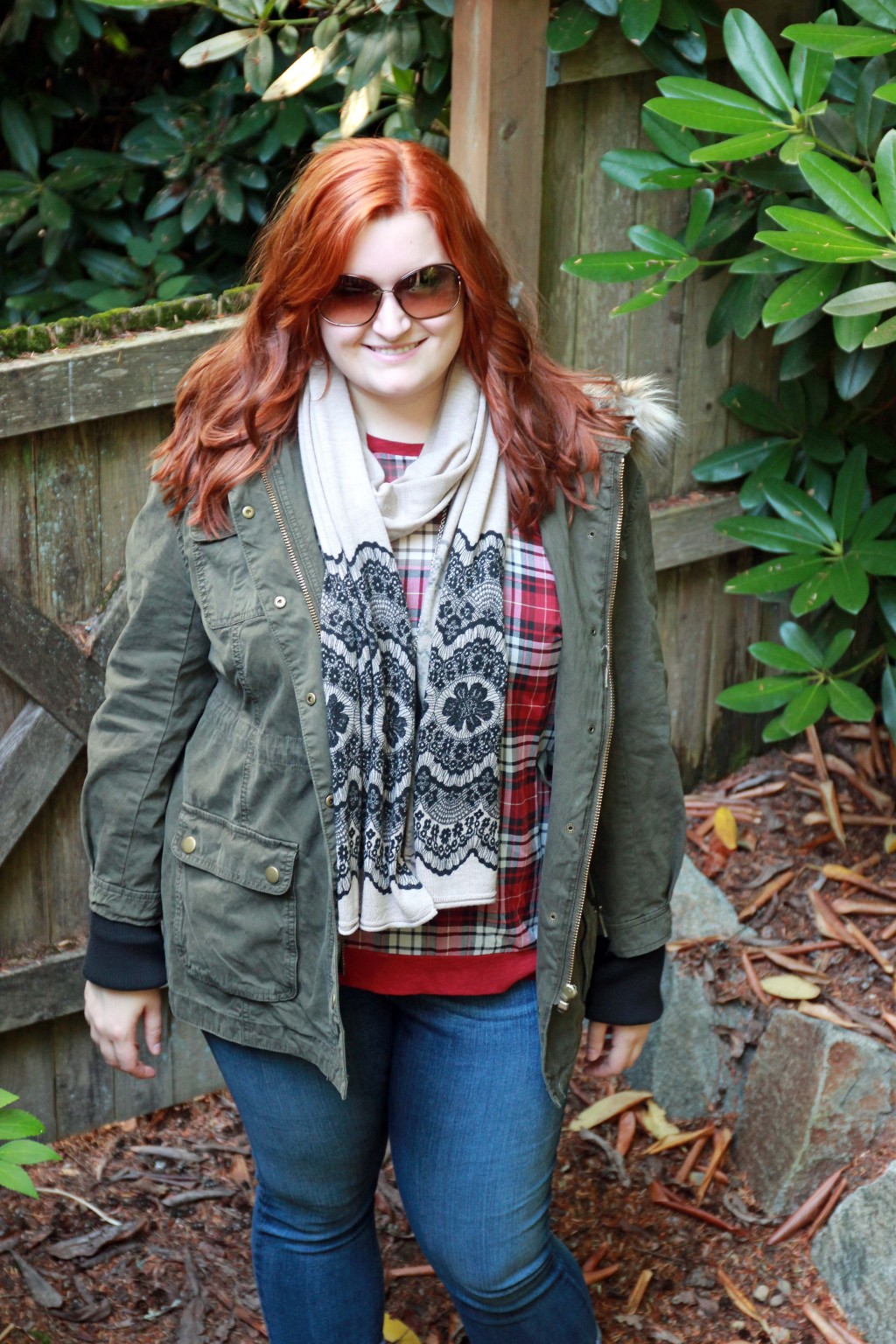 It seems like fall in Seattle has come on suddenly and brought the cold with it. Jon and I went for a quick 30-mile bike ride this weekend and it became obvious that we were not prepared for such weather. Following our bike ride, we decided that a trip to REI was in order to stock up on winter cycling essentials. But not before I put together a layer-filled outfit to keep warm from the crisp fall weather. I even took a shot at pattern mixing, something I tend to be very cautious about.
It's hard to believe it's almost mid-November. Fall is here and winter is quickly approaching. Where did the time go?!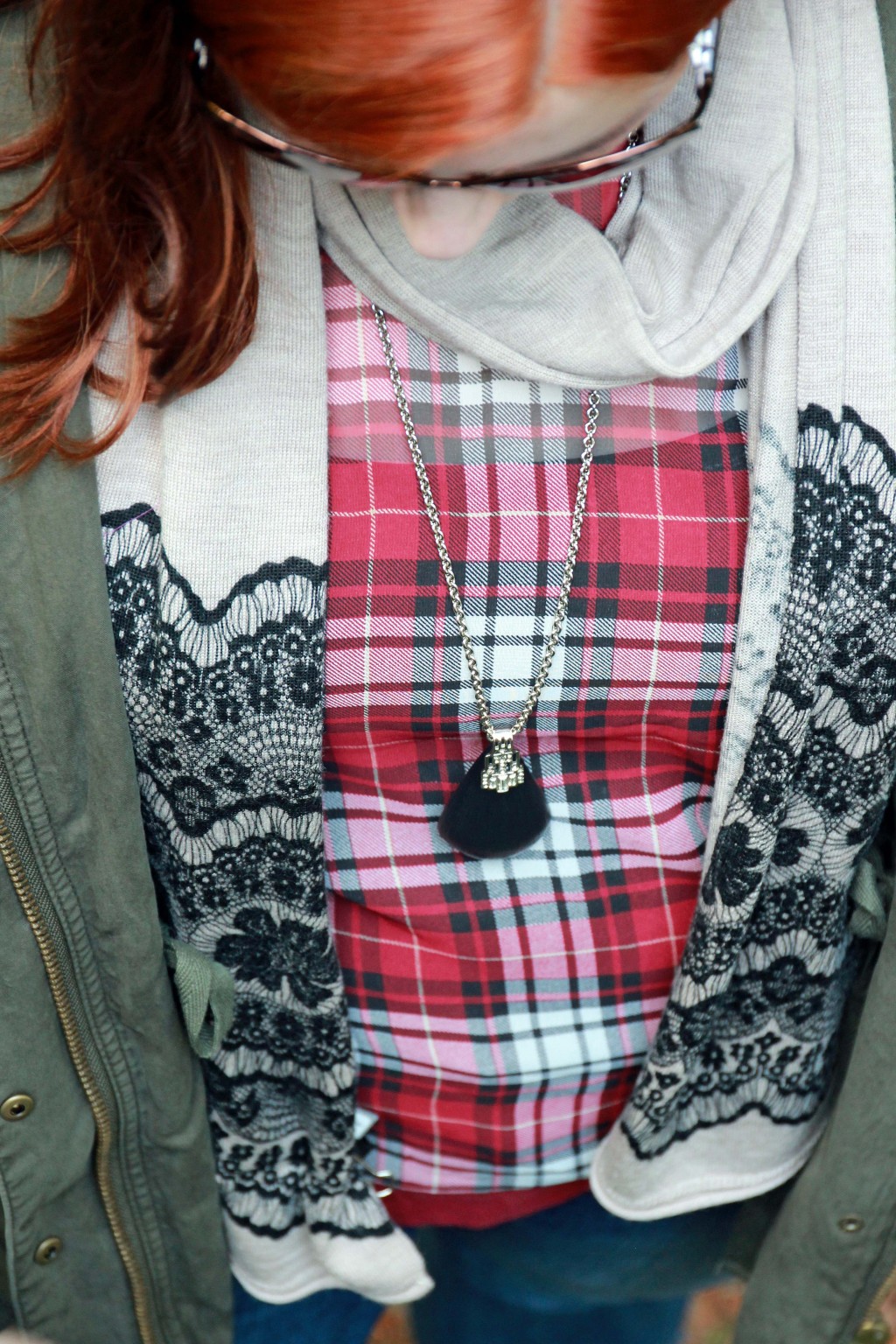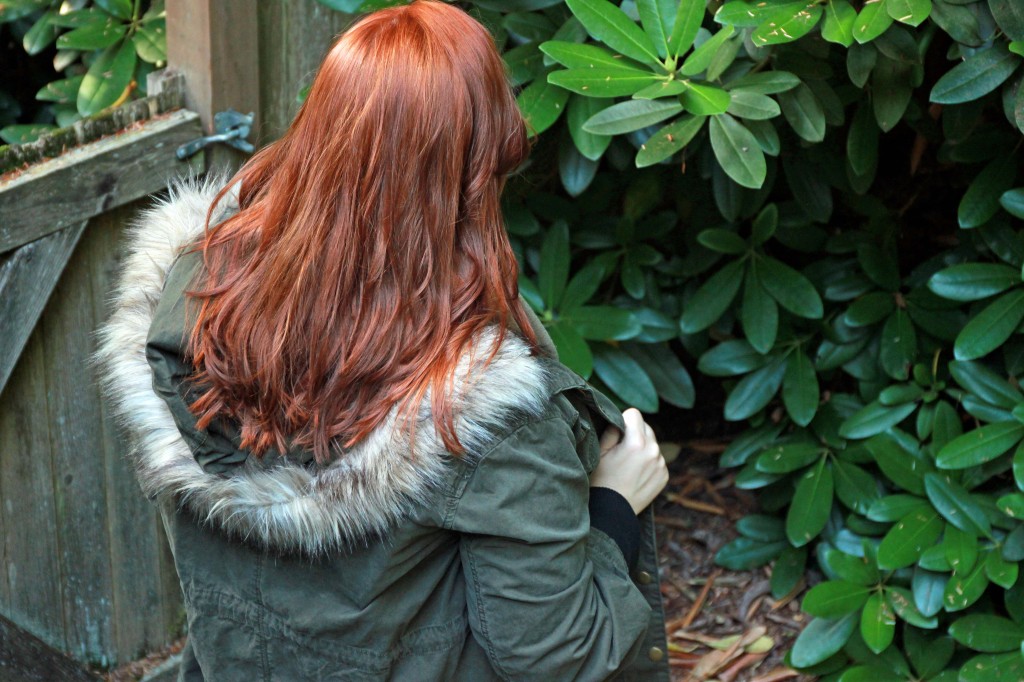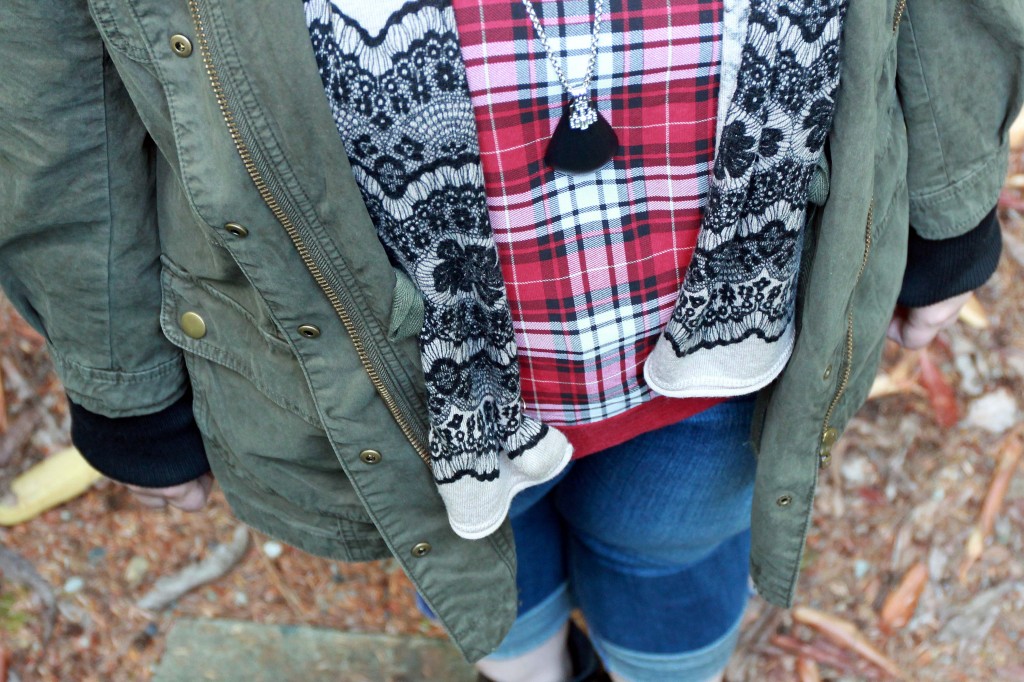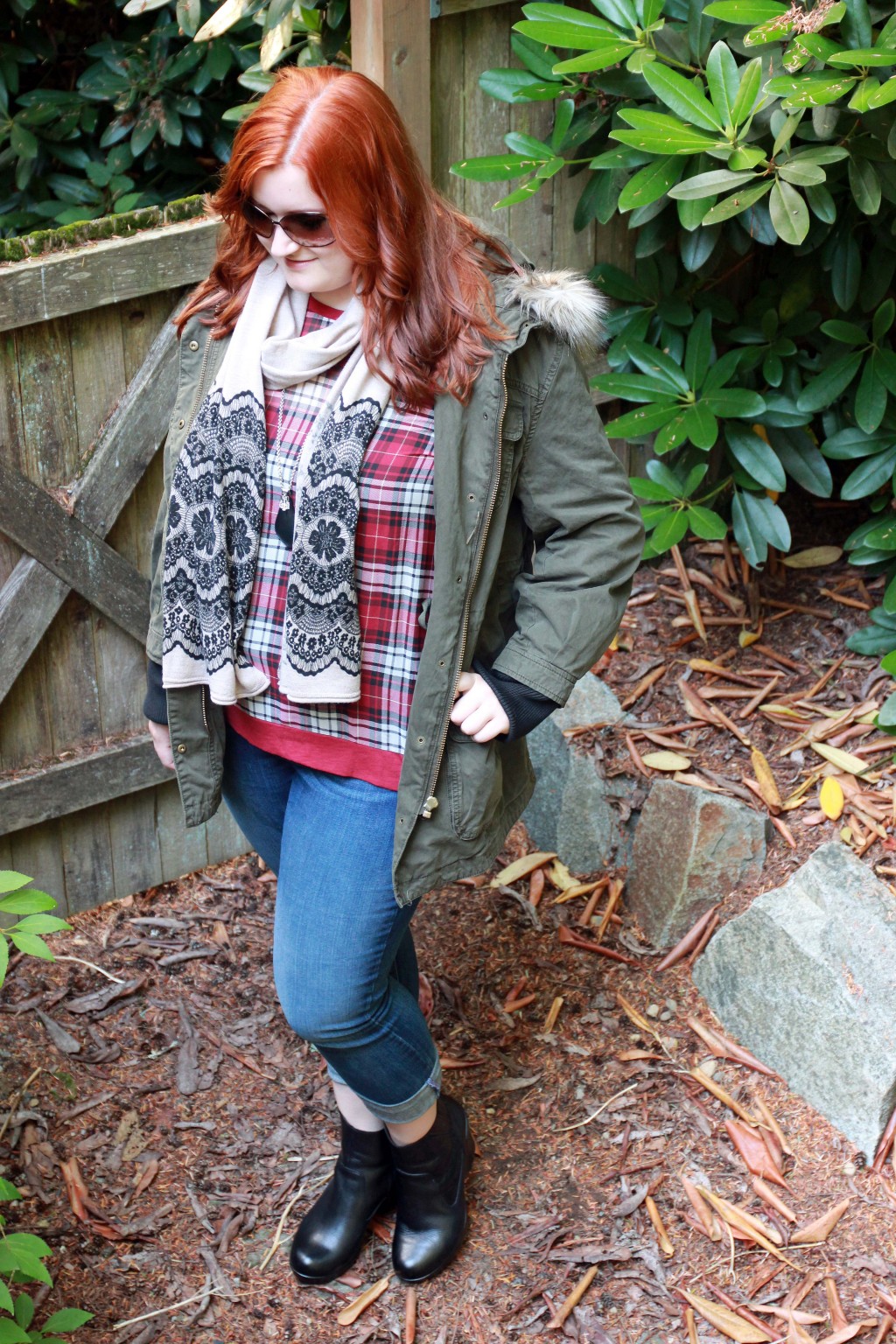 Jacket: [shopsense shopsense_url="http://api.shopstyle.com/action/apiVisitRetailer?id=459995168″ original_url="http://shop.nordstrom.com/s/sam-edelman-faux-fur-trim-down-feather-anorak-online-only/3826886?origin=keywordsearch-personalizedsort&contextualcategoryid=60178309&fashionColor=OLIVE&resultback=762&cm_sp=personalizedsort-_-searchresults-_-1_3_B" save_to_store="true"]Halogen Fur Hooded Anorak Jacket (similar by Sam Edelman)[/shopsense]; Top: [shopsense shopsense_url="http://api.shopstyle.com/action/apiVisitRetailer?id=462836740″ original_url="http://shop.nordstrom.com/s/two-by-vince-camuto-woodblock-print-mixed-media-boatneck-tee/3855249?origin=category-personalizedsort&contextualcategoryid=0&fashionColor=&resultback=1683&cm_sp=personalizedsort-_-browseresults-_-1_5_C" save_to_store="true"]Two by Vince Camuto Mixed Media Tee (similar)[/shopsense]; Scarf: [shopsense shopsense_url="http://api.shopstyle.com/action/apiVisitRetailer?id=458744604″ original_url="http://shop.nordstrom.com/s/halogen-lace-detail-plaid-scarf/3728316?origin=category-personalizedsort&contextualcategoryid=0&fashionColor=BLACK%252F+GREY+COMBO&resultback=2889&cm_sp=personalizedsort-_-browseresults-_-1_8_A" save_to_store="true"]Halogen Lace Detail Scarf (similar)[/shopsense]; Jeans: [shopsense shopsense_url="http://api.shopstyle.com/action/apiVisitRetailer?id=461649744″ original_url="http://shop.nordstrom.com/s/kut-from-the-kloth-diana-stretch-skinny-jeans-committed/3875464?origin=PredictiveSearch-personalizedsort&contextualcategoryid=0&fashionColor=&resultback=689&cm_sp=personalizedsort-_-searchresults-_-1_3_B" save_to_store="true"]KUT from the Kloth[/shopsense]; Necklace: [shopsense shopsense_url="http://api.shopstyle.com/action/apiVisitRetailer?id=459272622″ original_url="http://shop.nordstrom.com/s/alexis-bittar-lucite-imperial-noir-long-pendant-necklace/3797703?origin=category-personalizedsort&contextualcategoryid=0&fashionColor=&resultback=1518&cm_sp=personalizedsort-_-browseresults-_-1_5_B" save_to_store="true"]Alexis Bittar Lucite Necklace (similar)[/shopsense]; Booties: [shopsense shopsense_url="http://api.shopstyle.com/action/apiVisitRetailer?id=458724054″ original_url="http://shop.nordstrom.com/s/dansko-florence-bootie-women/3734484?origin=PredictiveSearch-personalizedsort&contextualcategoryid=0&fashionColor=BRANDY+ANTIQUE+FG&resultback=442&cm_sp=personalizedsort-_-searchresults-_-1_2_B" save_to_store="true"]Dansko Bootie (similar)[/shopsense]; Sunglasses: Tom Ford 'Carla' Sunglasses