Transitioning from Summer to Fall
For me it's always hard to transition out of wearing my summer dresses. They're so bold and colorful, and fall fashion in Seattle tends to involve a lot of black leggings and North Face jackets. Lace has been a favorite of mine this year, and so I decided to recycle one of my favorite lace summer dresses and re-purpose it for fall!
PS – You know the beautiful bridge I take pictures on frequently? This is it from a different view – such a gorgeous view!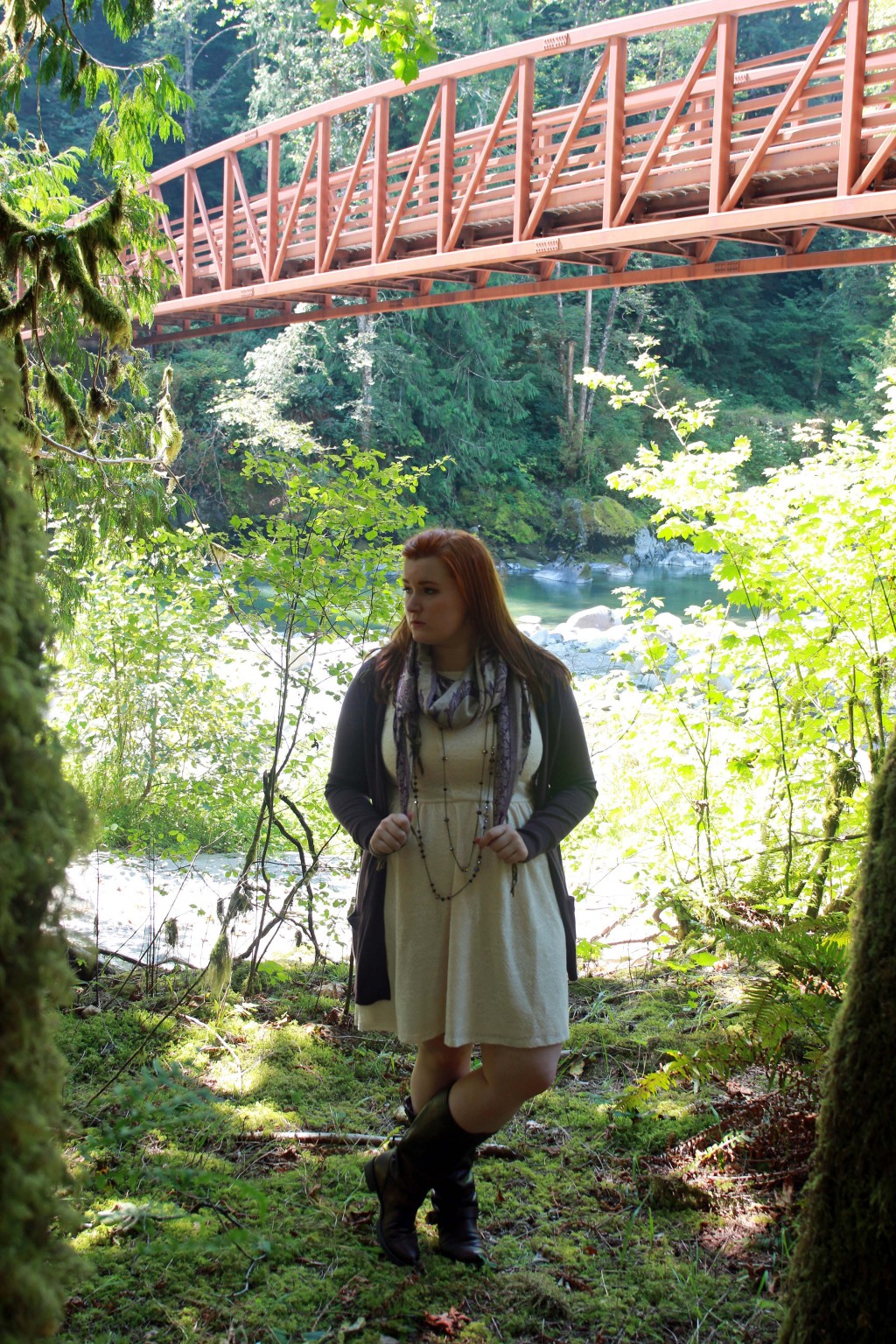 When I styled this dress for date night in the summer, I paired it with open-toe wedges and a crop denim jacket. For fall and the cool, crisp temperatures I traded in my denim jacket for a wool sweater and scarf, and my wedges for a pair of leather boots.
Besides layering up with warmer accessories, one of the keys to transitioning a summer dress into fall, is selecting colors to make it fall appropriate. Playing off the cream color in the dress, I chose to pair the delicate lace with rich purples, sparkly gold accents, and deep browns.
What are your favorite ways to style a summer dress for fall?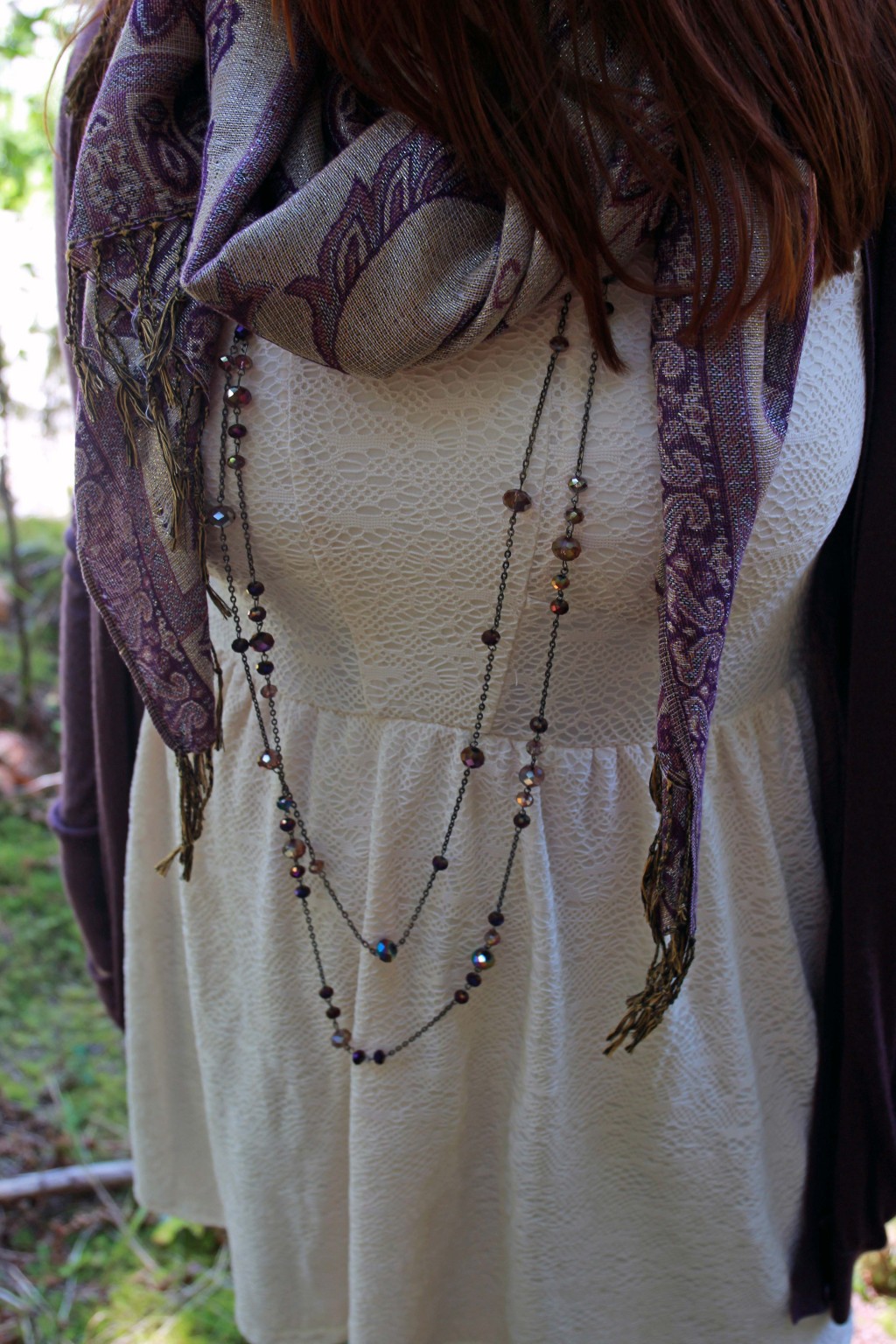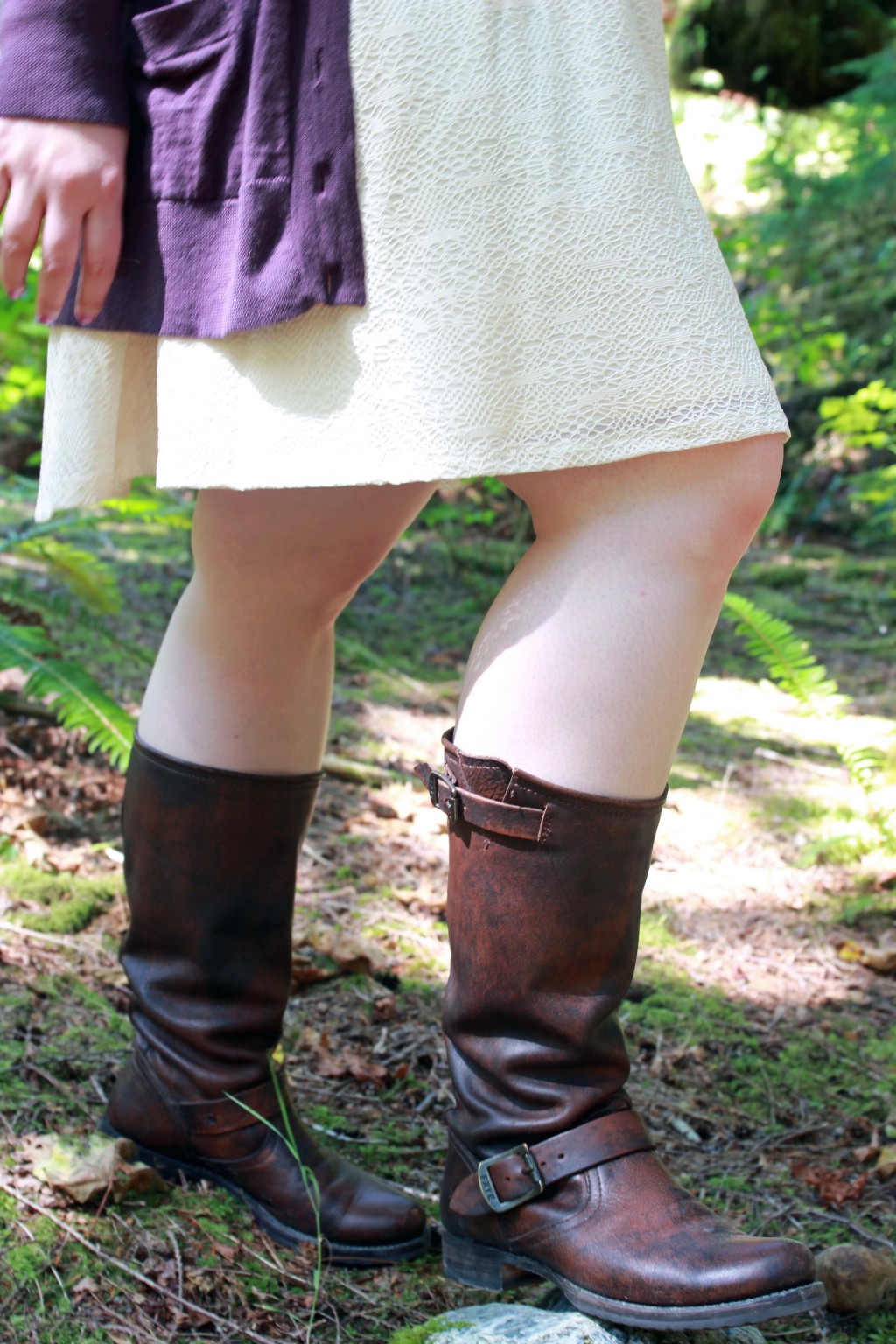 Dress: [shopsense shopsense_url="http://api.shopstyle.com/action/apiVisitRetailer?id=432120874″ original_url="http://shop.nordstrom.com/s/bb-dakota-renley-lace-fit-flare-dress-nordstrom-exclusive/3524970?origin=category-personalizedsort&contextualcategoryid=0&fashionColor=Evergreen&resultback=597&cm_sp=personalizedsort-_-browseresults-_-1_2_A" save_to_store="true"]Xhilaration Fit & Flare Dress (similar by BP.)[/shopsense]; Sweater: [shopsense shopsense_url="http://api.shopstyle.com/action/apiVisitRetailer?id=463182681″ original_url="http://shop.nordstrom.com/s/halogen-long-cashmere-cardigan-regular-petite/3781343?origin=keywordsearch-personalizedsort&contextualcategoryid=0&fashionColor=HEATHER+DARK+CAMEL&resultback=1133&cm_sp=personalizedsort-_-searchresults-_-1_4_D" save_to_store="true"]Halogen Boyfriend Cardigan (similar)[/shopsense]; Boots: [shopsense shopsense_url="http://api.shopstyle.com/action/apiVisitRetailer?id=202170369″ original_url="http://shop.nordstrom.com/s/frye-veronica-slouch-boot-wide-calf/3125767?origin=keywordsearch-personalizedsort&contextualcategoryid=0&fashionColor=&resultback=309&cm_sp=personalizedsort-_-searchresults-_-1_1_B" save_to_store="true"]Frye 'Veronica' Wide Calf Boots[/shopsense]; Scarf: Personal Collection ([shopsense shopsense_url="http://api.shopstyle.com/action/apiVisitRetailer?id=454824511″ original_url="http://shop.nordstrom.com/s/nordstrom-marais-medallion-wool-scarf/3675500?origin=category-personalizedsort&contextualcategoryid=0&fashionColor=Blue%252F+Cream&resultback=4904&cm_sp=personalizedsort-_-browseresults-_-1_12_D" save_to_store="true"]similar by Nordstrom[/shopsense]); Necklace: Personal Collection ([shopsense shopsense_url="http://api.shopstyle.com/action/apiVisitRetailer?id=459150263″ original_url="http://shop.nordstrom.com/s/givenchy-crystal-station-necklace-nordstrom-exclusive/3826469?origin=category-personalizedsort&contextualcategoryid=0&fashionColor=HEMATITE%252F+PURPLE+MULTI&resultback=3359&cm_sp=personalizedsort-_-browseresults-_-1_9_C" save_to_store="true"]similar by Givenchy[/shopsense])