Goodwill Style: Lace Dress
This is probably one of my favorite looks in my Goodwill Style Series! But honestly, it's so hard to pick a favorite. Crisp, fresh colors for summer just make me so happy!
When I was scouring the racks at Goodwill, I spotted a lacy blue fabric peeking out at me down the row. I walked by it once without bothering to stop because I noticed that it was placed in the "small" size section. Knowing that nothing from that size range would ever fit me, I meandered back to my section and kept looking. A few more times I passed by the rack with the blue lace fabric. Finally, I felt inclined to pick up the dress. Low and behold, it was a dress from Target in my size, and a style that's still carried in stores for a fraction of the price! I knew I had to try it on.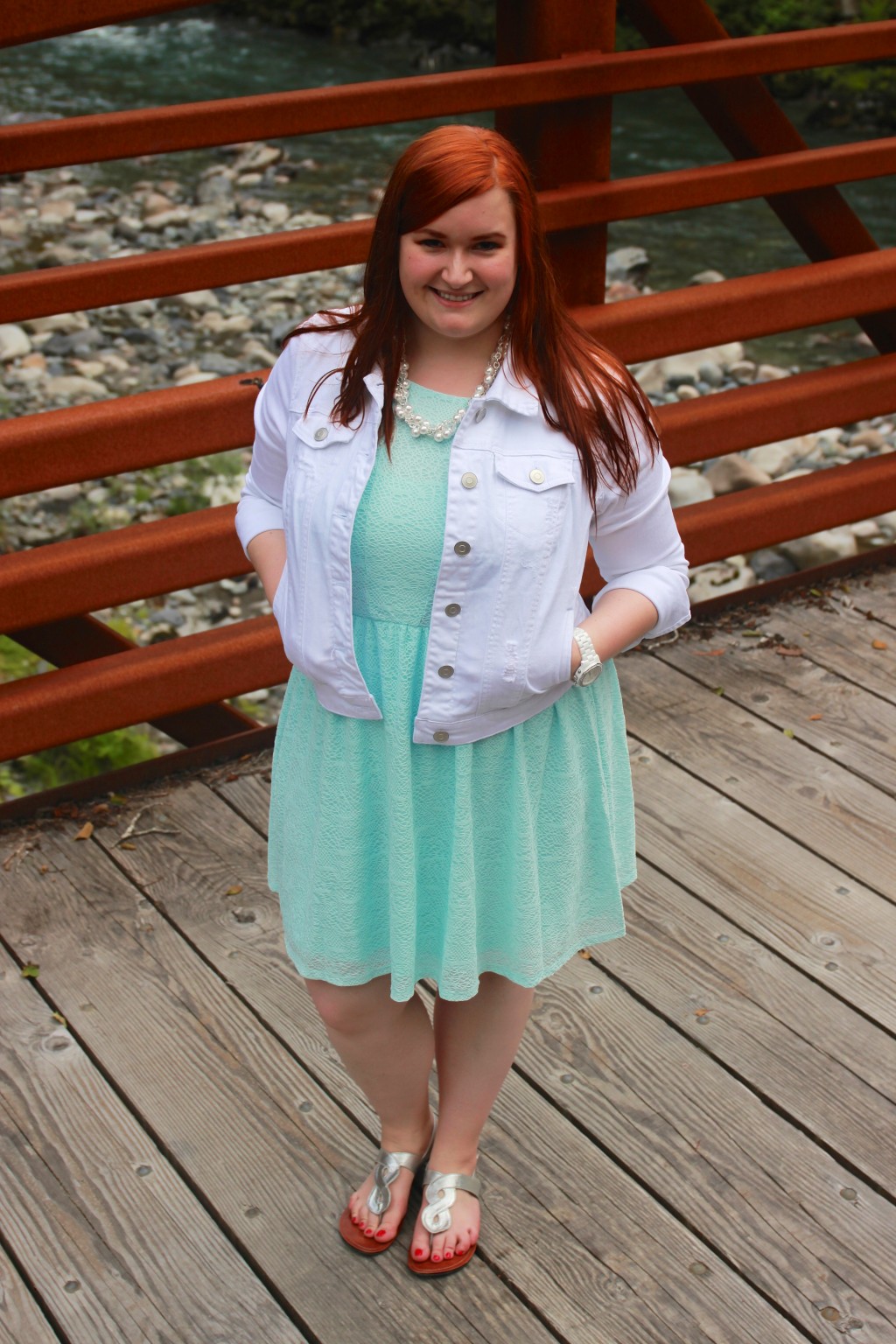 I knew immediately that this little gem would be a great fit into my summer wardrobe! The material is a bit stretchy, but a very flattering fit-and-flare cut. It also features lacy cut-outs under the bust area. I was a bit apprehensive about these at first, but decided that wearing a white camisole underneath would give me enough coverage to feel comfortable with the cut-outs, and also play nicely with the white and silver tones I accessorized with!
I have to ask: how much do you love my necklace? Shout-out to my crafty friend Lauren who made this handmade beauty for me! I'm so jealous of Lauren's talent when it comes to making jewelry, and doing anything else remotely crafty, but I'm also very glad to call her a friend and get these beautiful surprises from her!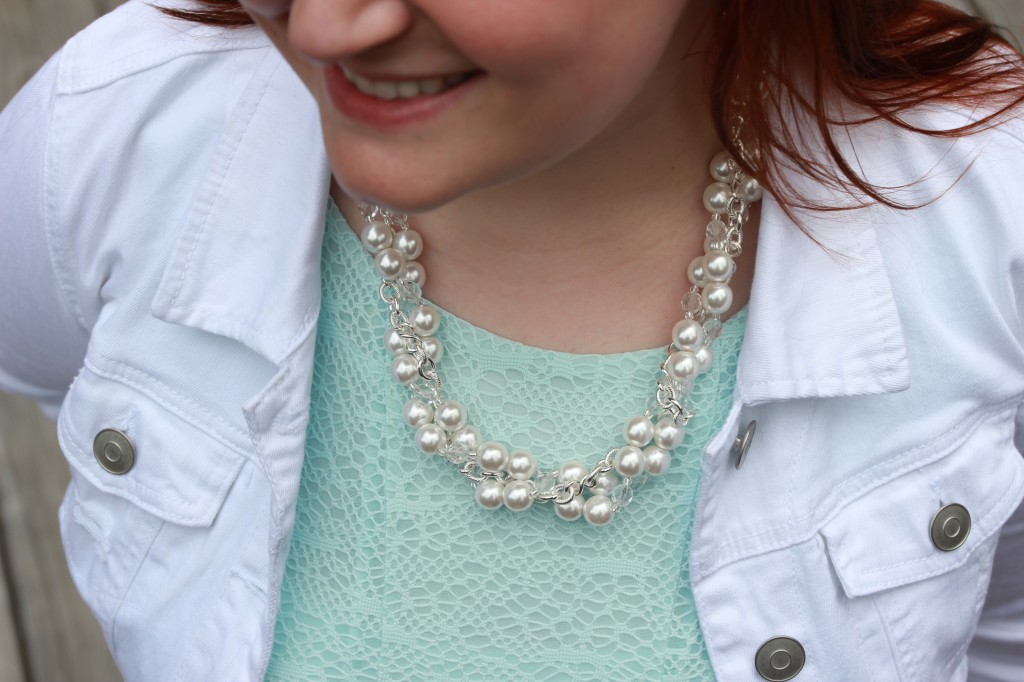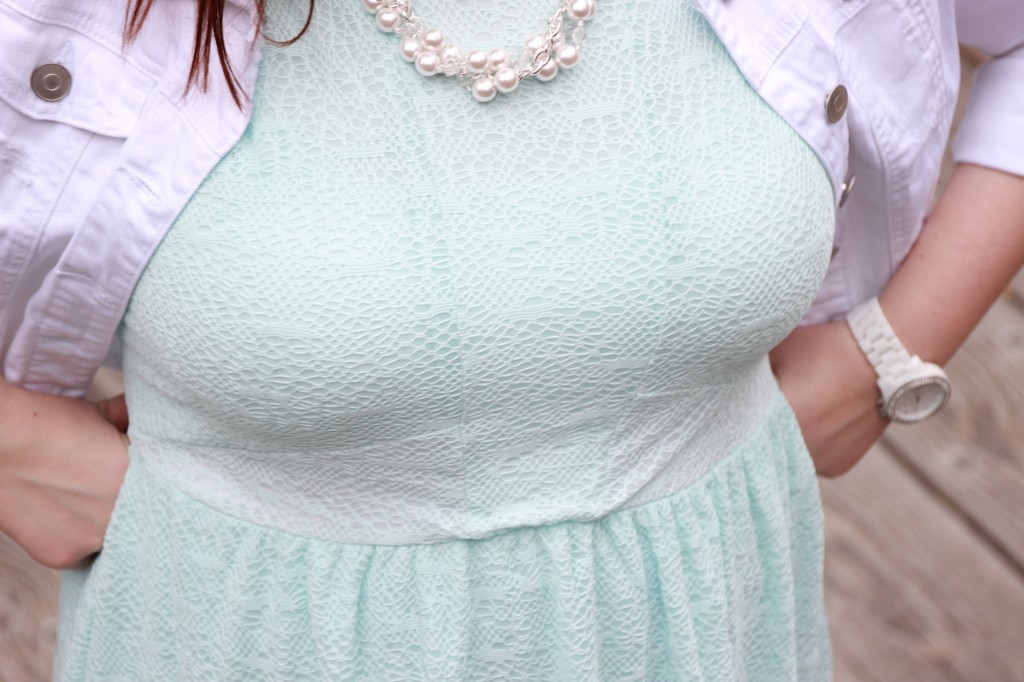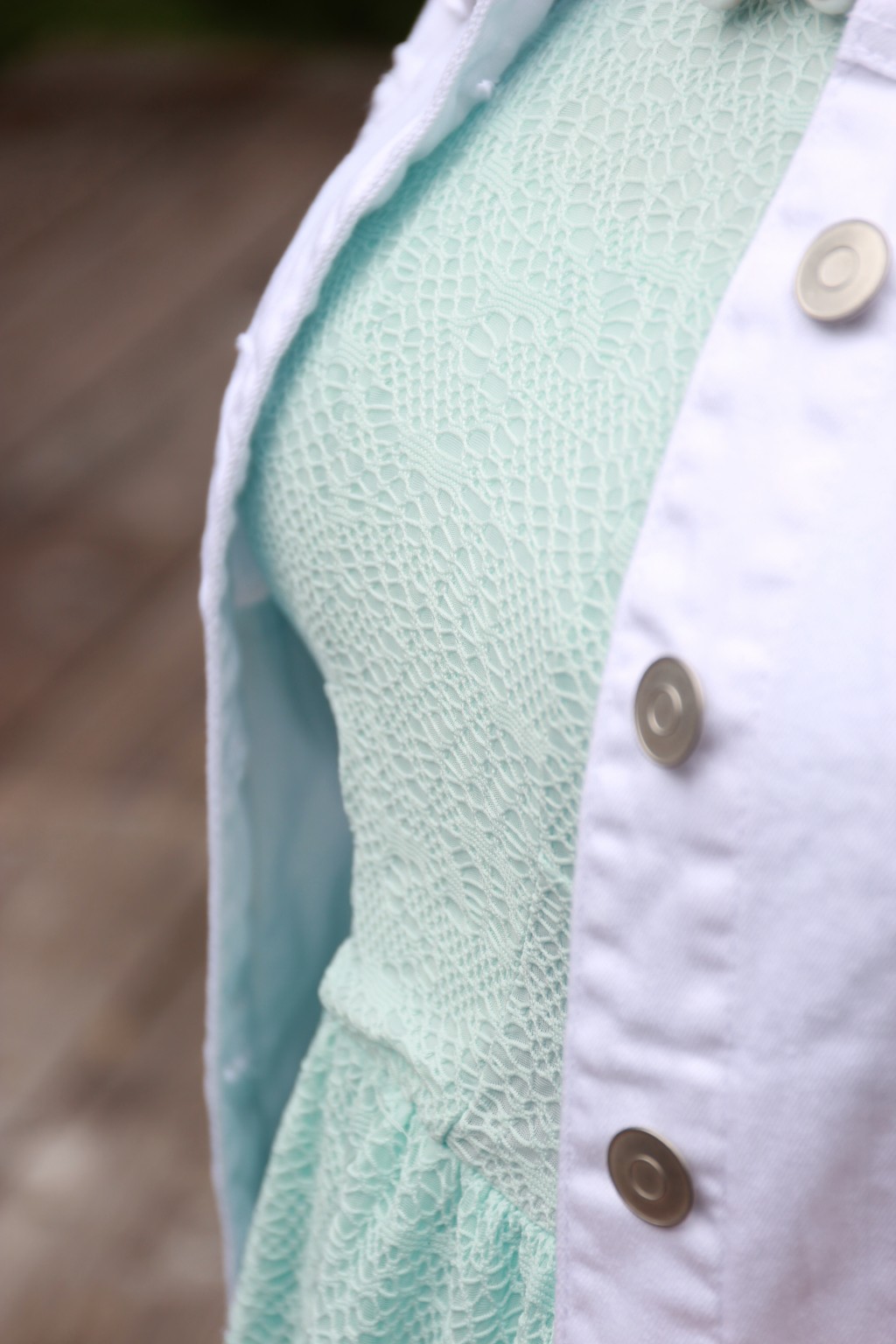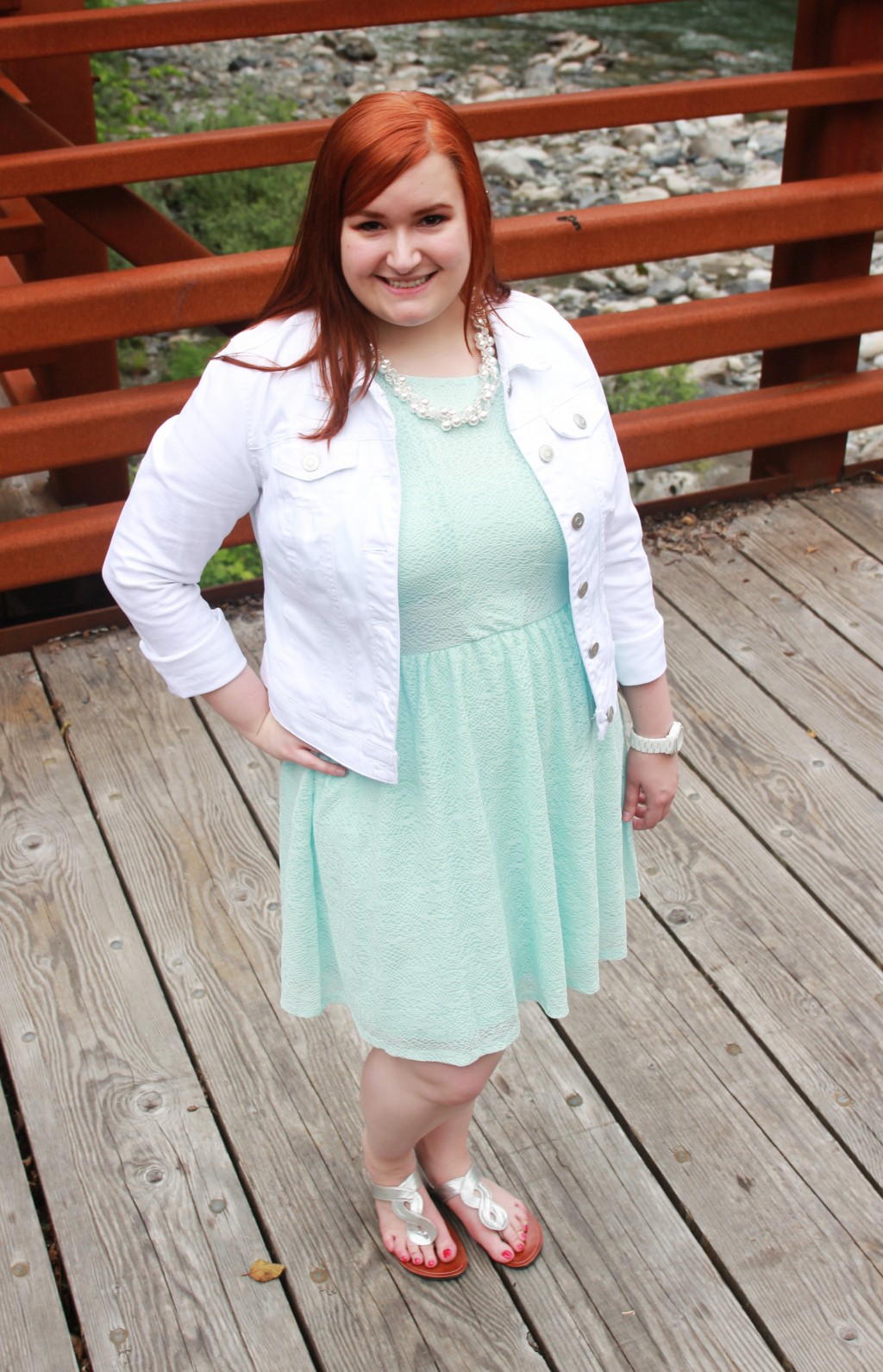 Dress: [shopsense shopsense_url="http://api.shopstyle.com/action/apiVisitRetailer?id=446842764&pid=uid4644-9454262-43″ original_url="http://www.target.com/p/junior-s-lace-fit-flare-dress/-/A-15068584#prodSlot=large_1_27″ save_to_store="true"]Xhilaration Fit & Flare Dress[/shopsense] (c/o Goodwill); Jacket: Venezia ([shopsense shopsense_url="http://api.shopstyle.com/action/apiVisitRetailer?id=452399188″ original_url="http://shop.nordstrom.com/s/sejour-patch-pocket-denim-jacket-plus-size/3671021?origin=category-personalizedsort&contextualcategoryid=0&fashionColor=WHITE&resultback=629&cm_sp=personalizedsort-_-browseresults-_-1_3_C" save_to_store="true"]similar by Sejour[/shopsense]); Necklace: Lauren James ([shopsense shopsense_url="http://api.shopstyle.com/action/apiVisitRetailer?id=454831111″ original_url="http://shop.nordstrom.com/s/givenchy-multistrand-necklace-nordstrom-exclusive/3728973?origin=category-personalizedsort&contextualcategoryid=0&fashionColor=BLUSH+PEARL%252F+CLEAR%252F+GOLD&resultback=585&cm_sp=personalizedsort-_-browseresults-_-1_2_B" save_to_store="true"]similar by Givenchy[/shopsense]); Shoes: Dolce Vita ([shopsense shopsense_url="http://api.shopstyle.com/action/apiVisitRetailer?id=448068448″ original_url="http://shop.nordstrom.com/s/vince-camuto-jossa-sandal/3673218?origin=category-personalizedsort&contextualcategoryid=0&fashionColor=GREY+MIX+COMBO&resultback=850&cm_sp=personalizedsort-_-browseresults-_-1_3_D" save_to_store="true"]similar by Vince Camuto[/shopsense]); Watch: Michael Kors ([shopsense shopsense_url="http://api.shopstyle.com/action/apiVisitRetailer?id=455912375″ original_url="http://shop.nordstrom.com/s/fossil-cecile-crystal-bezel-ceramic-bracelet-watch-43mm/3835132?origin=category-personalizedsort&contextualcategoryid=0&fashionColor=&resultback=1143&cm_sp=personalizedsort-_-browseresults-_-1_4_D" save_to_store="true"]similar by Fossil[/shopsense])