5 Tips for Wearing Layers in the Summer
The bright, happy summer weather has been hit or miss around here the last few days. It's definitely been nice to have some cooler temperatures and a bit of rain here or there, but it can make dressing for the day a bit of a challenge.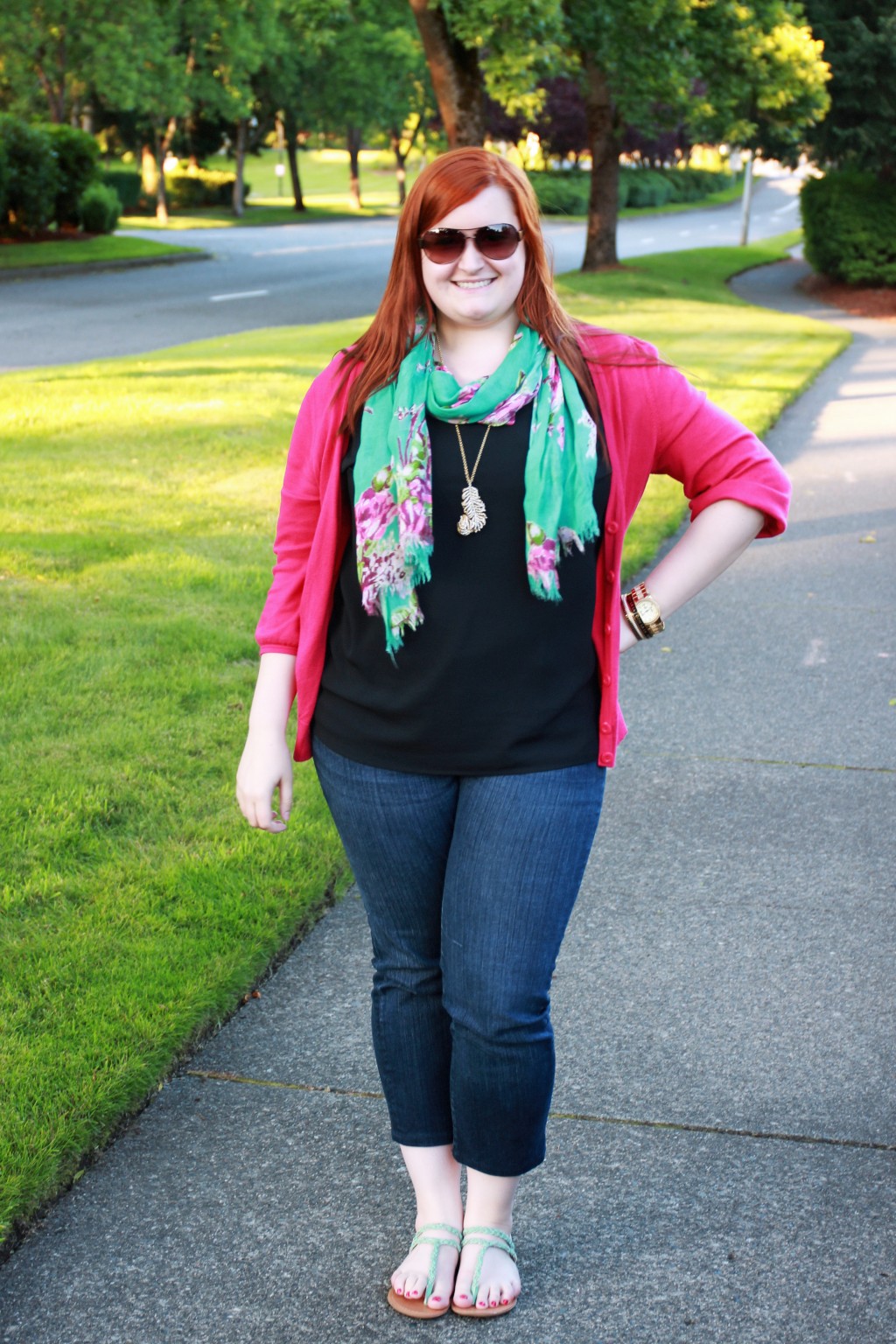 I think every season in Seattle is all about layering. In the fall you need a fleece jacket for the crisper temperatures; in the winter a pair of gloves and boots are always on standby; in spring you need your North Face in case of a downpour; and in the summer you need a lightweight sweater or scarf to keep you cozy (and protect you from mosquitos) in the evenings.
But how do you layer in the summer without being too warm?
Incorporate lightweight, flowy separates. Sheer tops and breezy skirts will be your best friend during the heat of the day. They aren't too clingy and are perfect to build on when you start adding in layers!
Invest in a cardigan. Cardigan sweaters are a staple in my closet – I literally can't live without them. The summertime is no different and is the best excuse to wear my bold colored sweaters and play up the fun summer colors.
Expand your scarf collection to include summer scarves. I originally thought the idea of a summer scarf was an oxymoron but then I perused the accessories department in the summer and realized how much the materials and weights of fabrics had changed for the warmer temperatures. Check it out and compare it to one of your heavy cashmere or wool winter scarves!
Take advantage of your accessories. Because your outfit will essentially change depending on the time of the day and the temperature, accessorize with bracelets and necklaces to give depth to your outfit when you're not wearing all of your layers together.
Pack tennis shoes! Okay, so this doesn't really count as a layer, but in the summer I always try to have a pair of tennis shoes with me to transition into the evening to keep my toes warm and mosquito-bite free while by the campfire!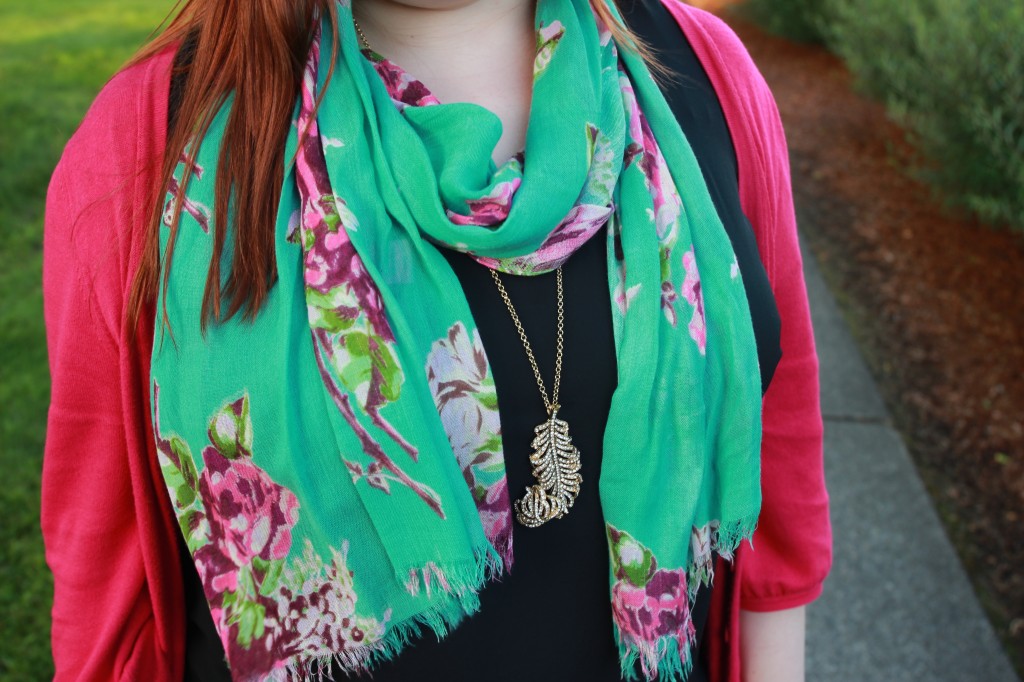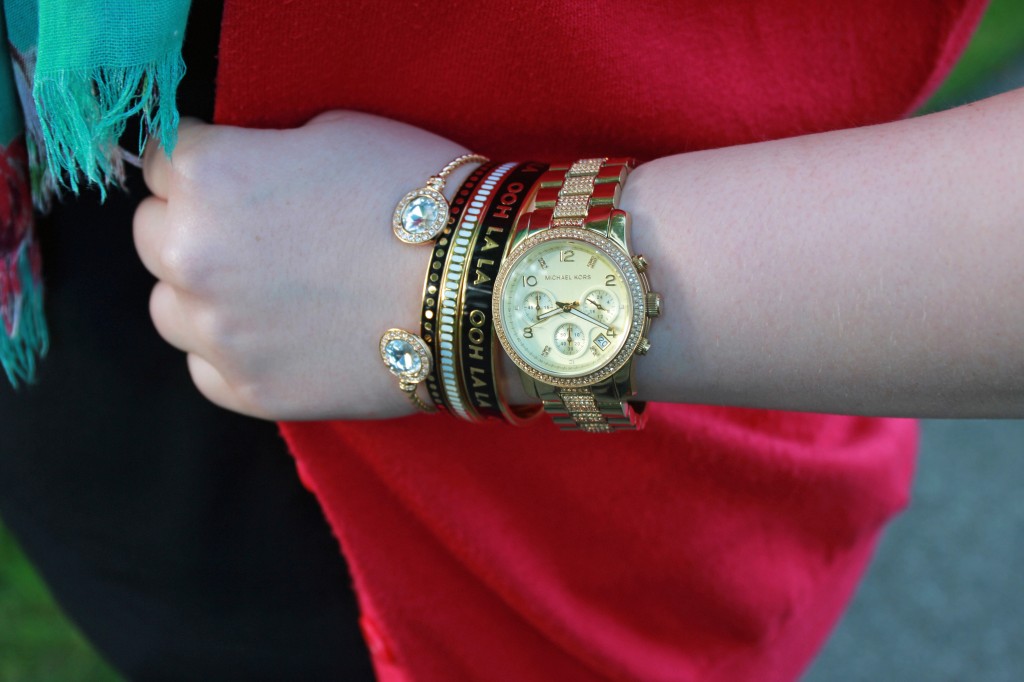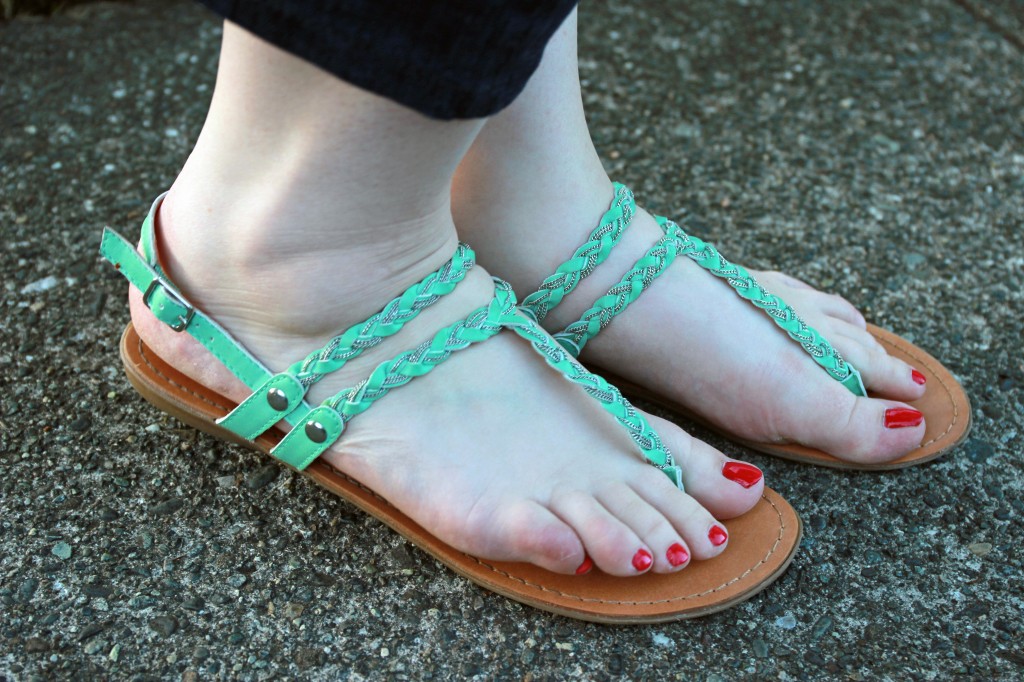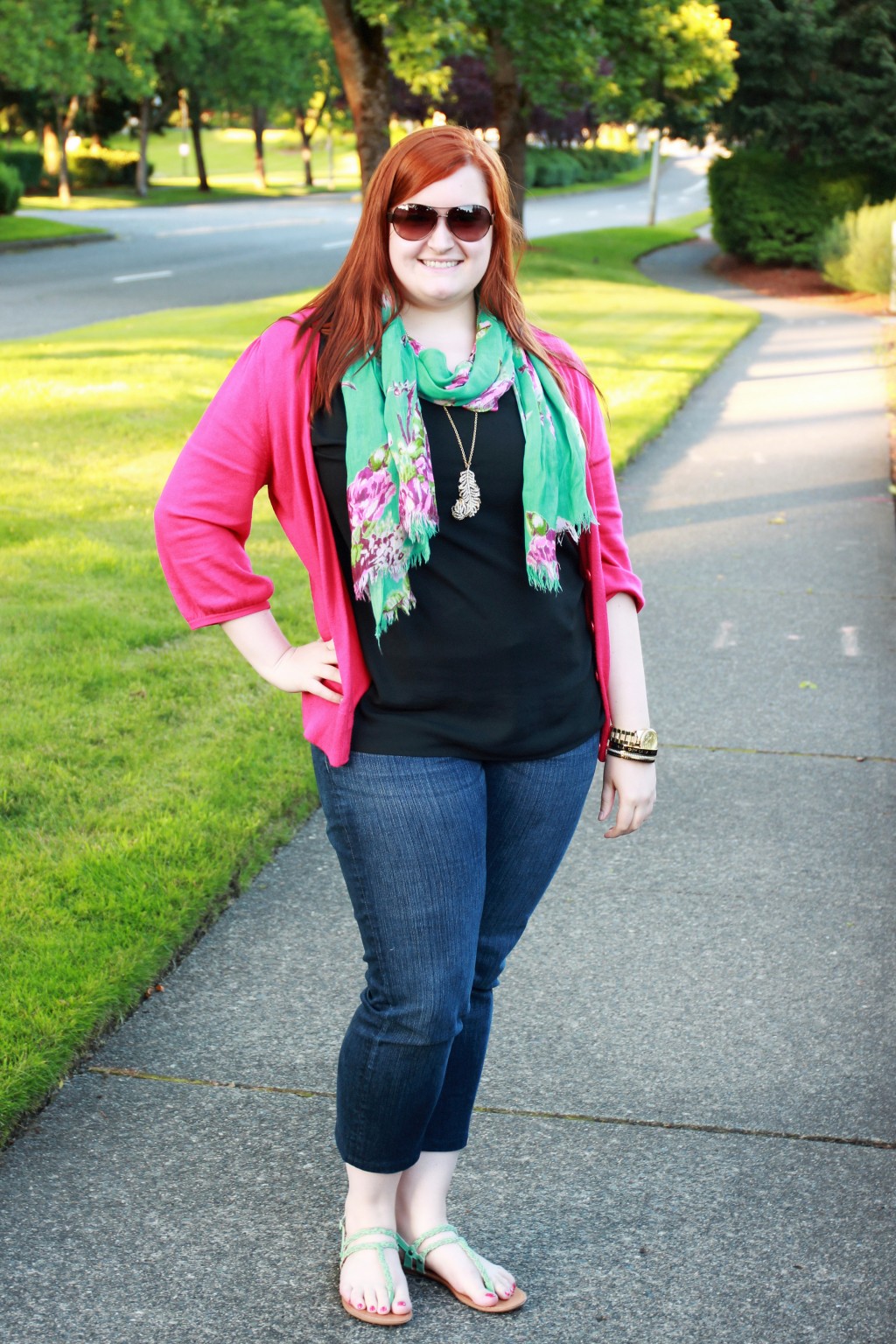 Sweater: [shopsense shopsense_url="http://api.shopstyle.com/action/apiVisitRetailer?id=444091739&pid=uid4644-9454262-43″ original_url="http://shop.nordstrom.com/s/halogen-three-quarter-sleeve-cardigan-regular-petite/3320328?origin=category-personalizedsort&contextualcategoryid=0&fashionColor=RED+LIPSTICK&resultback=755&cm_sp=personalizedsort-_-browseresults-_-1_3_A" save_to_store="true"]Halogen Three-Quarter Sleeve Sweater (similar color – pink berry)[/shopsense]; Shirt: [shopsense shopsense_url="http://api.shopstyle.com/action/apiVisitRetailer?id=454127277&pid=uid4644-9454262-43″ original_url="http://shop.nordstrom.com/s/pleione-split-neck-blouse-regular-petite/3829153?origin=category-personalizedsort&contextualcategoryid=0&fashionColor=BLACK%2F+RED+ZIG+ZAG&resultback=627&cm_sp=personalizedsort-_-browseresults-_-1_2_A" save_to_store="true"]Pleione Blouse (similar – on sale!);[/shopsense] Scarf: Betsey Johnson ([shopsense shopsense_url="http://api.shopstyle.com/action/apiVisitRetailer?id=449823442&pid=uid4644-9454262-43″ original_url="http://shop.nordstrom.com/s/echo-stacked-dots-silk-scarf/3730334?origin=category-personalizedsort&contextualcategoryid=0&fashionColor=BRIGHT+TURQUOISE&resultback=1025&cm_sp=personalizedsort-_-browseresults-_-3_4_A" save_to_store="true"]similar by Echo[/shopsense]); Jeans: [shopsense shopsense_url="http://api.shopstyle.com/action/apiVisitRetailer?id=445084434&pid=uid4644-9454262-43″ original_url="http://shop.nordstrom.com/s/kut-from-the-kloth-catherine-boyfriend-jeans-magnify-regular-petite/3647074?origin=category-personalizedsort&contextualcategoryid=0&fashionColor=&resultback=1860&cm_sp=personalizedsort-_-browseresults-_-1_5_C" save_to_store="true"]KUT from the Kloth (similar style – on sale!);[/shopsense] Sandals: ZiGi Girl ([shopsense shopsense_url="http://api.shopstyle.com/action/apiVisitRetailer?id=447365112&pid=uid4644-9454262-43″ original_url="http://shop.nordstrom.com/s/frye-carson-sandal/3611465?origin=category-personalizedsort&contextualcategoryid=0&fashionColor=TURQUOISE&resultback=2225&cm_sp=personalizedsort-_-browseresults-_-1_7_C" save_to_store="true"]similar by Frye[/shopsense]); Sunglasses: Armani Aviator Sunglasses ([shopsense shopsense_url="http://api.shopstyle.com/action/apiVisitRetailer?id=454829905&pid=uid4644-9454262-43″ original_url="http://shop.nordstrom.com/s/michael-michael-kors-58mm-aviator-sunglasses/3743048?origin=category-personalizedsort&contextualcategoryid=0&fashionColor=GOLD&resultback=537&cm_sp=personalizedsort-_-browseresults-_-1_2_B" save_to_store="true"]similar by Michael Kors[/shopsense]); Necklace: J. Crew ([shopsense shopsense_url="http://api.shopstyle.com/action/apiVisitRetailer?id=454823308&pid=uid4644-9454262-43″ original_url="http://shop.nordstrom.com/s/alexis-bittar-lucite-lace-pendant-necklace-nordstrom-exclusive/3750074?origin=category-personalizedsort&contextualcategoryid=0&fashionColor=CHOCOLATE&resultback=947&cm_sp=personalizedsort-_-browseresults-_-1_3_C" save_to_store="true"]similar by Alexis Bittar – on sale![/shopsense]); Bracelets: [shopsense shopsense_url="http://api.shopstyle.com/action/apiVisitRetailer?url=http%3A%2F%2Fshop.nordstrom.com%2Fs%2Fkate-spade-new-york-on-the-dot-hinge-idiom-bracelet%2F3767706%3Forigin%3Dcategory-personalizedsort%26contextualcategoryid%3D0%26fashionColor%3D%26resultback%3D3258%26cm_sp%3Dpersonalizedsort-_-browseresults-_-1_9_A&pid=uid4644-9454262-43″ original_url="http://shop.nordstrom.com/s/halogen-three-quarter-sleeve-cardigan-regular-petite/3320328?origin=category-personalizedhttp://shop.nordstrom.com/s/kate-spade-new-york-on-the-dot-hinge-idiom-bracelet/3767706?origin=category-personalizedsort&contextualcategoryid=0&fashionColor=&resultback=3258&cm_sp=personalizedsort-_-browseresults-_-1_9_A" save_to_store="true"]Kate Spade 'On the Dot' Idiom Bangle (similar)[/shopsense], [shopsense shopsense_url="http://api.shopstyle.com/action/apiVisitRetailer?id=398790210&pid=uid4644-9454262-43″ original_url="http://www.katespade.com/et-cetera%2C-et-cetera-idiom-bangle/WBRU5869,en_US,pd.html?dwvar_WBRU5869_color=142&cgid=ks-jewelry-bracelets#start=24&cgid=ks-jewelry-bracelets" save_to_store="true"]Kate Spade 'Et Cetera' Bangle[/shopsense], [shopsense shopsense_url="http://api.shopstyle.com/action/apiVisitRetailer?id=444363422&pid=uid4644-9454262-43″ original_url="http://www.katespade.com/ooh-la-la-idiom-bangle/WBRU7599,en_US,pd.html?dwvar_WBRU7599_color=692&cgid=ks-jewelry-bracelets#start=30&cgid=ks-jewelry-bracelets" save_to_store="true"]Kate Spade 'Ohh La La' Idiom Bangle (similar in pink)[/shopsense], [shopsense shopsense_url="http://www.charmingcharlie.com/jewelry/bracelets/haute-haze-bracelet.html#color=gold/white" original_url="http://www.charmingcharlie.com/jewelry/bracelets/haute-haze-bracelet.html#color=gold/white" save_to_store="true"]Charming Charlie Cuff (similar – c/o)[/shopsense]; Watch: [shopsense shopsense_url="http://api.shopstyle.com/action/apiVisitRetailer?id=454823332&pid=uid4644-9454262-43″ original_url="http://shop.nordstrom.com/s/michael-kors-baisley-crystal-bezel-chronograph-bracelet-watch-41mm-nordstrom-exclusive/3762962?origin=category-personalizedsort&contextualcategoryid=0&fashionColor=&resultback=1754&cm_sp=personalizedsort-_-browseresults-_-1_5_A" save_to_store="true"]Michael Kors (similar – on sale!)[/shopsense]