Bold Basics
Happy Monday Tuesday! Can I get a show of hands – who else had a pretty crappy Monday yesterday? I'd originally intended to share this outfit with y'all yesterday but unfortunately Monday had a way of taking over my life and before I knew it, all my good intentions had been washed away with a series of IT issues at work, and here we are.
So here's to Tuesday being a million times better than Monday as we get closer to the holiday weekend!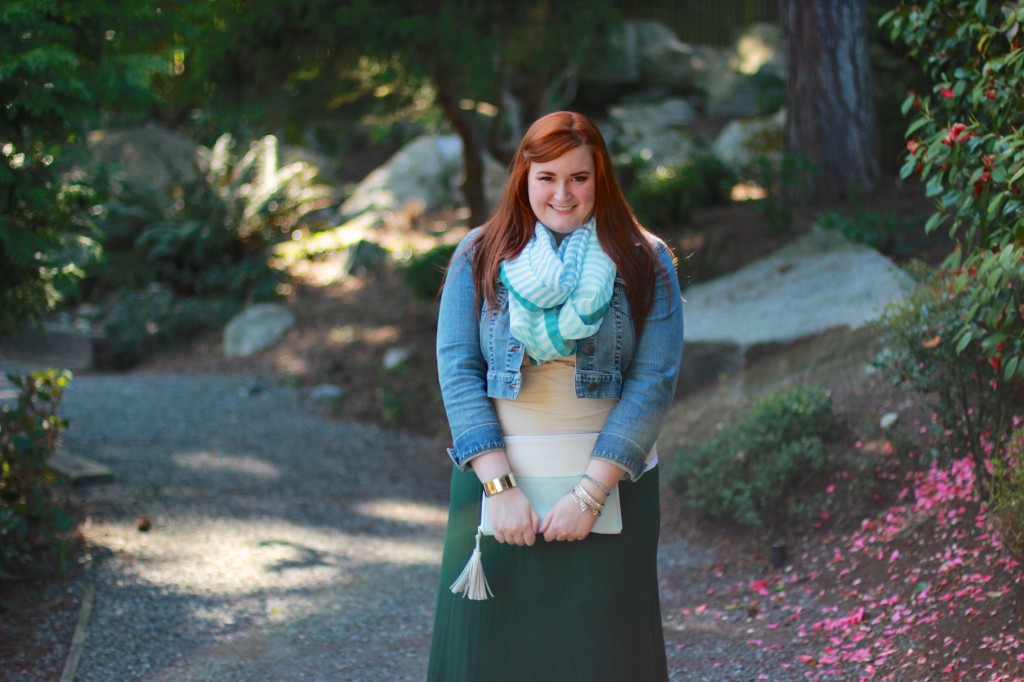 I feel like I pretty much stole this outfit. Literally, this skirt cost me $3. Yes you read that right, three dollars. It turns out shopping the clearance racks at [shopsense shopsense_url="none" original_url="https://www.nordstromrack.com/" save_to_store="false"]Nordstrom Rack[/shopsense] can pay off from time to time! Admittedly, the skirt is a bit large, but who can pass this gorgeous green maxi up when it's only $3? Certainly not me.
This outfit is entirely built off of basics from my closet. A maxi skirt, a camisole, and denim jacket, all solid colors and potentially "boring" pieces, but throw them together with a bit of bold accessories – a colorful scarf, sparkly arm candy, and a contrasting clutch – and it comes to life! It's amazing what you can do with pieces in your closet simply by rethinking how you style them!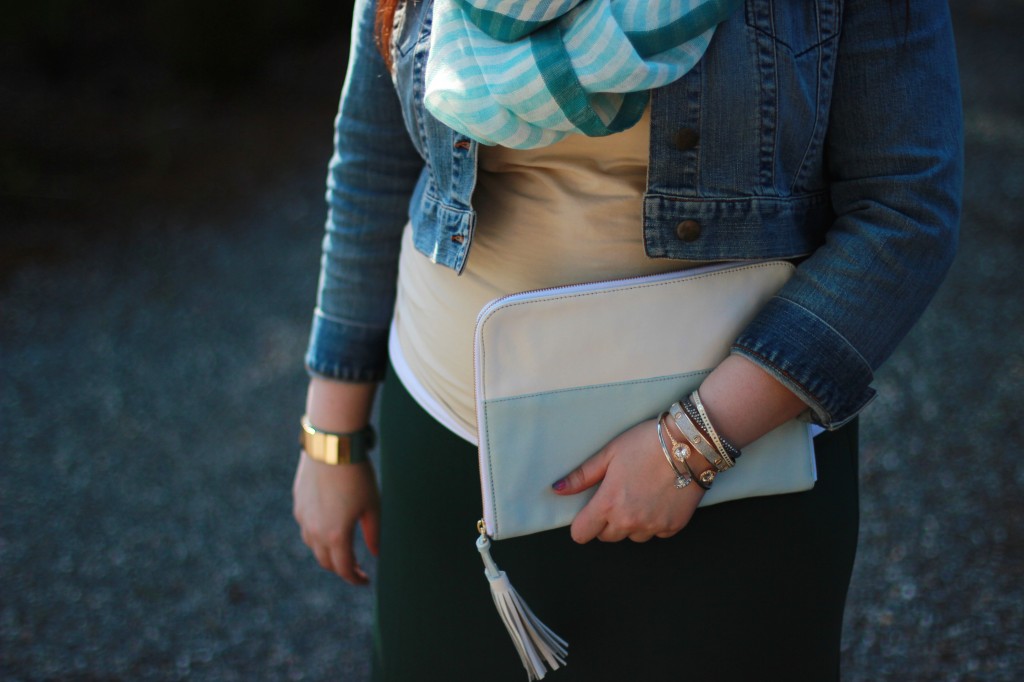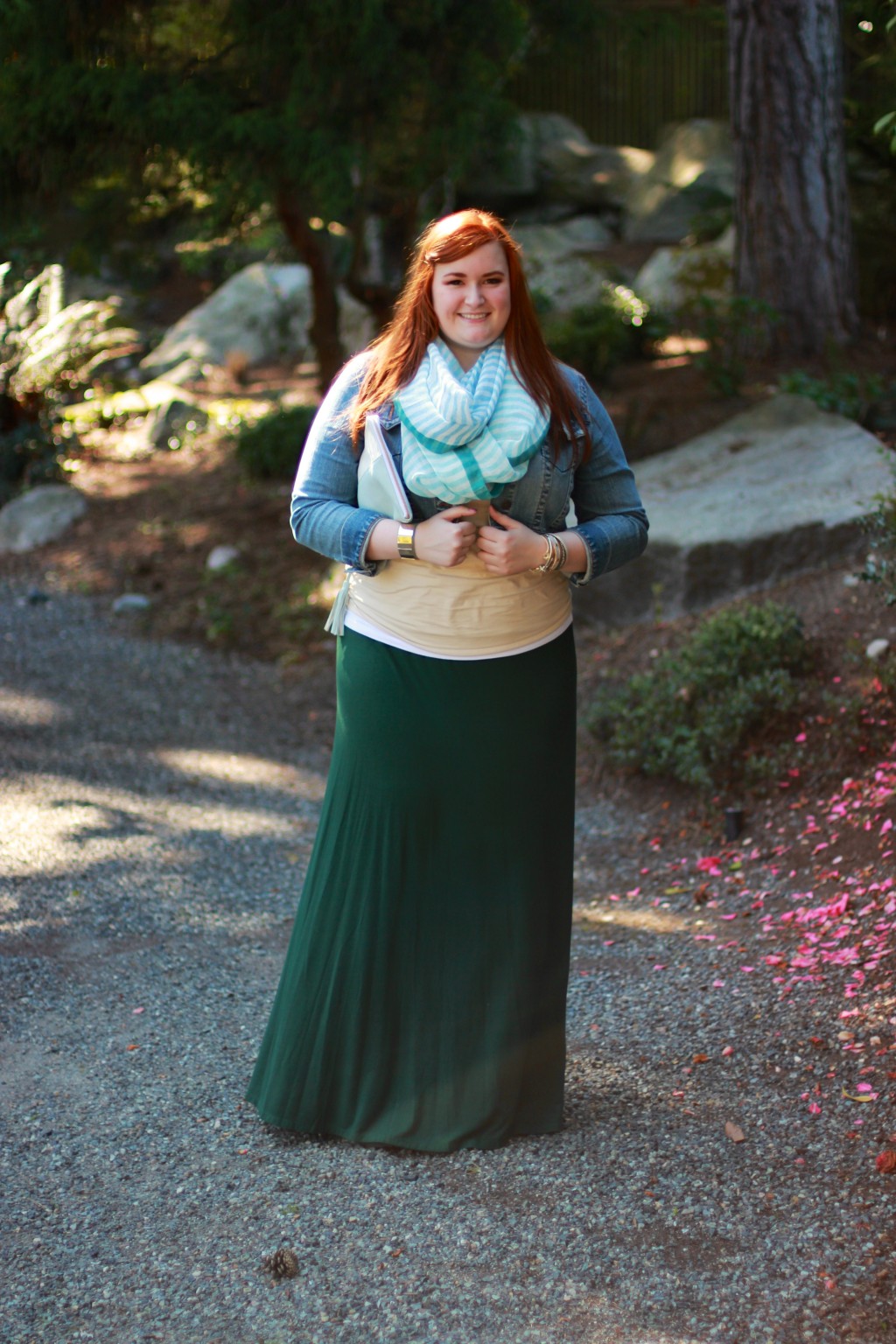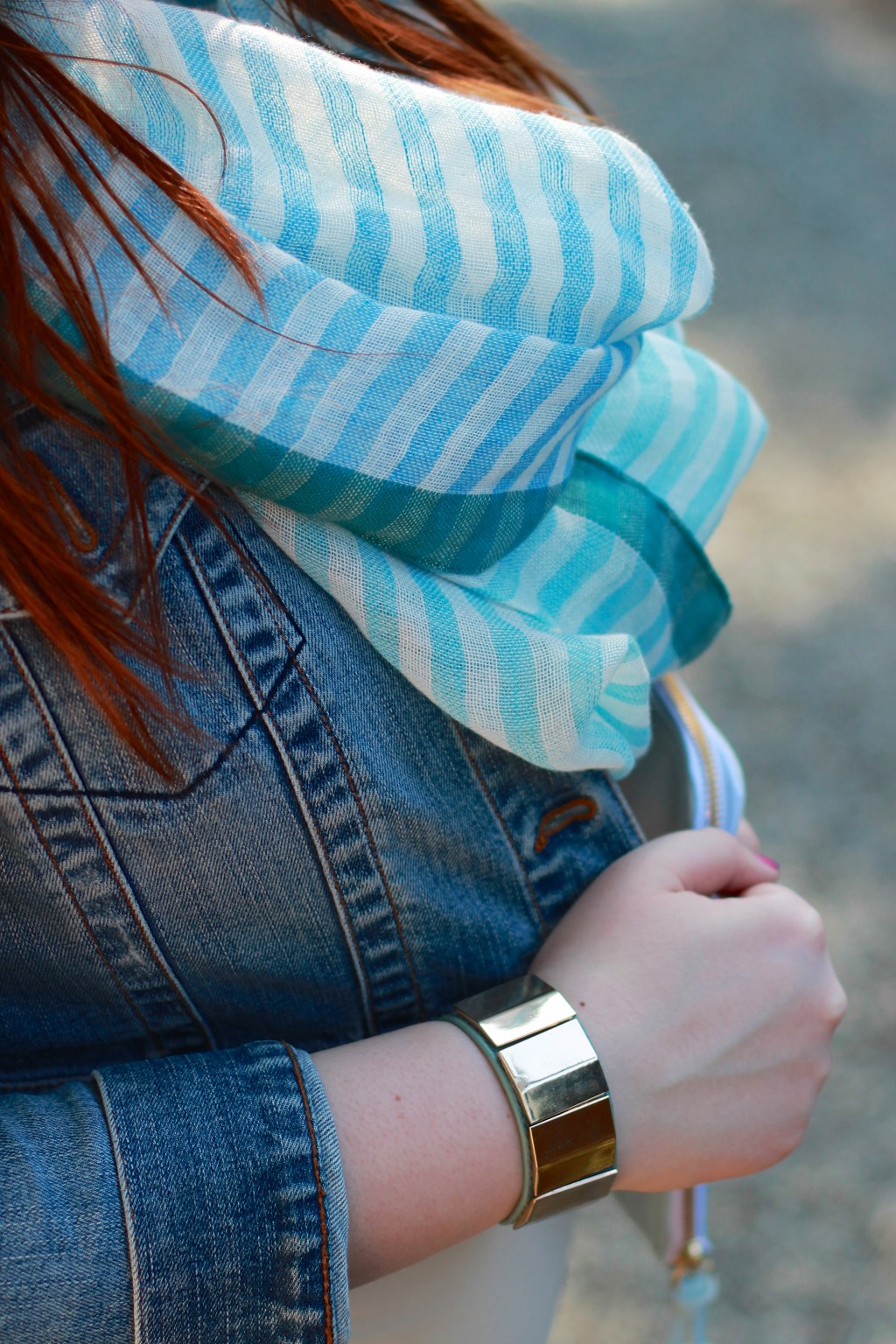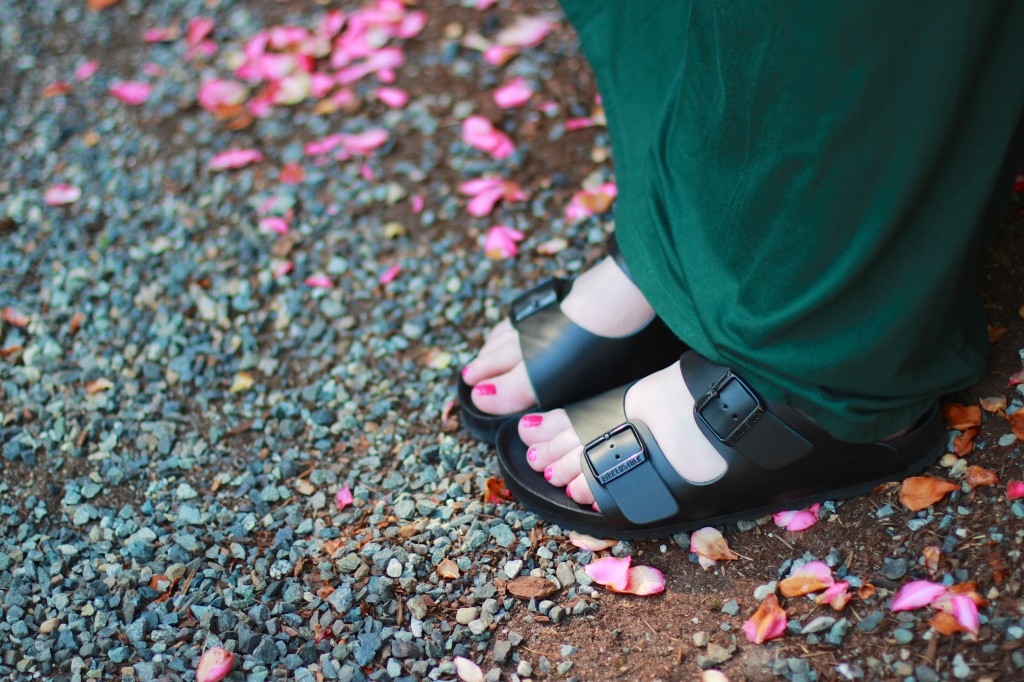 Top: Stevie (similar [shopsense shopsense_url="http://api.shopstyle.com/action/apiVisitRetailer?id=453825280″ original_url="http://shop.nordstrom.com/s/sejour-stretch-cotton-tank-plus-size/3822670?origin=category-personalizedsort&contextualcategoryid=0&fashionColor=BLACK&resultback=1067&cm_sp=personalizedsort-_-browseresults-_-1_3_D" save_to_store="false"]here[/shopsense]); Jacket: Venezia ([shopsense shopsense_url="http://api.shopstyle.com/action/apiVisitRetailer?id=445958881″ original_url="http://shop.nordstrom.com/s/lucky-brand-dixie-denim-jacket-plus-size/3665817?origin=category-personalizedsort&contextualcategoryid=0&fashionColor=&resultback=177&cm_sp=personalizedsort-_-browseresults-_-1_1_D" save_to_store="false"]similar by Lucky Brand[/shopsense]); Scarf: Caslon ([shopsense shopsense_url="http://api.shopstyle.com/action/apiVisitRetailer?id=451877878″ original_url="http://shop.nordstrom.com/s/jules-smith-chevron-scarf/3771315?origin=category-personalizedsort&contextualcategoryid=0&fashionColor=Navy%2FMint&resultback=940&cm_sp=personalizedsort-_-browseresults-_-1_3_C" save_to_store="true"]similar by Jules Smith[/shopsense]); Skirt: [shopsense shopsense_url="http://api.shopstyle.com/action/apiVisitRetailer?id=432440010″ original_url="http://shop.nordstrom.com/s/bobeau-knit-maxi-skirt-plus-size/3541669?origin=category-personalizedsort&contextualcategoryid=0&fashionColor=&resultback=646&cm_sp=personalizedsort-_-browseresults-_-1_2_B" save_to_store="true"]Bobeau Maxi Skirt (similar here)[/shopsense]; Sandals: Birkenstock 'Monterey' Sandal ([shopsense shopsense_url="http://api.shopstyle.com/action/apiVisitRetailer?id=359339″ original_url="http://shop.nordstrom.com/s/birkenstock-arizona-soft-footbed-suede-sandal-women/2896765?origin=category&BaseUrl=Sandals" save_to_store="true"]similar 'Arizona' style[/shopsense]); Clutch: Zara (c/o); Bracelets: Simply Chic Cuff (similar), [shopsense shopsense_url="none" original_url="http://www.charmingcharlie.com/jewelry/bracelets/haute-haze-bracelet.html#color=gold/white" save_to_store="false"]Charming Charlie Cuff[/shopsense], Charming Charlie Lock 'n Roll Bracelet, [shopsense shopsense_url="http://api.shopstyle.com/action/apiVisitRetailer?id=208282141″ original_url="http://shop.nordstrom.com/s/kate-spade-new-york-idiom-draw-the-line-ultra-thin-bangle/3085886?origin=category-personalizedsort&contextualcategoryid=0&fashionColor=&resultback=986&cm_sp=personalizedsort-_-browseresults-_-1_3_C" save_to_store="false"]Kate Spade Idiom Bangle (similar)[/shopsense]