Camera Ready
I'm just going to start off by saying I think this post should be an ode to my mother. Last weekend during our brief break from the summer sun, we were going through some stuff in the house and came across my mom's old film camera. She still has the original box for it AND the original receipts for it. Really, who keeps these things? Oh, that's right, my mom. I had no idea my mother dabbled in photography. I guess the apple really doesn't fall too far from the tree!
In any case, we took a quick break to shoot some pictures with me and my mom's film camera on my digital camera. I do enjoy being both in front of and behind the camera!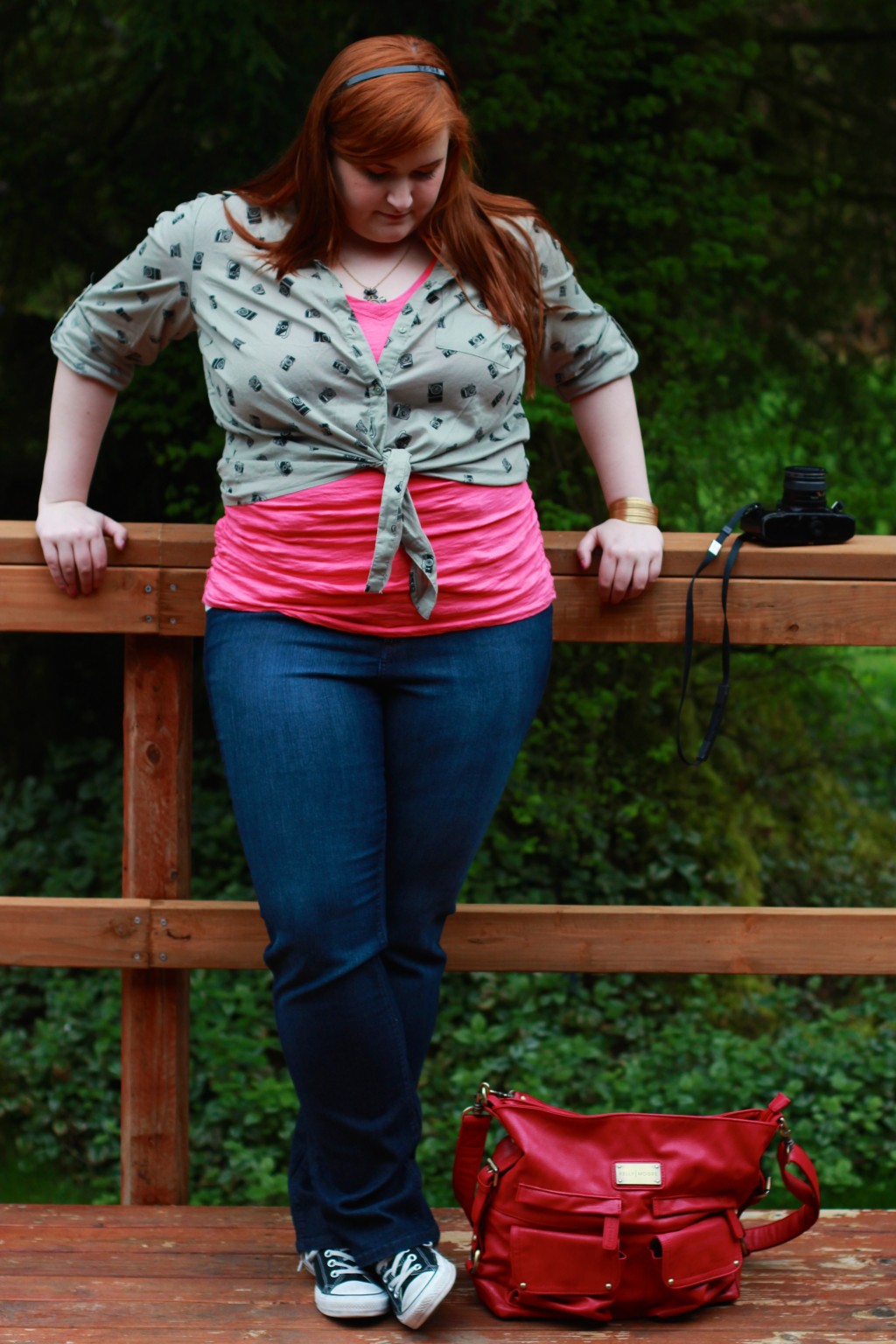 I've been getting into photography lately and have taken a few classes on using my DSLR better as well as learning a bit more about what I can do in Photoshop. I shoot with a Canon T3i (though I'm looking to upgrade my camera body), and primarily use a 50mm f/1.4 lens and a 24-70mm f/4 lens. When I'm carting around my camera and its accessories, which, let's be honest, is all the time, I always have my [shopsense shopsense_url="none" original_url="http://store.kellymoorebag.com/collections/all/products/2-sues" save_to_store="true"]Kelly Moore '2 Sues' camera bag[/shopsense] at the ready. I'd really love to get another Kelly Moore camera bag, the 'A Beautiful Mess' bag is my new obsession, but I can't decide on which color!
When I came out sporting this lovely little number, the look stopped my mom dead in her tracks and she lamented about how she used to wear the exact same style in her 20s and how it brought back so many memories. Which is the exact same speech I get whenever I wear Birkenstocks (except my hippie mother had Earth Shoes back in the day… don't Google it, they're slightly terrifying). I've been obsessed with tie-front shirts lately! They're perfectly comfortable and casual, great for a cool spring evening!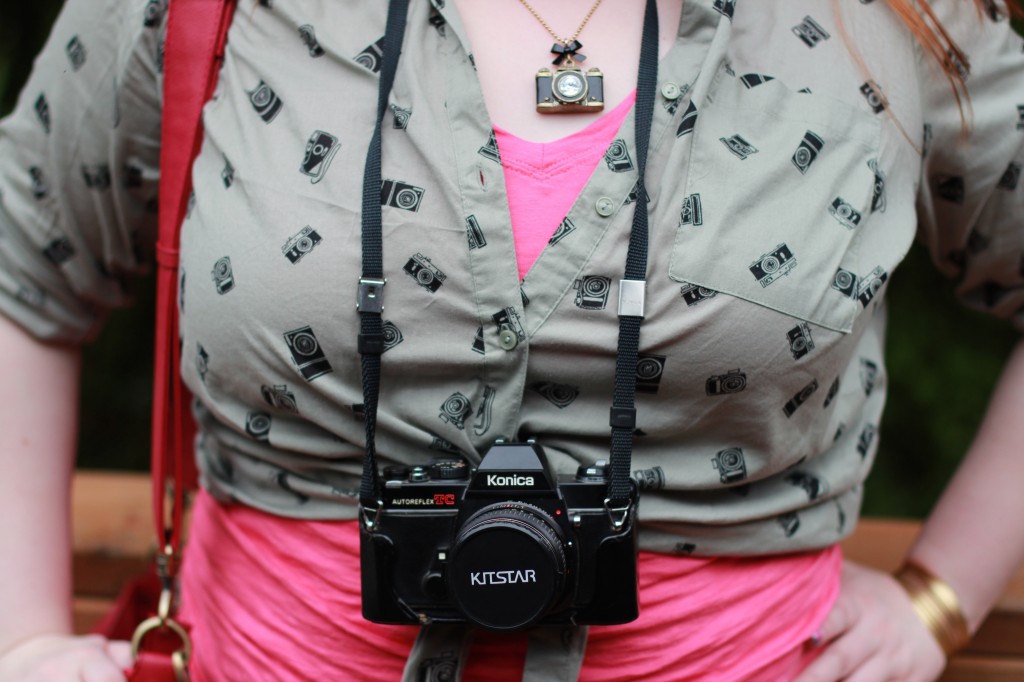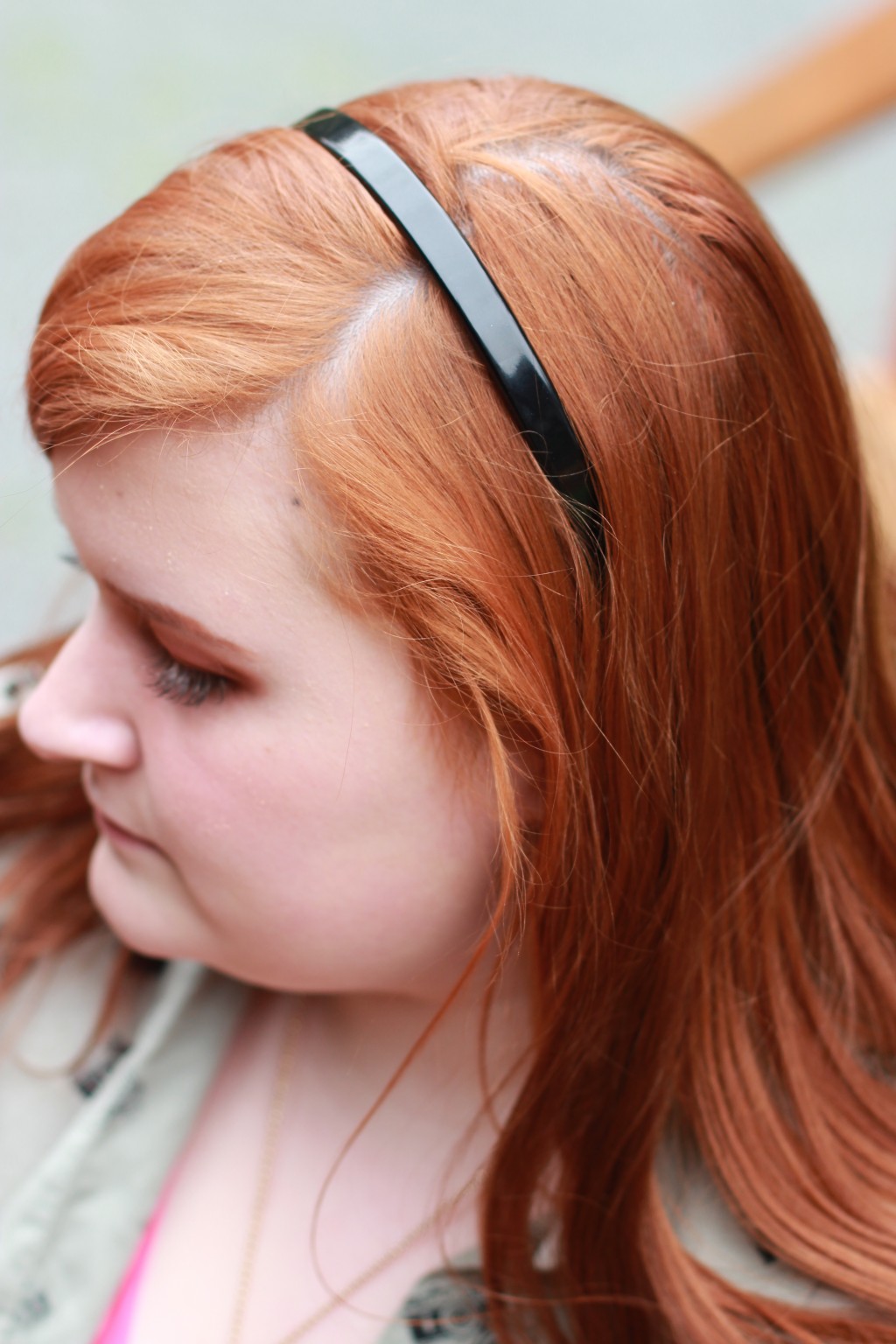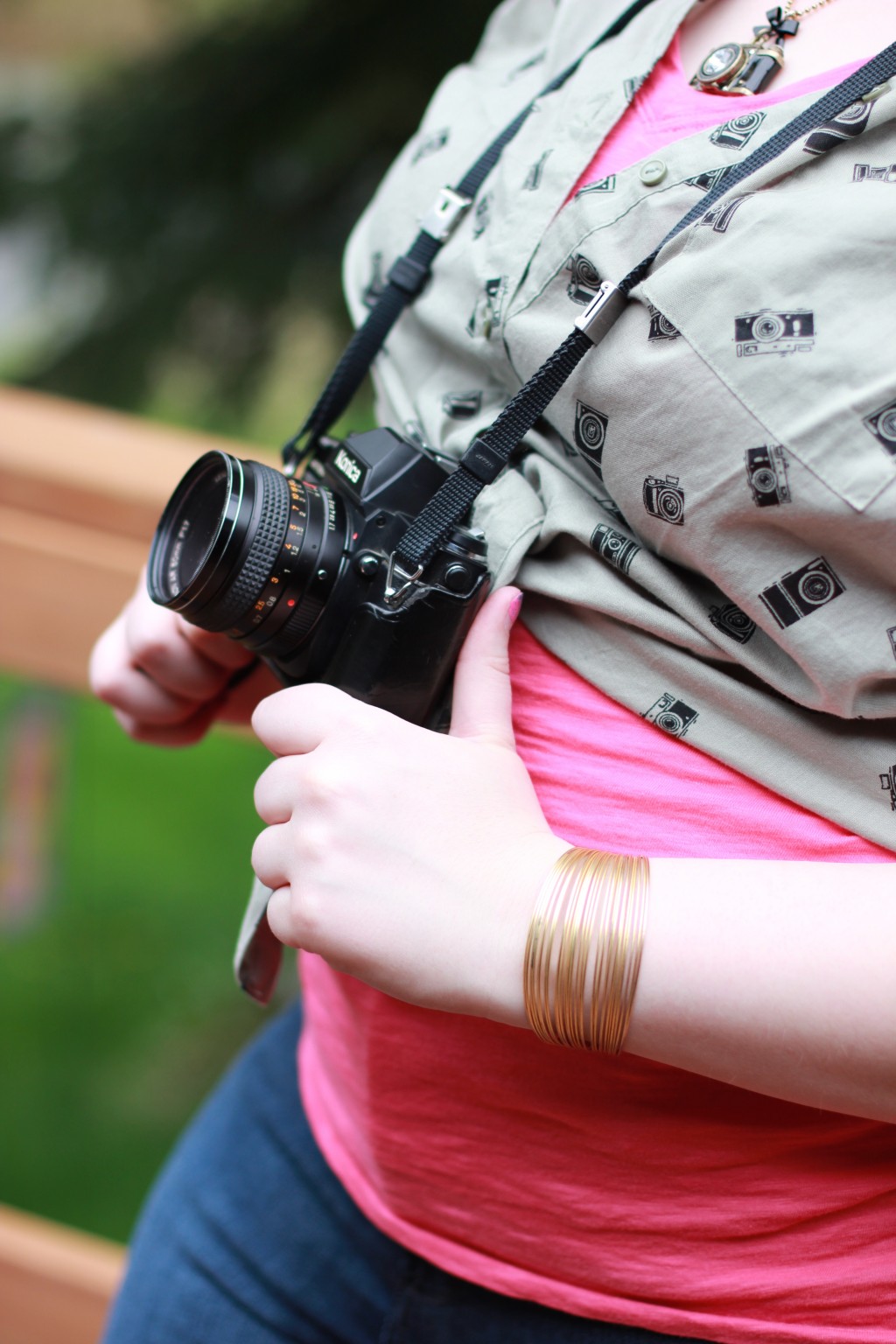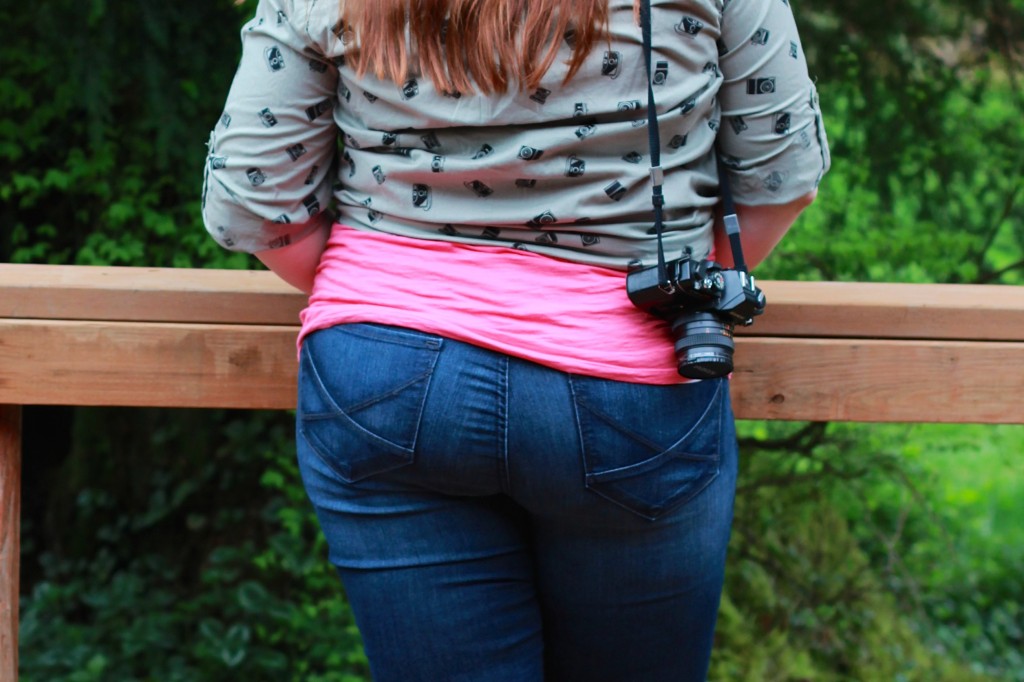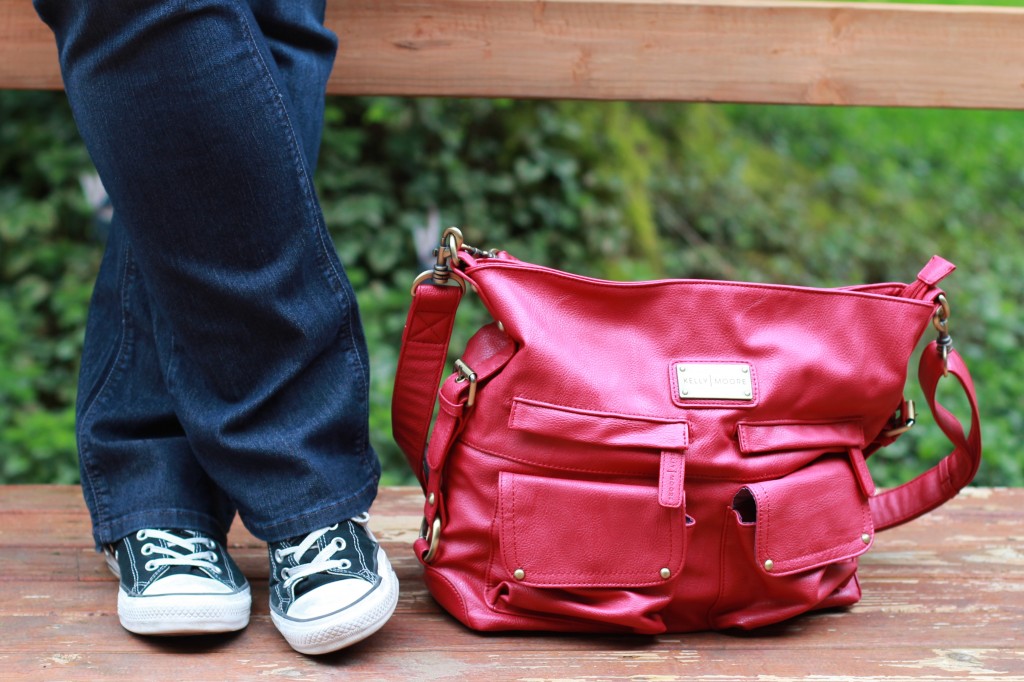 Blouse: Style & Co (similar ON SALE [shopsense shopsense_url="http://api.shopstyle.com/action/apiVisitRetailer?id=451220541″ original_url="http://www1.macys.com/shop/product/elementz-plus-size-roll-tab-sleeve-tie-front-shirt?ID=1473887&CategoryID=34048&LinkType=#fn=TOP_STYLE%3DButton%20Front%26sp%3D1%26spc%3D88%26ruleId%3D%26slotId%3D26″ save_to_store="true"]here[/shopsense] and [shopsense shopsense_url="http://api.shopstyle.com/action/apiVisitRetailer?id=453981374″ original_url="http://shop.nordstrom.com/s/seven7-print-tie-front-shirt-plus-size/3769084?origin=category-personalizedsort&contextualcategoryid=0&fashionColor=&resultback=7881&cm_sp=personalizedsort-_-browseresults-_-1_22_C" save_to_store="true"]here[/shopsense]); T-shirt: [shopsense shopsense_url="http://api.shopstyle.com/action/apiVisitRetailer?id=451824342″ original_url="http://shop.nordstrom.com/s/caslon-shirred-v-neck-tee-regular-petite/3797904?origin=category-personalizedsort&contextualcategoryid=0&fashionColor=CLOUDBURST&resultback=1336&cm_sp=personalizedsort-_-browseresults-_-1_4_A" save_to_store="true"]Caslon Shirred V-neck T-shirt[/shopsense]; Jeans: [shopsense shopsense_url="http://api.shopstyle.com/action/apiVisitRetailer?id=435338026″ original_url="http://shop.nordstrom.com/s/nydj-hayden-stretch-straight-leg-jeans-burbank-plus-size/3574647?origin=category-personalizedsort&contextualcategoryid=0&fashionColor=&resultback=1051&cm_sp=personalizedsort-_-browseresults-_-1_4_A" save_to_store="true"]NYDJ 'Hayden' Straight Leg Jeans[/shopsense]; Shoes: [shopsense shopsense_url="http://api.shopstyle.com/action/apiVisitRetailer?id=25237″ original_url="http://shop.nordstrom.com/s/converse-chuck-taylor-low-sneaker-women/2858191?origin=category-personalizedsort&contextualcategoryid=0&fashionColor=&resultback=1255&cm_sp=personalizedsort-_-browseresults-_-1_4_B" save_to_store="true"]Converse[/shopsense]; Bag: Kelly Moore '2 Sues' Bag in Raspberry; Necklace: [shopsense shopsense_url="http://api.shopstyle.com/action/apiVisitRetailer?id=386208591″ original_url="http://www1.macys.com/shop/product/betsey-johnson-gold-tone-camera-pendant-necklace?ID=606276&CategoryID=55288&LinkType=#fn=BRAND%3DBetsey%20Johnson%26JEWELRY_TYPE%3DNecklaces%26sp%3D1%26spc%3D102%26ruleId%3D%26slotId%3D29″ save_to_store="true"]Betsey Johnson Camera Pendant Necklace[/shopsense]; Bracelet: Thrifted ([shopsense shopsense_url="http://api.shopstyle.com/action/apiVisitRetailer?id=446210661″ original_url="http://shop.nordstrom.com/s/nordstrom-layers-of-love-bead-stretch-bracelets-set-of-7/3704610?origin=category-personalizedsort&contextualcategoryid=0&fashionColor=GOLD&resultback=3213&cm_sp=personalizedsort-_-browseresults-_-1_10_C" save_to_store="true"]similar[/shopsense]); Headband: [shopsense shopsense_url="http://api.shopstyle.com/action/apiVisitRetailer?id=34440374″ original_url="http://shop.nordstrom.com/s/france-luxe-skinny-headband/3002370?origin=category-personalizedsort&contextualcategoryid=0&fashionColor=ONYX&resultback=913&cm_sp=personalizedsort-_-browseresults-_-1_3_A" save_to_store="true"]France Luxe Skinny Headband[/shopsense]