Burst of Color
Can we talk a little bit about the weather? It's been SO gorgeous lately. I think the most difficult part of this beautiful summer sun has been deciding which skirt or dress to wear each day! I'm crossing my fingers the nice weather will stick around a bit longer but you never really know here in Washington state!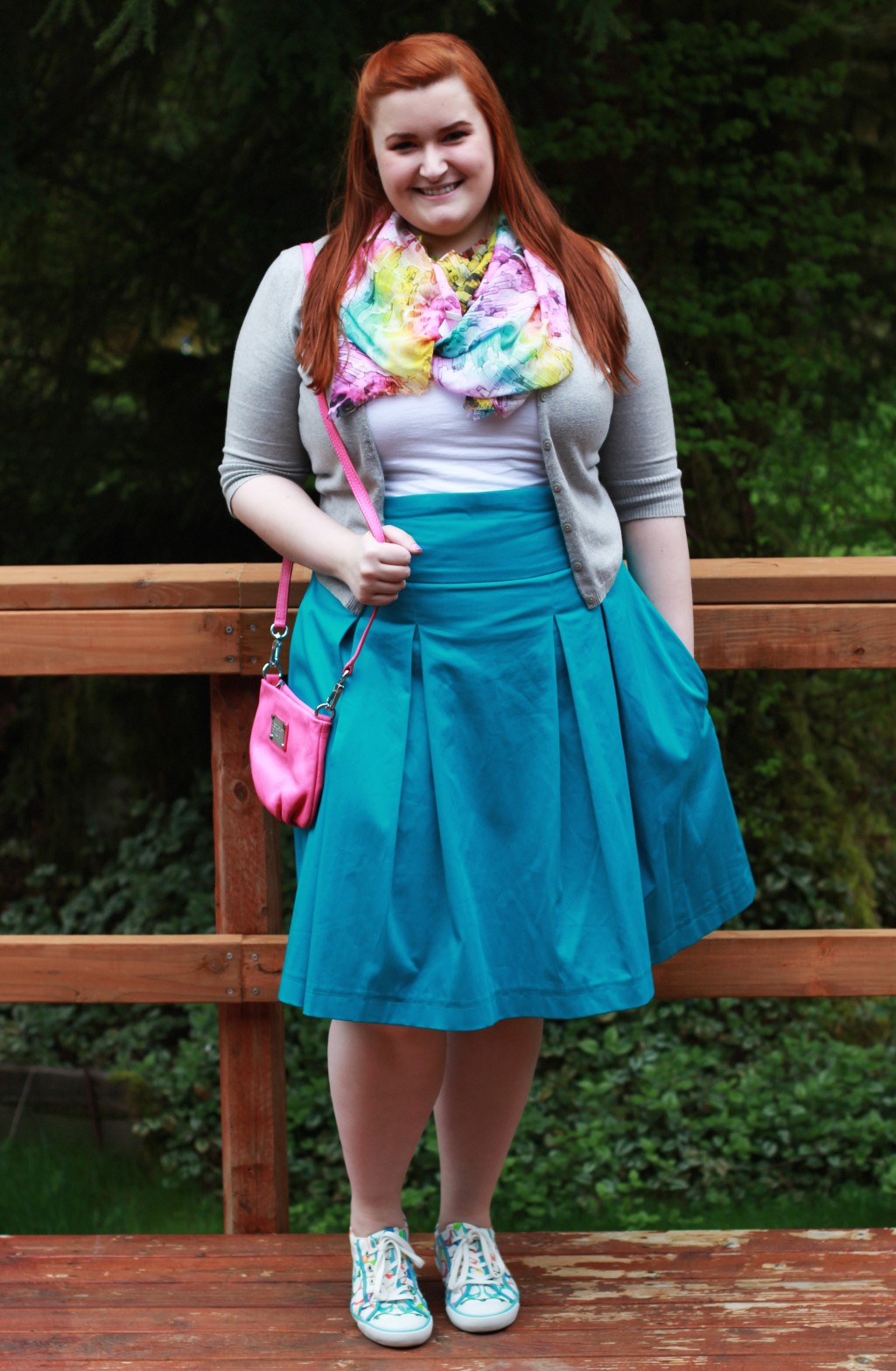 This weekend marked 7 years since I graduated high school. WHAT?! When did this happen? And why would I ever bring up such a fact? It just so happens that these tennis shoes I've owned since high school. I don't think I've worn them for at least 5 years and I'd even listed them in my Poshmark closet with the intention of selling, but then one day I decided to try them on and fell in love with them again.
It just so happens that this spring and summer I've loved pairing tennis shoes with skirts and dresses, so I decided to build an outfit around these trusty old shoes. I've been suffering from some pretty bad achilles tendonitis and so wearing supportive shoes has been key to the healing process. Unfortunately stylish heels, wedges, flats, and sandals are not always the most practical nor the most supportive. Wearing tennis shoes with skirts and dresses hasn't all been bad, in fact it works out quite well on days where I'm on my feet a lot!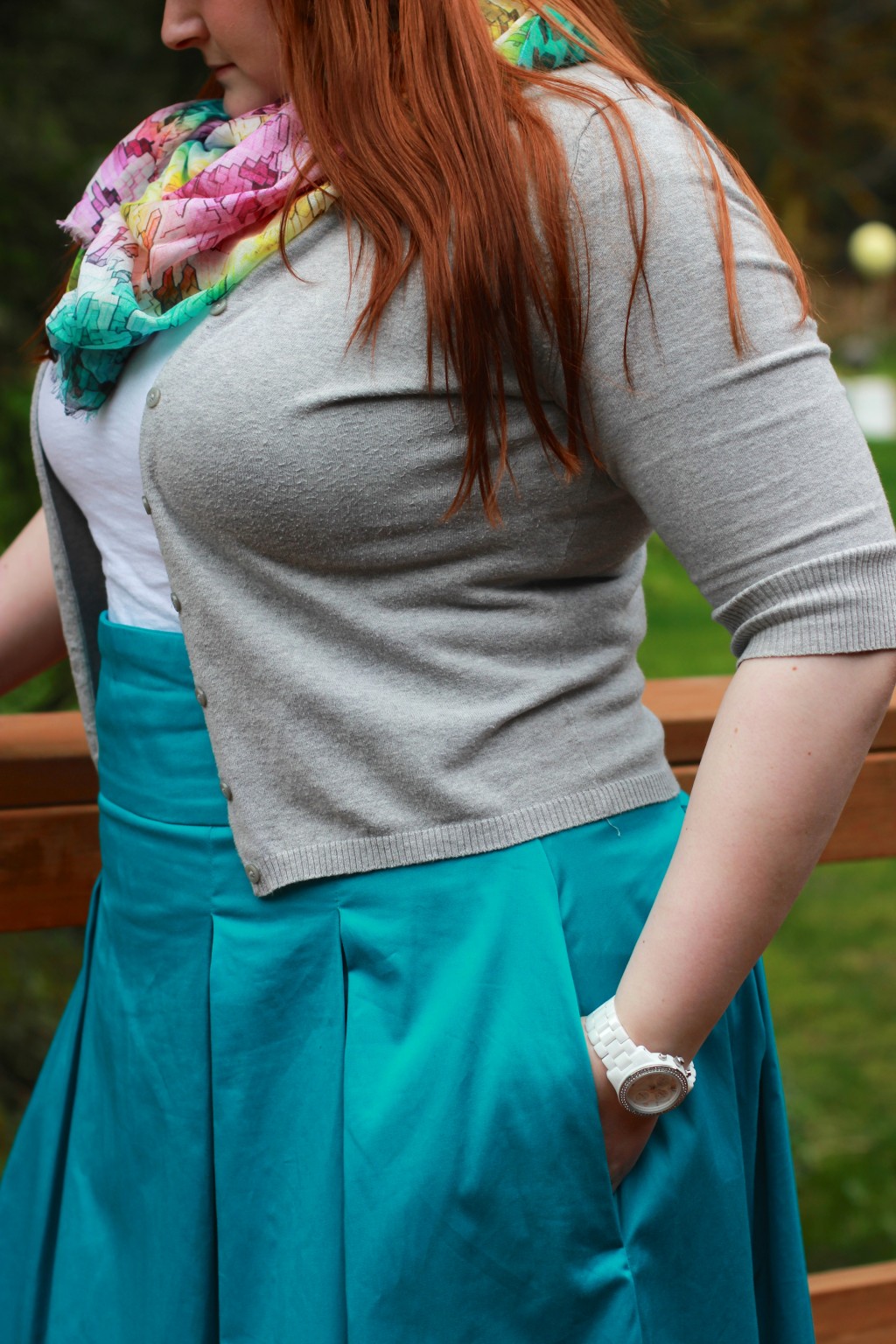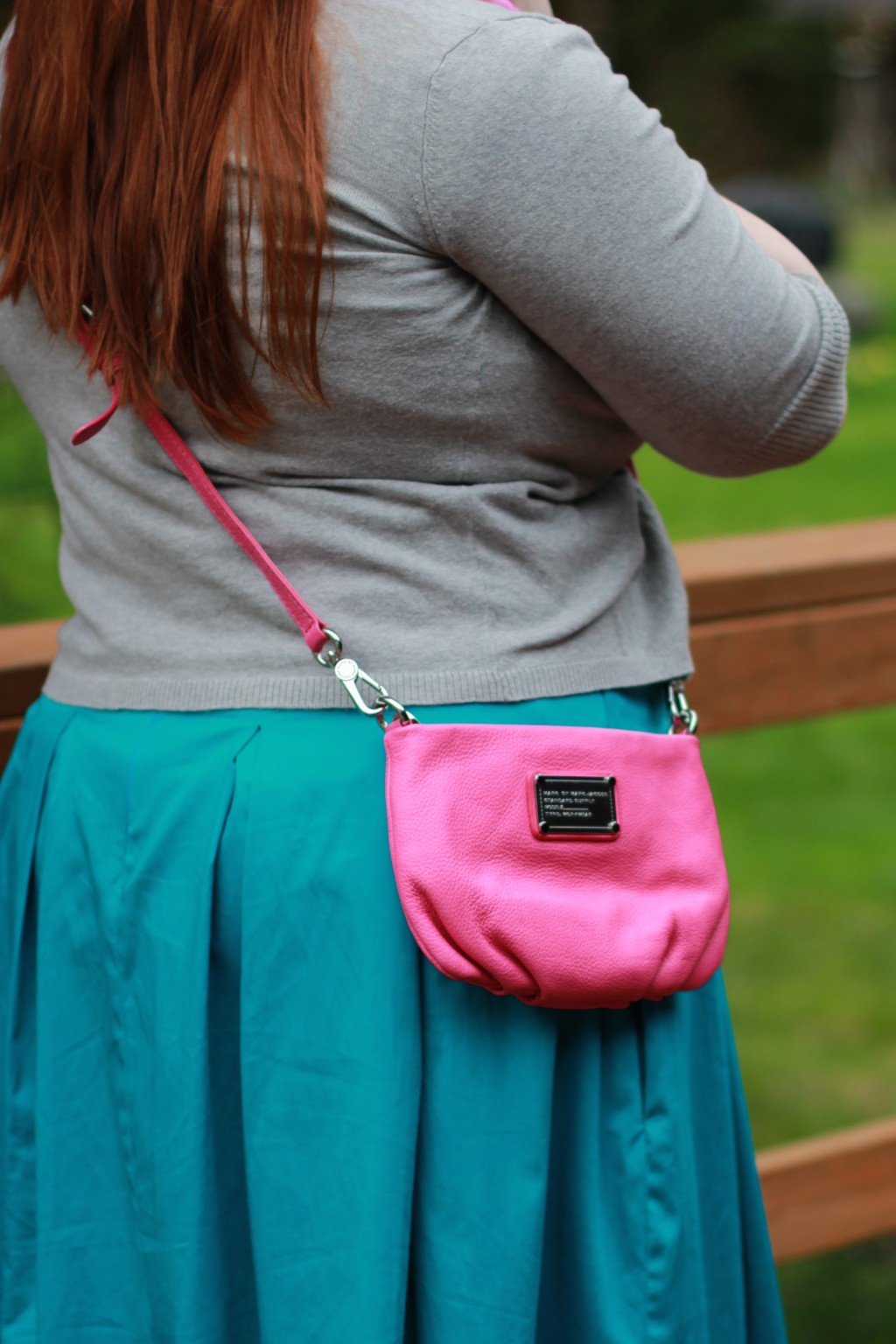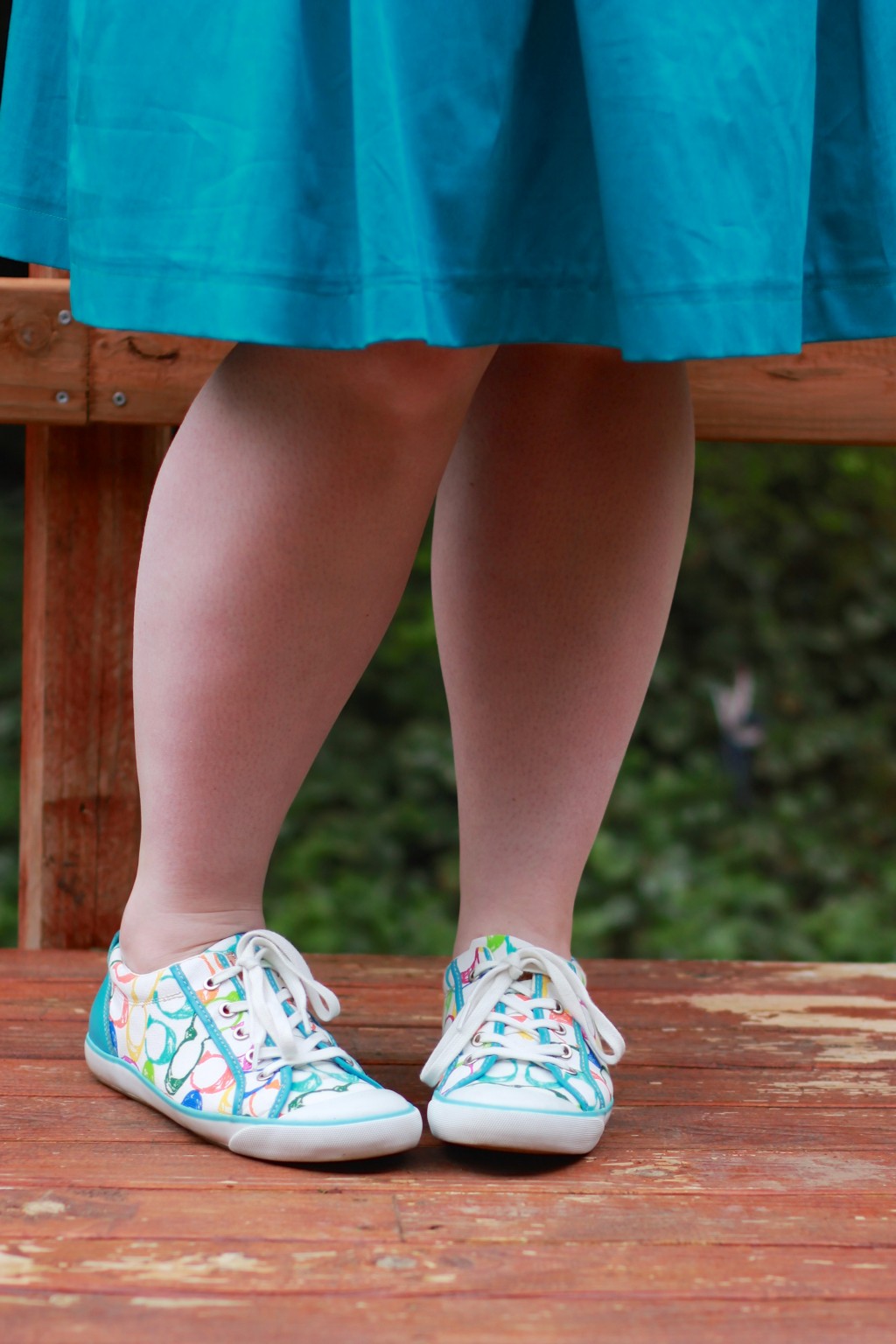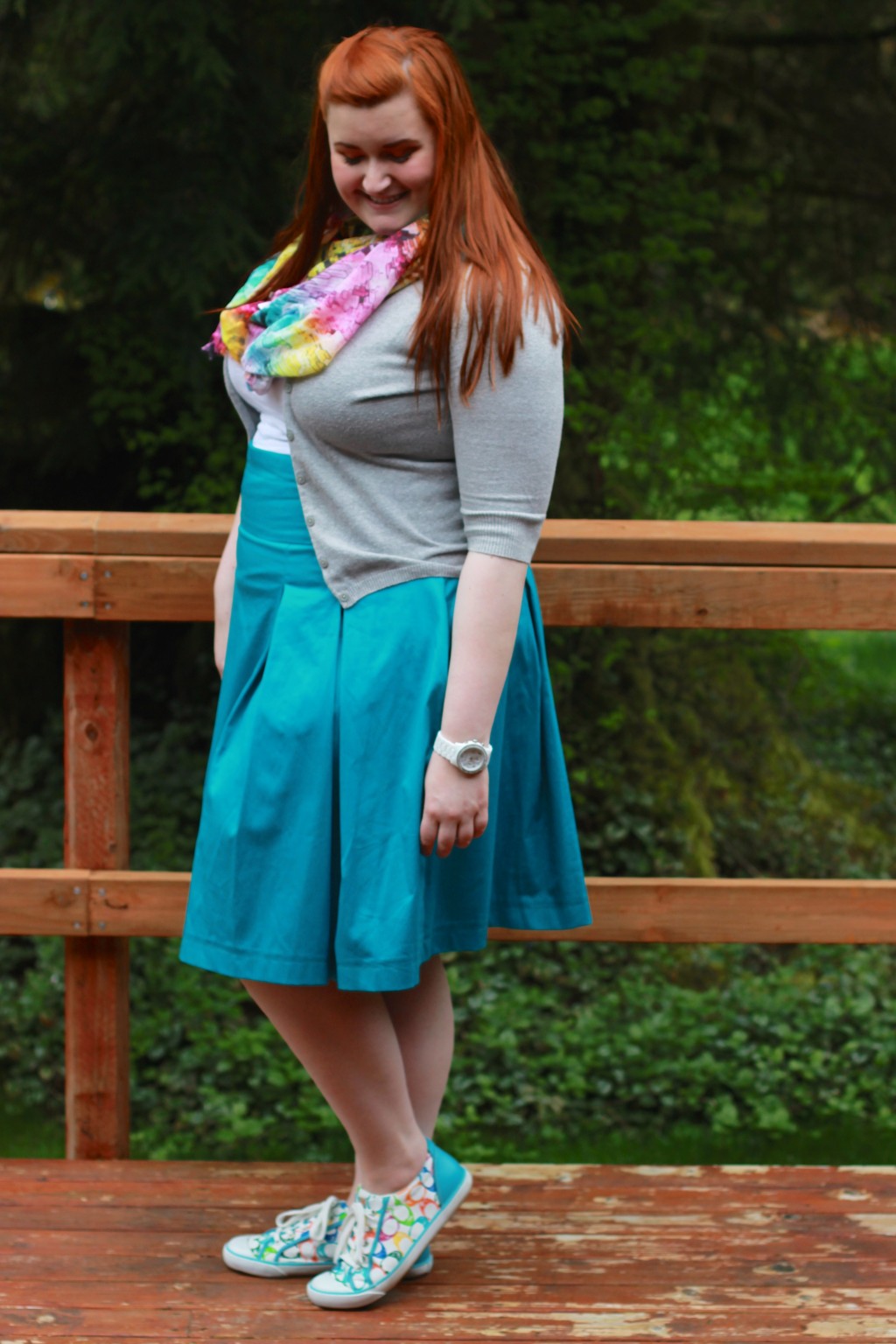 Shirt: [shopsense shopsense_url="http://api.shopstyle.com/action/apiVisitRetailer?id=450337238″ original_url="http://shop.nordstrom.com/s/caslon-shirred-side-tank-regular-petite/3758153?origin=category-personalizedsort&contextualcategoryid=0&fashionColor=TAUPE%2F+PINK+STRIPE&resultback=875&cm_sp=personalizedsort-_-browseresults-_-1_3_D" save_to_store="false"]Caslon (similar)[/shopsense]; Sweater: [shopsense shopsense_url="http://api.shopstyle.com/action/apiVisitRetailer?id=446129942″ original_url="http://shop.nordstrom.com/s/bp-cropped-cotton-cardigan-juniors/3592484?origin=category-personalizedsort&contextualcategoryid=0&fashionColor=PINK+PARADISE&resultback=744&cm_sp=personalizedsort-_-browseresults-_-1_3_A" save_to_store="false"]B.P. (similar)[/shopsense]; Skirt: Bri Seeley Jaclyn Skirt (c/o); Bag: [shopsense shopsense_url="http://api.shopstyle.com/action/apiVisitRetailer?id=170818921″ original_url="http://shop.nordstrom.com/s/marc-by-marc-jacobs-classic-q-percy-crossbody-bag/3121156?origin=category-personalizedsort&contextualcategoryid=0&fashionColor=INFRA+RED&resultback=3460&cm_sp=personalizedsort-_-browseresults-_-1_9_C" save_to_store="true"]Marc by Marc Jacbos (similar)[/shopsense]; Scarf: [shopsense shopsense_url="http://api.shopstyle.com/action/apiVisitRetailer?id=448747221″ original_url="http://shop.nordstrom.com/s/nordstrom-burst-of-colors-scarf/3639783?origin=category-personalizedsort&contextualcategoryid=0&fashionColor=BLACK&resultback=2707&cm_sp=personalizedsort-_-browseresults-_-1_8_B" save_to_store="false"]Nordstrom (similar)[/shopsense]; Watch: [shopsense shopsense_url="http://api.shopstyle.com/action/apiVisitRetailer?id=434673191″ original_url="http://shop.nordstrom.com/s/michael-kors-camille-chronograph-ceramic-bracelet-watch-43mm/3529819?origin=category-personalizedsort&contextualcategoryid=0&fashionColor=&resultback=565&cm_sp=personalizedsort-_-browseresults-_-1_2_A" save_to_store="true"]Michael Kors (similar)[/shopsense]; Shoes: [shopsense shopsense_url="http://api.shopstyle.com/action/apiVisitRetailer?url=http%3A%2F%2Fshop.nordstrom.com%2Fs%2Fcoach-kattie-sneaker%2F3577219%3Forigin%3Dcategory-personalizedsort" original_url="http://shop.nordstrom.com/s/coach-kattie-sneaker/3577219?origin=category-personalizedsort&contextualcategoryid=0&fashionColor=BLACK%2F+BLACK&resultback=264&cm_sp=personalizedsort-_-browseresults-_-1_2_A" save_to_store="false"]Coach (similar)[/shopsense]