Spring Style with Simply Chic
I'm so excited to be back with a new outfit post! Even though I had a fabulous month sharing interviews of amazing women I did miss sharing my style posts with you! Now that spring has truly sprung in Seattle, and we're getting some sunny weather and flowers blooming, it's time to start sharing some spring (and, soon summer!) outfits.
A few weeks ago I teamed up with Simply Chic in Bellevue to style this outfit. Simply Chic is an adorable little boutique located in the Factoria Mall, near [shopsense shopsense_url="http://api.shopstyle.com/action/apiVisitRetailer?url=http%3A%2F%2Fshop.nordstrom.com%2Fc%2Fnordstrom-rack" original_url="http://shop.nordstrom.com/c/nordstrom-rack" save_to_store="false"]Nordstrom Rack[/shopsense]. I had no idea that this little gem was hiding right there this whole time! Simply Chic curates a collection of exquisitely designed clothes each season, finding an ideal balance of trend, quality, and value. And, if you're not in Washington, you can shop the collection online!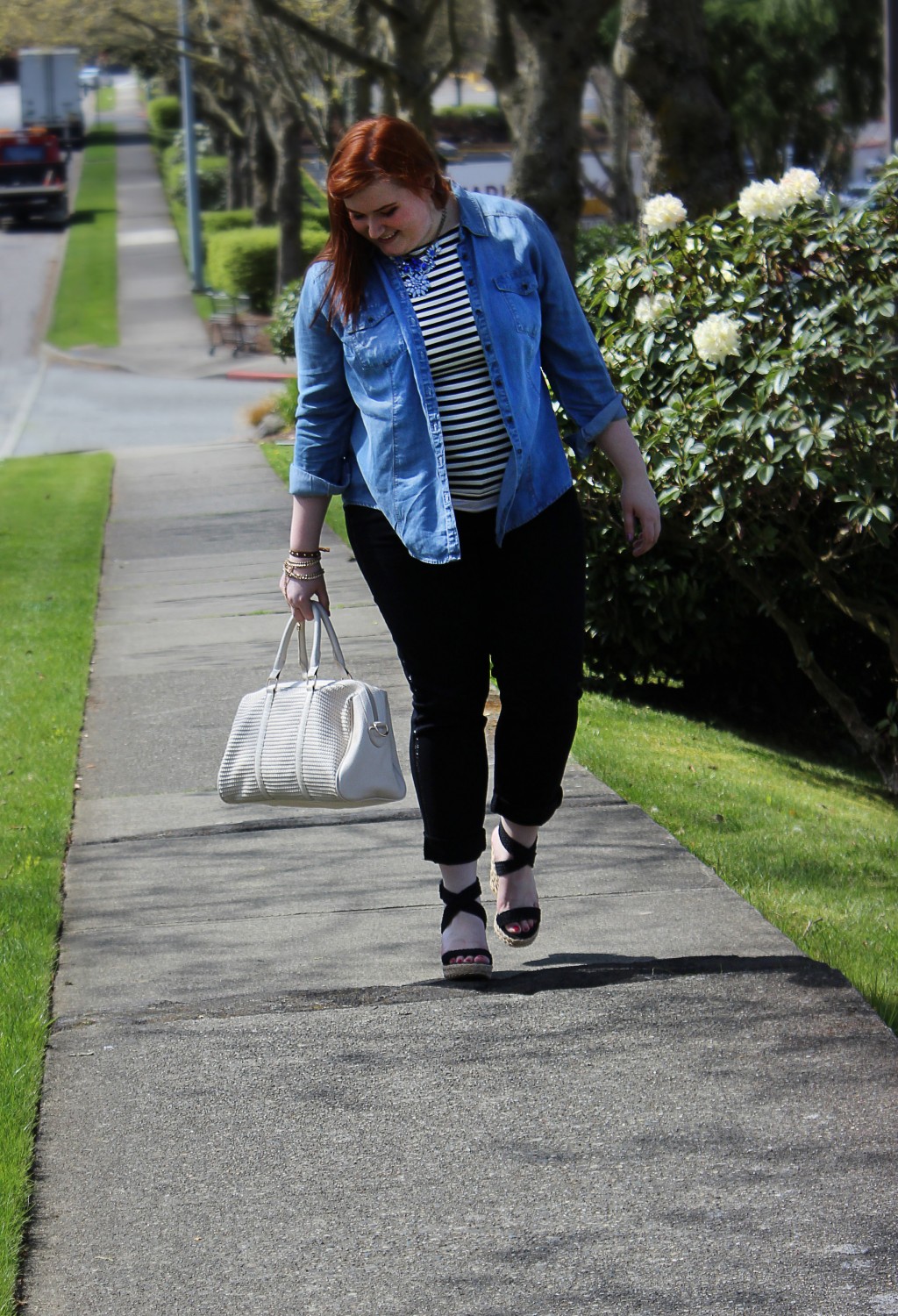 For me in the spring, and especially living in the Seattle area, outfits need to be easy to be pretty practical given our menopausal weather. Transition pieces are key for me and one of the best investments to make for your closet. They help you be prepared at any moment for nearly any type of weather. In this outfit, my two transition pieces are my chambray blouse and black denim. Both are lightweight, and can easily be changed from a longsleeve blouse, to 3/4-sleeve, and the pants can go from skinny jeans to crop jeans with just a few cuffs.
Of course, the accessories are my part favorite of just about any outfit I wear, and this outfit is no exception! The blue tones in my Lulu Frost necklace play perfectly with my chambray blouse and I tied in the gold tones of the Lulu Frost piece with Simply Chic's amazing collection of bracelets to create a fun and unique arm party. The gold chain bracelet I'm wearing is actually a necklace – it's fun to mix jewelry differently and wear it in unexpected ways. Lastly, Simply Chic helped me round out the ensemble with a gorgeous springtime bag. I adore the weave pattern on this piece! You'll be seeing this bag a lot this spring and summer!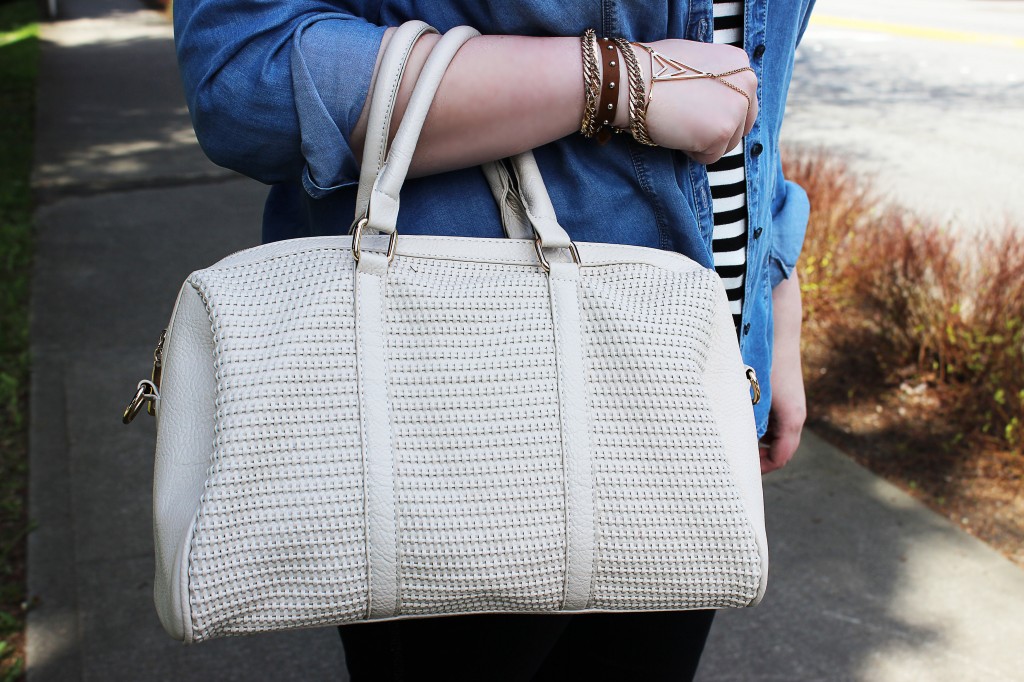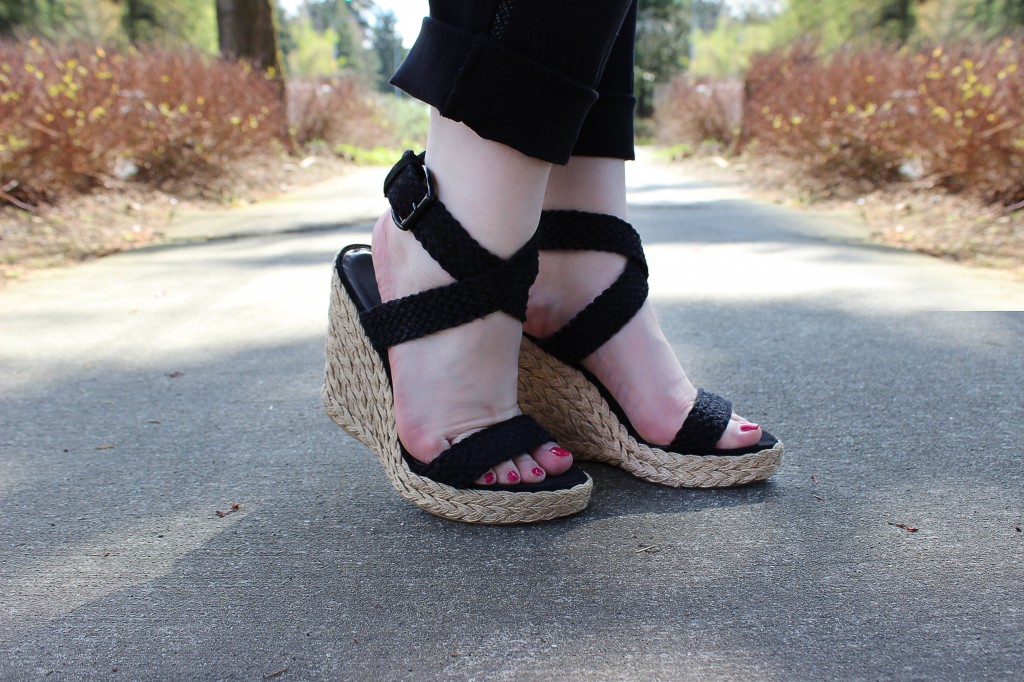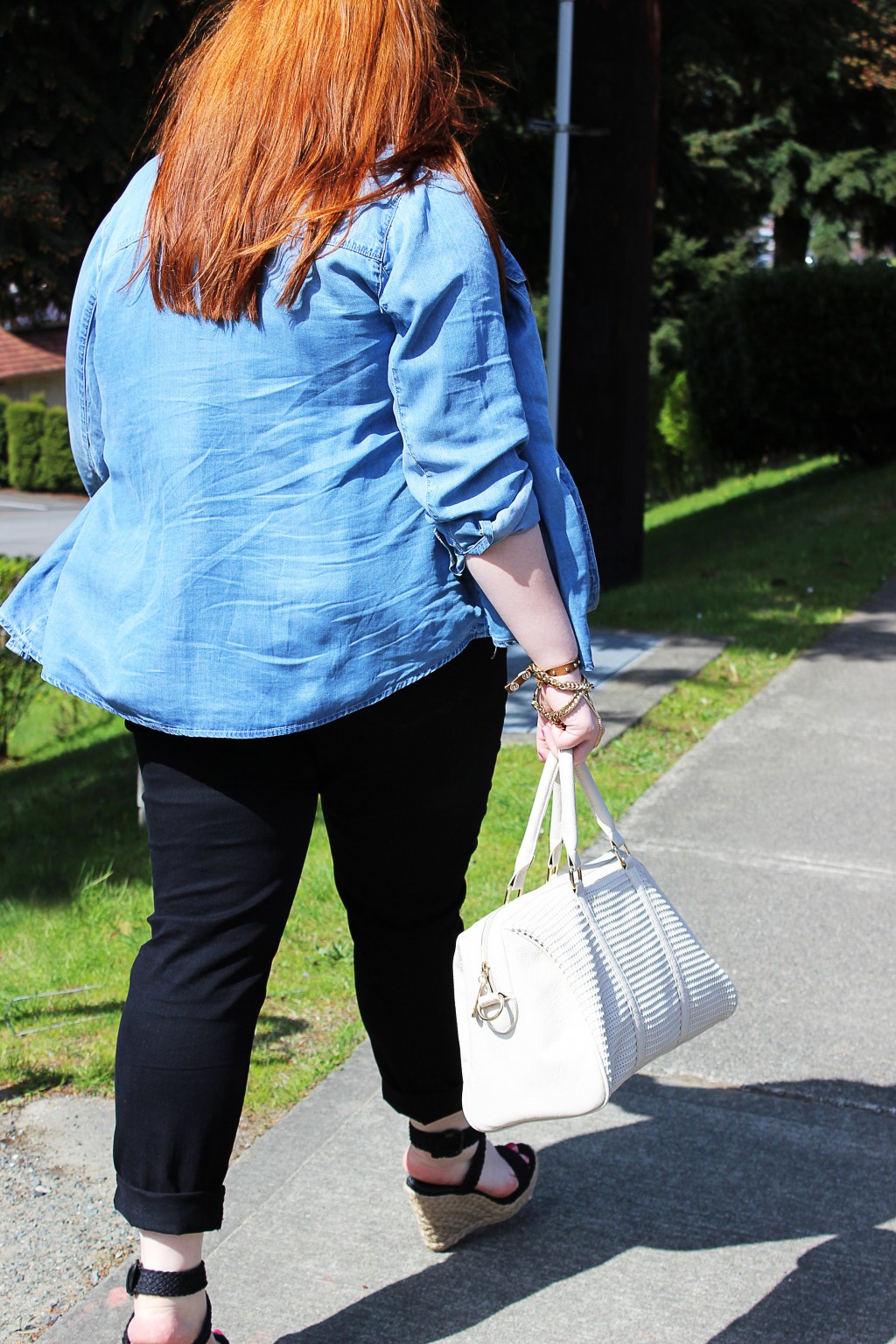 Blouse: [shopsense shopsense_url="http://api.shopstyle.com/action/apiVisitRetailer?id=443138432″ original_url="http://shop.nordstrom.com/s/sejour-chambray-shirt-plus-size/3580370?origin=keywordsearch-personalizedsort&contextualcategoryid=2375500&fashionColor=&resultback=48&cm_sp=personalizedsort-_-searchresults-_-1_1_C" save_to_store="true"]Sejour Chambray Shirt[/shopsense]; Striped Shirt: [shopsense shopsense_url="http://api.shopstyle.com/action/apiVisitRetailer?id=414901791″ original_url="http://shop.nordstrom.com/s/sejour-ballet-neck-tee-plus/3404503?origin=keywordsearch-personalizedsort&contextualcategoryid=6014959&fashionColor=&resultback=3018&cm_sp=personalizedsort-_-searchresults-_-1_7_A" save_to_store="true"]Caslon (similar here)[/shopsense]; Pants: [shopsense shopsense_url="http://api.shopstyle.com/action/apiVisitRetailer?id=445617706″ original_url="http://shop.nordstrom.com/s/nydj-hayden-stretch-cotton-crop-pants-plus-size/3707027?origin=category-personalizedsort&contextualcategoryid=0&fashionColor=BLACK&resultback=1079&cm_sp=personalizedsort-_-browseresults-_-1_4_A" save_to_store="true"]NYDJ (similar here)[/shopsense]; Shoes: [shopsense shopsense_url="http://api.shopstyle.com/action/apiVisitRetailer?id=445738774″ original_url="http://shop.nordstrom.com/s/stuart-weitzman-guipure-wedge-sandal/3614905?origin=PredictiveSearch-personalizedsort&contextualcategoryid=0&fashionColor=IVORY+GUIPURE+LACE&resultback=690&cm_sp=personalizedsort-_-searchresults-_-1_3_B" save_to_store="true"]Stuart Weitzman (similar)[/shopsense]; Necklace: Lulu Frost for J. Crew (similar); Bracelets: Simply Chic Triangle bracelet & Simply Chic leather bracelet; Bag: Simply Chic (c/o, similar here)