In the Forest
Today's the day! I leave this evening after work to start my journey to France and, a few days later, to Norway. I'm so excited I can hardly stand it. My suitcase is packed, my passport's in hand, and I'm ready to buckle up for a long flight!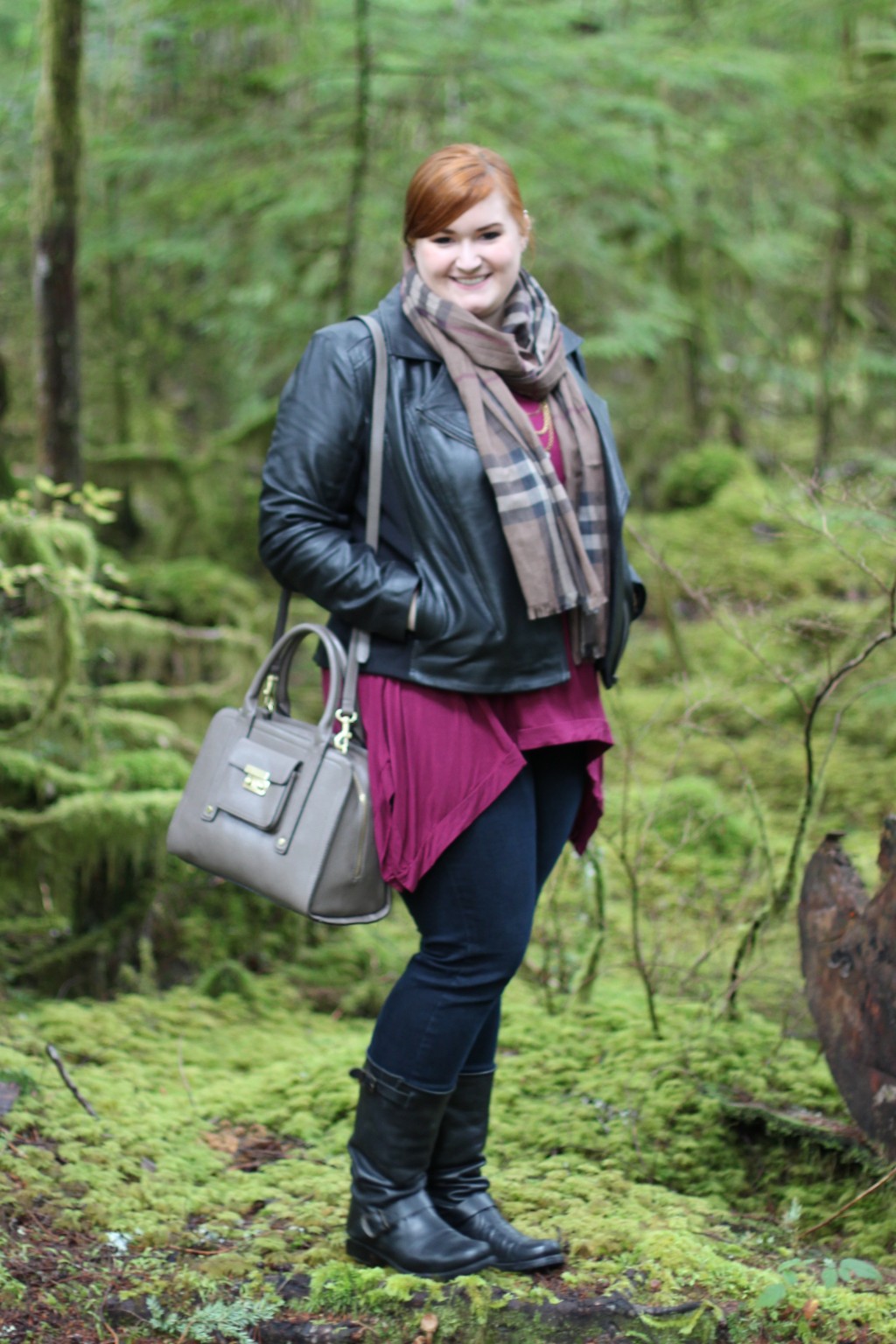 It's going to be a while before I see the lush green of the forest near my house – isn't it beautiful? I'm so lucky to live in an area with such an incredible backdrop.
This outfit is pretty indicative of what I've packed for my trip – leggings and skinny jeans, boots, scarves, and long blouses for easy layering. A great shoulder bag for toting around the essentials and some statement jewelry to complete an outfit round out the ensemble (and my suitcase).
The jewelry in this outfit is particularly special to me. When I traveled to NYC last October, I created these pieces with Lisa Salzer of Lulu Frost at a J. Crew pop-up shop. I had the opportunity to hand pick the charms and elements of both the bracelet and necklace I'm wearing. How amazing is that?!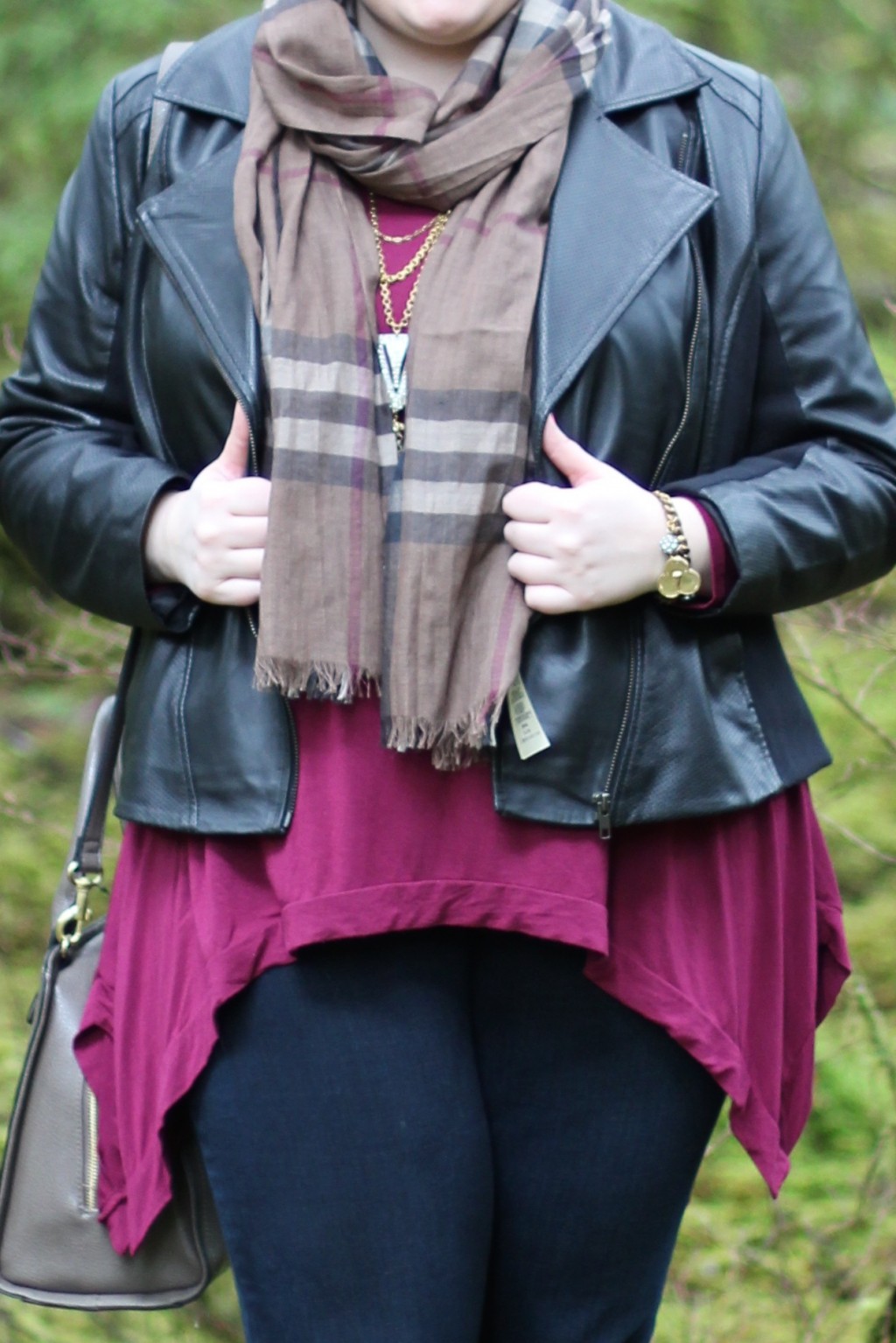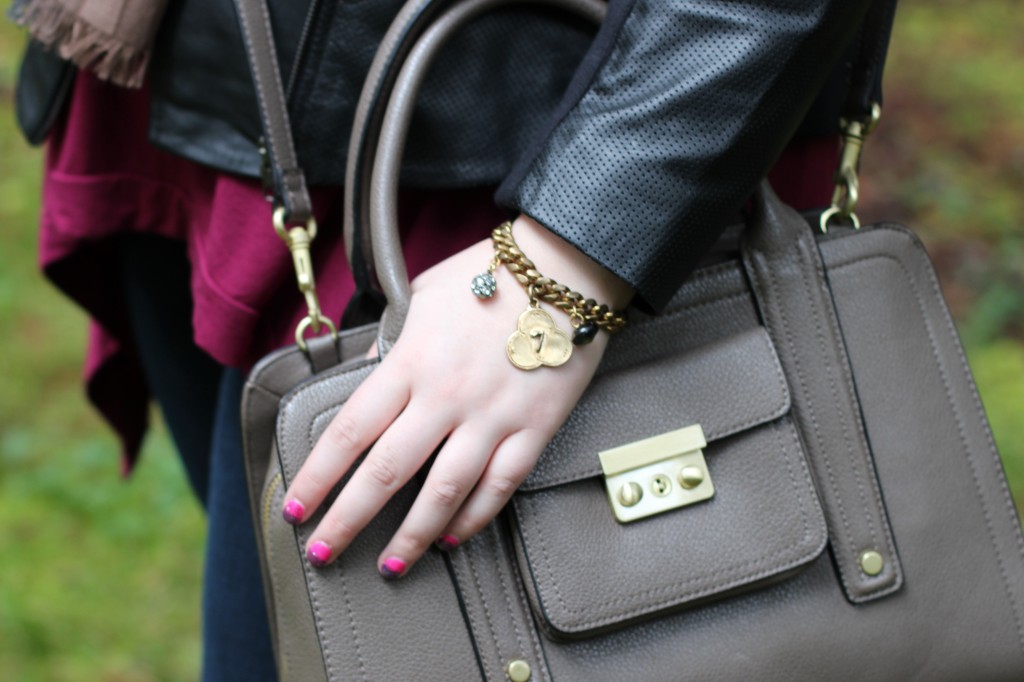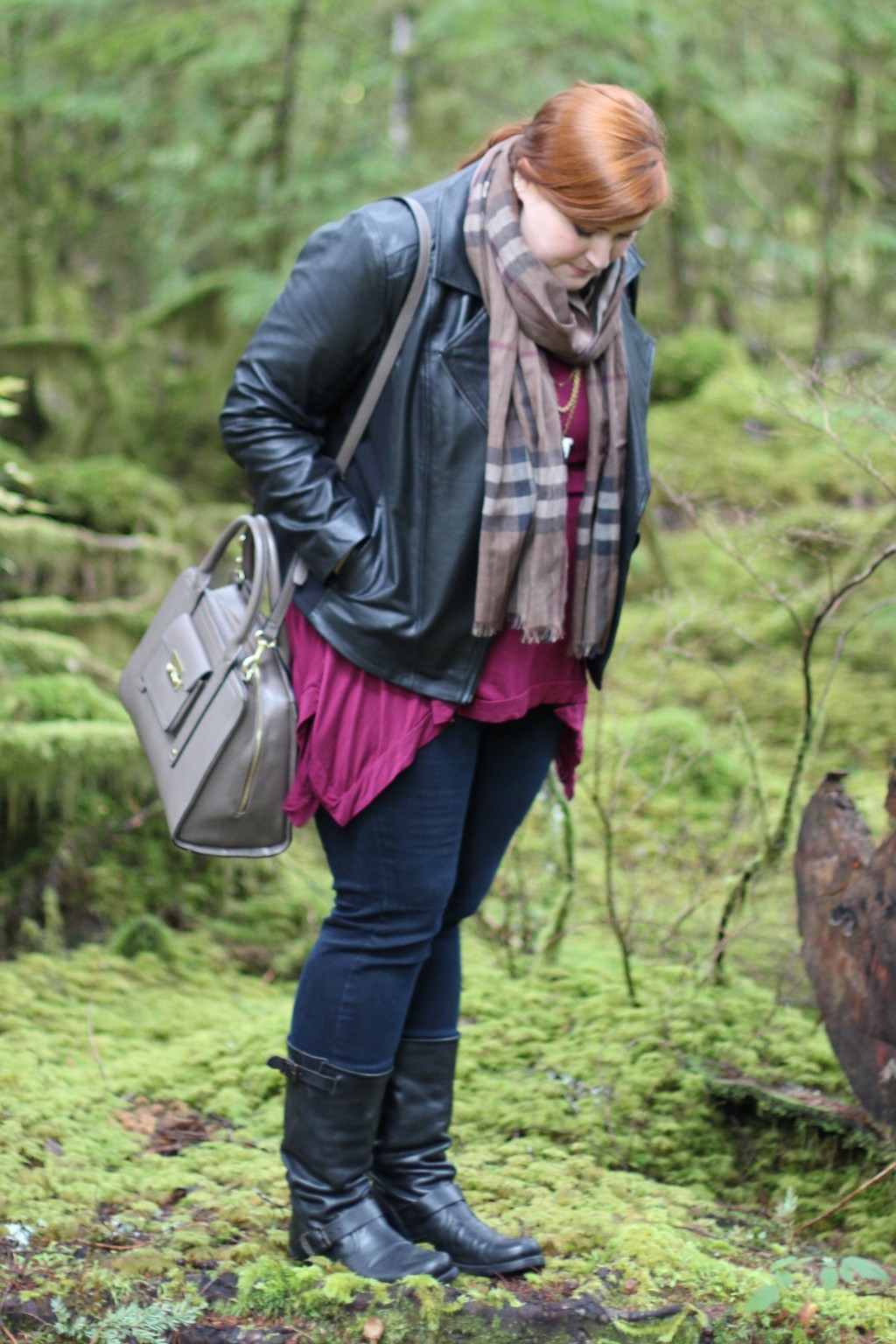 Top: Macy's (c/o); Jacket: [shopsense shopsense_url="http://api.shopstyle.com/action/apiVisitRetailer?id=444354344″ original_url="http://shop.nordstrom.com/S/sejour-lambskin-leather-jacket-plus-size/3711927?origin=keywordsearch-personalizedsort&contextualcategoryid=0&fashionColor=&resultback=1433&cm_sp=personalizedsort-_-searchresults-_-1_5_B" save_to_store="false"]Sejour (similar)[/shopsense]; Scarf: [shopsense shopsense_url="http://api.shopstyle.com/action/apiVisitRetailer?id=366738591″ original_url="http://shop.nordstrom.com/s/burberry-giant-check-print-scarf/3350469?origin=keywordsearch-personalizedsort&contextualcategoryid=2375500&fashionColor=&resultback=1226&cm_sp=personalizedsort-_-searchresults-_-1_4_B" save_to_store="true"]Burberry Giant Check Print Scarf[/shopsense]; Jeans: [shopsense shopsense_url="http://api.shopstyle.com/action/apiVisitRetailer?id=433283362″ original_url="http://shop.nordstrom.com/S/kut-from-the-kloth-mia-skinny-jeans-outspoken-wash/3512244?origin=keywordsearch-personalizedsort&contextualcategoryid=0&fashionColor=&resultback=146&cm_sp=personalizedsort-_-searchresults-_-1_2_B" save_to_store="false"]KUT from the Kloth[/shopsense]; Boots: [shopsense shopsense_url="http://api.shopstyle.com/action/apiVisitRetailer?id=440086974″ original_url="http://shop.nordstrom.com/s/frye-veronica-slouch-boot/3660764?origin=PredictiveSearch-personalizedsort&contextualcategoryid=0&fashionColor=&resultback=1473&cm_sp=personalizedsort-_-searchresults-_-1_4_B" save_to_store="false"]Frye 'Veronica' Boots Regular[/shopsense] & [shopsense shopsense_url="http://api.shopstyle.com/action/apiVisitRetailer?id=202170369″ original_url="http://shop.nordstrom.com/s/frye-veronica-slouch-boot-wide-calf/3125767?origin=PredictiveSearch-personalizedsort&contextualcategoryid=0&fashionColor=&resultback=1789&cm_sp=personalizedsort-_-searchresults-_-1_5_C" save_to_store="false"]Wide Calf[/shopsense]; Necklace: Lulu Frost (similar); Bracelet: Lulu Frost (similar); Bag: 3.1 Philip Lim for Target