What is a Winter Dress?
I know I really shouldn't be complaining about the cold temperatures compared to those on the East Coast, but it has been cold around these parts! It's strange though, even though it's cold in my area, my house normally has snow (and lots of it) this time of year. We've hardly had any snowfall this winter and instead it's freezing and icy.
With our freezing winter weather I've been longing for the bright sun of summer simply so I can wear some pretty dresses again. At least for me, it's easy to get in a funk and not dress as stylishly during the cold winter months, so today's outfit is an attempt at reclaiming my stylish ways this winter.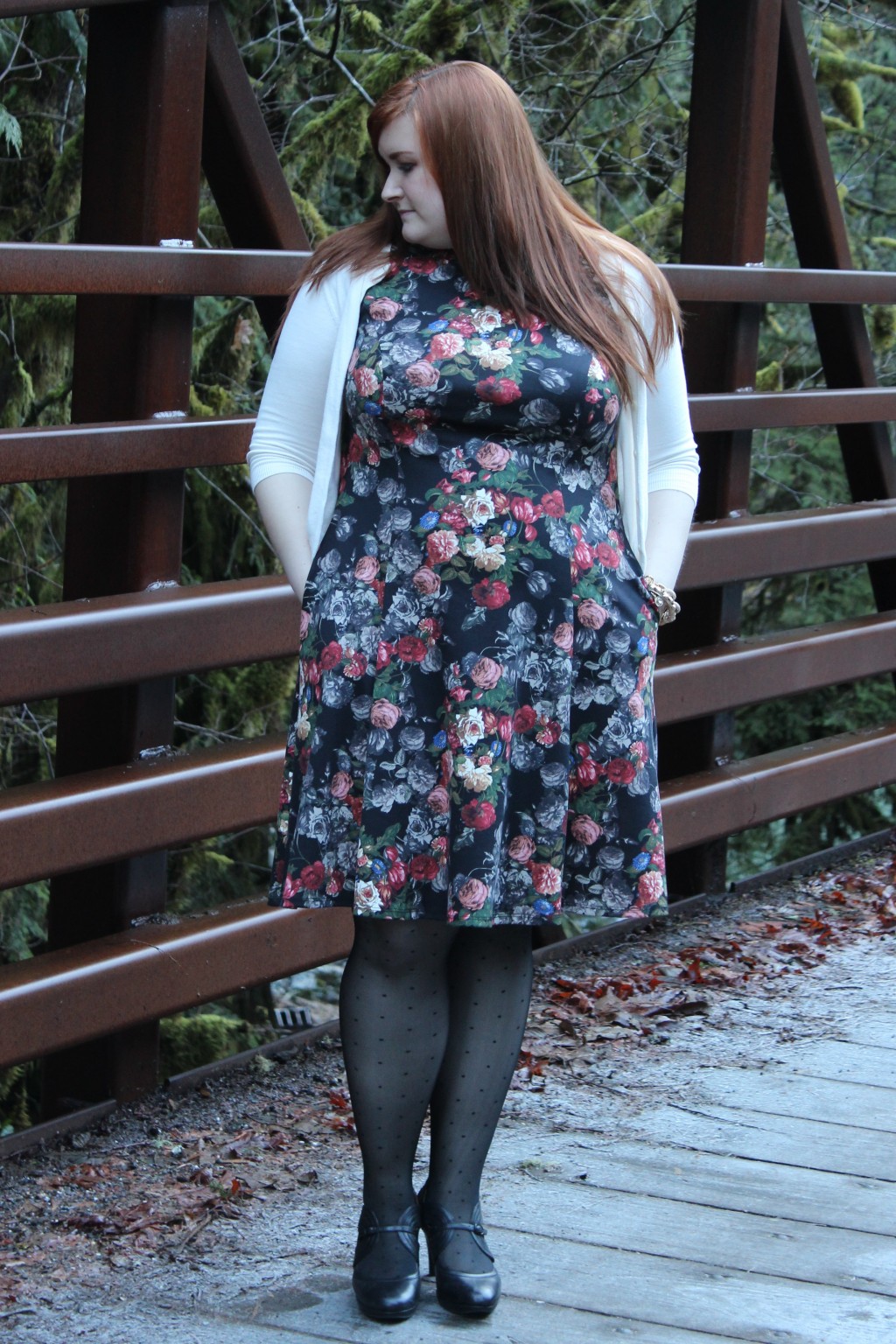 "What is a winter dress?" is a question I seem to be hearing a lot lately. A winter dress is often times made of heavier, warmer fabrics and darker colors & patterns. My winter dresses normally consist of blacks, grays, deep reds, and rich purples, as opposed to the bright yellows, hot pinks, and greens that I typically wear in summer. When styling a winter dress I tend to go with tights, dressier shoes, and sweaters as opposed to sandals, sunglasses, and a denim jacket (like I'm wearing here).
Moving on to today's outfit, I've had this dress in my closet for a few months and have been waiting for the right time to be inspired to wear it. The gray setting and the frozen road with the red rusty bridge and green trees looked just like this dress: a gray and black background with pops of reds, greens, and creams. Fairly soon spring will be peeking through the freezing temperatures and bring spots of brightness just like this dress!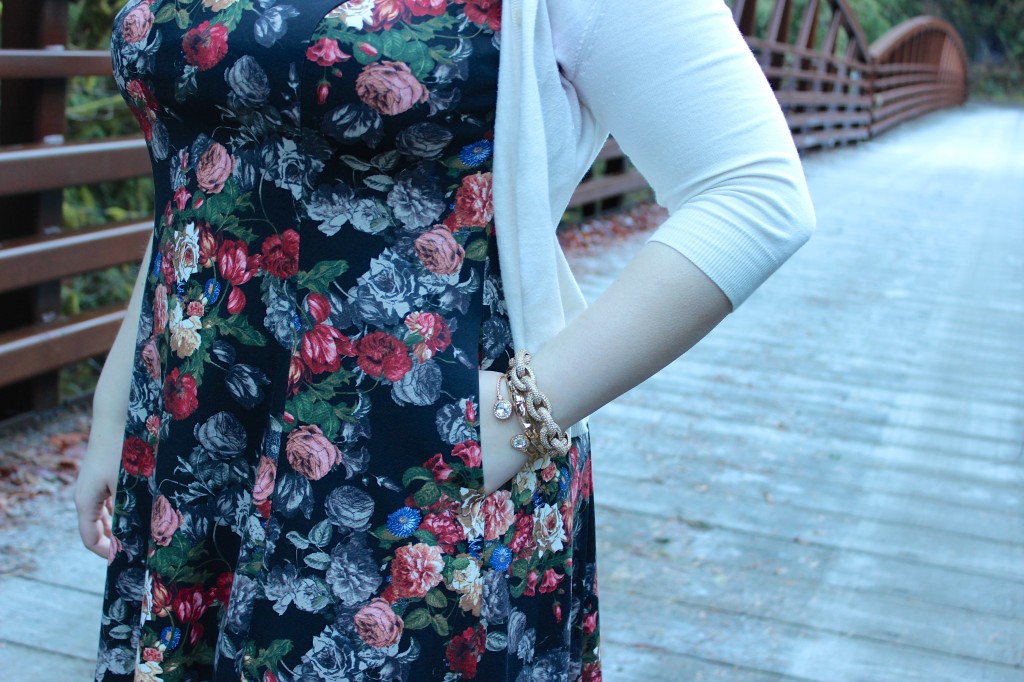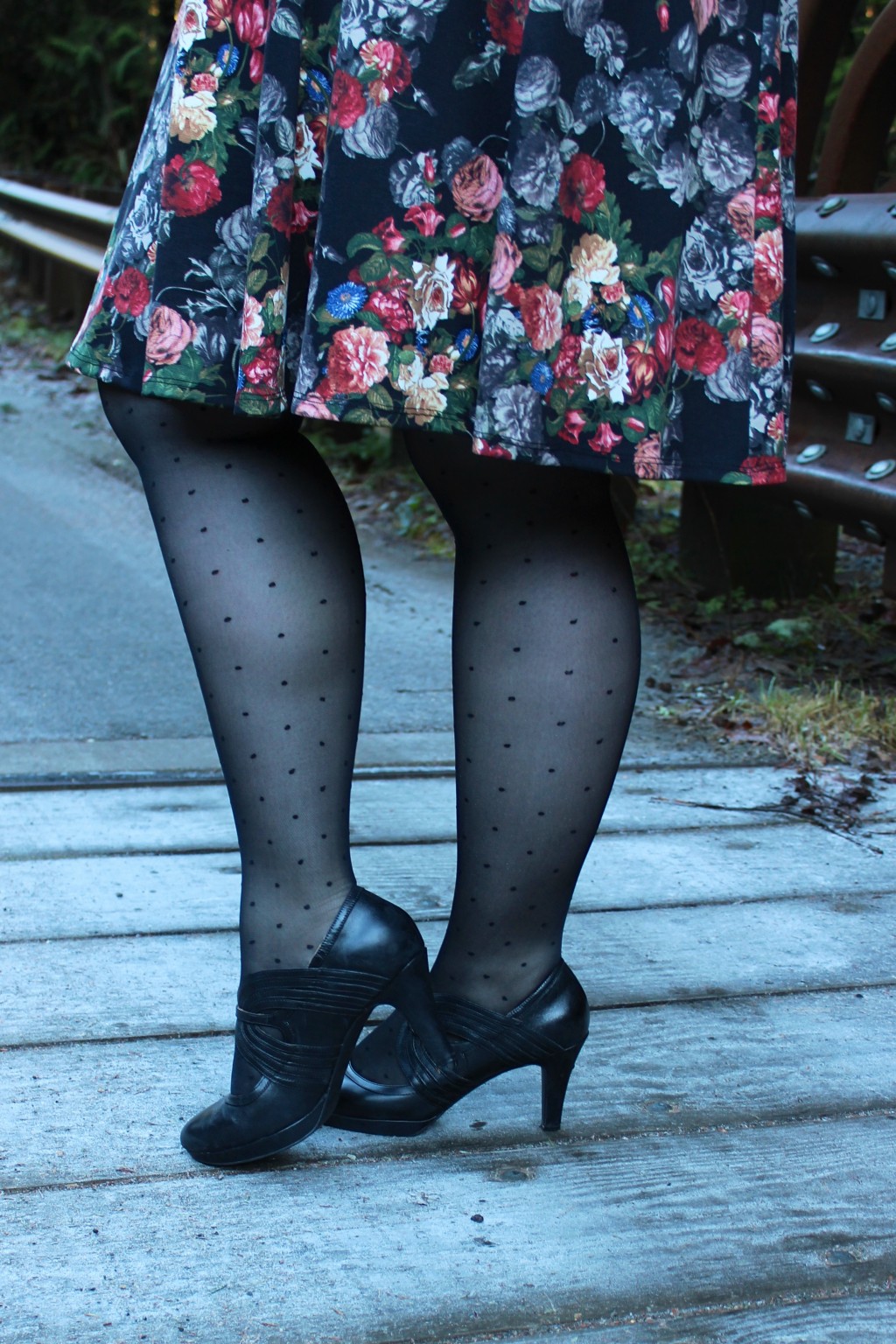 Dress: ABS by Allen Schwartz (similar [shopsense shopsense_url="http://api.shopstyle.com/action/apiVisitRetailer?id=440087669″ original_url="http://shop.nordstrom.com/S/alex-evenings-metallic-jacquard-knit-dress-plus-size/3606623?origin=category-personalizedsort&contextualcategoryid=0&fashionColor=&resultback=6694&cm_sp=personalizedsort-_-browseresults-_-2_20_C" save_to_store="true"]here[/shopsense] and [shopsense shopsense_url="http://api.shopstyle.com/action/apiVisitRetailer?id=442332220″ original_url="http://shop.nordstrom.com/S/city-chic-floral-print-skater-dress-plus-size/3631946?origin=category-personalizedsort&contextualcategoryid=0&fashionColor=MERLOT%2F+BLACK&resultback=883&cm_sp=personalizedsort-_-browseresults-_-2_4_D" save_to_store="true"]here[/shopsense]); Sweater: B.P. ([shopsense shopsense_url="http://api.shopstyle.com/action/apiVisitRetailer?url=http%3A%2F%2Fshop.nordstrom.com%2FS%2Fhalogen-three-quarter-sleeve-cardigan-regular-petite%2F3320328%3Forigin%3Dcategory-personalizedsort" original_url="http://shop.nordstrom.com/S/halogen-three-quarter-sleeve-cardigan-regular-petite/3320328?origin=category-personalizedsort&contextualcategoryid=0&fashionColor=CORAL+SUGAR&resultback=176&cm_sp=personalizedsort-_-browseresults-_-1_1_B" save_to_store="true"]similar by Halogen[/shopsense]); Tights: Kixie's "Ally" Thigh Highs (c/o); Shoes: [shopsense shopsense_url="http://api.shopstyle.com/action/apiVisitRetailer?id=437779178″ original_url="http://shop.nordstrom.com/s/clarks-loyal-peony-mary-jane-pump/3470845?origin=PredictiveSearch-personalizedsort&contextualcategoryid=60154104&fashionColor=Burgundy+Suede%2F+Patent&resultback=721&cm_sp=personalizedsort-_-searchresults-_-1_2_C" save_to_store="true"]Indigo by Clarks (similar)[/shopsense]; Bracelets: [shopsense shopsense_url="http://api.shopstyle.com/action/apiVisitRetailer?id=237488917″ original_url="https://www.jcrew.com/womens_category/jewelry/bracelets/PRDOVR~48738/48738.jsp" save_to_store="true"]J. Crew Pave Link Bracelet[/shopsense], Charming Charlie (c/o) (similar), [shopsense shopsense_url="http://api.shopstyle.com/action/apiVisitRetailer?id=338541259″ original_url="http://shop.nordstrom.com/s/sequin-metal-x-hinged-bangle/3284262?origin=PredictiveSearch-personalizedsort&contextualcategoryid=0&fashionColor=&resultback=2552&cm_sp=personalizedsort-_-searchresults-_-1_7_C" save_to_store="true"]Sequin (similar)[/shopsense]; Earrings: Cookie Lee