A Statement Scarf
Happy Monday! What a week it's been! I spent the majority of last week in New York and Connecticut for work but was sick with an awful cold. Let me be the first to tell you, it's no fun being sick while you have to work but it's ten times worse when you're working AND so far from home. I'm finally starting to feel better and have been grateful for the long weekend to recover. Add to that an exciting Seahawks win yesterday, and it's been quite the week.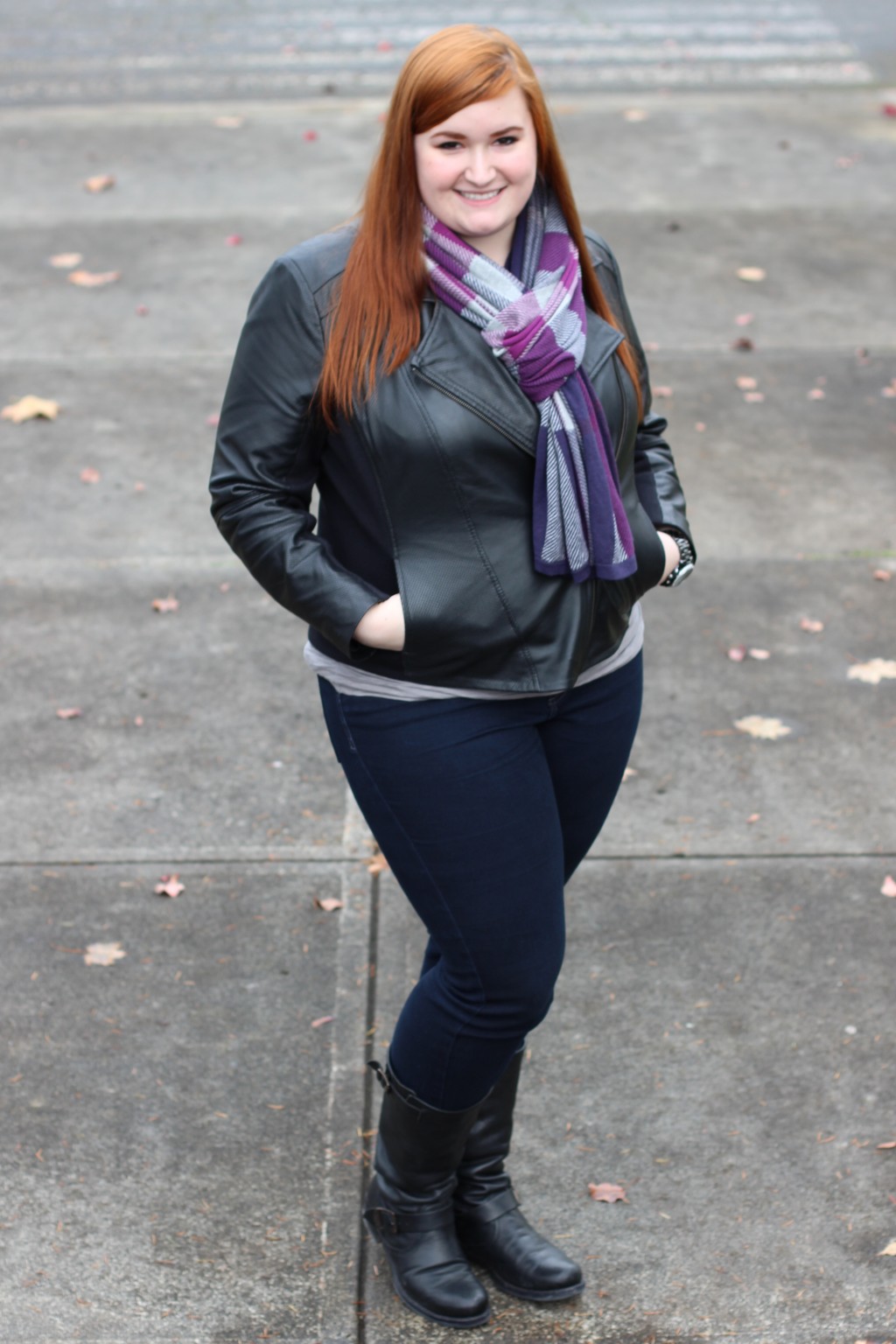 With all of my traveling I forgot just how cold it's been around here! The best part about the cold? Layering and wearing scarves. As you know, I love statement necklaces, but in the fall and winter, jewelry doesn't exactly keep your neck toasty warm so I trade out many of my statement necklaces for brightly colored or patterned scarves. I love making the scarf a part of the outfit, not just an extra layer with your outerwear, but actually a piece that completes your look. The best part is, it's easy to add a fun scarf to a basic ensemble composed of wardrobe essentials – a leather jacket, boots, and skinny jeans.
Has anyone else noticed I've been wearing a lot of pants lately? It's been a long time since I've posted a dress or skirt so I promise to do one soon!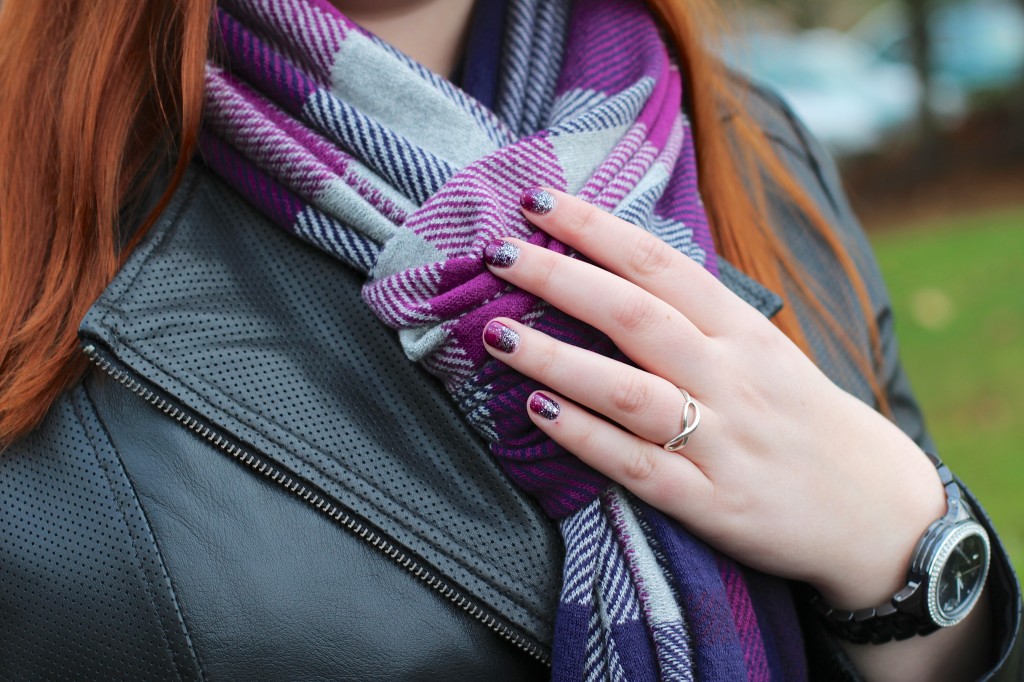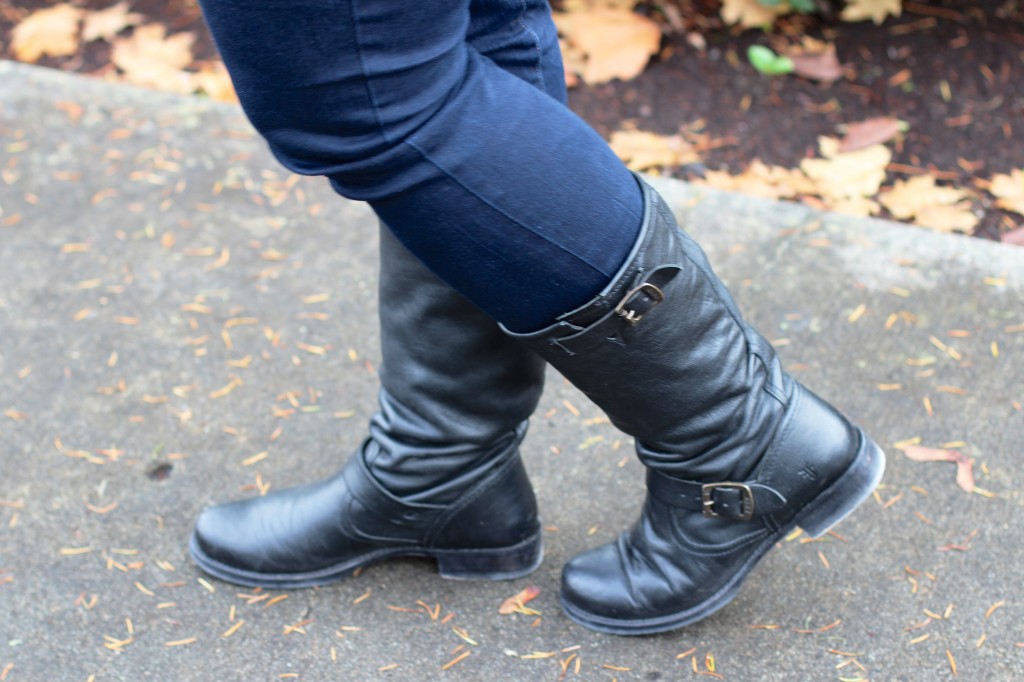 Jacket: [shopsense shopsense_url="http://api.shopstyle.com/action/apiVisitRetailer?id=433285084″ original_url="http://shop.nordstrom.com/S/sejour-nappa-lambskin-leather-jacket-plus-size/3471540?origin=PredictiveSearch-personalizedsort&contextualcategoryid=2375500&fashionColor=&resultback=446&cm_sp=personalizedsort-_-searchresults-_-1_3_A" save_to_store="false"]Sejour (similar)[/shopsense]; Scarf: [shopsense shopsense_url="http://api.shopstyle.com/action/apiVisitRetailer?id=438687718″ original_url="http://shop.nordstrom.com/s/burberry-check-scarf/3602200?origin=category-personalizedsort&contextualcategoryid=0&fashionColor=&resultback=1423&cm_sp=personalizedsort-_-browseresults-_-1_4_B" save_to_store="true"]Burberry (similar)[/shopsense]; Ring: Tiffany Infinity Ring; Watch: [shopsense shopsense_url="http://api.shopstyle.com/action/apiVisitRetailer?id=91969280″ original_url="http://shop.nordstrom.com/S/michael-kors-runway-ceramic-watch/3060108?origin=PredictiveSearch-personalizedsort&contextualcategoryid=60143886&fashionColor=&resultback=246&cm_sp=personalizedsort-_-searchresults-_-1_2_B" save_to_store="true"]Michael Kors 'Runway Ceramic' Watch[/shopsense]; Jeans: [shopsense shopsense_url="http://api.shopstyle.com/action/apiVisitRetailer?id=433283362″ original_url="http://shop.nordstrom.com/S/kut-from-the-kloth-mia-skinny-jeans-outspoken-wash/3512244?origin=PredictiveSearch-personalizedsort&contextualcategoryid=0&fashionColor=&resultback=122&cm_sp=personalizedsort-_-searchresults-_-1_2_C" save_to_store="true"]KUT from the Kloth (similar)[/shopsense]; Boots: [shopsense shopsense_url="http://api.shopstyle.com/action/apiVisitRetailer?id=202170369″ original_url="http://shop.nordstrom.com/s/frye-veronica-slouch-boot-wide-calf/3125767?origin=PredictiveSearch-personalizedsort&contextualcategoryid=0&fashionColor=&resultback=1144&cm_sp=personalizedsort-_-searchresults-_-1_3_B" save_to_store="true"]Frye Veronica Slouch Boots (Wide Calf)[/shopsense]