Green & Gold
When I spent the weekend in Port Townsend a few weeks ago, I attempted to pack as lightly as possible since it was only a weekend trip, but packing lightly just isn't my strong suit. I think I still ended up with more bags than most people take for a week long trip, but at least I looked good, right? Today's outfit is another one from the weekend trip (photos taken in Port Townsend), and is subsequently my ensemble on the plane ride to NYC that I'm taking today. It has unofficially become my "travel outfit" for this month!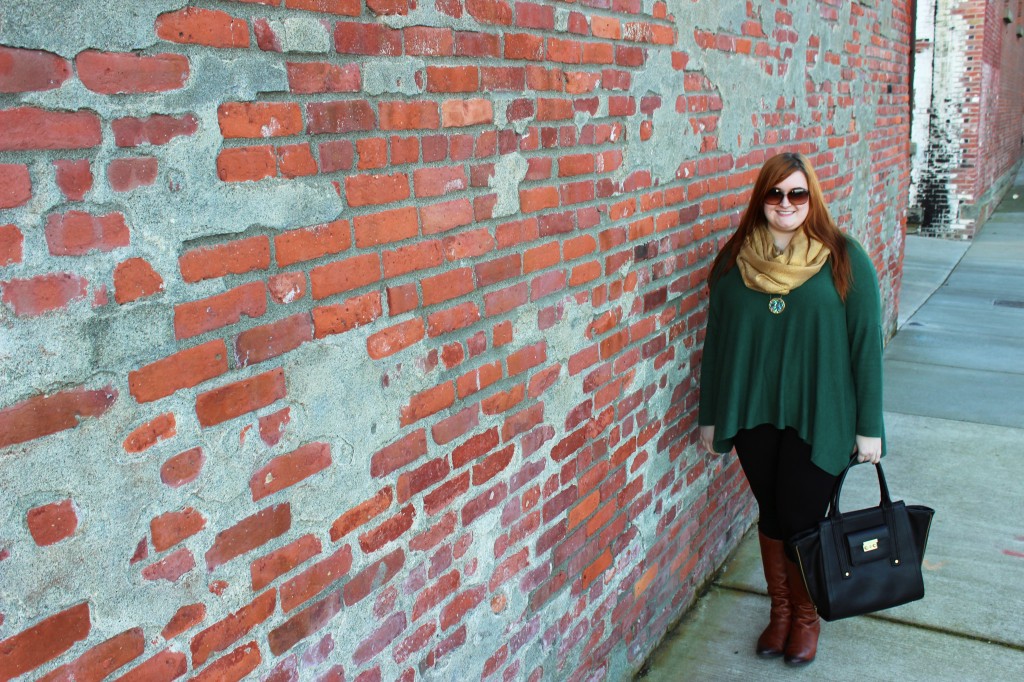 What I love about this outfit is how casually stylish it is. When I'm traveling for an extended period of time, be it driving for a few hours or flying across the country, I like to look pulled together but still stylish. This fall and winter I've been obsessed with pairing sweaters with leggings or skinny jeans, and I am absolutely in love with Eileen Fisher's knits, especially in this green color. They are beautifully constructed, incredibly warm and while they are a bit more expensive than some sweaters, the quality is unbeatable. In terms of traveling, I chose this sweater because it's cozy, lightweight and warm which is perfect for a day in a car or airplane.
I was inspired to accessorize with flecks of gold to play off the green in my sweater and brownish tones in my boots. I recently sent out this House of Harlow necklace to have the clasp fixed so I could use a necklace extender to make the chain longer. I love to alter jewelry slightly, whether it's adding in a clasp, lengthening chains or added in extenders so I can wear my jewelry differently. I added an extender with this outfit so that the piece hung beneath the scarf and paired with my favorite Kendra Philip cuff. I had been looking forever for the perfect gold cuff and I could not be happier with this piece!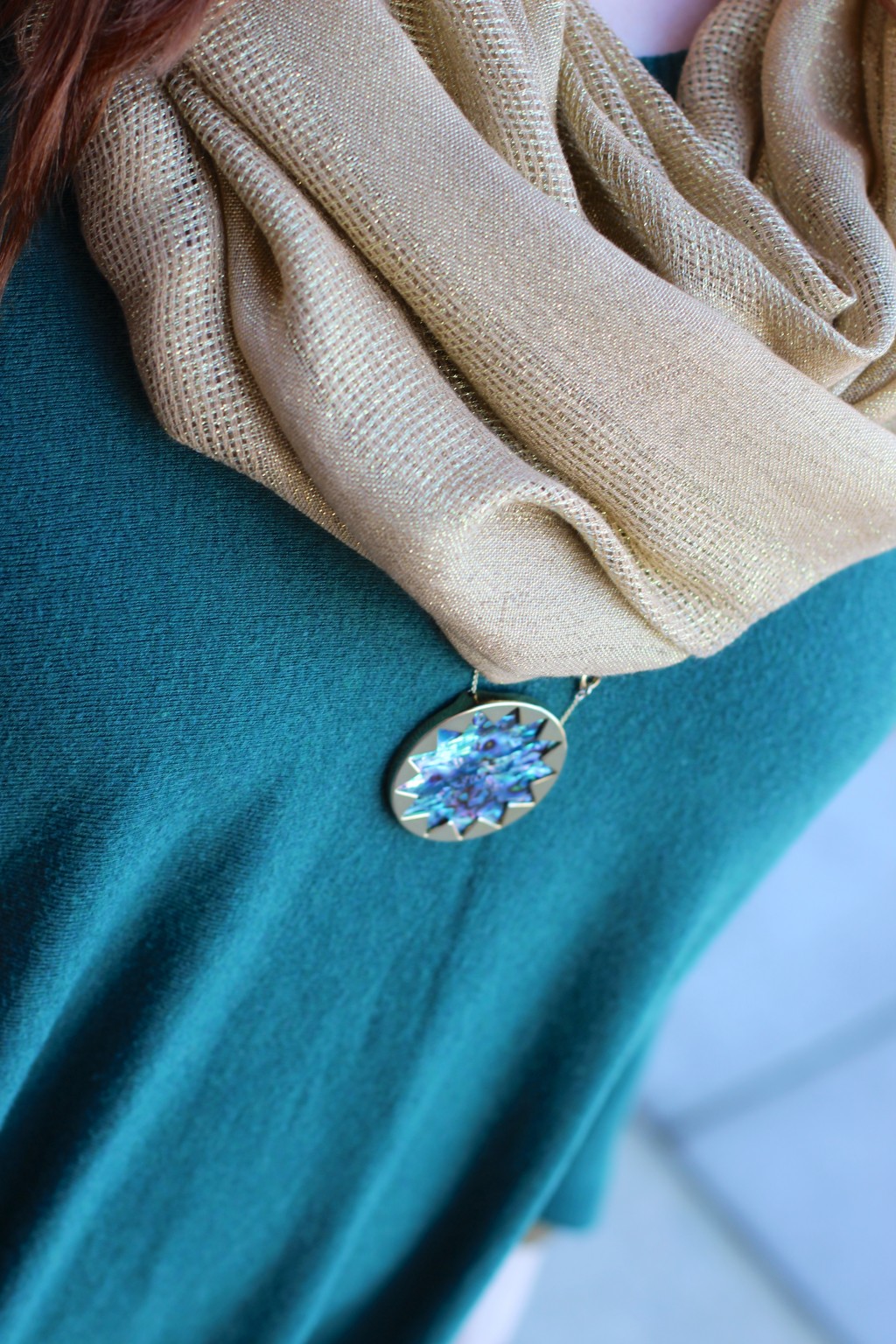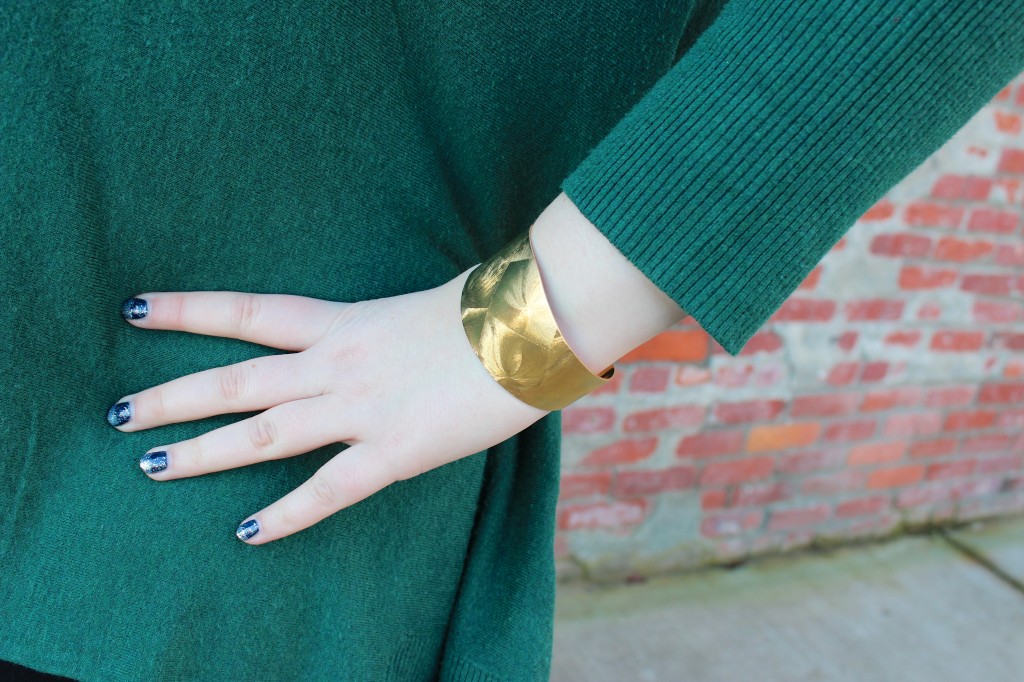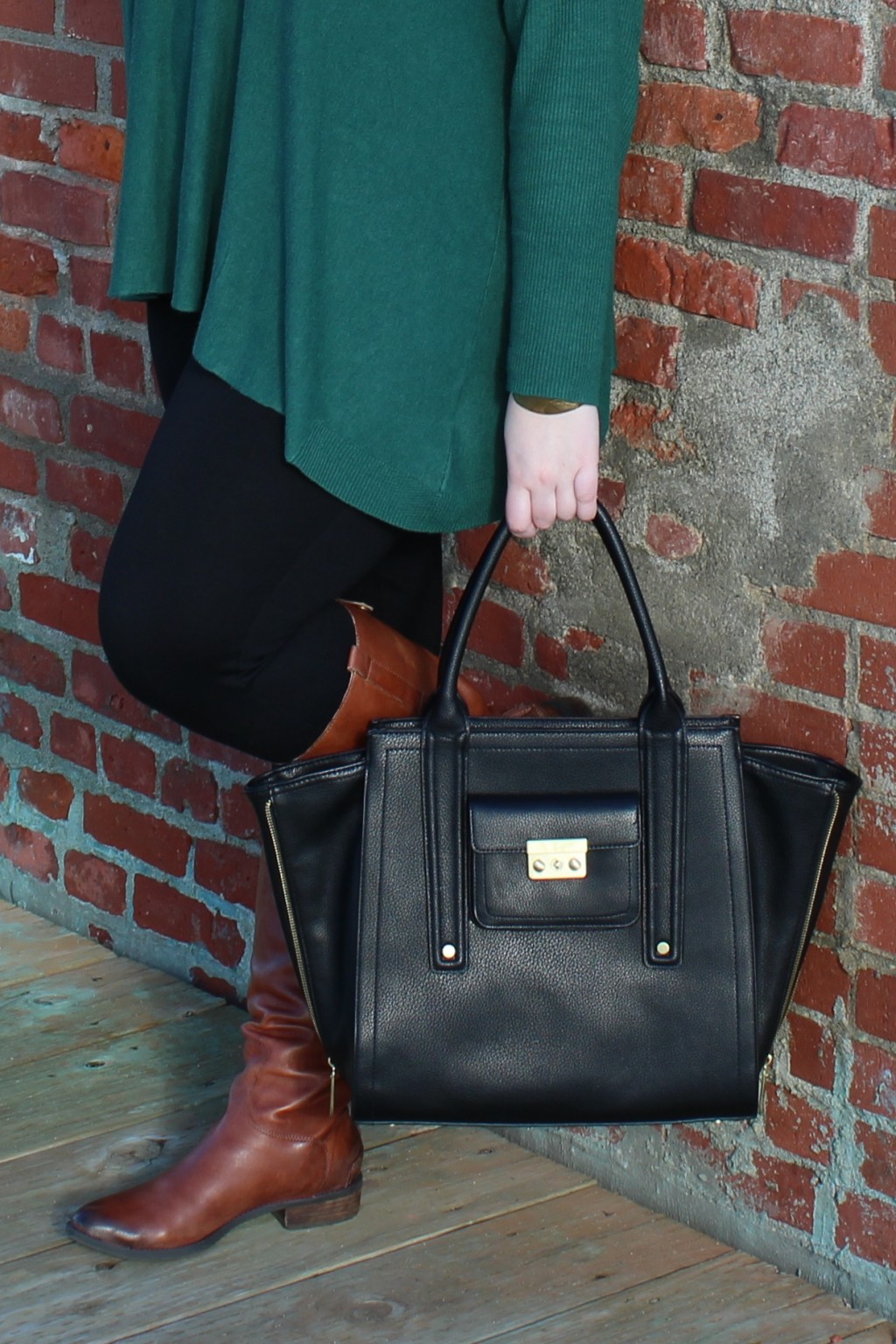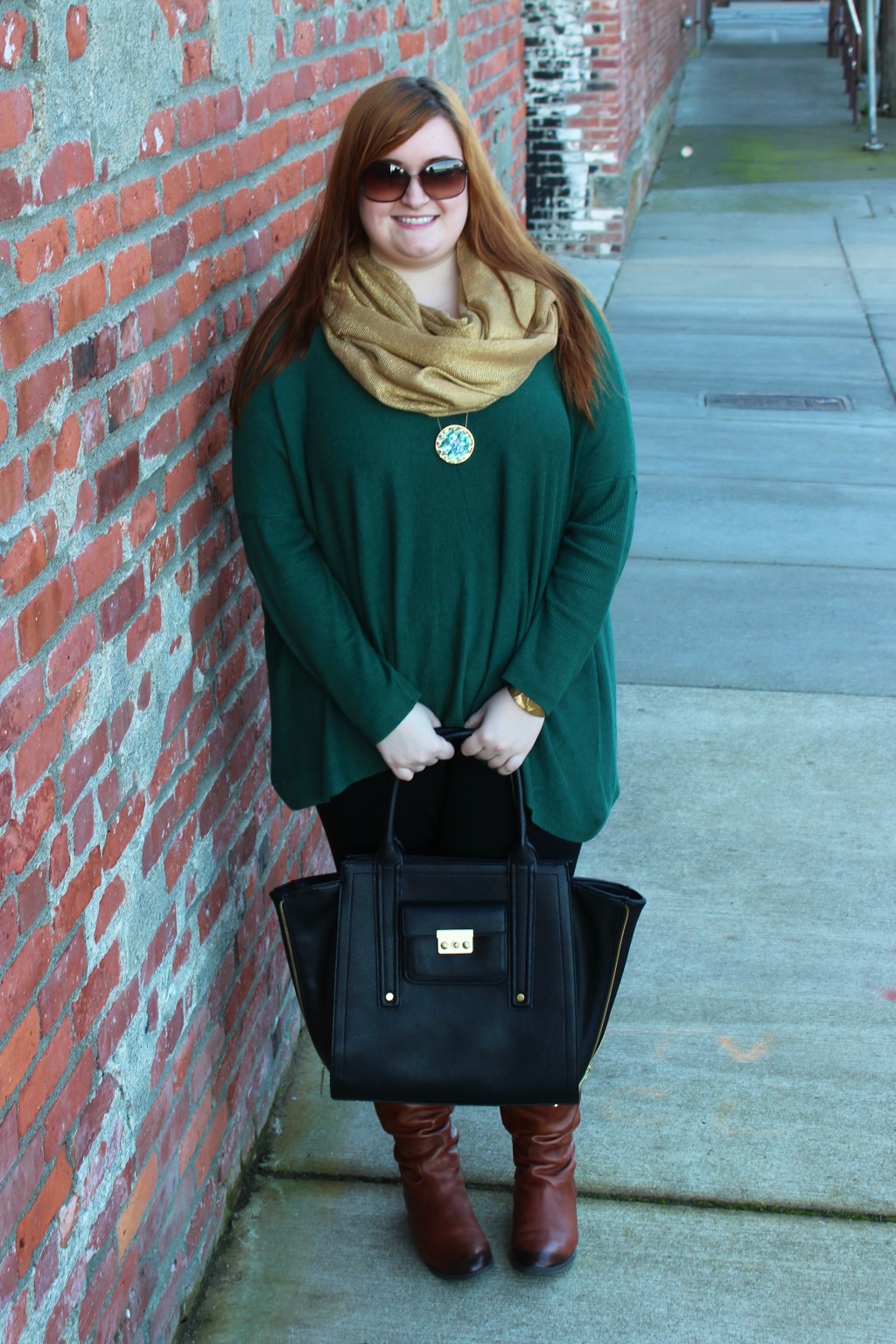 Sweater: [shopsense shopsense_url="http://api.shopstyle.com/action/apiVisitRetailer?url=http%3A%2F%2Fshop.nordstrom.com%2FS%2Feileen-fisher-cashmere-round-neck-sweater-online-only%2F3614849%3Forigin%3Dcategory-personalizedsort" original_url="http://shop.nordstrom.com/S/eileen-fisher-cashmere-round-neck-sweater-online-only/3614849?origin=category-personalizedsort&contextualcategoryid=0&fashionColor=EVERGREEN&resultback=7061&cm_sp=personalizedsort-_-browseresults-_-1_20_D" save_to_store="false"]Eileen Fisher (similar)[/shopsense]; Leggings: [shopsense shopsense_url="http://api.shopstyle.com/action/apiVisitRetailer?url=http%3A%2F%2Fwww1.macys.com%2Fshop%2Fproduct%2Finc-international-concepts-stretch-leggings%3FID%3D958989″ original_url="http://www1.macys.com/shop/product/inc-international-concepts-stretch-leggings?ID=958989&CategoryID=3481&LinkType=#fn=DEPARTMENT_TYPE%3DPants%26sp%3D1%26spc%3D60″ save_to_store="false"]INC Stretch Leggings[/shopsense]; Scarf: [shopsense shopsense_url="http://api.shopstyle.com/action/apiVisitRetailer?id=439840553″ original_url="http://shop.nordstrom.com/S/eileen-fisher-scarf/3573623?origin=category-personalizedsort&contextualcategoryid=0&fashionColor=TURMERIC&resultback=2164&cm_sp=personalizedsort-_-browseresults-_-1_6_B" save_to_store="false"]Similar Style[/shopsense]; Necklace: [shopsense shopsense_url="http://api.shopstyle.com/action/apiVisitRetailer?id=145042843″ original_url="http://shop.nordstrom.com/s/house-of-harlow-1960-sunburst-necklace/3102135?origin=PredictiveSearch-personalizedsort&contextualcategoryid=0&fashionColor=&resultback=0&cm_sp=personalizedsort-_-searchresults-_-1_1_A" save_to_store="false"]House of Harlow Sunburst Pendant (similar)[/shopsense]; Cuff: Kendra Philip Lindsay Cuff (c/o); Sunnies: [shopsense shopsense_url="http://api.shopstyle.com/action/apiVisitRetailer?id=81452536″ original_url="http://shop.nordstrom.com/S/tom-ford-miranda-68mm-open-temple-metal-sunglasses/3056766?origin=PredictiveSearch-personalizedsort&contextualcategoryid=60138438&fashionColor=&resultback=4751&cm_sp=personalizedsort-_-searchresults-_-1_13_D" save_to_store="false"]Tom Ford (similar)[/shopsense]; Bag: 3.1 Philip Lim for Target; Boots: [shopsense shopsense_url="http://api.shopstyle.com/action/apiVisitRetailer?id=434740303″ original_url="http://shop.nordstrom.com/s/sam-edelman-penny-boot-wide-calf/3596173?origin=PredictiveSearch-personalizedsort&contextualcategoryid=2375500&fashionColor=Whiskey+Extended+Calf&resultback=553&cm_sp=personalizedsort-_-searchresults-_-1_2_D" save_to_store="false"]Sam Edelman Penny Boots (wide calf)[/shopsense]