7 Ways to Tell if a Pearl is Real
A few months ago, I was at a vintage bazaar scouring racks of beautiful clothes, handbags, shoes, and jewelry. I went in anticipating that I wouldn't find anything but then I saw them – sitting on a jewelry display – strands upon strands of pearls of varying colors, lengths, and sizes. I've never even been able to find fake pearls in such lengths so I immediately knew I wanted them. I saw them in white, pink, black, and a opalescent blue shade. Were my eyes deceiving me? Were they real? Were they fake? Women were snatching them up left and right so I quickly maneuvered over to the table and grabbed a few strands myself.
I wanted to make sure that the strands I was purchasing were real so I immediately called my mom to ask her if she knew how to tell if pearls were real or fake. Of course she wasn't sure and said something about biting pearls and that she'd call to ask my aunt. I started googling and realized that there are many tips and tricks. So after consulting with my jeweler, I've compiled a list of seven ways to determine if a pearl is real or fake.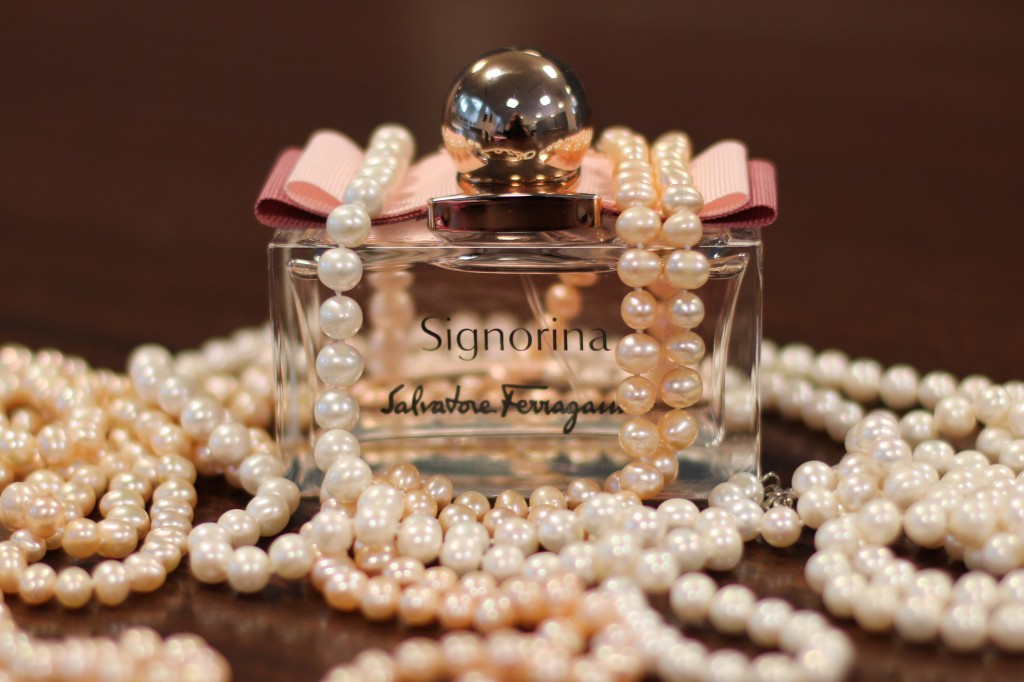 Friction Test: Rub two pearls from the strand together. Real pearls should feel gritty when rubbed together, not smooth. Fake, or simulated, pearls are manufactured so they are often smooth and no resistance is felt.
Tooth Test: Lightly rub a pearl against your tooth; similar to the friction test, a real pearl should feel gritty.
Flaw Test: Real pearls have flaws, imperfections, and slight variances in color, shape, and texture. Simulated pearls are exactly uniform, they'll look too perfect.
Temperature: Real pearls are cold when you initially pick them up as opposed to plastic fake pearls, whose temperature will be room temperature.
Color: The beauty of a real pearl is something that can't be imitated. Real pearls have a translucent, opalescent-like sheen to them or an "oily" appearance.
Weight: Real pearls are typically heavier than their fake counterparts.
The Setting: It's a small detail that's sometimes missed, but real pearls are typically on silk strands with knots between each pearl. The quality of the clasp is also an indicator and often feature safety mechanisms such as a fish hook clasp.
Of course, you should always consult a jeweler if you're unsure, but if you're in a situation like mine where you can't come back later to get the pearls, these are some great ways to determine for yourself if they're real and if you're willing to take the risk. In my situation, I was comfortable assuming the pearls were real by the friction test, the weight, and the color and shape. I later took my pearls to my jeweler to confirm and appraise the value of the pearls – turns out they are real and I got a killer deal on them!
Two out of the three strands of pearls I picked up are below (here are all three). You can tell, especially on the pink strand, that the pearls are of varying shapes and have a beautiful sheen to them. And your bonus tip – pearls should be stored laying flat and not hanging, you don't want to stretch out the silk strands!


Fragrance: [shopsense shopsense_url="http://api.shopstyle.com/action/apiVisitRetailer?id=333630671″ original_url="http://shop.nordstrom.com/s/salvatore-ferragamo-signorina-eau-de-parfum/3263460?origin=keywordsearch-personalizedsort&contextualcategoryid=2375500&fashionColor=&resultback=153&cm_sp=personalizedsort-_-searchresults-_-1_0_C" save_to_store="true"]Salvatore Ferragamo Signorina[/shopsense]; Similar strands: [shopsense shopsense_url="http://api.shopstyle.com/action/apiVisitRetailer?id=439336600″ original_url="http://shop.nordstrom.com/s/lagos-luna-long-pearl-necklace/3630084?origin=keywordsearch-personalizedsort&contextualcategoryid=0&fashionColor=&resultback=1058&cm_sp=personalizedsort-_-searchresults-_-1_3_A" save_to_store="false"]Lagos 'Luna' Pearl Strand (real)[/shopsense]; [shopsense shopsense_url="http://api.shopstyle.com/action/apiVisitRetailer?id=333454084″ original_url="http://shop.nordstrom.com/s/givenchy-long-glass-pearl-necklace/3282914?origin=keywordsearch-personalizedsort&contextualcategoryid=0&fashionColor=&resultback=2672&cm_sp=personalizedsort-_-searchresults-_-1_7_A" save_to_store="true"]Givenchy Glass Faux Pearl Strand[/shopsense]; [shopsense shopsense_url="http://api.shopstyle.com/action/apiVisitRetailer?id=298509956″ original_url="http://shop.nordstrom.com/S/majorica-8mm-round-pearl-endless-rope-necklace/3236786?origin=keywordsearch-personalizedsort&contextualcategoryid=0&fashionColor=&resultback=4177&cm_sp=personalizedsort-_-searchresults-_-1_12_D" save_to_store="false"]Majorica Pearl Rope[/shopsense]