Fall Office Style
It seems awfully strange to not be sharing a dress with you today, but the fall (and soon-to-be-winter) season means less bare legs! I find myself wearing pants, jeans, or leggings more often than not these days, but they're fun to style and it feels like I have a whole new wardrobe!
This summer I shared a post about wearing colorful slacks to the office, so it seemed only fitting to do a similar post for fall. Just because it's fall, doesn't mean we can only wear black and gray! These purple pants have been sitting in my closet just waiting for me to wear them to the office. So today was the day!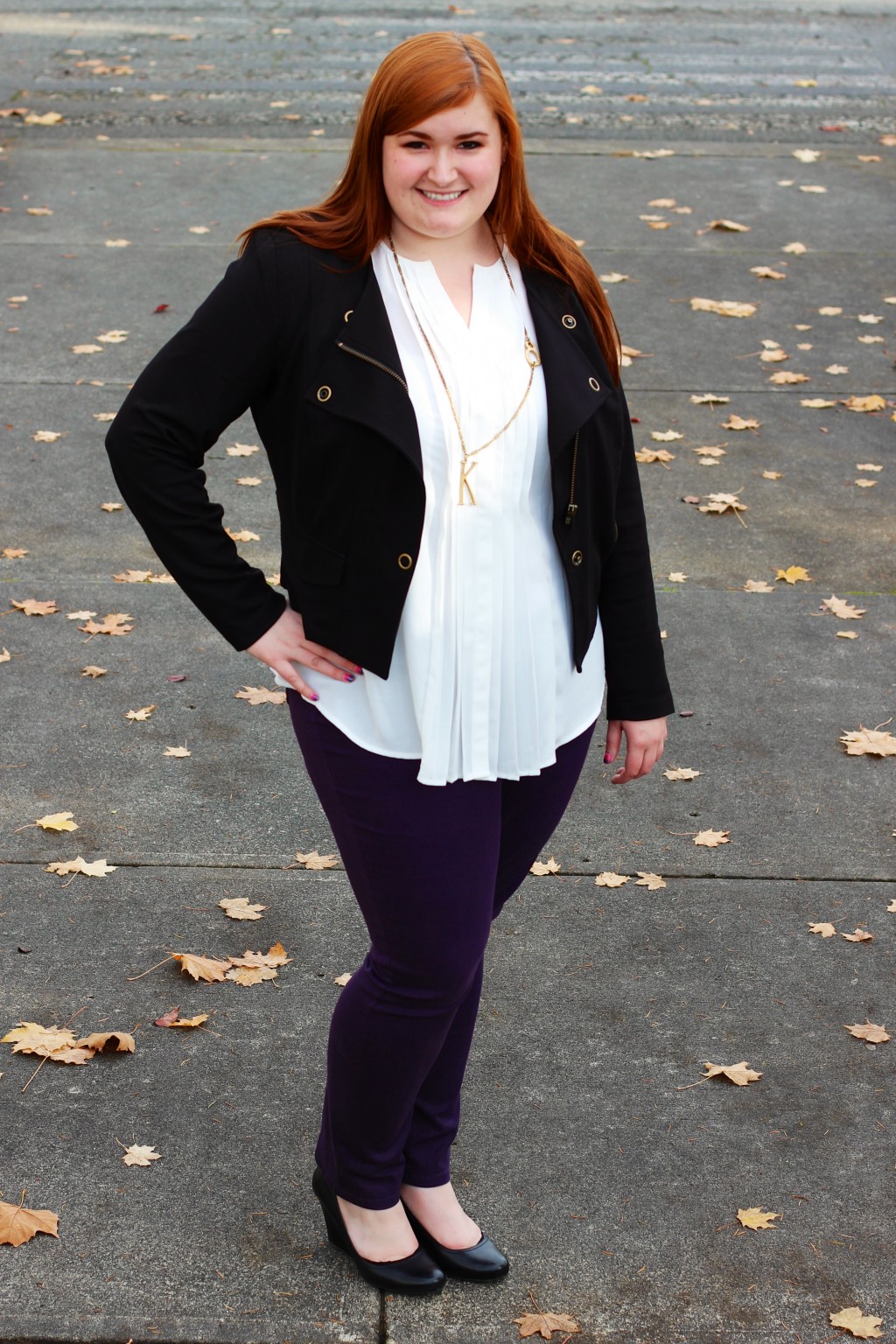 Of course, in a professional environment I don't want to be too casual or "out there" with my outfits. I opted for styling with a crisp white blouse, cropped black moto jacket, and black wedges (all of which are staples in my wardrobe). The deep purple of the pants is a great color for fall, but also timeless enough that you can wear them for a few seasons. Altogether I think it's the perfect balance of style and professionalism but still showcasing my personality.
Naturally, the icing on the cake to any ensemble is the jewelry. You've seen me wear my Lulu Frost Plaza K necklace on the blog plenty of times, but do you notice anything different this time?! When I was in NYC last month I had the opportunity to meet Lisa Salazar, Lulu Frost's founder and designer, and design jewelry with her. It was a dream come true. I took my existing Plaza K necklace with me and ended up adding the "8" to the piece. My mom has always abbreviated my name "Kate" as "K8" and Lisa had the idea to add it into the chain as you see here. I love it so much and it's so fun to tell the story. I also designed the bracelet I'm wearing too!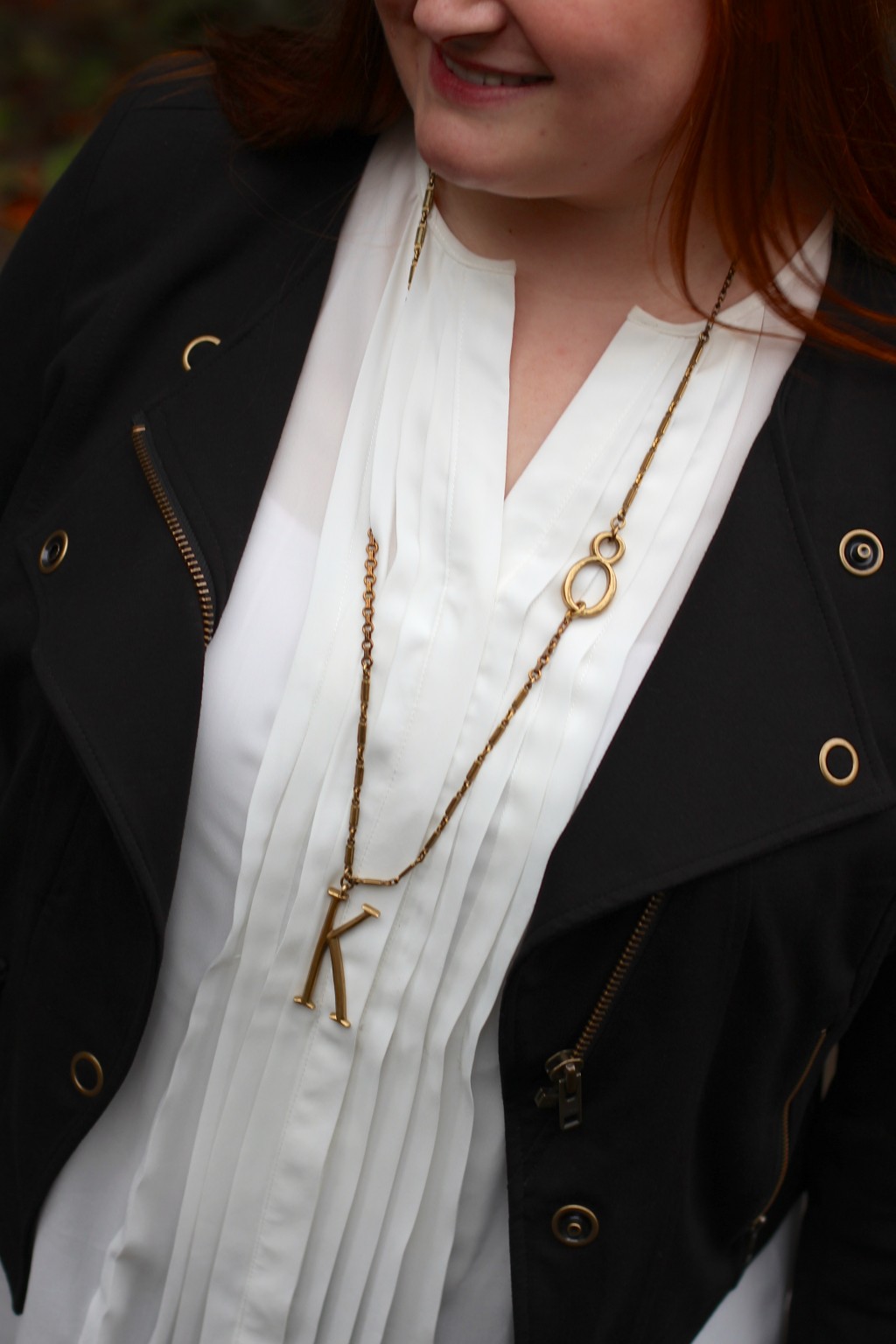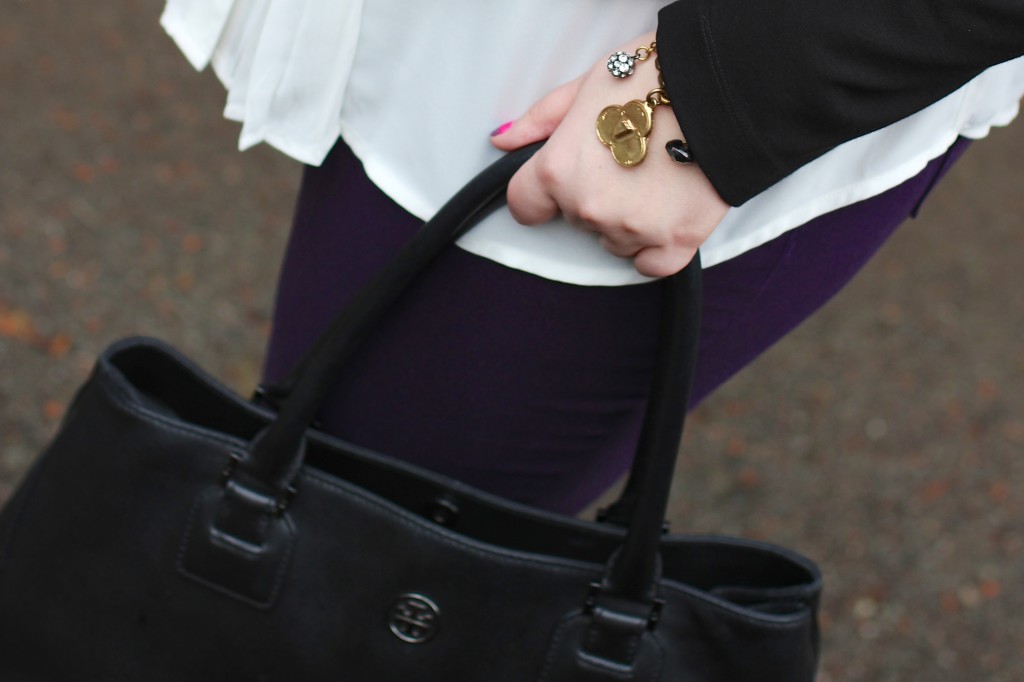 Shirt: [shopsense shopsense_url="http://api.shopstyle.com/action/apiVisitRetailer?id=437334860″ original_url="http://www1.macys.com/shop/product/inc-international-concepts-plus-size-long-sleeve-pleated-blouse?ID=1100657&CategoryID=39720&swatchColor=Washed%20White#fn=DEPARTMENT_TYPE%3DTops%26sp%3D2%26spc%3D105″ save_to_store="false"]I.N.C. Pleated Blouse[/shopsense]; Jacket: [shopsense shopsense_url="none" original_url="http://www.cabionline.com/collection/clothes/ponte-moto-jacket/" save_to_store="true"]Cabi Ponte Moto Jacket[/shopsense]; Pants: [shopsense shopsense_url="http://api.shopstyle.com/action/apiVisitRetailer?id=440507247″ original_url="http://shop.nordstrom.com/S/nydj-sheri-coated-stretch-skinny-jeans/3665094?origin=category-personalizedsort&contextualcategoryid=0&fashionColor=&resultback=1636&cm_sp=personalizedsort-_-browseresults-_-1_5_D" save_to_store="true"]NYDJ Coated Denim Skinnies (similar in green)[/shopsense]; Bag: [shopsense shopsense_url="http://api.shopstyle.com/action/apiVisitRetailer?url=http%3A%2F%2Fshop.nordstrom.com%2Fs%2Ftory-burch-robinson-double-zip-tote-large%2F3457102%3Forigin%3Dkeywordsearch-personalizedsort" original_url="http://shop.nordstrom.com/s/tory-burch-robinson-double-zip-tote-large/3457102?origin=keywordsearch-personalizedsort&contextualcategoryid=2375500&fashionColor=&resultback=178&cm_sp=personalizedsort-_-searchresults-_-1_1_D" save_to_store="false"]Tory Burch Robinson Tote[/shopsense]; Necklace: Lulu Frost Plaza K; Bracelet: Lulu Frost Plaza Collection Bracelet; Shoes: [shopsense shopsense_url="none" original_url="http://www.clarksusa.com/eng/product/purity_snow/26064390″ save_to_store="true"]Indigo by Clarks[/shopsense]