Purple Haze
Happy Monday! I hope everyone had a fabulous weekend – mine was jam packed with events and packing! Thanks so much to everyone who came out to the Macy's Fall Fashion event. It was great to see all of you! I also attended the Good Wishes Gala and had dinner at Ruth's Chris Steakhouse for their Food & Wine Tour of Italy. It was excellent! You can check out my Instagram for pictures of my weekend events!
In case you noticed I dropped the word packing above – I'm headed out to NYC tomorrow for Lucky Magazine's Lucky FABB conference! I had the opportunity to attend Lucky FABB West in April, so I'm excited to be heading out to the East Coast to enjoy FABB once again. Check out my Facebook, Twitter, and Instagram for more up-to-the-minute updates on my adventures this week!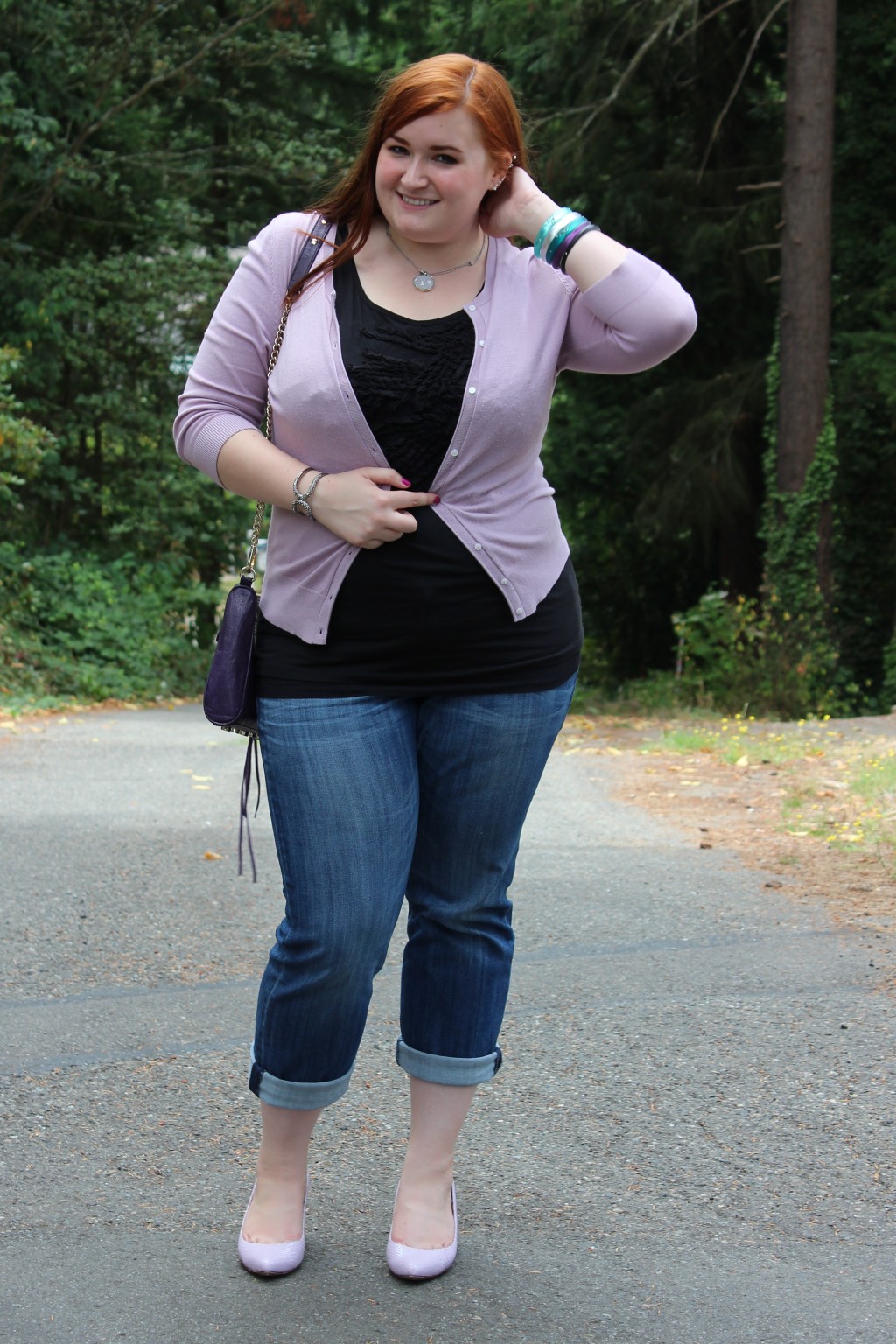 Moving on to my outfit! I have to admit when I was a kid, I absolutely hated the color purple, so for me to be wearing an outfit with all different shades of purple is a big step! I can hear my 10-year old self cringing. I wanted a business casual look and wanted to dress up my lighter colored denim so adding heels, a nice blouse and sweater seemed the perfect option for me. If you know me at all, you know it's a rare day when I bust out the high heels, but the minute I saw these at Nordstrom Rack I knew I had to have them. They feature a lower kitten heel and are a little sassy with the snakeskin imprint. To say I'm in love would be an understatement!
To ensure that I didn't look too much like the Purple People Eater, I added some accessories of varying colors. I am in love with Alexis Bittar bracelets (and probably wear them way too much) but I stacked a number of colors on my left arm, and wore an Alex Bittar Miss Havisham bracelet on my right arm. Sometimes going with simpler pieces is the way to go!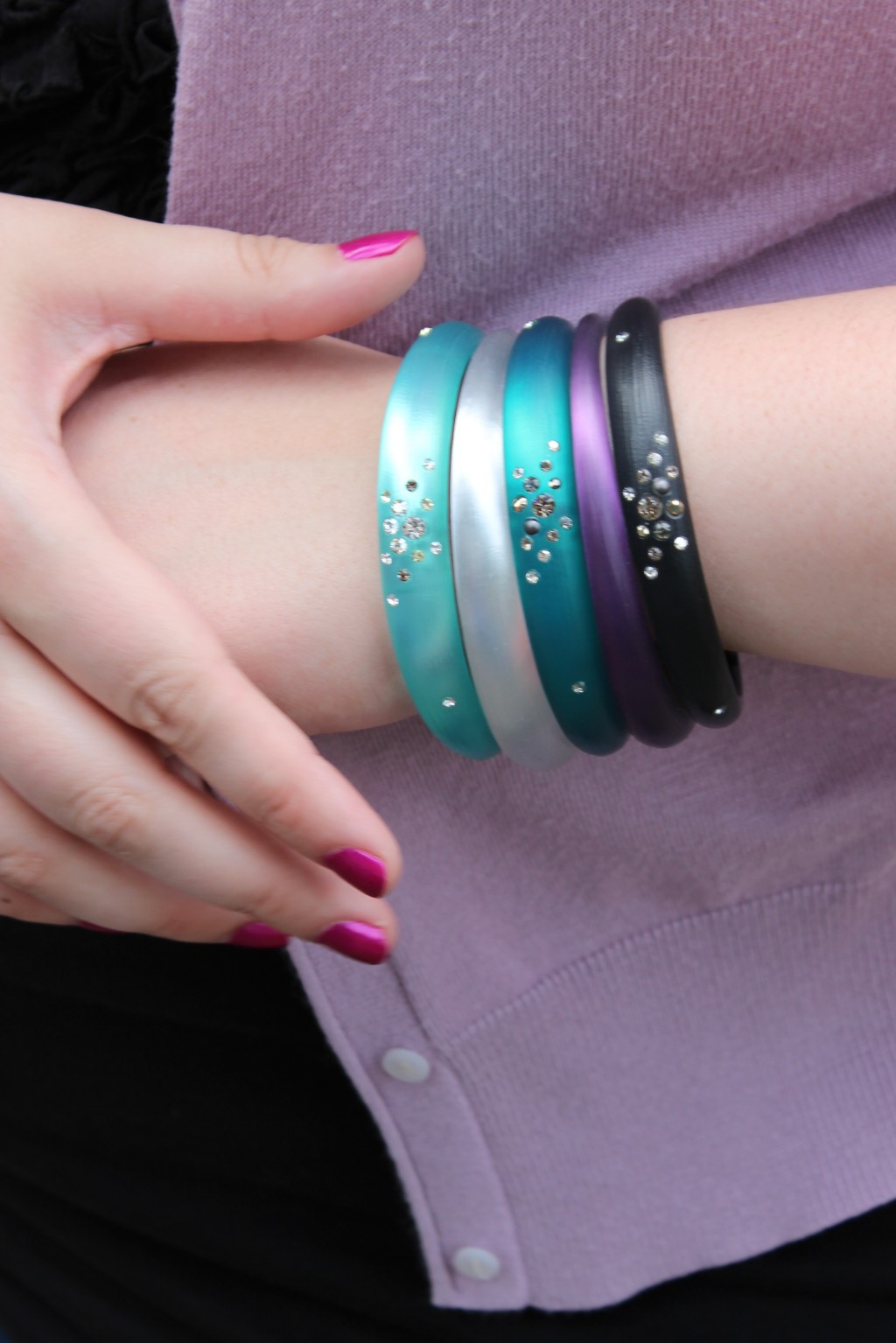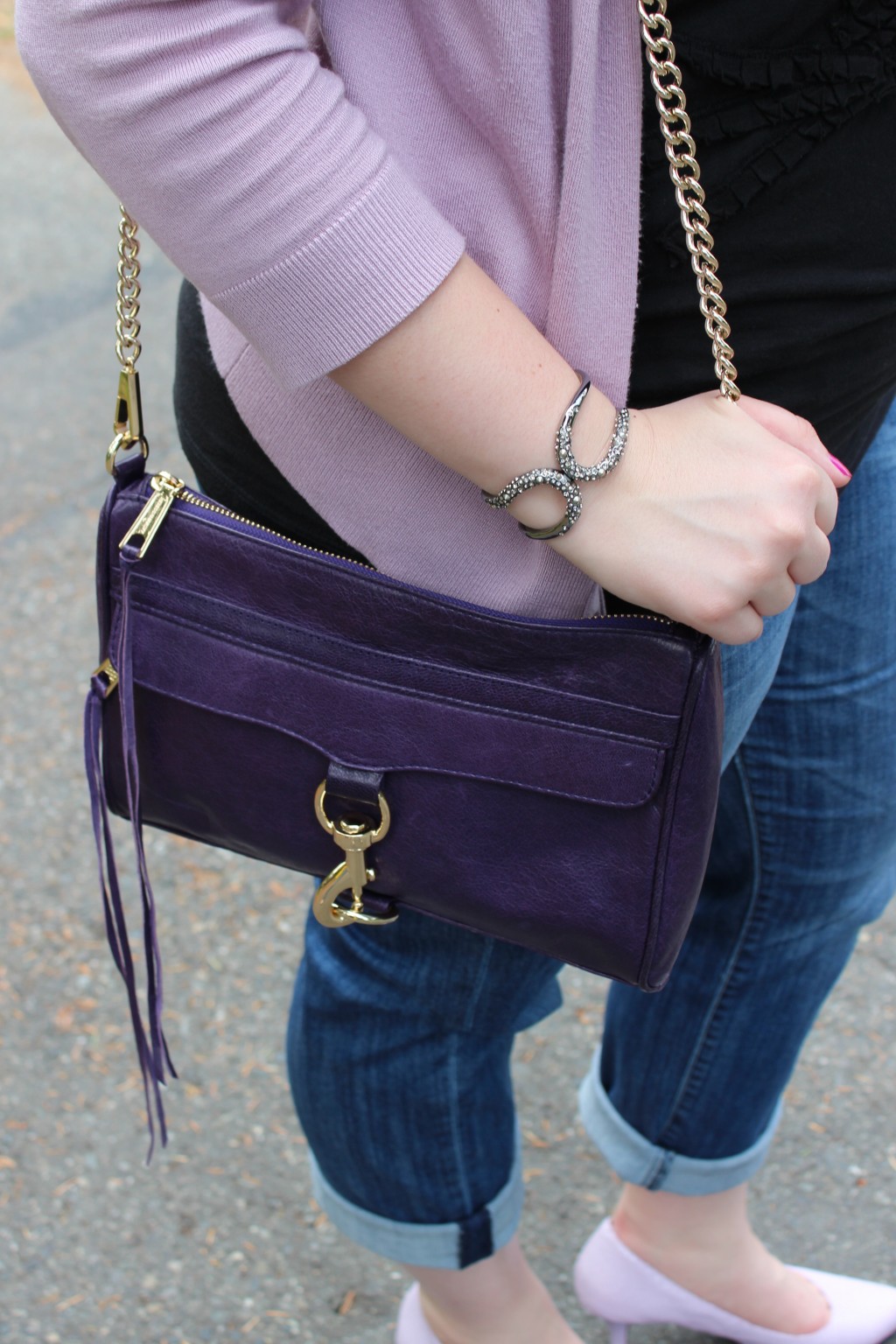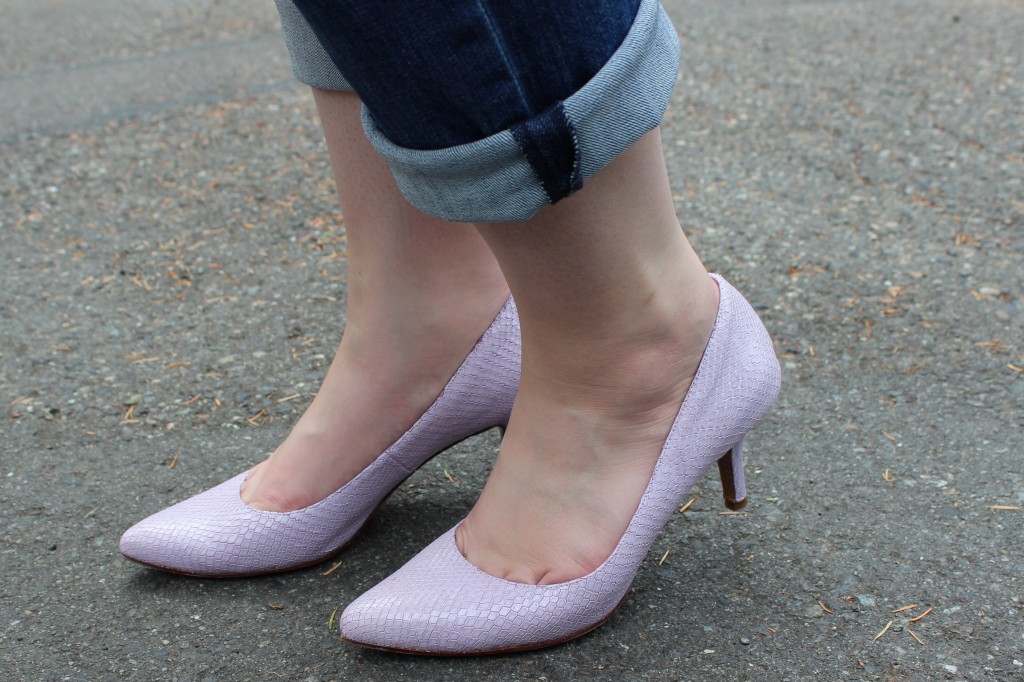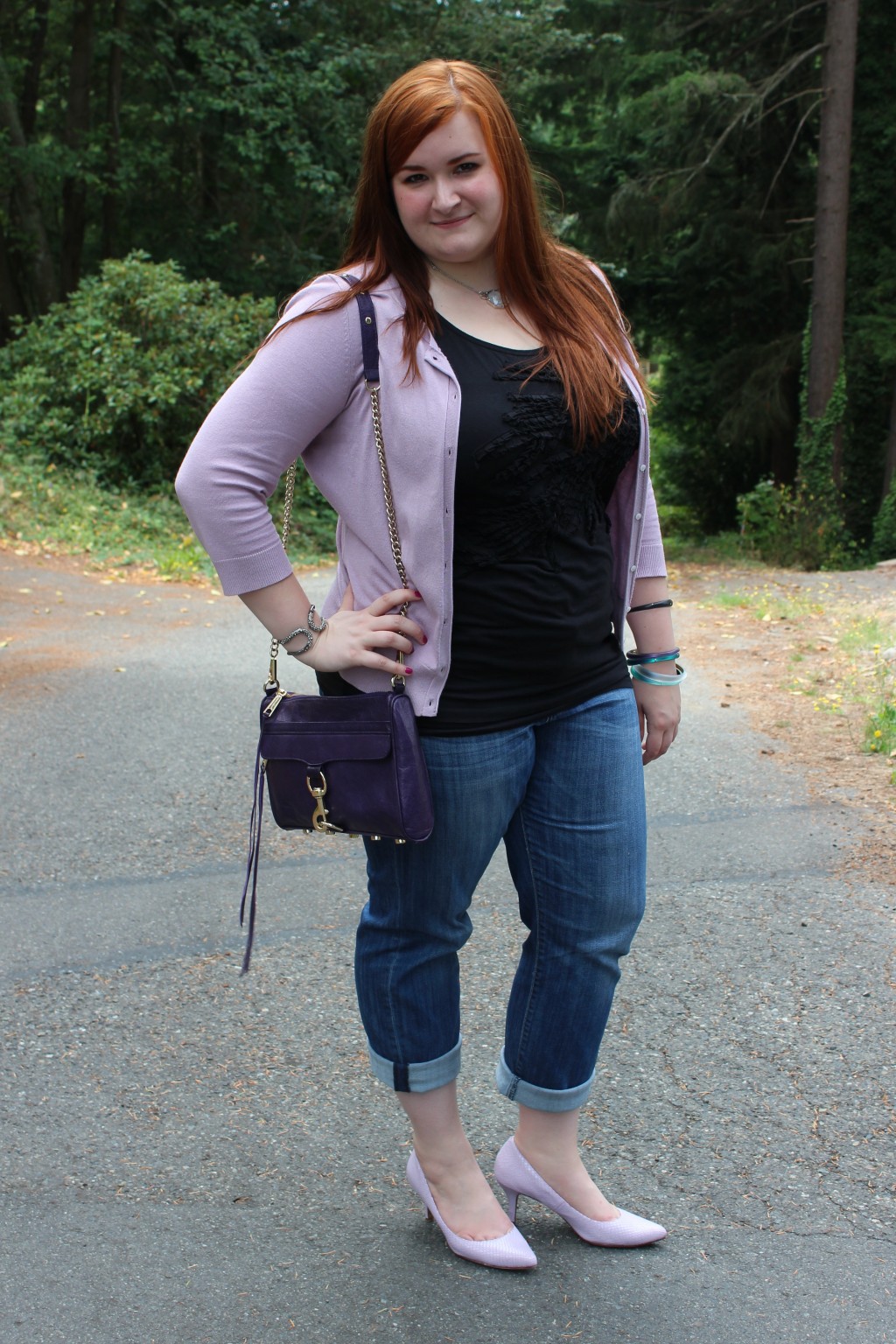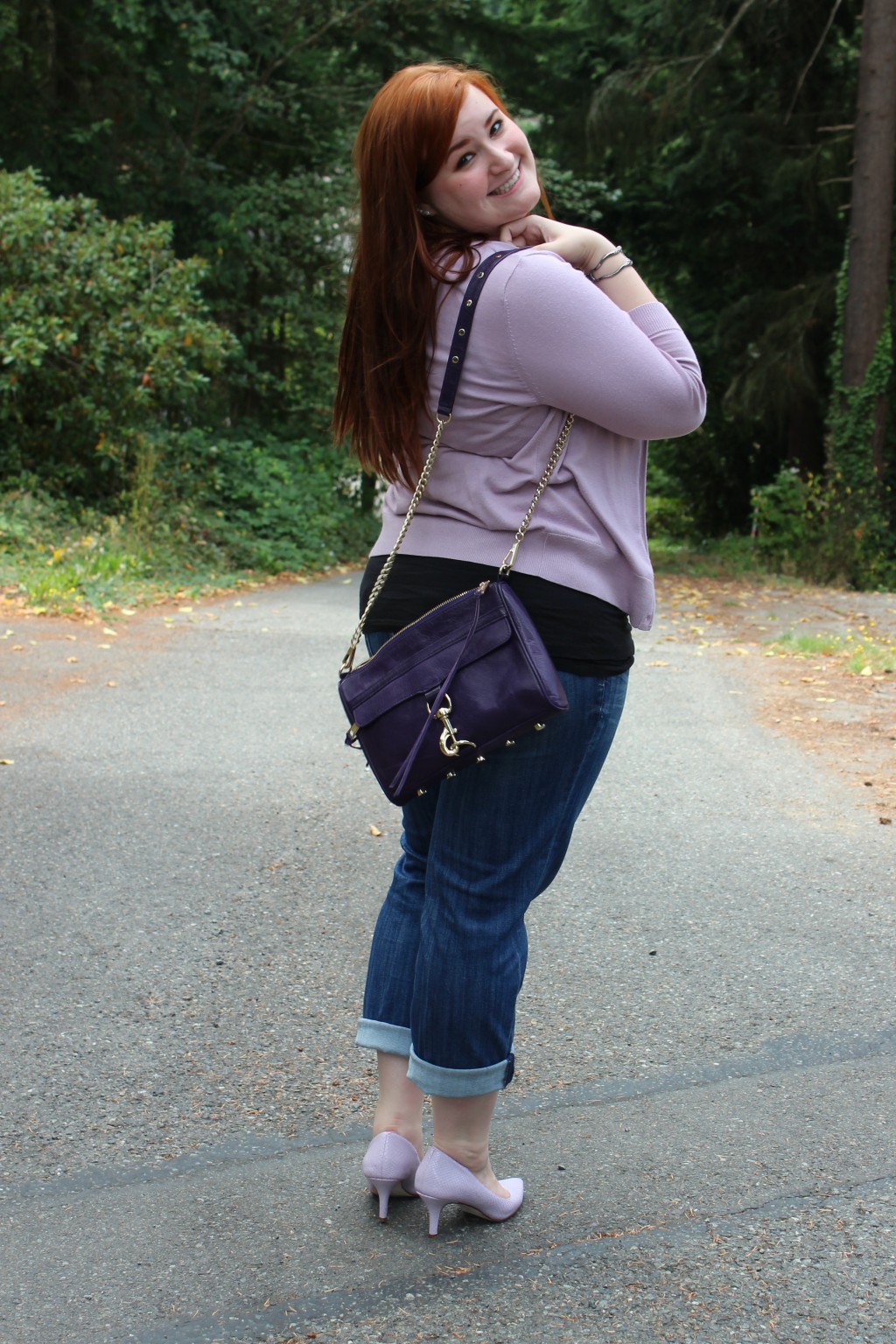 Sweater: [shopsense shopsense_url="http://api.shopstyle.com/action/apiVisitRetailer?url=http%3A%2F%2Fshop.nordstrom.com%2FS%2Fhalogen-three-quarter-sleeve-cardigan-regular-petite%2F3320328%3Forigin%3Dcategory-personalizedsort" original_url="http://shop.nordstrom.com/S/halogen-three-quarter-sleeve-cardigan-regular-petite/3320328?origin=category-personalizedsort&contextualcategoryid=0&fashionColor=RED+POINSETTIA&resultback=4089&cm_sp=personalizedsort-_-browseresults-_-1_11_D" save_to_store="false"]Halogen[/shopsense]; Top: Caslon; Jeans: [shopsense shopsense_url="http://api.shopstyle.com/action/apiVisitRetailer?id=423102529″ original_url="http://shop.nordstrom.com/S/kut-from-the-kloth-catherine-boyfriend-stretch-jeans/3496467?origin=PredictiveSearch-personalizedsort&contextualcategoryid=0&fashionColor=&resultback=2519&cm_sp=personalizedsort-_-searchresults-_-1_8_B" save_to_store="false"]KUT from the Kloth[/shopsense]; Bag: [shopsense shopsense_url="http://api.shopstyle.com/action/apiVisitRetailer?id=438131222″ original_url="http://shop.nordstrom.com/s/rebecca-minkoff-mini-m-a-c-shoulder-bag/3632187?origin=PredictiveSearch-personalizedsort&contextualcategoryid=0&fashionColor=Elephant&resultback=184&cm_sp=personalizedsort-_-searchresults-_-1_1_D" save_to_store="false"]Rebecca Minkoff[/shopsense]; Necklace: [shopsense shopsense_url="http://api.shopstyle.com/action/apiVisitRetailer?id=429682739″ original_url="http://shop.nordstrom.com/S/judith-jack-convertible-pendant-necklace/3482052?origin=keywordsearch-personalizedsort&contextualcategoryid=60136548&fashionColor=&resultback=3802&cm_sp=personalizedsort-_-searchresults-_-1_11_D" save_to_store="false"]Judith Jack Convertible Pendant Necklace (similar)[/shopsense]; Bracelets: [shopsense shopsense_url="http://api.shopstyle.com/action/apiVisitRetailer?id=202171320″ original_url="http://shop.nordstrom.com/S/alexis-bittar-lucite-skinny-tapered-bangle/2926427?origin=category-personalizedsort&contextualcategoryid=0&fashionColor=TEAL&resultback=4856&cm_sp=personalizedsort-_-browseresults-_-1_14_A" save_to_store="false"]Alexis Bittar Skinny Tapered Bangles[/shopsense] & Alexis Bittar Miss Havisham Bracelet; Shoes: Cole Haan