Stylishly Comfortable
Some days are made for simplicity and comfort, especially rainy days and travel days. Don't get me wrong – I absolutely love dressing up and accessorizing until my heart's content (and my wrists and neck can't hold anymore jewelry), but some days comfort pieces, just like comfort food, are just what the doctor ordered.
I snapped these pics a few weeks ago during a major rainstorm and today I'm headed to NYC. What do these two facts have in common? That's right – a rainy day and a travel day – a perfect outfit to keep me warm and cozy!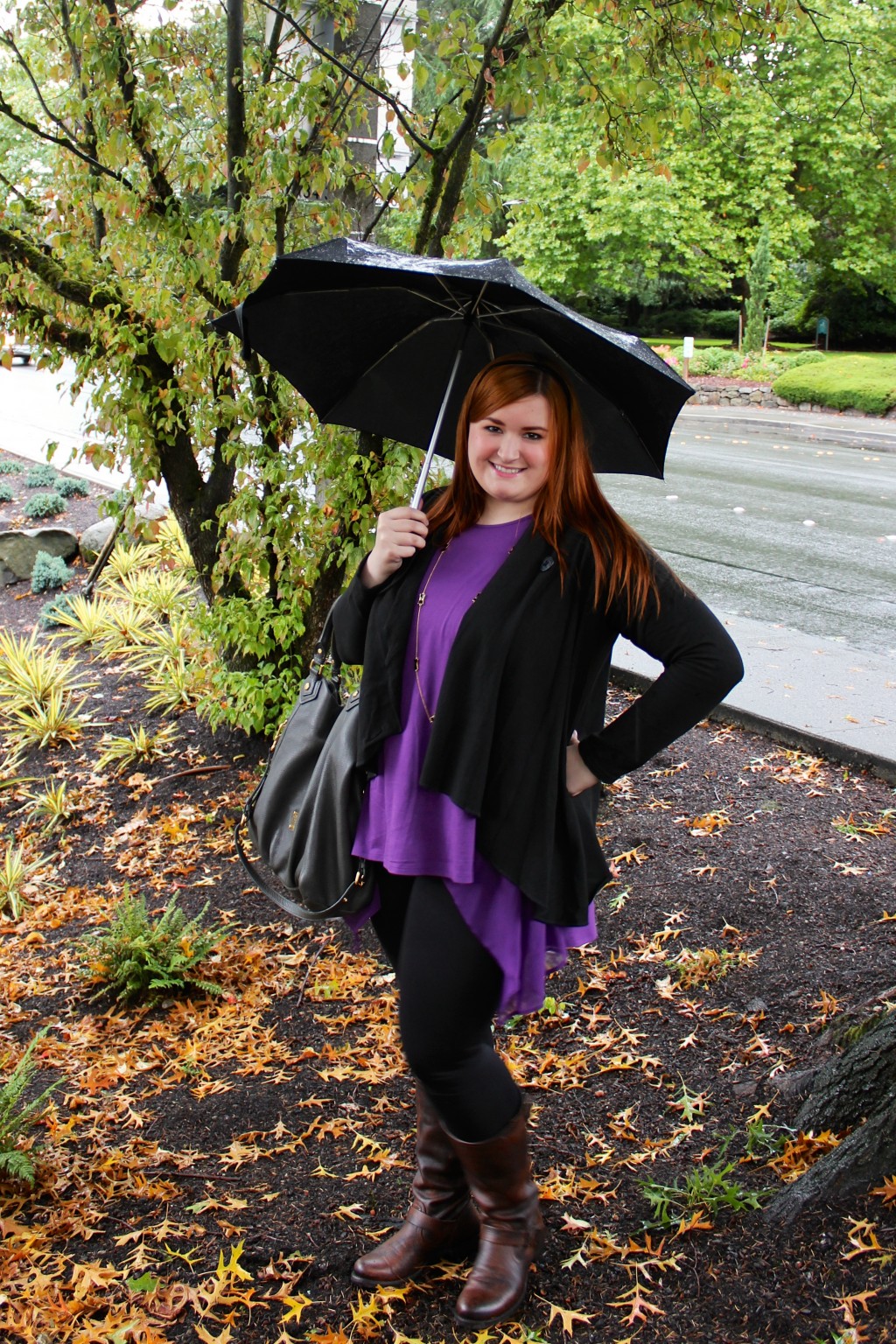 A few months ago I introduced you to Jaleh Clothing, a Seattle-based brand whose designs are created to be wearable and versatile, without compromising style, for the modern woman. Last time you saw me wearing Jaleh I styled the beautiful Debi Draped Jacket – a key piece for fall with faux leather accents and one of my fall staples. Today on the blog and traveling to NYC, I am wearing the Lily Crossover Jacket. It's so cozy and warm I feel like cuddling up by the fireplace with a mug of hot cocoa and a good book. And if a jacket can make you feel that amazing, both while traveling and in a torrential downpour, you know it's a keeper! What are your favorite comfort pieces?
And, don't forget to check back to my blog tomorrow morning – I'm launching a brand new contest with Jaleh Clothing that I know you'll love!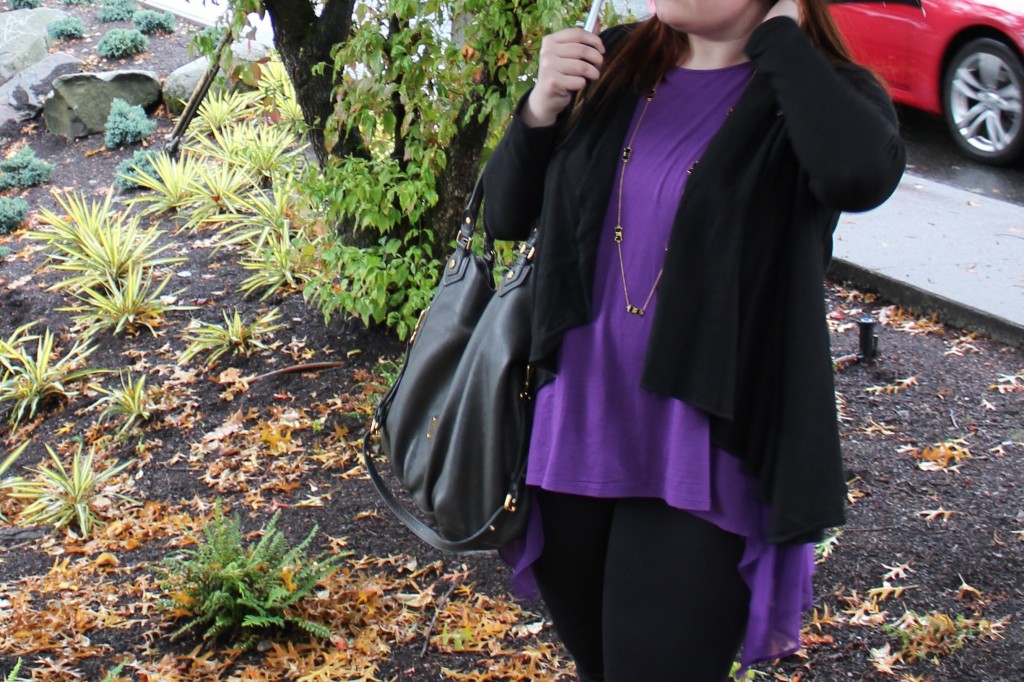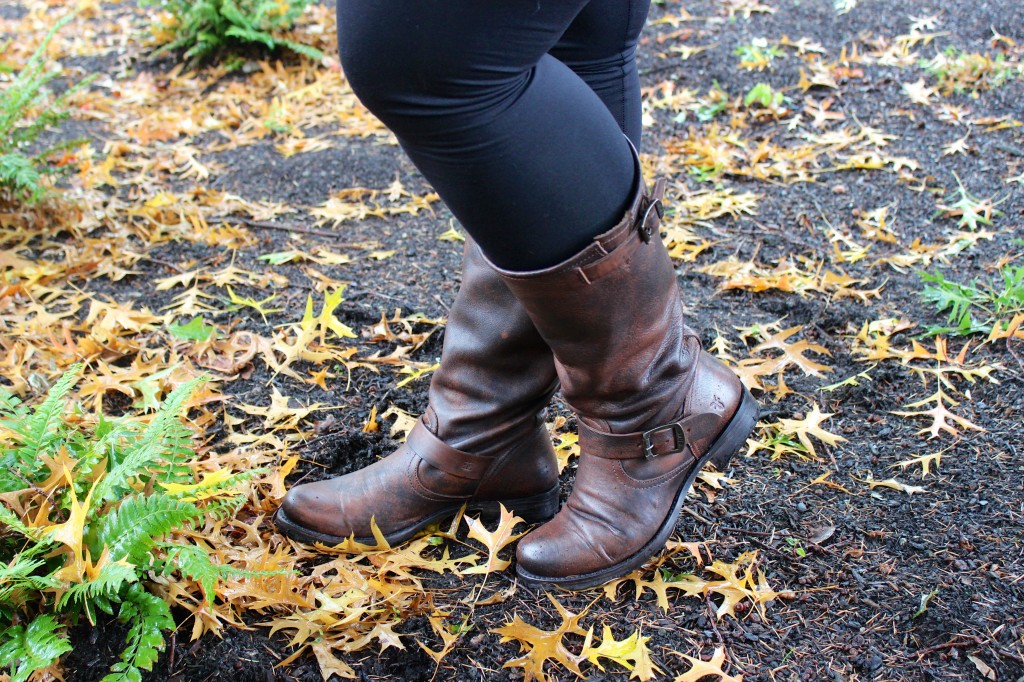 Top: Evans; Sweater: [shopsense shopsense_url="none" original_url="http://shop.jalehclothing.com/products/lily-crossover-jacket" save_to_store="true"]Jaleh Lily Crossover Jacket[/shopsense] (c/o Jaleh Clothing); Leggings: [shopsense shopsense_url="none" original_url="http://shop.jalehclothing.com/collections/fall2013/products/legging-warmer" save_to_store="true"]Jaleh Leggings[/shopsense] (c/o Jaleh Clothing); Boots: [shopsense shopsense_url="http://api.shopstyle.com/action/apiVisitRetailer?id=202170369″ original_url="http://shop.nordstrom.com/s/frye-veronica-slouch-boot-wide-calf/3125767?origin=keywordsearch-personalizedsort&contextualcategoryid=0&fashionColor=&resultback=190&cm_sp=personalizedsort-_-searchresults-_-1_1_A" save_to_store="false"]Frye Veronica Slouch Boots[/shopsense]; Necklace: Kate Spade; Earrings: Kate Spade; Headband: [shopsense shopsense_url="http://api.shopstyle.com/action/apiVisitRetailer?id=34440374″ original_url="http://shop.nordstrom.com/s/france-luxe-skinny-headband/3002370?origin=PredictiveSearch-personalizedsort&contextualcategoryid=0&fashionColor=Mojave&resultback=172&cm_sp=personalizedsort-_-searchresults-_-1_1_A" save_to_store="false"]France Luxe[/shopsense]; Bag: [shopsense shopsense_url="http://api.shopstyle.com/action/apiVisitRetailer?url=http%3A%2F%2Fshop.nordstrom.com%2FS%2Fmarc-by-marc-jacobs-classic-q-francesca-leather-shopper%2F3114868%3Forigin%3DPredictiveSearch-personalizedsort" original_url="http://shop.nordstrom.com/S/marc-by-marc-jacobs-classic-q-francesca-leather-shopper/3114868?origin=PredictiveSearch-personalizedsort&contextualcategoryid=0&fashionColor=NEW+BLACK&resultback=3640&cm_sp=personalizedsort-_-searchresults-_-2_10_C" save_to_store="true"]Marc by Marc Jacobs[/shopsense]