Fall Fashion Essentials with Macy's
Yesterday was the Fall Fashion Essentials Event with Jess, Alix, Alyson, and Darcy! It was a super fun event and thank you to everyone who came out to join us! For those of you who weren't able to make it, I wanted to share with you the mannequins in all their glory. We had a great time dressing mannequins and got a lot of laughs when we attempted to dress them and limbs were falling off left and right.
Don't you love how different each of these mannequins are? They completely represent each of our individual tastes and styles but also come together to represent the breadth of fall fashion. Below, from left to right, we have the mannequin stylings of Alyson of Crushing on Clothes, Alix of AlixRose, yours truly, Jess of Fresh Jess, and Darcy of Styled Seattle. Which outfit is your favorite?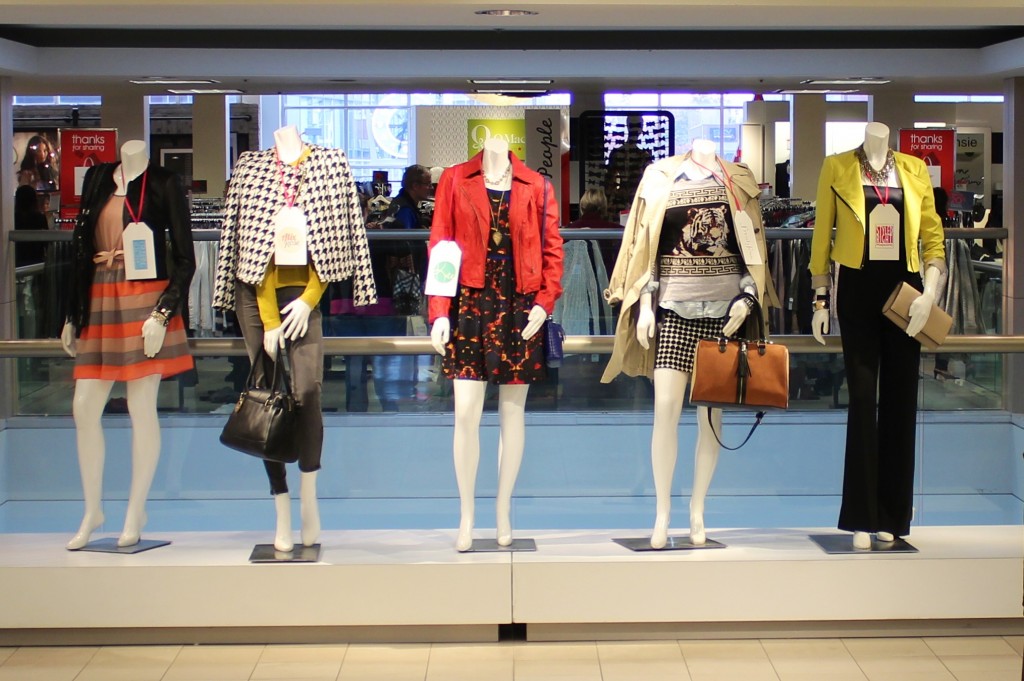 The event itself was amazing as well! The Gene Juarez braid bar was incredible – you can see in the photos below how they transformed my hair into a gorgeous fishtail braid – and the manicure bar by Hoa was a hit as well. There were complimentary beverages, candy, and of course sales! One of my favorite things about shopping at Macy's is you can always find an incredible sale.
I also got to style my own outfit for the event and was inspired by a Macy's fashion show I attended last weekend hosted by Jordan Reid of Ramshackle Glam and Camilla Alves, brand ambassador for Macy's I.N.C. line. Recently, I've started to fall in love with the I.N.C. line as it has some excellent trendy pieces that won't break your budget.
Lately, I've also become one of those people who loves leggings, and the I.N.C. ponte knit leggings are my new favorite – they're ultra thick, are a true black, and feature a wide waistband. I've also been looking for a blouse that isn't so frilly that I look like an old-time President but is dressy enough to wear to work or more dressy events. I fell in love with this one! The long line pleats down the front creating a slimming illusion and the shirt is collarless so it's the perfect blend of professional and casual. The berry colored faux leather jacket was the perfect addition to this ensemble to add in a bit of color and edginess. You may also notice that I'm wearing the same jewelry as my mannequin – I loved it so much I couldn't help it!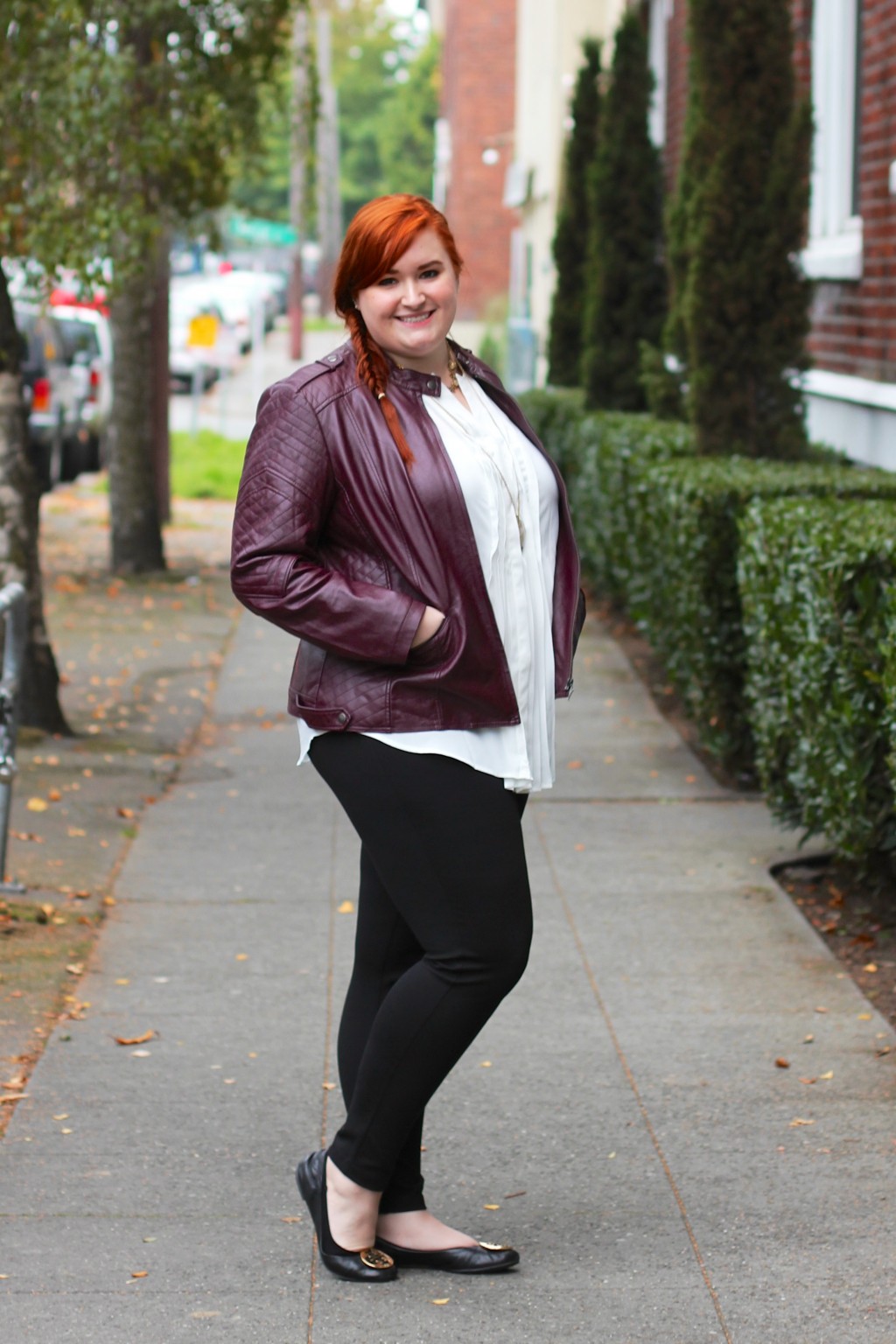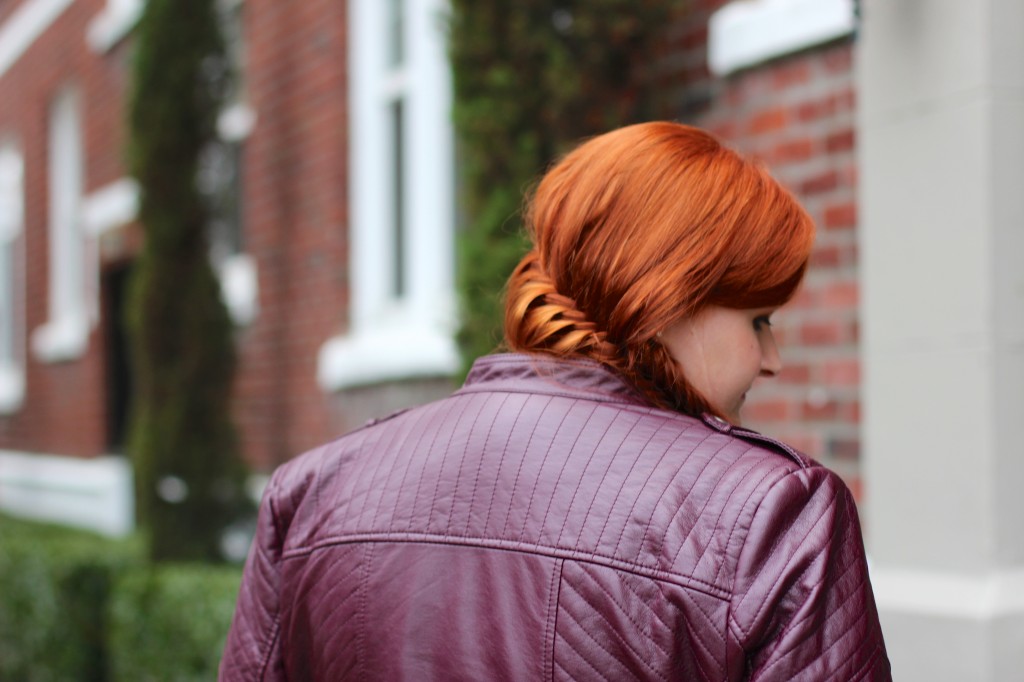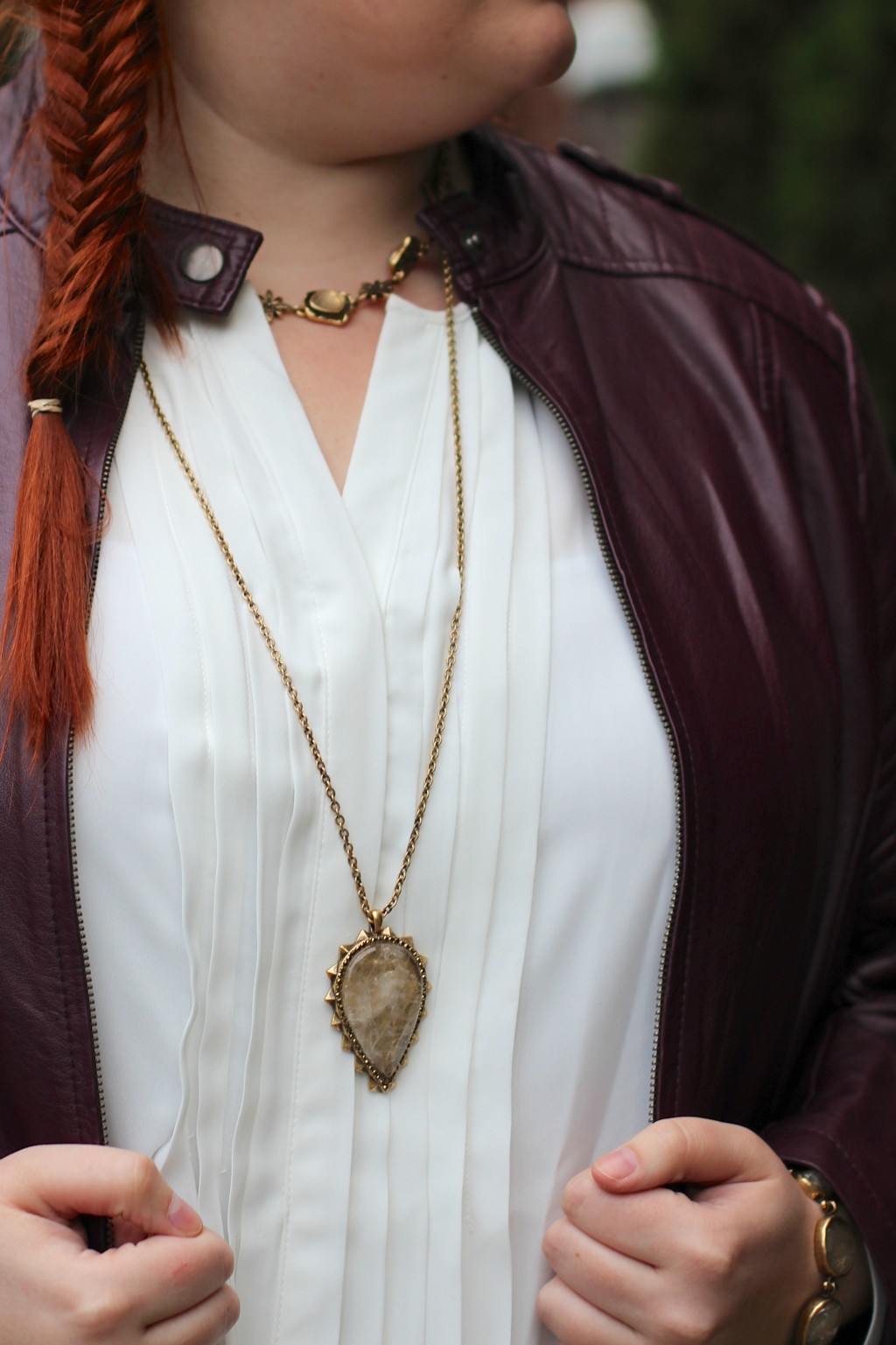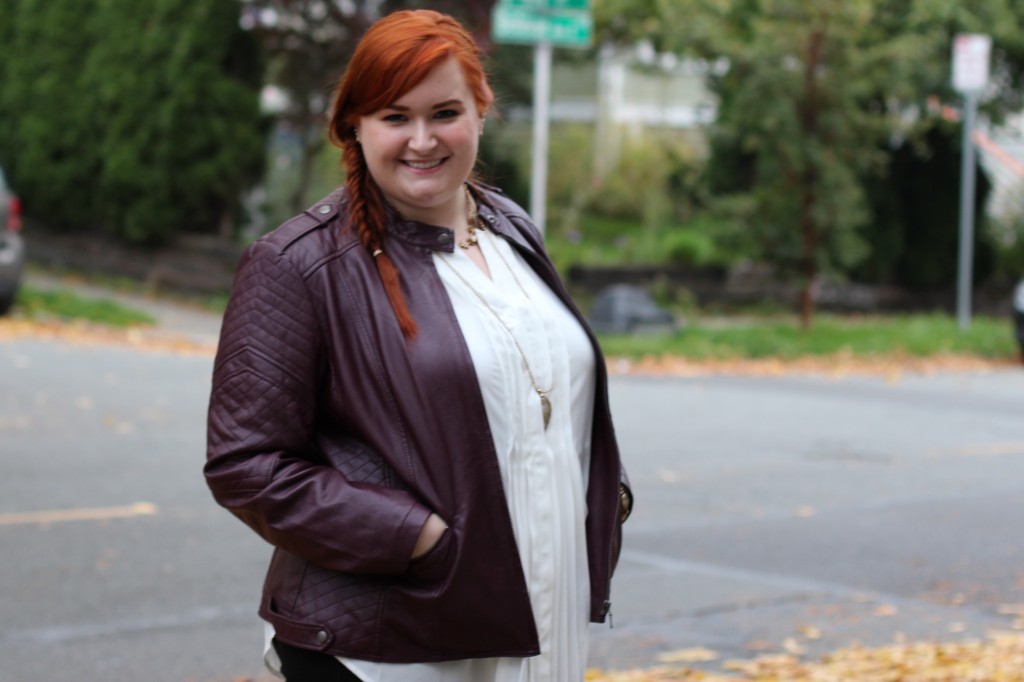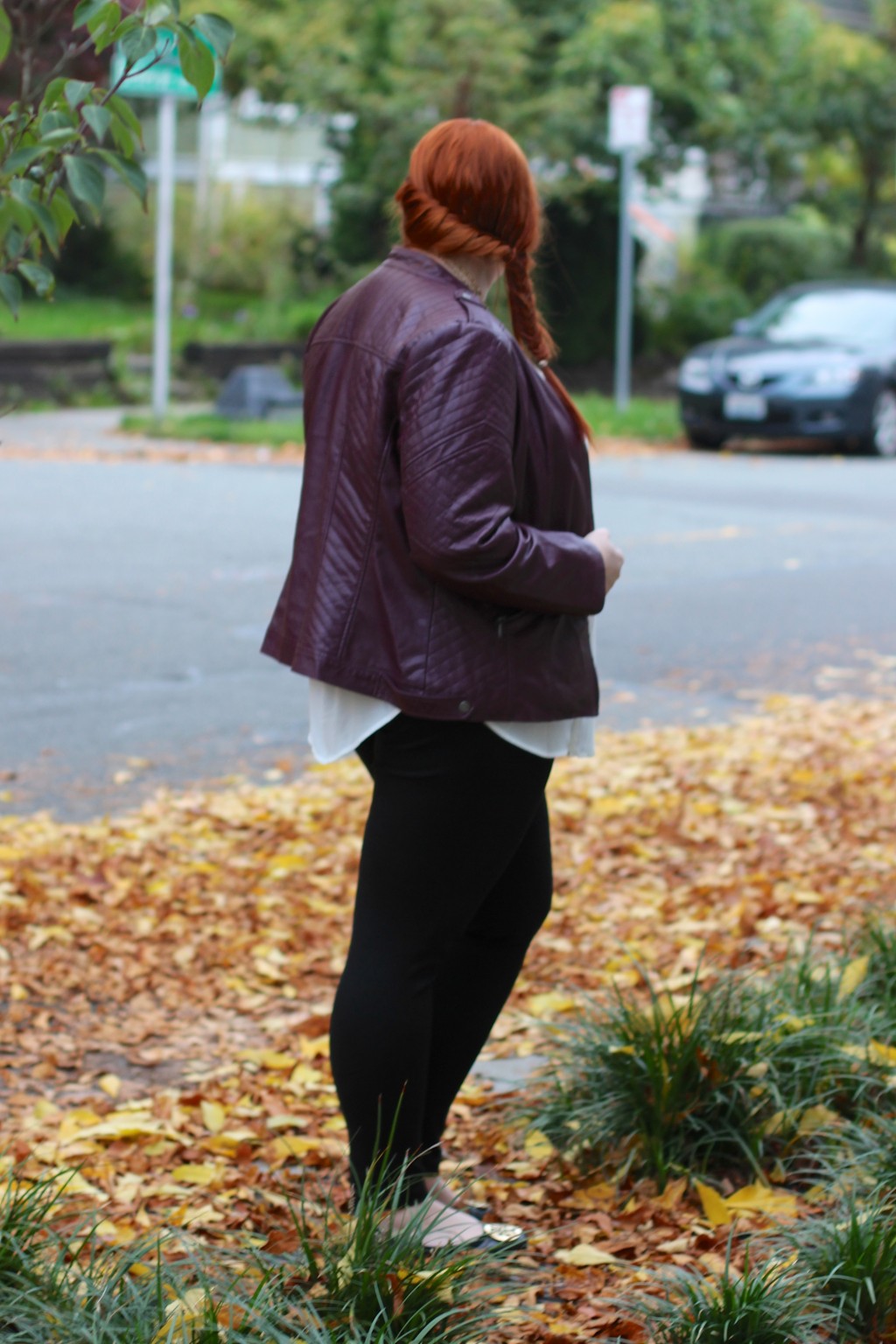 Kate's Outfit:
Top: [shopsense shopsense_url="http://api.shopstyle.com/action/apiVisitRetailer?id=437334860″ original_url="http://www1.macys.com/shop/product/inc-international-concepts-plus-size-top-long-sleeve-pleated-blouse?ID=1100657&CategoryID=39720&LinkType=#fn=sp%3D2%26spc%3D266%26ruleId%3D25%26slotId%3D44″ save_to_store="true"]I.N.C. Pleated Blouse[/shopsense] (c/o Macy's); Jacket: [shopsense shopsense_url="http://api.shopstyle.com/action/apiVisitRetailer?id=437334825″ original_url="http://www1.macys.com/shop/product/inc-international-concepts-plus-size-jacket-faux-leather-quilted-moto?ID=1100813&CategoryID=39720#fn=sp%3D1%26spc%3D266%26ruleId%3D25%26slotId%3D39″ save_to_store="true"]I.N.C. Faux Leather Quilted Moto Jacket[/shopsense] (c/o Macy's); Leggings: [shopsense shopsense_url="http://api.shopstyle.com/action/apiVisitRetailer?url=http%3A%2F%2Fwww1.macys.com%2Fshop%2Fproduct%2Finc-international-concepts-pants-stretch-leggings%3FID%3D958989″ original_url="http://www1.macys.com/shop/product/inc-international-concepts-pants-stretch-leggings?ID=958989&CategoryID=3481&LinkType=#fn=COLOR%3DBlack%26DEPARTMENT_TYPE%3DPants%26sp%3D1%26spc%3D26″ save_to_store="false"]I.N.C. Stretch Leggings[/shopsense] (c/o Macy's); Necklace: [shopsense shopsense_url="http://api.shopstyle.com/action/apiVisitRetailer?id=438387215″ original_url="http://www1.macys.com/shop/product/lucky-brand-necklace-gold-tone-rock-crystal-stone-pendant-necklace?ID=1084218&CategoryID=55285&LinkType=#fn=BRAND%3DLucky%20Brand%26JEWELRY_TYPE%3DNecklaces%26sp%3D1%26spc%3D76″ save_to_store="true"]Lucky Brand Crystal Stone Pendant[/shopsense] & [shopsense shopsense_url="http://api.shopstyle.com/action/apiVisitRetailer?id=438389200″ original_url="http://www1.macys.com/shop/product/lucky-brand-necklace-gold-tone-charm-collar-necklace?ID=1084239&CategoryID=55285&LinkType=#fn=BRAND%3DLucky%20Brand%26JEWELRY_TYPE%3DNecklaces%26sp%3D1%26spc%3D76″ save_to_store="true"]Lucky Brand Collar Necklace[/shopsense] (c/o Macy's); Bracelet: [shopsense shopsense_url="http://api.shopstyle.com/action/apiVisitRetailer?id=438388776″ original_url="http://www1.macys.com/shop/product/lucky-brand-bracelet-gold-tone-rock-crystal-flex-bracelet?ID=1084247&CategoryID=55285&LinkType=#fn=PRODUCT_DEPARTMENT%3DBracelets%26sp%3D1%26spc%3D55%26kws%3Dlucky%20brand%26slotId%3D6″ save_to_store="false"]Lucky Brand[/shopsense] (c/o Macy's); Shoes: [shopsense shopsense_url="http://api.shopstyle.com/action/apiVisitRetailer?id=25790928″ original_url="http://shop.nordstrom.com/S/tory-burch-reva-ballerina-flat/2936593?origin=PredictiveSearch-personalizedsort&contextualcategoryid=2375500&fashionColor=&resultback=1982&cm_sp=personalizedsort-_-searchresults-_-1_6_A" save_to_store="false"]Tory Burch[/shopsense]
Mannequin's Outfit:
Dress: [shopsense shopsense_url="http://api.shopstyle.com/action/apiVisitRetailer?id=435175912″ original_url="http://www1.macys.com/shop/product/kensie-dress-sleeveless-high-neck-floral-print-a-line?ID=965848&CategoryID=5449&LinkType=#fn=PRODUCT_DEPARTMENT%3DDress%26PAGEINDEX%3D2%26sp%3D2%26spc%3D59%26kws%3Dkensie%26slotId%3D52″ save_to_store="true"]Kensie[/shopsense]; Jacket: [shopsense shopsense_url="http://api.shopstyle.com/action/apiVisitRetailer?url=http%3A%2F%2Fwww1.macys.com%2Fshop%2Fproduct%2Fguess-faux-leather-motorcycle-jacket-bootcut-jeans%3FID%3D999948″ original_url="http://www1.macys.com/shop/product/guess-faux-leather-motorcycle-jacket-bootcut-jeans?ID=999948&CategoryID=9572&LinkType=&swatchColor=Red#fn=BRAND%3DGUESS?%26GENDER%3DFemale%26GENDER_AGE%3DWomen%26PRODUCT_DEPARTMENT%3DJackets%26sp%3D1%26spc%3D37%26kws%3DGuess%26slotId%3D20″ save_to_store="true"]GUESS[/shopsense] ([shopsense shopsense_url="http://api.shopstyle.com/action/apiVisitRetailer?id=435853907″ original_url="http://www1.macys.com/shop/product/calvin-klein-handbag-hastings-pebble-tote?ID=1036450&CategoryID=54498&LinkType=#fn=COLOR%3DBlue%26sp%3D1%26spc%3D13%26ruleId%3D52%26slotId%3D9″ save_to_store="true"]similar by I.N.C.[/shopsense]); Necklaces: [shopsense shopsense_url="http://api.shopstyle.com/action/apiVisitRetailer?id=438387215″ original_url="http://www1.macys.com/shop/product/lucky-brand-necklace-gold-tone-rock-crystal-stone-pendant-necklace?ID=1084218&CategoryID=55285&LinkType=#fn=BRAND%3DLucky%20Brand%26JEWELRY_TYPE%3DNecklaces%26sp%3D1%26spc%3D76″ save_to_store="false"]Lucky Brand Crystal Stone Pendant[/shopsense] & [shopsense shopsense_url="http://api.shopstyle.com/action/apiVisitRetailer?id=438389200″ original_url="http://www1.macys.com/shop/product/lucky-brand-necklace-gold-tone-charm-collar-necklace?ID=1084239&CategoryID=55285&LinkType=#fn=BRAND%3DLucky%20Brand%26JEWELRY_TYPE%3DNecklaces%26sp%3D1%26spc%3D76″ save_to_store="false"]Lucky Brand Collar Necklace[/shopsense]; Handbag: Calvin Klein (similar style [shopsense shopsense_url="http://api.shopstyle.com/action/apiVisitRetailer?id=435853907″ original_url="http://www1.macys.com/shop/product/calvin-klein-handbag-hastings-pebble-tote?ID=1036450&CategoryID=54498&LinkType=#fn=COLOR%3DBlue%26sp%3D1%26spc%3D13%26ruleId%3D52%26slotId%3D9″ save_to_store="false"]here[/shopsense])