Strolling Over a Bridge
There's a bridge by my house which crosses over the Stillaguamish River. For most of my life the bridge has been washed out, but a few years ago it was rebuilt. It's a quaint little bridge, one-lane, and only accessible for part of the year. Every morning when I leave my house I see the bridge in my rear-view mirror and every evening when I come home I see the bridge in front of me. It's a beautiful way to see how the seasons are changing. In the heart of fall it's covered in leaves and in winter the snow piles high on it.
I thought this bridge was the perfect place to take pictures and share the beauty of the area I live in. I might live far away from civilization but it's gorgeous and I wouldn't trade it for anything.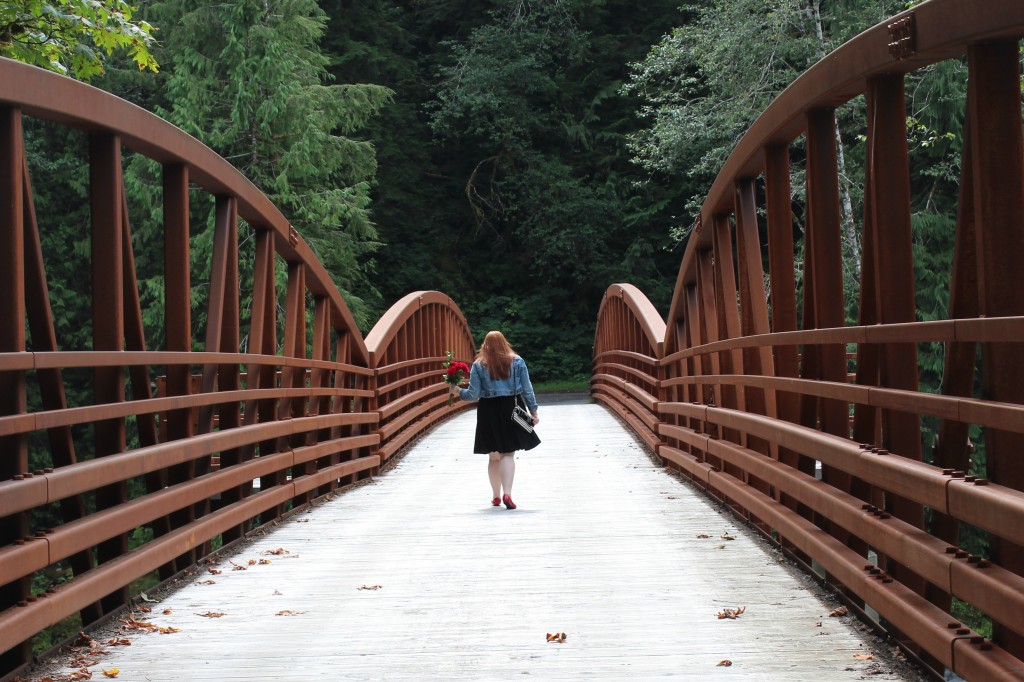 Today's outfit is simple – a classic little black dress with pops of color and a cropped jean jacket. Simple and chic, and very easy to imitate. You might recognize this dress – I wore it this summer but it looked a slightly different then! This dress featured a high-low hem originally, but I had the dress altered to be one length. I loved the cut and fit of this dress but found that I didn't wear it that often because the high-low hem was too trendy for my tastes. I love this dress even more without the "tail" and find that I wear it much more frequently. It's amazing how you can alter a piece in your wardrobe just a little and get so much more wear out of it!
I accessorized with red – who doesn't love little pops of red against an LBD? The neckline for this dress is perfect for a bib necklace. Adding adorable red flats (with bows!), a gold bracelet, and a fun but neutral Kate Spade bag are the perfect tie-ins to complete this outfit.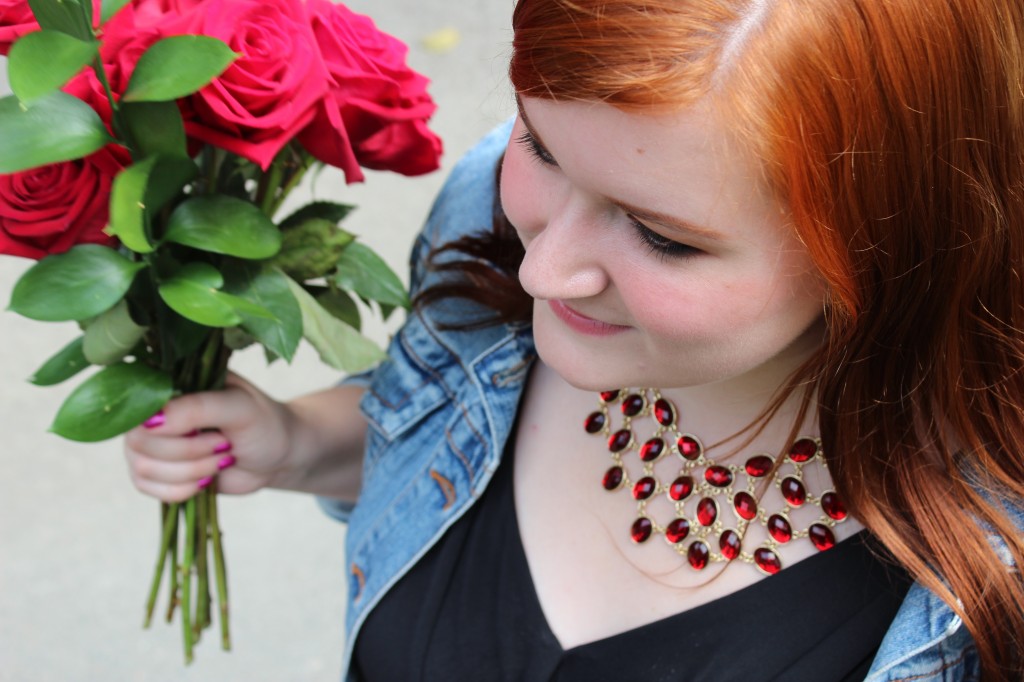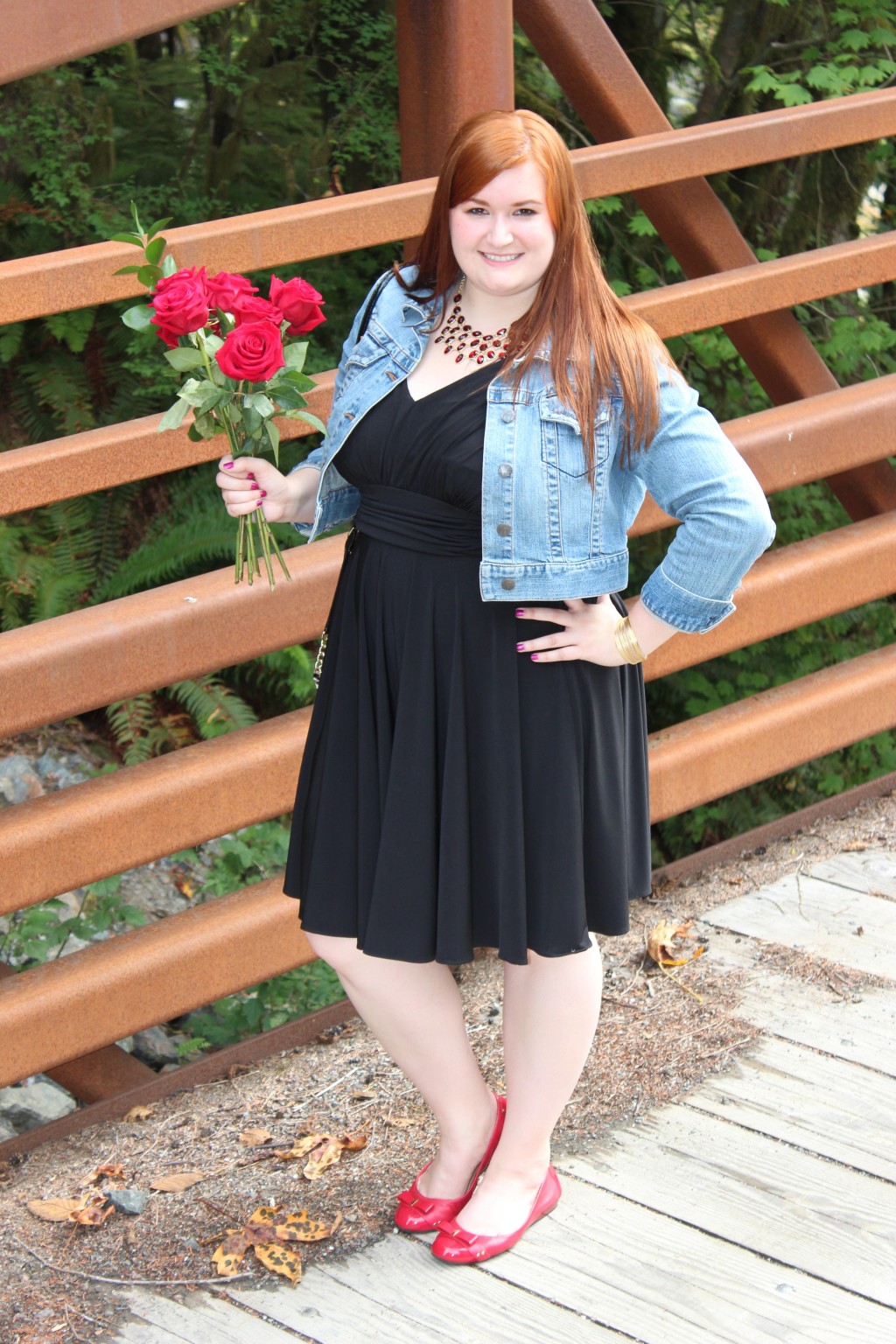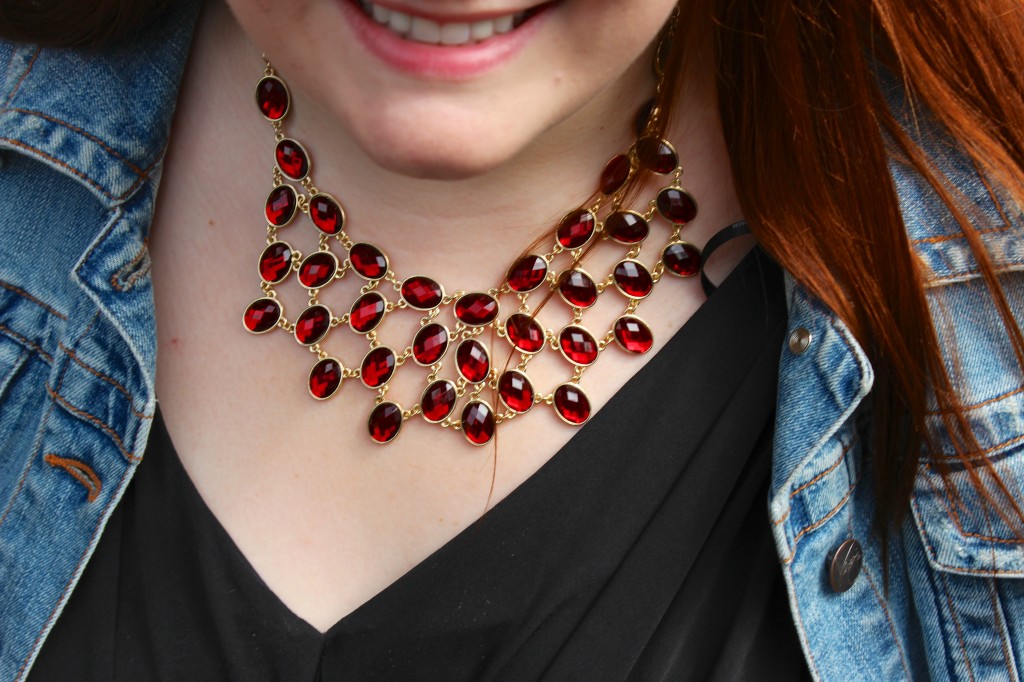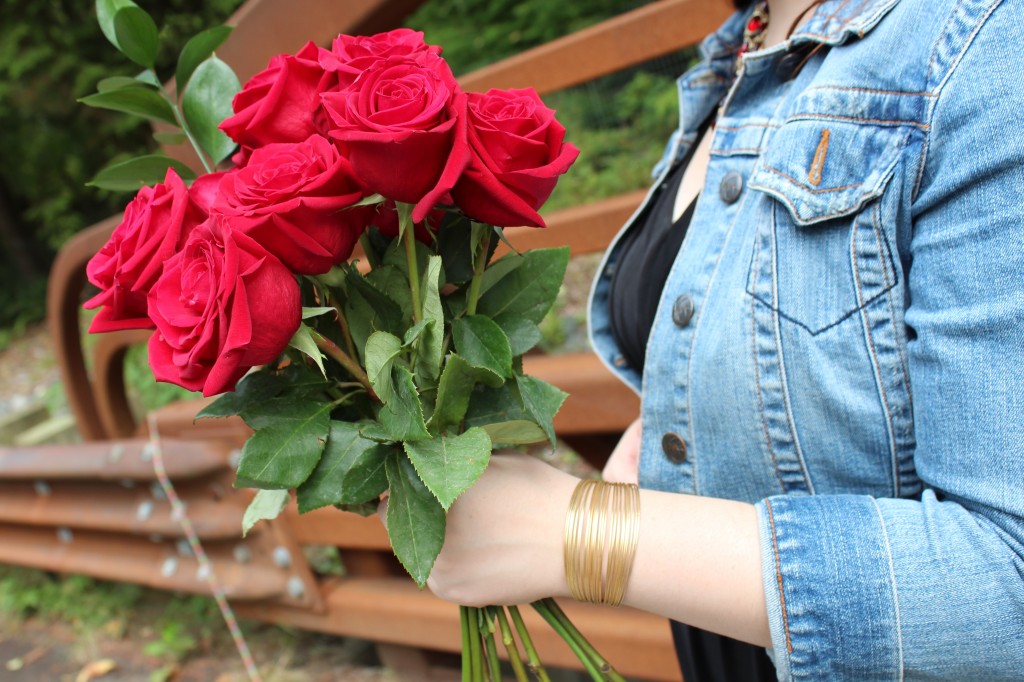 Dress: Suzy Chin for Maggy Boutique (similar [shopsense shopsense_url="http://api.shopstyle.com/action/apiVisitRetailer?id=435074031″ original_url="http://shop.nordstrom.com/S/lauren-ralph-lauren-ruffled-jersey-dress-plus-size/3581446?origin=category-personalizedsort&contextualcategoryid=0&fashionColor=&resultback=2694&cm_sp=personalizedsort-_-browseresults-_-2_10_A" save_to_store="false"]here[/shopsense]); Jacket: Venezia; Shoes: Cole Haan (similar [shopsense shopsense_url="http://api.shopstyle.com/action/apiVisitRetailer?id=435073934″ original_url="http://shop.nordstrom.com/S/cole-haan-air-monica-ballet-flat-exclusive/3598446?origin=PredictiveSearch-personalizedsort&contextualcategoryid=2375500&fashionColor=CINNABAR+SUEDE%2F+PATENT&resultback=172&cm_sp=personalizedsort-_-searchresults-_-1_2_D" save_to_store="false"]here[/shopsense]); Bag: Kate Spade (similar [shopsense shopsense_url="http://api.shopstyle.com/action/apiVisitRetailer?id=259311334″ original_url="http://www.katespade.com/barrow-street-ima/PXRU2691,en_US,pd.html?dwvar_PXRU2691_color=001&dwvar_PXRU2691_size=UNS&cgid=ks-handbags-cross-body#start=30&cgid=ks-handbags-cross-body" save_to_store="false"]here[/shopsense]); Necklace: Bauble Bar (similar [shopsense shopsense_url="http://api.shopstyle.com/action/apiVisitRetailer?id=435551151″ original_url="http://www.baublebar.com/wine-daphne-bib.html" save_to_store="true"]here[/shopsense]); Bracelet: c/o my mother's closet;