A Lacy Day in Fall
I think I can finally say it: Fall is here! I know most people are sad to see the sun and hot weather leave, but I for one can't wait for cooler temperatures, rain, and thunder and lightening (and more storm's like we had last night). Also with the start of a new season I get to break out my favorite fall pieces – boots, skinny jeans, scarves – and of course today's outfit.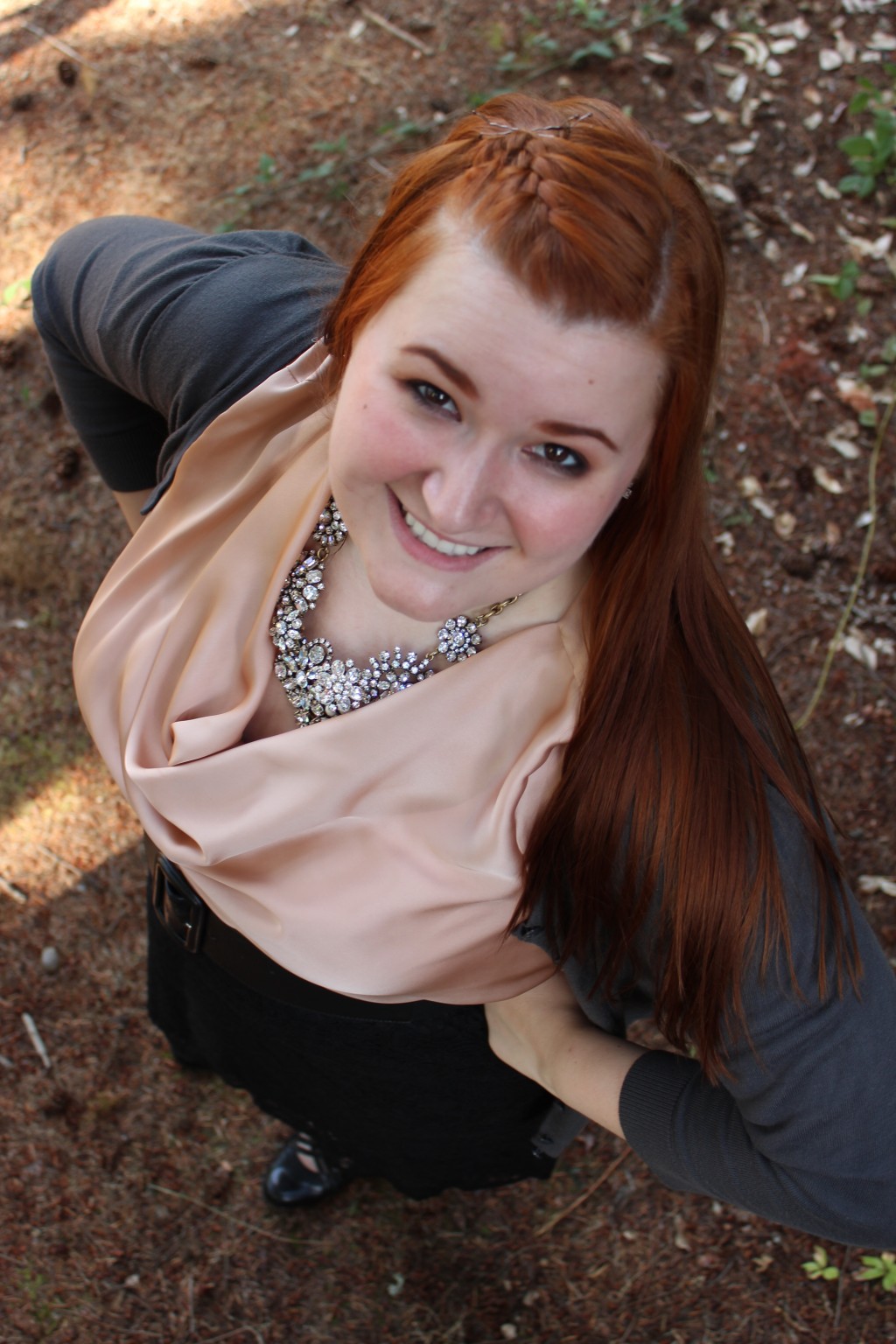 Believe it or not I've had this outfit for a few years now. There are some pieces that are just so classic they will last you a lifetime, and each of the pieces in this outfit are just that.
Every woman knows the importance of having a black pencil skirt in your closet, but having a classic black skirt with a little something extra, in this case lace, gives you a stylish edge. The intricacy in this skirt is amazing and because I want to preserve the beauty of the lace I try not to wear it too frequently and only on more important occasions. I know it will be a piece that I keep for years to come. I paired the skirt with a neutral, peach-colored cowl neck silk top and charcoal gray cardigan. The top actually serves a dual-purpose – it's a tunic so I can wear it with leggings or jeans as well as tucked in under skirts.
Lastly are the shoes and necklace. Whenever I wear these shoes I feel like I'm in an episode of Mad Men or like I just walked out of the 1960s. They're one of my favorite shoes and are so comfortable I can wear them all day long. This J. Crew necklace is also reminiscent of days past with an art deco styling and clear crystals which make it the perfect statement piece for most any outfit.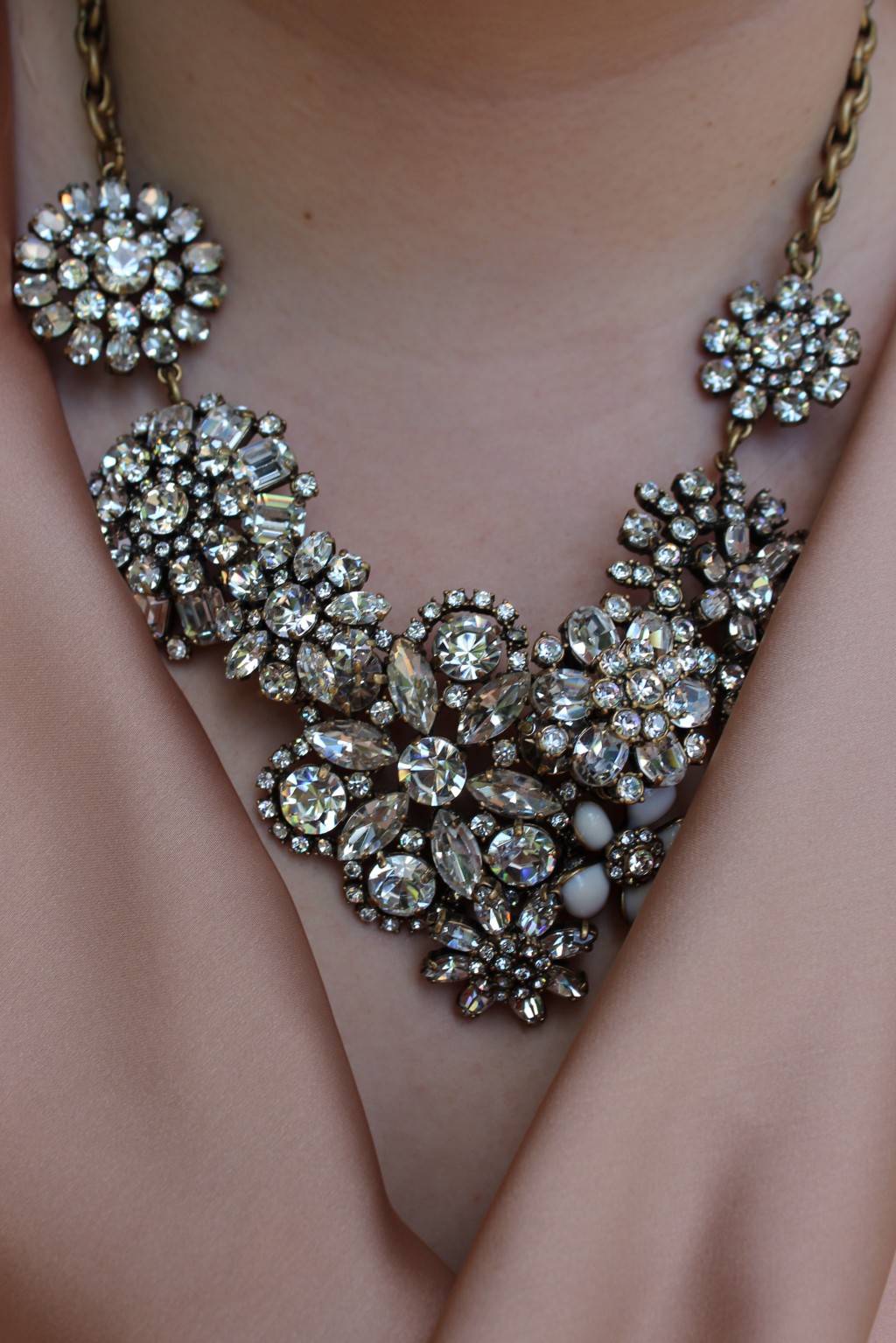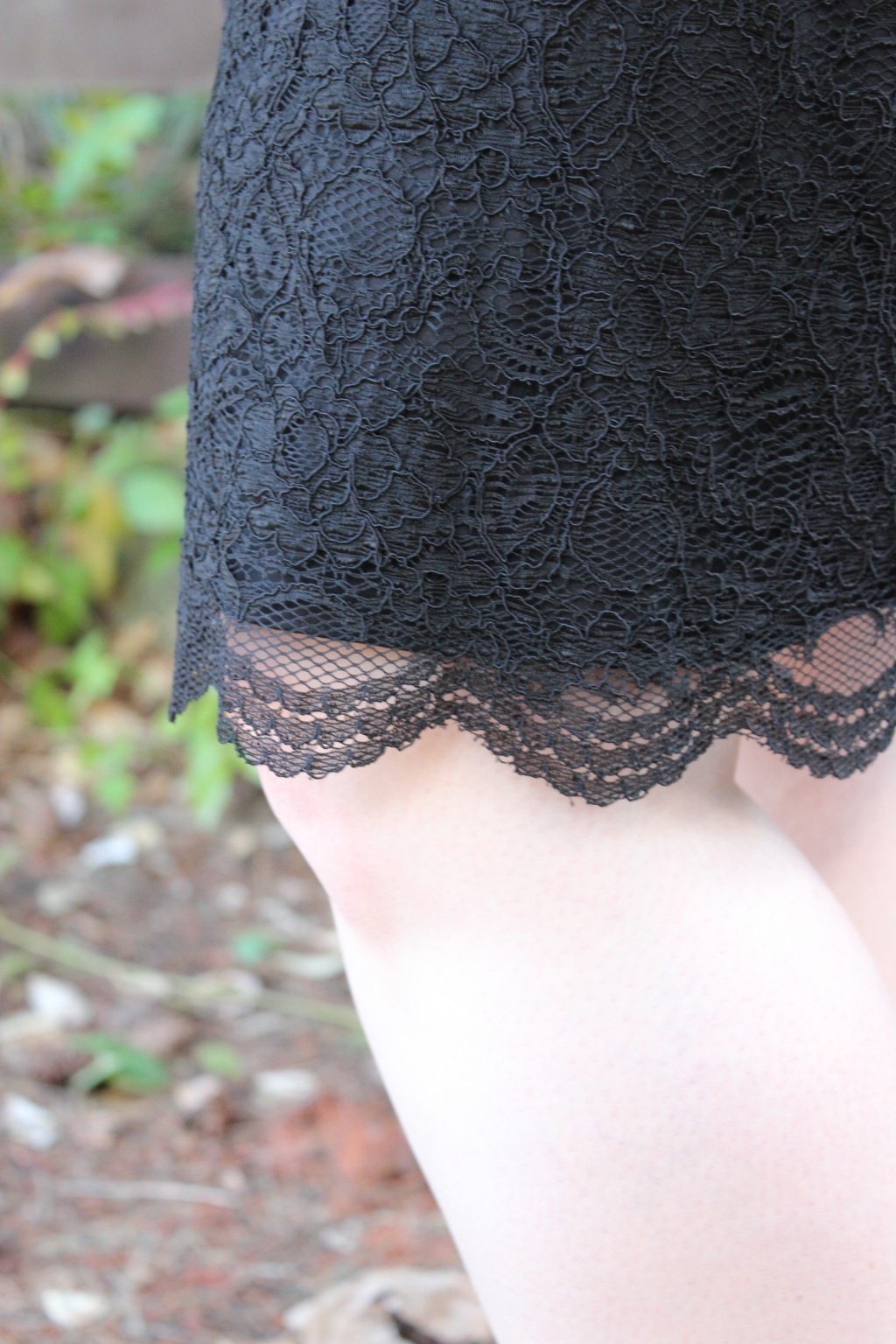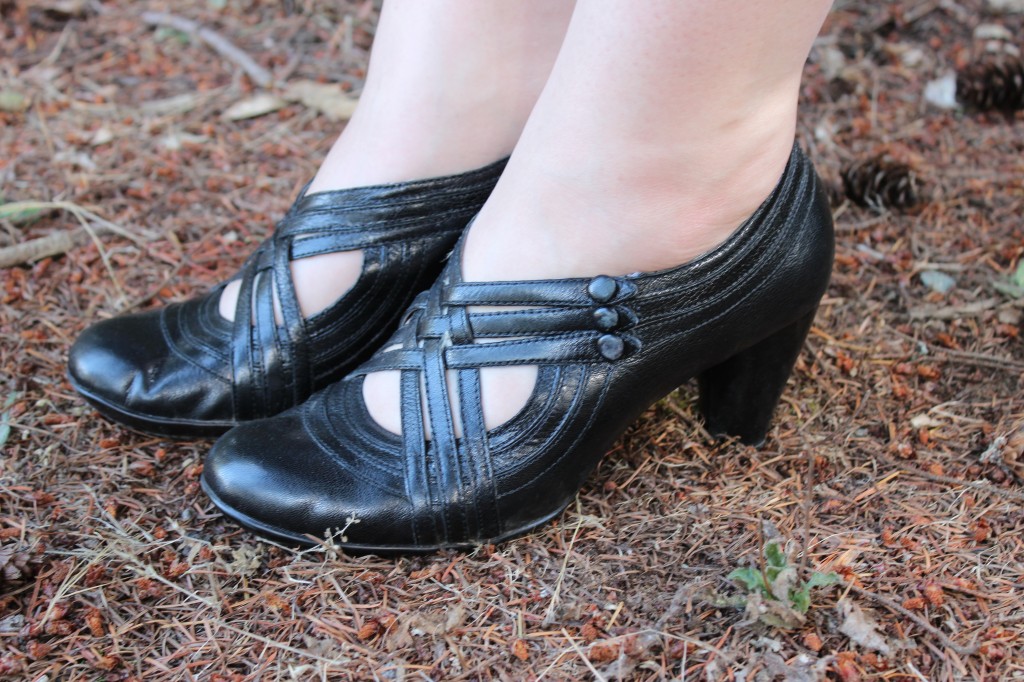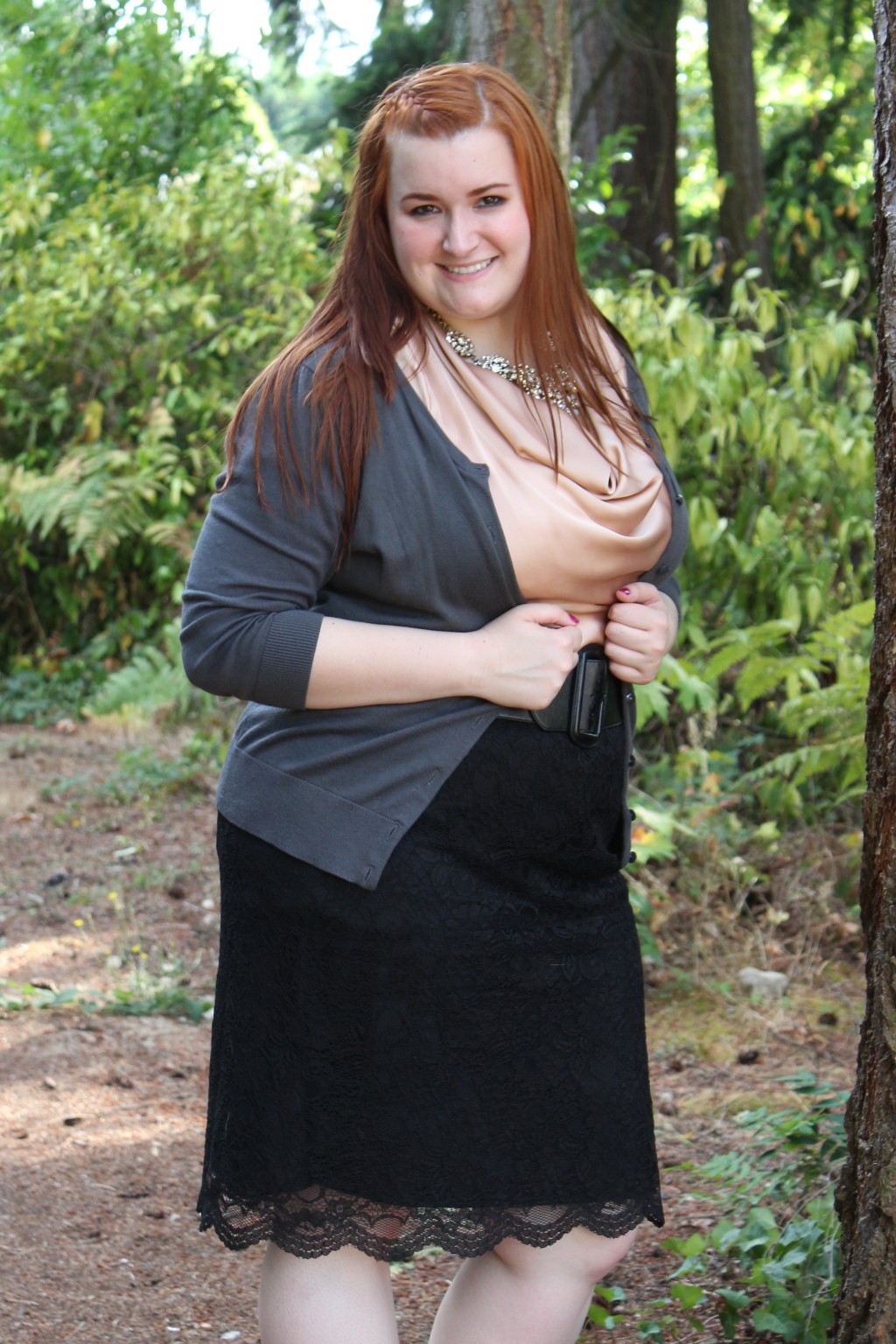 Top: Anne Klein (similar [shopsense shopsense_url="http://api.shopstyle.com/action/apiVisitRetailer?id=434057777″ original_url="http://shop.nordstrom.com/S/anne-klein-textured-satin-blouse-plus-size/3545787?origin=category&contextualcategoryid=0&fashionColor=BLACK&resultback=658″ save_to_store="true"]here[/shopsense]); Skirt: Anne Klein (similar [shopsense shopsense_url="http://api.shopstyle.com/action/apiVisitRetailer?id=432706092″ original_url="http://shop.nordstrom.com/s/vince-camuto-midi-tube-skirt-plus-size/3559271?origin=category&contextualcategoryid=0&fashionColor=&resultback=873″ save_to_store="true"]here[/shopsense]); Sweater: [shopsense shopsense_url="http://api.shopstyle.com/action/apiVisitRetailer?url=http%3A%2F%2Fshop.nordstrom.com%2FS%2Fhalogen-three-quarter-sleeve-cardigan-regular-petite%2F3507692%3Forigin%3Dcategory" original_url="http://shop.nordstrom.com/S/halogen-three-quarter-sleeve-cardigan-regular-petite/3507692?origin=category&contextualcategoryid=0&fashionColor=GREY+STONEHENDGE&resultback=2870″ save_to_store="false"]Halogen[/shopsense]; Necklace: J. Crew (similar [shopsense shopsense_url="http://api.shopstyle.com/action/apiVisitRetailer?id=435093397″ original_url="http://www.jcrew.com/womens_category/jewelry/necklaces/PRDOVR~07773/07773.jsp?color_name=crystal" save_to_store="true"]here[/shopsense]); Shoes: Indigo by Clarks (similar [shopsense shopsense_url="none" original_url="http://www.clarksusa.com/eng/product/town_cloak/26066557″ save_to_store="true"]here[/shopsense] and [shopsense shopsense_url="none" original_url="http://www.clarksusa.com/eng/product/flyrt_rouge/26064497″ save_to_store="true"]here[/shopsense])