Summer is Cropping Up
Happy Monday! I'm back again with a new outfit to share with you! I've been sharing a lot of dresses lately, but I'm switching things up today with a more casual look – jeans!
There's something just so great about dressing up a pair of simple denim jeans with fun accessories. When I'm not wearing dresses, I've been living in cropped jeans this summer. Unlike a fun patterned dress, there are so many more options for styling cropped jeans – you can dress them up with heels or wedges and a flowy blouse, you can dress them down with a t-shirt and simple accessories, or you can meet somewhere in the middle like I did with today's outfit.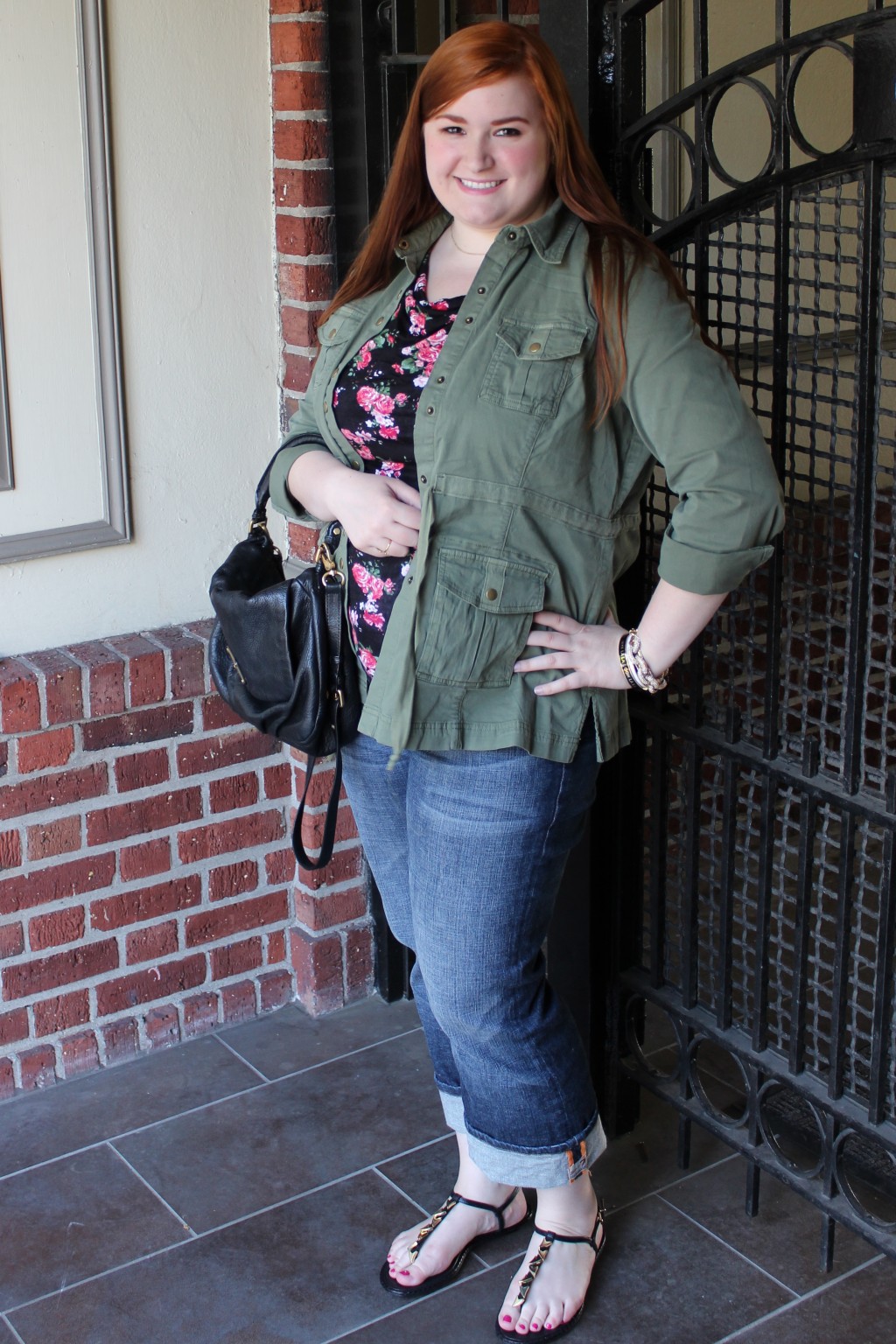 A lot of times I get stuck in a rut of simply throwing on a white v-neck, some jewelry, and calling it good. I often times forget how much fun it can be to wear a patterned blouse with simple jewelry. For this outfit I started with a pair of darker cropped denim and the rose patterned tank top. Since I went with gold accented sandals (that I scored on sale!), I added in pops of gold jewelry to pull in accents of gold throughout the entire outfit.
A quick note about the bag – I absolutely love Marc by Marc Jacobs handbags. The bag photographed here is one I borrowed from a friend, but I own a few in varying sizes and shapes as well. They are made of durable and amazing soft leather and each season there's a beautiful array of new colors. If you're looking to invest in a new bag I highly recommend a Marc Jacobs bag. My friend has carried the one pictured here almost exclusively for 4 years and it still looks fabulous!
I'm really pleased with how the ensemble turned out! It was perfect for dinner and drinks with friends this weekend!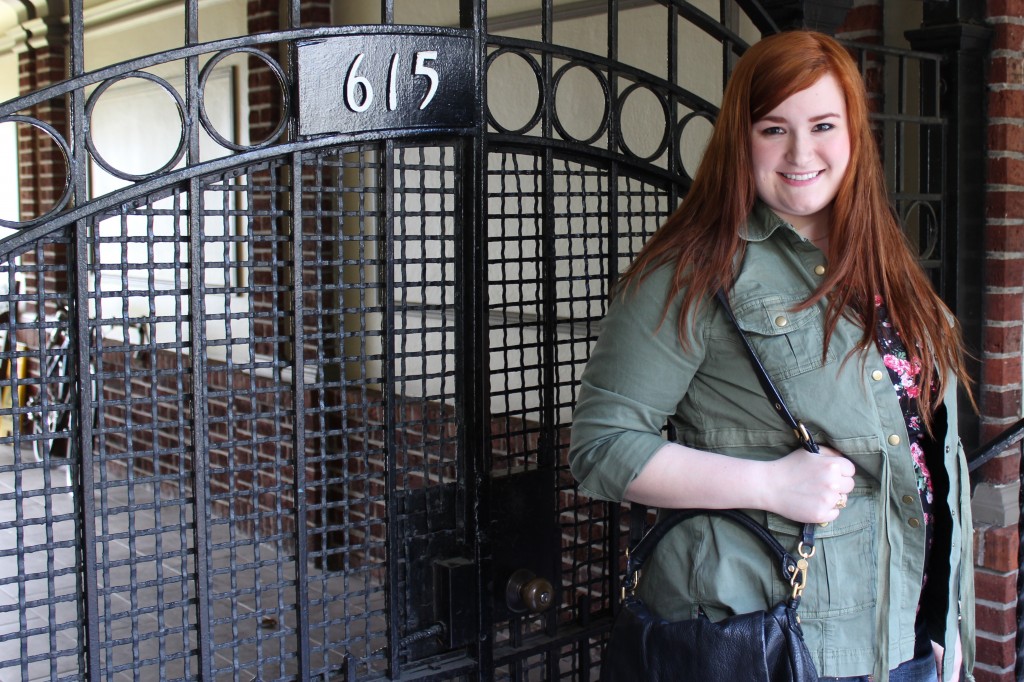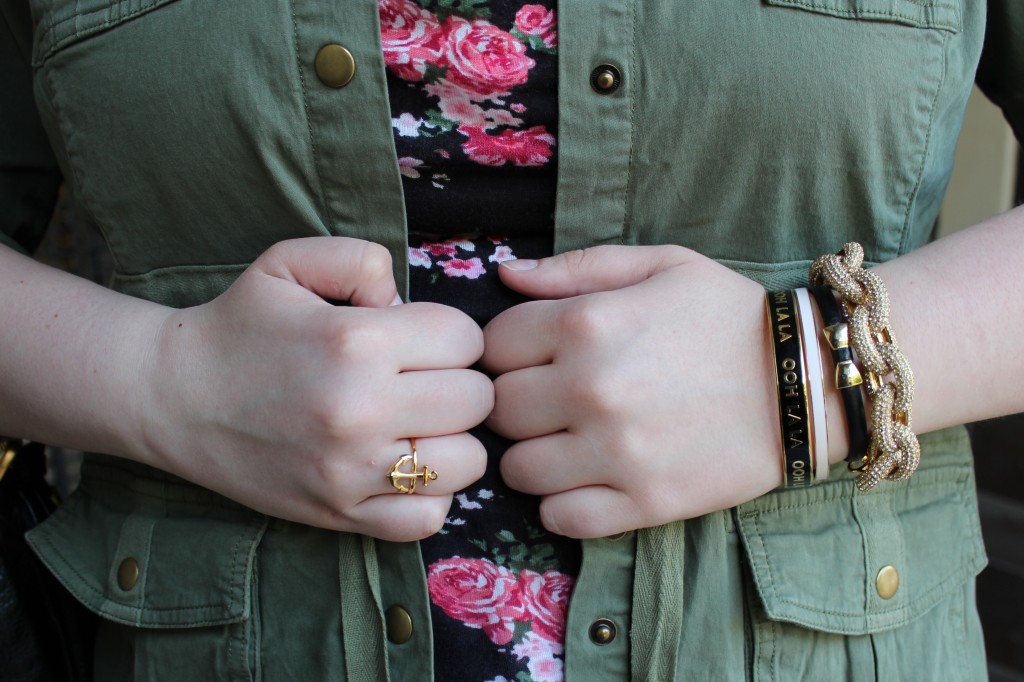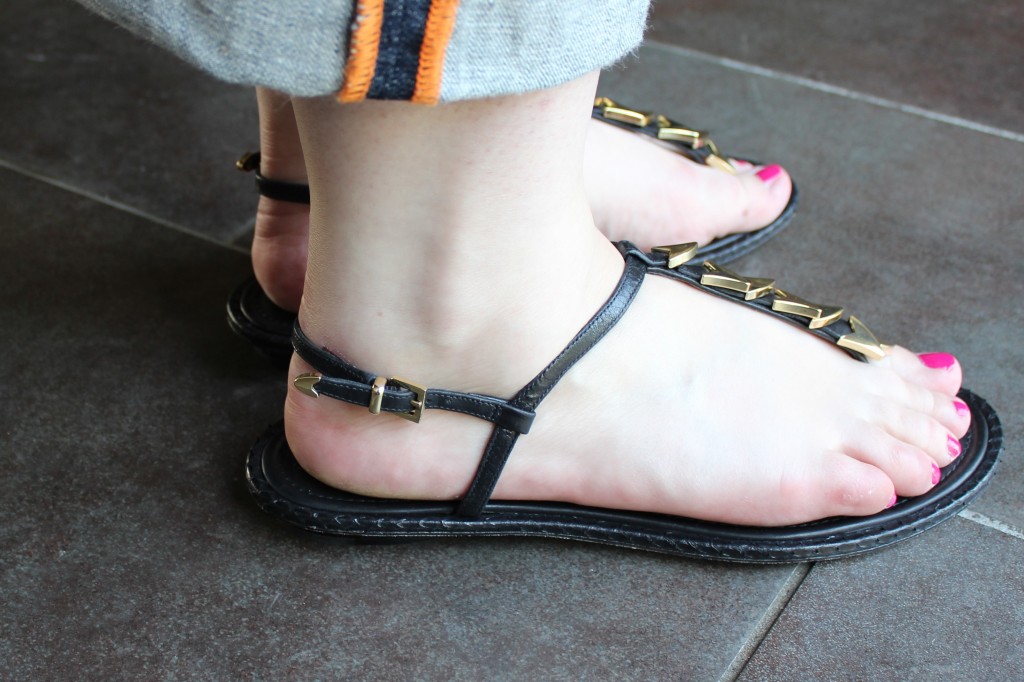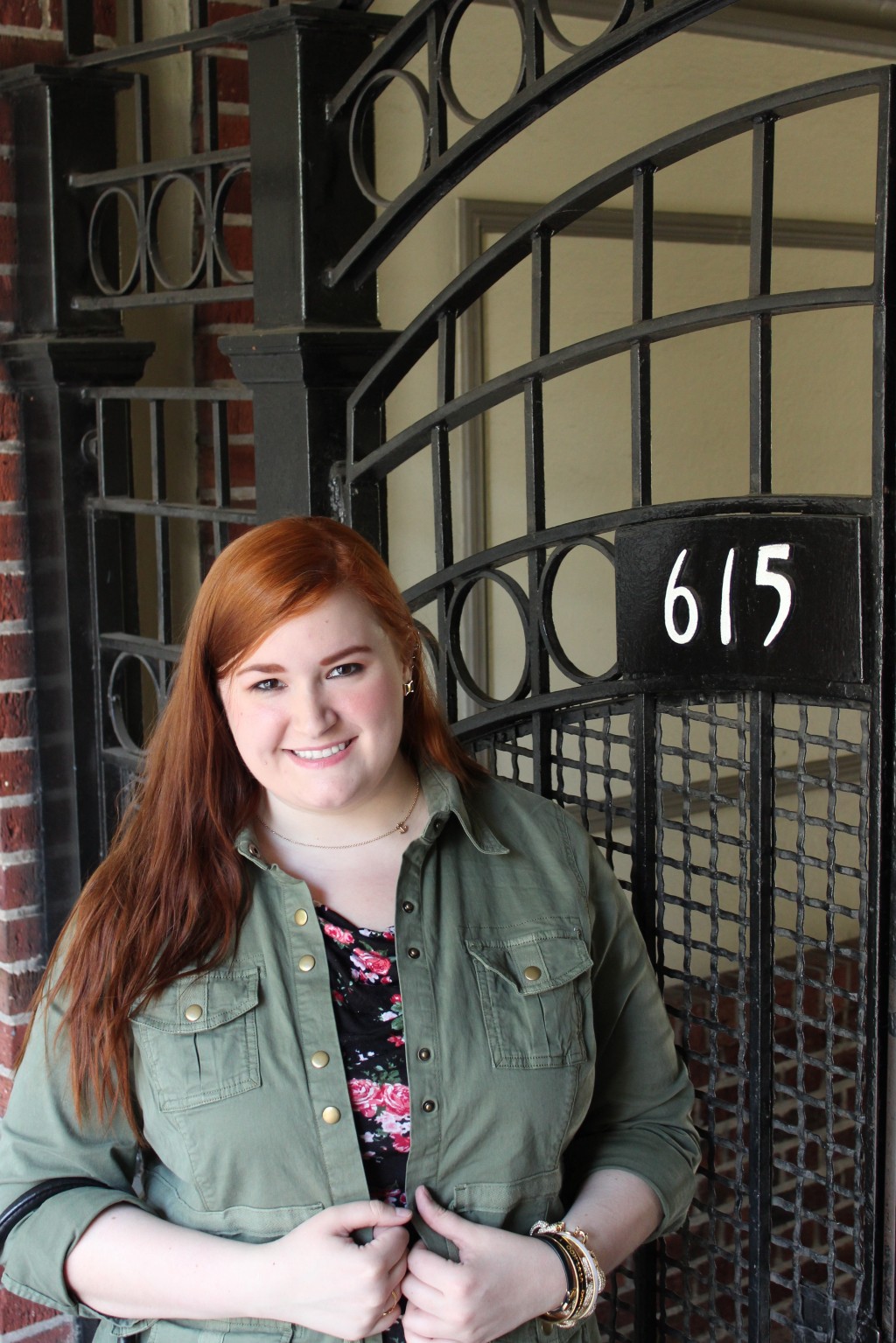 Jacket: Lucky Brand (similar style [shopsense shopsense_url="http://api.shopstyle.com/action/apiVisitRetailer?url=http%3A%2F%2Fshop.nordstrom.com%2FS%2Flucky-brand-adrienne-military-jacket-plus-size%2F3548752%3Forigin%3Dcategory-personalizedsort" original_url="http://shop.nordstrom.com/S/lucky-brand-adrienne-military-jacket-plus-size/3548752?origin=category-personalizedsort&contextualcategoryid=0&fashionColor=&resultback=538&cm_sp=personalizedsort-_-browseresults-_-1_2_D" save_to_store="true"]here[/shopsense]); Shirt: [shopsense shopsense_url="http://api.shopstyle.com/action/apiVisitRetailer?url=http%3A%2F%2Fshop.nordstrom.com%2FS%2Folivia-moon-sleeveless-drape-front-knit-top-plus-size%2F3546422%3Forigin%3Dcategory-personalizedsort" original_url="http://shop.nordstrom.com/S/olivia-moon-sleeveless-drape-front-knit-top-plus-size/3546422?origin=category-personalizedsort&contextualcategoryid=0&fashionColor=&resultback=647&cm_sp=personalizedsort-_-browseresults-_-1_2_B" save_to_store="true"]Olivia Moon[/shopsense]; Denim: Seven (similar [shopsense shopsense_url="http://api.shopstyle.com/action/apiVisitRetailer?url=http%3A%2F%2Fshop.nordstrom.com%2FS%2Fkut-from-the-kloth-catherine-slim-boyfriend-jeans%2F3445626%3Forigin%3Dcategory-personalizedsort" original_url="http://shop.nordstrom.com/S/kut-from-the-kloth-catherine-slim-boyfriend-jeans/3445626?origin=category-personalizedsort&contextualcategoryid=0&fashionColor=&resultback=1818&cm_sp=personalizedsort-_-browseresults-_-1_5_A" save_to_store="true"]regular size[/shopsense] and [shopsense shopsense_url="http://api.shopstyle.com/action/apiVisitRetailer?url=http%3A%2F%2Fshop.nordstrom.com%2FS%2Fkut-from-the-kloth-catherine-boyfriend-jeans-plus-size%2F3449358%3Forigin%3Dcategory-personalizedsort" original_url="http://shop.nordstrom.com/S/kut-from-the-kloth-catherine-boyfriend-jeans-plus-size/3449358?origin=category-personalizedsort&contextualcategoryid=0&fashionColor=&resultback=135&cm_sp=personalizedsort-_-browseresults-_-1_1_B" save_to_store="true"]plus size[/shopsense]); Bag: [shopsense shopsense_url="http://api.shopstyle.com/action/apiVisitRetailer?url=http%3A%2F%2Fshop.nordstrom.com%2Fs%2Fmarc-by-marc-jacobs-classic-q-izzy-crossbody-bag%2F3541897%3Forigin%3DPredictiveSearch-personalizedsort" original_url="http://shop.nordstrom.com/s/marc-by-marc-jacobs-classic-q-izzy-crossbody-bag/3541897?origin=PredictiveSearch-personalizedsort&contextualcategoryid=6007060&fashionColor=&resultback=7546&cm_sp=personalizedsort-_-searchresults-_-1_19_C" save_to_store="true"]Marc by Marc Jacobs[/shopsense]; Necklace: Kate Spade; Bracelets: [shopsense shopsense_url="http://api.shopstyle.com/action/apiVisitRetailer?url=http%3A%2F%2Fshop.nordstrom.com%2Fs%2Fkate-spade-new-york-idiom-creme-de-la-creme-thin-enamel-bangle%2F3167045%3Forigin%3Dcategory-personalizedsort" original_url="http://shop.nordstrom.com/s/kate-spade-new-york-idiom-creme-de-la-creme-thin-enamel-bangle/3167045?origin=category-personalizedsort&contextualcategoryid=0&fashionColor=&resultback=2066&cm_sp=personalizedsort-_-browseresults-_-2_5_B" save_to_store="true"]Kate Spade white bangle[/shopsense], (similar OH LA LA bangle [shopsense shopsense_url="http://api.shopstyle.com/action/apiVisitRetailer?url=http%3A%2F%2Fwww.katespade.com%2Ffootloose-and-fancy-free-idiom-bangle%2FWBRU5551%2Cen_US%2Cpd.html%3Fdwvar_WBRU5551_color%3D100″ original_url="http://www.katespade.com/footloose-and-fancy-free-idiom-bangle/WBRU5551,en_US,pd.html?dwvar_WBRU5551_color=100#start=14&cgid=ks-sale-jewelry" save_to_store="true"]here[/shopsense]), J. Crew, Banana Republic; Ring: J. Crew; Earrings: Kate Spade (similar [shopsense shopsense_url="http://api.shopstyle.com/action/apiVisitRetailer?url=http%3A%2F%2Fshop.nordstrom.com%2FS%2Fkate-spade-new-york-all-wrapped-up-bow-stud-earrings%2F3115353%3Forigin%3Dcategory-personalizedsort" original_url="http://shop.nordstrom.com/S/kate-spade-new-york-all-wrapped-up-bow-stud-earrings/3115353?origin=category-personalizedsort&contextualcategoryid=0&fashionColor=&resultback=2297&cm_sp=personalizedsort-_-browseresults-_-2_7_A" save_to_store="true"]here[/shopsense])