Lacy Summer Dress
After a few drizzly days last week, the sun is back, and I've got a new dress! I'm not going to lie, last week's rain was a welcome change and almost had me hoping for fall. Especially after so many great finds at the Nordstrom Anniversary Sale, I'm ready to bust out my new boots, sweaters, and jeans as soon as possible! But today we're back to warm weather which mean another dress.
I picked up this dress a few months ago at Macy's for about $60. I actually wore it during my trip to L.A. for the Lucky FABB conference. It's a great dress for spring and summer as it's a light and airy material. I have plenty of dresses with full skirts that are made out of heavy material so it's refreshing to find a lightweight material to switch it up.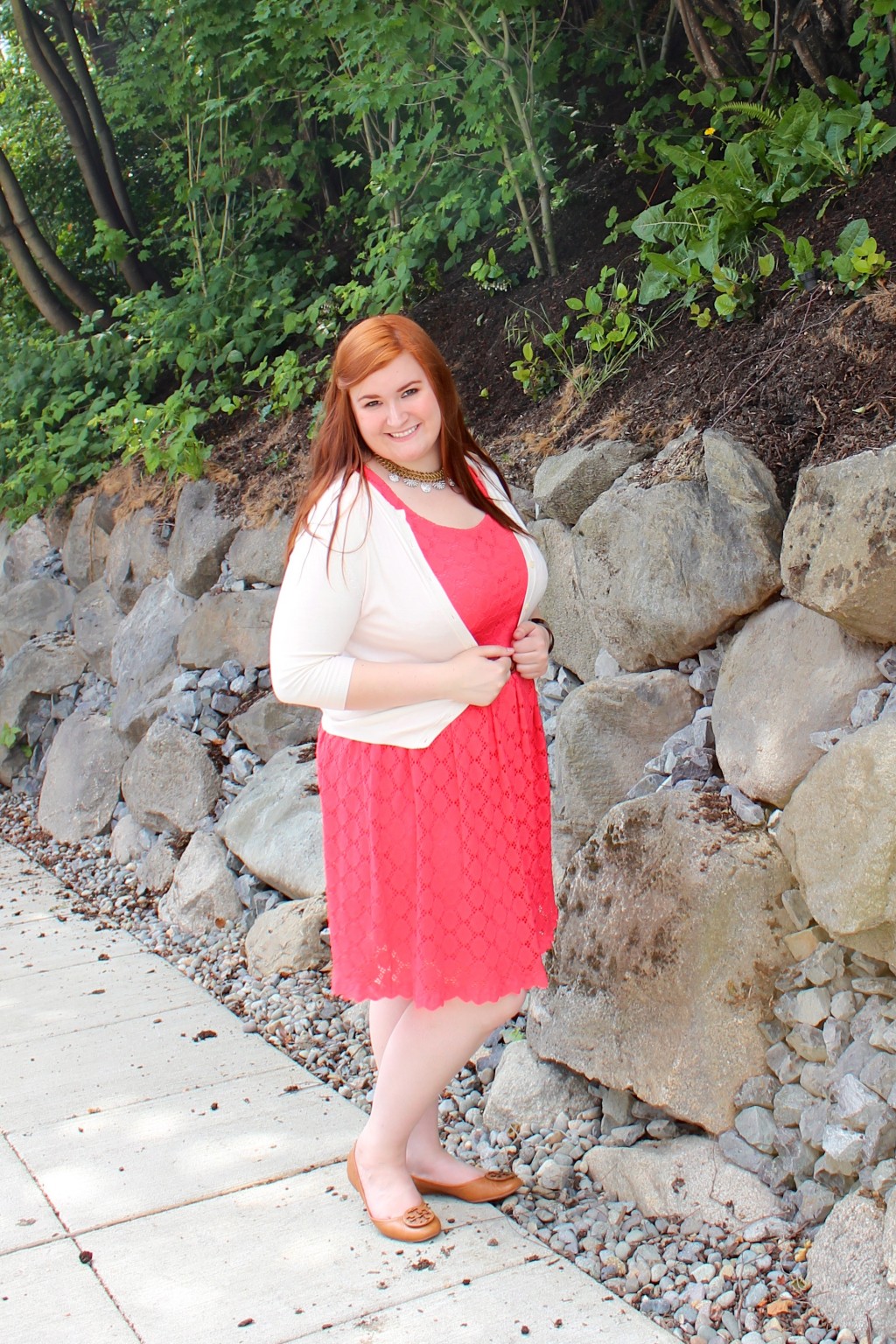 The bright color of this dress definitely speaks for itself and is a bit intense especially with the color of my hair, so tortoise and cream accessories are the perfect way to balance it out. Keeping my accessories simple add prominence to the lace pattern of the dress as well. I always find myself wearing some sort of tortoise or cognac-colored accessories with my dresses quite often. It's a great addition to many outfits and certainly gets plenty of use!
Possibly my favorite part of any outfit is the jewelry! Two of my absolute favorite pieces are in this outfit: my Lulu Frost 'Of a Kind' necklace and L. Erickson Vera Cuff. The cuff is a staple in my wardrobe especially since it ties in so great with my other similar colored accessories like the belt and shoes I'm wearing here. The necklace, while a little pricey, is a great price for a Lulu Frost piece and since it's numbered is something I'm certain I'll keep for years to come.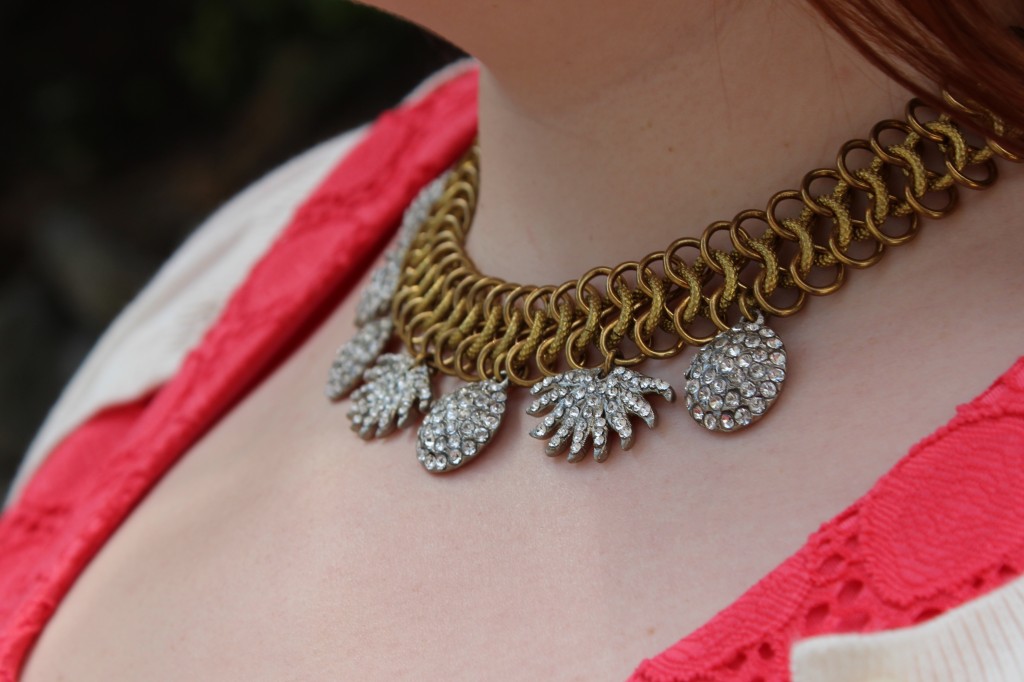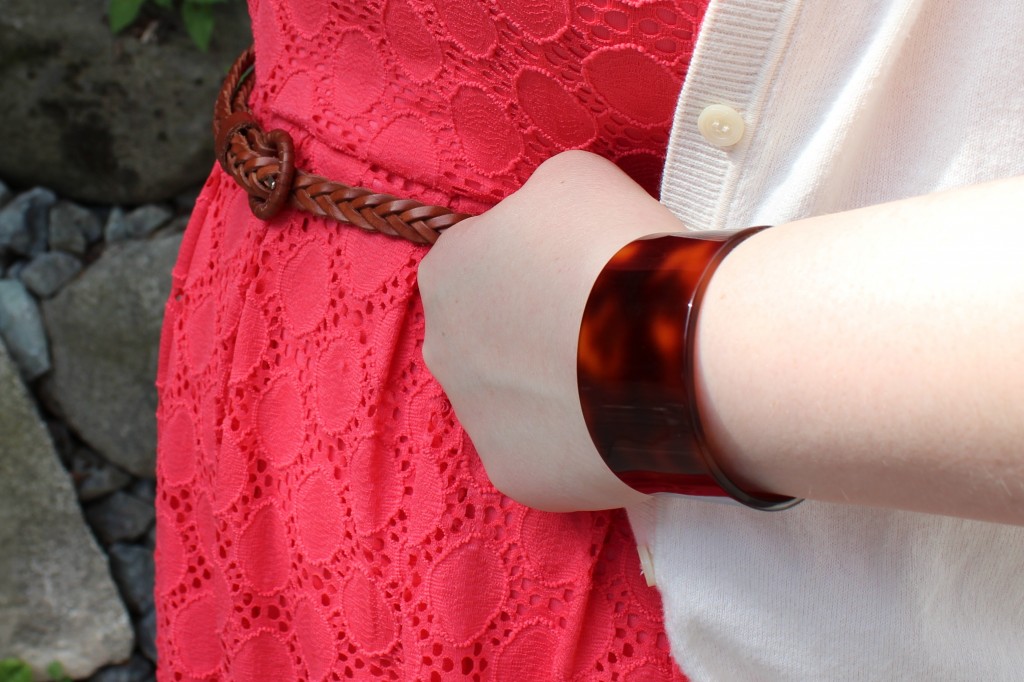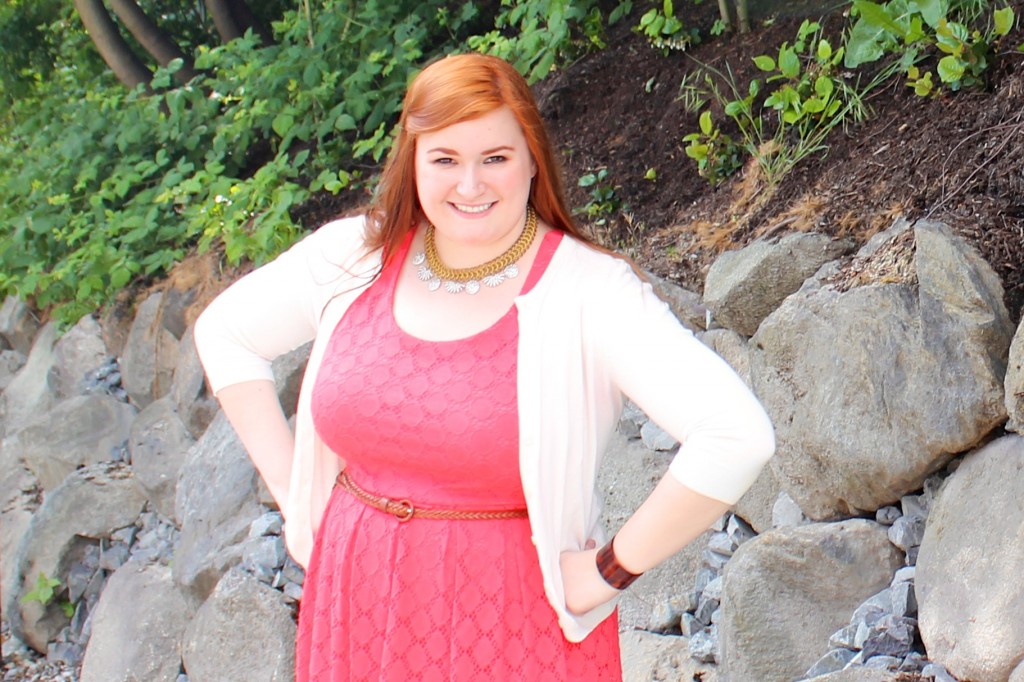 Dress: Macy's; Sweater: [shopsense shopsense_url="http://api.shopstyle.com/action/apiVisitRetailer?url=http%3A%2F%2Fshop.nordstrom.com%2FS%2Fbp-classic-crewneck-cardigan-juniors%2F3506373%3Forigin%3Dcategory-personalizedsort" original_url="http://shop.nordstrom.com/S/bp-classic-crewneck-cardigan-juniors/3506373?origin=category-personalizedsort&contextualcategoryid=0&fashionColor=WHITE&resultback=568&cm_sp=personalizedsort-_-browseresults-_-1_3_C" save_to_store="true"]B.P.[/shopsense]; Belt: [shopsense shopsense_url="http://api.shopstyle.com/action/apiVisitRetailer?url=http%3A%2F%2Fshop.nordstrom.com%2FS%2Ftarnish-skinny-braided-leather-belt%2F3477983%3Forigin%3Dcategory-personalizedsort" original_url="http://shop.nordstrom.com/S/tarnish-skinny-braided-leather-belt/3477983?origin=category-personalizedsort&contextualcategoryid=0&fashionColor=BLACK&resultback=8746&cm_sp=personalizedsort-_-browseresults-_-1_25_D" save_to_store="true"]Tarnish[/shopsense]; Necklace: Lulu Frost; Cuff: L. Erickson; Shoes: [shopsense shopsense_url="http://api.shopstyle.com/action/apiVisitRetailer?url=http%3A%2F%2Fshop.nordstrom.com%2FS%2Ftory-burch-reva-ballerina-flat%2F3140109%3Forigin%3Dcategory-personalizedsort" original_url="http://shop.nordstrom.com/S/tory-burch-reva-ballerina-flat/3140109?origin=category-personalizedsort&contextualcategoryid=0&fashionColor=&resultback=2009&cm_sp=personalizedsort-_-browseresults-_-1_6_C" save_to_store="true"]Tory Burch[/shopsense]