A Little Denim Jacket
Happy Monday everyone! I spent most of last week in Minnesota for work, and I'm so glad to be back! The heat was way too intense for my pale skin. I'm so grateful to be back in our moderate temperatures and I promise to never complain about our hot weather again – or at least for the next few weeks until I forget how miserably hot it was there!
As I was packing for my trip, and as I've been looking back at my outfit posts recently, I noticed just how much I've been wearing a denim jacket. It really is the perfect addition to most any outfit, especially a dress or skirt in the summer. One thing I love about a denim jacket is that you can add it to something slightly more dressy and it will make the entire look seem more casual and laid back. I love dressing up, but overall Seattle can be a bit of a casual city, so throwing on a little denim jacket over the top of my outfit helps me to balance dressing up and the casualness of Seattle.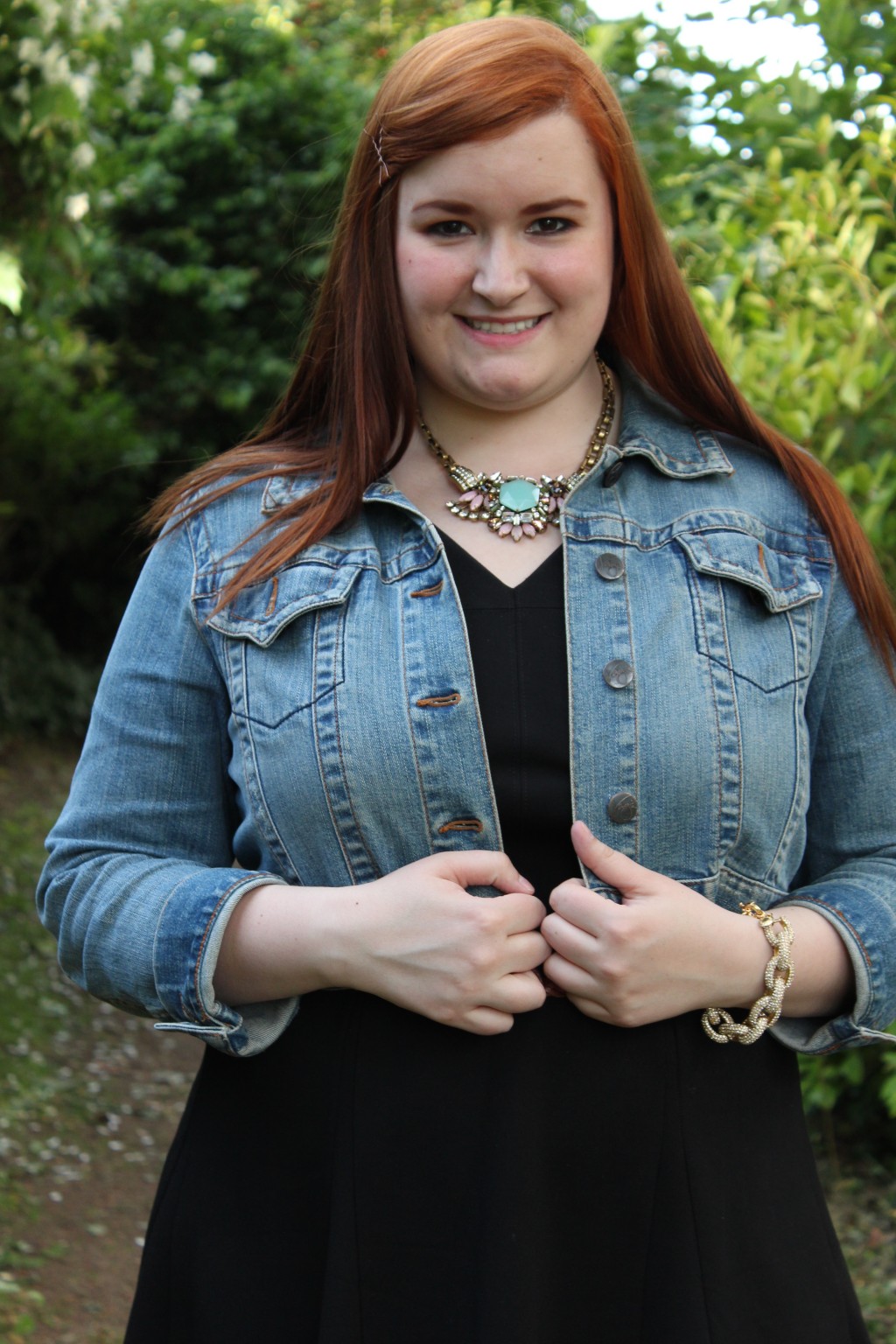 Today I'm pairing my jean jacket with a simple little black dress. Just like I do with my sweaters, I normally wear a cropped jean jacket with dresses and skirts, but wear a full-length one when I pair a denim jacket with pants. This dress is perfect to wear the cropped jacket with and it's also the perfect LBD for summer since it's light and swingy and has a slight fit & flare style skirt. I opted for shiny accessories with this dress to brighten it up a bit, including two of my favorite J. Crew pieces – the Crystal Compilation Necklace (which I reviewed here) and the Pave Link Bracelet. I've been getting so much wear out of both of these pieces, I highly recommend that you invest in them as well.
Lastly are my favorite Stuart Weitzman cork wedges that I've been wearing all the time! Even though I'm almost 6-feet tall while wearing these, I still love them. I can wear them all day without any pain – it's amazing how a quality shoe can make all the difference in the world.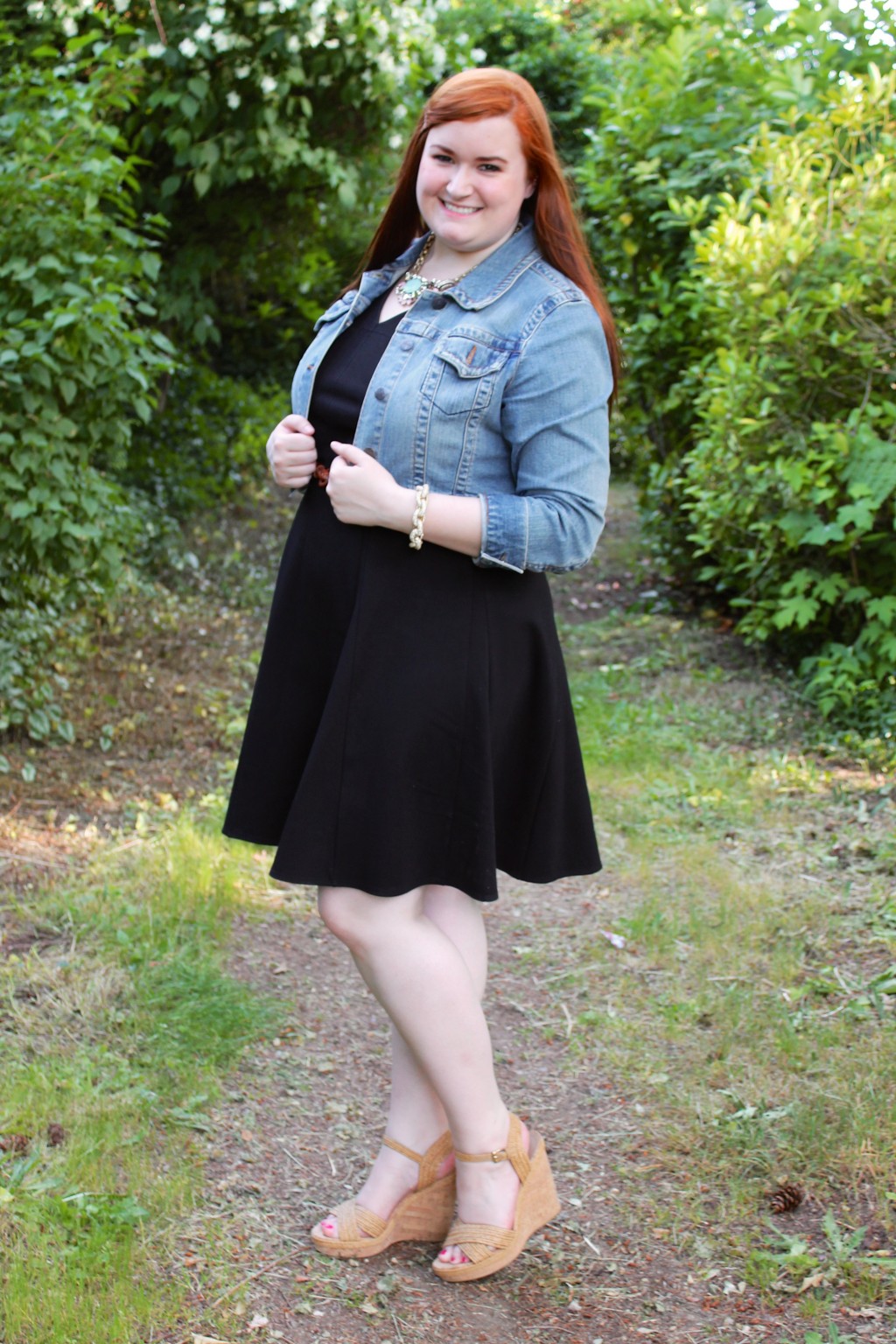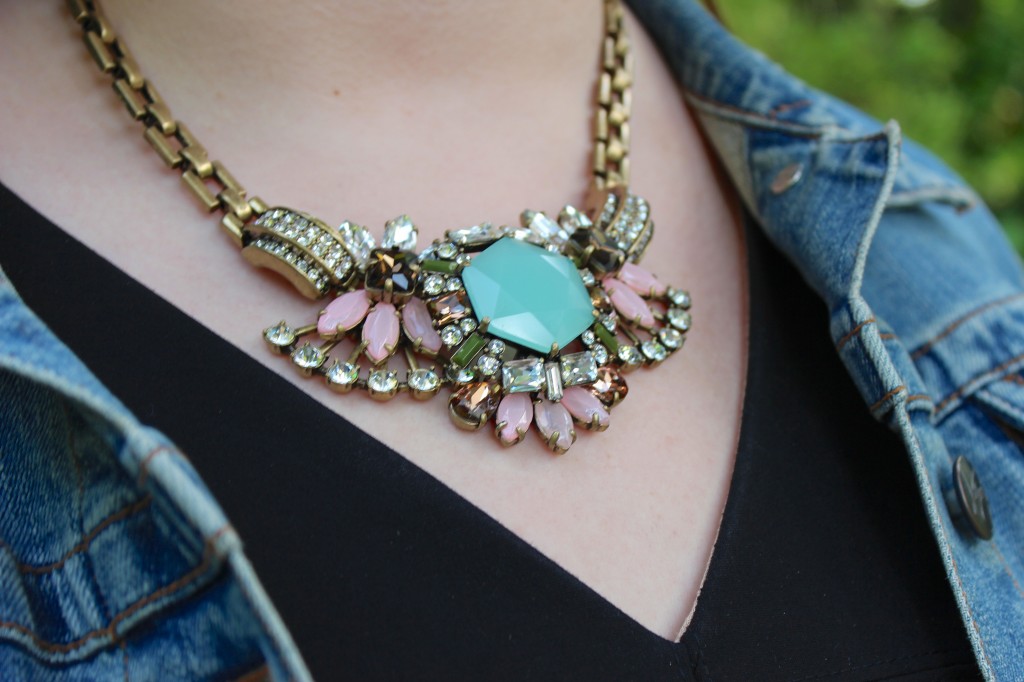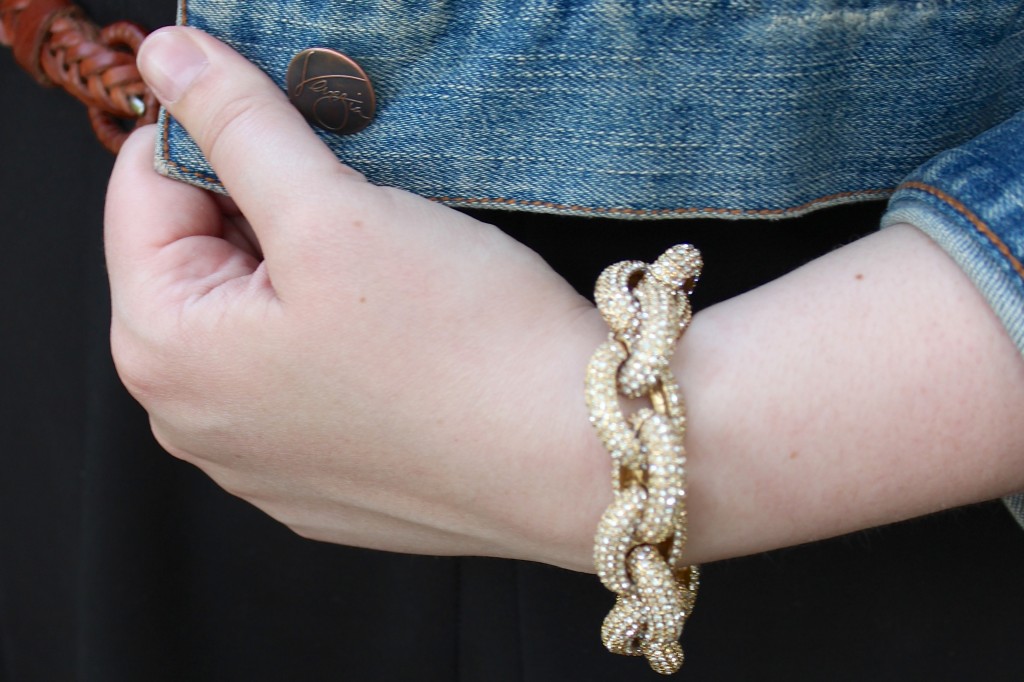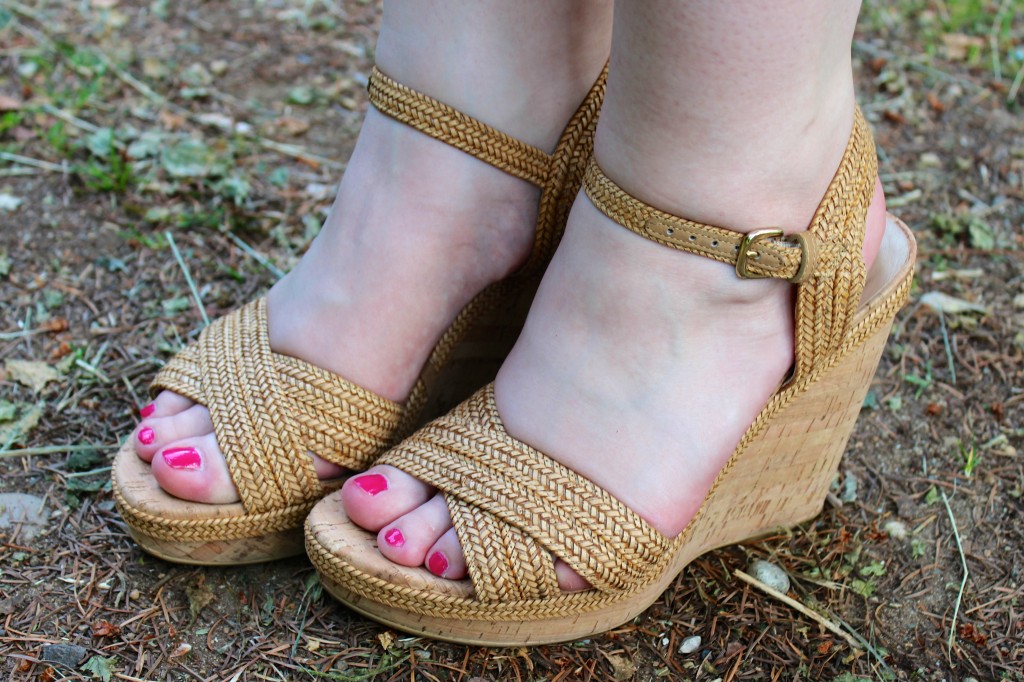 Dress: [shopsense shopsense_url="http://api.shopstyle.com/action/apiVisitRetailer?url=http%3A%2F%2Fshop.nordstrom.com%2FS%2Fabs-by-allen-schwartz-sleeveless-fit-flare-dress-plus-size%2F3433598%3Forigin%3Dcategory-personalizedsort" original_url="http://shop.nordstrom.com/S/abs-by-allen-schwartz-sleeveless-fit-flare-dress-plus-size/3433598?origin=category-personalizedsort&contextualcategoryid=0&fashionColor=&resultback=2783&cm_sp=personalizedsort-_-browseresults-_-3_10_D" save_to_store="true"]ABS by Allen Schwartz[/shopsense]; Jacket: Venezia (similar full-length [shopsense shopsense_url="http://api.shopstyle.com/action/apiVisitRetailer?url=http%3A%2F%2Fshop.nordstrom.com%2Fs%2Flucky-brand-adelaide-denim-jacket-plus-size%2F3450018%3Forigin%3Dcategory-personalizedsort" original_url="http://shop.nordstrom.com/s/lucky-brand-adelaide-denim-jacket-plus-size/3450018?origin=category-personalizedsort&contextualcategoryid=0&fashionColor=&resultback=7551&cm_sp=personalizedsort-_-browseresults-_-1_20_B" save_to_store="true"]here[/shopsense], similar crop jacket [shopsense shopsense_url="http://api.shopstyle.com/action/apiVisitRetailer?url=http%3A%2F%2Fshop.nordstrom.com%2Fs%2Fjolt-blanket-yoke-crop-denim-jacket-juniors%2F3508016%3Forigin%3Dkeywordsearch-personalizedsort" original_url="http://shop.nordstrom.com/s/jolt-blanket-yoke-crop-denim-jacket-juniors/3508016?origin=keywordsearch-personalizedsort&contextualcategoryid=0&fashionColor=&resultback=596&cm_sp=personalizedsort-_-searchresults-_-1_2_A" save_to_store="false"]here[/shopsense]); Necklace: J. Crew; Bracelet: [shopsense shopsense_url="http://api.shopstyle.com/action/apiVisitRetailer?url=http%3A%2F%2Fwww.jcrew.com%2Fwomens_category%2Fjewelry%2Fbracelets%2FPRDOVR%7E48738%2F99102435839%2FENE%7E1+2+3+22+4294967294+20%7E%7E%7E20+17+4294966661%7E90%7E%7E%7E%7E%7E%7E%7E%2F48738.jsp" original_url="http://www.jcrew.com/womens_category/jewelry/bracelets/PRDOVR~48738/99102435839/ENE~1+2+3+22+4294967294+20~~~20+17+4294966661~90~~~~~~~/48738.jsp" save_to_store="true"]J. Crew[/shopsense]; Shoes: Stuart Weitzman (similar [shopsense shopsense_url="http://api.shopstyle.com/action/apiVisitRetailer?url=http%3A%2F%2Fshop.nordstrom.com%2Fs%2Fstuart-weitzman-reins-sandal%2F3359638%3Forigin%3DPredictiveSearch-personalizedsort" original_url="http://shop.nordstrom.com/s/stuart-weitzman-reins-sandal/3359638?origin=PredictiveSearch-personalizedsort&contextualcategoryid=0&fashionColor=&resultback=8509&cm_sp=personalizedsort-_-searchresults-_-1_22_C" save_to_store="true"]here[/shopsense])