Summer Sun in Floral Print
I hope everyone was able to stay cool this weekend with our warm temperatures! Personally I'm ready to see it drop a solid ten or twenty degrees, but we've got a few more days left of this scorching hot weather!
Just like everyone else I've been trying to be as comfortable and cool as possible, so naturally I've been living in dresses. I'm very fair-skinned so I burn almost instantly in the sun. Besides slathering on ungodly amounts of sunscreen, I try to dress in a manner that hides the fairest part of my skin to avoid sun burns. I try to make sure that my arms, shoulders and chest area are covered as much as possible and also I don't wear much above my knee either. Since those areas never see the light of day anyways, they're much more likely to burn and I'd rather deal with a little bit more clothing and not have to deal with a painful and miserable sunburn for days after.
The incredibly bright sun called for an equally bright and happy dress! I just ordered this dress from Nordstrom and I am so happy that I did. The fit is impeccable, the princess seams are incredibly flattering, and the colors are amazing. I adore the shape and cut of a fit & flare style dress. It's a very flattering style that enhances your shape. It's also great for hiding any flaws since it's not fitted in the lower midsection.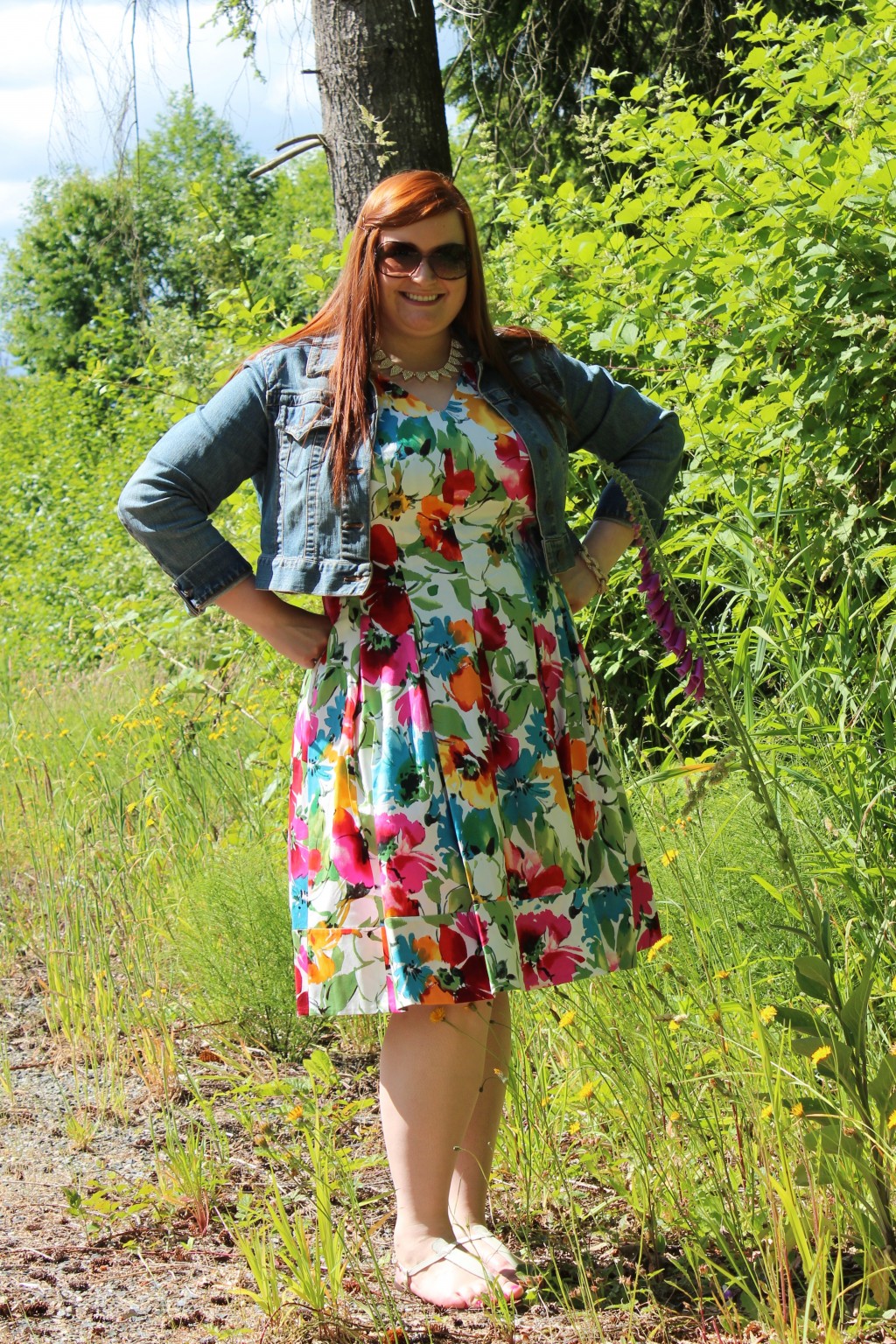 Because there are so many colors, I decided to pair the dress with a cropped denim jacket, gold jewelry, and white sandals. I really wanted the dress to speak for itself and not to draw attention away from the beautiful colors with too much chunky statement jewelry. The [shopsense shopsense_url="http://api.shopstyle.com/action/apiVisitRetailer?url=http%3A%2F%2Fwww.baublebar.com%2Fpave-tab-strand.html" original_url="http://www.baublebar.com/pave-tab-strand.html" save_to_store="true"]Bauble Bar pave tab strand necklace[/shopsense] paired with the [shopsense shopsense_url="http://api.shopstyle.com/action/apiVisitRetailer?url=http%3A%2F%2Fwww.jcrew.com%2Fwomens_category%2Fjewelry%2Fbracelets%2FPRDOVR%7E48738%2F48738.jsp" original_url="http://www.jcrew.com/womens_category/jewelry/bracelets/PRDOVR~48738/48738.jsp" save_to_store="true"]J. Crew pave link bracelet[/shopsense] provides the perfect amount of subtle sparkle for this outfit.
Lastly are my fabulous sandals. I've been searching high and low trying to find the perfect pair of white sandals. White sandals without any extra bling are surprisingly hard to come by, or I'm just that picky (the latter is entirely possible). I finally found this pair of Sam Edelman sandals at Nordstrom Rack. Though they aren't online in white, you can find these sandals in other colors at Nordstrom. I now have three pairs of this style and I absolutely love them!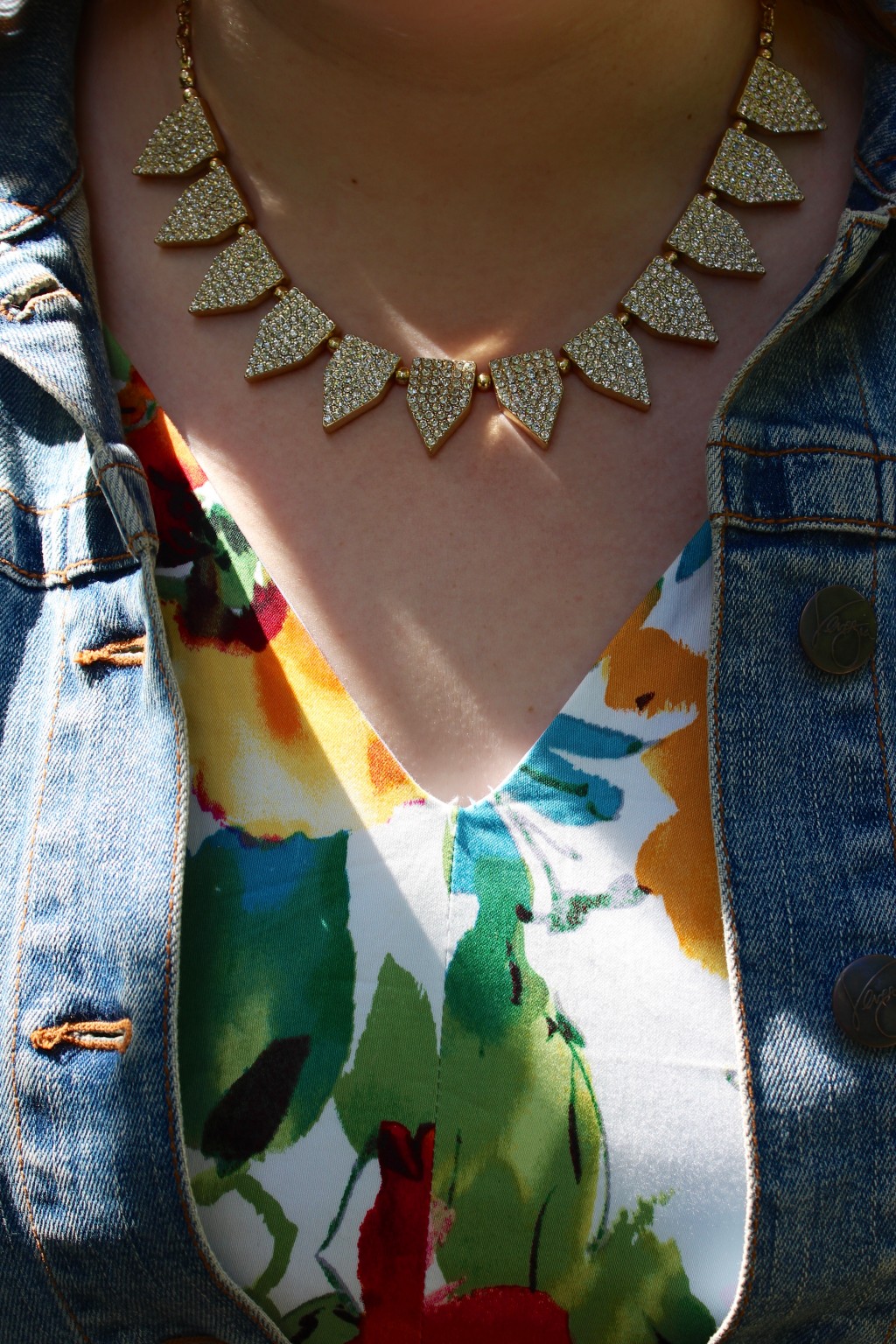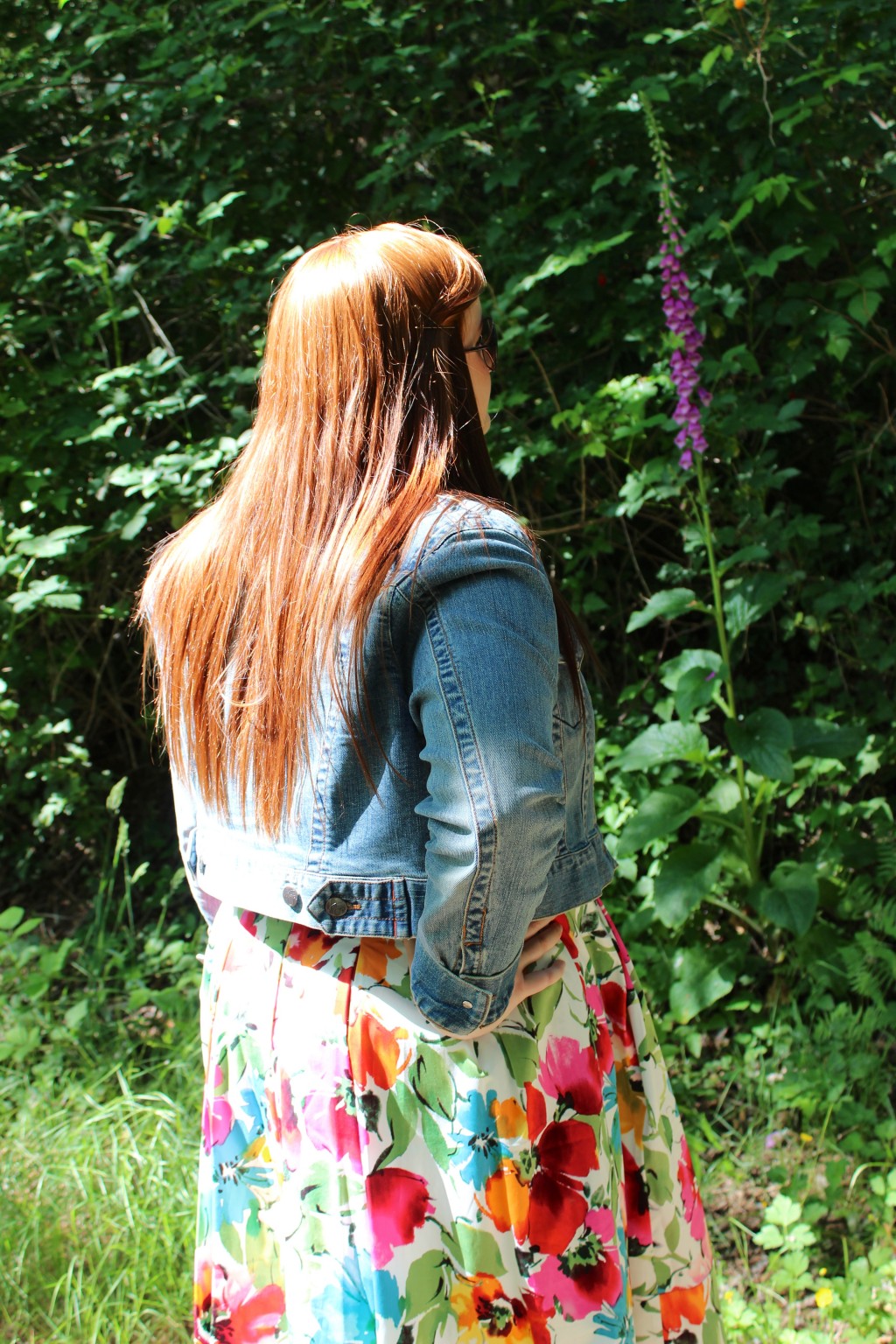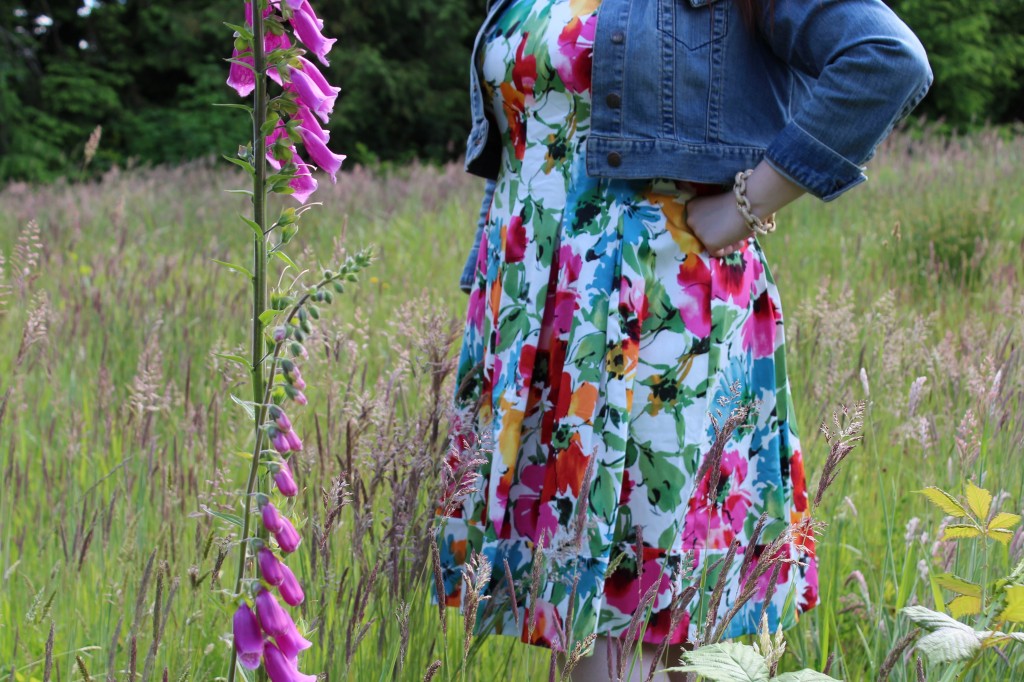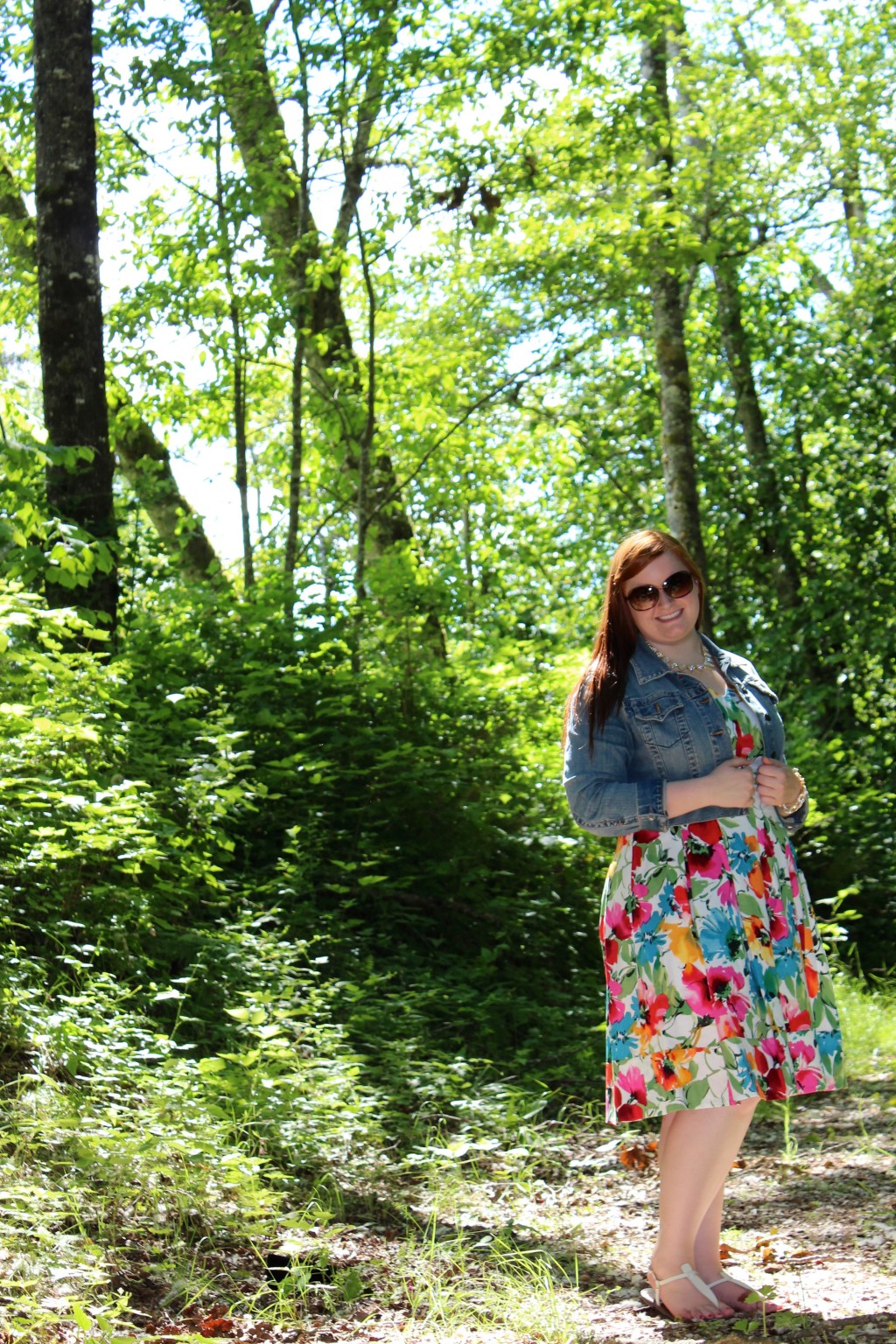 Dress: [shopsense shopsense_url="http://api.shopstyle.com/action/apiVisitRetailer?id=450337366″ original_url="http://shop.nordstrom.com/s/lauren-ralph-lauren-v-neck-floral-print-sundress-plus-size/3734043?origin=category-personalizedsort&contextualcategoryid=0&fashionColor=&resultback=909&cm_sp=personalizedsort-_-browseresults-_-1_3_A" save_to_store="false"]Lauren by Ralph Lauren V-neck Floral Print Sundress[/shopsense]; Jacket: Venezia; Shoes: Sam Edelman (similar [shopsense shopsense_url="http://api.shopstyle.com/action/apiVisitRetailer?url=http%3A%2F%2Fshop.nordstrom.com%2Fs%2Fsam-edelman-gigi-sandal%2F3033428%3Forigin%3DPredictiveSearch-personalizedsort" original_url="http://shop.nordstrom.com/s/sam-edelman-gigi-sandal/3033428?origin=PredictiveSearch-personalizedsort&contextualcategoryid=2375500&fashionColor=&resultback=5002&cm_sp=personalizedsort-_-searchresults-_-1_14_D" save_to_store="false"]here[/shopsense] and [shopsense shopsense_url="http://api.shopstyle.com/action/apiVisitRetailer?url=http%3A%2F%2Fshop.nordstrom.com%2FS%2Fdolce-vita-dia-sandal%2F3398891%3Forigin%3Dcategory-personalizedsort" original_url="http://shop.nordstrom.com/S/dolce-vita-dia-sandal/3398891?origin=category-personalizedsort&contextualcategoryid=0&fashionColor=BONE+LEATHER&resultback=1438&cm_sp=personalizedsort-_-browseresults-_-1_5_D" save_to_store="true"]here[/shopsense]); Necklace: [shopsense shopsense_url="http://api.shopstyle.com/action/apiVisitRetailer?url=http%3A%2F%2Fwww.baublebar.com%2Fpave-tab-strand.html" original_url="http://www.baublebar.com/pave-tab-strand.html" save_to_store="true"]Bauble Bar[/shopsense]; Bracelet: [shopsense shopsense_url="http://api.shopstyle.com/action/apiVisitRetailer?url=http%3A%2F%2Fwww.jcrew.com%2Fwomens_category%2Fjewelry%2Fbracelets%2FPRDOVR%7E48738%2F48738.jsp" original_url="http://www.jcrew.com/womens_category/jewelry/bracelets/PRDOVR~48738/48738.jsp" save_to_store="true"]J. Crew[/shopsense]; Sunglasses: [shopsense shopsense_url="http://api.shopstyle.com/action/apiVisitRetailer?url=http%3A%2F%2Fshop.nordstrom.com%2FS%2Ftom-ford-carla-66mm-oversized-round-metal-sunglasses%2F3432374%3Forigin%3Dcategory" original_url="http://shop.nordstrom.com/S/tom-ford-carla-66mm-oversized-round-metal-sunglasses/3432374?origin=category&contextualcategoryid=0&fashionColor=&resultback=6482″ save_to_store="true"]Tom Ford[/shopsense]