A Little Blue Dinosaur
I'm just going to go ahead and warn you – this post is going to have LOTS of pictures. I've been so excited about these photos and so excited to share this outfit with you! I can't take credit for the amazing-ness of this outfit and this photoshoot – it would not have come together without the help of my good friend, shopping buddy, and photographer, Dolly.
Usually my style and outfits are centered on statement jewelry and building an outfit around a fabulous piece of jewelry. Today I'm stepping a little bit outside of the norm to share an article of clothing as the statement of the outfit.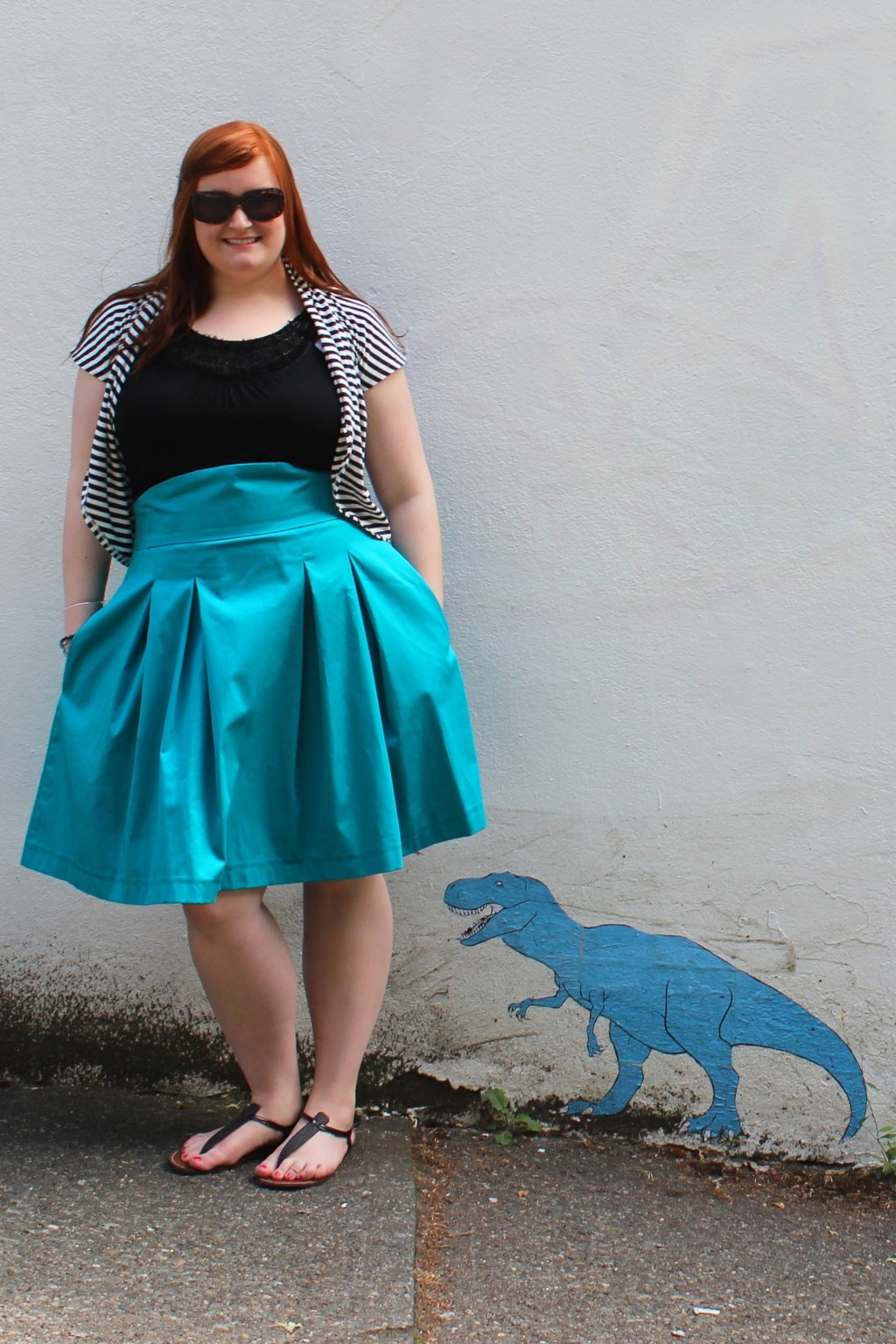 The starting point for this outfit was my [shopsense shopsense_url="http://api.shopstyle.com/action/apiVisitRetailer?url=http%3A%2F%2Fwww.zappos.com%2Fbri-seeley-jaclyn-cotton-pleated-skirt-tan" original_url="http://www.zappos.com/bri-seeley-jaclyn-cotton-pleated-skirt-tan" save_to_store="true"]Bri Seeley "Jaclyn" skirt[/shopsense]. The box pleats and A-line style of this skirt combined with its bright aqua color make it the focal point of my outfit. It's such a unique and classic piece that I did not want to take away from it by wearing too many accessories or a particularly loud piece of clothing.
To build this outfit, I opted for a simple black tanktop with a muted ruffle and bead design around the neckline. In lieu of wearing a necklace because of the detailed tank, I decided to pull in the colors from my outfit by accessorizing with Alexis Bittar bracelets in shades of black, blue, silver, and clear. I wanted a more casual style for a sunny Seattle day tromping around the city, so I wore black Sam Edelman sandals and tortoise blue Prada sunglasses. The blue shades in the sunglasses tie in nicely with the aqua skirt – so fun!
I'd pulled together this much of my outfit, but I knew it needed something more. Adding a black cardigan to this outfit just seemed so boring and would not do this fabulous skirt justice. I wanted something striped and Dolly suggested I wear her new Kate Spade Saturday striped shirt. Now, Dolly is very petite and let's just say, the only thing we can share are handbags and jewelry. She was emphatic that the shirt was large, the sizing was weird, and that it would work for me. I tried the shirt on, and no – it was just not going to work for me. But I was determined. As you can see, I ended up wearing the shirt as a sweater in a bolero-style, and I think it looks fabulous!
Want to win one of your own Bri Seeley "Jaclyn" skirts? I'm giving away a Bri Seeley skirt to one lucky reader, enter here!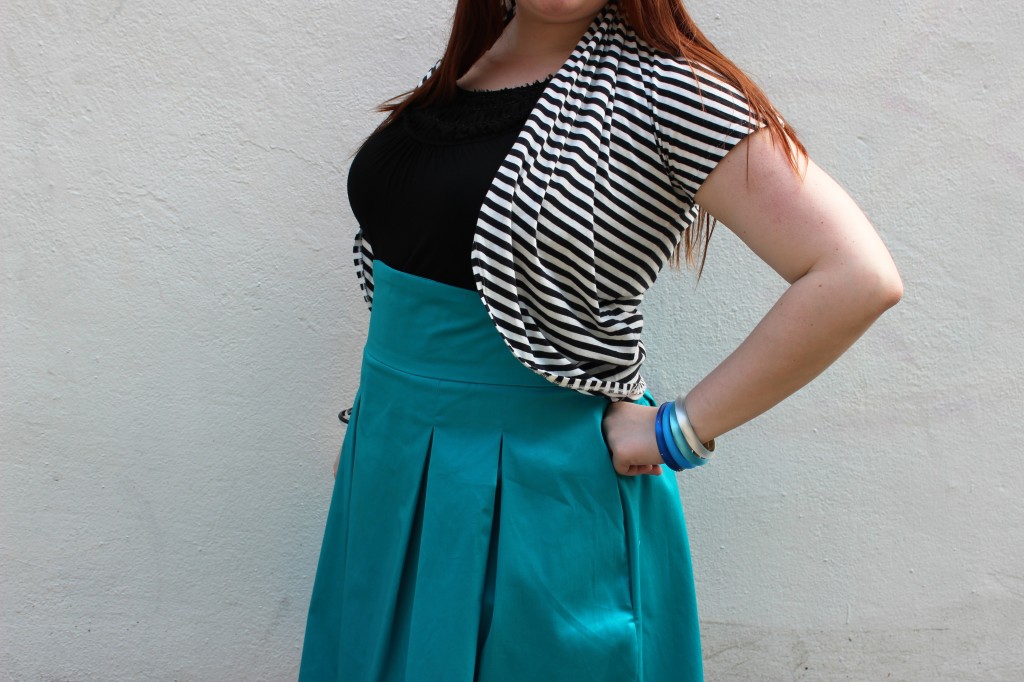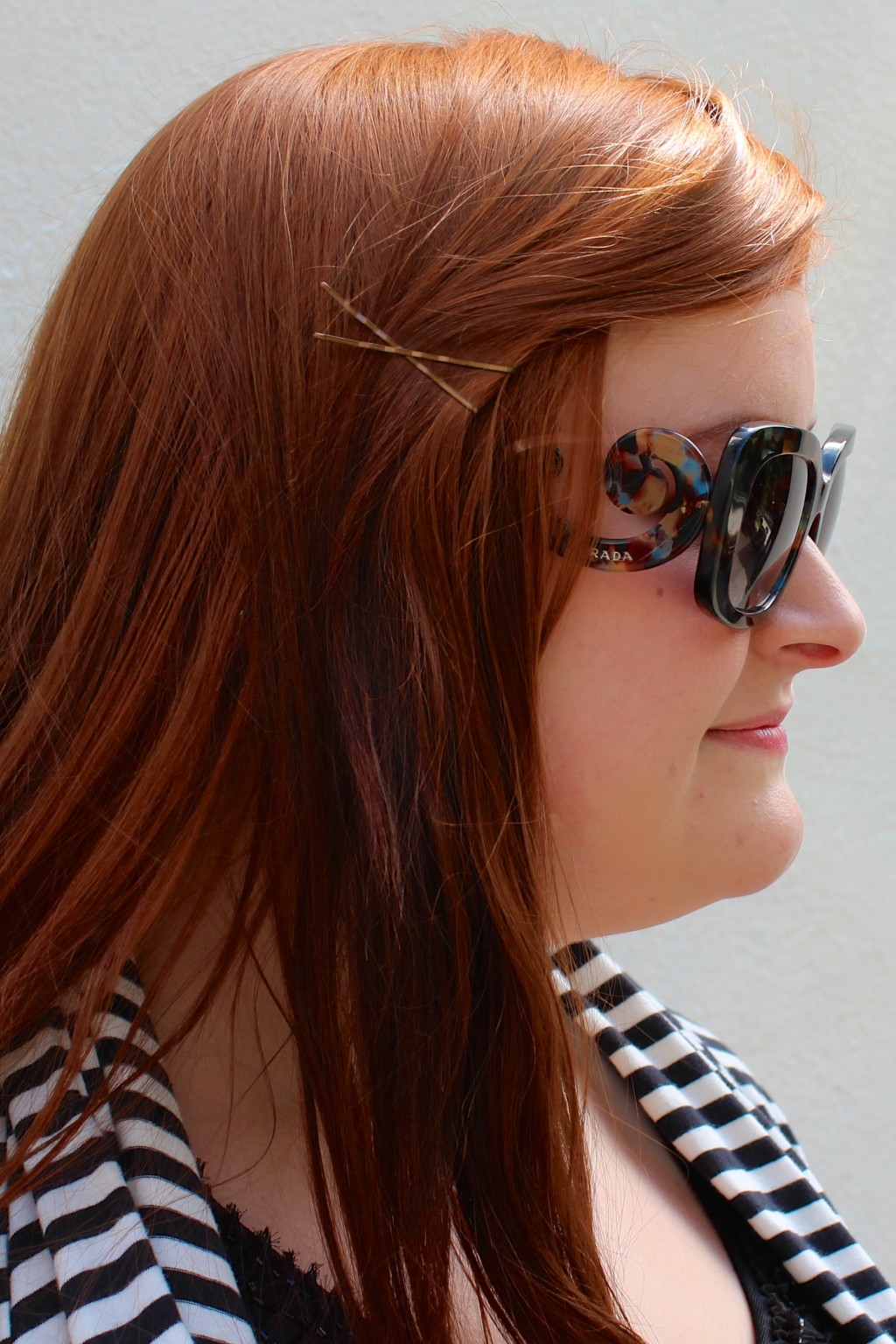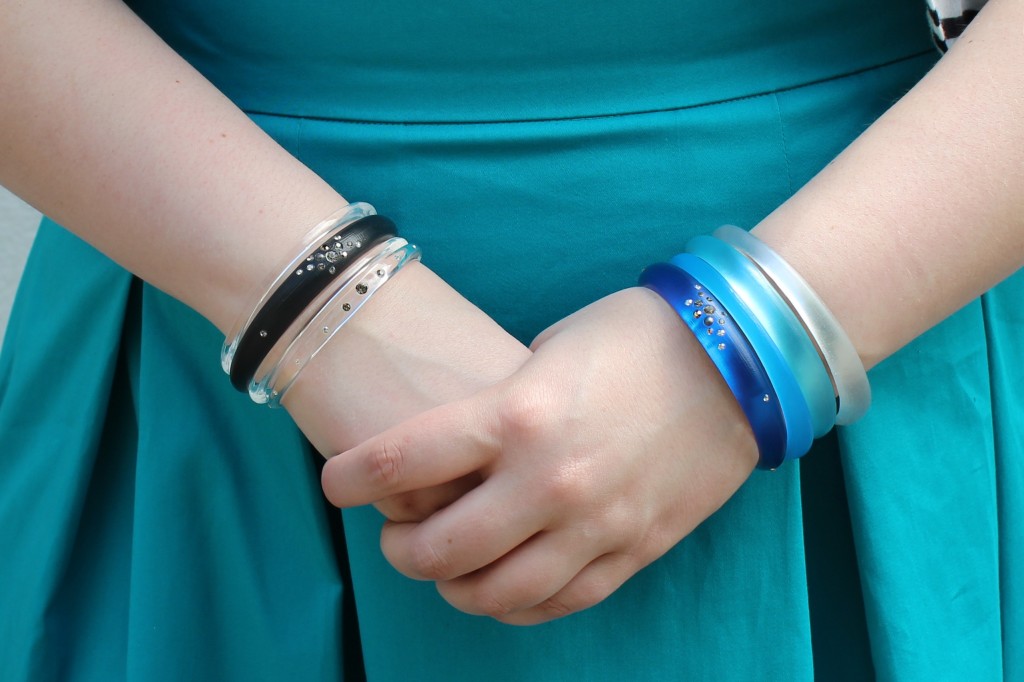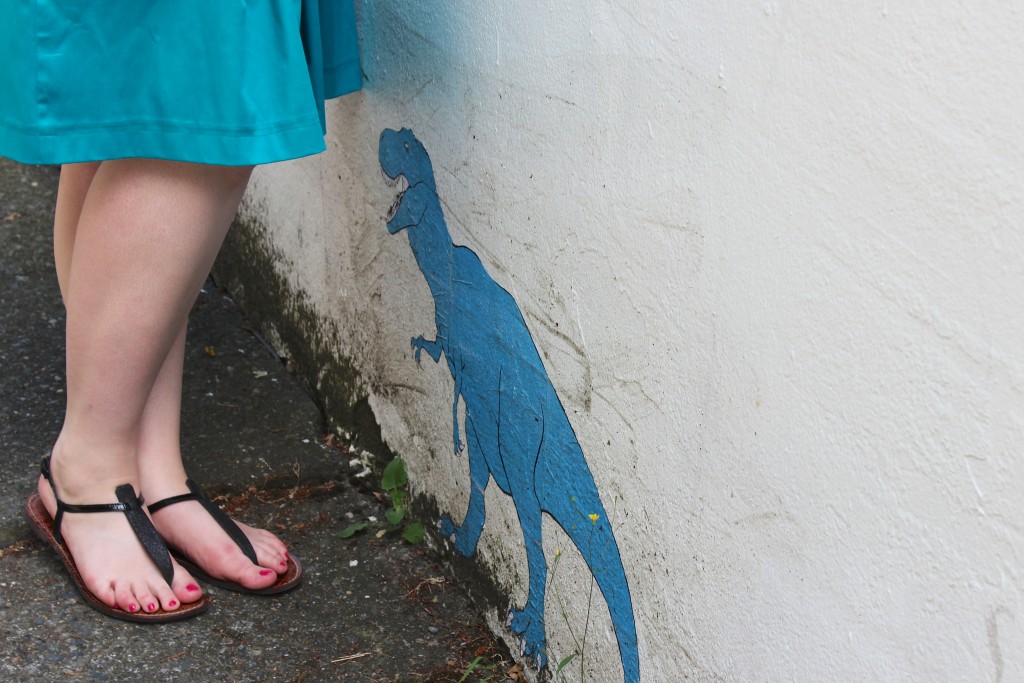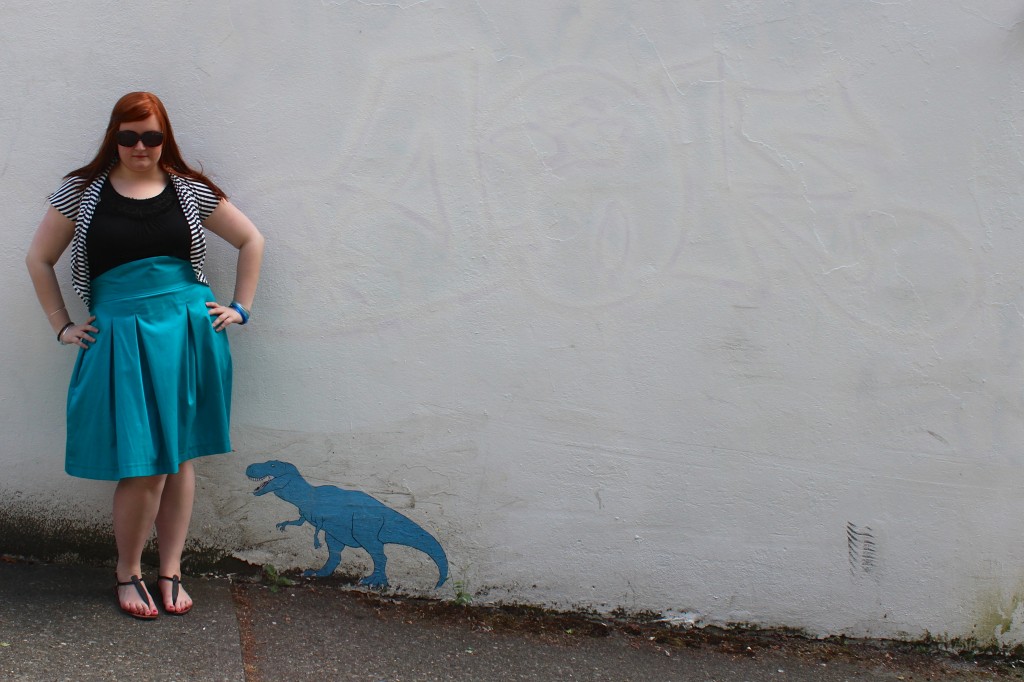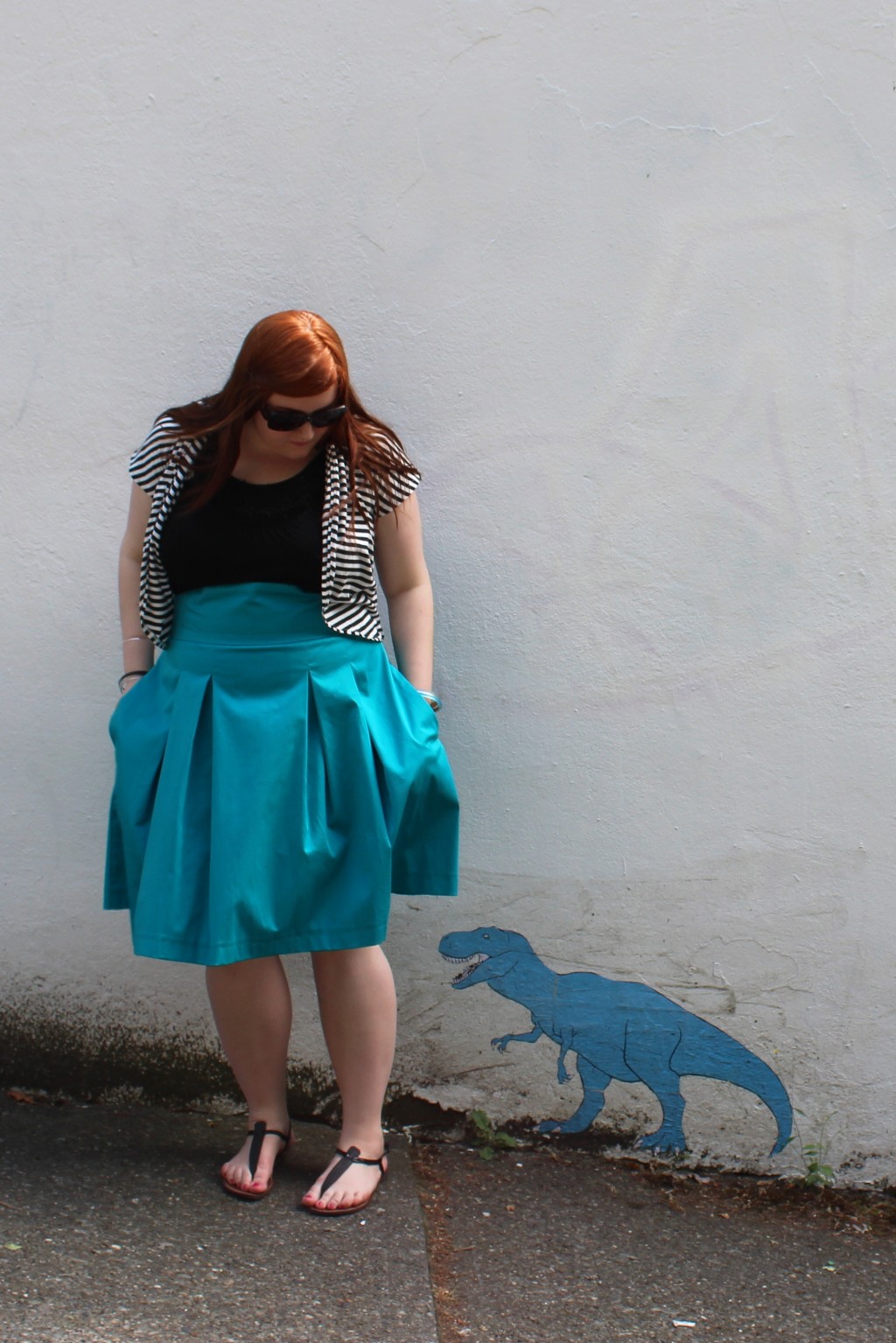 Top: Bobeau (similar [shopsense shopsense_url="http://api.shopstyle.com/action/apiVisitRetailer?url=http%3A%2F%2Fshop.nordstrom.com%2FS%2Flucky-brand-nixie-beaded-tank%2F3491881%3Forigin%3Dcategory-personalizedsort" original_url="http://shop.nordstrom.com/S/lucky-brand-nixie-beaded-tank/3491881?origin=category-personalizedsort&contextualcategoryid=0&fashionColor=&resultback=6173&cm_sp=personalizedsort-_-browseresults-_-1_17_D" save_to_store="true"]here[/shopsense]); Sweater: [shopsense shopsense_url="http://api.shopstyle.com/action/apiVisitRetailer?url=http%3A%2F%2Fwww.saturday.com%2FSexy-Back-Tee-in-Stripe%2F4CMU0012-1%2Cen_US%2Cpd.html%3Fdwvar_4CMU0012-1_color%3D007″ original_url="http://www.saturday.com/Sexy-Back-Tee-in-Stripe/4CMU0012-1,en_US,pd.html?dwvar_4CMU0012-1_color=007″ save_to_store="true"]Kate Spade Saturday[/shopsense]; Skirt: [shopsense shopsense_url="http://api.shopstyle.com/action/apiVisitRetailer?url=http%3A%2F%2Fwww.zappos.com%2Fbri-seeley-jaclyn-cotton-pleated-skirt-tan" original_url="http://www.zappos.com/bri-seeley-jaclyn-cotton-pleated-skirt-tan" save_to_store="true"]Bri Seeley Designs[/shopsense]; Bracelets: [shopsense shopsense_url="http://api.shopstyle.com/action/apiVisitRetailer?url=http%3A%2F%2Fshop.nordstrom.com%2FS%2Falexis-bittar-skinny-tapered-bangle%2F2926427%3Forigin%3Dcategory-personalizedsort" original_url="http://shop.nordstrom.com/S/alexis-bittar-skinny-tapered-bangle/2926427?origin=category-personalizedsort&contextualcategoryid=0&fashionColor=LIGHT+TURQUOISE&resultback=3224&cm_sp=personalizedsort-_-browseresults-_-1_9_D" save_to_store="true"]Alexis Bittar Skinny Tapered Bangle in light turquoise & silver[/shopsense], [shopsense shopsense_url="http://api.shopstyle.com/action/apiVisitRetailer?url=http%3A%2F%2Fshop.nordstrom.com%2FS%2Falexis-bittar-dust-skinny-tapered-bangle-nordstrom-exclusive%2F3186562%3Forigin%3Dcategory-personalizedsort" original_url="http://shop.nordstrom.com/S/alexis-bittar-dust-skinny-tapered-bangle-nordstrom-exclusive/3186562?origin=category-personalizedsort&contextualcategoryid=0&fashionColor=BLACK&resultback=4459&cm_sp=personalizedsort-_-browseresults-_-1_12_D" save_to_store="true"]Alexis Bittar 'Dust' Skinny Tapered Bangle in black[/shopsense]; Shoes: [shopsense shopsense_url="http://api.shopstyle.com/action/apiVisitRetailer?url=http%3A%2F%2Fshop.nordstrom.com%2Fs%2Fsam-edelman-gigi-sandal%2F3409893%3Forigin%3Dkeywordsearch-personalizedsort" original_url="http://shop.nordstrom.com/s/sam-edelman-gigi-sandal/3409893?origin=keywordsearch-personalizedsort&contextualcategoryid=0&fashionColor=Citron+Yellow+Boa&resultback=6210&cm_sp=personalizedsort-_-searchresults-_-1_17_B" save_to_store="true"]Sam Edelman[/shopsense]; Sunglasses: [shopsense shopsense_url="http://api.shopstyle.com/action/apiVisitRetailer?url=http%3A%2F%2Fshop.nordstrom.com%2Fs%2Fprada-baroque-54mm-sunglasses%2F3431769%3Forigin%3Dkeywordsearch-personalizedsort" original_url="http://shop.nordstrom.com/s/prada-baroque-54mm-sunglasses/3431769?origin=keywordsearch-personalizedsort&contextualcategoryid=2375500&fashionColor=Tortoise+Blue&resultback=5853&cm_sp=personalizedsort-_-searchresults-_-1_15_C" save_to_store="true"]Prada[/shopsense]