Casual Essentials
I wear dresses so frequently that most of the time my friends, family and coworkers forget that I own pants. I always get comments like "You look so different wearing pants!" It's true, I probably wear dresses and skirts a little too much, but fear not, I do wear pants.
Delaney from Lover of Clothes snapped these photos for me. I love this candid one below because this is probably how you'll find me most weekends – talking on the phone with Starbucks in hand and a big tote on my arm.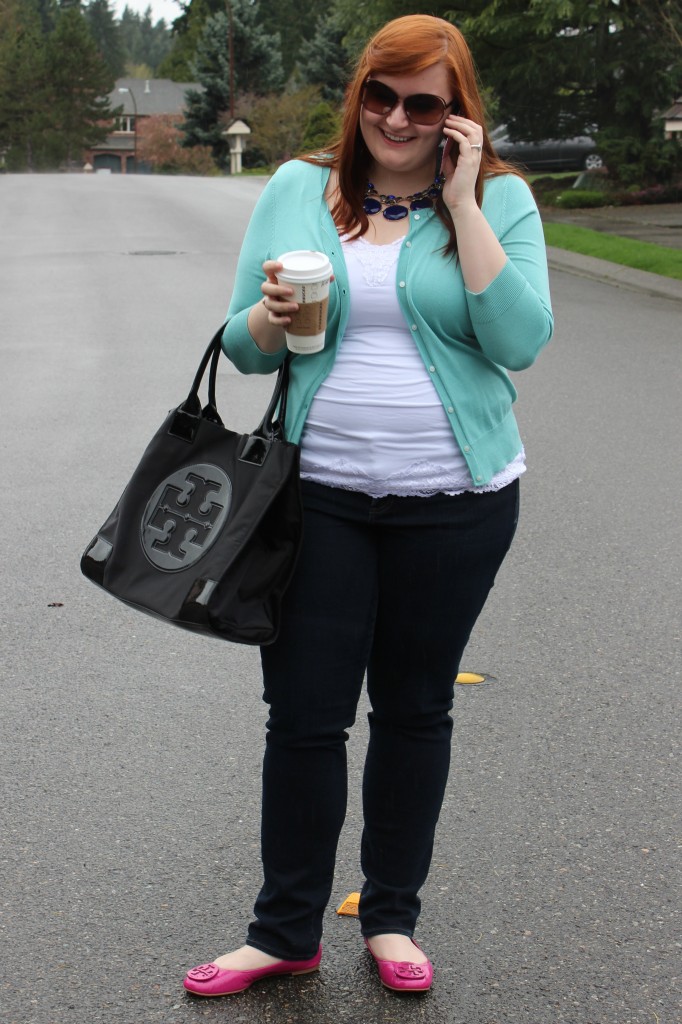 My weekend "uniform" for spring is typically something like you see here: jeans, a basic top, a fun pair of flats, a large tote, and of course, jewelry! I consider these to be my essentials for casual wear when I want to feel comfortable but still look stylish and put together. Who doesn't love to still be casual & comfortable yet looking stylish while shopping, thrifting, going to the movies, or having dinner with friends and family?
The best part about my outfit is that it's super easy to recreate with items you most likely already have in your closet. I'm sure you have a white tank, cardigan, colorful flats and some fun jewelry lying around. It can be easy to get in the habit of wearing the same combination of items over and over again so instead of thinking "I don't have anything like that," go look through your closet and mix-and-match items you haven't tried together in the past.
If you're in the market for some cost-effective jewelry I highly recommend checking out [shopsense shopsense_url="http://api.shopstyle.com/action/apiVisitRetailer?url=https%3A%2F%2Fwww.baublebar.com%2Frewardsref%2Findex%2Frefer%2Fid%2F226835%2F" original_url="https://www.baublebar.com/rewardsref/index/refer/id/226835/" save_to_store="true"]Bauble Bar[/shopsense]. I've blogged about a lot of their pieces, and the solid blue one I'm wearing here is from Bauble Bar, though it's older so it's not available anymore.
Two other items I'm currently obsessed with are my Tory Burch Reva Flats and this Tory Burch tote. To say I've been on a bit of a Tory Burch binge lately is an understatement. If you're looking to invest in a pair of great flats, look no further than the Tory Burch Revas. I will admit that at least for me the break-in period was somewhat miserable but once you've got them broken in, they're fantastic! This Tory Burch tote I'm carrying is fabulous as well. It's absolutely huge and works great as a carry-on, a weekend bag, or as a carry-all.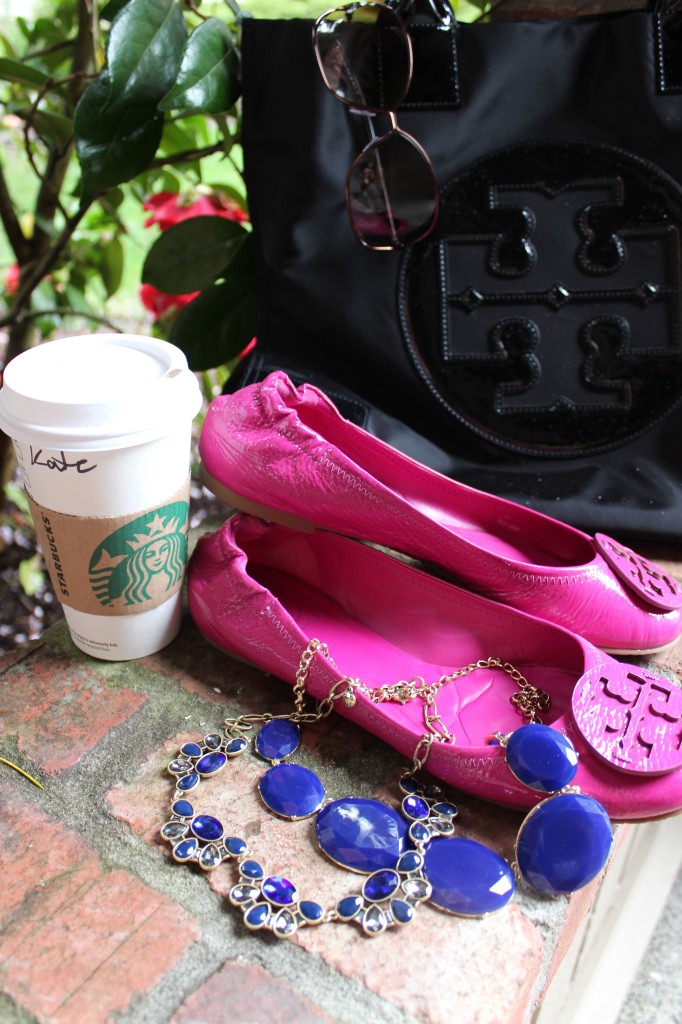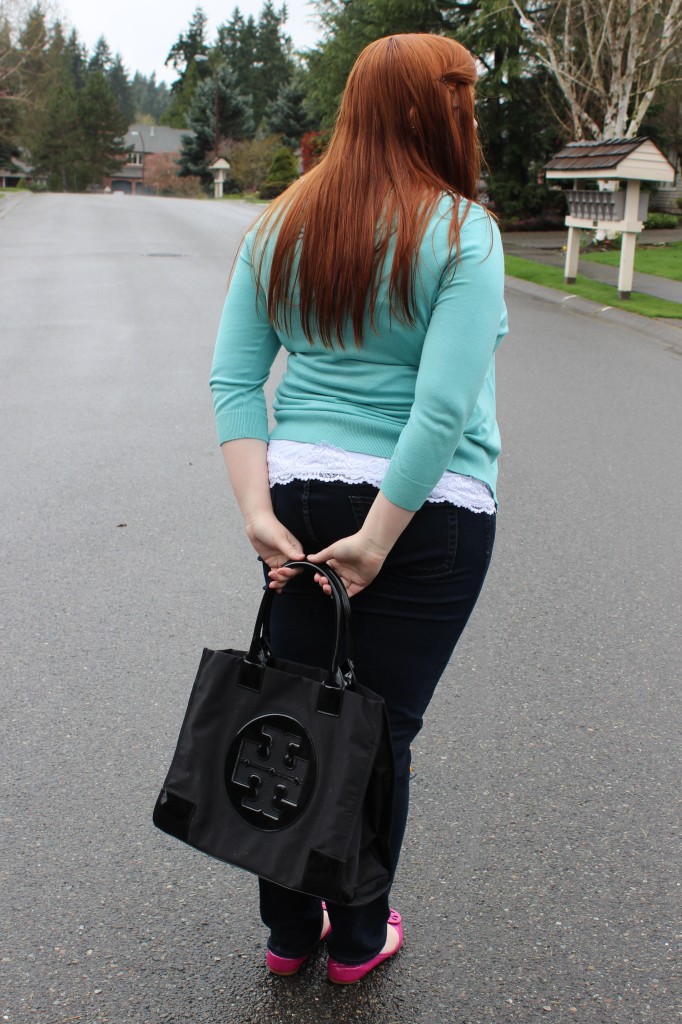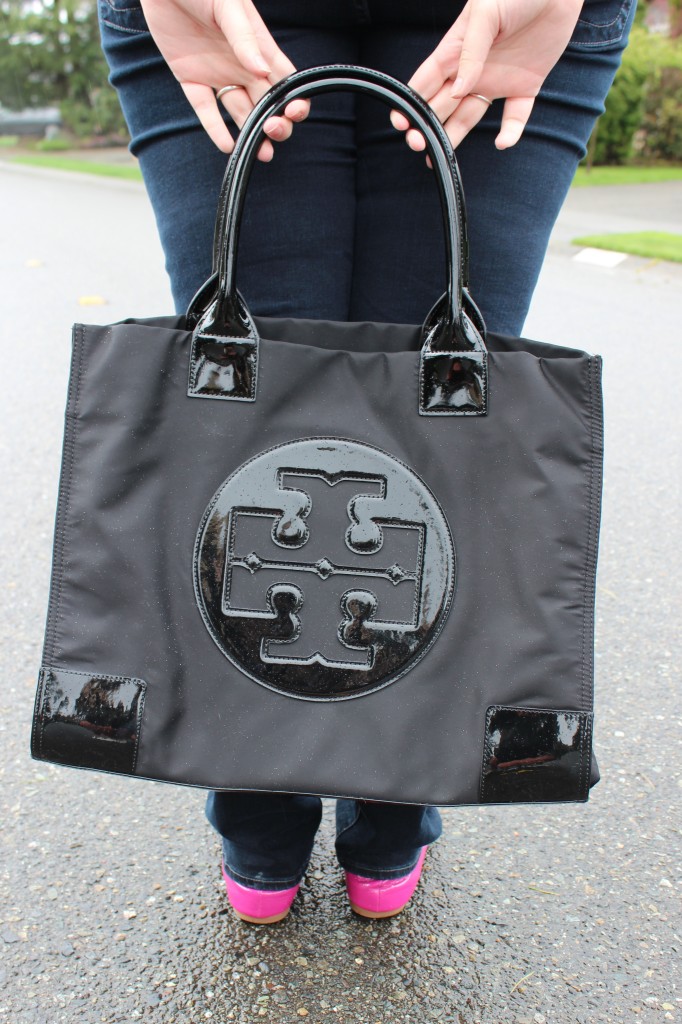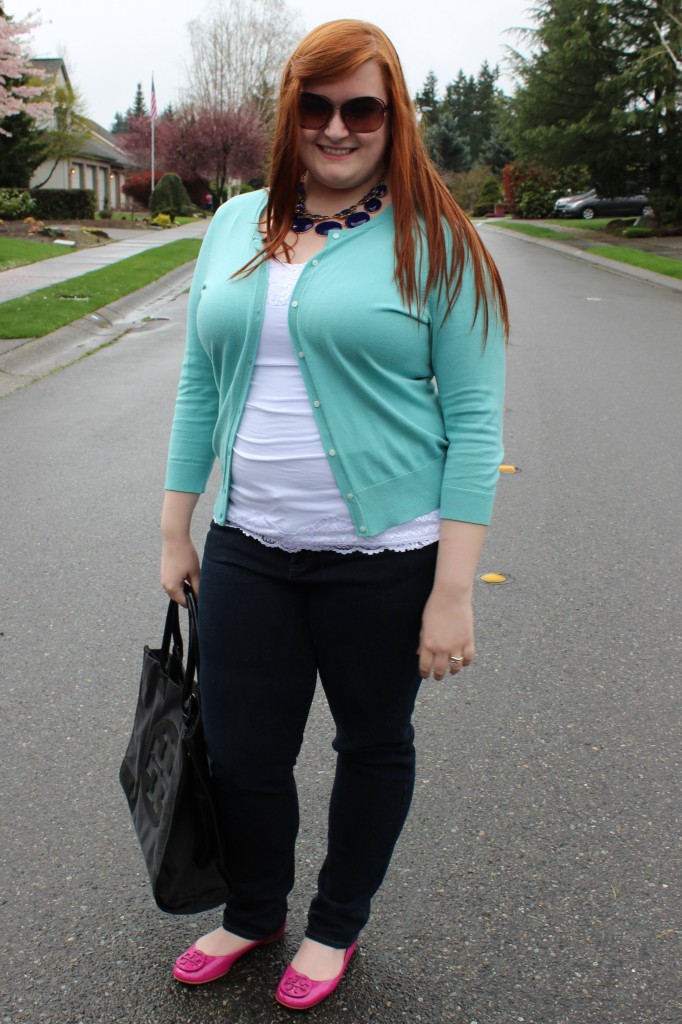 Sweater: [shopsense shopsense_url="http://api.shopstyle.com/action/apiVisitRetailer?url=http%3A%2F%2Fshop.nordstrom.com%2FS%2Fhalogen-three-quarter-sleeve-cardigan%2F3320328%3Forigin%3Dcategory" original_url="http://shop.nordstrom.com/S/halogen-three-quarter-sleeve-cardigan/3320328?origin=category&contextualcategoryid=0&fashionColor=LIME+SULPHUR&resultback=506″ save_to_store="false"]Halogen[/shopsense] in "Aqua Sky"; Camisole: [shopsense shopsense_url="http://api.shopstyle.com/action/apiVisitRetailer?url=http%3A%2F%2Fwww.lanebryant.com%2Fplus-size-tops%2Fcamis-tanks%2Fessential-lace-trim-cami%2F4019c335p140885%2Findex.pro%3FselectedColor%3DNone+selected" original_url="http://www.lanebryant.com/plus-size-tops/camis-tanks/essential-lace-trim-cami/4019c335p140885/index.pro?selectedColor=None%20selected&selectedSize=None%20selected" save_to_store="true"]Lane Bryant[/shopsense]; Jeans: [shopsense shopsense_url="http://api.shopstyle.com/action/apiVisitRetailer?url=http%3A%2F%2Fshop.nordstrom.com%2FS%2Fkut-from-the-kloth-diana-skinny-jeans-exquisite-wash%2F3301418%3Forigin%3Dcategory" original_url="http://shop.nordstrom.com/S/kut-from-the-kloth-diana-skinny-jeans-exquisite-wash/3301418?origin=category&contextualcategoryid=0&fashionColor=&resultback=3419″ save_to_store="false"]KUT from the Kloth[/shopsense]; Shoes: [shopsense shopsense_url="http://api.shopstyle.com/action/apiVisitRetailer?url=http%3A%2F%2Fwww.toryburch.com%2FTumbled-Leather-Reva-Ballet-Flat%2F51128003%2Cdefault%2Cpd.html%3Fdwvar_51128003_size%3D6″ original_url="http://www.toryburch.com/Tumbled-Leather-Reva-Ballet-Flat/51128003,default,pd.html?dwvar_51128003_size=6&dwvar_51128003_color=665&start=17&cgid=shoes-reva-ballerina-flats" save_to_store="true"]Tory Burch "Reva" Flats[/shopsense]; Bag: [shopsense shopsense_url="http://api.shopstyle.com/action/apiVisitRetailer?url=http%3A%2F%2Fshop.nordstrom.com%2FS%2Ftory-burch-ella-nylon-tote-extra-large%2F3112595%3Forigin%3Dcategory" original_url="http://shop.nordstrom.com/S/tory-burch-ella-nylon-tote-extra-large/3112595?origin=category&contextualcategoryid=0&fashionColor=&resultback=3295″ save_to_store="true"]Tory Burch[/shopsense]; Necklaces: J. Crew & Bauble Bar; Sunglasses: [shopsense shopsense_url="http://api.shopstyle.com/action/apiVisitRetailer?url=http%3A%2F%2Fshop.nordstrom.com%2FS%2Ftom-ford-carla-66mm-oversized-round-metal-sunglasses%2F3432374%3Forigin%3Dcategory" original_url="http://shop.nordstrom.com/S/tom-ford-carla-66mm-oversized-round-metal-sunglasses/3432374?origin=category&contextualcategoryid=0&fashionColor=&resultback=6482″ save_to_store="true"]Tom Ford[/shopsense]