2013 Best of 425
I'm so lucky to have a community that supports and cares for me. The last year and a half has been an incredible journey for me not only personally, but in the blogging world as well. I'm amazed at how far my little corner of the web has come, and I'm continually reminded that day after day, I would not be here without my wonderful readers.
I'm so honored and humbled to be included in 425 Magazine's 2013 Best of 425. It's such an incredible recognition to be included in this publication and I couldn't have done it without you, my readers. When I heard the news I couldn't believe it. Someone needed to pinch me, I thought there must have been some mistake that my blog, out of all of the wonderful local blogs, was voted the best local blog for 2013. Thank you to each and every one of you in my little community, I would not have achieved this honor without you and I am forever grateful for the support that you continue to give me, day in and day out.


Last night I had the opportunity to attend the Best of 425 party at the Harbor Club Bellevue, hosted by Expedia and 425 Magazine. I got to meet a number of other Best of 425 winners and meet some of the amazing staff from 425 Magazine. Being in a room filled with so many remarkable men and women from the community was inspiring. The energy in the room was bubbling over as we all came together to celebrate each other and the wonderful community we are all a part of. Thank you to 425 Magazine & Expedia for bringing together such an extraordinary group from our community. And lastly, thank you to my readers for your support and for including me in this group of your favorites from our community. It means the world to me.
For the complete Best of 425 list, check out 425 Magazine, on newsstands now or view the list here.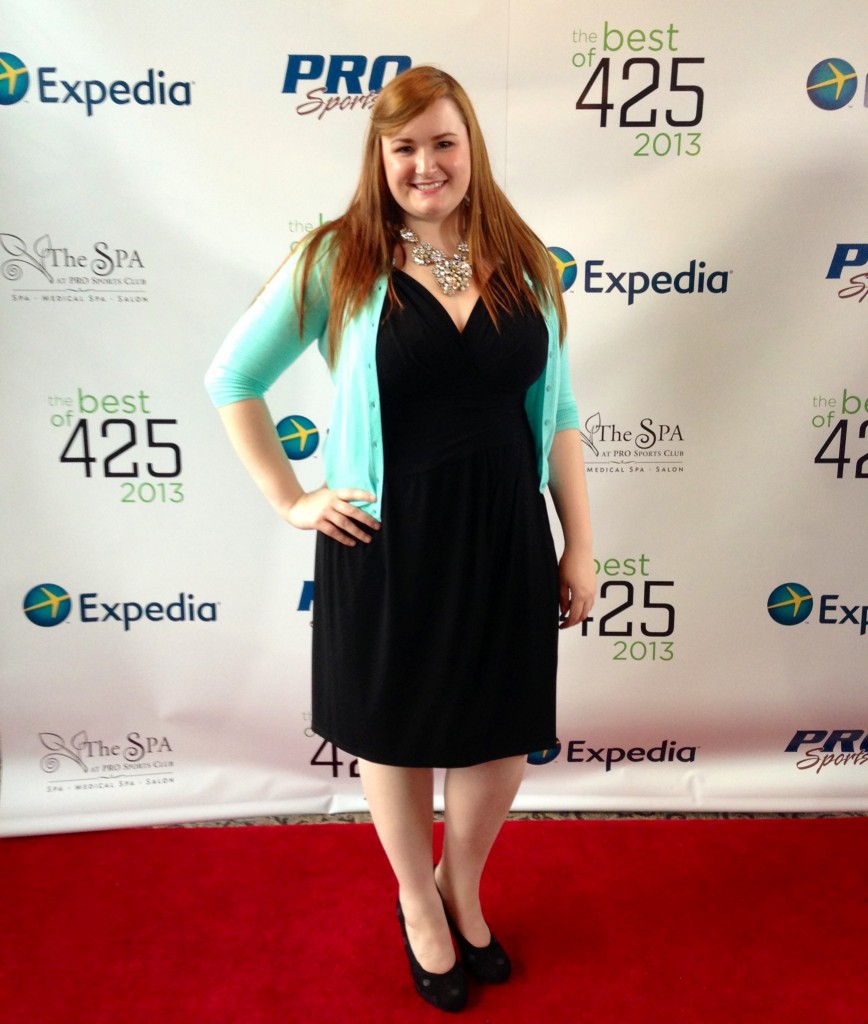 Dress: Suzi Chin for Maggy Boutique (similar [shopsense shopsense_url="http://api.shopstyle.com/action/apiVisitRetailer?url=http%3A%2F%2Fshop.nordstrom.com%2FS%2Fsuzi-chin-for-maggy-boutique-jersey-knit-dress-plus%2F3523536%3Forigin%3DPredictiveSearch-personalizedsort" original_url="http://shop.nordstrom.com/S/suzi-chin-for-maggy-boutique-jersey-knit-dress-plus/3523536?origin=PredictiveSearch-personalizedsort&contextualcategoryid=2375500&fashionColor=&resultback=1068&cm_sp=personalizedsort-_-searchresults-_-1_4_B" save_to_store="true"]here[/shopsense]); Sweater: [shopsense shopsense_url="http://api.shopstyle.com/action/apiVisitRetailer?url=http%3A%2F%2Fshop.nordstrom.com%2Fs%2Fbp-classic-crewneck-cardigan-juniors%2F3506373%3Forigin%3Dkeywordsearch-personalizedsort" original_url="http://shop.nordstrom.com/s/bp-classic-crewneck-cardigan-juniors/3506373?origin=keywordsearch-personalizedsort&contextualcategoryid=2375500&fashionColor=Black&resultback=156&cm_sp=personalizedsort-_-searchresults-_-1_1_A" save_to_store="false"]B.P.[/shopsense]; Necklace: J. Crew (similar [shopsense shopsense_url="http://api.shopstyle.com/action/apiVisitRetailer?url=http%3A%2F%2Fwww.jcrew.com%2Fwomens_category%2Fjewelry%2Fnecklaces%2FPRDOVR%7E02226%2F02226.jsp%3Fcolor_name%3Dcrystal" original_url="http://www.jcrew.com/womens_category/jewelry/necklaces/PRDOVR~02226/02226.jsp?color_name=crystal" save_to_store="true"]here[/shopsense]); Shoes: Kate Spade (similar here);