Casual Weekend
Happy Sunday everyone! I know I don't normally blog on Sundays, but I realized that I don't typically share my more casual weekend looks with you either. Personally, I've had a very long week, and while I've had fun dressing up in some beautiful spring & summer dresses this week, I was ready for a casual weekend, especially since the Seattle sun went into hiding.
Most weekends you can find me bouncing around town in jeans & t-shirts, Converse, and some sort of statement accessory. Apparently the weekends turn me into your typical casual Seattleite!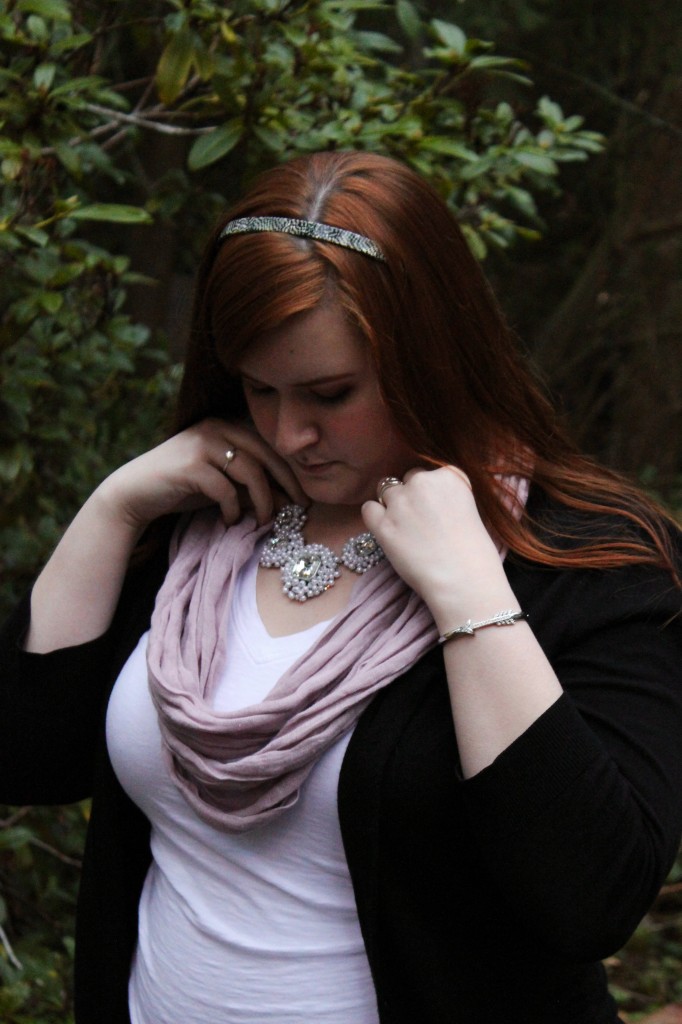 This outfit is just so casual and comfortable but also has a polished look. I could easily walk around downtown all day long or grab a bite with friends. For this look I went with basic bootcut jeans, a classic white t-shirt and black cardigan, and added accessories from there. You could easily dress this up by wearing skinny jeans and flats and including bolder accessories.
[shopsense shopsense_url="http://api.shopstyle.com/action/apiVisitRetailer?url=http%3A%2F%2Fshop.nordstrom.com%2FS%2Fcaslon-shirred-v-neck-tee%2F3132547%3Forigin%3Dcategory" original_url="http://shop.nordstrom.com/S/caslon-shirred-v-neck-tee/3132547?origin=category&contextualcategoryid=0&fashionColor=&resultback=525″ save_to_store="true"]The shirt[/shopsense] I'm wearing is actually my all-time favorite t-shirt and I own it in literally every color. I love the ruching the shirt has, as I feel that is so flattering for every body type, but especially a more curvy figure. If you're in the market for a classic v-neck tee, this is definitely the way to go!
Lately I've been trying to incorporate hair accessories more, and while they don't always make it on my blog as much as I'd like, I've been obsessed with these [shopsense shopsense_url="none" original_url="http://www.franceluxe.com/pc/9613/franceluxe_headbands/index.html" save_to_store="false"]France Luxe Ultracomfort Headbands[/shopsense]. I had been hearing about France Luxe for a while but I couldn't figure out what all of the hype was about. One of my friends told me they are supposed to have these fabulous headbands that expand to the shape of your head so you don't get a headache. I finally decided to test one out and now I have one in every color! I don't understand the science behind it, but they are made of cellulose acetate and the headband really does custom form to fit your head! How cool is that?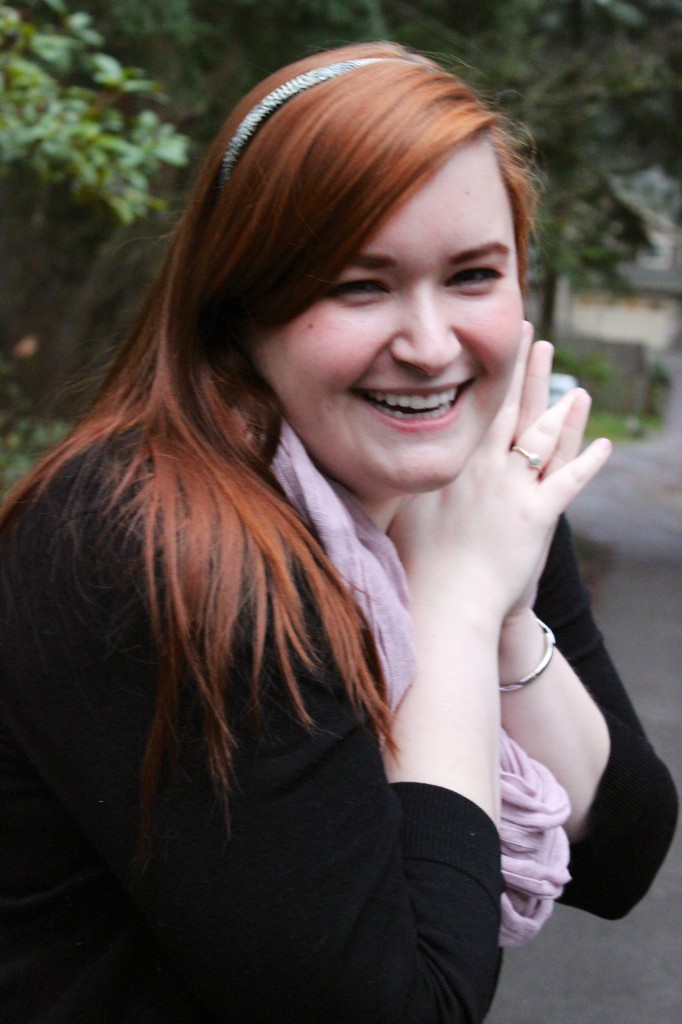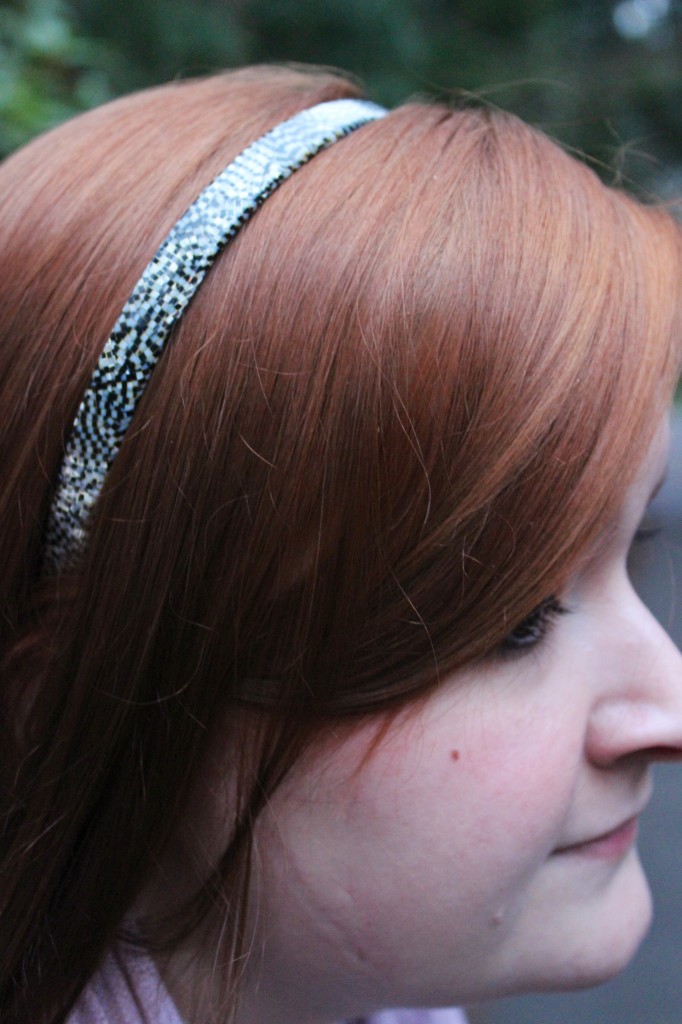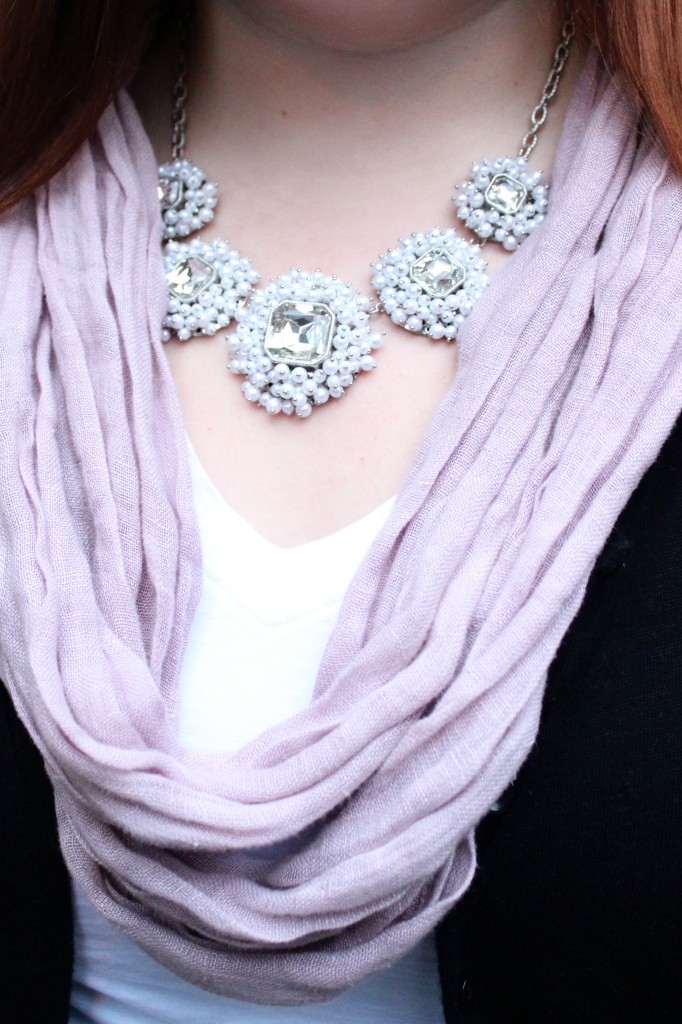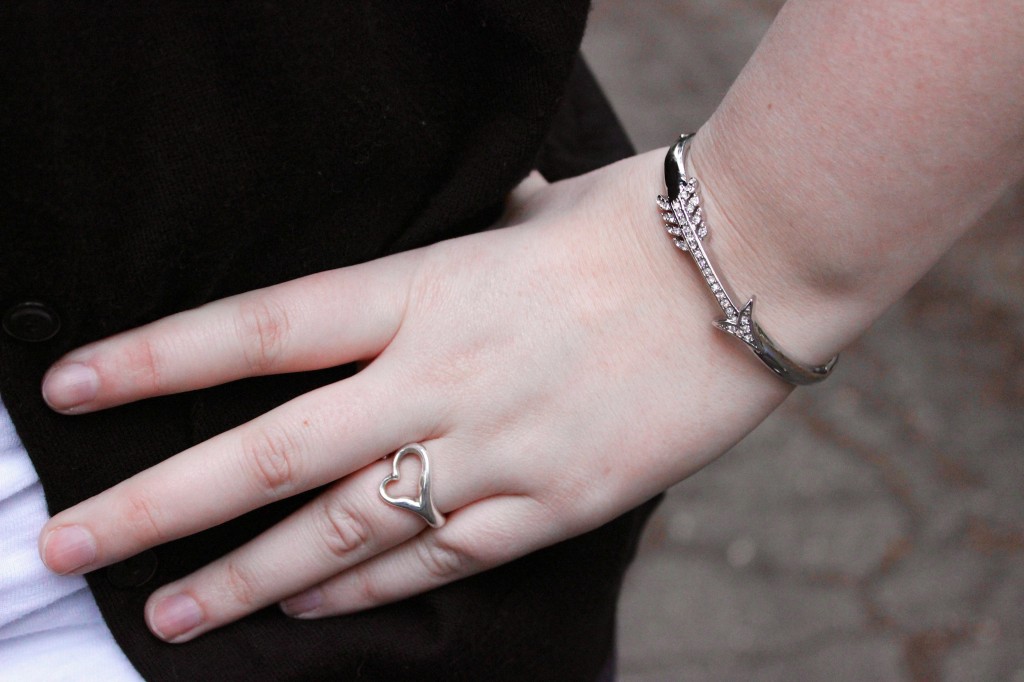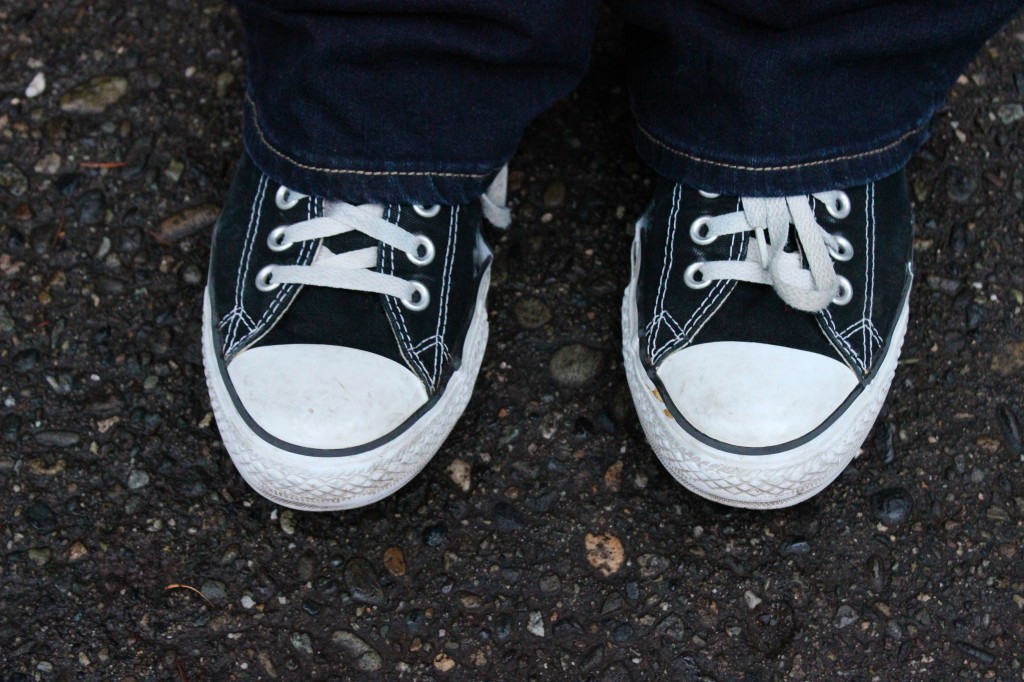 Jeans: KUT from the Kloth (similar [shopsense shopsense_url="http://api.shopstyle.com/action/apiVisitRetailer?url=http%3A%2F%2Fshop.nordstrom.com%2FS%2Fkut-from-the-kloth-heavy-stitch-bootcut-jeans%2F3322170%3Forigin%3Dcategory" original_url="http://shop.nordstrom.com/S/kut-from-the-kloth-heavy-stitch-bootcut-jeans/3322170?origin=category&contextualcategoryid=0&fashionColor=&resultback=2828″ save_to_store="true"]here[/shopsense]); T-shirt: [shopsense shopsense_url="http://api.shopstyle.com/action/apiVisitRetailer?url=http%3A%2F%2Fshop.nordstrom.com%2FS%2Fcaslon-shirred-v-neck-tee%2F3132547%3Forigin%3Dcategory" original_url="http://shop.nordstrom.com/S/caslon-shirred-v-neck-tee/3132547?origin=category&contextualcategoryid=0&fashionColor=&resultback=609″ save_to_store="true"]Caslon[/shopsense]; Sweater: [shopsense shopsense_url="http://api.shopstyle.com/action/apiVisitRetailer?url=http%3A%2F%2Fshop.nordstrom.com%2FS%2Fhalogen-three-quarter-sleeve-cardigan%2F3320328%3Forigin%3Dcategory" original_url="http://shop.nordstrom.com/S/halogen-three-quarter-sleeve-cardigan/3320328?origin=category&contextualcategoryid=0&fashionColor=AQUA+SKY&resultback=483″ save_to_store="false"]Halogen[/shopsense]; Shoes: [shopsense shopsense_url="http://api.shopstyle.com/action/apiVisitRetailer?url=http%3A%2F%2Fshop.nordstrom.com%2FS%2Fconverse-chuck-taylor-low-sneaker-women%2F3017788%3Forigin%3Dcategory" original_url="http://shop.nordstrom.com/S/converse-chuck-taylor-low-sneaker-women/3017788?origin=category&contextualcategoryid=0&fashionColor=DRESS+BLUE&resultback=1288″ save_to_store="true"]Converse[/shopsense]; Scarf: Eileen Fisher (I'm selling mine here!); Necklace: Bauble Bar (similar [shopsense shopsense_url="http://api.shopstyle.com/action/apiVisitRetailer?url=http%3A%2F%2Fwww.baublebar.com%2Fsun-ray-collar.html" original_url="http://www.baublebar.com/sun-ray-collar.html" save_to_store="true"]here[/shopsense]); Bracelet: Betsey Johnson; Ring: Tiffany's; Headband: [shopsense shopsense_url="http://api.shopstyle.com/action/apiVisitRetailer?url=http%3A%2F%2Fshop.nordstrom.com%2Fs%2Ffrance-luxe-skinny-headband%2F3002370%3Forigin%3Dkeywordsearch" original_url="http://shop.nordstrom.com/s/france-luxe-skinny-headband/3002370?origin=keywordsearch&contextualcategoryid=2375500&fashionColor=Opera+Silver&resultback=366″ save_to_store="true"]France Luxe[/shopsense] in Opera Silver