Black, White and Red All Over
My closet is filled with fun spring and summer dresses of many colors, but sometimes a classic black and white patterned dress with fun accents is all you need for a lively look. Today's look reminds me of the silly riddle we all told as kids: What's black, white, and read all over? Now, I don't look like a newspaper, but today's outfit is certainly black, white and red all over!
Out of all the various types of dress silhouettes, the A-line is my favorite. I find that it is the most flattering cut for my shape (and the most forgiving!). Whenever I stumble upon a great A-line in my size, I can't help but try it on (and most likely) purchase it! I also love that most A-lines come with a very full skirt, so I can spin like a 5 year old and have a fun circle skirt!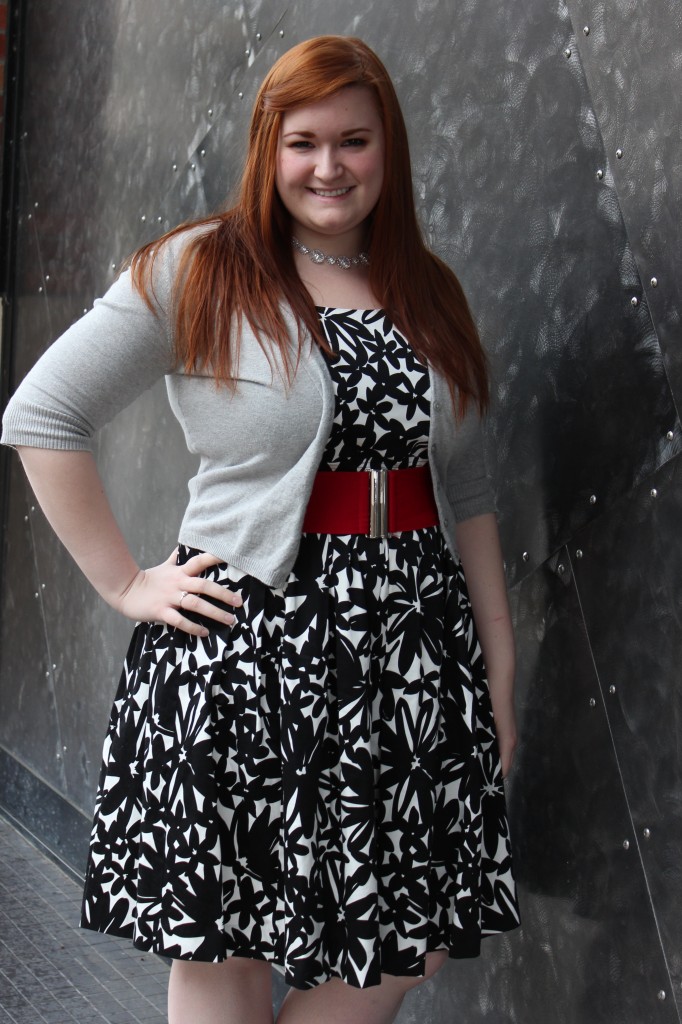 Today's look can be achieved very simply (another reason why I love dresses so much). Start with a fun monochromatic dress and accessorize with a colorful wide belt and matching shoes. I opted for red because the contrast is just so beautiful against a black and white dress.
What is your favorite dress silhouette?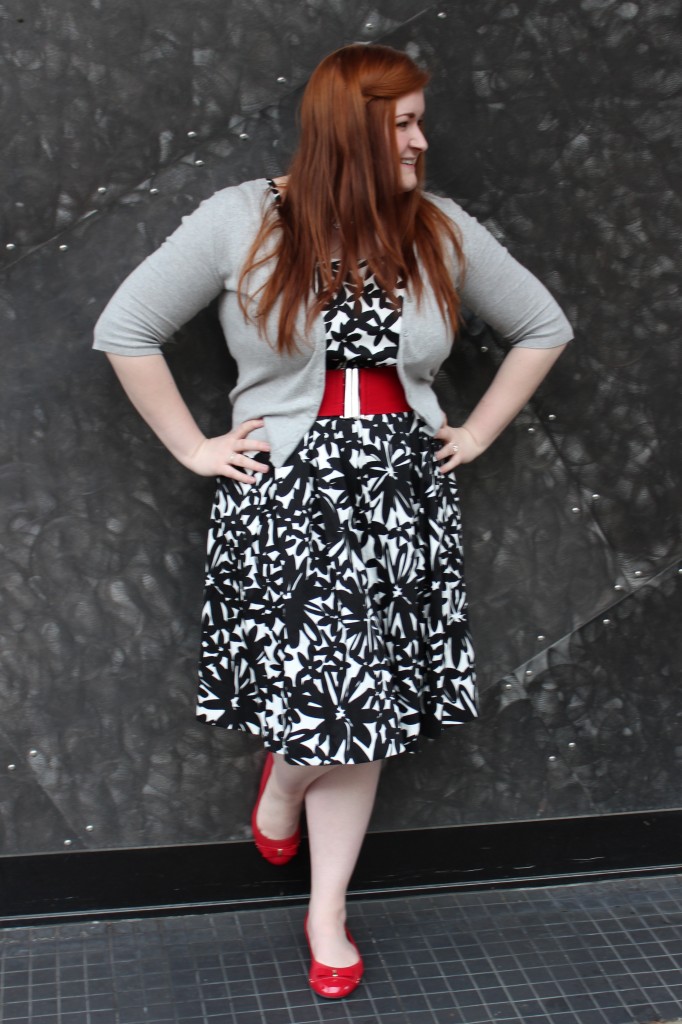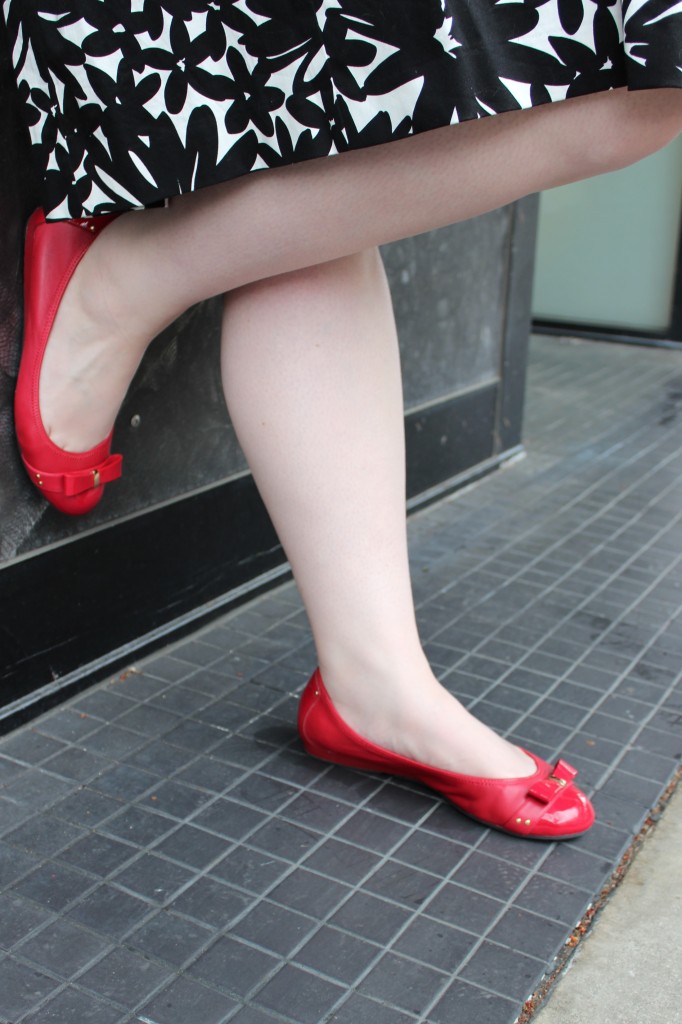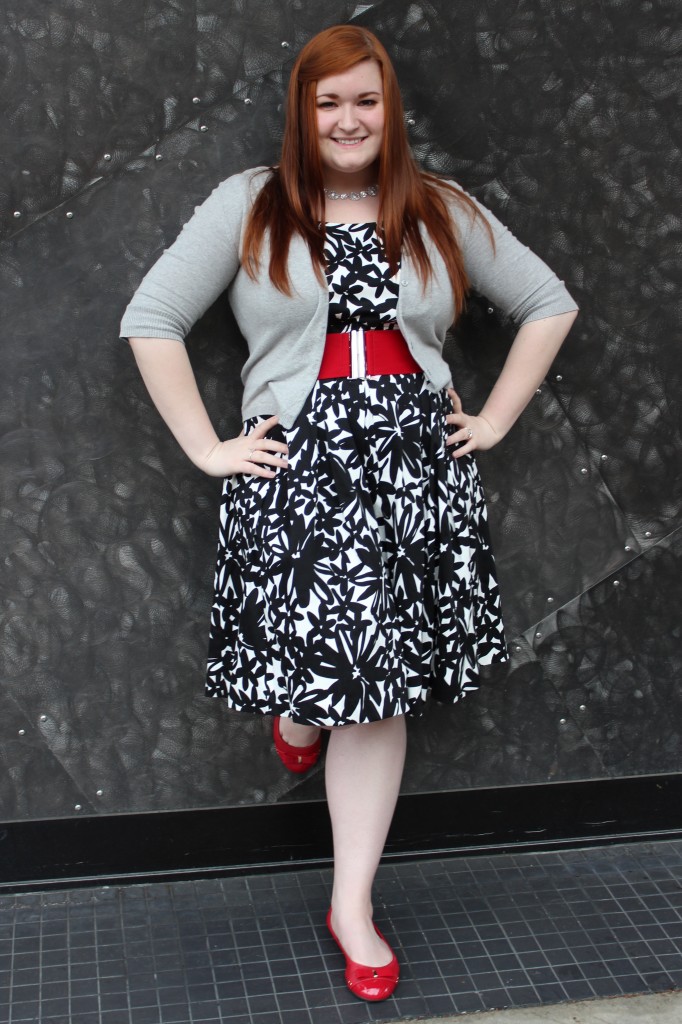 Dress: Jessica Howard (similar [shopsense shopsense_url="http://api.shopstyle.com/action/apiVisitRetailer?url=http%3A%2F%2Fwww1.macys.com%2Fshop%2Fproduct%2Falfani-plus-size-dress-sleeveless-polka-dot-a-line%3FID%3D804882″ original_url="http://www1.macys.com/shop/product/alfani-plus-size-dress-sleeveless-polka-dot-a-line?ID=804882&CategoryID=37038&LinkType=#fn=DRESS_LENGTH%3DKnee%20Length%26sp%3D1%26spc%3D343%26ruleId%3D65%26slotId%3D69″ save_to_store="true"]here[/shopsense] and [shopsense shopsense_url="http://api.shopstyle.com/action/apiVisitRetailer?url=http%3A%2F%2Fwww1.macys.com%2Fshop%2Fproduct%2Fjm-collection-plus-size-dress-sleeveless-printed-a-line%3FID%3D832242″ original_url="http://www1.macys.com/shop/product/jm-collection-plus-size-dress-sleeveless-printed-a-line?ID=832242&CategoryID=37038&LinkType=#fn=COLOR%3DBlack%26DRESS_LENGTH%3DKnee%20Length%26sp%3D1%26spc%3D114%26ruleId%3D65%26slotId%3D78″ save_to_store="true"]here[/shopsense]); Sweater: [shopsense shopsense_url="http://api.shopstyle.com/action/apiVisitRetailer?url=http%3A%2F%2Fshop.nordstrom.com%2Fs%2Fbp-classic-crewneck-cardigan-juniors%2F3506373%3Forigin%3Dcategory" original_url="http://shop.nordstrom.com/s/bp-classic-crewneck-cardigan-juniors/3506373?origin=category&contextualcategoryid=0&fashionColor=White&resultback=200″ save_to_store="true"]B.P.[/shopsense]; Shoes: [shopsense shopsense_url="http://api.shopstyle.com/action/apiVisitRetailer?url=http%3A%2F%2Fshop.nordstrom.com%2FS%2Fcole-haan-air-monica-ballet-flat-exclusive%2F3247487%3Forigin%3Dcategory" original_url="http://shop.nordstrom.com/S/cole-haan-air-monica-ballet-flat-exclusive/3247487?origin=category&contextualcategoryid=0&fashionColor=BLACK&resultback=2044″ save_to_store="true"]Cole Haan[/shopsense]; Necklace: Kate Spade; Belt: Style & Co. (similar [shopsense shopsense_url="http://api.shopstyle.com/action/apiVisitRetailer?url=http%3A%2F%2Fwww1.macys.com%2Fshop%2Fproduct%2Fstyle-co-belt-gathered-stretch%3FID%3D446268″ original_url="http://www1.macys.com/shop/product/style-co-belt-gathered-stretch?ID=446268&CategoryID=27807&LinkType=&swatchColor=Red#fn=COLOR%3DRed%26sp%3D1%26spc%3D9%26ruleId%3D52%26slotId%3D6″ save_to_store="true"]here[/shopsense])