Beautifully Classy
I'm very excited to share today's outfit with you as (1) it's my birthday and (2) it's my favorite new dress!
A few years ago I came across the perfect work dress. It was much like this one in that it featured a black skirt with a white cream top. Unfortunately the black dye wasn't set right so when I took it to the dry cleaners it was ruined. I was devastated and since then I've searched high and low for a similar style dress. I stumbled upon this great Calvin Klein A-line dress at Nordstrom a few weeks back, and have been in love with it ever since!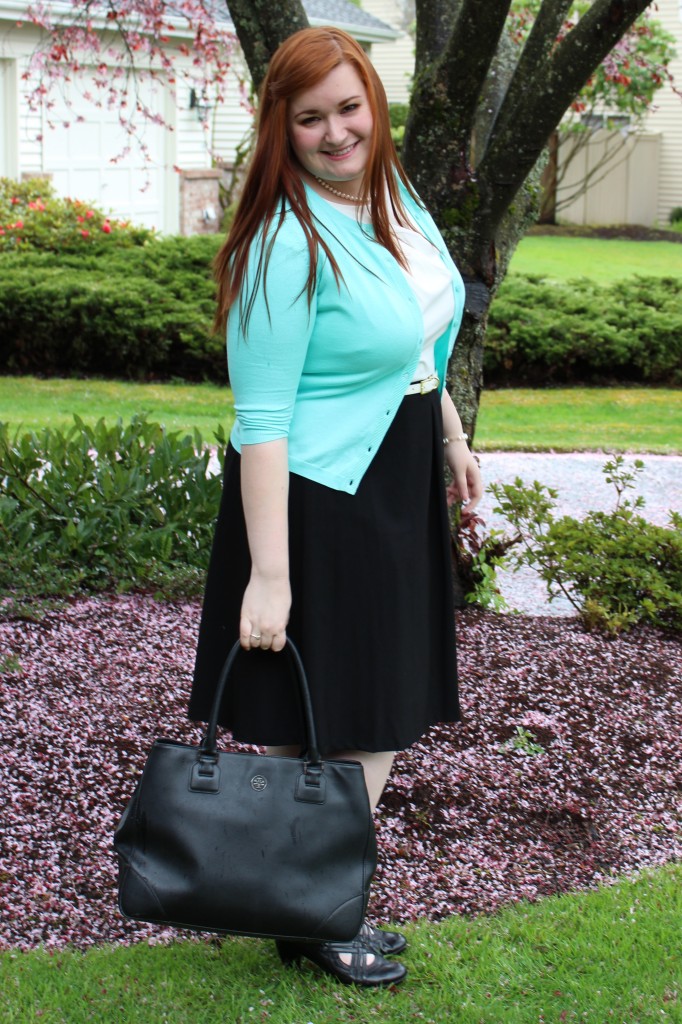 Calvin Klein has been designing some amazing plus size dresses over the last few years. I especially love the A-line dresses and am so glad to see a number of similar-cut dresses carried by [shopsense shopsense_url="http://api.shopstyle.com/action/apiVisitRetailer?url=http%3A%2F%2Fshop.nordstrom.com%2Fc%2Fplus-size-dresses%3Forigin%3Dleftnav" original_url="http://shop.nordstrom.com/c/plus-size-dresses?origin=leftnav#category=b60140243&type=category&marketingslots=2&page=1&size=&width=&color=&price=&brand=5111&instoreavailability=false&lastfilter=brand&sizeFinderId=2&resultsmode=&segmentId=0″ save_to_store="false"]Nordstrom[/shopsense] this year!
This dress makes me feel like I've walked off the set of Mad Men, which of course is one of my favorite shows. I can't explain it, but I've always felt like I was born in the wrong decade. My mom says she's always felt the same way except she wanted to be a "pioneer woman" (and yes I think she's crazy for that). It's just a feeling that I really should have lived in a different time – I would have loved to be a teenager or young woman in the 50s and 60s. I've always felt such a pull to that time, when life seemed easier and of course, when the fashions were so classic and timeless. And this dress is about as close to the 50s that I'll ever get!
For the rest of the outfit I kept the styling very simple and classic. I added my pearl necklace, bracelet, and earrings, a colorful sweater, and my Tory Burch work bag. A quick note about the bag – if you're in the market for a new work bag the Tory Burch Robinson Tote is perfect. When I graduated college I decided it was time to trade in the backpack and invest in a professional looking yet stylish work bag. I've had the bag for about two years now and it looks just like new!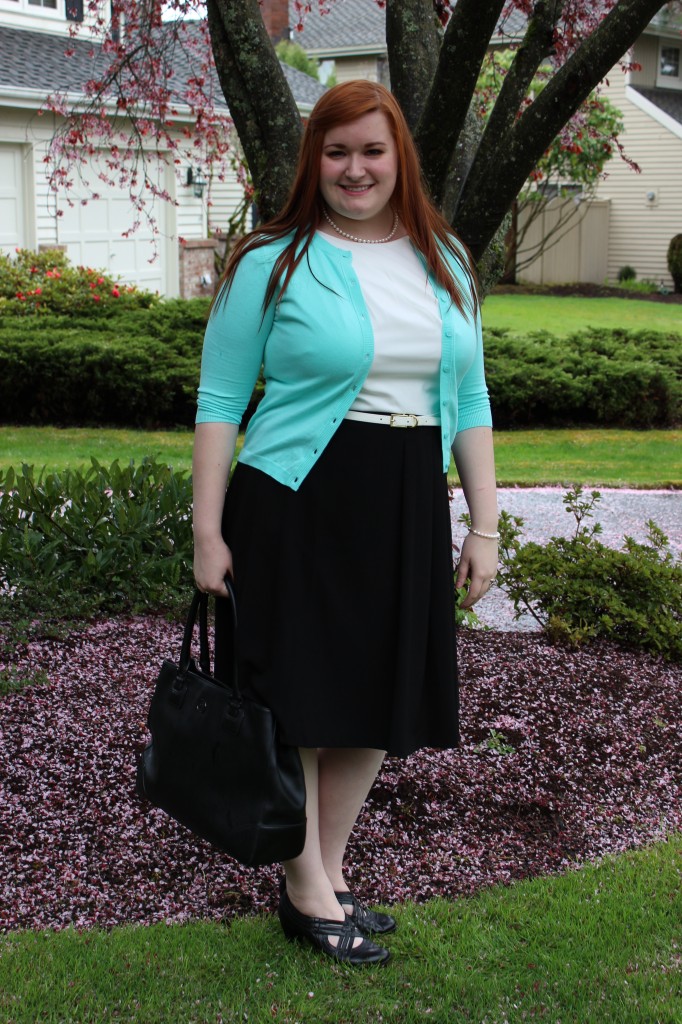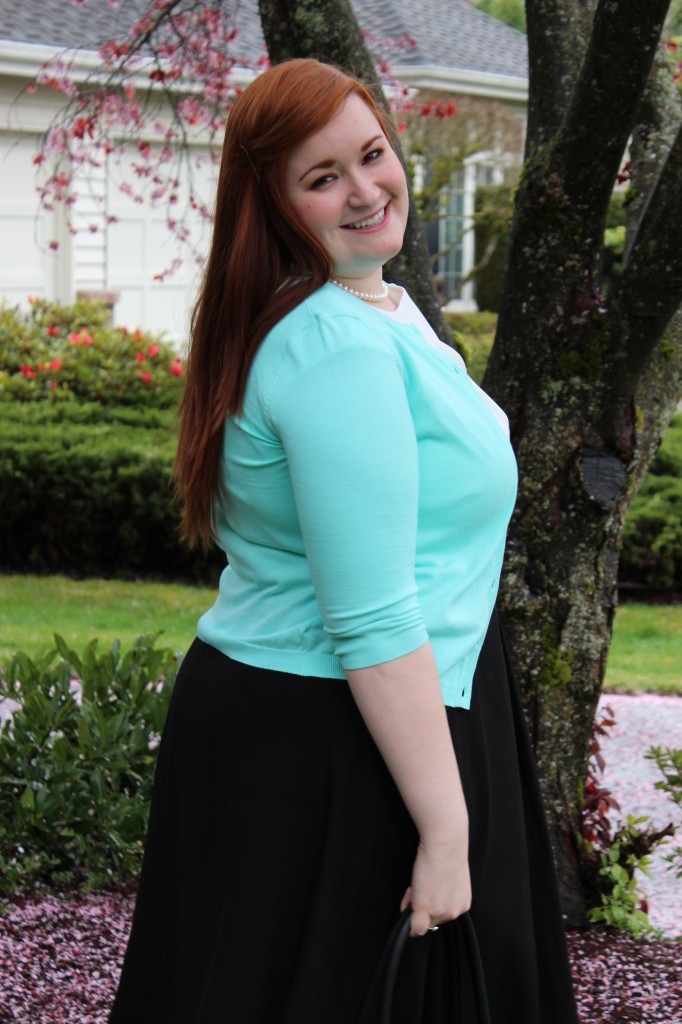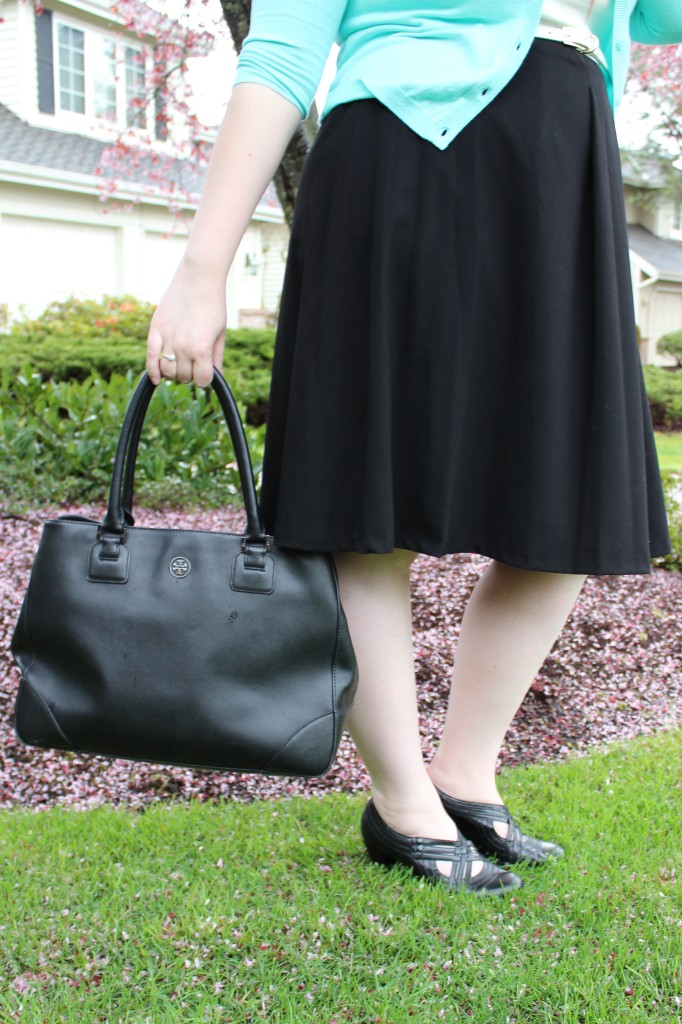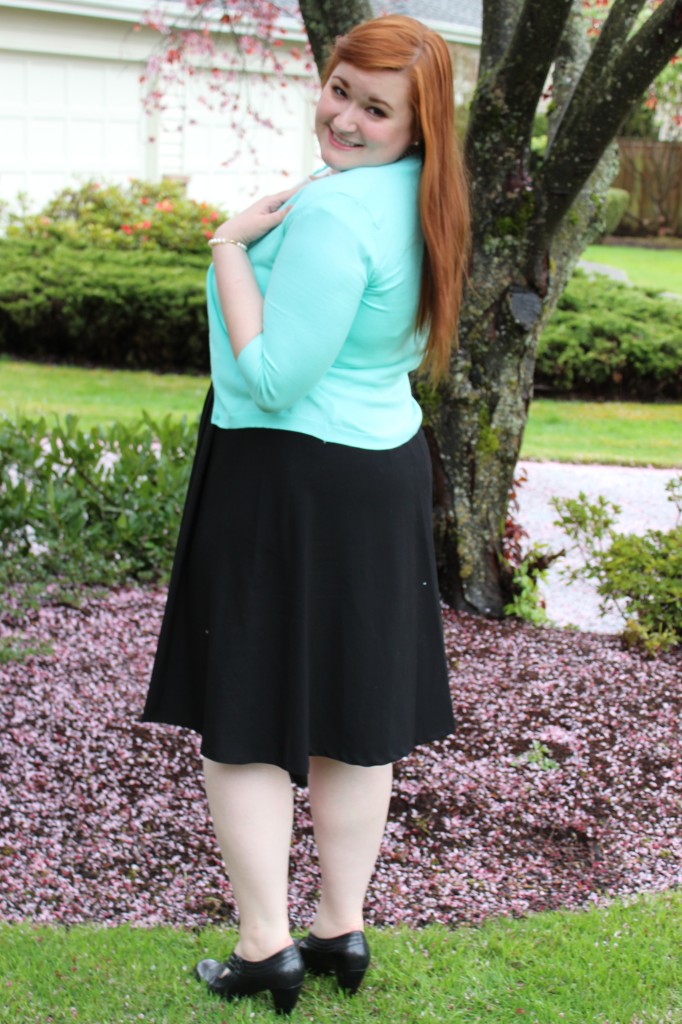 Dress: [shopsense shopsense_url="http://api.shopstyle.com/action/apiVisitRetailer?url=http%3A%2F%2Fshop.nordstrom.com%2FS%2Fcalvin-klein-belted-a-line-dress-plus%2F3425745%3Forigin%3Dcategory-personalizedsort" original_url="http://shop.nordstrom.com/S/calvin-klein-belted-a-line-dress-plus/3425745?origin=category-personalizedsort&contextualcategoryid=0&fashionColor=&resultback=5123&cm_sp=personalizedsort-_-browseresults-_-3_15_A" save_to_store="false"]Calvin Klein[/shopsense]; Sweater: B.P.; Shoes: Indigo by Clarks; Bag: Tory Burch (similar [shopsense shopsense_url="http://api.shopstyle.com/action/apiVisitRetailer?url=http%3A%2F%2Fshop.nordstrom.com%2FS%2Ftory-burch-robinson-saffiano-tote%2F3201231%3Forigin%3Dcategory" original_url="http://shop.nordstrom.com/S/tory-burch-robinson-saffiano-tote/3201231?origin=category&contextualcategoryid=0&fashionColor=&resultback=5400″ save_to_store="true"]here[/shopsense] and [shopsense shopsense_url="http://api.shopstyle.com/action/apiVisitRetailer?url=http%3A%2F%2Fshop.nordstrom.com%2FS%2Ftory-burch-robinson-double-zip-leather-tote%2F3455479%3Forigin%3Dcategory" original_url="http://shop.nordstrom.com/S/tory-burch-robinson-double-zip-leather-tote/3455479?origin=category&contextualcategoryid=0&fashionColor=POPPY+RED&resultback=10055″ save_to_store="false"]here[/shopsense])