All Things Kate 2.0
Welcome to the new look of All Things Kate! I'm so excited to finally roll out this update and it's been so hard to keep it a secret! I admit though, over the last week I've started telling more of my friends and family about it and letting them in on some of the changes!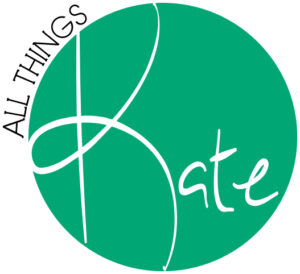 First, I have to thank my lovely friend Makara from Be Lured for designing this wonderful new logo! Makara and I met in college and have recently reconnected due to our love of blogging. As you can tell from my logo, and if you hop over to her blog, she is an incredible artist. Not only is she talented with graphic design, but pretty much everything! I have no affinity for designing, but Makara was great to work with. I basically told her the feel I wanted out of a logo and BAM! She created this beauty. I love it so much!
Second, I have to thank my friend Jon for building me this wonderful site. I've also known Jon since college, where Makara, Jon and I served on PLU's Residence Hall Association (those were the days!). Jon's helped me with my site the entire way. As many times as I change my mind or ask for updates he's always there with a smile on his face and ready to help (well, I assume, because he's in Germany now and we mostly communicate through IM). Not only is Jon great at designing websites and all things techie, he's also an incredible friend. So thank you Jon, for putting up with me all of these years!
Unfortunately we're all spanned across the world – I'm here in Washington, Jon is in Germany at grad school, and Makara is in South Carolina. This is the only decent picture I could find of us from Makara's wedding a few years back. Makara is the beautiful bride, and Jon is the hairy tall guy!
Third, I have to thank my friends I've been badgering with questions like "Does this look good?" and "What do you think about this font?" for the last few weeks. I'm pretty sure they've had it up to here with me, but they love me just the same. Thank you
Dolly
,
David
,
Delaney
,
Veronica
, and
Rebecca
! If you ever need me to return the favor, don't worry I will!
Last, but certainly not least, I'd like to thank all of my readers. Without your love and support I wouldn't be here. It's been an amazing journey and I am excited to see what the next chapter brings!