Fashion Flashback: Black Friday
I've never understood the allure of Black Friday, now essentially a holiday of its own, where millions of shoppers venture out into their favorite stores in the wee hours of the morning to snatch up insane, one-time only deals not to mention doorbusters. I'm not here to tell you where to find the best deals of all time (even I don't know that), but instead I'm curious how and why Black Friday originated.  So I decided to do a little investigating and here's what I found.
At first, "Black Friday" was not used to refer to the biggest shopping day of the year, but instead when the price of gold caused the stock market to plummet on September 24, 1864. Ironic how now it's come to mean we're saving our "gold," isn't it?
In the 1940s President Franklin D. Roosevelt moved the Thanksgiving holiday to the fourth Thursday in November in order to extend the holiday shopping season, hoping it would generate more sales for retailers.
The phrase "Black Friday" as we know it today was coined in the 1960s and referred to  the start of the holiday shopping season and the day when retailers traditionally went out of the "red" (indicating a loss) and into the "black" (a profit).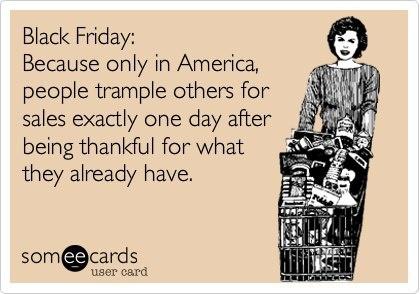 So now that you've had your fill of turkey (or if you're part of my family, ham), and a house full of presents from hitting the Black Friday sales, you also know how and why it all began.